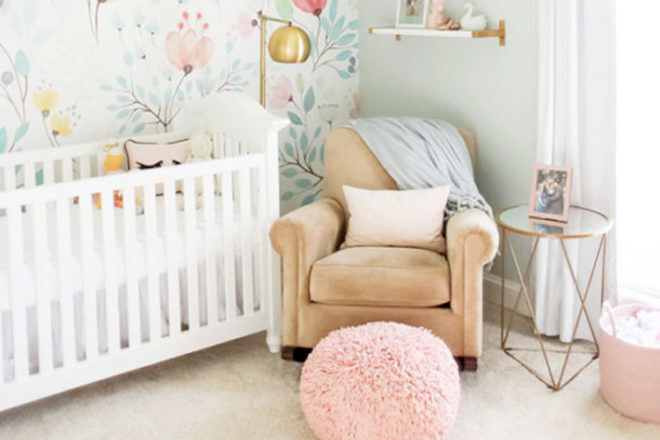 Creating a safe and dreamy environment for your darling bundle of joy is one of the many great milestones of pregnancy.
There are lots of things to consider when putting together your nursery, and a nursery theme is top of the list. The carefully curated haven bursting with love and joy will initially be a place for you and baby to bond. As baby grows, your chosen nursery theme will too, as it becomes a magical play space for your tiny tot to enjoy.
Planning your nursery? We've gathered a mountain of nursery theme ideas to help inspire you – everything from Australiana to Zebra and all the letters in between.
A – Z Nursery Theme Ideas
---
A | B | C | D | E | F | G | H | I | J | K | L | M
N | O | P | Q | R | S | T | U | V | W | X | Y | Z
---
Australiana Nursery Theme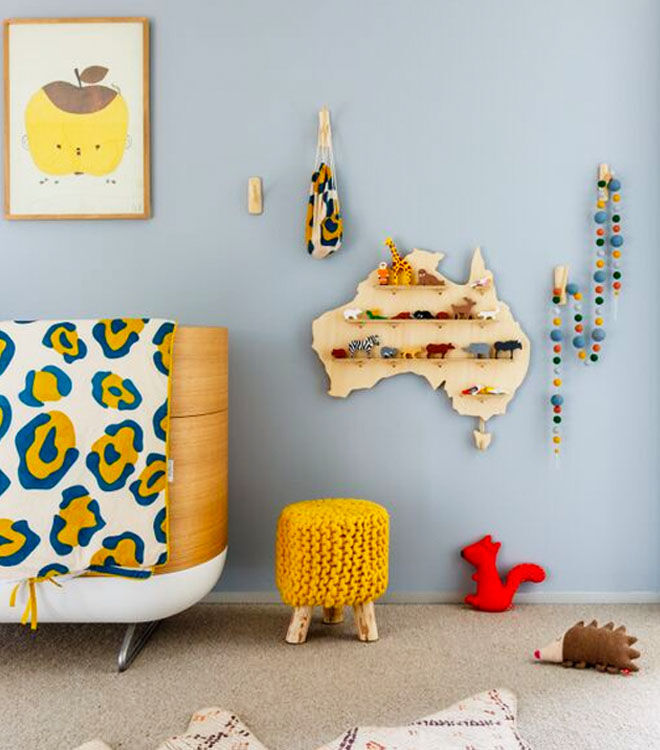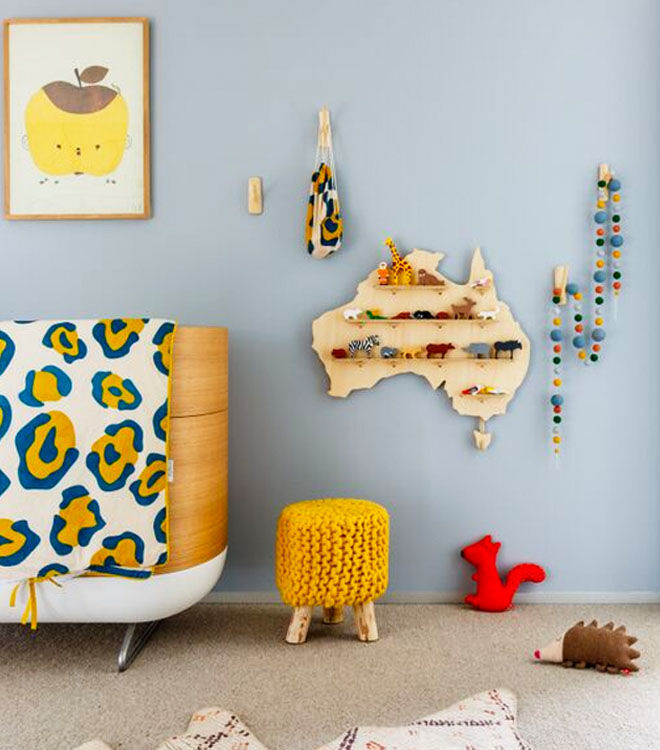 Australiana: There's no place like home. Bring the beauty of our great country into your nursery. Think native animals, indigenous prints and locally sourced textiles. (via Zoe they Say)
Other ideas:
Alice in Wonderland
Animals
Boho Chic Nursery Theme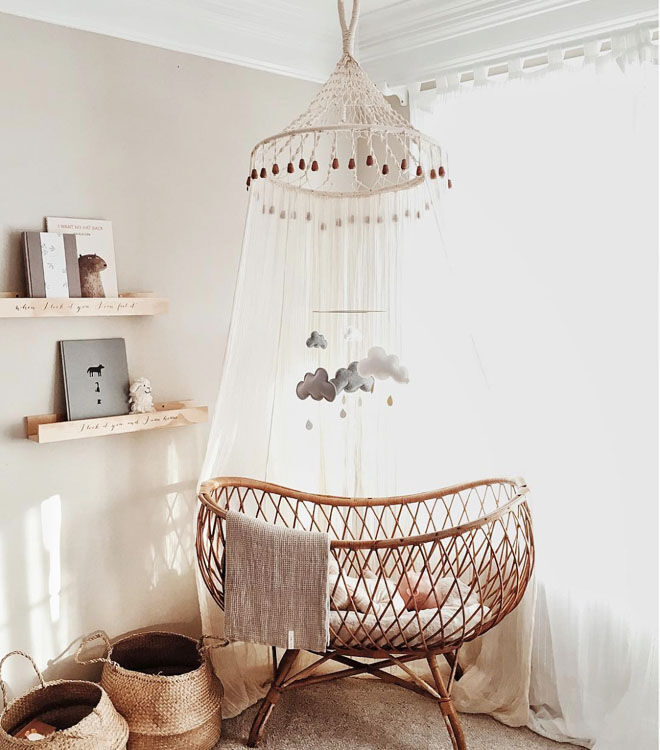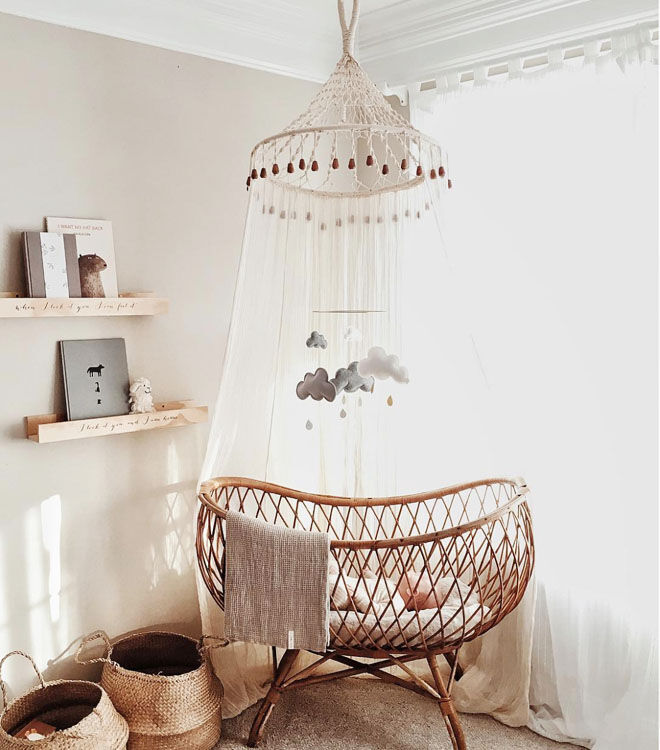 Boho Chic: Go back to basics. Emphasise natural materials such as whicker, bare timber and beautiful linen, then pair with neutral paint tones for a calming space. (via Christine Simplybloom)
Other ideas:
Cactus Nursery Theme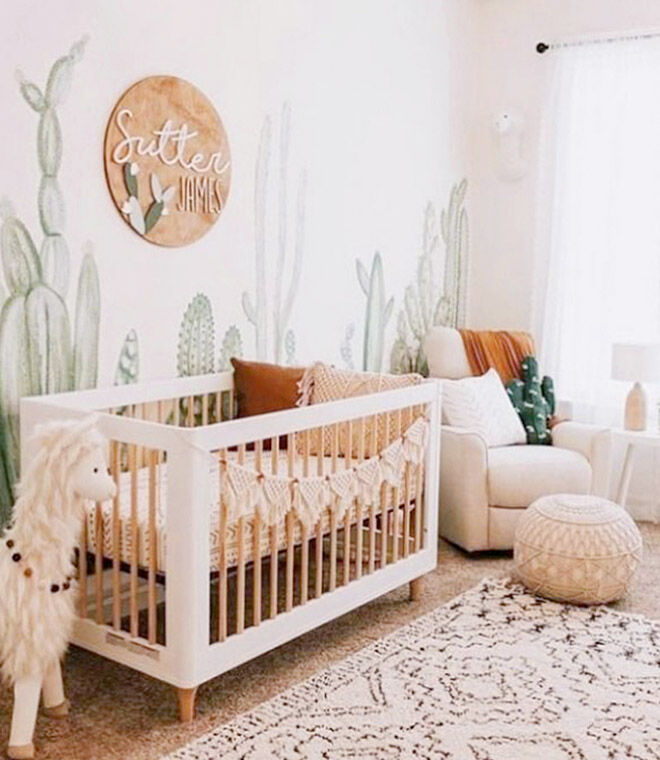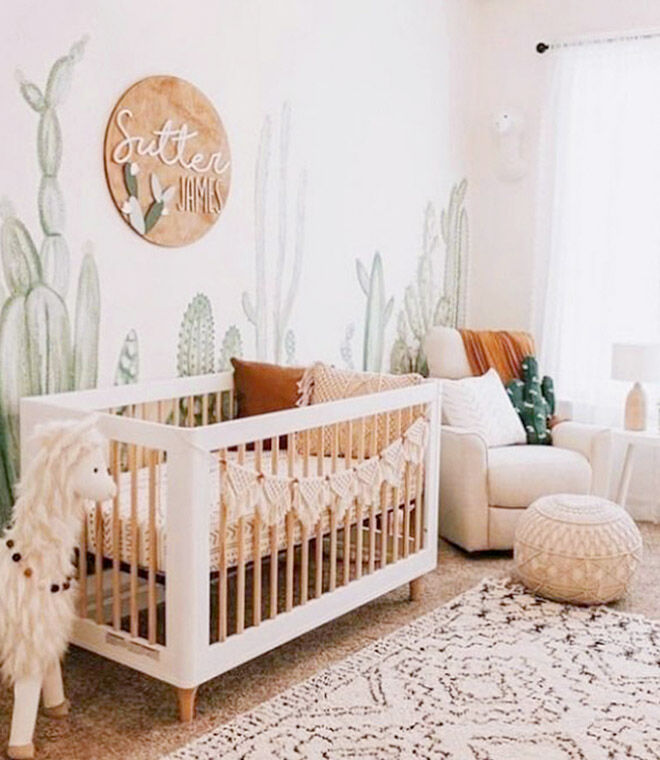 Cactus: Add a spike of interest with a cool cactus theme. Go for desert hues of orange and yellow then follow the theme with tall indoor house plants and woven textiles. (via Kids Interiors)
Other ideas:
Dreamy Nursery Theme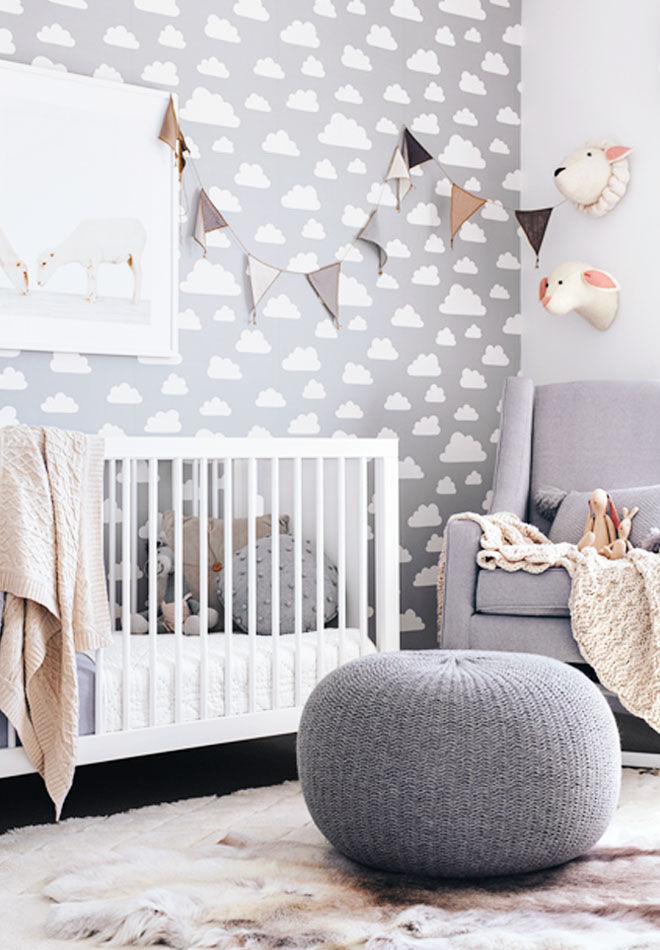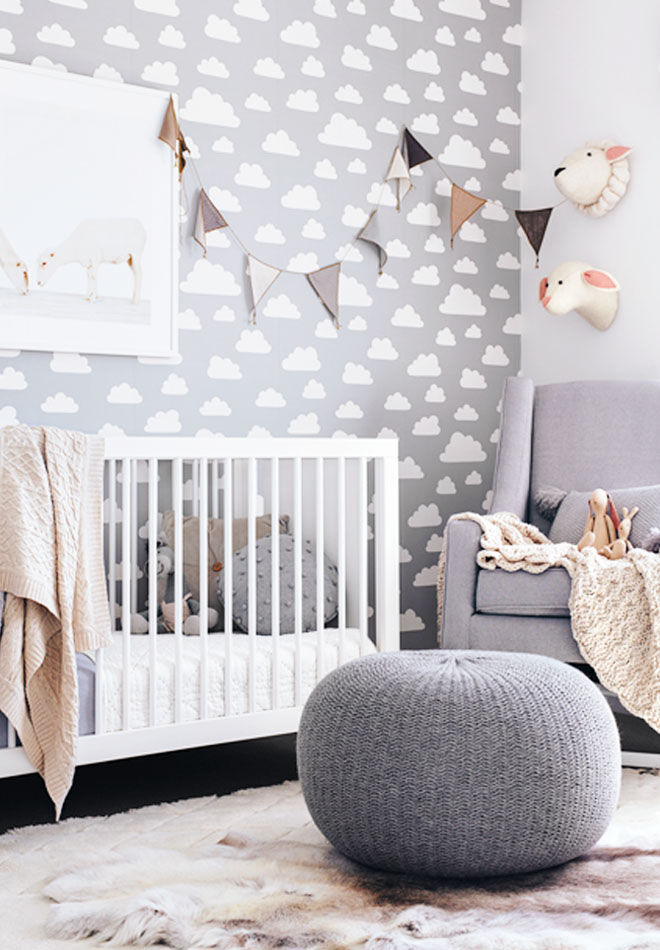 Dreamy: You and baby will both be counting sheep as you drift off to sleep. Soft textiles and adorable wall mounts make this grey and white nursery a room of dreams. (via Oh Eight Oh Nine)
Other ideas:
Elephant Nursery Theme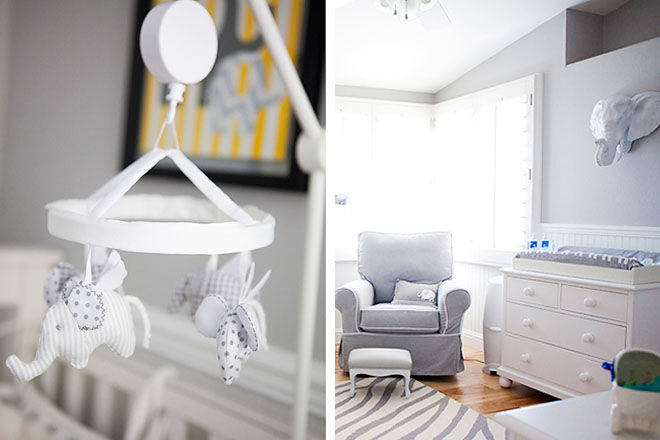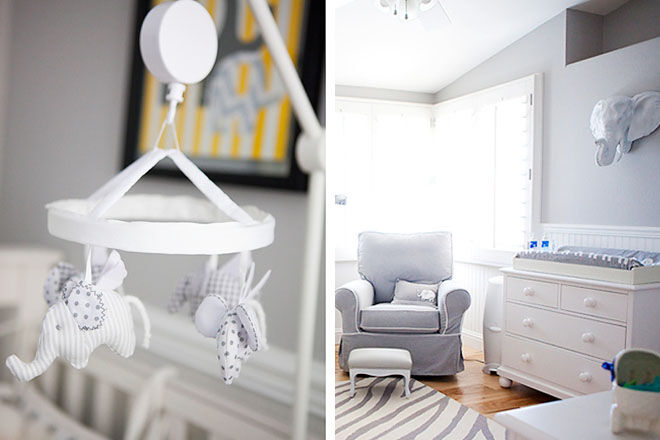 Elephant: Elephants never forget. Create a memorable nursery for those precious first years with darling motifs and complimenting furniture. Grey never goes out of fashion. (via Kristin Eldridge)
Other ideas:
Floral Nursery Theme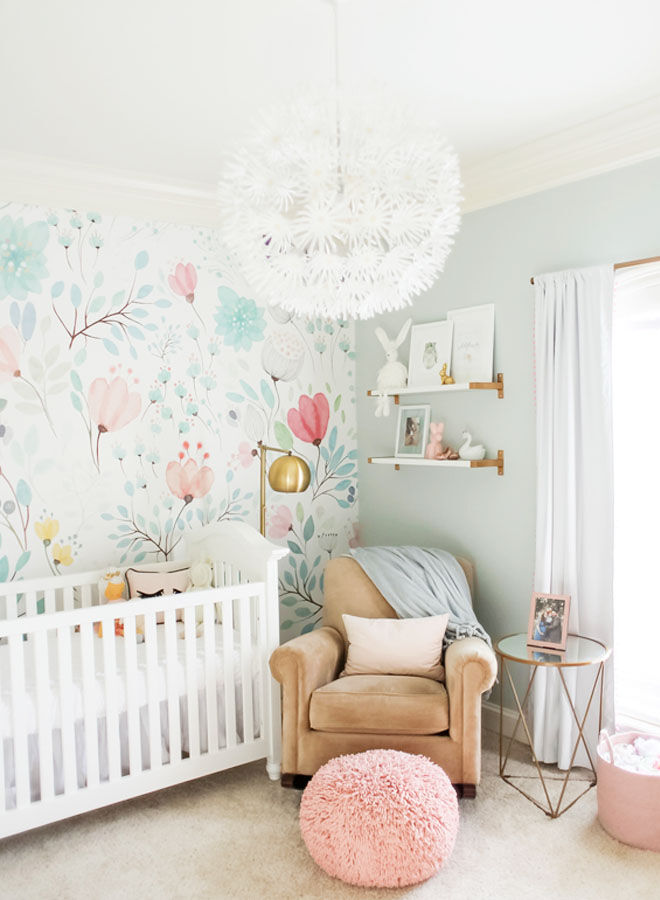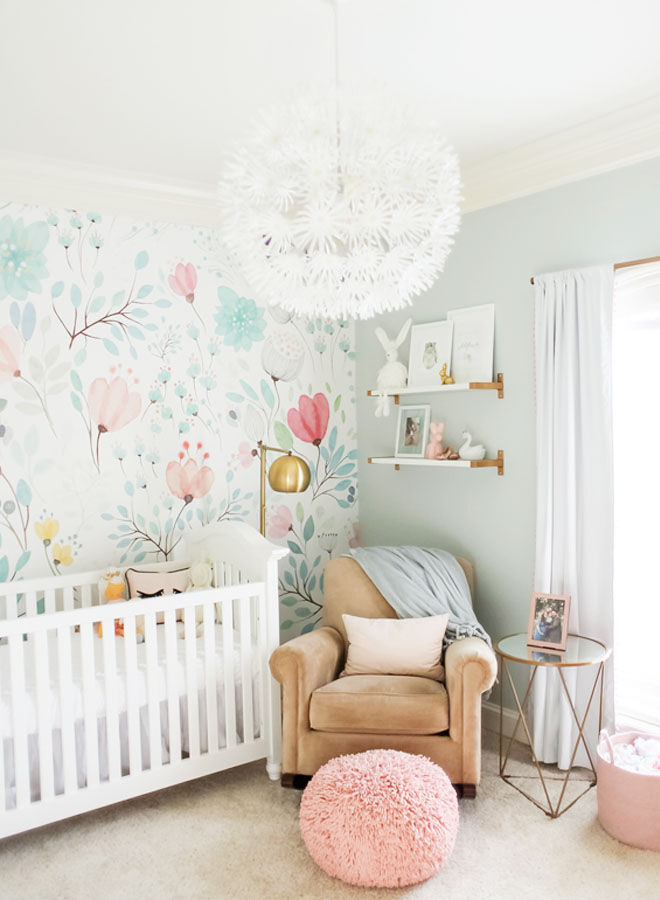 Floral: Put a spring in your step with flowers on the wall. When long nights turn into longer days a bright and airy wallpaper in the nursery will work wonders. (via Project Nursery)
Other ideas:
Giraffe Nursery Theme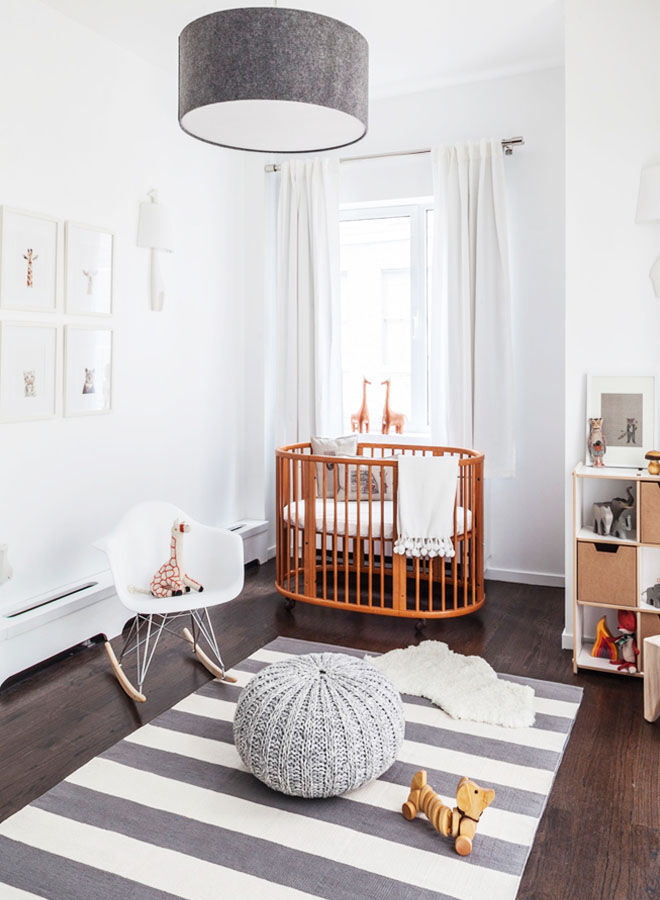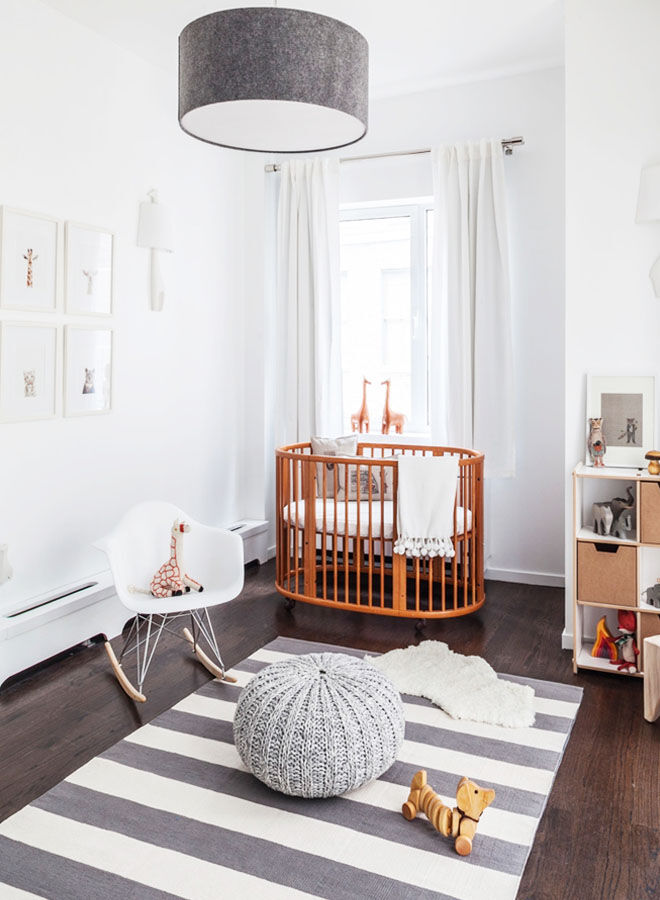 Giraffe: Giraffes are tall, strong and gorgeous creatures. Surround bub with motifs and matching prints for a calm and nurturing environment for them to grow. (via Sissy + Marley)
Other ideas:
Hot Air Balloon Nursery Theme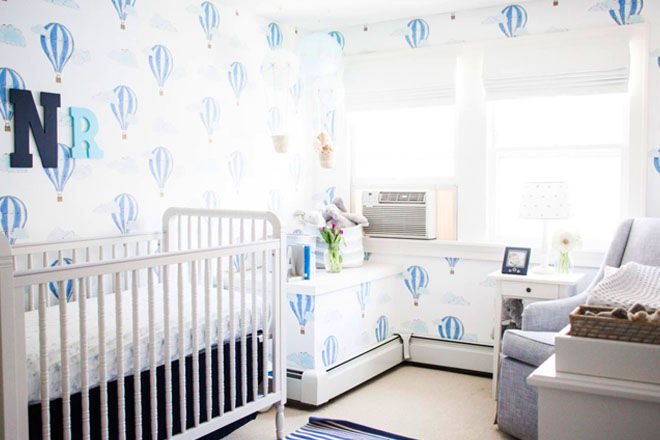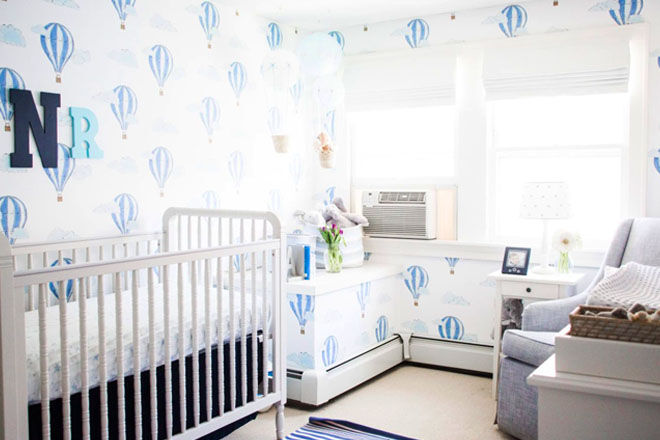 Hot Air Balloon: Your love for baby is lighter than air. Capture the magic and endless joy with this stunning skyscape nursery. (via Bria Hammel Interiors)

Ice Cream Nursery Theme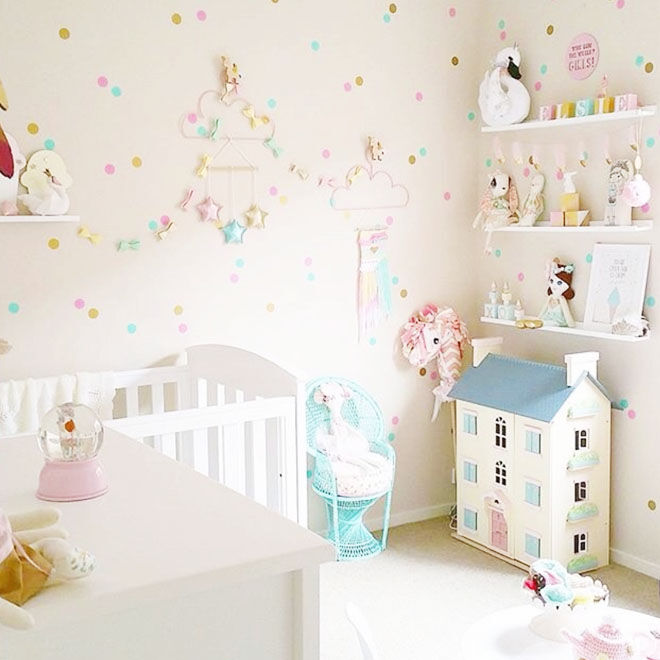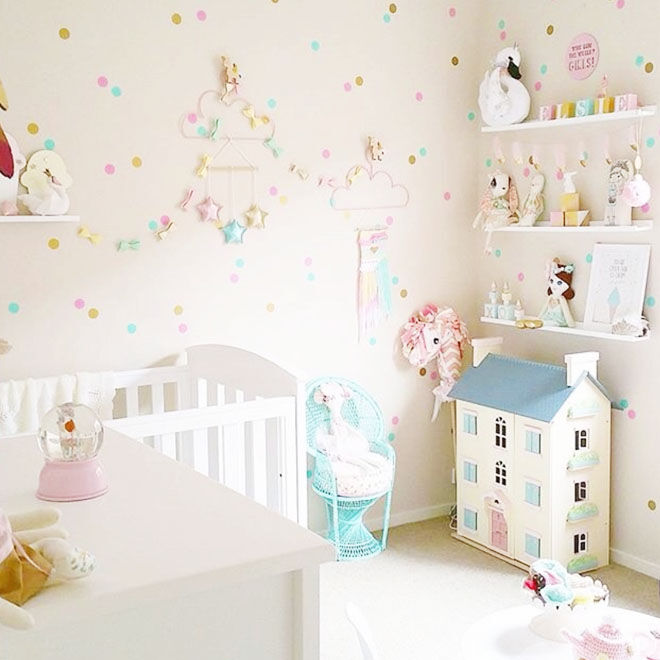 Ice Cream: Pull together all the pastels you can find. Blues, pinks, yellows and greens combine in this sweet nursery for your little one to enjoy. (via Ginger Monkey)

Jungle Nursery Theme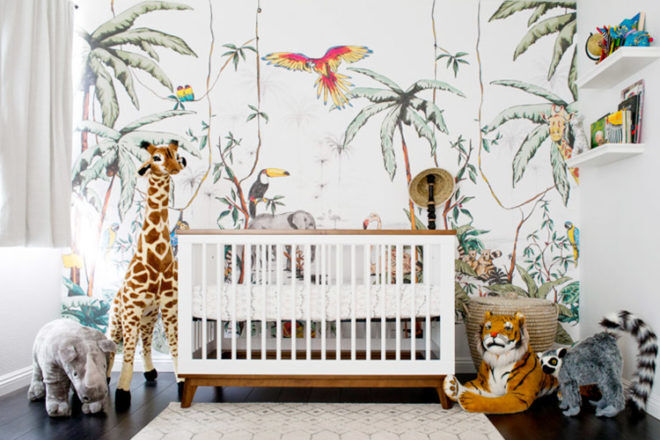 Jungle: They'll be wild times, that's for sure. Bring zebras, giraffes and lions along on this wonderful journey with your cheeky little monkey. (via Project Nursery)

Kites Nursery Theme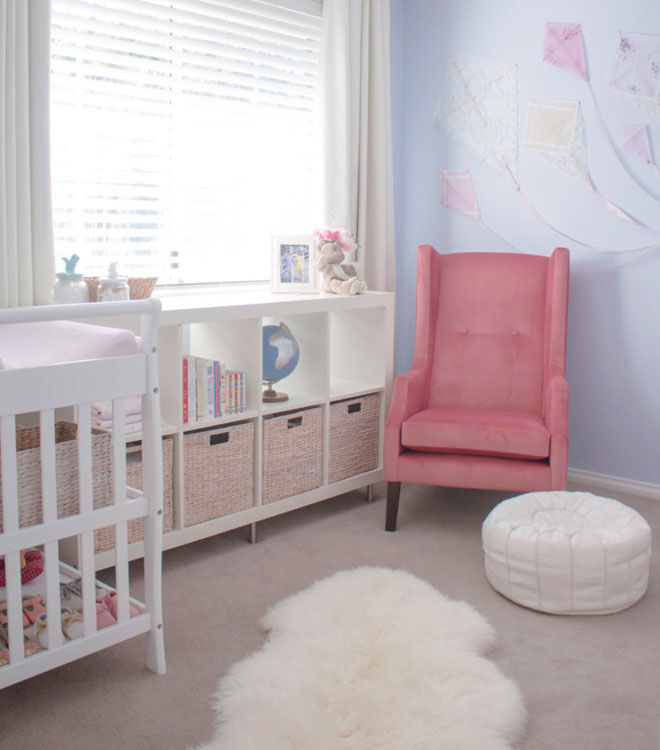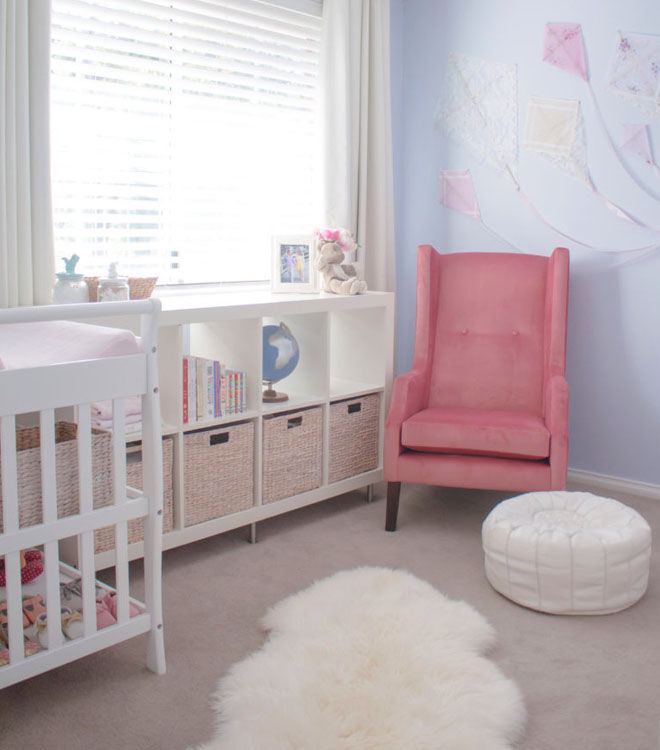 Kites: The sky's the limit. Pretty homemade kites adorning the nursery walls show your angel that absolutely anything is possible. (via Project Nursery)

Llama Nursery Theme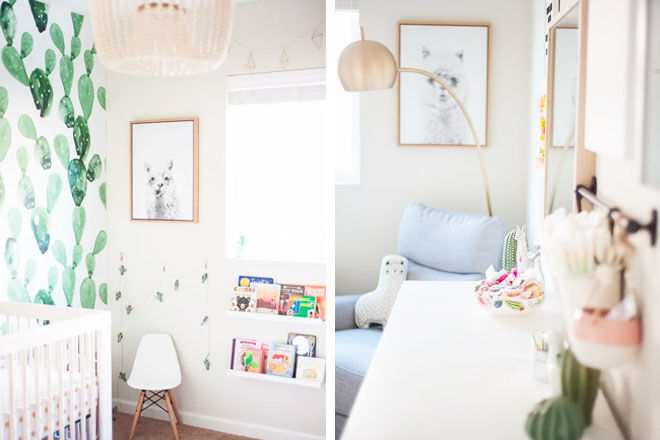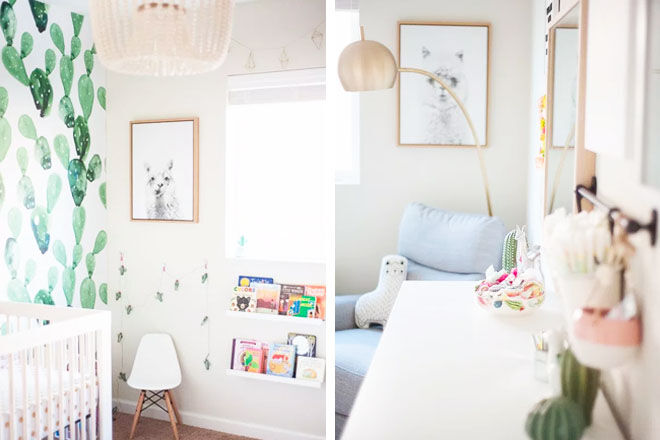 Llama: Just like you and baby, llamas come in pairs. Take the nursery cuteness up a notch or two with prints and plush toys of this lovable creature. (via Dwell Beautiful)
Other ideas:
Mountain Nursery Theme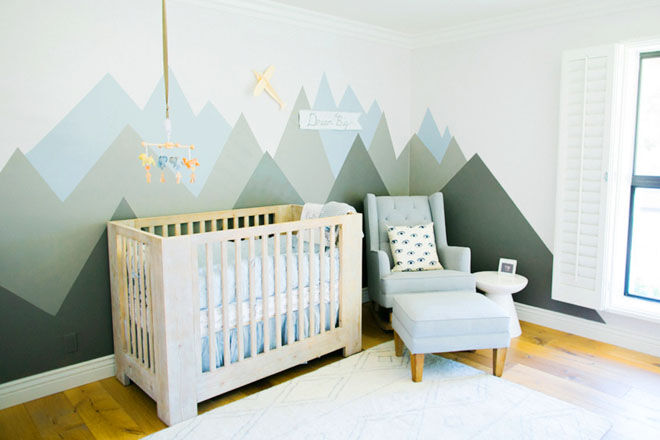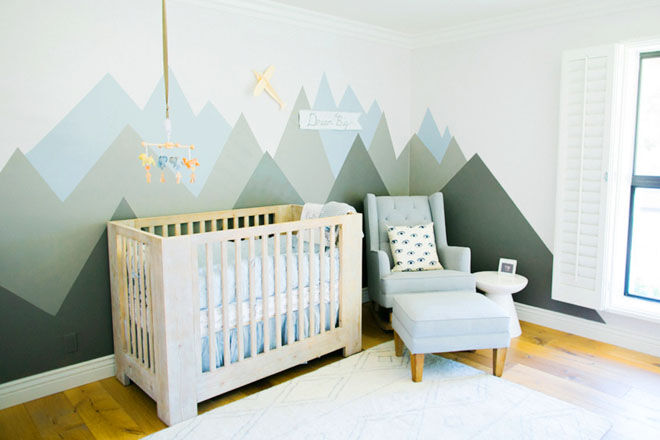 Mountains: You'll move mountains for your mini-me before they're even born. A simple colour palette and a feature wall bring this nursery theme to life. (via Melissa Jill)
Other ideas:
Nautical Nursery Theme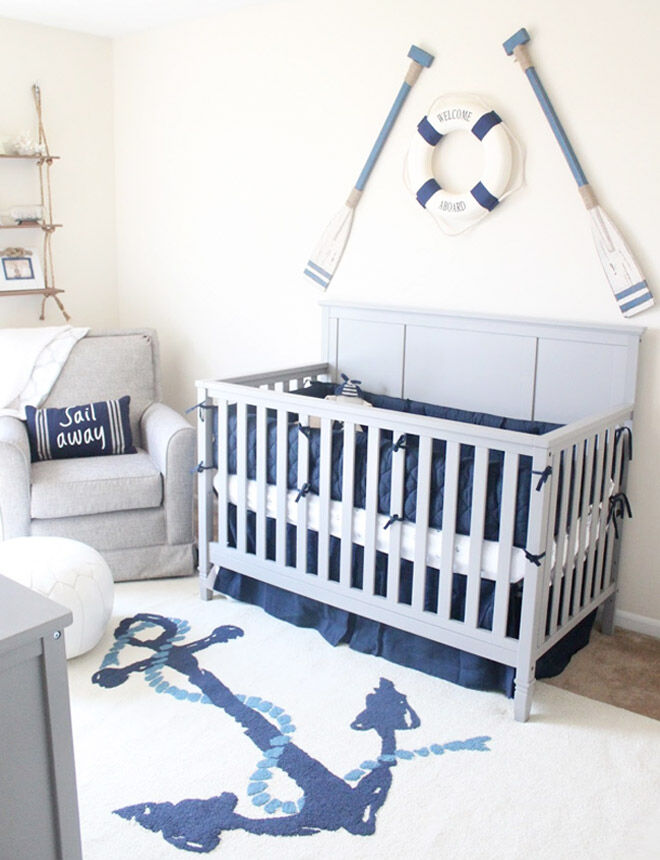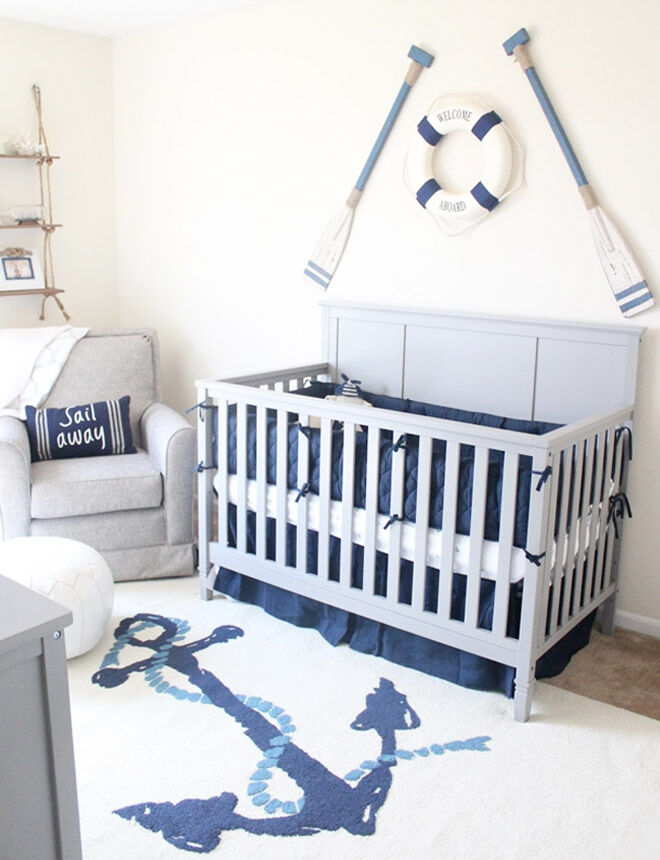 Nautical: You're about to set sail on your greatest adventure yet. Combine blue hues with crisp whites and stand-out pieces of timber to finish your nautical nursery look. (via My Keep Calm and Carry On)
Other ideas:
Outdoor Nursery Theme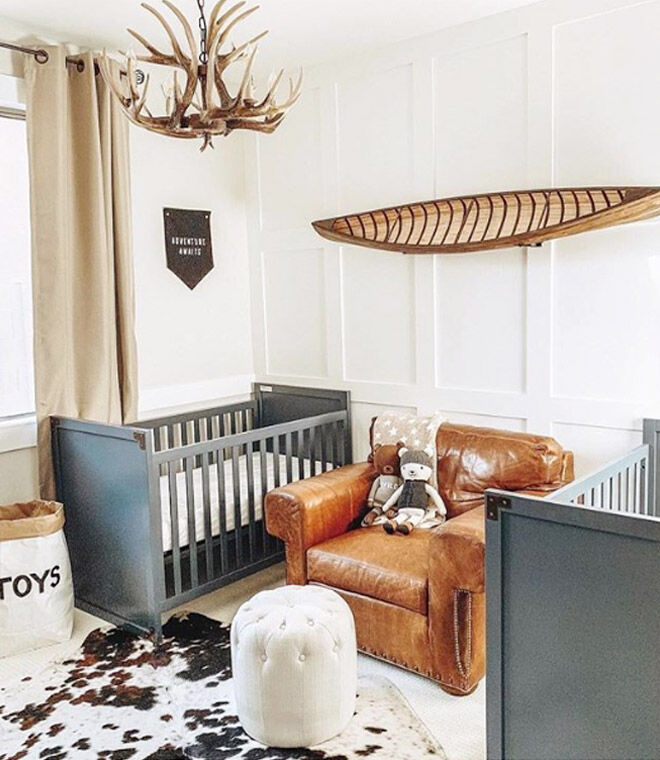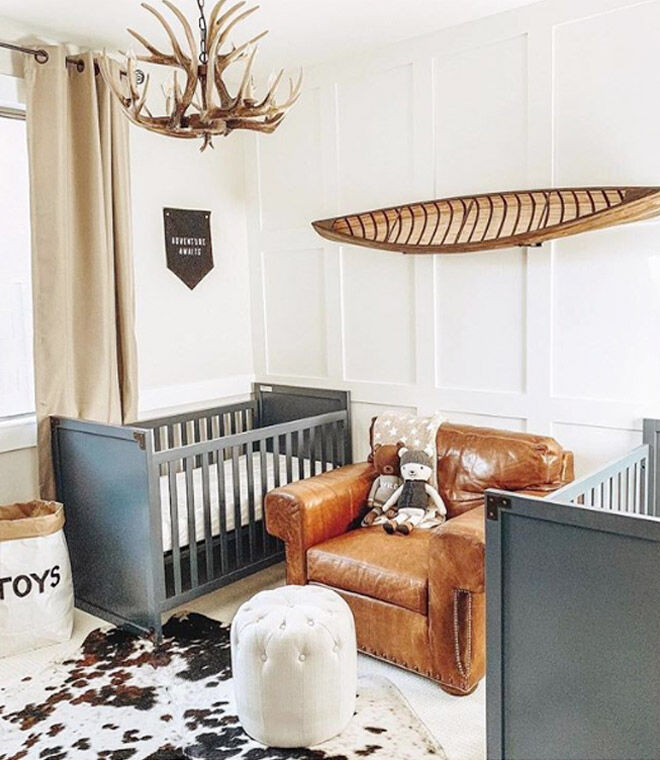 Outdoor: Show them the Great Outdoors from an early age with a nursery packed full of finds from your latest adventures. (via Project Nursery)

Peter Rabbit Nursery Theme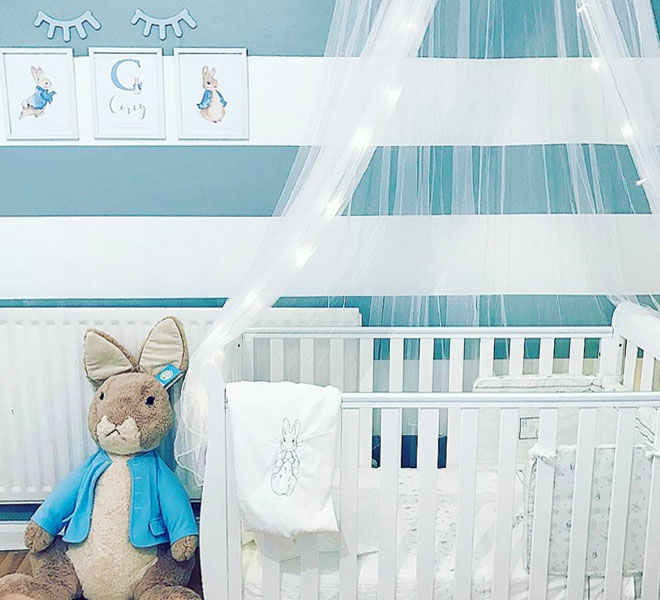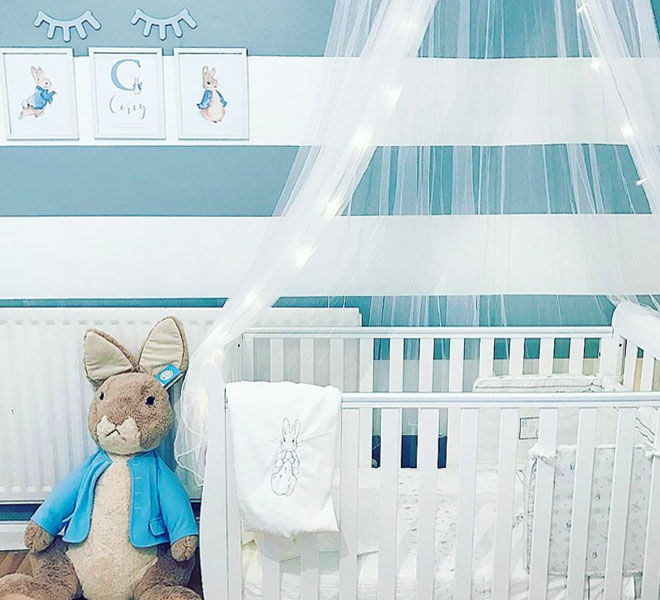 Peter Rabbit: He's the lovable rabbit who gets up to all sorts of mischief. Along with Flopsy, Mopsy and Cotton Tail, your babe can jump in and join the colony. (via Steph Truman)
Other ideas:
Queen Bee Nursery Theme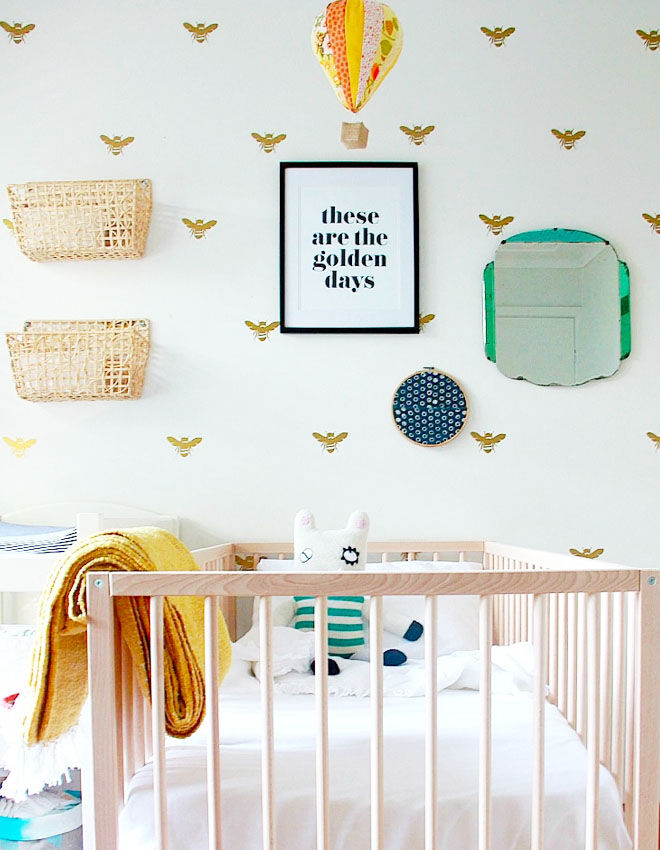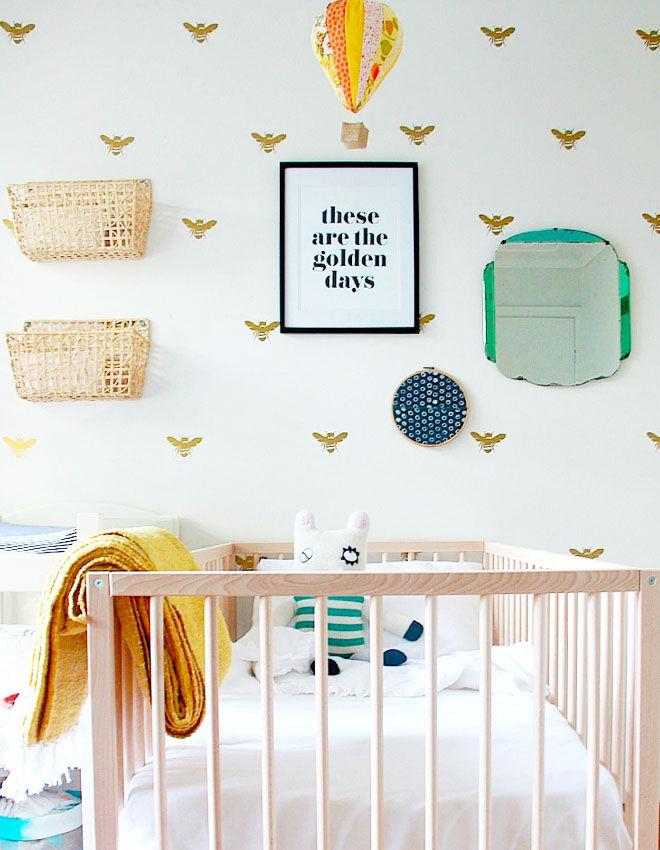 Queen Bee: The sweetest nursery of them all. Wrap your honey in love and create a bee-autiful nursey with motif wallpaper and pops of yellow. (via Duck Egg Blue)

Rainbow Nursery Theme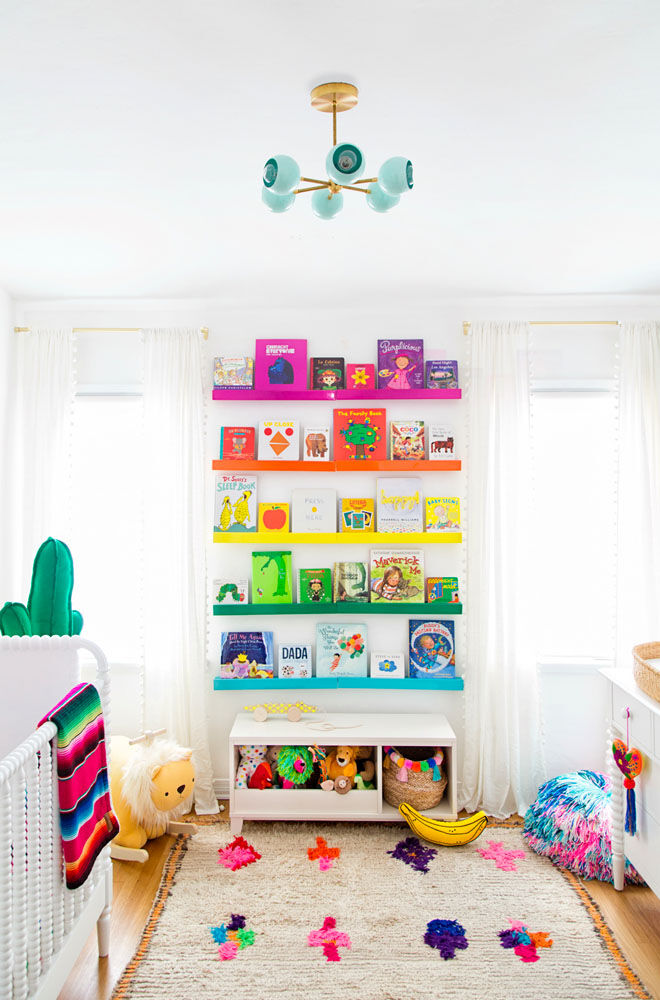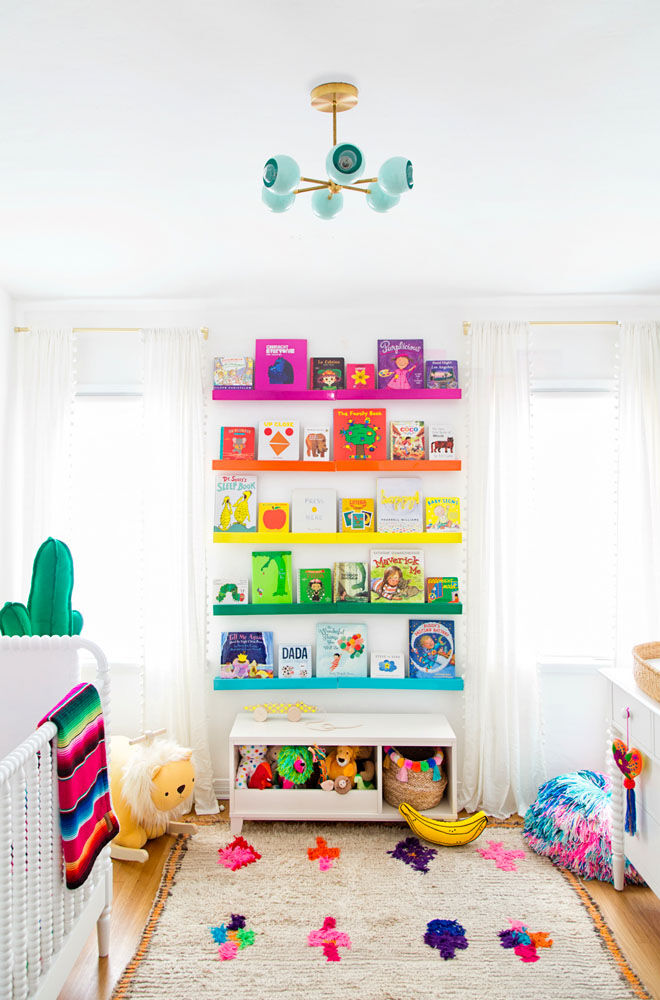 Rainbow: Don't shy away from colour – be bold with a rainbow nursery. Think vibrant wall hangings, bright textiles and loud statement pieces. (via Studio DIY)
Other ideas:
Space Nursery Theme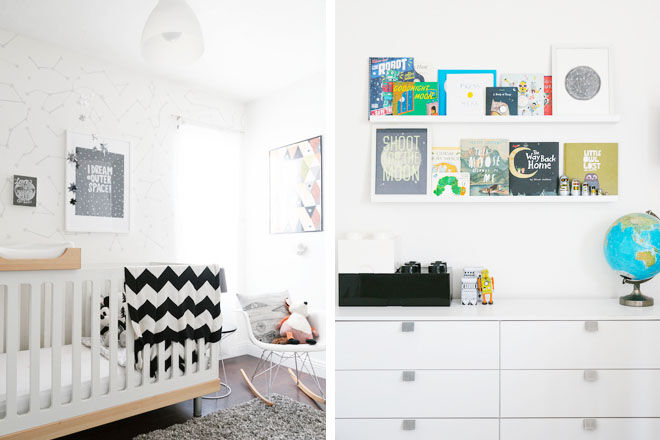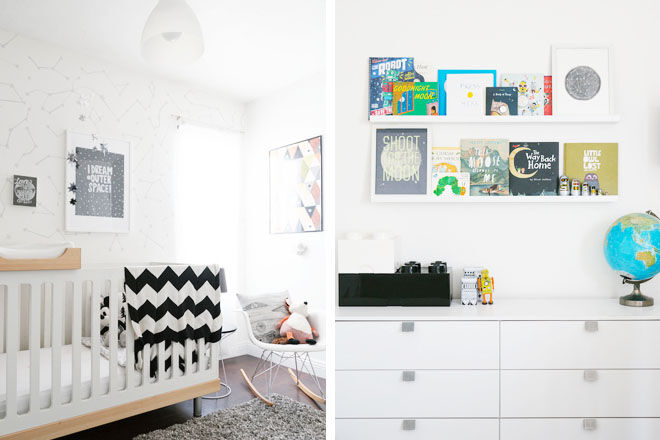 Space: Reach for the stars when planning your nursery. Go for geometric patterns, starry night lights and a cool space-themed quote to launch your look. (French Fancy)
Other ideas:
Tribal Nursery Theme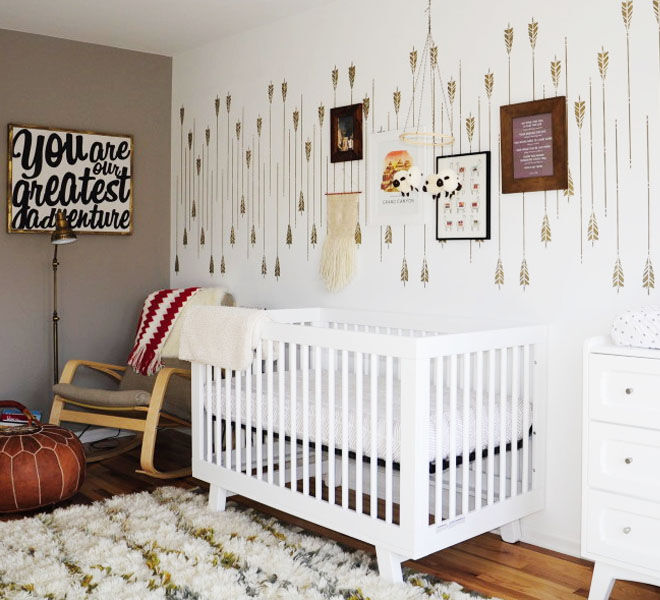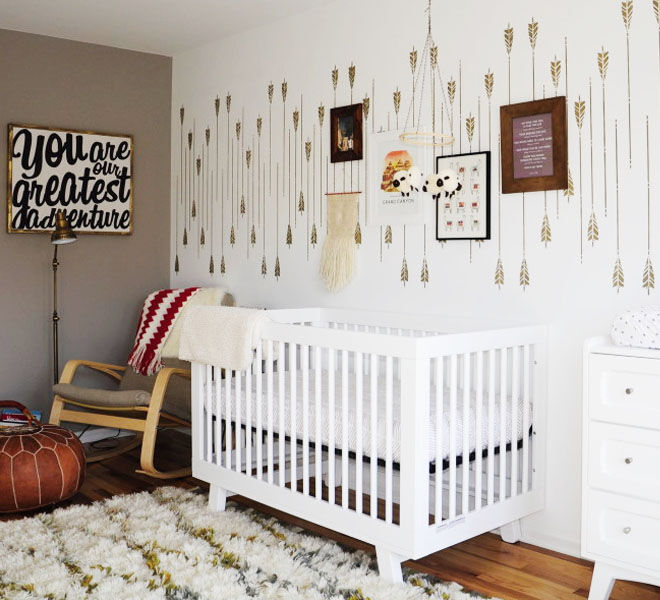 Tribal: Feathers, arrows and rustic accessories are key to the tribal nursery trend. Mix and match your pieces and add neutral tones in the background. (via Project Nursery)
Other ideas:
Unicorn Nursery Theme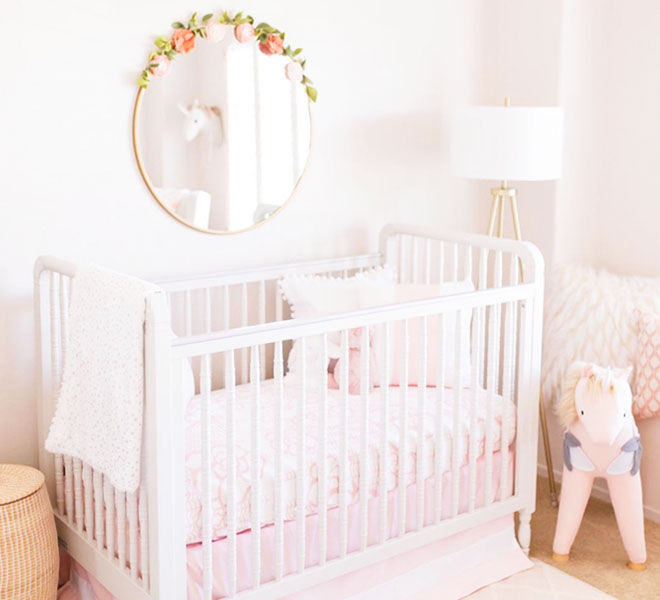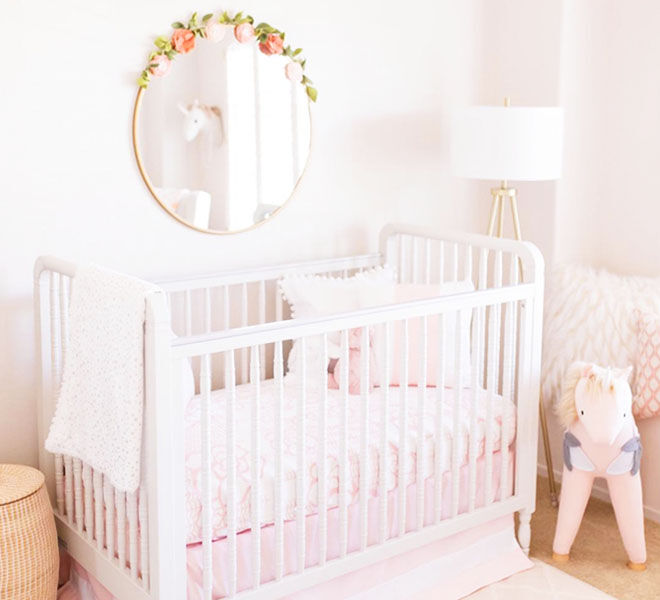 Unicorn: The whimsy unicorn is as magical as it is unique. Create a fairytale-style fortress for your precious bub with fluffy textures and assorted shades of pink. (via Brenna Heater)

Very Hungry Caterpillar Nursery Theme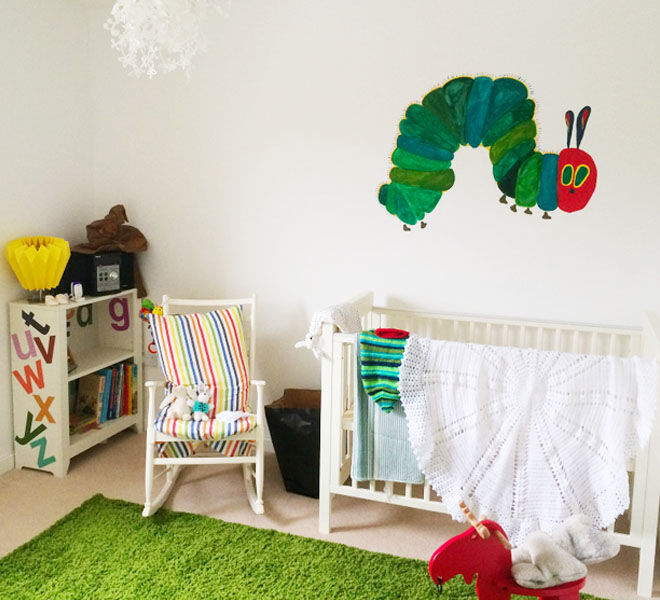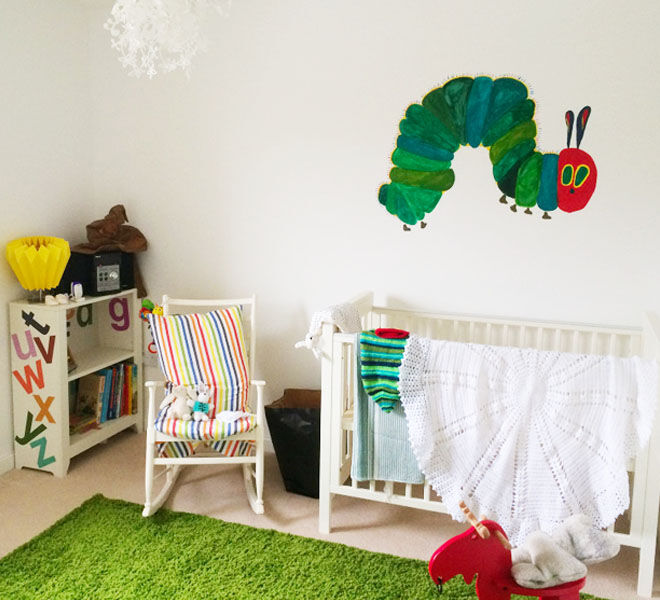 Very Hungry Caterpillar: Take inspiration from a classic children's book. A grass-like rug, colourful cushions and a bright mural will transform your nursery. (via Project Nursery)
Other ideas:
Woodland Nursery Theme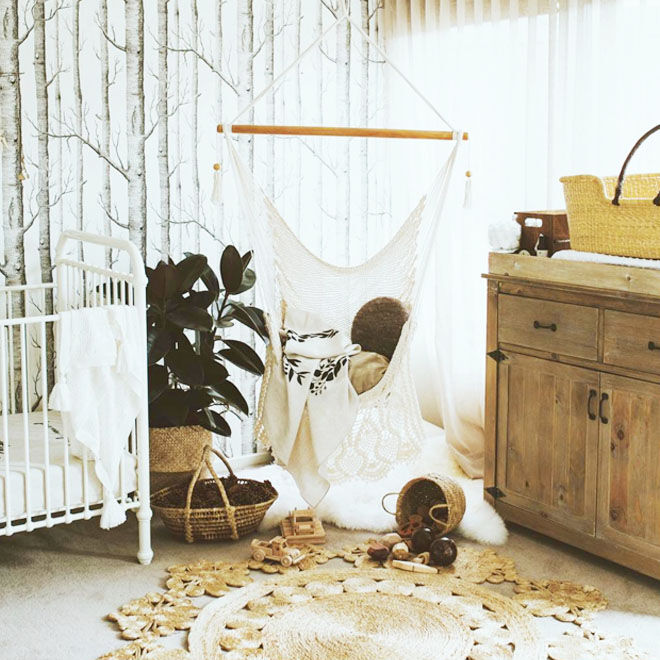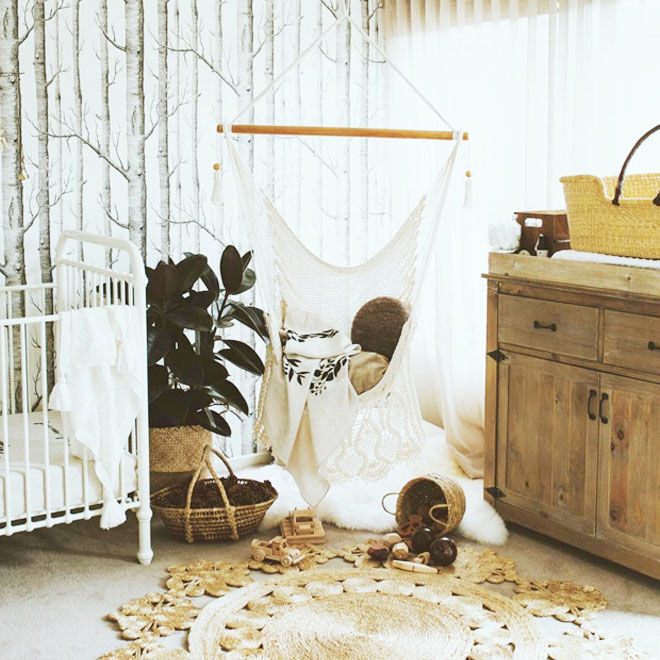 Woodland: Wall decals, natural textures and white linen bring a woodland nursery to life. Add cute creatures into the mix and your bubba will love the new habitat. (via Sophie Vine)
Other ideas:
XO Nursery Theme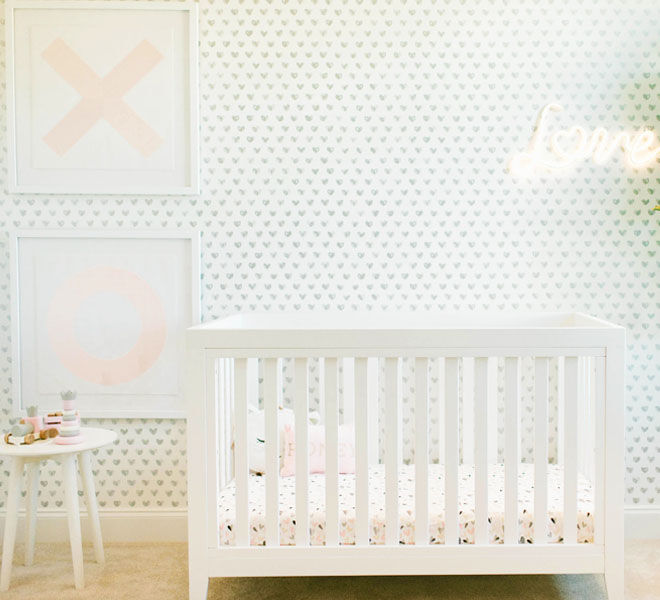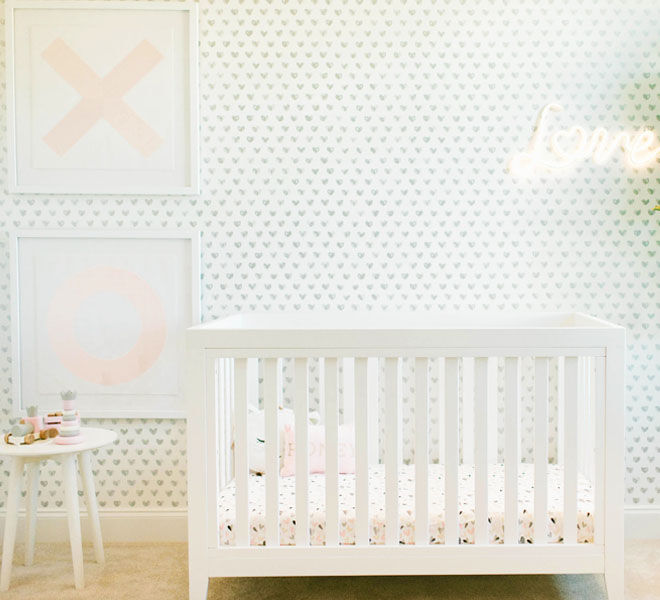 XO: Hugs and kisses all around for the new arrival. Dusty pinks, soft greys and whites compliment this modern nursery theme wonderfully. (via Shelly Rae Photography)

Yellow Nursery Theme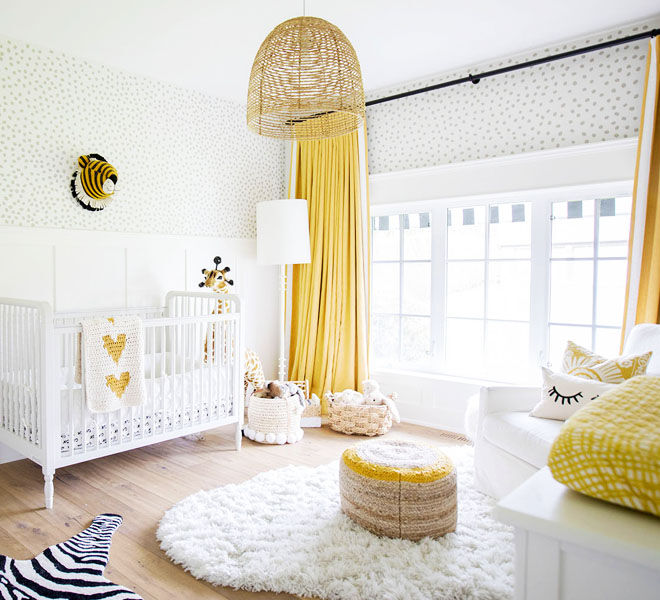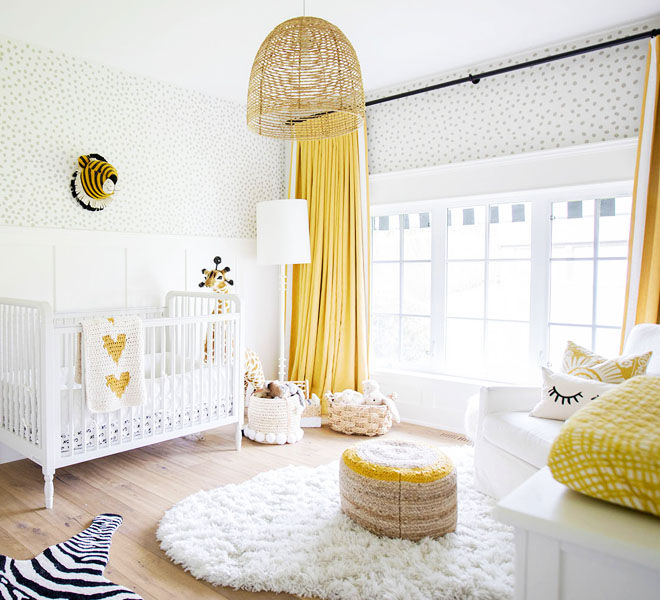 Yellow: Brighten the baby's room with bursts of sunshine. The colour yellow brings happiness to all – what more could you want for your new little love? (via Jillian Harris)

Zebra Nursery Theme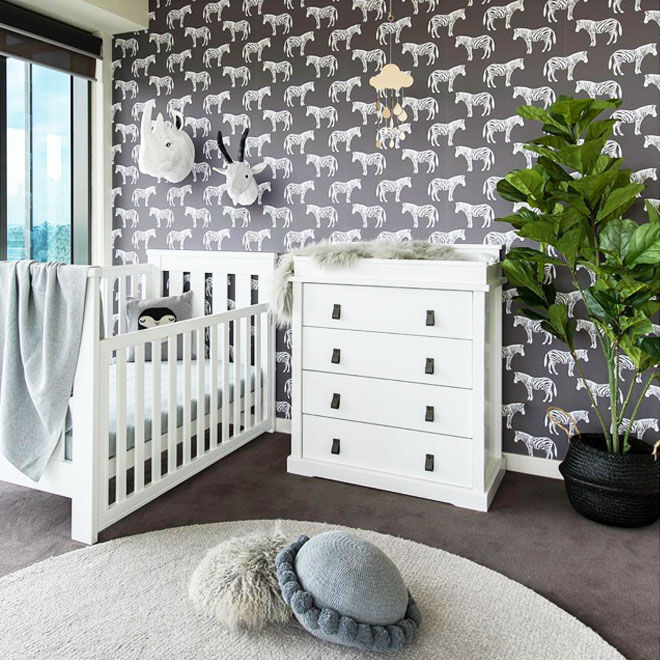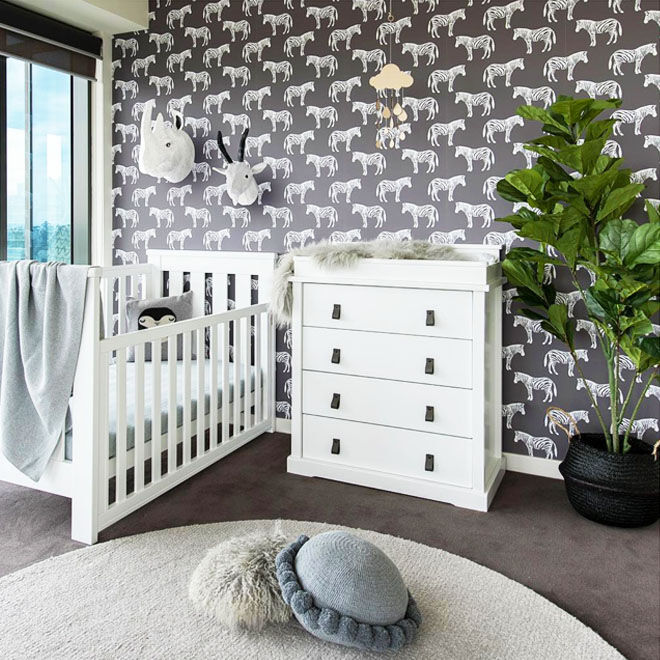 Zebra: Every zebra is unique, just like your new tiny tot. Embrace the monochromatic theme with black, white and grey finishing touches. (via Little Liberty Rooms)
Other ideas: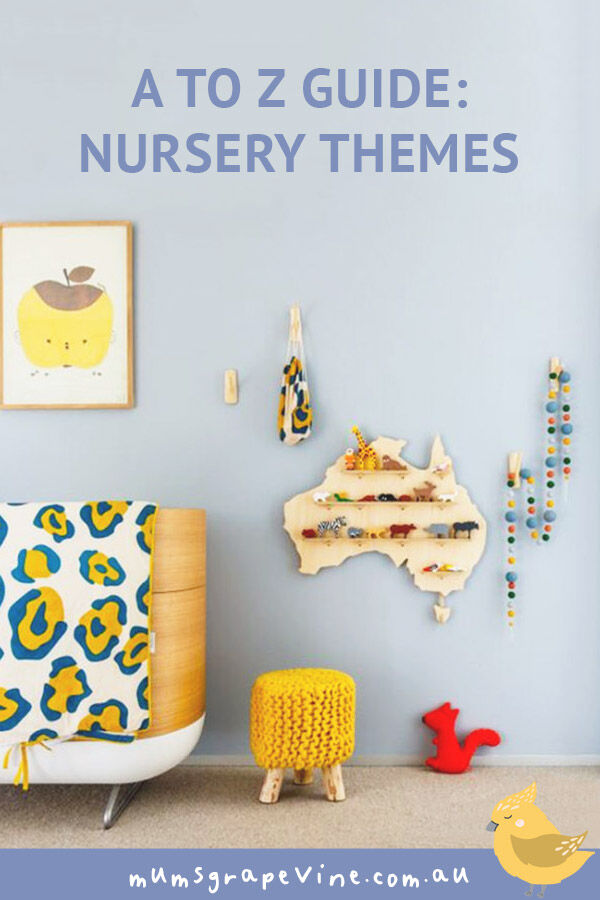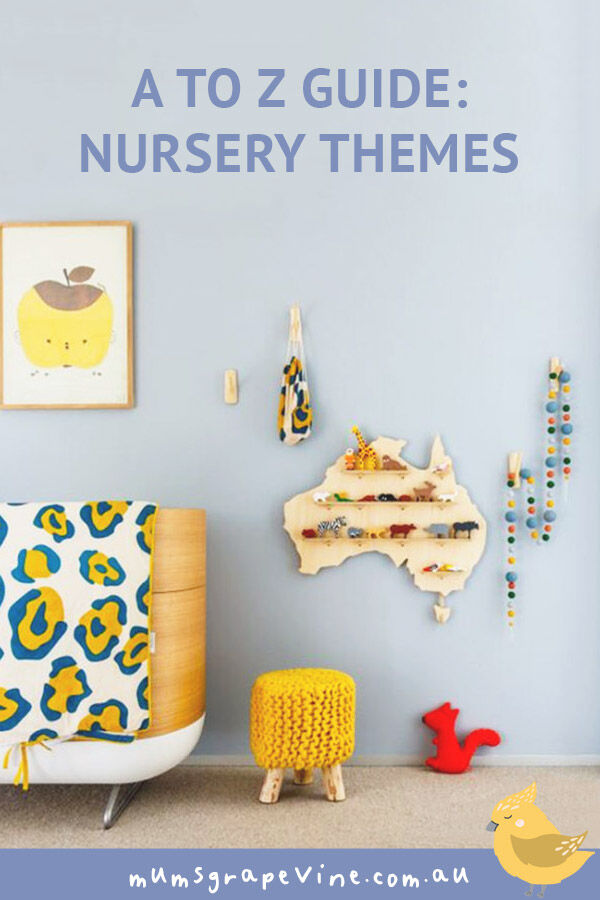 Now that your nursery planning is underway, it's time to hang out and share ideas with other mums-to-be planning their nurseries too!
The Mum's Grapevine closed Pregnancy groups are safe and supportive Facebook groups based on the season you're due – so you're all expecting at the same time!
Click below and join your group today!