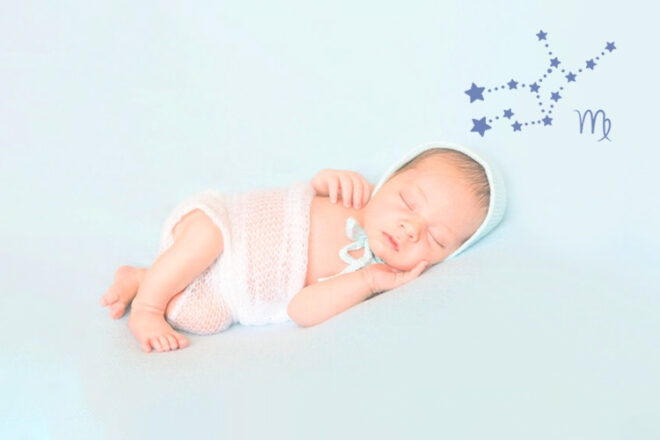 Virgo babies – (August 23  – September 23)
Kind and smart little souls, Virgo babies are an absolute treasure. Unselfish and always yearning for knowledge, a Virgo child will be your helping hand, as well as take up a whole lot of room in your heart.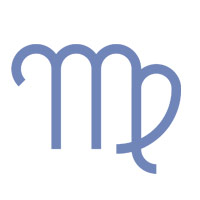 6th astrological sign
Zodiac Symbol: The virgin
Constellation: Virgo
Zodiac Element: Earth
Zodiac quality: Mutable
Sign Ruler: Mercury
What to expect with a Virgo baby
According to Building Beautiful Souls a Virgo child is a thing of wonder – positively beaming with love. As a great listener and avid learning, young Virgos are sponges ready to soak up new skills and experiences. Because of this, they may gravitate towards toys that are beyond their age bracket and may read and write a little earlier than their peers.
They tend to be serious creatures who are dependable and analytical and sometimes a little bossy because they like to take the lead. Allowing them to help and be independent is key as you'll find they thrive on helping others.
Virgo babies love to be busy babies and as they get older this will translate into their love of wanting to help others. They also tend to be little worry worts, so keeping them busy helps chase away the worries. They also tend to be messy, so big bibs are the way to go at mealtime!
Virgo traits
Helpful
Unselfish
Smart
Love learning
Advanced
Stubborn
Busy
Dependable
Bossy
Methodical
Quick-thinking
Sympathetic
Famous Virgos
Dependable, smart folk with a yearning to better themselves and the world have given these Virgos the traits they needed to make an impact on the world.
Agatha Christie
Bill Murray
Sofia Richie
Alexander Skarsgård
Melissa McCarthy
John Mulaney
Bebe Rexha
Zendaya
23 names perfect for Virgo babies
Completely dependable, unselfish and helpful these strong names are perfectly suited to Virgo babies.
Amelia: Of German origin and meaning 'work' or 'industrious', this name is well-suited to a helpful little Virgo.
Cybele: This Greek/French name means 'goddess of the harvest' or 'mother of all gods', which sits beautifully with a helpful, unselfish Virgo baby.
Deborah: Another name that means 'an industrious woman', of Hebrew origin, it's certainly slipped in the popularity stakes in the past few years.
Delroy: A stunning vintage French moniker that means 'son or servant of the king'.
Emery: A German name that works well for a boy or a girl, it means 'industrious leader, ruler of work'.
Eustace: Meaning 'fruitful harvest' and 'steadfast' – a hard worker with a true heart, just like a Virgo.
Ezra: A Hebrew name that means 'the helper' – could there be a more perfect name for a child born under this incredibly selfless star sign?
Emily: Meaning 'industrious', this continues to be an incredibly popular name well within the top 20.
Fabrianne: A truly beautiful Latin name meaning 'maid of good works' and a 'resourceful craftswoman'.
George: As an earth sign, this name is both strong and true to Virgo traits, with George meaning 'earth-worker'.
Glenda: Most of us wistfully think of The Wizard of Oz when we hear this gorgeous name. Its origins are Welsh and much like Glenda the Good Witch, it means 'pure and good'.
Hermione: Harry Potter fans, this one's for you. It's a Greek name that means 'a maid of high degree'.
Hugo: Meaning 'thinker', this short and strong name has German, Spanish and Portuguese origins.
Marshall: This happens to be the real name of rapper Eminem, and is of French origin, meaning 'one who looks after horses'.
Melissa: A Greek name that actually means 'honeybee' (how adorable). Well suited to a hard-working Virgo.
Nevin: An Irish-Gaelic name meaning 'the servant of the saints' or 'holy', it's not one you'll find on the most-popular baby lists.
Paige: Of older French origin and meaning 'young servant' this sweet name was quite popular in the early 2000s.
Reeve: Suited to both a boy and a girl, this old English name means 'steward' and 'bailiff". Despite having such ancient origins, it's a rather modern-sounding moniker.
Rhea: Meaning 'earth goddess', this Greek name also means 'flowing stream'.
Sapphire: A glittering name, which pays homage to the Virgo gemstone.
Stuart: Funnily enough, this old English name means 'steward'.
Thane: Meaning 'servant, soldier' – an interesting balance for a Virgo child who loves to help, and also lead.
Zaniah: A truly celestial name – this is a triple star system in the Virgo constellation.
---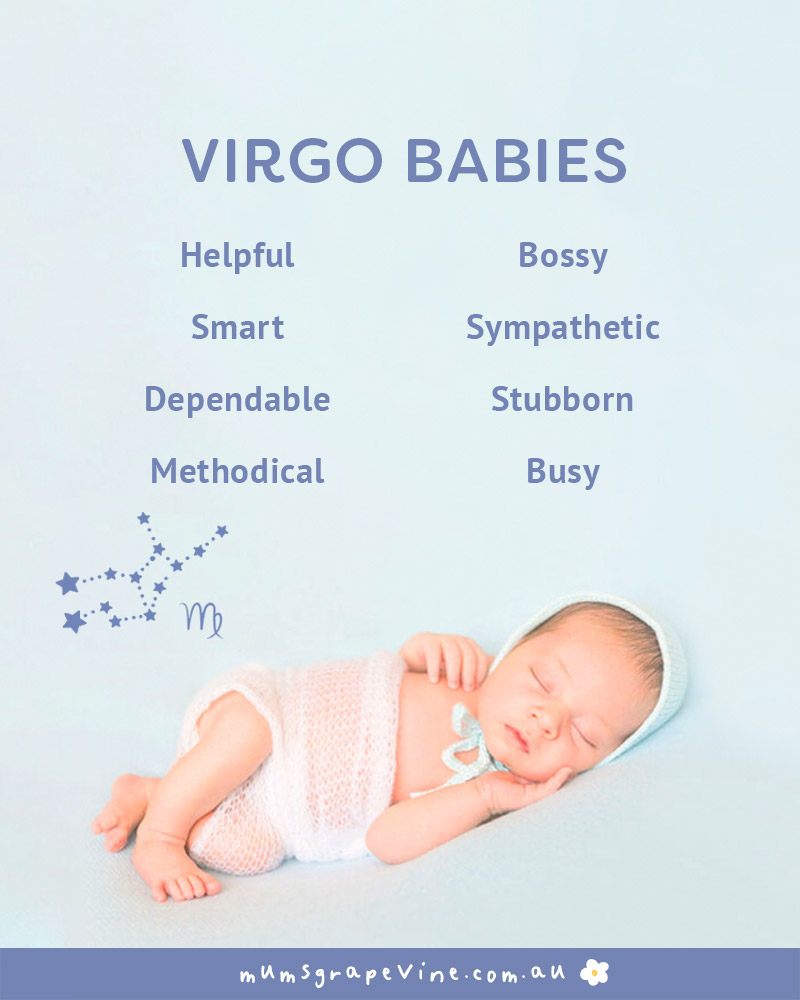 Find more baby names …
Want to know more about your little Virgo, or in need of some more baby name inspo? Take a peek at these articles next:
Having a baby in 2022?
Year of the Water Tiger: Your 2022 baby's personality
Having your own little Virgo baby? Join thousands of other Aussie mums with babies the same age as yours in a Mum's Grapevine Due Date Facebook group. Join today!