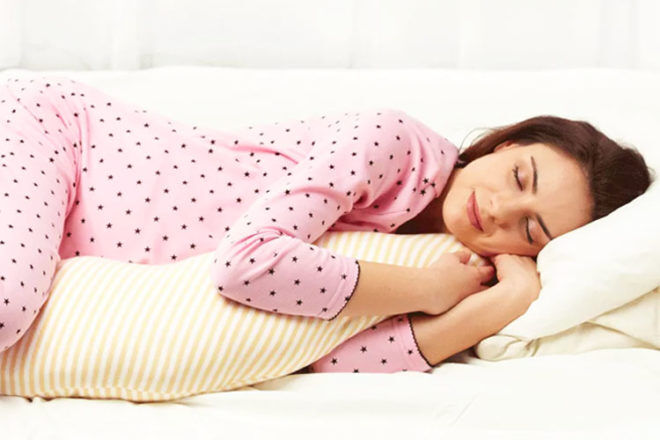 Best pregnancy pillows for Australian mums.
Ahhh sleep. Like so many mums, you probably never gave it a second thought before falling pregnant. But now, there's a baby-sized bump in the road stopping you from reaching 'destination dreamland'. If a good night's sleep feels like something of a distant memory we're here to help. We've hunted down the best pregnancy pillows that will have you drifting off to sleep in no time.
We asked our Facebook group members to recommend the best maternity pillows they used and these are the brands they recommend.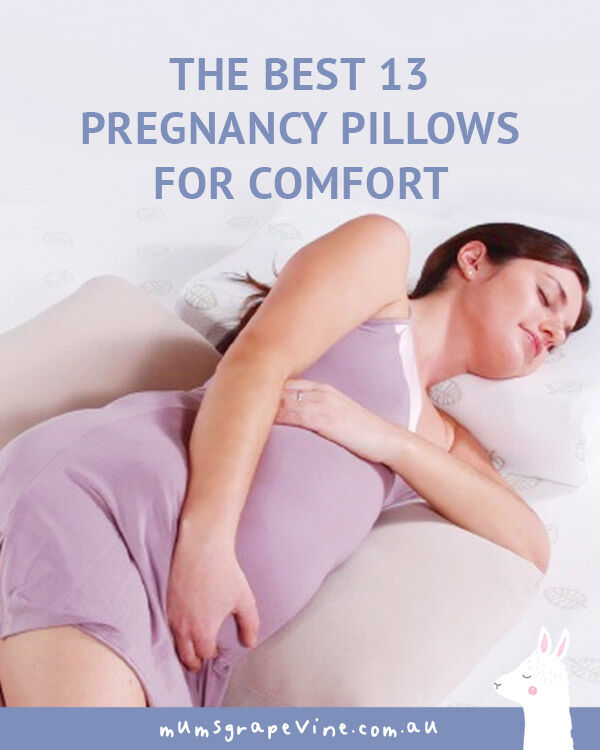 Snoogle Pregnancy Pillow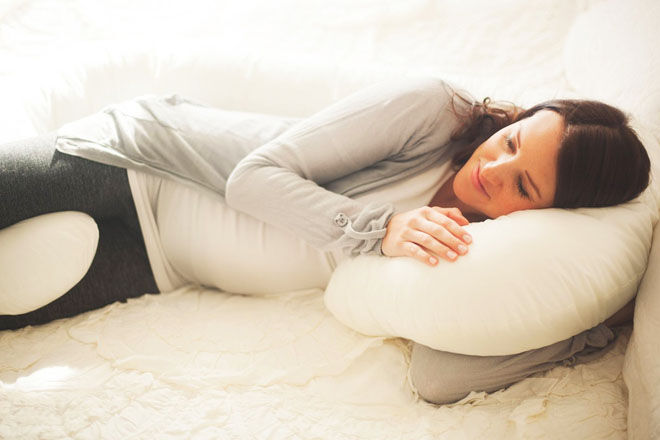 The Snoogle has rave reviews thanks to its full-body support, easy-clean cover and optimum firmness. If you like your pillows not too hard but not too soft, this one is a winner.
"I have a Snoogle which is amazing! I wake up not wanting to get out of bed and leave my pillow behind" – Kirsty S
"The Snoogle… oh my God it's sensational. I keep rolling onto my back because I am a back sleeper but this pillow curves around between your legs and halfway up your lower back and prevents me from doing it." – Monique W

---
Ultimate Sleep Pregnancy Pillow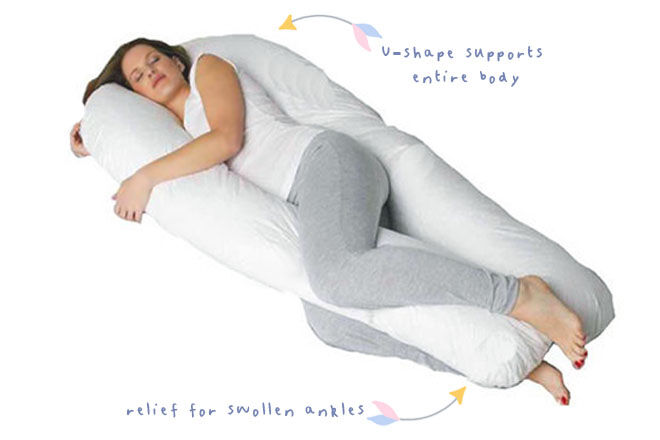 The full-body U-shaped pillow has been designed to support the entire body. And unlike other pillows, this one can be added to your laundry. It keeps its shape and volume even after frequent washing and usage – a new Mumma must!
"This pillow is so comfortable! Fluffing up the arms as directed truly makes it feel like new. I've continued to use it post-pregnancy and I'm so glad I treated myself to this wonderful product!" – Kate Q

---
Mamaway Pregnancy Pillow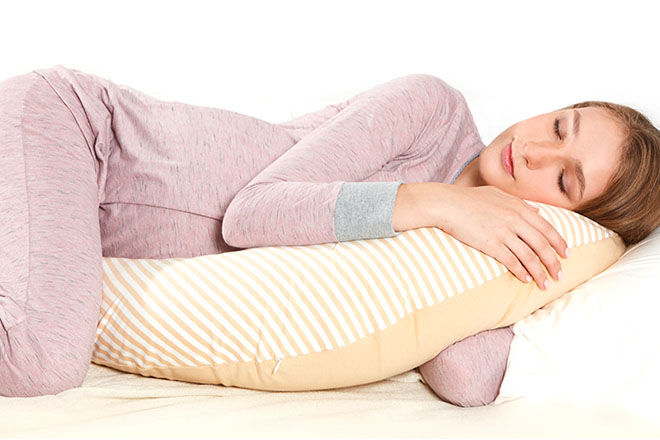 You get real bang for your buck with this guy. The award-winning nursing pillow moulds to your body to give ultimate support and comfort – hello winning combo!
"I use the Mamaway one and it's so worth the price! Can also be used to prop bub up while breastfeeding." – Bernadette M

---
Belly Bean Pillow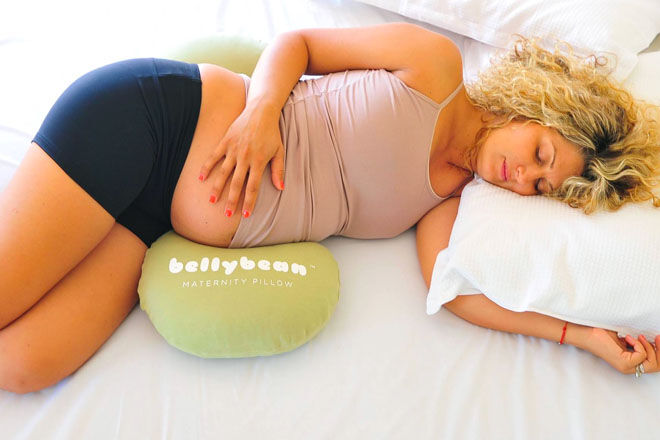 Made in Australia, the Belly Bean may be small in size but is BIG in benefits. Designed to keep growing bumps comfortable while supporting hips and back, it's a favourite for mumma bears wanting minimal disturbance for baby daddy too.
"Love the Belly Bean. I've used it for both my previous pregnancies and used it while breastfeeding as a nursing pillow" – Kirsty H
"I've got the Belly Bean too and love it. It doesn't take up as much room in the bed as some of the others and very comfy for the growing belly." – Janet K

---
Boyfriend Pregnancy Pillow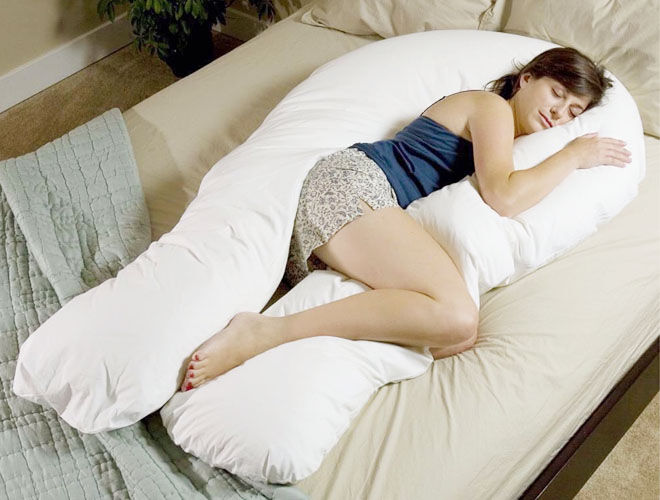 The pregnancy pillow from the makers of the Boyfriend Pillow offers 360 degrees of complete cloud-like body comfort. And when the baby arrives, simply alter the position and becomes your feeding best friend day and night.
"I love my pillow. It's great because I can't sleep on my stomach anymore but it helps me get close enough while still sleeping on my side." – Kate M

---
Boppy Pregnancy Pillow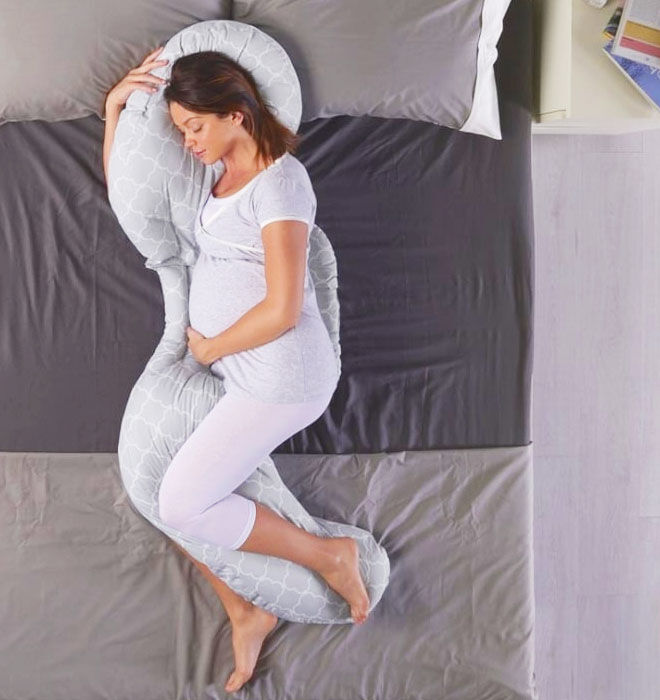 Is your neck giving you grief one night then your back and bump the next? The Boppy is the answer. Its clever design consists of three separate velcro pieces, allowing you to customise the pillow's shape to suit your nightly needs.
"I ended up buying a Boppy and found it perfect. Definitely recommend packing it in your hospital bag" – Amy C
"My mum just bought me a Boppy pillow, and since using it the last 2 nights I've finally slept almost right through! Amazing!" – Tori W

---
Target Pregnancy Wedge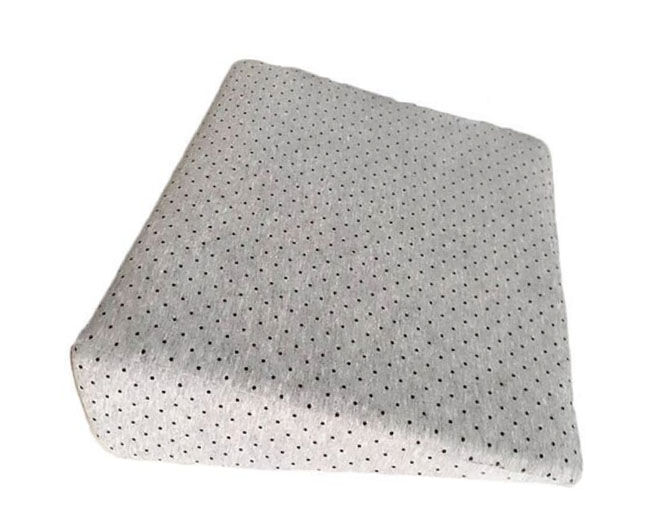 The Sleeping Wedge is ideal for anyone not wanting a full-length body pillow. The wedge gives support wherever you need it most – tummy, legs or hips, leaving your growing bump happy and your bank account too!
"My lifesaver and best friend is my tummy wedge. Fits just under the tummy and gives a bit more support." – Deborah M
"There is a pregnancy wedge at target for $15. I use it every night." – Carly D

---
Butterfly Pregnancy Pillow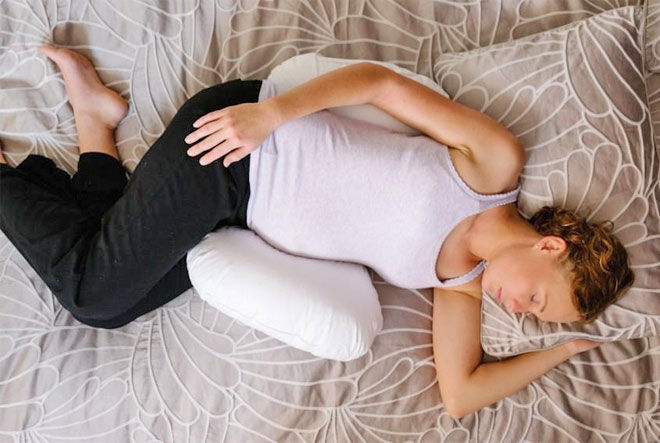 A light and compact pillow for pregnancy snoozing on-the-go, the Butterfly gives support where it's needed. Australian made, the wings make sure your back, bump, knees and hips are in a good position for restful sleep.
"Perfect support without taking up to much room"  – Lisa G

---
Jill & Joey Pregnancy Wedge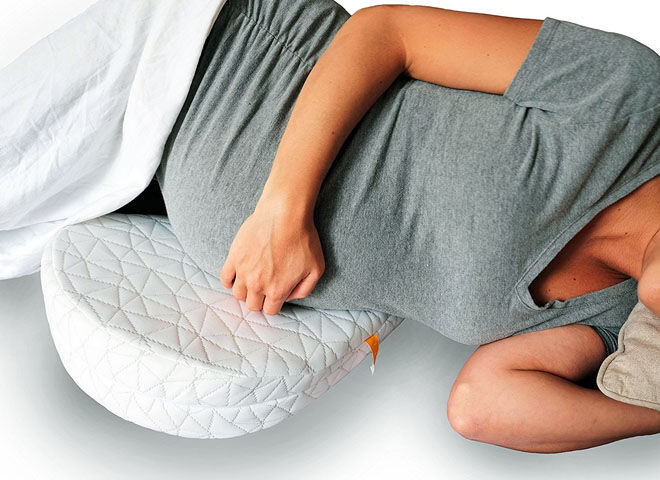 Just a whisper of the words memory foam and we feel like we've been given a giant cuddle. Well, imagine resting your precious baby bump, back or knees against a pillow made of the stuff.  This clever wedge is said to soothe pelvic pain and help sleeping with its dual-support design. Flip one side for firm and the other for soft.
"My experience after a week of sleeping with this pillow has been great. I use it mostly for not rolling onto my back, and it has been super effective! I wake up every morning on my left side and feel less dizzy after getting out of bed." – Olivia M

---
Tummy Snuggler Pregnancy Pillow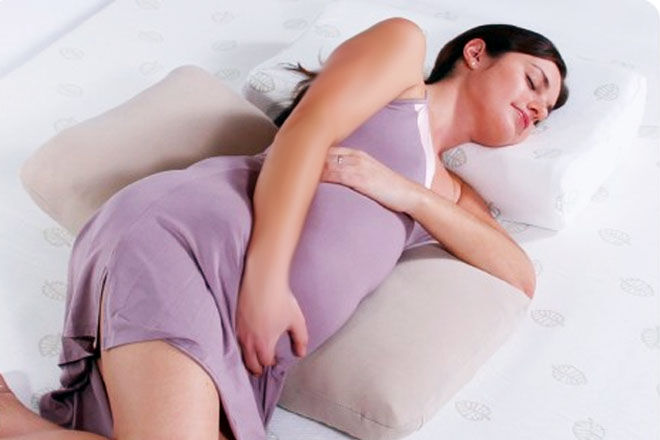 Your growing bump may be the most visible issue affecting your sleep, but bad posture (thanks pregnancy!) can also cause back and neck pain. The award-winning Tummy Snuggler cushions your bump while keeping your back nice and aligned through the night.

---
Lucky 7 Pregnancy Pillow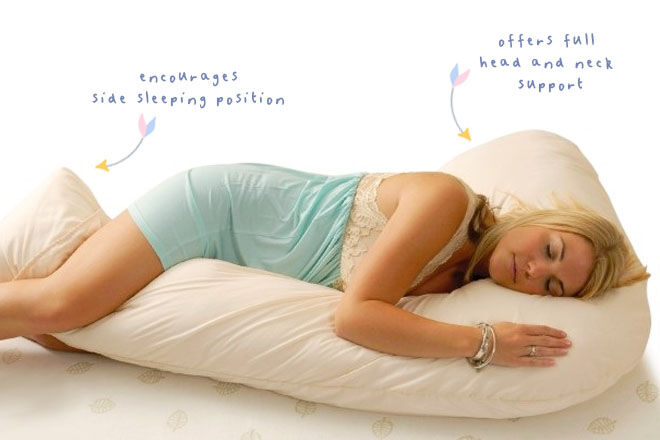 The 7-shaped pregnancy pillow encourages a comfortable side sleeping position while providing the ultimate resting place for your head and neck. Bye-bye backache!
"It's the perfect shape for under head and between legs at the same time. It's also amazing for breastfeeding" – Nicole M

---
CuddleUp Body Pillow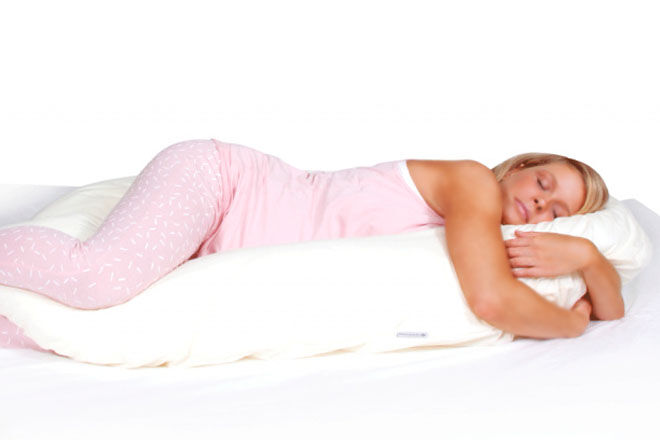 Cocooning around you like a lovely hug, the CuddleUp follows the natural contour and shape of your body. It supports the abdomen and back, is great for relieving painful pressure points and elevates the shoulders, arms, legs, and feet to reduce swelling.

---
Dreamgenii Pregnancy Pillow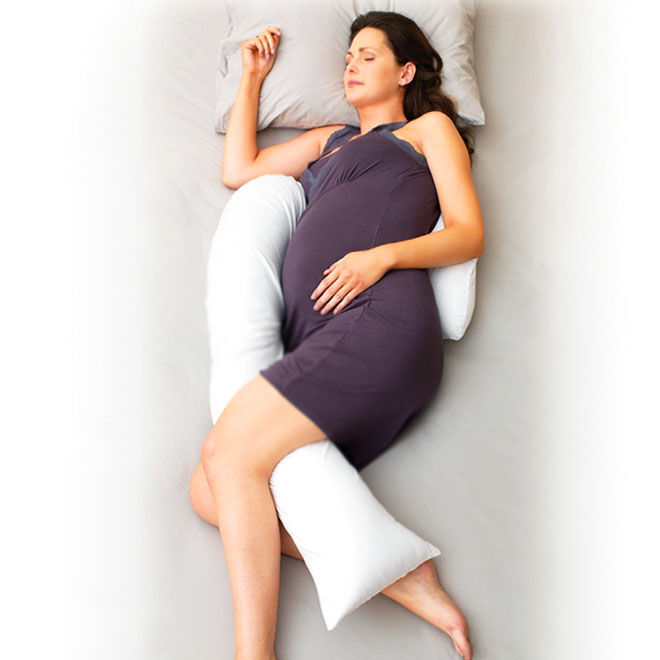 The Dreamgenii is as clever as it is compact. It supports your bump, back and knees all while you (attempt to!) sleep. It also doubles up as a feeding pillow once bub has arrived.
"I was happy with this my last two pregnancies. Supports your back and tummy and has a bit in between your legs which is so necessary when sleeping pregnant! Doesn't take up too much room either." – Deborah S
"I have one like this that I got during my last pregnancy and have continued to use it ever since. I love it." – Leah C

---
Continue your search for the best pregnancy pillow
Searching for the best pregnancy pillow and still not sure if any of these are right for you? Continue your search online by jumping into one of our closed Pregnancy or Baby Facebook groups and ask thousands of other Australian mums what they recommend – 'What to buy' is the most talked-about topics.
Click below and join your group today!