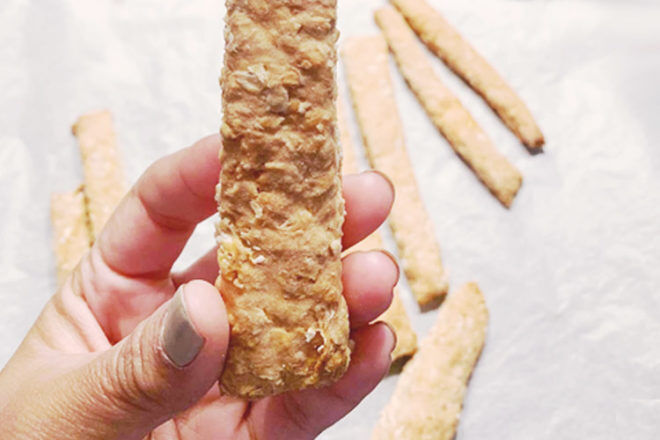 Teething tots want to chew, chew, chew so here's something delish for them to gnaw on, made from ingredients you've probably got on hand right now.
One of our industrious Mum's Grapevine Facebook Baby Group members, Mira, shared her recipe for Banana and Oat Baby Rusks and it's proved popular with bubs across Australia. And as a bonus, it's also delighting the tastebuds of toddlers who're looking for a crunchy snack.
Here's how to make Banana and Oat Baby Rusks.
Ingredients
1 cup of flour  (any flour)
1 cup of oats (can use rice cereal or no oats at all)
1 ripe banana
1 tablespoon of butter
3-4 tablespoons of water
Method
STEP ONE: Mix all the ingredients until they form a dough that's not sticky.
STEP TWO: Roll or press out the dough and cut according to how baby likes them. If cut into long pieces, you'll get about six. Cut them smaller to get up to 12.
STEP THREE: Pop them on a sheet of baking paper and place in the oven for 40 minutes at 180c (or until brown and rock hard).
Top Tips
These rusks are great to freeze and save for later. Give to teething babies frozen to really soothe sore gums.
Read next
We have a whole treasure trove of recipes to get little tastebuds singing. Here's some for you to try next: