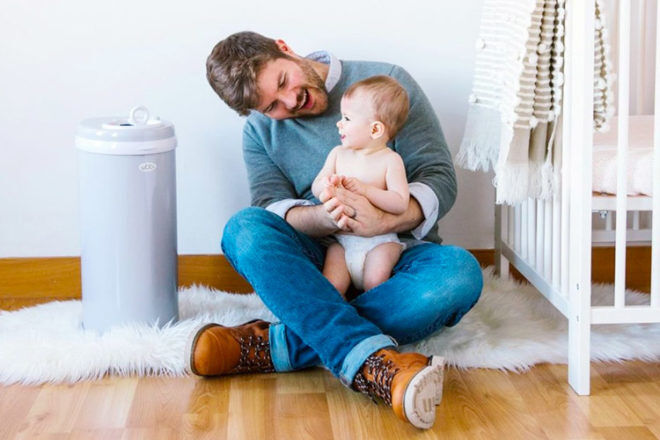 Along with the joy of newborn babies comes the joy of dealing with nappies. And lots of them. Weighing up whether to use cloth or disposable nappies is a decision most parents make before baby comes home and it all comes down to personal choice.
If you've decided to use disposable nappies on your little one's bot, a nappy bin can be a game-changer when it comes to convenience.
What to look for when buying a nappy bin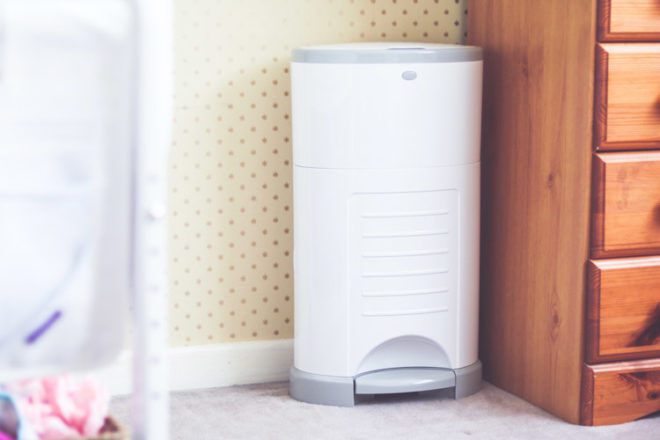 Here are some of the key features to look for when buying a nappy bin:
Size: Like everything else in the nursery, size really does matter. Babies come with a lot of stuff so choose a nappy bin that won't clutter the space and has a convenient spot to sit in.
Capacity: How far is the outdoor wheelie bin from babies bedroom door? If you live in an apartment building or have a few flights of stairs to climb, consider buying a nappy bin with a large capacity to save a little legwork.
Odour: There's no denying that wet and soiled nappies smell a little funky. Look for a nappy bin that locks in bad smells with clever seals or coatings to keep baby's nursery smelling fresh all day long.
---
The best nappy bins for 2019
We asked our Pregnancy and Baby group members to recommend the best nappy bins available and these are the brands they recommend.
Ubbi Nappy Disposal Unit Review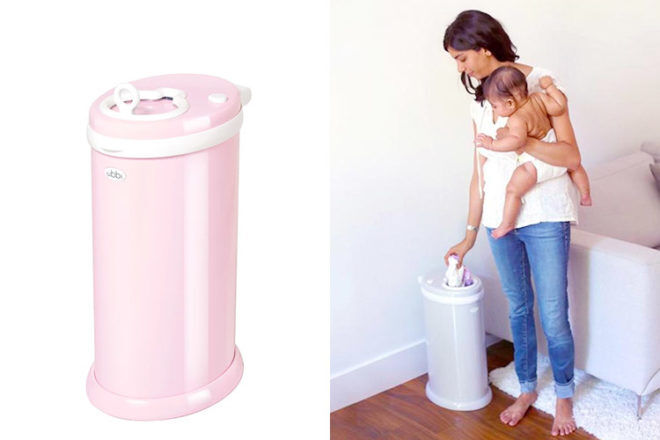 A sleek sliding lid, childproof safety lock and rubber seals in all the right places are just some of the features that make the Ubbi nappy bin a stand-out choice. But the real drawcard to this beauty is that it can be used with any regular kitchen bag or bin liner. Convenient and money-saving. Win-win!
Capacity: Holds up to 55 nappies
Liners included: No special bags required
Cost of refills: N/A
Colours available: Blue, white, grey, rose gold, mint, grey chevron, navy and more
"I have an Ubbi… still only put wet nappies in but I loved it and can use regular bags no fancy cartridges." – Kristy M
"I have an Ubbi bin too. I think it's pretty great. Worth it and smell free." – Kate P
"I have an Ubbi bin and love it. Uses normal bin bags… We live on a big property up on a hill and bins are at the bottom currently, with a 20-month-old, the bin gets emptied once or twice a week and works well for us." – Laura P
"The Ubbi is amazing, I never had it personally but the family I nanny for has it and it's really great to use." – Sandra D
"We were given an Ubbi and it's great. Just takes normal bags. No smell. At -4 overnight there is no way I'm going outside!" – Natalie G


---
Tommee Tippee Sangenic Nappy Bin Review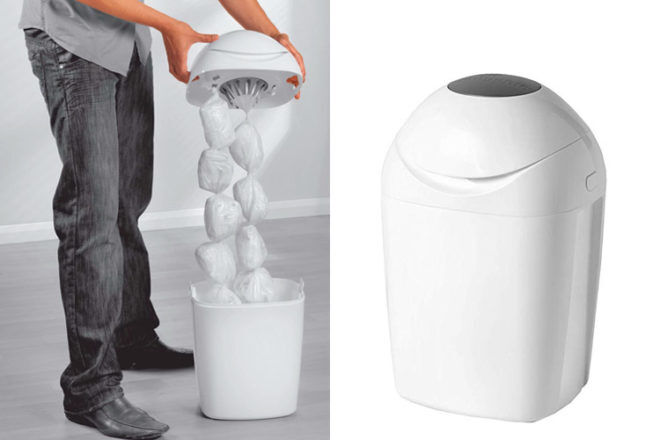 A teeny, tiny nappy bin that does lots of work. The Sangenic nappy bin seals each individual nappy in a multi-layered film providing an odour and germ barrier that's second to none.
Capacity: Holds up to 28 nappies
Liners included: No
Cost of refills:$18.99
Colours available: White and grey
"We've had the Sangenic since my daughter was born – it's been great! The cartridges are a little expensive, but so easy and saves running out to the bin with individual nappy bags each change." – Tegan K
"I had the Sangenic with my first and LOVED it. I'm using it again for my second. We live in a 2 story house and our bins are down the end of a really long driveway. I'm not walking down the stairs and down the driveway 20 times a day. I take the nappy bin out every 3 days with our household rubbish." – Emma H
"We have the Sangenic and it's unbelievable. One of the best things we invested in." – Jayde M
"I loved my Sangenic… not having to go outside to the bin after every change made a big difference." – Amanda D

---
Korbell Nappy Disposal Bin Review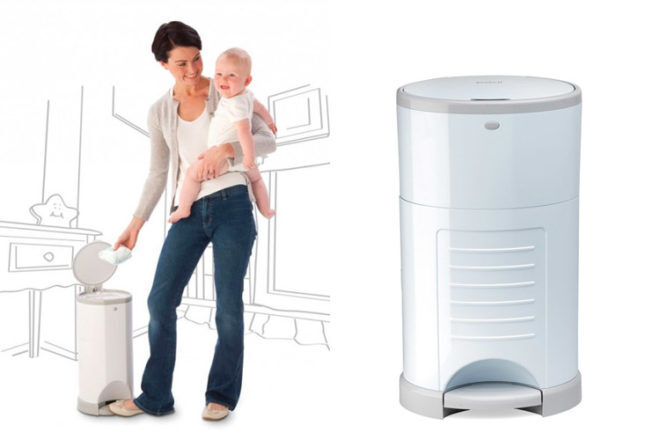 Available in three various sizes (9 litres, 15 litres and 26 litres), the clever Korbell is oh-so-simple to use. A handy foot pedal leaves your hand free to hold baby while you finish tidying up. Plus a double-sealing system keeps bad odours in the bin where they belong.
Capacity: Holds up to 40 nappies
Liners included: One refill/495 nappies
Cost of refills: $14.95
Colours available: White
"We have the Korbell. I didn't want a bin but hubby grabbed it and I love it!!" – Morgan M
"We have the Korbell one and love it. Can also be repurposed into a normal bin once you don't need it as a nappy bin anymore." – Melissa C
"Korbell nappy bin… best investment ever!!! I'd forever be going outside otherwise! & don't really want the stink in my kitchen bin." – Melanie B

---
Angelcare Nappy Disposal System Review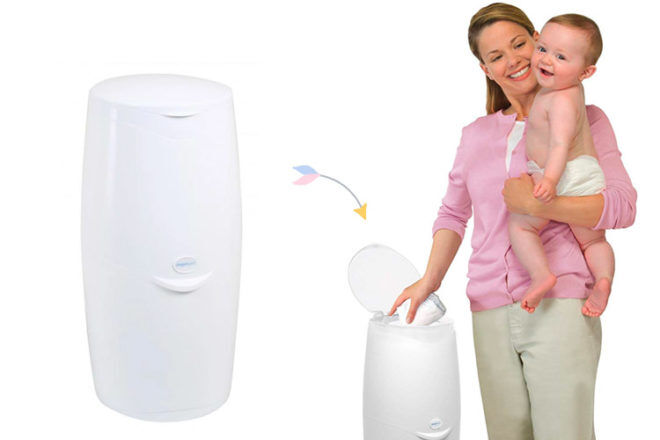 Simply push wet and soiled nappies through the clamp system and the Angelcare nappy bin will do the rest. A multi-layer bag provides an effective barrier to keep nasty smells at bay while you get on with the rest of the day.
Capacity: Holds up to 20 nappies
Liners included: One refill/128 nappies
Cost of refills: $19.95
Colours available: White, blue and pink
"My sister bought me the Angelcare one. It kept smells down, considering it was in our bedroom and we never smelt anything. Even once on solids when it was in his room we rarely smelt it. Individual preference, but I liked it." – Sarah L
"I have the Anglecare one but don't bother buying the refills, I just put a plastic bag in it and use a little nappy bag if he's done a poop." – Abbey F

---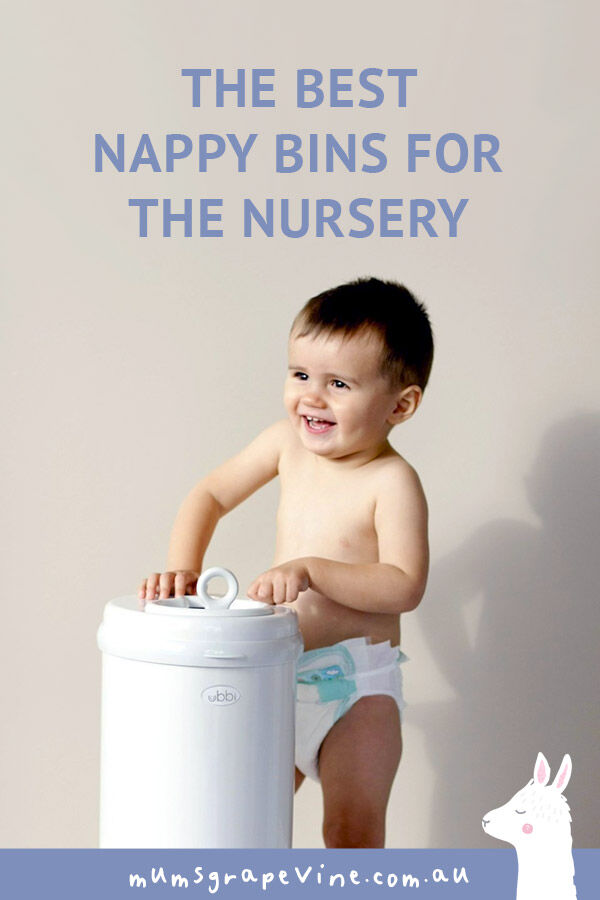 Continue your search for the best nappy bin
Searching for the best nappy bin and still not sure if any of these are right for you? Continue your search online by jumping into one of our closed Pregnancy or Baby groups and ask thousands of other Australian mums what they recommend – 'What to buy' is the most talked about topic, followed by MIL vents!
Click below and join your group today!