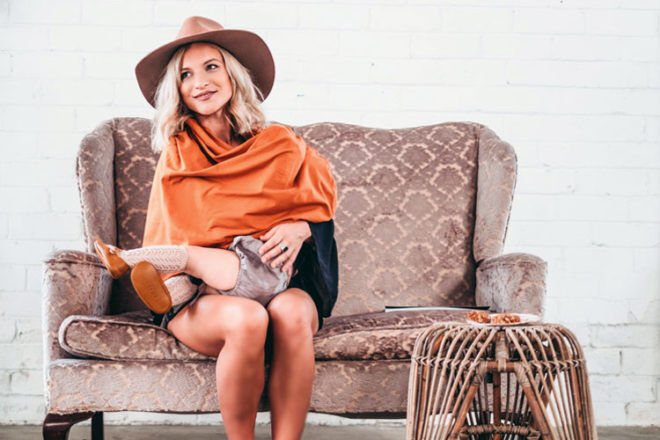 Every breastfeeding mama should feel comfortable feeding wherever and whenever she needs to. But sometimes a little extra privacy goes a long way when there's a fussy feeder involved.
This is where a good breastfeeding cover comes in. They provide new mums with confidence to feed when out and about while also keeping distractions at bay for hungry little bubs.
What to look for when buying a breastfeeding cover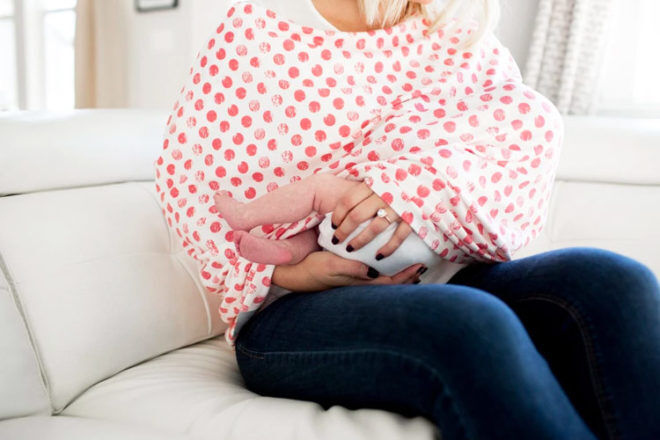 Here are some of the key features to look for when buying a nursing cover:
Breathability: The idea of a nursing cover is to keep the breast and baby's head partially covered while you feed. With this in mind, look for lightweight, breathable materials such as bamboo and cotton to ensure maximum airflow for your little one.
Ease of use: Babies get hungry. A lot. Make sure that the breastfeeding cover you chose is easy to put on ready for baby to feed. The last thing a new mumma is lots of fiddly bits and buttons getting in the way.
Weight/Size: If baby breastfeeds multiple times a day, the nursing cover will become a must for the nappy bag. Keep the size and weight in mind to ensure you're not carrying more than you have to.
---
The best breastfeeding covers for 2019
We asked our Pregnancy and Baby group members to recommend the best breastfeeding covers available and these are the brands they recommend.
Bebe Au Lait Nursing Cover Review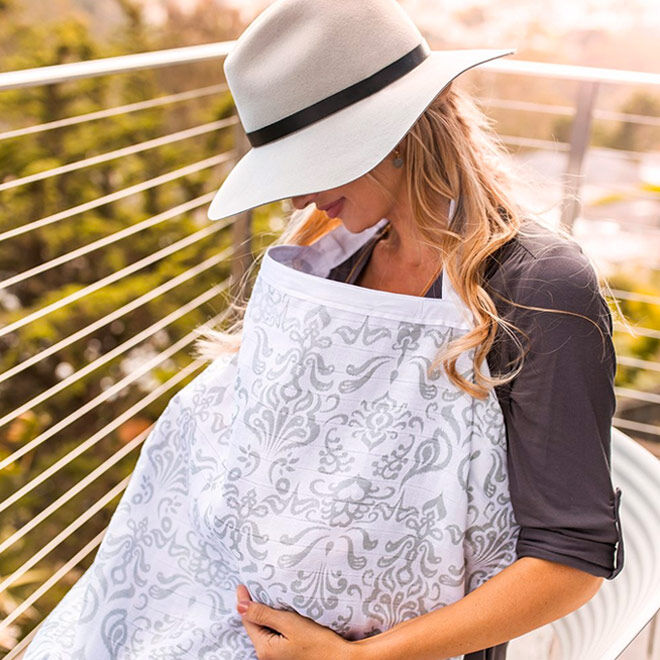 These classic breastfeeding covers come in a variety of pretty prints and have a rigid neckline to allow airflow and lots of eye contact with baby while feeding. The generous size means it can also be used as a pram sunshade or blanket for bub. It's also machine washable (yay!) and made from natural fibres.
"It's great. The rigid top allows you to see bub while still being covered. I think she feeds better with it too because there are no distractions. And it folds small enough to be jammed in the bottom of the nappy bag… recommend." – Emma B
"I also have a muslin Bebe Au Lait cover, which is very light for the baby and has a great curved top with wire built-in, so I can see down inside it to keep an eye on her." – Amy C

---
Zoe Sage 5-in-1 Multi-Use Cover Review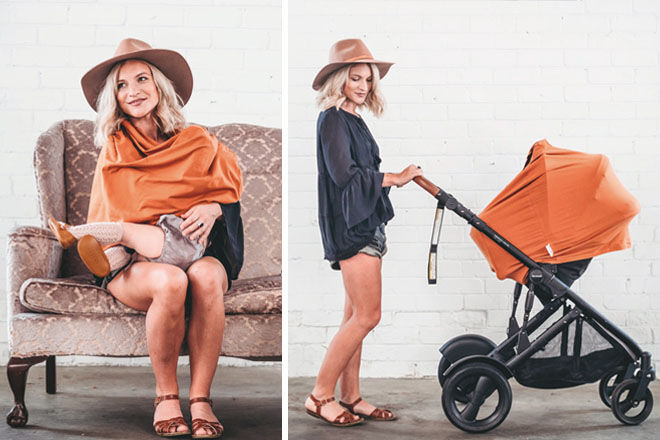 A breastfeeding cover, car capsule cover, trolley cover, high chair cover and an infinity scarf all-in-one. The organic cotton blend is lightweight for summer and warm in winter, meaning it has mum and baby covered all year round.
"My Zoe sage 5-in-1 cover is by far the best thing I got. I use it nearly every day." – Dana R
"Zoe Sage…the softest material and can be used for more than just a cover. I have one but going to buy more to match my outfits." – Bec D

---
Seraphine Breastfeeding Shawl Review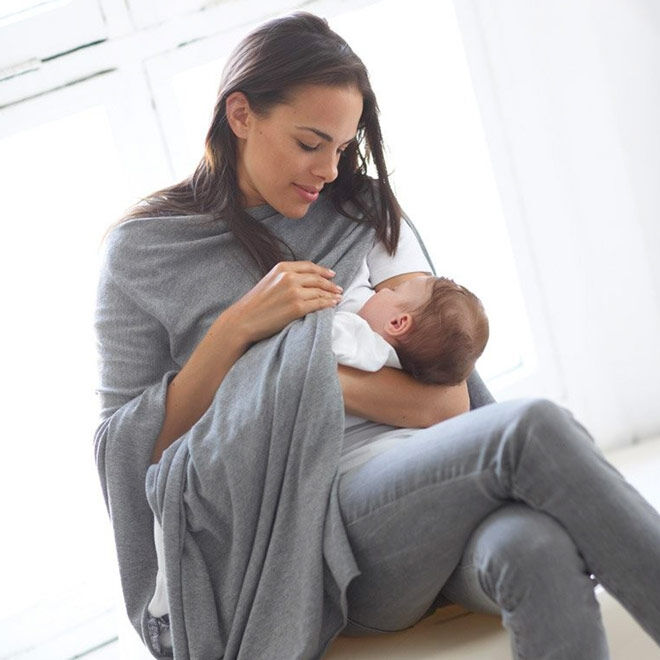 A multi-functioning shawl with sleek popper buttons on the shoulder for easy nursing access. Simply slip the soft bamboo shawl over the head for feeding or wear as a pashmina throughout the day.
"This has been the best investment. Permanently in my nappy bag, doesn't crush, can use as a cover, wrap, burp cloth and wrap for myself if I need to cover up any vomits etc on clothing… still looks like new after 4 months. Also easy to wash." – Katrina

---
Milk Snob Nursing Cover Review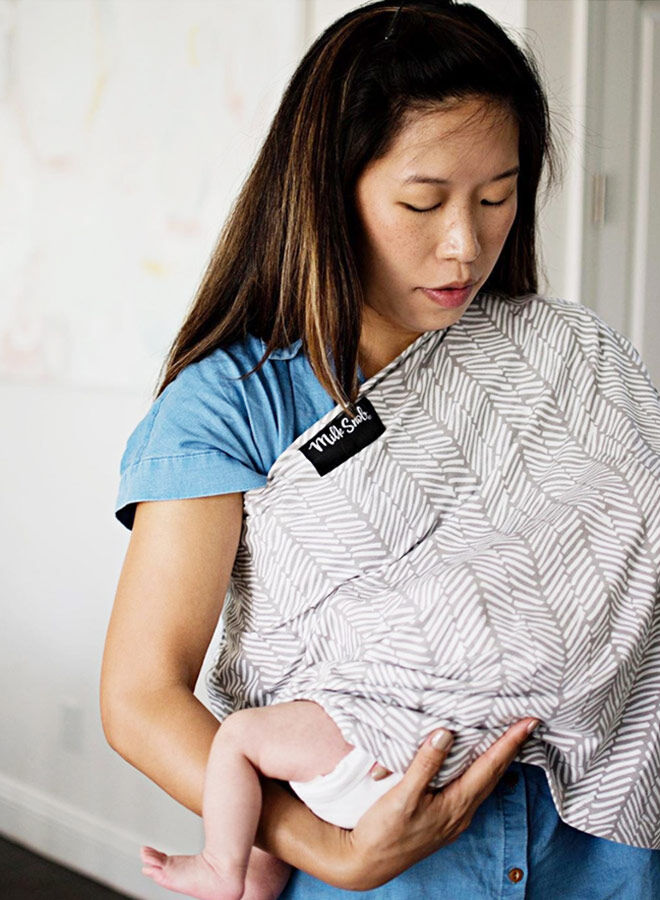 Offering 360-degree coverage, the Milk Snob covers are luxuriously soft, comfortable and airy. Use to keep you covered while feeding or pop over the car capsule while bubba sleeps soundly. The clever stretch fabric ensures a custom fit for every mum and baby.
"I just got a Milk Snob… it's so much easier! I normally struggle to try to cover up because I can't see or my cover won't stay in place but Milk Snob is super easy." – Michelle L
"Milk Snob. Can be used as capsule cover, breastfeeding cover, use it in a shopping trolley and a few extra… it's great." – Emma B
"Milk Snob covers are awesome!" – Lauren B

---
Kiss Kiss Hug Hug Breastfeeding Cover Review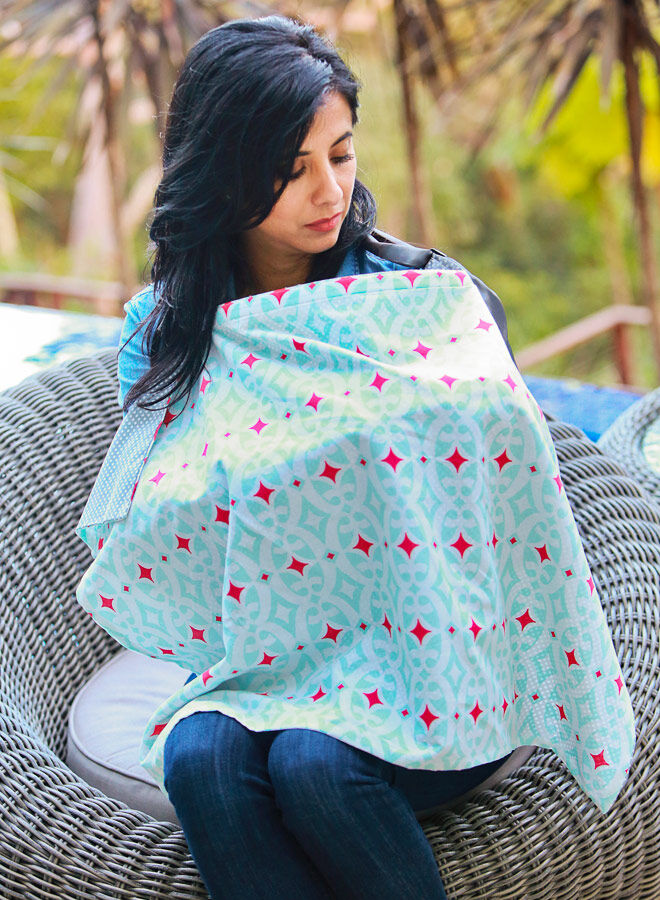 A breastfeeding apron with a reversible design and a silky satin tie. The tie ensures the cover is soft and comfortable to wear around your neck and provides baby with a little room to look up at mumma while feeding.
"Kiss Kiss Hug Hug do a good one with a bit that sticks out so you can look down and see what bubba is doing." – Caroline D
"I use a Kiss Kiss Hug Hug cover and I love it!! It makes me feel so comfortable feeding in public, I use it everywhere. I only feed without it at home." – Kim M

---
Maternal America Nursing Scarf Review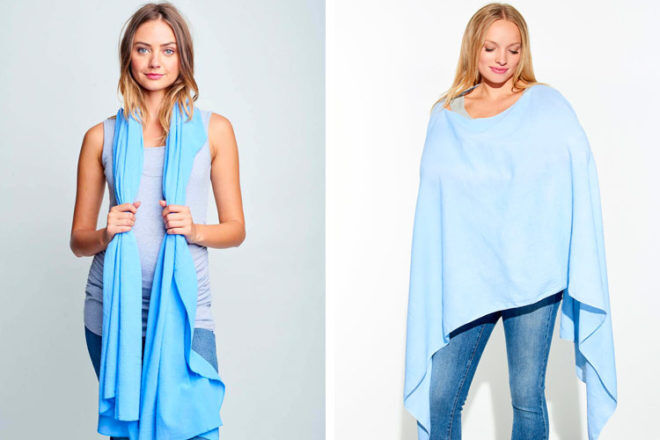 This super-soft cotton scarf has a neck hole in the centre for mums to pop over their heads ready for feeding. Plus, the crinkle clear fabric allows you to see your baby while nursing. Win-win!
"This scarf is great for breastfeeding discreetly in public. Definitely recommend this scarf for your wardrobe."  – Nicole

---
Copper Pearl Multi-Use Cover Review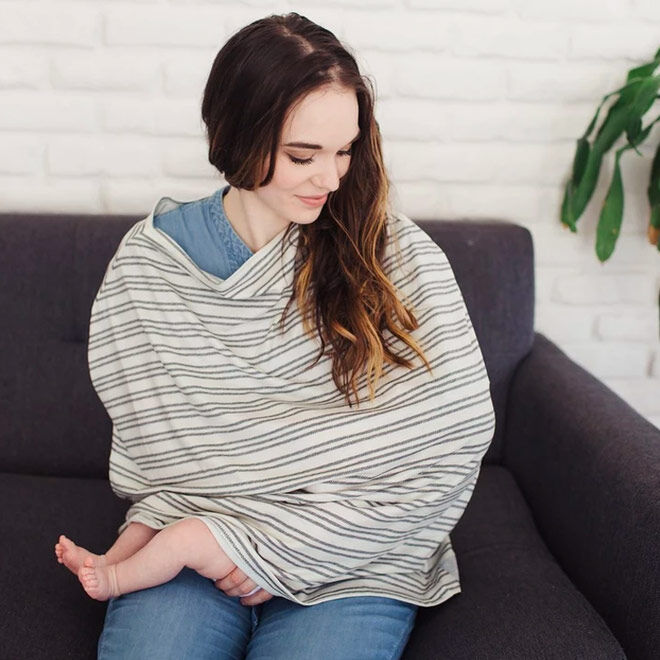 The perfect blend of Polyester and Royon fabrics ensures these multi-use covers provide the ultimate softness and durability. Making adjustments and looking at bub while feeding is easy thanks to a high-quality stretch. With over 60 colours and prints to choose from, there's a style to suit every nursing mama's needs.
"I love Copper Pearl – all their products are awesome" – Laura M

---
Lait & Co Nursing Cover Review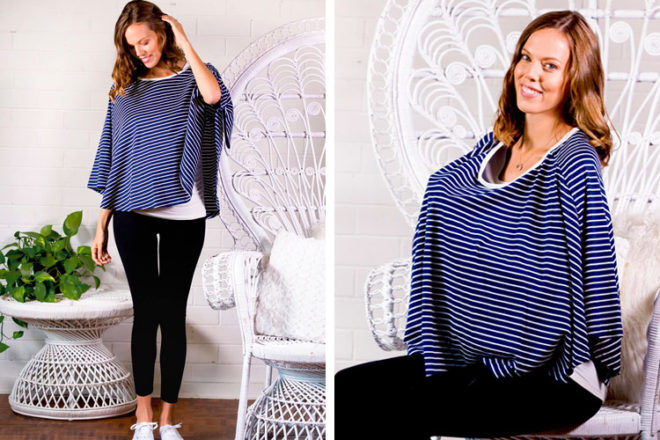 Navy and white stripes make this a nursing cover that looks great with any outfit. Made from 95% cotton and 5% spandex the clever 'capelet' has stretch and breathability covered too. We love!

---

Continue your search for the best nursing cover
Searching for the best nursing cover and still not sure if any of these are right for you? Continue your search online by jumping into one of our closed Pregnancy or Baby groups and ask thousands of other Australian mums what they recommend – 'What to buy' is the most talked-about topic, followed by MIL vents!
Click below and join your group today!