Old fashioned elbow grease, a couple of trips to Bunnings and a clever mum and dad have turned a bargain secondhand buy into a little girl's dream first birthday present.
Kirsty and Caleb Northwood spent months planning their daughter's special gift, after falling in love with the iconic Little Tikes Cozy Coupe car.
"Months before our little girl's first birthday, my husband and I were discussing what we could get her that would be special, sentimental and something personal just from us," Kirsty, a member of Mum's Grapevine Baby Facebook Groups, explained. "We both loved the Little Tikes cars so we decided to revamp one to make it our own!"
How to makeover a Little Tikes Cozy Coupe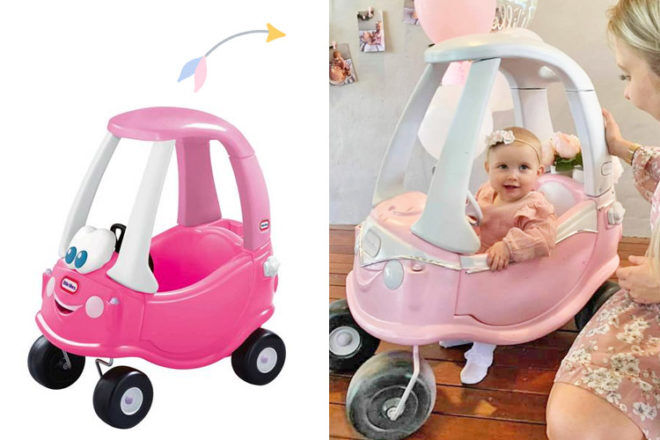 The couple managed to find a secondhand Cozy Coupe on Facebook Marketplace for just $10, then got to work on their Little Tikes makeover.
"It had previously been very loved, so we gave it a light sand back with 120 grit sand paper to make it smooth and prep it for the paint. Next we dismantled the car into pieces that we were going to paint.
"We painted the roof, the key ignition, the fuel cap, the steering wheel and the wheel centers with gloss white spray paint. Whilst they were drying, we taped around the car seat and sprayed that gloss white. We waited a day before doing any more to ensure it was dry.
"We then taped the strip around the car and the front 'V' detail to spray gloss white. We waited another day for this to dry as well. Once dry, we placed tape around the car again to spray the bottom half candy pink spray paint."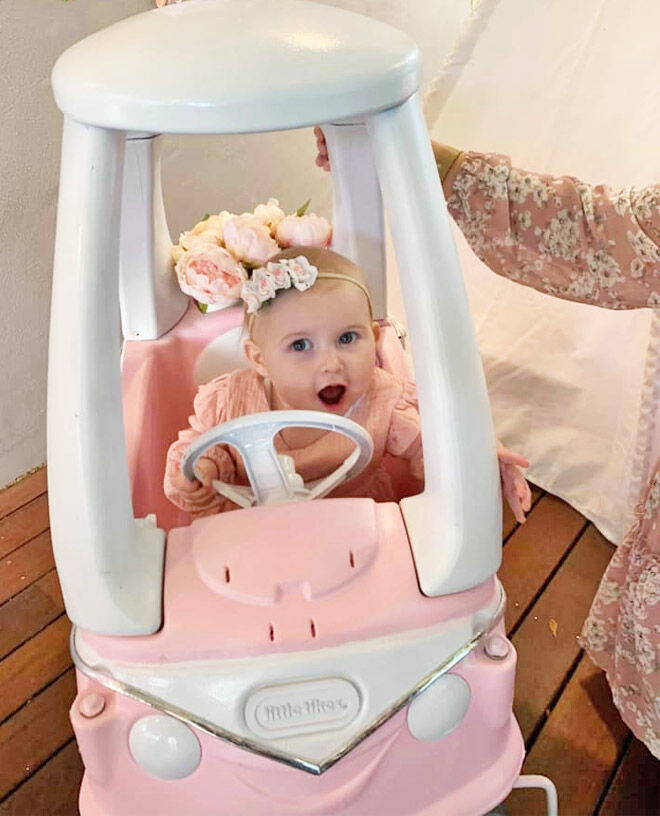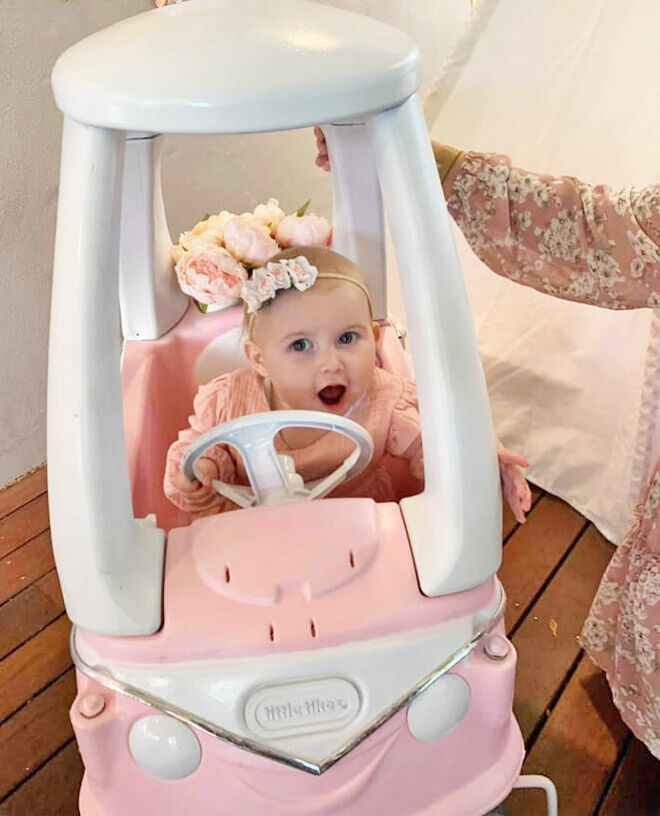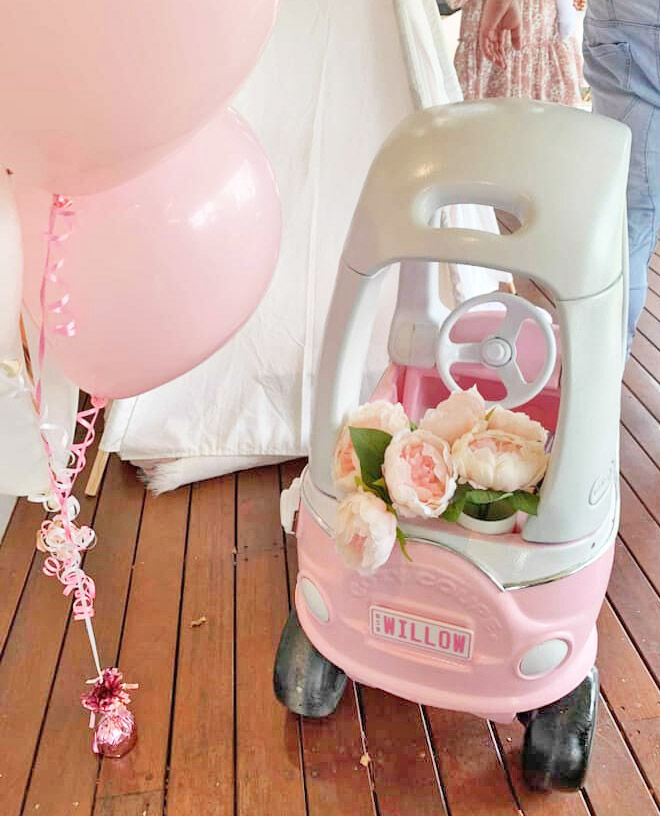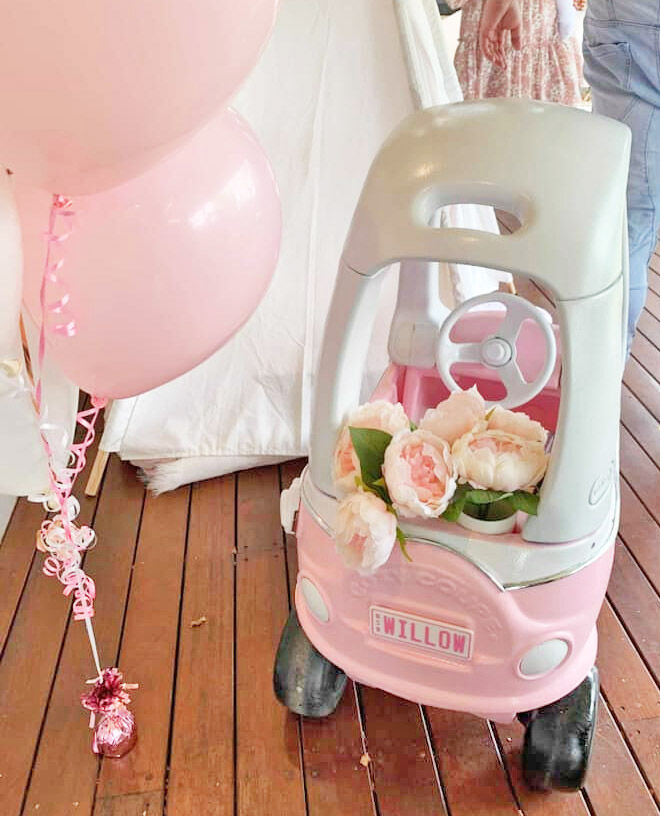 Now that the car was a beautiful shade of sweet bubblegum pink, the fun could start.
"We assembled all the parts back together. I then sourced Silver Chrome Trim Strip from eBay for $6.99. We used hot glue to carefully stick the strip onto the car where the pink and the white meet. Next I bought two white children's plastic cups from Ikea and hot glued them into the cup holders at the back. I bought the Pink Peony artificial flowers from Kmart and hot glued them into the cups.
"Lastly we ordered a personalised number plate from Lil Rollerz ($15) on Facebook and hot glued that onto the back as well. We were so proud of the outcome!"
Little Tikes Cozy Coupe makeover cost
Secondhand Little Tikes Cozy Coupe car $10
Sand paper $2
Painting tape $4
3 x Rustoleum Gloss White Spray Paint, Bunnings $38.97
2 x Rustoleum Candy Pink Spray Paint, Bunnings $15.98
Silver Chrome Trim Strip $6.99
White Ikea Plastic Cups $2
Kmart Artificial Flowers $8
Personalised number plate $15
Total: $102.94
A brand new Little Tikes Cozy Coupe costs $129.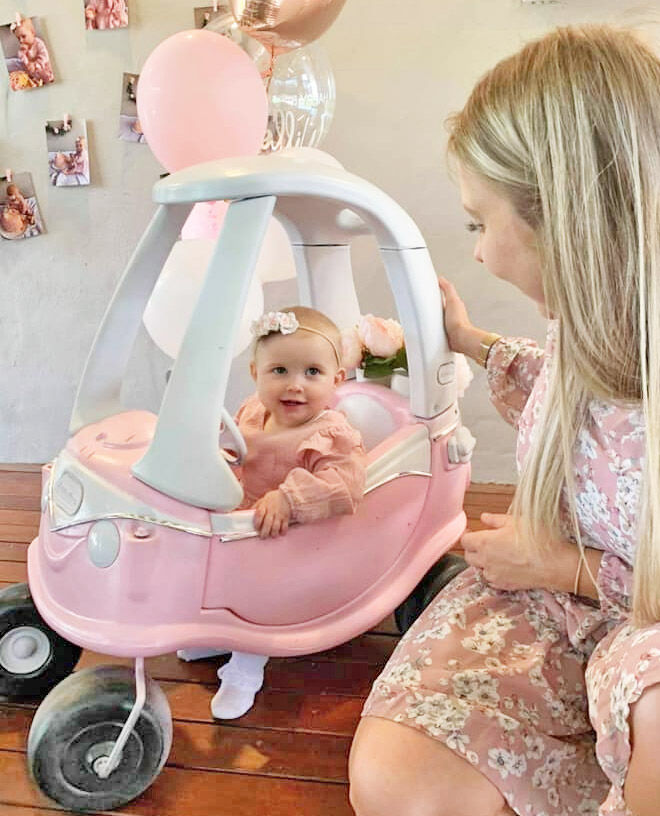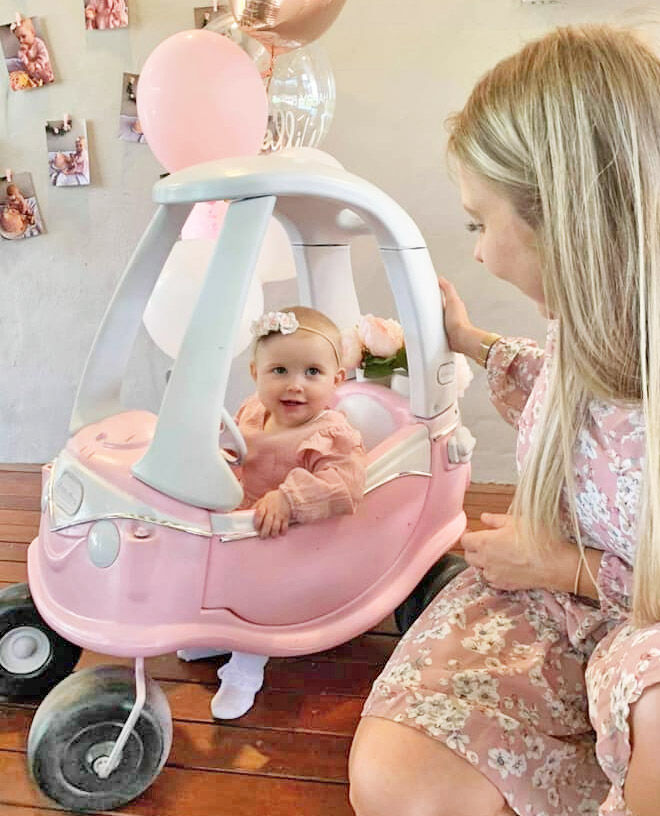 Kirsty says her daughter Willow adored her surprise new wheels. "Our little girl absolutely loved her little car! We helped her in and she was grinning from ear to ear. She beeped the horn and turned the steering wheel, pretending to drive the car. Needless to say she did not want to get out!"
The couple has been inundated with people asking how they completed their Little Tikes Cozy Coupe makeover.
"We have had so many people ask us about how we made it and if we can make one for them. We didn't realise how unique our gift was until people were showering us with compliments and inquiries. We absolutely loved making this for our little girl and were taken back by all the interest it has sparked!"
Read next …
We adore a good toy makeover, and if you do too these next articles have a heap to try: