Scorpio babies – (October 23 – November 22)
Intuitive, super smart, sensitive and a lover of cuddles, Scorpio babies are adoring and adorable. But these gorgeous creatures come with a disclaimer – their emotions are something to behold.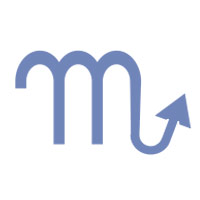 8th astrological sign
Zodiac Symbol: Scorpian
Constellation: Scorpious
Zodiac Element: Water
Zodiac quality: Fixed
Sign Ruler: Mars (traditional), Pluto (modern)
What to expect with a Scorpio baby
With Scorpio babies, the highs are out-of-this-world high but on the flip side, the lows are incredibly low. They're sensitive and intense with a generous sprinkling of neediness, so pile on those extra cuddles.
Because of their ultra-sensitive emotional side, tantrums are the norm, as the fact they want to do things their own way. It doesn't mean they're acting out, on the contrary, it's a reflection of the intense love they feel. They want you to always be honest with them, as it takes a while to gain their trust, but they will challenge you greatly.
Wise beyond their years, it's sometimes hard for little Scorpios to play and let loose, but getting in and playing with them is a great help. Having said that, they appreciate having time to just be on their own.
One final note – Scorpio babies are bold and brave, but they do seek constant reassurance, so get ready to wrap them in your loving arms.
Scorpio traits
Intuitive
Smart
Emotional
Sensitive
Passionate
Strong-willed
Independent
Prone to tantrums
Creative
Determined
Famous Scorpios
Sensitive souls with a distinct leaning to creativity, here's who your little Scorpio shares their star sign with:
Kendall Jenner
Hillary Clinton
Leonardo DiCaprio
Bill Gates
Pablo Picasso
Julia Roberts
Whoopi Goldberg
Ryan Gosling
Emma Stone
23 names perfect for Scorpio babies
Sensitive souls with a sting in their tale, here are 23 names perfectly suited to Scorpio babies, born under the water element.
Adriana: Translates to 'a dark woman from the sea' – suited to a raven-haired Scorpio.
Adrian: The female version of Adriana, from Latin meaning 'dark man from the sea'.
Archibald: Meaning 'very bold' – a key characteristic of little Scorpio babies.
Armina: Translates to 'warrior maid', for feisty little ones born under the Scorpio sign.
Audrey: This beautiful names has been incredibly popular the past few years, and is well suited to Scorpio children, meaning 'strong and noble'.
Calypso: A Greek girls' name in origin, it refers to the legendary sea nymph.
Douglas: Meaning 'from the stream', being born under the water sign means lots of splashing for Scorpios!
Donahue: Of Irish Gaelic origin and meaning 'warrior', this uncommon name works incredibly well for Scorpios.
Erica: Old Norse for 'powerful ruler' – and that she will be!
Geraldine: An old English/French name meaning 'powerful contender'.
Gregory: Meaning 'vigilant' this name captures the all-knowing nature of little Scorpio babies.
Griffith: Of Welsh origin, meaning 'a powerful lord'.
Harry: For young Scorpios that are going to grow up leading the pack, Harry was an Old Norse ruler of the army.
Heather: This plant is said to speak to the soul of a Scorpio.
Imelda: A Spanish fighter, it's the perfect name for your powerful little one.
Medwin: Meaning worth companion and strong, a less common moniker which is utterly beautiful.
Raynor: From German meaning 'wise and powerful warrior'.
Sabrine: A Celtic character and a strong name for a strong-willed Scorpio.
Sybil: A Greek wise woman or prophetess – it's often thought that people born under the Scorpio sign are the most psychic.
Tyra: An Old Norse god of war, will your little one live up to this battle-heavy name?
Valora: Latin for 'the brave one', which your Scorpio is destined to be.
Wilmot: Meaning 'defender', Scorpios will often be the ones sorting out the playground spats.
Zillah: From Hebrew origins and meaning 'shadow', this is a cheeky name for a Scorpio, reflecting on their sometimes sneaky nature.
---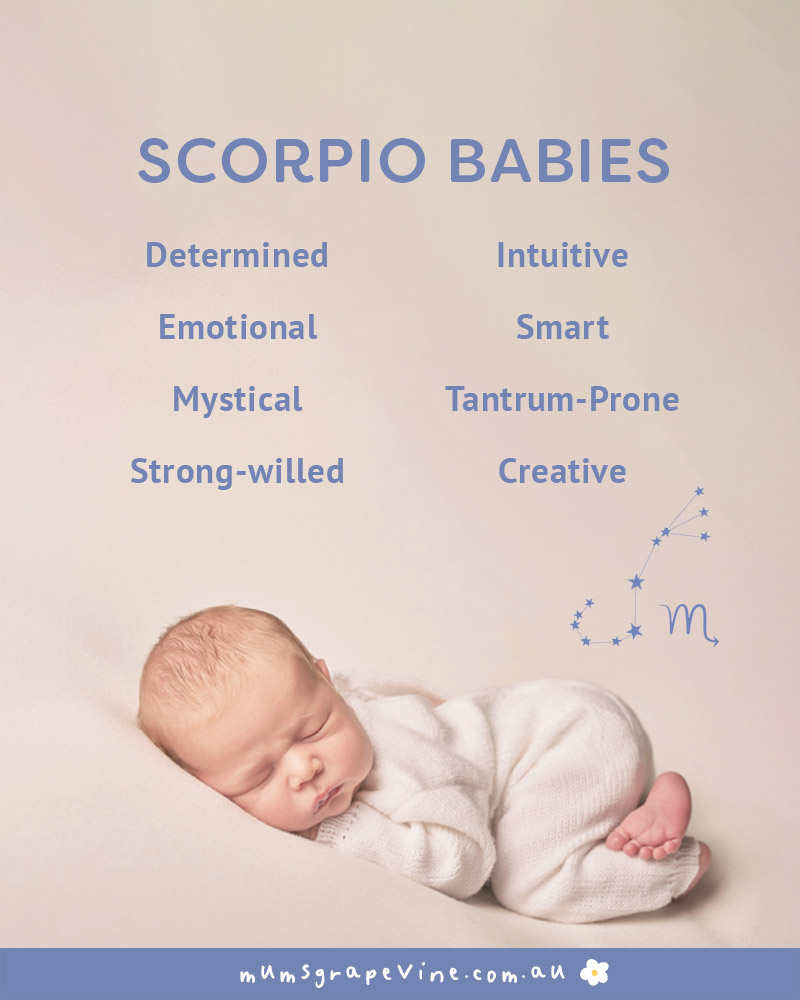 Find more baby names …
Want more baby name inspiration? Head to these articles next:
Having a baby in 2022?
Year of the Water Tiger: Your 2022 baby's personality
Having your own little Scorpio baby? Join thousands of other Aussie mums with babies the same age as yours in a Mum's Grapevine Due Date Facebook group. Join today!