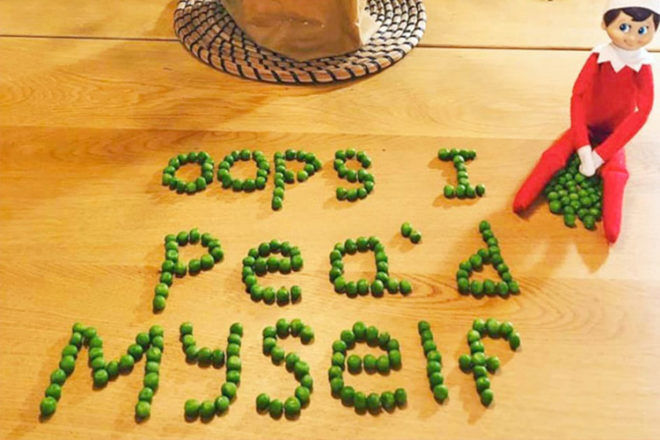 In need of fresh ideas for Santa's little helper? Who better to ask for new Elf on the Shelf ideas than mums who have become experts in Elf-antics.
We asked half a million mums for their best Elf on the Shelf ideas, and we were blown away by the creativity (and cheekiness!). Some of the ideas are the work of mere moments, while others take a little more planning, but the impact is so worth it.
Get ready to Pin and bookmark away, because here are 28 new Elf on the Shelf ideas.
Brrr … it's cold inside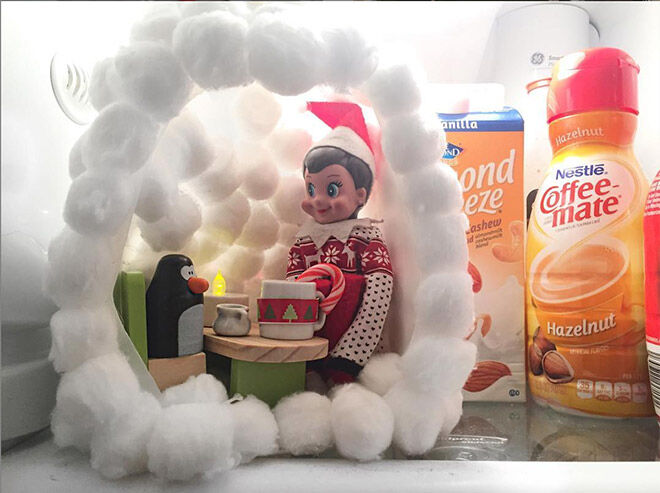 OK, it may not be a white Christmas in Australia – but inside the fridge, it's super chilly, just like the North Pole! Craft a cute cotton ball igloo and make your elf feel right at home. (via zelebrando)
Dibber dobber Elf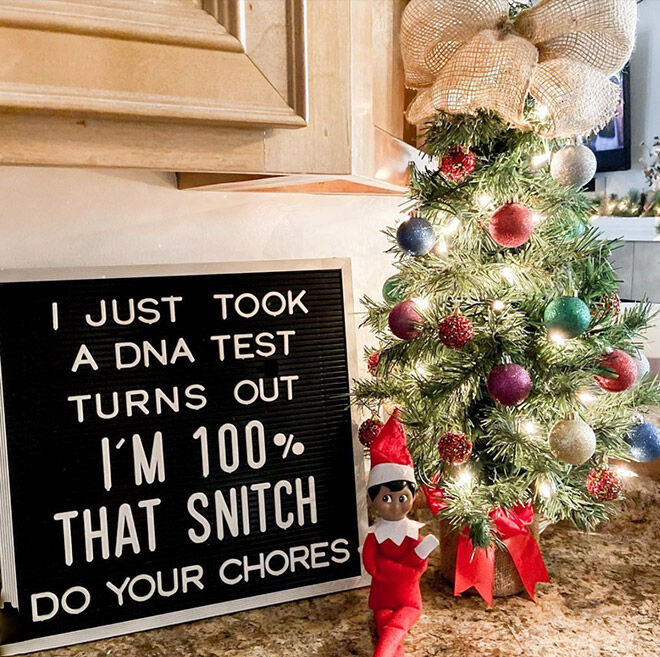 Hmmm … seems someone needs to tidy their room, because Santa (and the elves) are always watching. (via carlamell)
---
---
Reach for the stars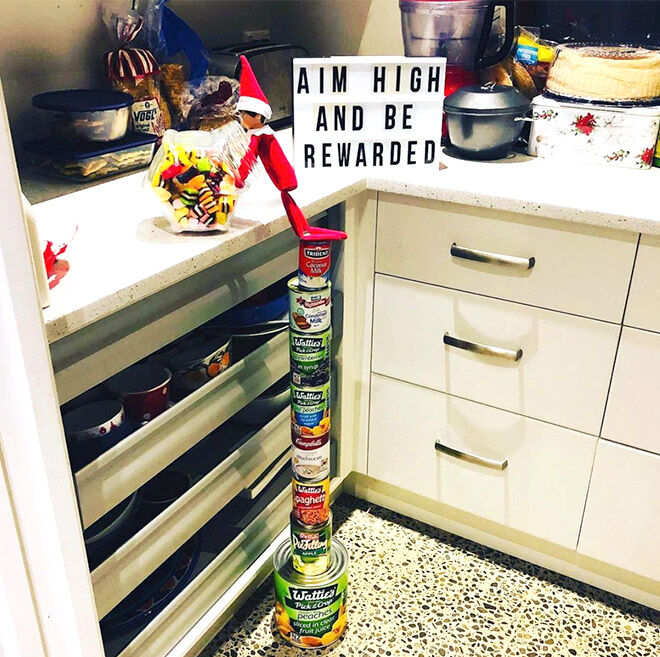 A life lesson and elf antics all in one. (via bruce.theelfontheshelf)
Sweet surprise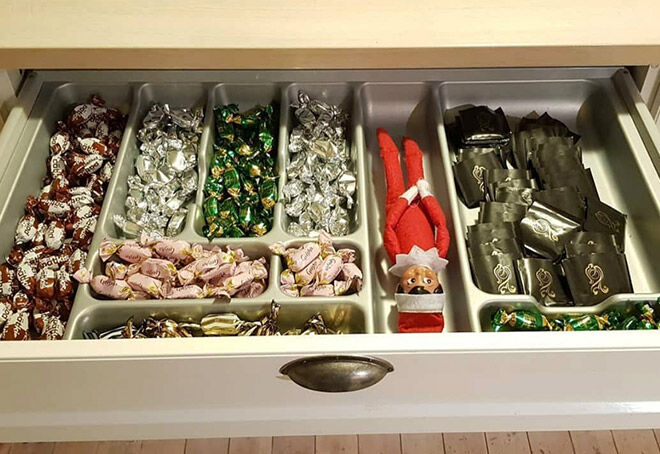 Because of course the elf swapped out all the cutlery for chocolates and lollies. And we're not one bit mad about it! (via elfontheshelfquaratine)
Sit back and relax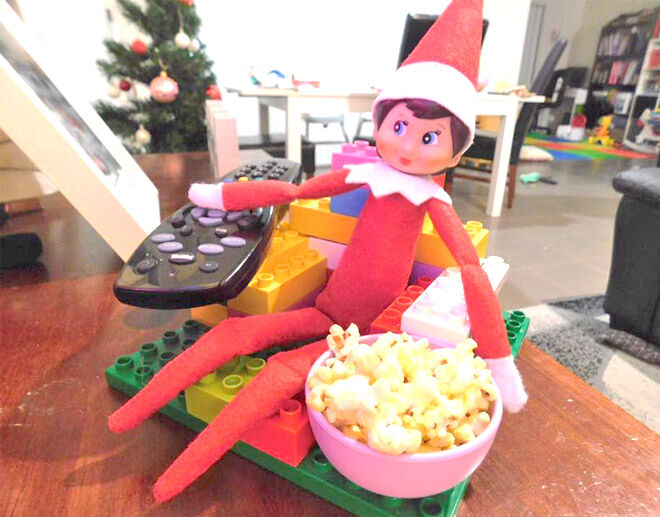 Why should the kids have all the fun with LEGO? (via Jessica Mac Vitie)
Elf on the moon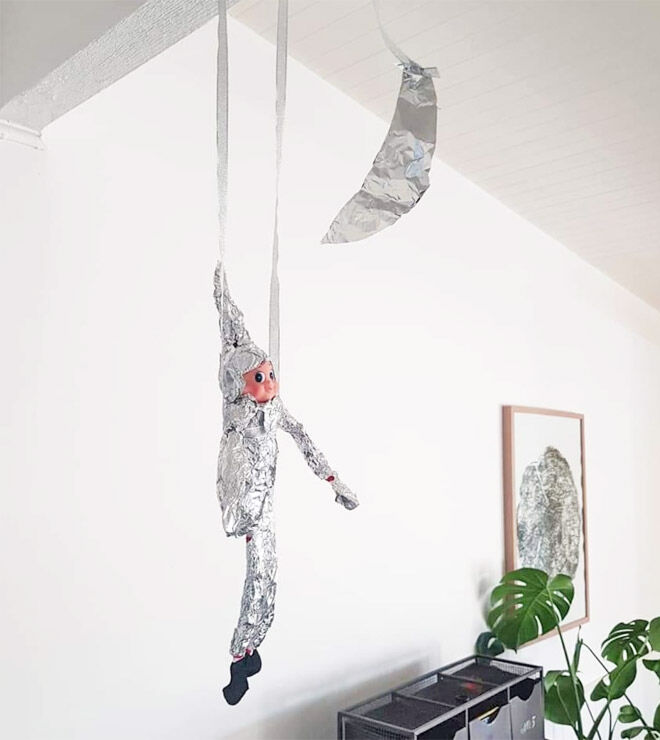 Raid the pantry and get creative with foil. (via Casey Downie)
Spell it out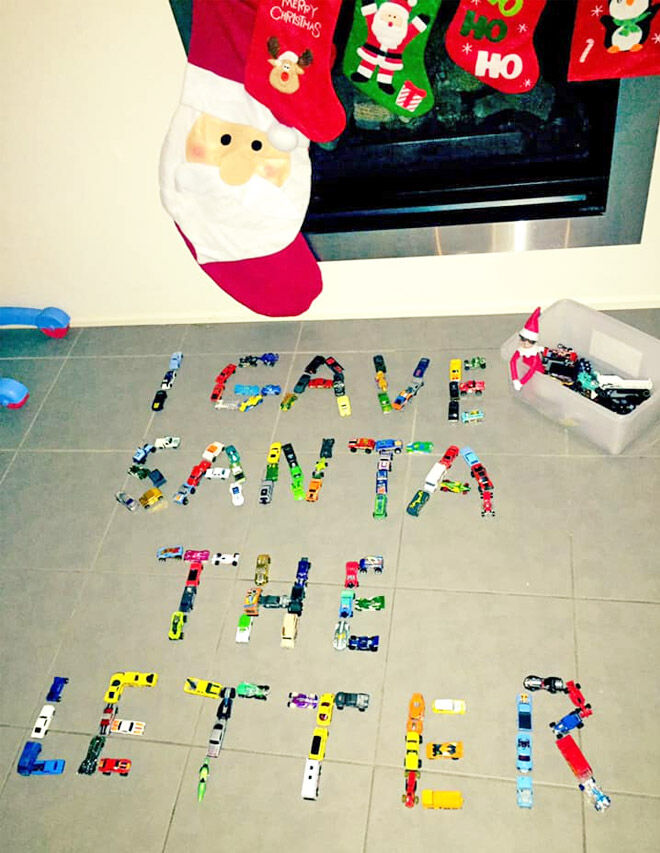 Whatever Elf wants to say, no doubt there are enough Matchbox cars to spell it out. (via Fiona Santic)
We got a great big convoy!
A sleigh ride with a toy car twist. (via Casey Downie)
Privacy please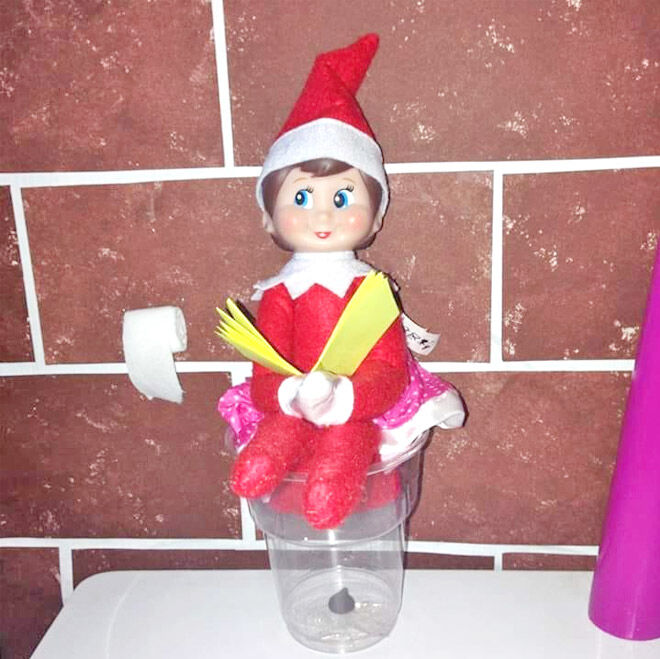 Kids seem to love toilet humour, so this one goes down a treat. (via Amanda Bambans)
Merry Grinchmas!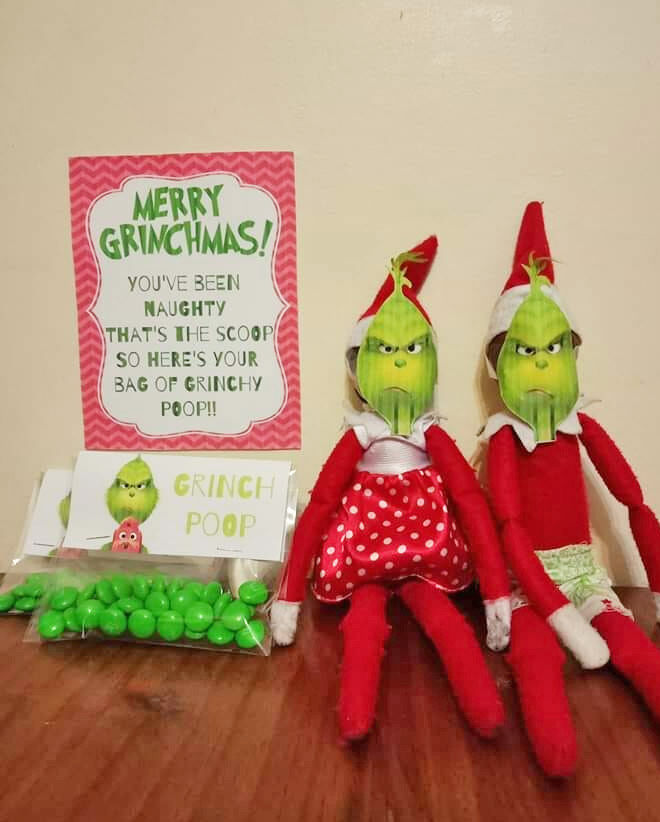 Keep this one up your sleeve for a naughty day (via Amanda Bambans)
Bubble bath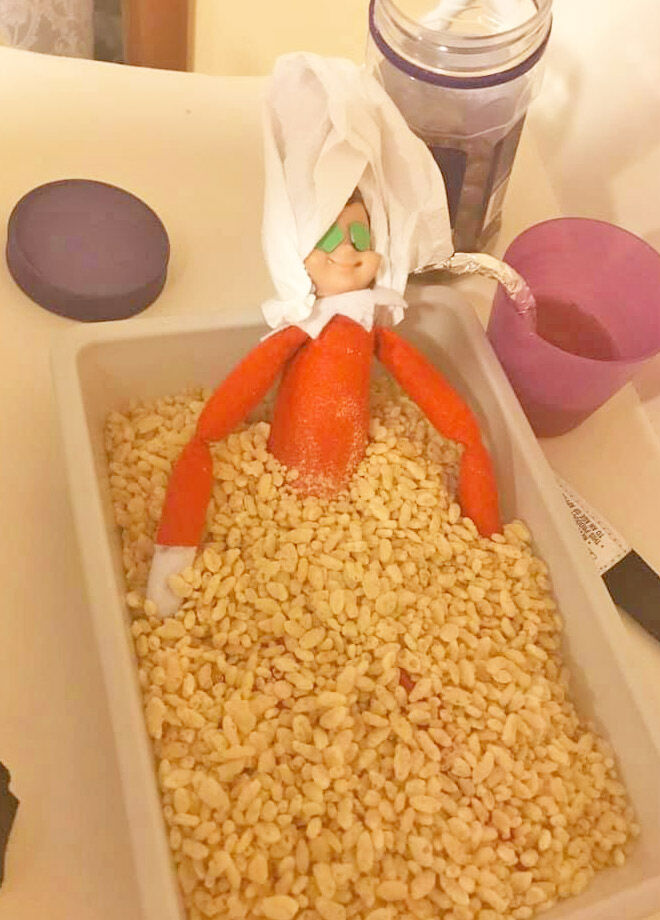 Bubble bath? How about Rice Bubbles bath! (via Lorna Knorr)
Party time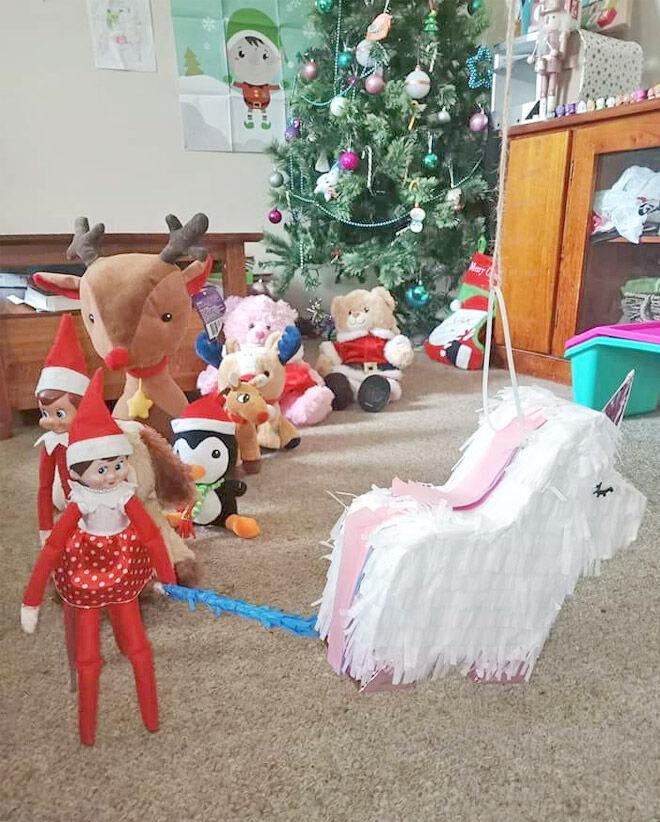 Everyone wants to have a go at the pinata! (via Amanda Bambans)
Undie tree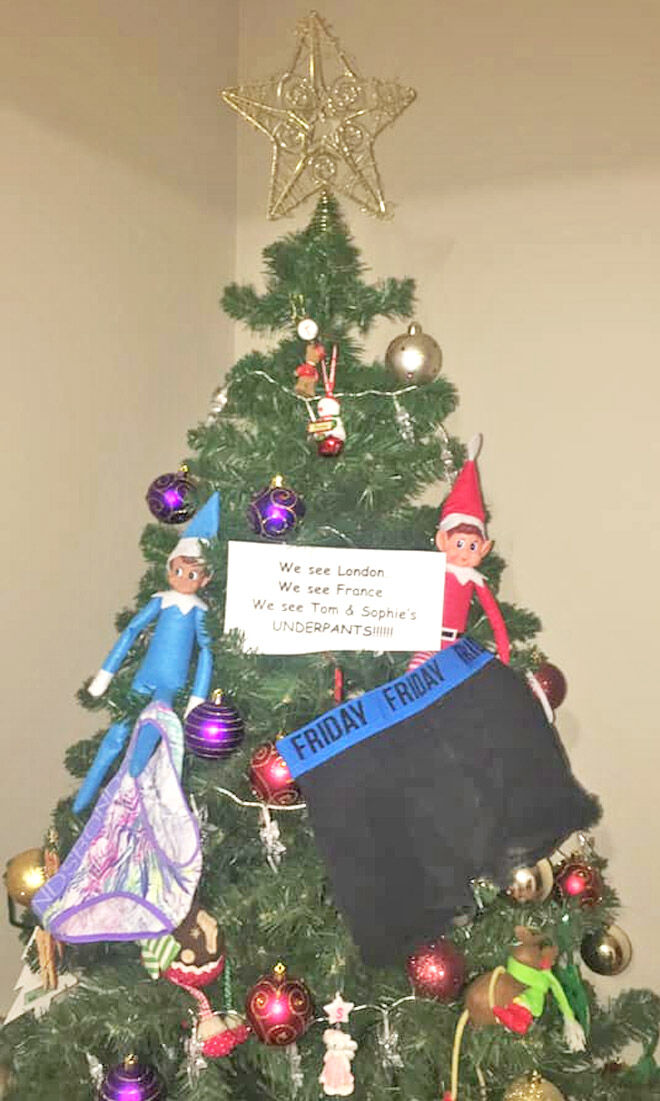 Bringing together old school rhymes and new school tricks. (via Michele Love)
Bath time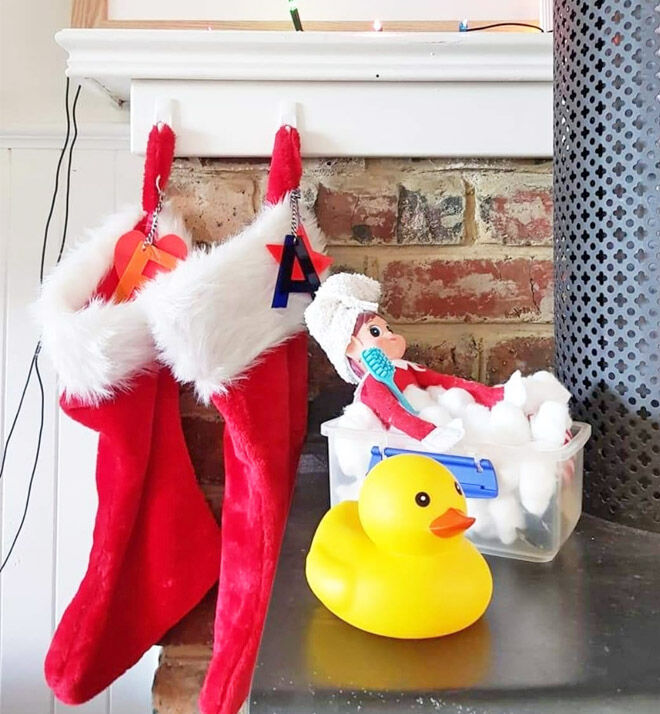 Cotton balls and a rubber ducky and Elf is squeaky clean. (via Casey Downie)
Let me out!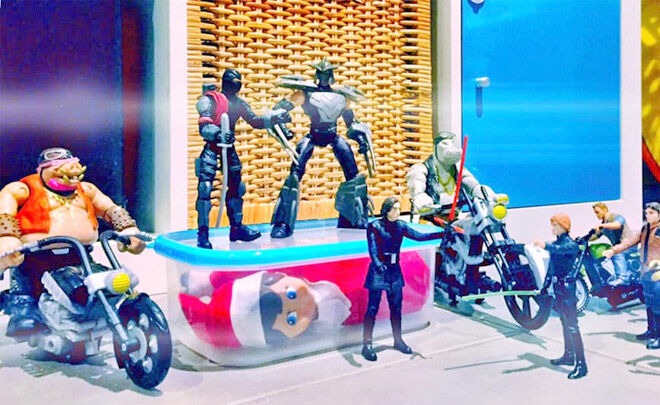 Grab their favourite toys and set up a heist. (via Fiona Santic)
Good morning little Elves

There's no better way to get those pearly whites brushed. (via Michele Love)
Whacky web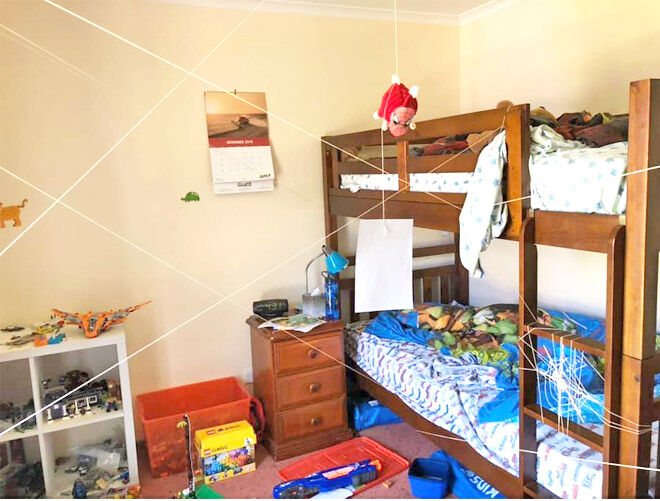 A printable Elf mask and string web and it's the coolest wake-up call ever. (via Joanne Scott)
Chocolate coma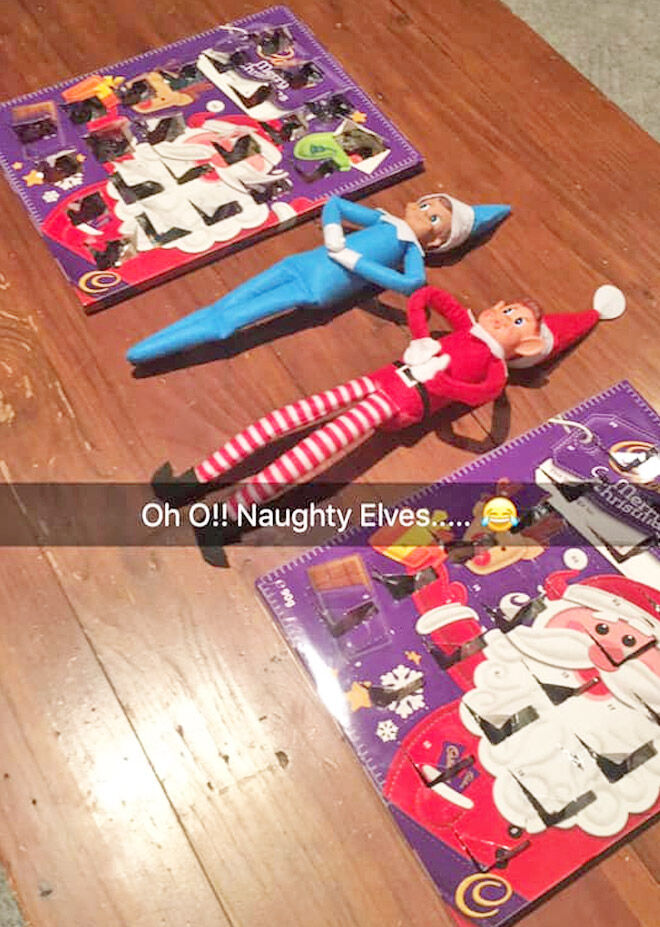 Oh dear, cheeky Elves eating all of the chocolate (fear not, mum had spare Advent calendars). (via Michele Love)
Snowball fight!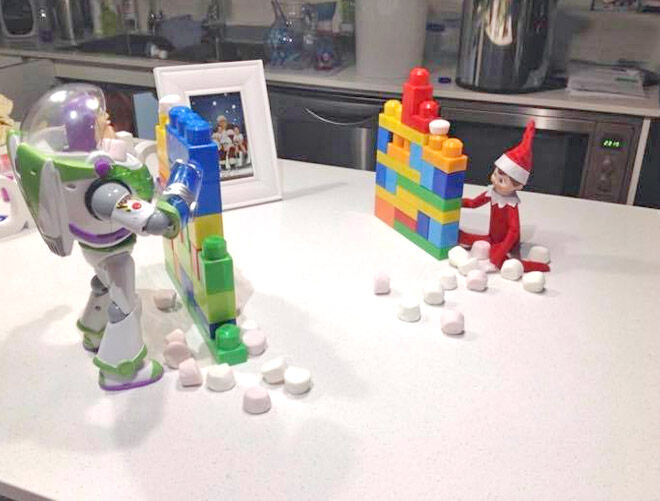 Marshmallow snowballs and a friendly fight. (via Stacey Klish)
Drink up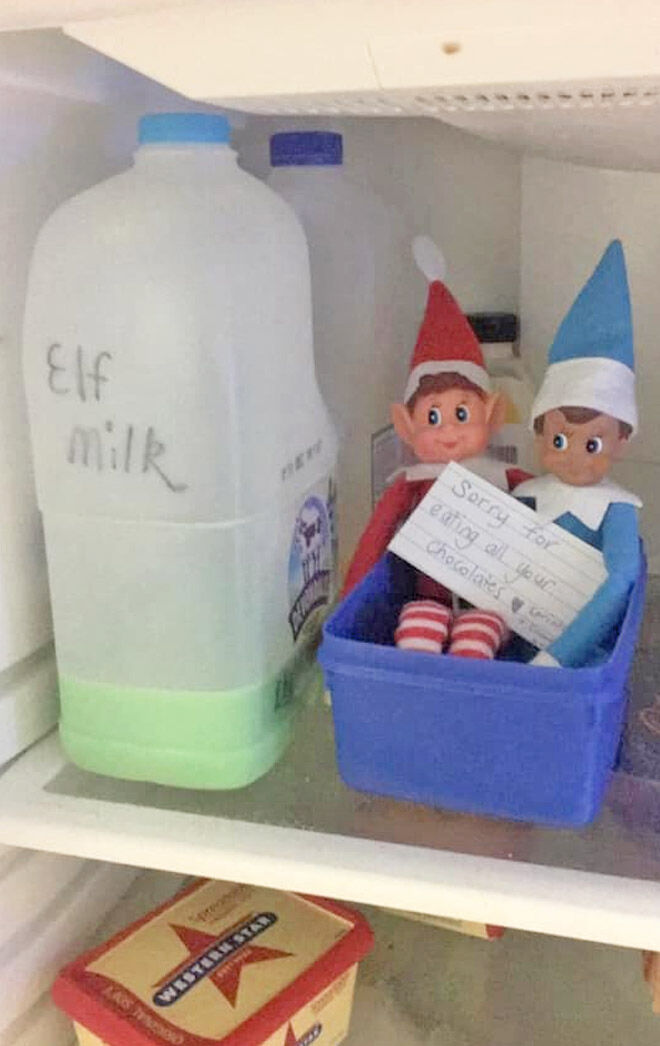 Add a little food colouring to the milk and wait for the breakfast antics. (via Michele Love)
Don't drink the lemonade!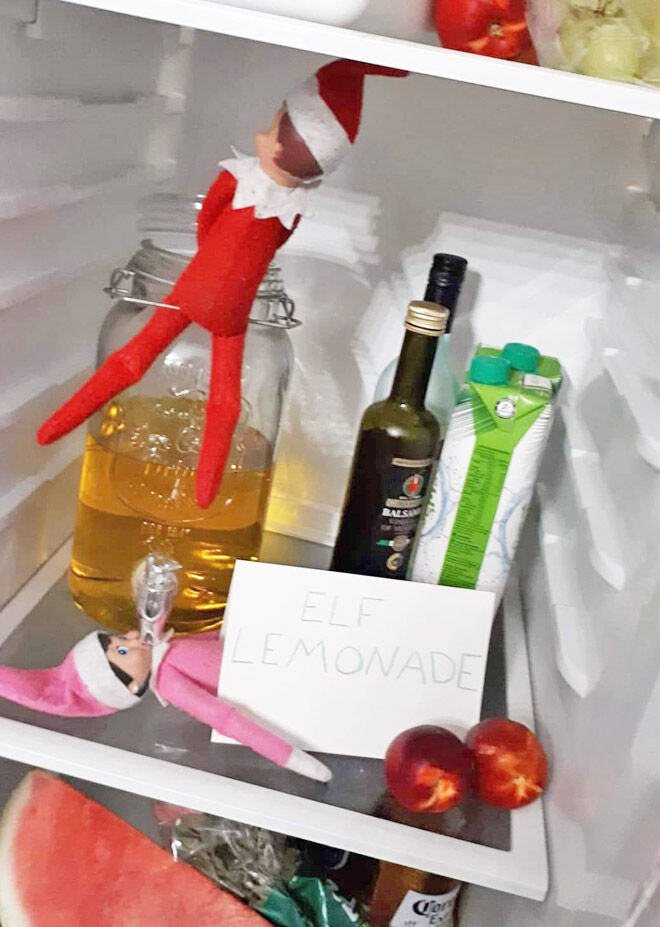 So very cheeky, but oh so funny! (via Amy Schembri)
Treats from the snow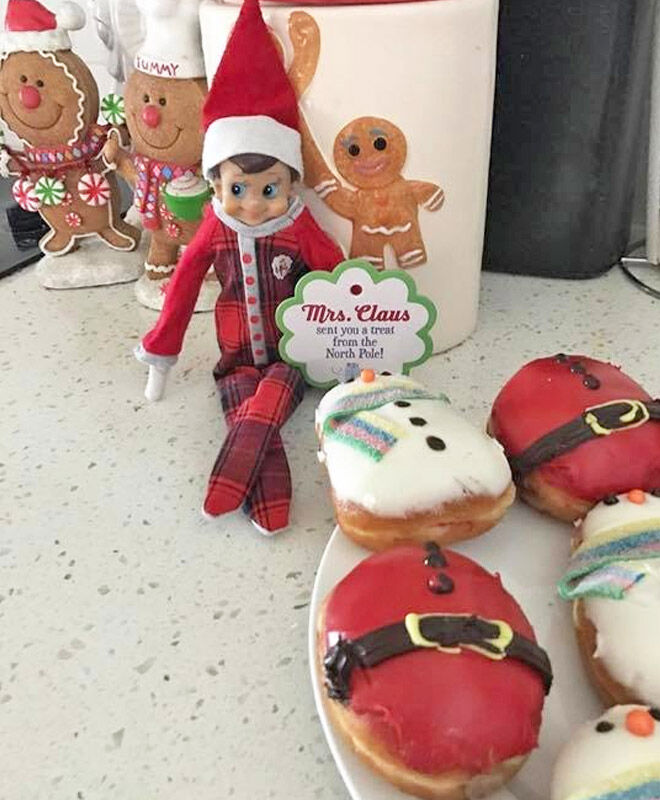 After a particularly good day, get out the treats. (via Emily Burton)
Whoops!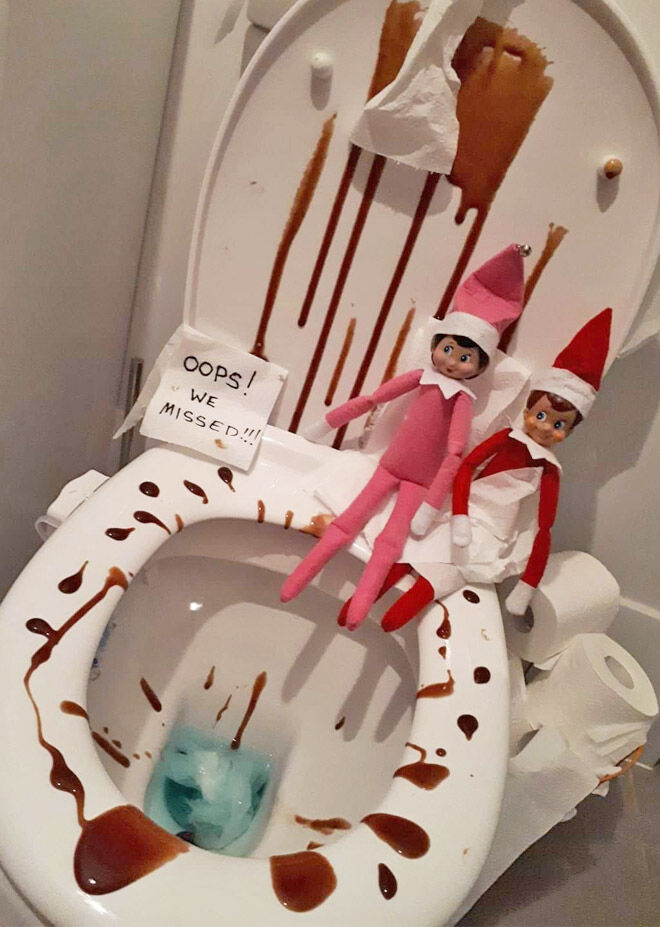 We know it's chocolate topping, but the kids won't! (via Amy Schembri)
Draw me like one of your French girls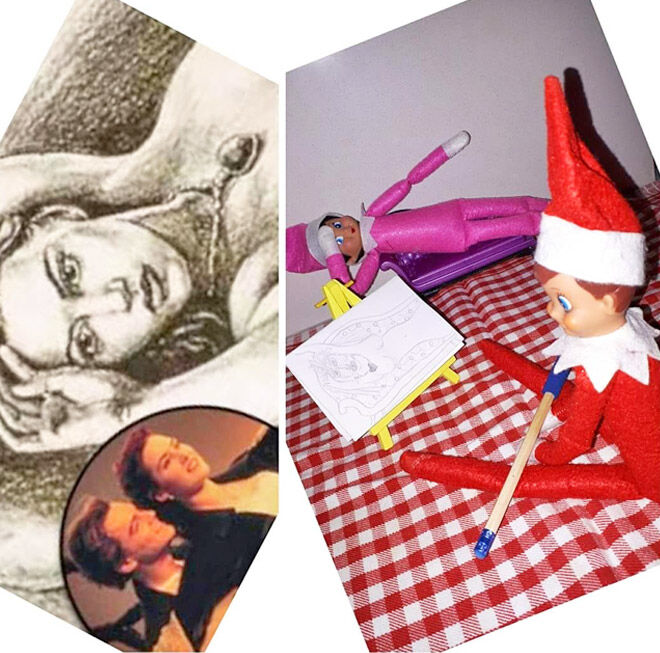 A little bit naughty, but so very funny. (via Amy Schembri)
Frozen peas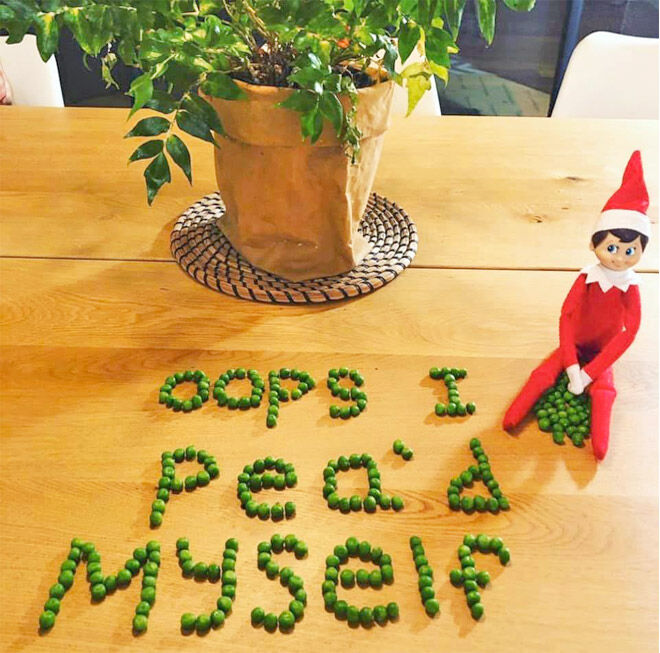 A bit of patience is needed for this one, but the impact is so worth it. (via Rebecca Willmans)
Off the floor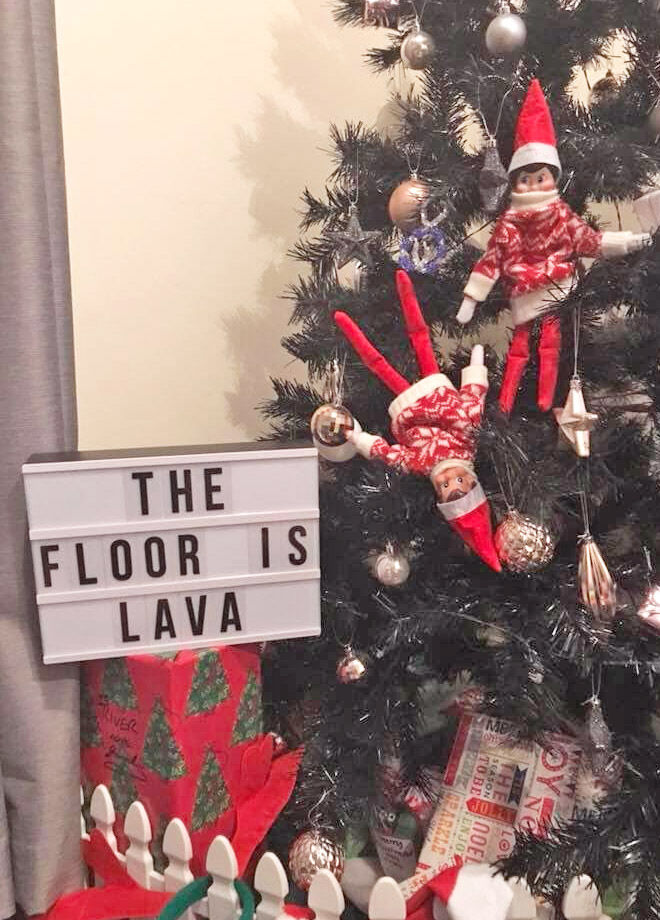 If your kids are into this game, this one's a no-brainer.  (via Lauren Munro)
What's that smell?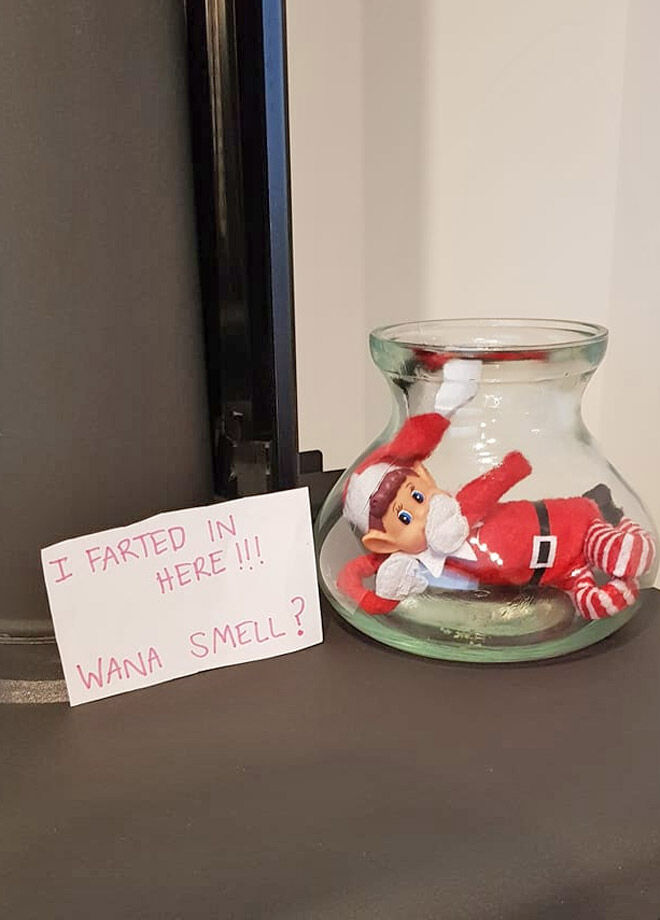 What kid doesn't like a fart joke? (via Arleen Pratt)
Oh Babushka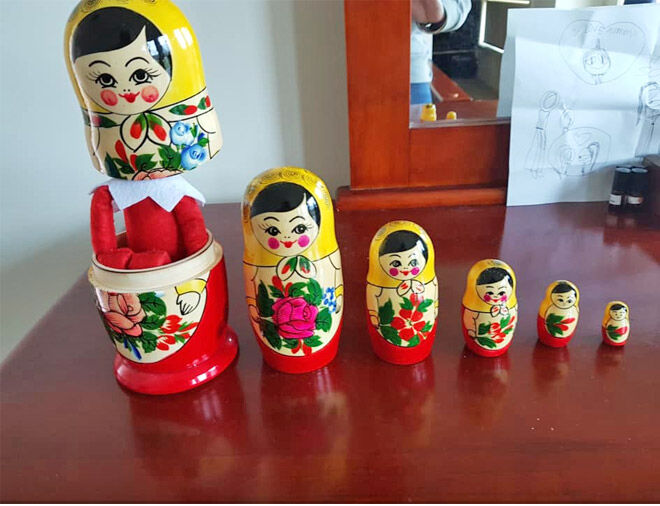 Simply hilarious. (via Jess Gidman)
Are you an Elf on the Shelf queen?
Add your Elf on the Shelf ideas on our Facebook page below:
Read next …
Need more Elf on the Shelf ideas? These next articles have some of the most popular ever created:
---
WIN A $300 ELF PROPS PRIZE PACK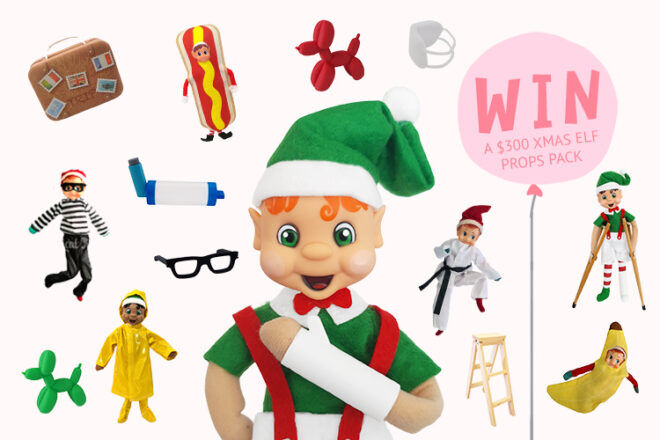 One (1) lucky Mum's Grapevine reader will win two adult elves and 24 days of Christmas Elf props and costumes valued at $300.
Competition ends October 22, 2021.