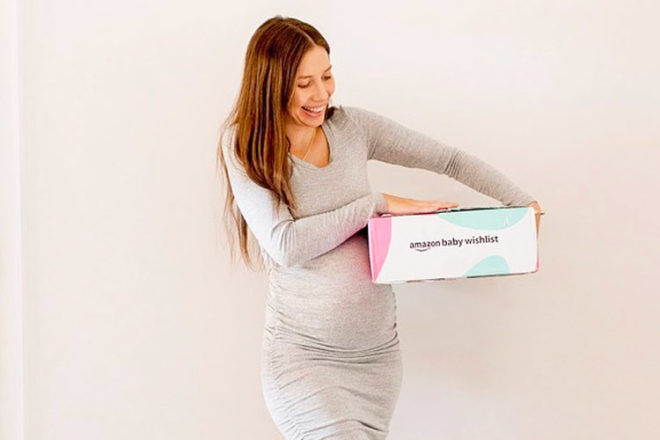 UPDATE: The Amazon Baby Wishlist is back in stock for customers who became eligible for the Welcome Box or made purchases on the Baby Wishlist prior to 5 November 2019 can now redeem the Welcome Box.
Q: How do I become eligible to get a Welcome Box?
A: The Welcome Box is only available for customers who became eligible for the Welcome Box or made purchases on Baby Wishlist prior to 5 November 2019.
Q: If I have made a purchase prior to 5 November 2019, how do I become eligible for a Welcome Box?
A: You must be an active Amazon.com.au account holder with a Baby Wishlist, add 20 different items, and have over $59 of purchases made and shipped from their wishlist (from themselves or gifters). The $59 threshold does not include tax or shipping costs. It also does not include purchases of Prime or Gift Cards.
Q: Once I am eligible, how can I get a Welcome Box?
A: Once you are eligible, you will see a "Redeem" button under the Welcome Box section at the top of your Amazon Baby Wishlist. Click the button to automatically add the Welcome Box to your cart. Note that this is a limited time offer, while stocks last. Only eligible customers, logged into their Amazon.com.au account, will be able to redeem the offer. You must complete purchases and redeem the Welcome Box by 31 December 2019.
Q: I completed the $59 purchase requirement, but the box isn't checked and I can't claim my Welcome Box yet, how come?
A: You have to wait until your $59 of purchases are shipped. Once your orders ship from the Amazon.com.au facility your requirement will be completed and you will be able to claim your box.
Q: What products will be included in the Welcome Box?
A: It's a surprise! The box will include a selection of products for both baby and parents, and the contents may vary over time subject to availability.
Q: Do I need to be the primary owner of the Baby Wishlist to be eligible for a Welcome Box?
A: Yes, the Welcome Box will only be available to the primary owner of the Baby Wishlist.
Q: If I purchase a gift card from a wishlist will it count towards the $59 purchase requirement?
A: No. Purchases of gift cards will not count toward the $59 purchase requirement.
---
Original article:
We all make them – those baby wishlists of everything we want and need before our little bundle arrives. Now Aussie mums are able to create a digital, shoppable version via Amazon Australia's new Baby Wishlist.
Expecting mums are able to curate their own wishlist for bub by browsing through thousands of well known and loved baby brands and products. And after creating the wishlist, it can be shared so that others know exactly what you need before your bouncing bub is born.
And as a bonus, eligible list makers are able to snap up a free Welcome Box worth $200.
What is Amazon's Baby Wishlist?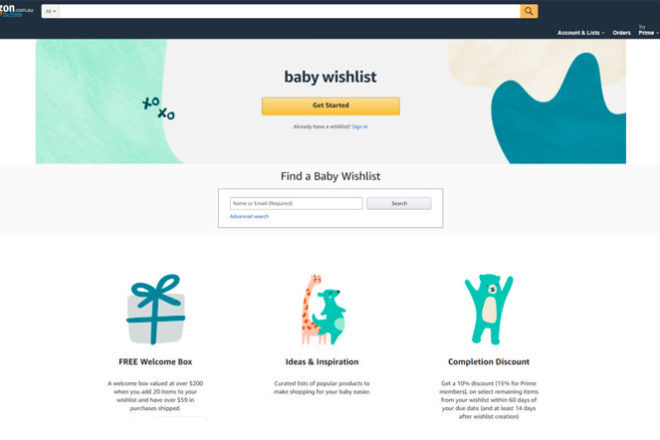 It's basically a way to keep track of everything you want or need to buy for maternity and baby, and it's also handy for family and friends to see what you still need.
There are ideas and inspiration and discounts. It's basically a digital way to keep track of baby products you need to tick off your list during pregnancy, and a helping hand for anyone who'd like to buy you a baby gift.
Amazon Australia sells lots of brands Aussie mums adore like Maxi-Cosi, Huggies, Pampers, Tommee Tippee, Skip Hop, Bonds, Aden & Anais, Baby Jogger, The Gro Company, Boori, Baby Bjorn and Sophie the Giraffe and more.
What's in the Welcome Box?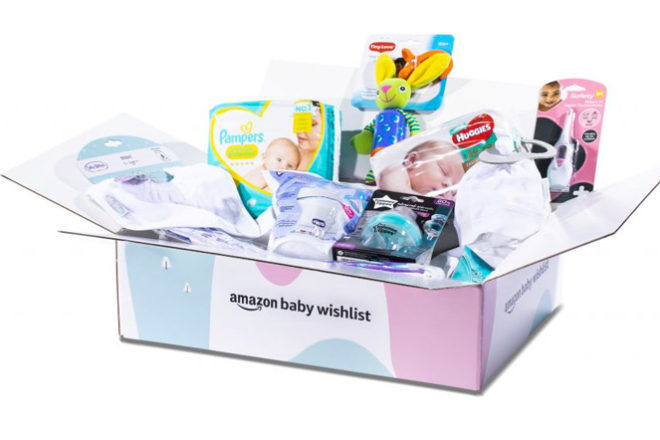 The Welcome Box, worth $200, is bursting with baby goodies, and all you need to do to get your hands on one is create a Baby Wishlist with more than 20 products and spend over $59 on items from the list. And because the wishlists are shareable, it means anyone who buys something for you from the list (like baby shower guests or doting grandparents) is helping towards getting a free Welcome Box.
It includes more than 30 useful baby bits and bobs including:
Huggies Ultimate Newborn Nappies
Pampers Newborn Nappies
Tommee Tippee Anti-Colic bottle
Purebaby 100% Organic Cotton Newborn Hat
Tiny Love Chime Toy
Curash Aloe Vera & Chamomile wipes
Safety 1st Digital Thermometer
Lots of the baby products are also eligible for free expedited delivery for Prime members as part of the Amazon Prime membership program ($6.99 a month or $59 for the year).
The Mum's Grapevine Pregnancy and Baby Groups are being flooded with excited mums receiving their Amazon Welcome Box. Spring 2019 Pregnancy Group member Abbey said, "I just bought nappies, wipes and pads stuff I was buying anyway."
Fellow group member Danielle said, "I got my pregnancy pillow and a couple of other things I needed anyway."
Create your own Baby Wishlist at Amazon Australia.
(Feature images: Lou Plus Two – Lou Aldis)
Read next …
Want to know what other mums are buying for their bump and baby? Our curated 'Best of' lists are a treasure trove of information and products: