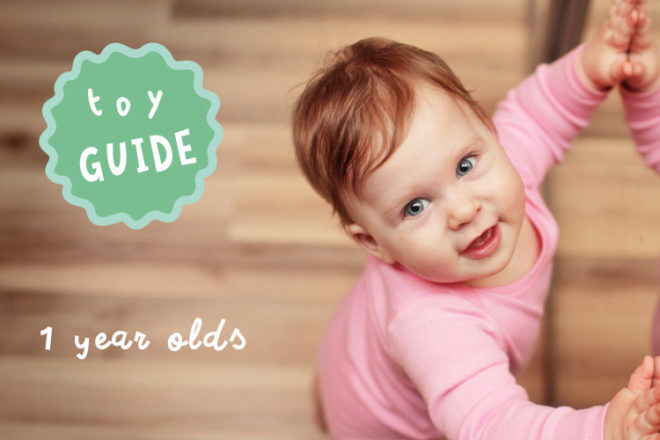 If you're looking for toys for 1 year olds based on enhancing developmental milestones read on.
A whole year in the world, and how far they've come. Newly minted toddlers are busy pushing, pulling, stacking, poking, shaking and tipping things all over the place. They love getting around – whether it's on foot, with a walker or cruising on a ride-on.
So now is the perfect time to give them some of those key 'milestone' toys for 1 year olds that they'll use for years to come.

Opening And Closing Things
Pressing Buttons
Pointing
Mimicking
Banging, Poking & Shaking Things
Standing
Cruising
Tipping Things Out Of Containers
Saying First Words
Walking (Maybe!)

Push / Pull Alongs
Cars, Trucks And Trains
Baby Crayons
Shape Sorted
Shakers & Instruments
Activity Tables
Walker
Wagon
Soft Balls
Bead Maze
Toy Phone

14 best toys for 1 year olds
Here are our top gift ideas for 1 year old boys and girls.
See 'em, stack 'em!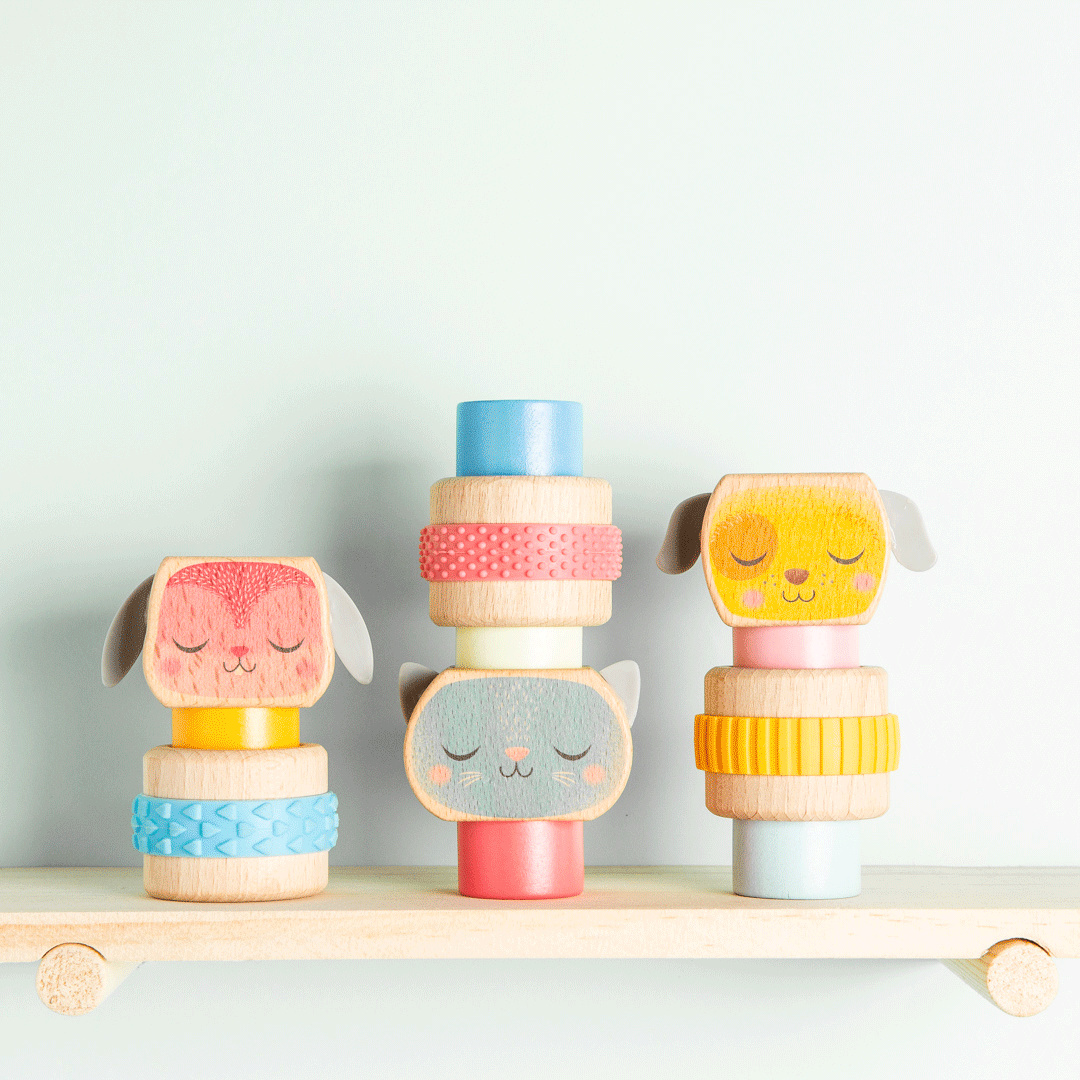 Sweeter-than-sweet stackables with darling animal faces (one side awake, one side asleep). Contrasting textures and chunky pieces make for a tactile play for toddlers. We love the lumpy bumpy silicone for kiddies to touch and feel.

---
Friends that fit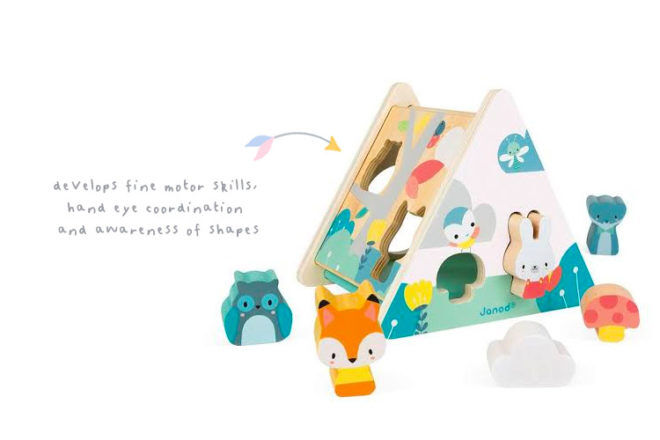 An impossibly cute twist on a traditional toy, toddlers search for the holes that perfectly fit their animal friends. Then tip them out and start again!

---
Petit Picasso
Crafted for perfecting the all-important pincer grip, these rainbow-coloured crayons make learning to draw fun and easy for pint-sized Picassos.

---
Triangular tunes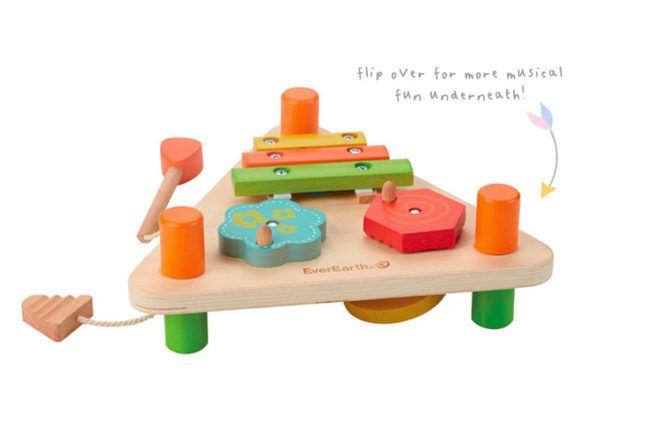 A double-sided musical must-have for one year old toddlers who love to make a tune. With a xylophone, spinners, drum, glockenspiel and mallets it's a beautiful sensory experience.
---
Beautiful buttons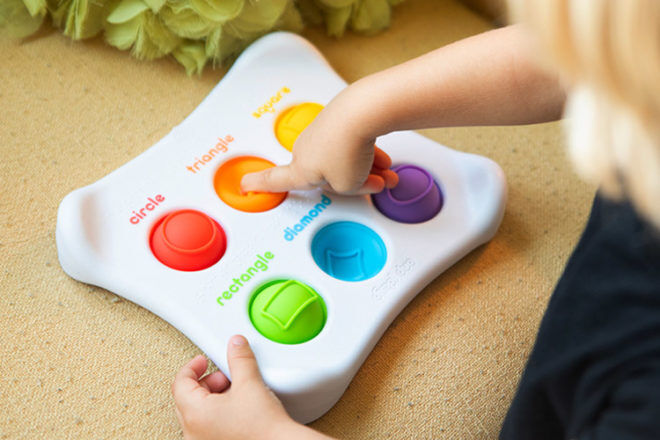 A double-sided gem, one side of this sensory toy is embossed with shapes and labelled with the matching word. Flip it over and the silicone buttons are smooth with words matching their colours.

---
Colin the camper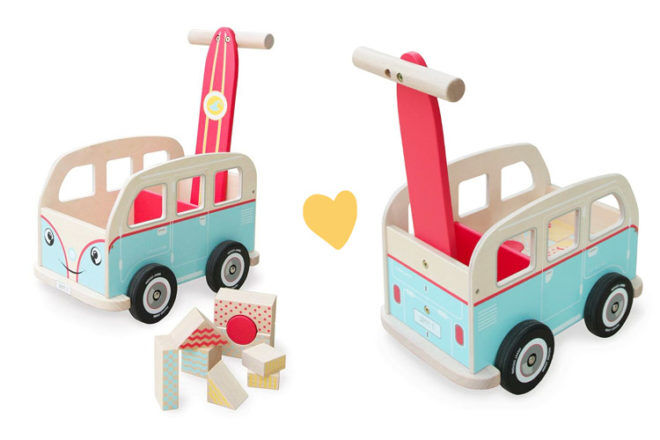 A walker with supreme cute-factor, the Colin Walker Van has beach-cred, a sturdy surfboard-shaped handle and comes with 14 wooden shapes and blocks to take along for the ride. Walkers are perfect toys for 1 year olds.

---
Egg-cellent fun
Young egg-splorers at the ready, what's hiding in the shells? Crack them open to find funny faces and bright colours, then find their shape to put them back in the right spot.

---
Pretty birdie

A colourful pull-along with oodles of charm. Pull the cord and watch birdie flap her wings ready to fly.

---
Stack, sort, twist and turn!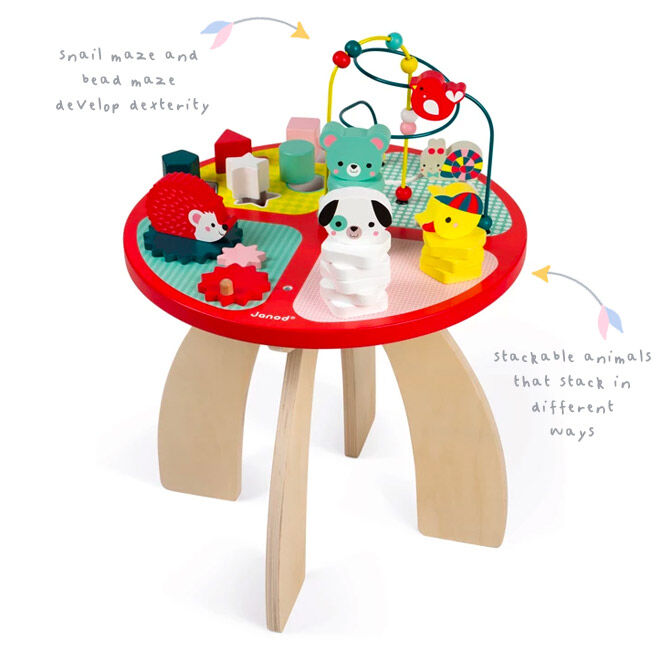 Busy one-year-olds are all about exploring, and this activity table has so many surprises waiting to be discovered. From the stackable animals to the snail maze and porcupine cogs, it's so many activities in one.

---
Stacks of fun

A colourful block set that combines learning and playing. Each block represents a number, a letter of the alphabet and an object for kids to conquer. Sort and stack the blocks high, count up to ten or practise the alphabet while you build. The play possibilities are endless with these versatile toys for 1 year olds.

---
Blocks for building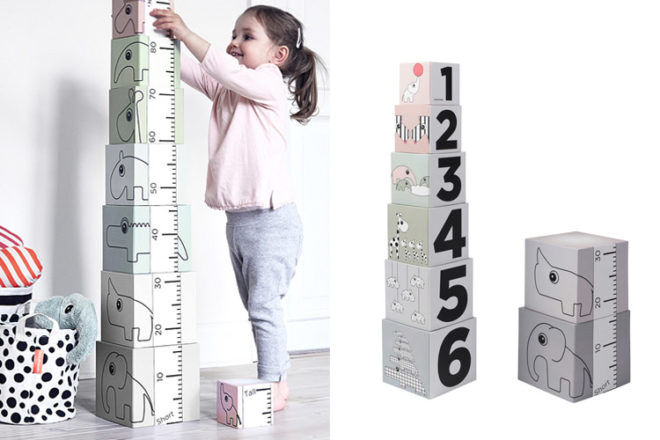 Blocks that stack from big to small, build them high and watch them fall. With numbers on one side and iconic Done by Deer illustrations on the others, when not in use the blocks double as nursery decor.

---
Push and play
Beautifully crafted and built to last generations, the Moover Dolls Pram is the perfect height for toddling tots on the move.

---
Pretty pull-along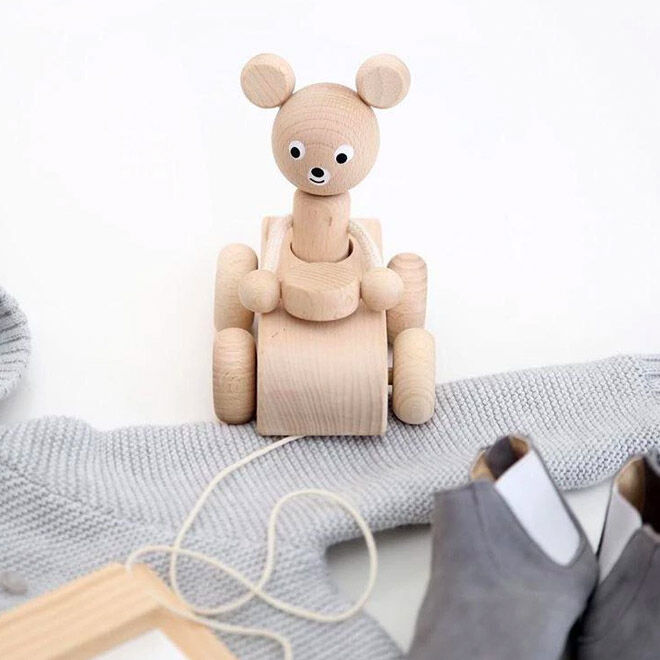 A little friend to follow wherever they may go. A 'beary' cute guy in his car ready for adventures, lovingly handmade from raw beech wood, just pull him along and away he goes.

---
Whicker wonder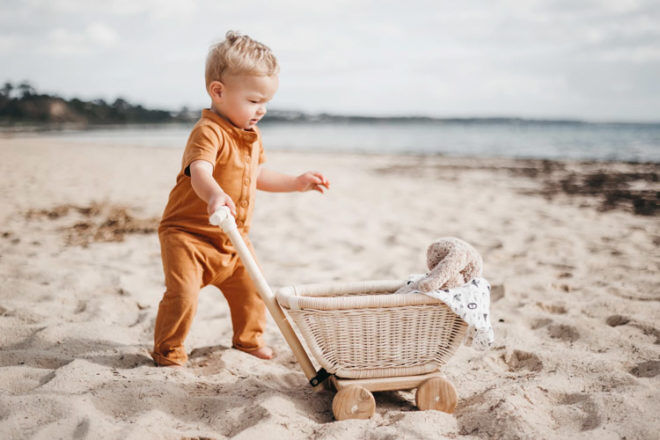 Big enough to haul a gaggle of toys and ethically made from bang-on-trend rattan, this wagon is ready for play and display.

---
This article is curated by our Editors and includes affiliates and/or paid inclusions. See our Disclosure Policy.

---
Know more toys for 1 year olds that we should add to our list? Contact us and let us know.
Find more great toys for toddlers and kids:
We've collected a treasure trove of amazing ideas, from the latest baby gifts from leading brands to the quirky boutique finds. There's something for every little Piper, Noah and Charlotte.
Toys for kids based on development milestones, not gender.
Continue your search for the best toy for one year olds
Still not sure if any of these toys are right for you? Search online by jumping into one of our closed Baby groups and ask thousands of other Australian mums what they recommend – 'What to buy' is the most talked-about topic.
Click and join your group today!