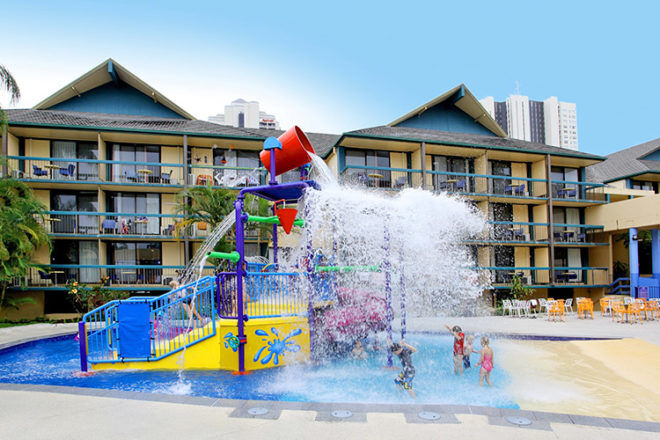 There's a heavenly slice of Queensland paradise that's carved out a reputation as the place to holiday with kids. A children's wonderland, it's a rare jewel that balances the demands of children who crave entertainment from sun up to sun down and parents who want to do as little possible.
Having just returned from a week-long vacay at Paradise Resort Gold Coast, we're chuffed to report that this colourful corner of Surfers Paradise is indeed a family utopia. Like a cruise ship on land, a family's every whim is close at hand, with four-star facilities catering for parents, babies and children up to the age of 12. Pack the bathers and a good book to read, we're heading to Paradise Resort.
Location: Paradise Resort Gold Coast
Duration: Seven nights
Reviewers: Family of four, children aged 10 and 8
About Paradise Resort Gold Coast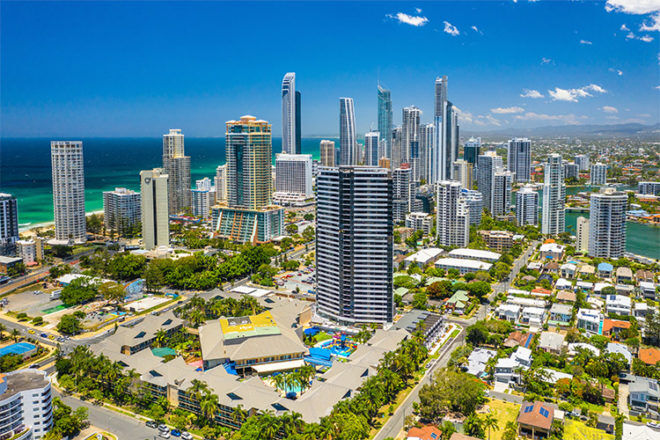 Just a hop, skip and a jump (ok, a ten-minute stroll) from the bustling Cavill Avenue, Paradise Resort is perfectly located just five minutes walk from the main surf beach and the heart of Surfers Paradise. Arriving at the resort, our kids were instantly in awe-struck mode, with lots of oohs and ahhs as they took in the lush gardens and indoor play area just next to reception.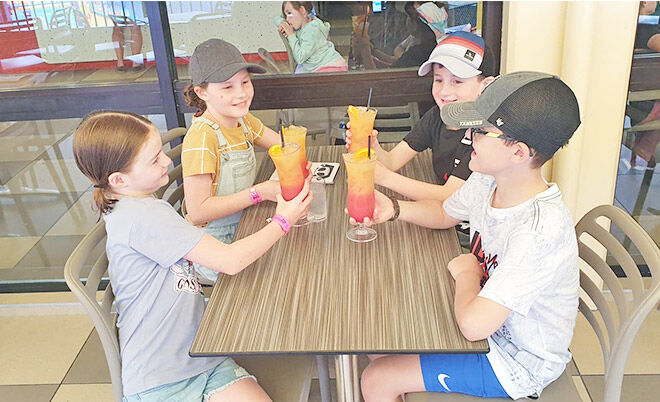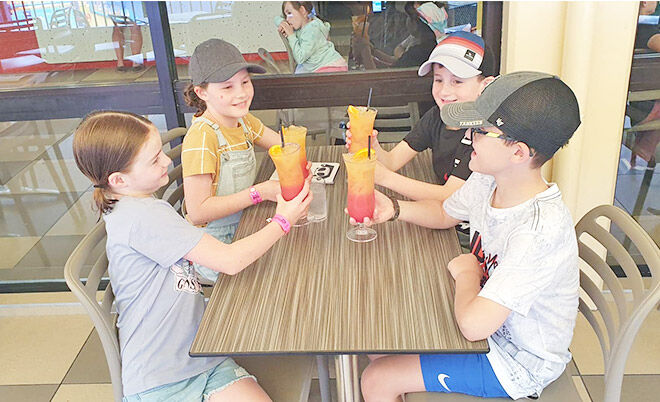 The resort is always lively with the sounds of happy kids, either in playgrounds or splashing in the pool or waterpark areas. From the minute you walk in it's plainly obvious that kids are king at Paradise Resort. But thankfully, parents are treated like royalty too!
Rooms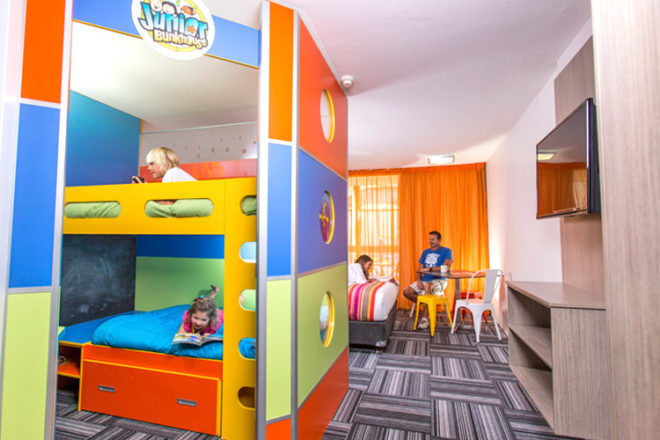 There are 359 rooms, with 10 different room options, from resort-style to bunkhouse (pictured above) and family suites, catering for tribes with up to six children. Our family suite was perfect for our family of four – in fact it was surprisingly large, with a separate kids' bedroom and balcony. While the decor in our suite was a little tired, there was a handy kitchen area with kettle and microwave and heaps of storage. And of course, the Xbox was a favourite with the kids whenever we had some downtime.
Here's one of the best Paradise Resort perks – every accommodation package includes a free four-hour Zone 4 Kids Club session every day. That's every, single day! The Kids Club looks after babies through to 12-year-olds, and it's amazing – but more on that later.
Food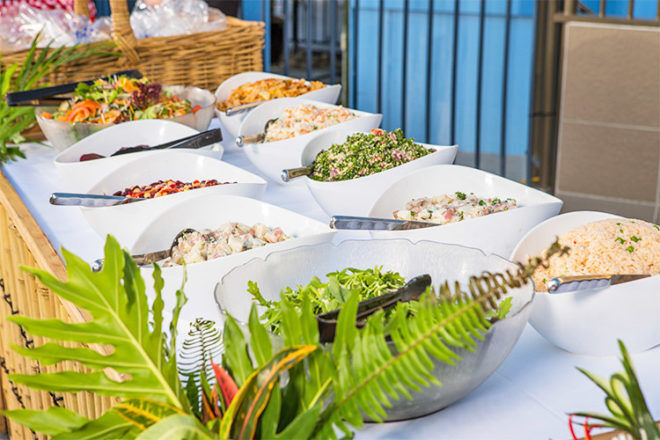 We snapped up a 'kids eat free' deal and we're so glad we did. The food at Paradise Resort is fantastic, and most days we had breakfast plus one (and sometimes two) other meals at the resort. Most mornings we opted for the continental breakfast, which includes cereal, tea and coffee, pastries, toast, fruit and yoghurt. If you're partial to an eggs benny or pancakes, you can choose off the menu, but we found the kids loved going up and helping themselves to continental breakfast and they filled up, so lunch was usually just a quick bite.
The Bistro is perfectly positioned next to the small indoor playcentre so we'd have coffees first and let the kids play before breakfast, and we did the same at dinner. It meant they were always hungry when they came back to the table!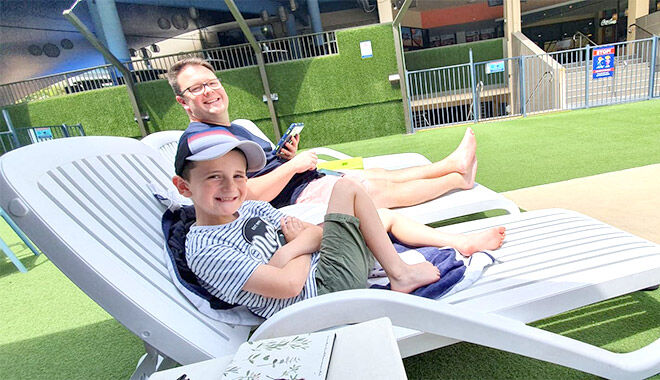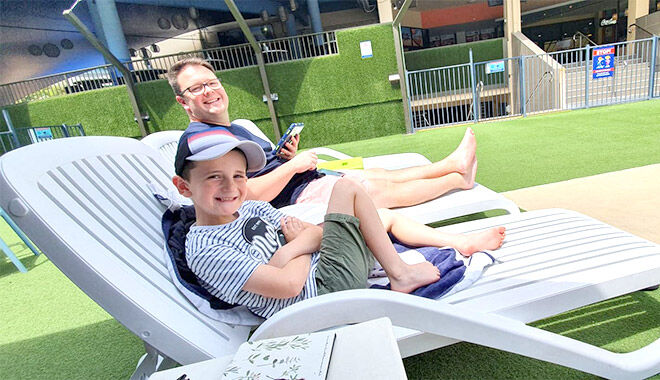 You can also grab something to eat and laze by the pool, or in the cafe – there are sandwiches and salads on offer at lunchtime, as well as pizzas and other menu items. The Poolside Cafe also happens to be next to the bar, so it's a cinch to grab a Long Island Ice Tea and a snack and cosy up on the deck chairs while the kids splash in the water.
There are also themed food nights throughout the week, including BBQ (which was the fanciest BBQ we've seen!) and Mexican.
Facilities and activities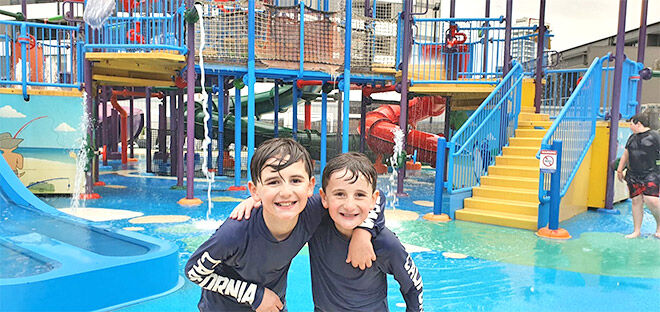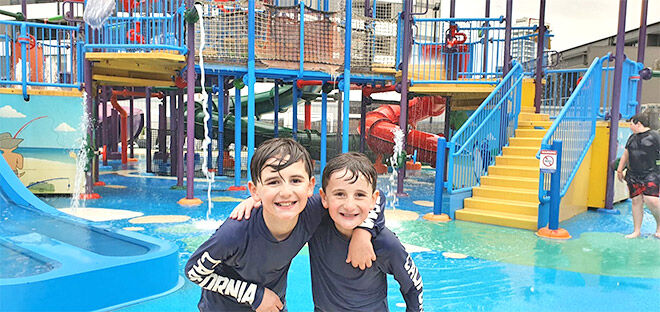 Without a doubt, our kids could have happily lived at the waterpark for the rest of their days. Most days they spent many hours splashing down the waterslides and then traipsing to the pool and back.
There's a big water playground – the Z4K Water Park – which is great for the older kids. It's three stories high with water slides, water cannons, climbing frames and a giant bucket that offloads 600 litres of water every few minutes. The cheeky dunk tank also got a good work out!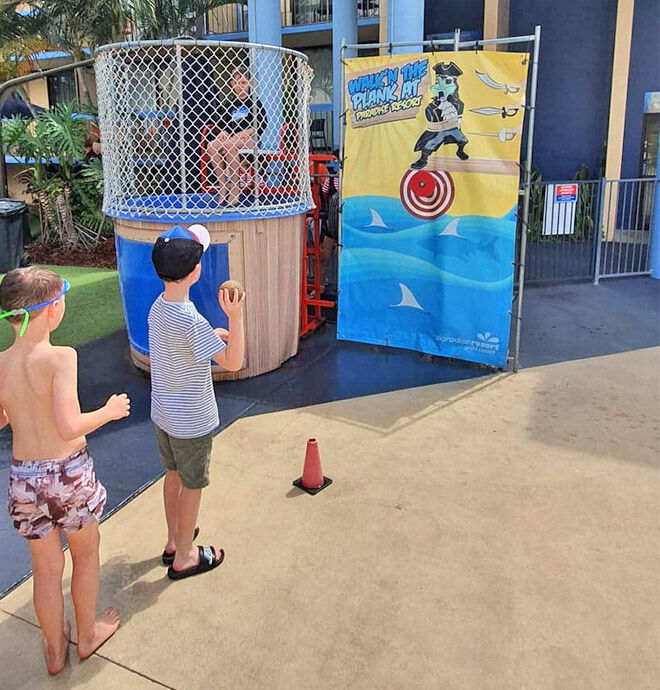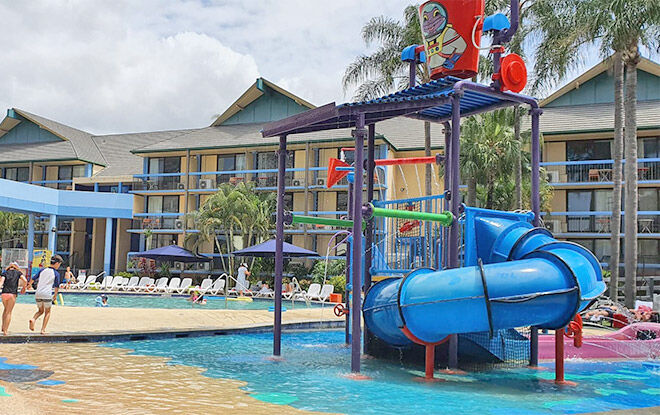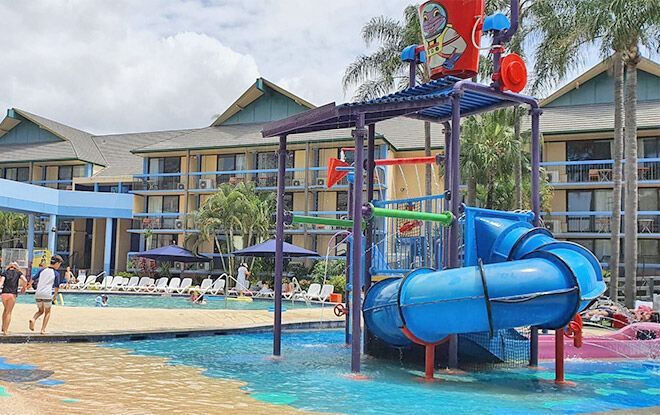 There's also a lagoon pool, heated spa and a junior water park, which is a smaller version of the larger one – and even has it's own tipping bucket!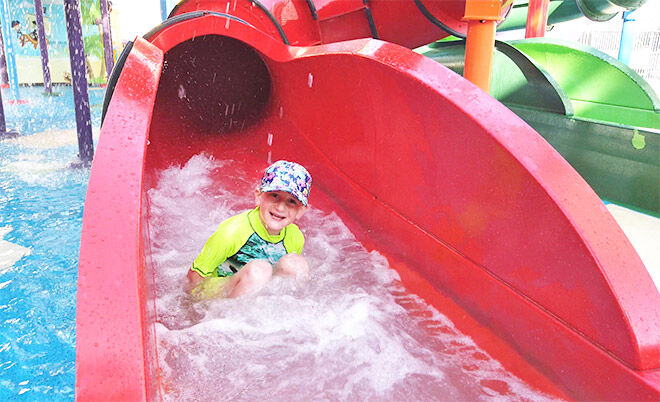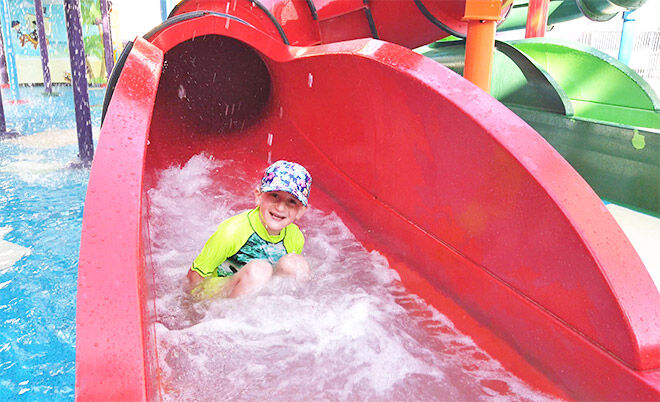 When you arrive you'll be given a list of daily activities – much like what happens on a cruise ship. Get your highlighter out and work out which activities the kiddos like, there's plenty for older and younger kids. Many of the activities are free (our kids LOVED the paper plane making competition) while others like slime making incur a small cost.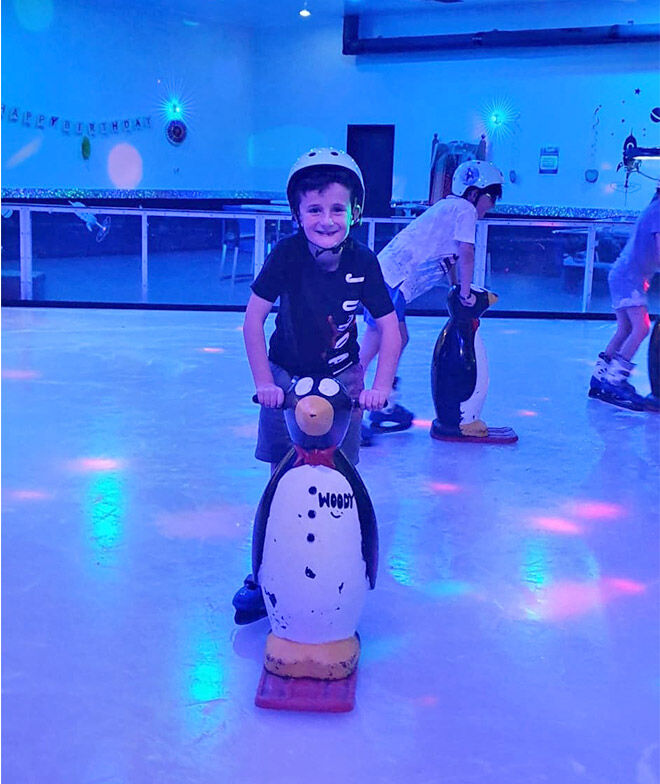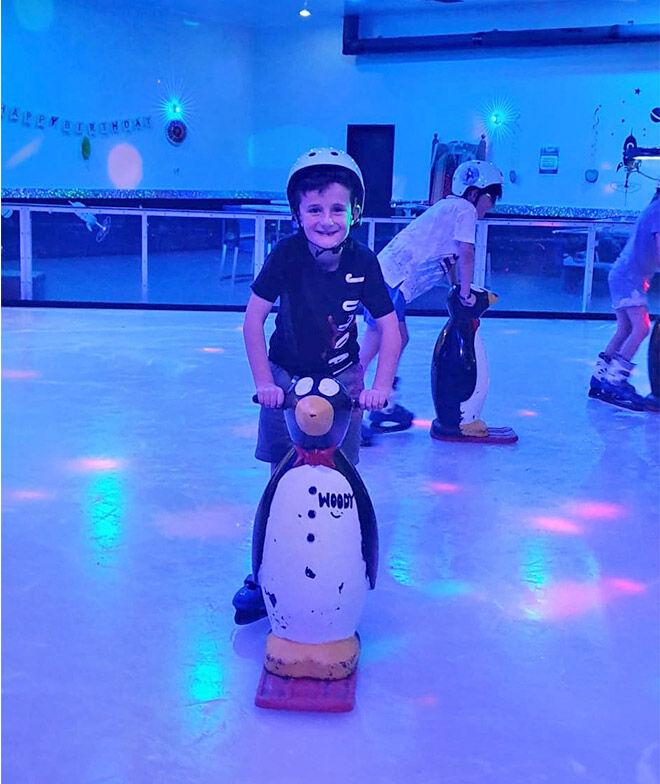 The resort also has its own ice-skating rink, rock climbing, virtual reality ride and laser tag, with passes available to purchase at the resort. And don't miss the outdoor movie, it's such a great way to soak up the resort at night, snuggled up to the kids.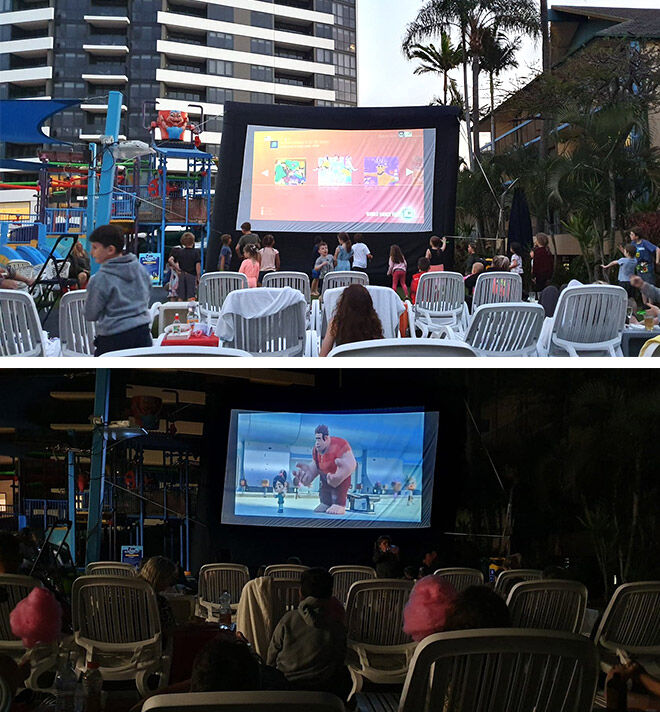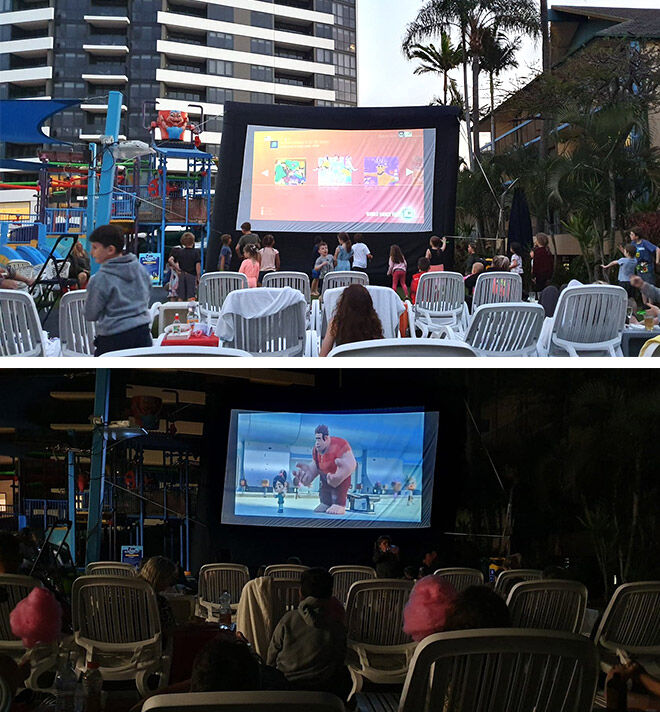 Kids club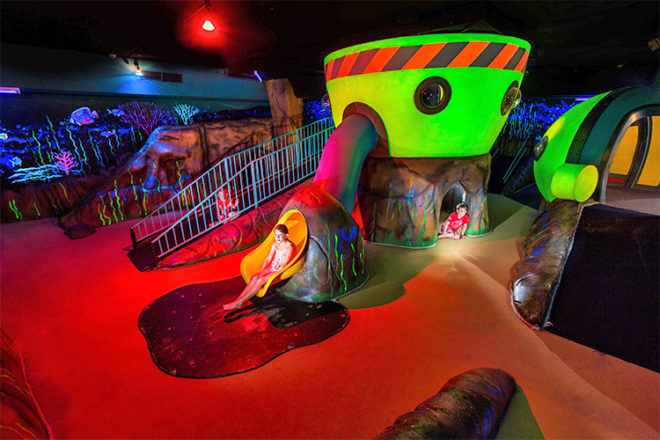 While our kids didn't attend kids club, we had a little glimpse at the facilities while doing laser tag, and they are wow-worthy. Our kids were actually annoying they hadn't had a turn in kids club! There are nine different kids club themed spaces and a host of age-appropriate activities every day. And don't forget, every accommodation package entitles you to a free four-hour kids club session per child per day.
And while the kids are having a blast in kids club, there are a heap of things to do at the resort, including beer and wine tasting, cooking demos and live music.
Paradise Resort cost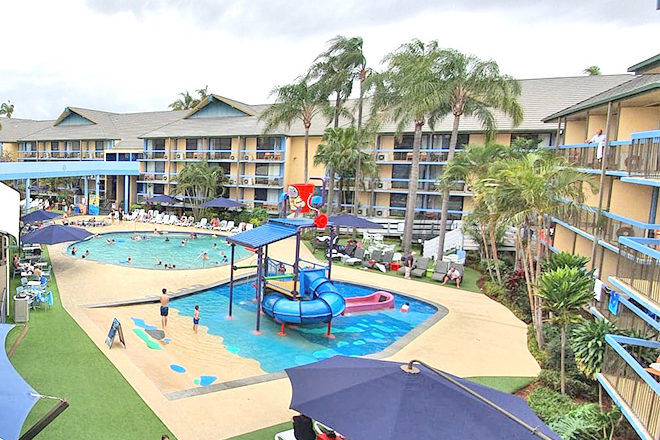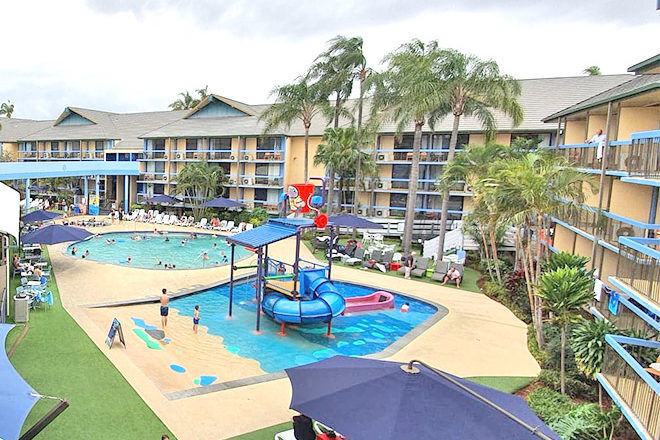 Paradise Resort often has specials and deals, so it's well worth keeping an eye out. We snapped up a kids-eat-free package, which was well worth it, but there are also discounted accommodation packages popping up all the time. It's also worth remembering that kids club is included in the price.
Paradise Resort top tips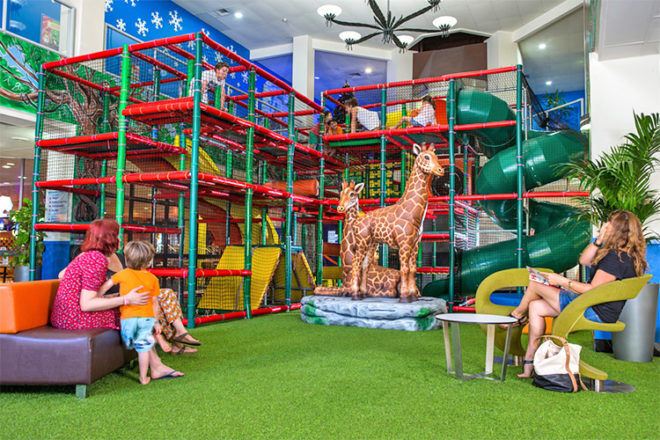 Here are our top tips for holidaying at Paradise Resort Gold Coast:
Try and book a room with a pool view, and there are refurbished rooms available, so it's worth asking about those.
You can just turn up at the Bistro for meals, but if you want to snap up a table within viewing distance of the indoor play gym (pictured above), it's worth asking to book one.
Set up to have everything charged to your room, so you don't need to carry cash around.
Take a highlighter so you can work out what activities the kids want to do on the sheet provided on arrival.
There's a little shop in the resort to grab essentials if you need anything urgently.
Not all rooms have wi-fi, so you need to ask. However, there is free wi-fi beside the pool.
Book directly online at Paradise Resort.
This post is sponsored.