The turkey's in the oven and the guests are on their way – now there's just the matter of dressing the table. But before you drag out your Rudolf place mats and half-melted candlestick centrepieces, take a look at these 12 Christmas table ideas that will have your table looking as fresh as your Christmas lunch!
1. Christmas carolling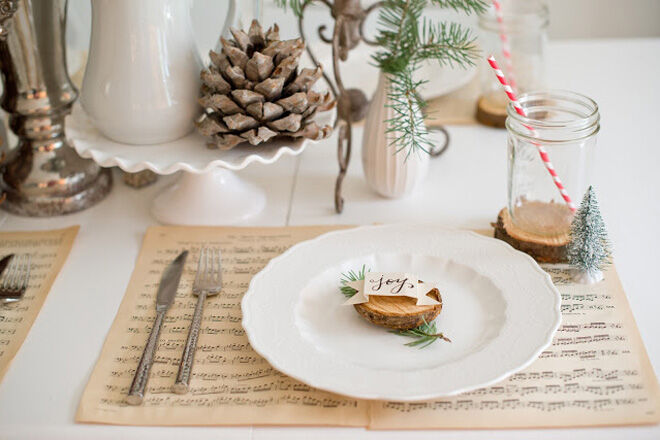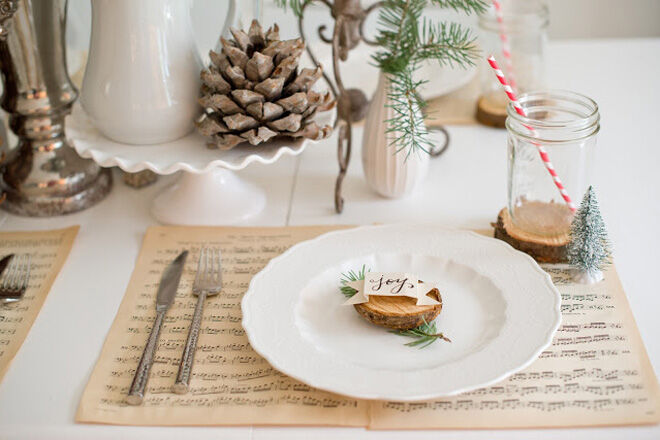 Give those tired Christmas carols new life this year with these simple but oh-so-charming classical place mats from Domestic Fashionista. As well as being a great way to recycle old music books, these mats also make post-Christmas clean-up so much easier. Score!
2. Mini tree trucks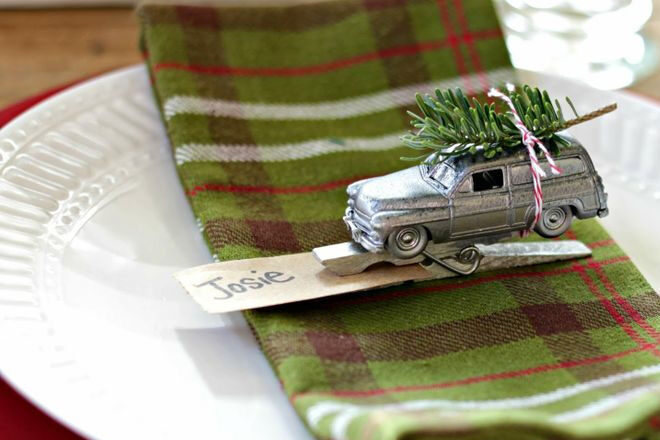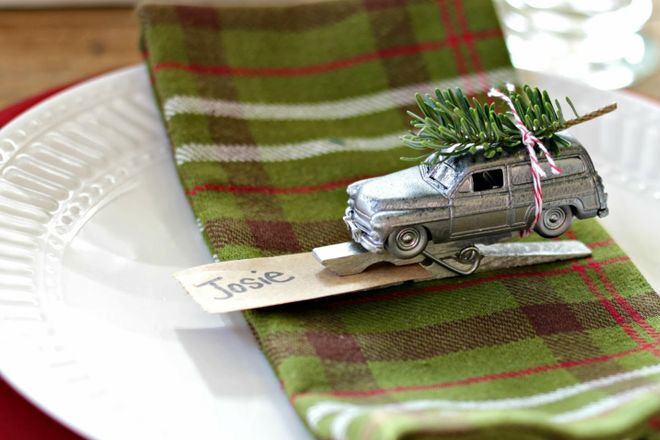 Tow the family to the table with these adorable mini Christmas tree trucks by Our Fifth House. Using matchbox cars, model trees and a few simple steps, this is a great project the whole family will want to get in on.
3. White wonderland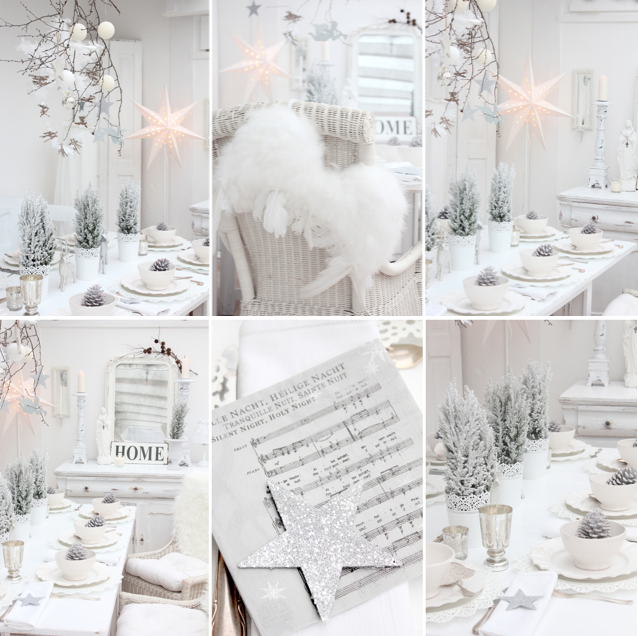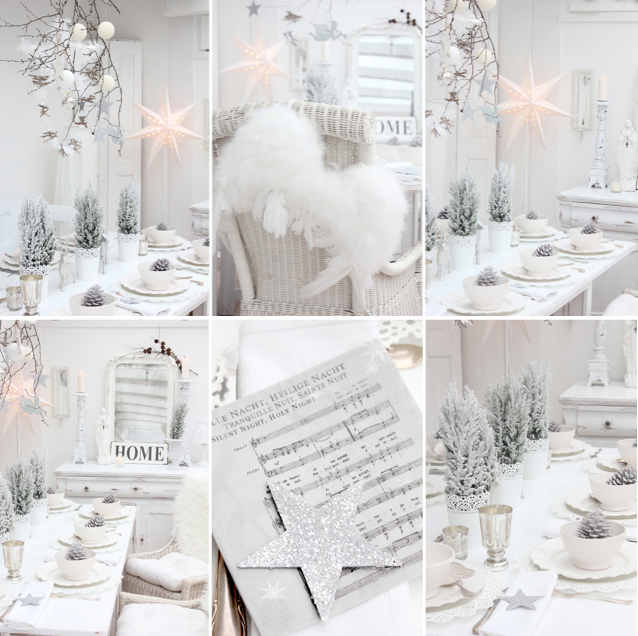 Dreaming of a white Christmas? White and Shabby shows us how easy it is to create a wonderland at the table. By setting off your white dinner set with highlights of silver spray-painted pine cones, mini-trees and glittery candles, you'll create a table that's full of winter charm.
4. Napkin folding fun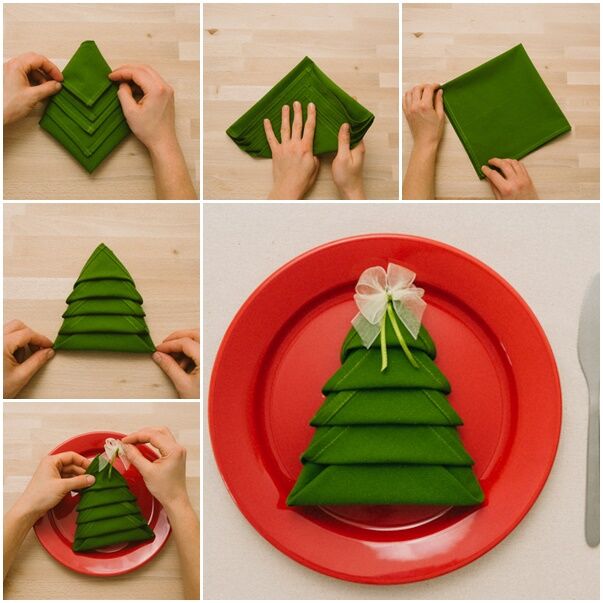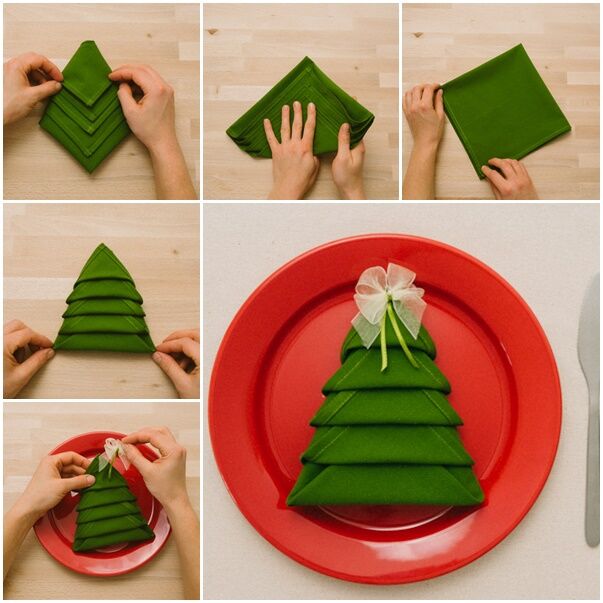 Swans are so last year. This easy tutorial from Fab Art DIY will soon have your napkins back in the holiday spirit.
5. Christmas terrariums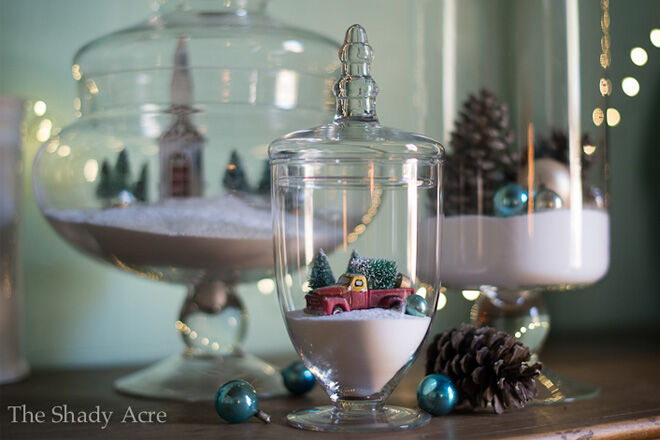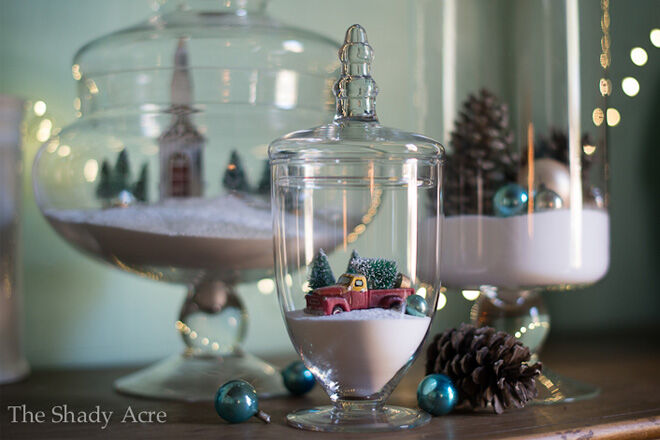 Terrariums are so hot right now, and you can DIY your own winter snow jars with these instructions from The Shady Acre. Not only do they make perfect centrepieces, but drop a name card inside miniature jars and they turn into quirky individual place-card holders!
6. Let there be light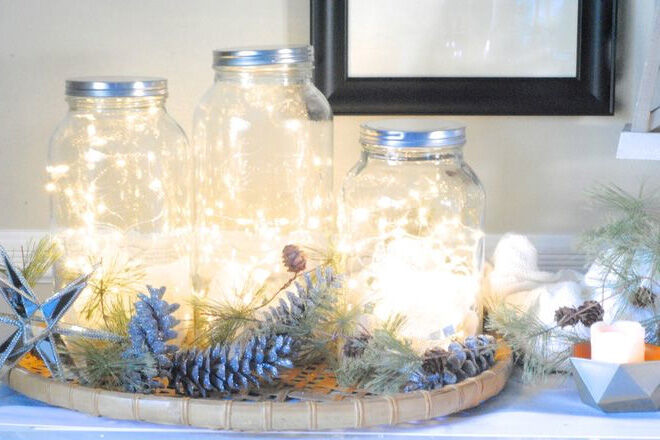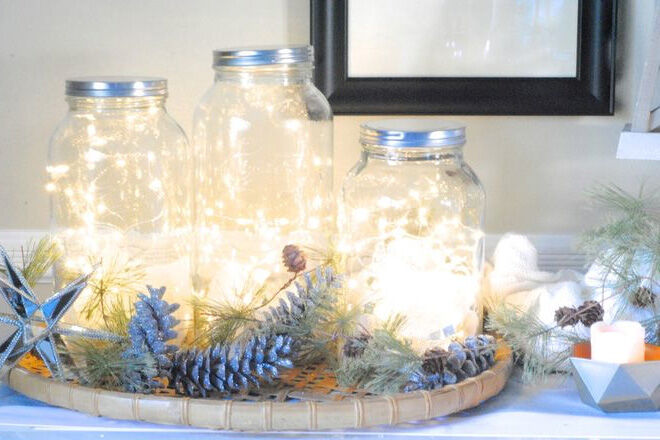 Making Lemonade demonstrates how to turn oversized mason jars into Christmas table magic, simply by using strands of fairy lights. Add a few pine cones or baubles for a glowing centrepiece or buffet decoration.
7. Log placemats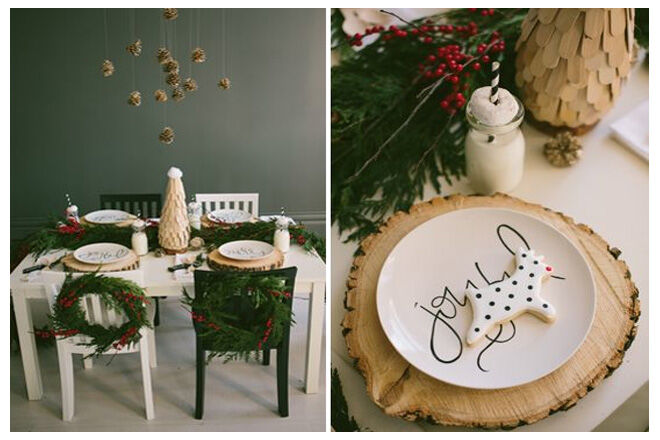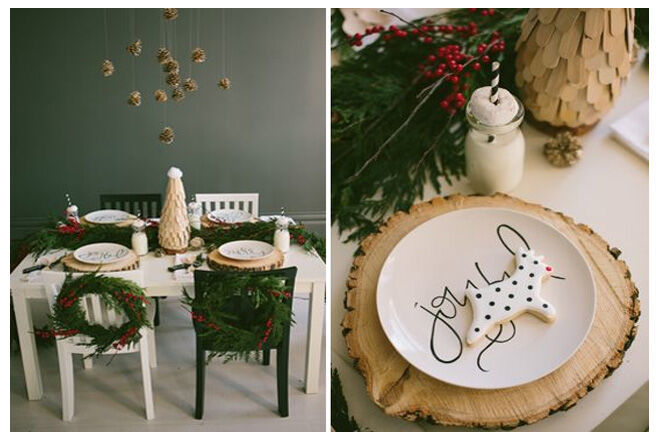 Relieve some holiday stress by sawing up some of these inventive log plate chargers. Not only are they in keeping with the festive spirit, but they are also the perfect heat-resistant accompaniment to those Christmas favourites pulled straight from the oven. (Image via Sweet Little Peanut)
8. Ornament place cards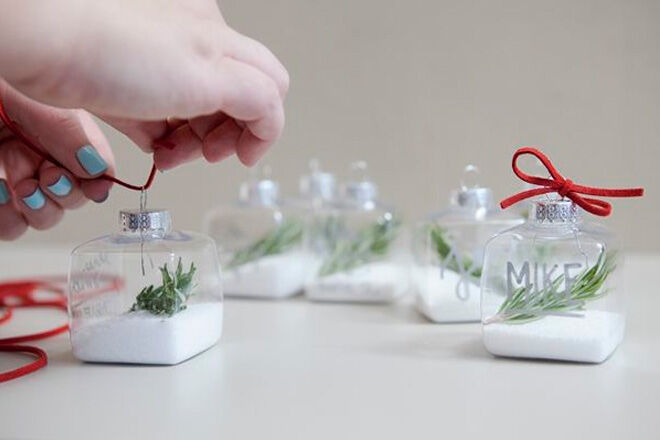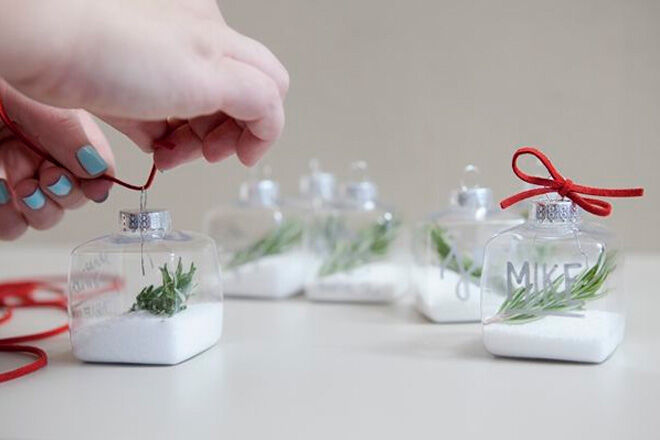 Oh, my Christmas these are cute! Something Turquoise's personalised ornaments are sure to be a hit with your guests this year. Topped with a red ribbon and just using salt and a rosemary sprig, these place name holders are almost as stylish to look at as they are fun to make!
9. Summer style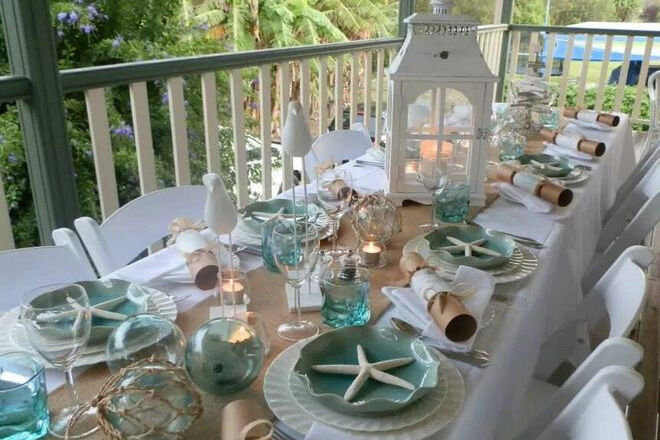 If your idea of the perfect Christmas day involves relaxing at the beach, then go nautical with this coastal-cool style. Add hessian table runner, aqua accessories and beach-foraged items to create the ideal table for a summery Christmas day! (Image via Coastal Vintage)
10. Stocking utensil holders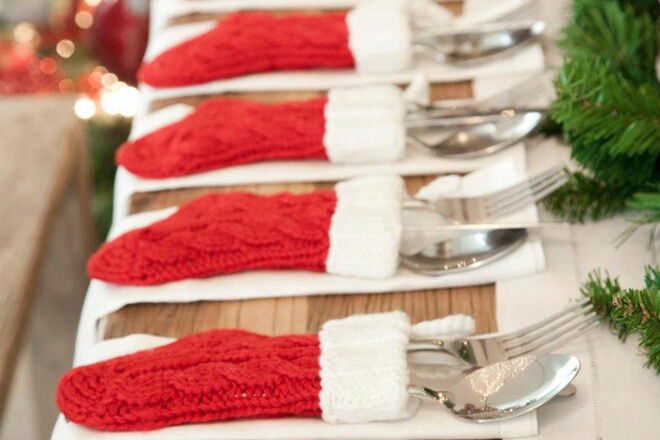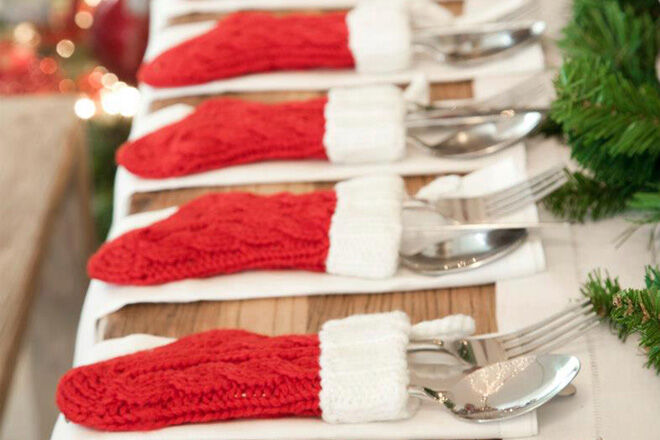 Cosy up your cutlery! We love this idea for using dollar store-bought mini Christmas stockings as utensil holders. (Image via Design Rulez)
11. Photo place cards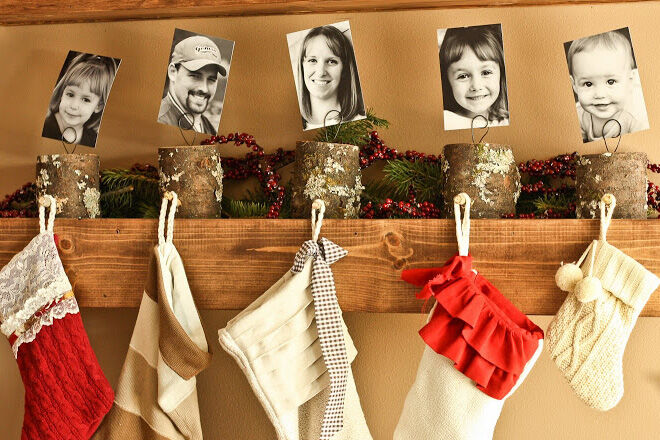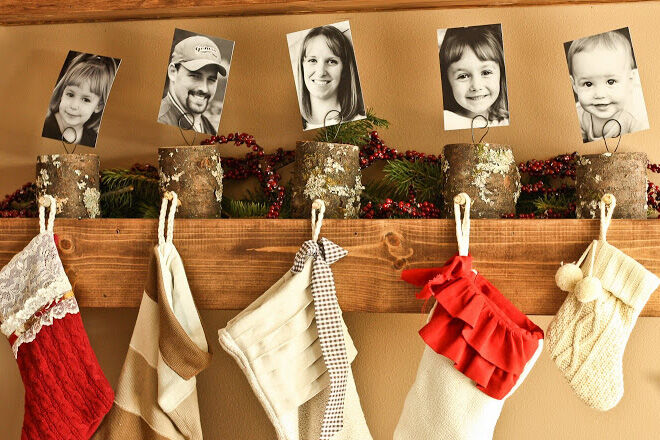 Creating by Cami uses cherry tree cut-offs to make these stocking pegs, but we think they would also make picture-perfect place-card holders!
12. Raising a village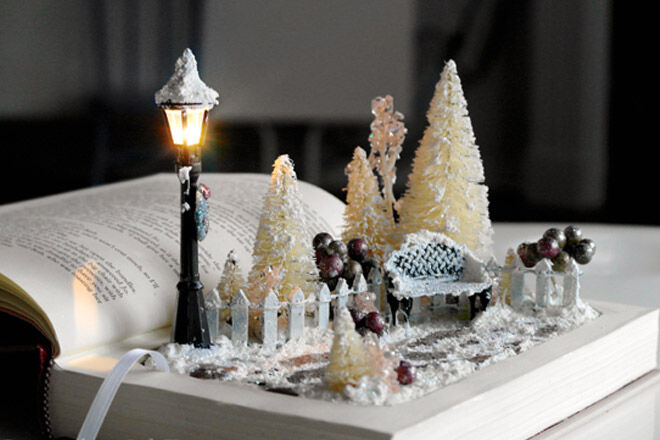 Everyone loves a good Christmas story, and this idea from Salt Tree will help you create one that is truly magical. Using a cut-out hardcover book, some miniature accessories and white paint, this read is sure to become a holiday favourite for years to come!
Read next…
Looking for more creative ways to decorate your home this Christmas? Here are a few festive articles you might like to read next.