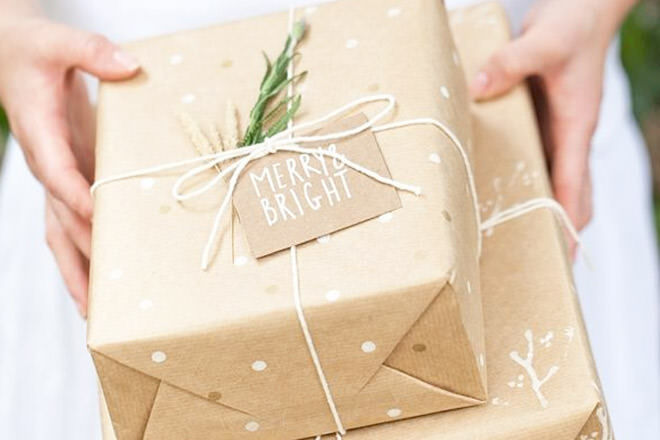 Prepping your gifts ready for Christmas can be just as exciting as opening them, but there's no need to blow the budget on fancy paper and boxes of bows. Brown paper is our favourite festive hack – it's inexpensive, looks great and is really easy to work with – lets fist pump to that!
We've scouted the web and found 19 ways you can really WOW with brown paper gift wrap this Christmas.
Dotty for detail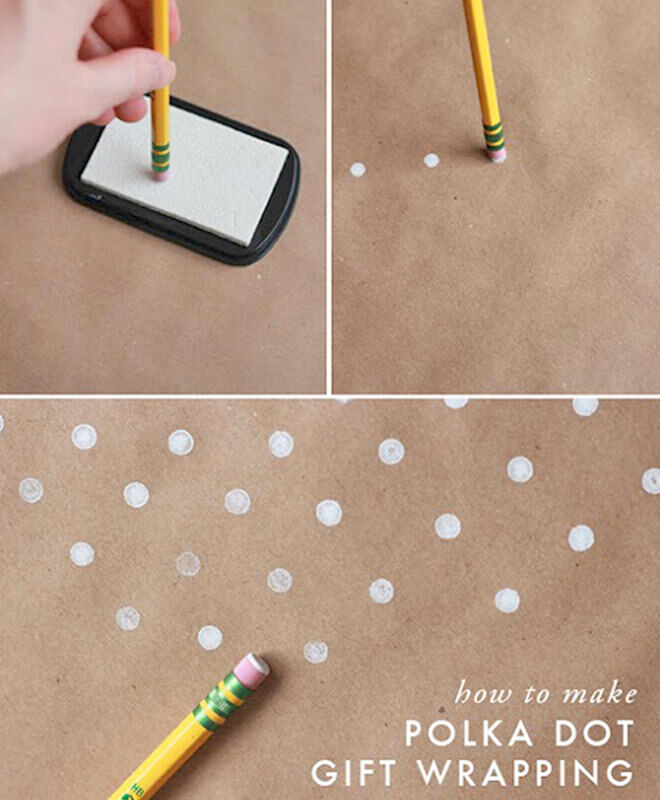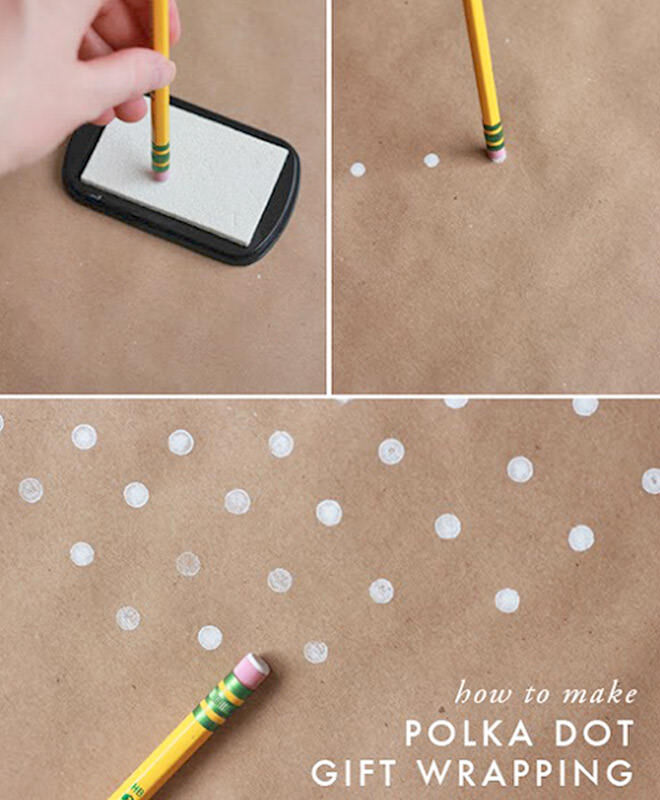 Do you know how to create perfect little dots? Top tip – use the eraser on the end of a pencil! It makes the cutest stamp for lots of little snowy dots on your paper. (via The House that Lars Built)
Go green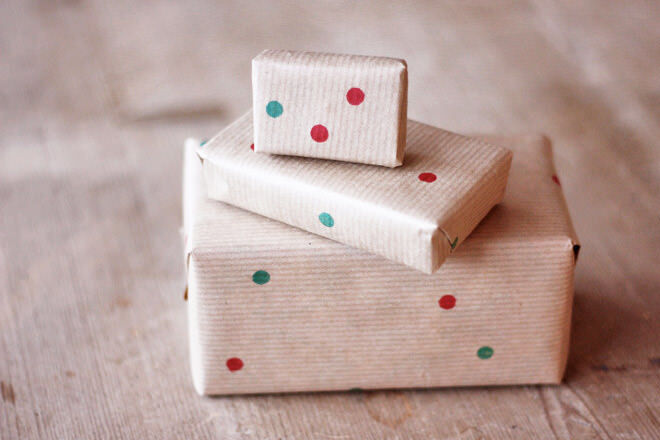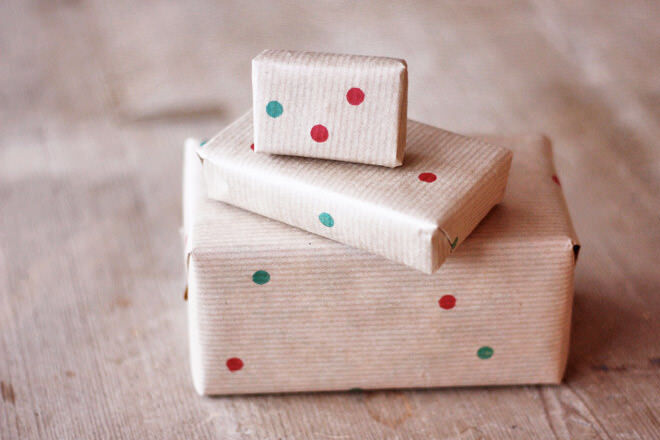 Go green (and red) with your pencil if you want a more traditional look under your tree this year. (via Morning Creativity)
It's snowing!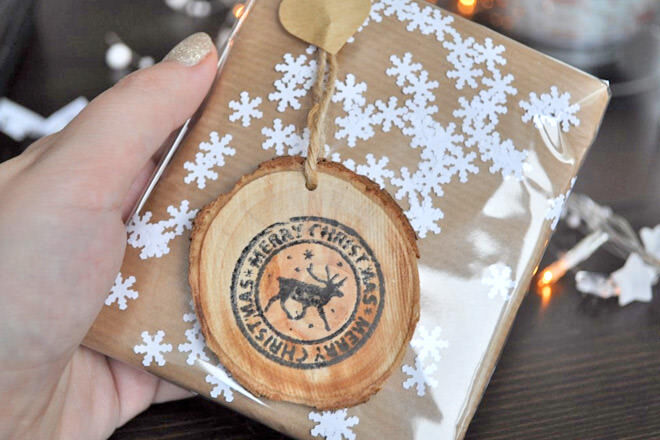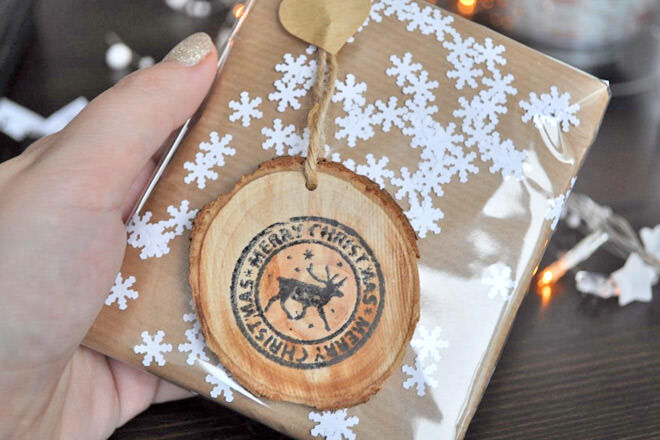 This is so easy you'll wonder why you never thought of it before! Using a snowflake craft punch (available on Etsy), punch out the snowflakes from white paper. Wrap your present in brown paper and then add your crisp paper snowflakes between the brown paper and a layer of celophane. Easy peasy! (via Christmaholic)
Ruldolph the red nose reindeer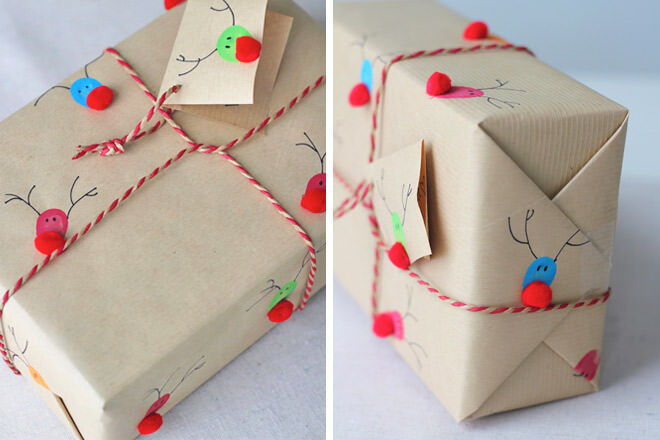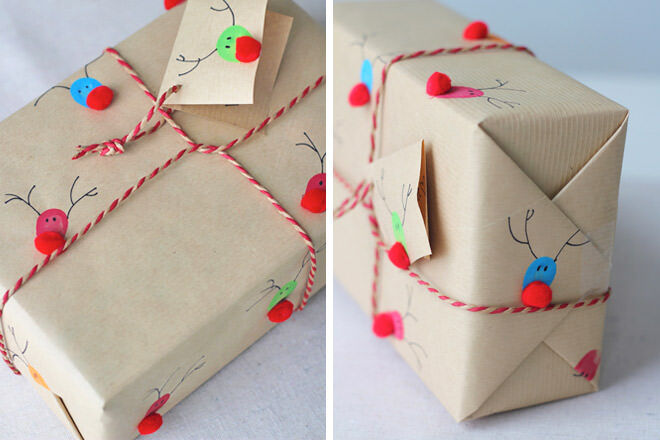 Rudolph the red nose reindeer had a very pom pom nose. Use little red pom poms and your child's finger or thumb to make his head! See – sometimes having the kids around when wrapping gifts can be useful. (via Splash of Something)
Hand stamping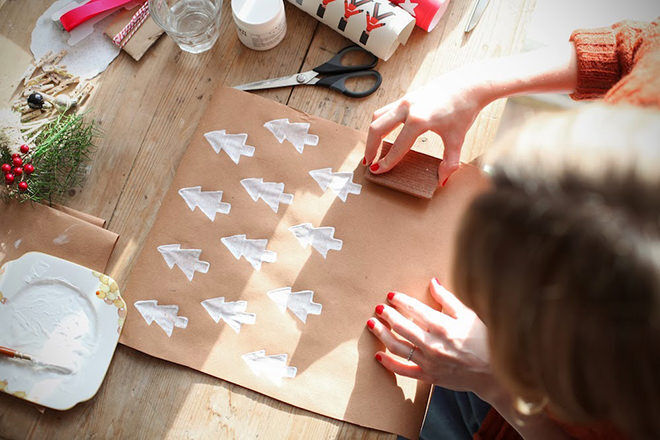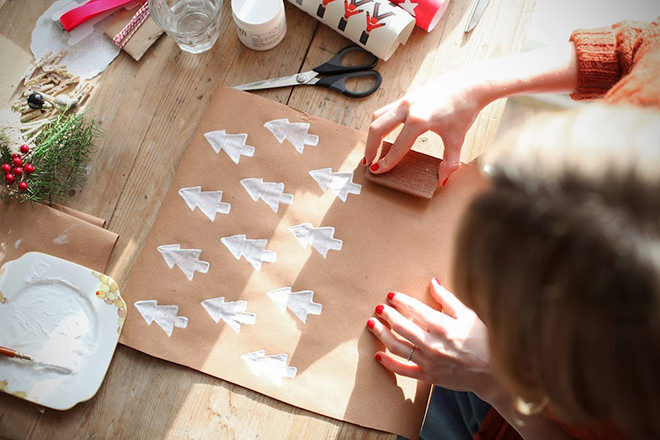 Stamping your paper is a simple way to add colour. For Christmas think trees, holly, stars or triangles and spots. We love this idea of white Christmas trees on a brown background. (via Take Courage)
Wrap in a doily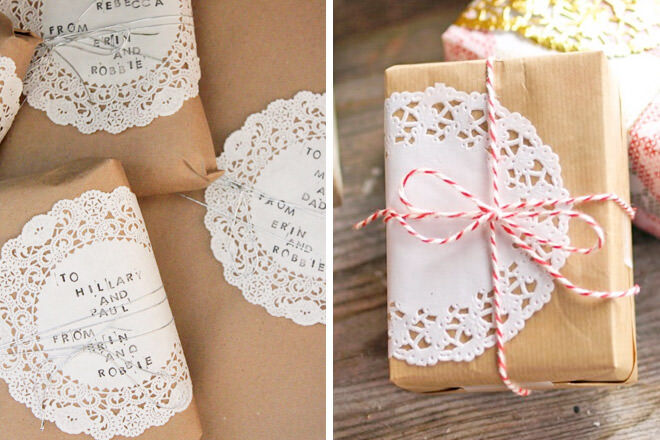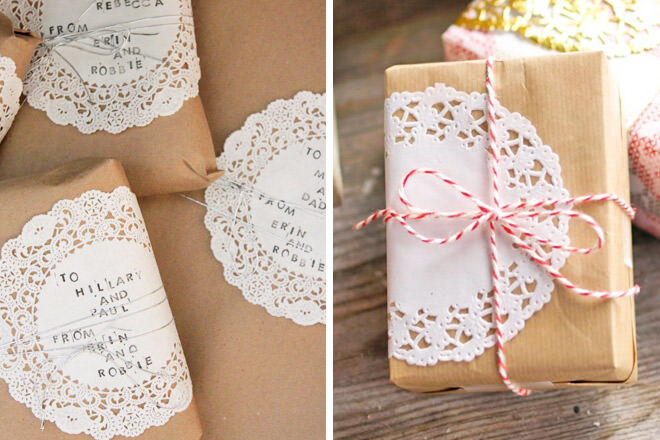 A doily, string and brown paper – how simple! If you have little letter stamps hanging around the house you can add a personalised message to your doily or simply leave it as is. We think both look amazing for very little effort! (via Robbie & Erin and Home & Style)
Tag it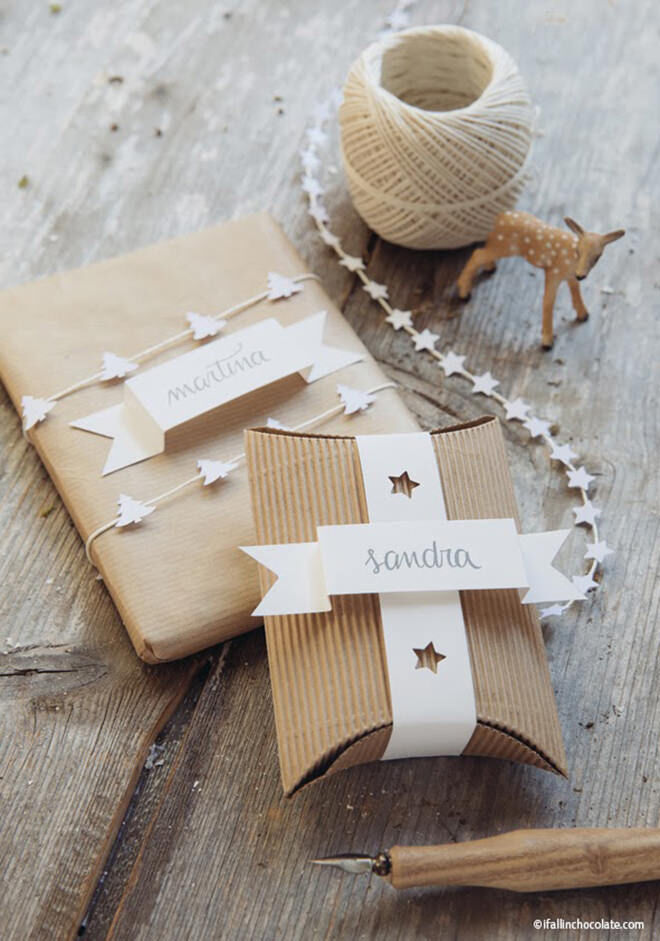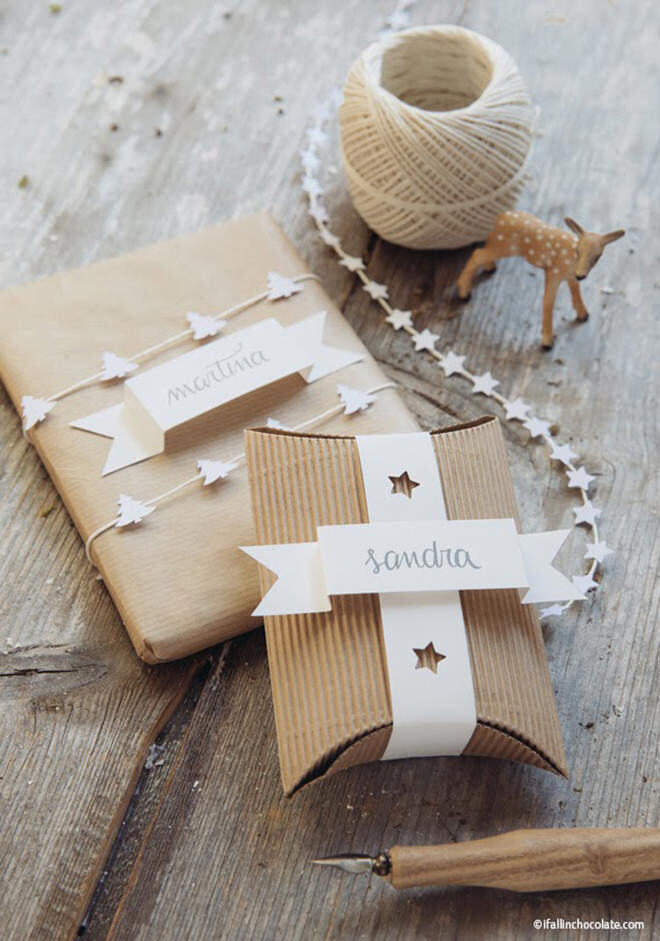 Take brown paper from boring to wow in one easy step! Download a template for these sweet name tags and you'll have gift wrap that seriously 'pops!'. (via I fall in Chocolate)
One potato two potato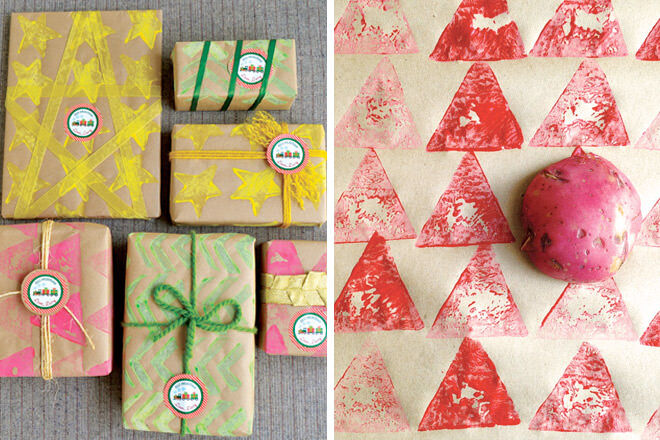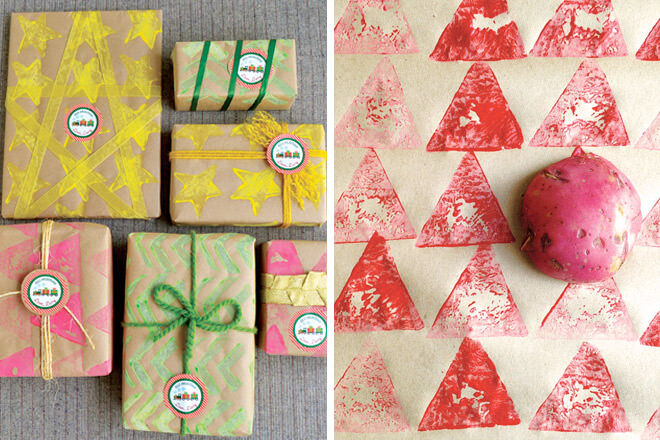 If you don't want to make your own stamp, a potato will do the job! Cut a potato in half, cut out the shape you want and stamp away. Add bright ribbon and gift tags to finish it off nicely. (via Evermine Occasion)
A little marble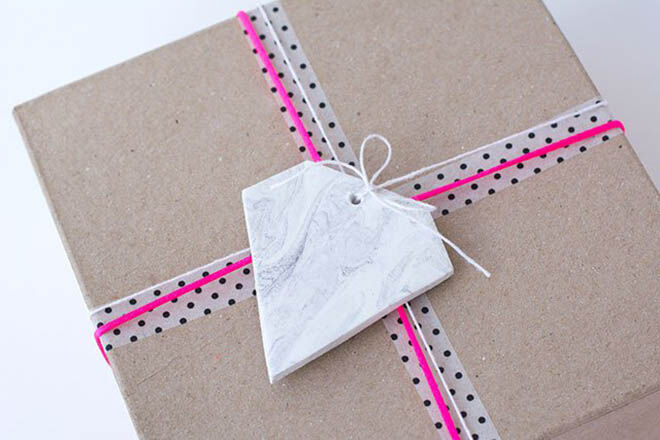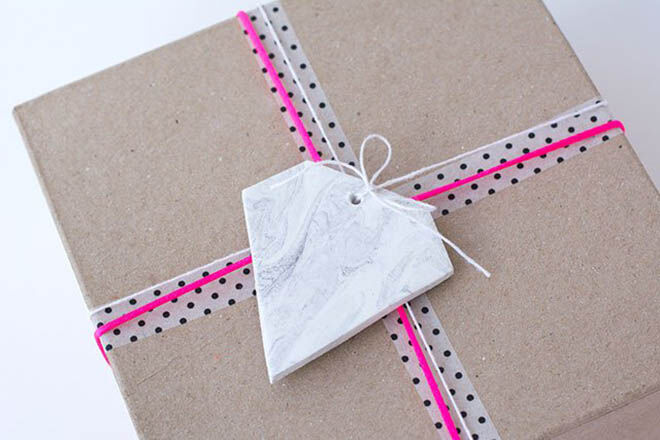 Marble is so on-trend right now so why not use it to jazz up your Chrissy presents? Using clay you can make the marble effect with a sharpie! Is there anything a sharpie can't do? (via Craft Hunter)
Twinkle Twinkle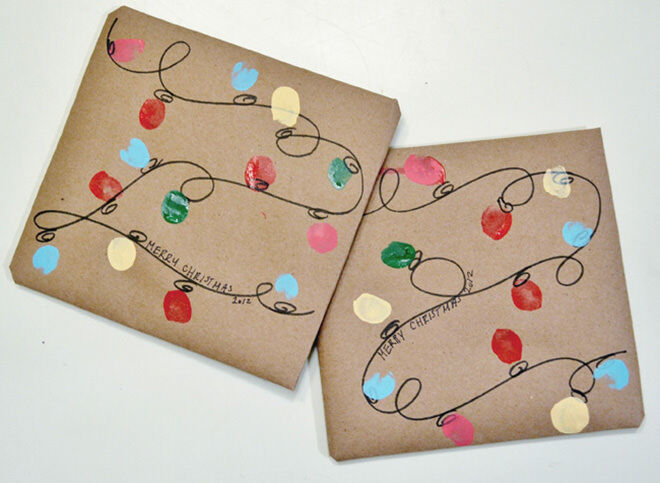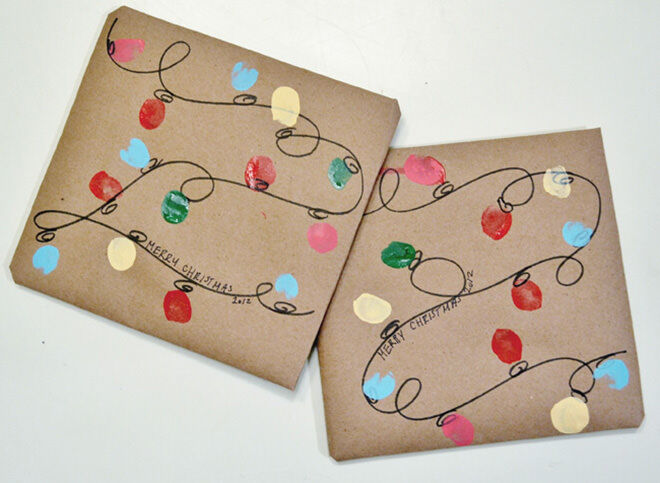 Represent the fun of Christmas with the twinkle of fairy lights. Simply draw the string and get your child's finger to do all the lights. (via Burlap and Blue)
Monochrome cool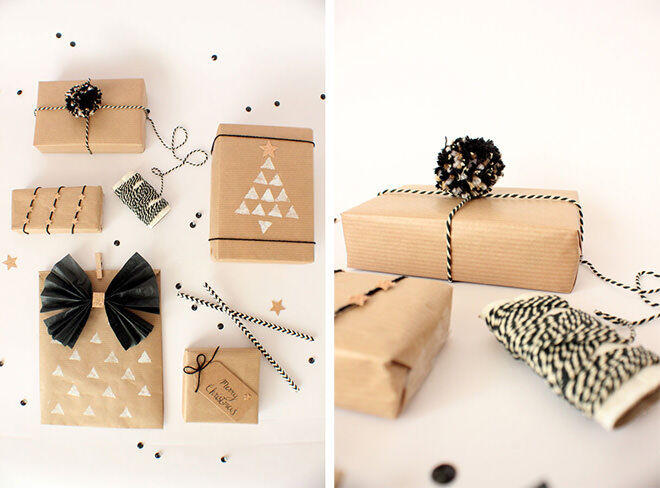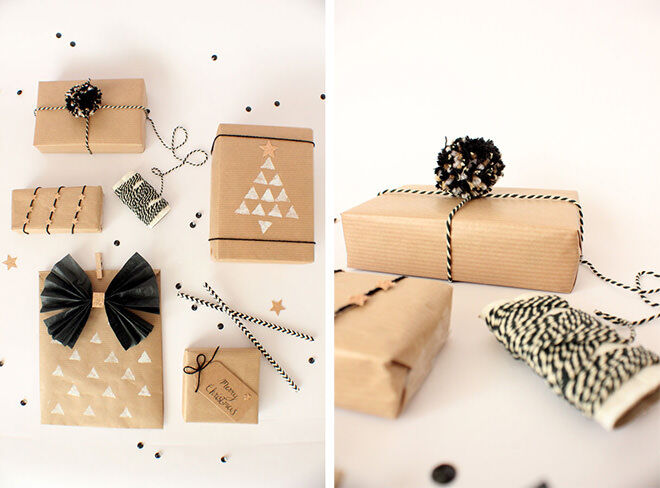 Black and white just works with brown paper. Throw in a bit of gold and you have the perfect colour combination for this Christmas. Instead of random stamping you can do each parcel in a specific pattern for a truly personalised gift. (via Lily Allsorts)
Rudolph the red nose present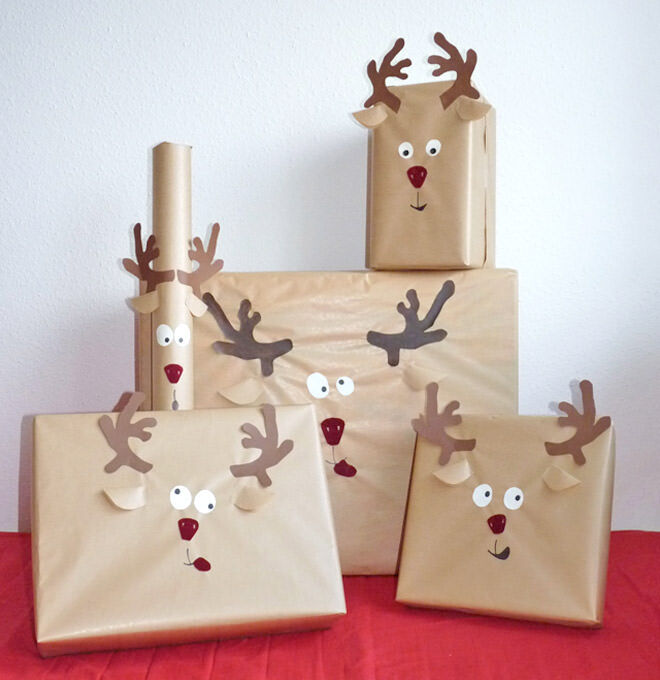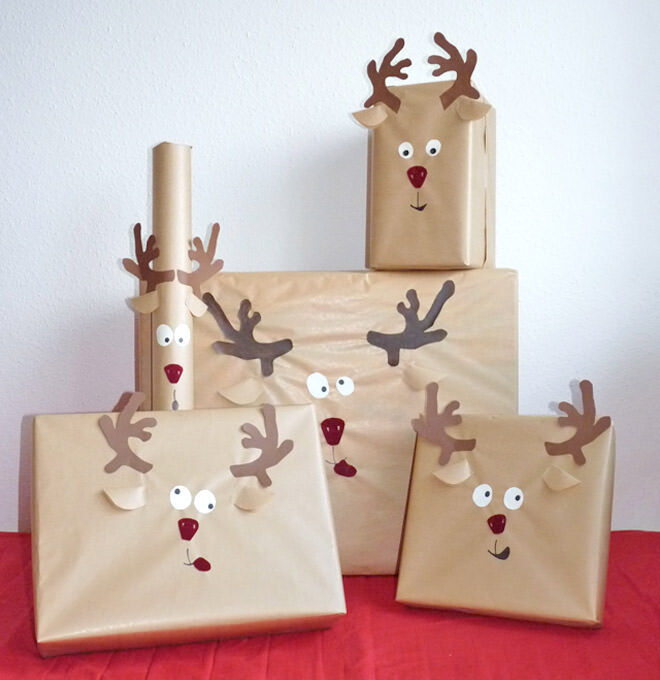 These crazy little reindeers are an easy way to add some cheekiness to your Christmas this year. (via Pinterest)
Cookie jar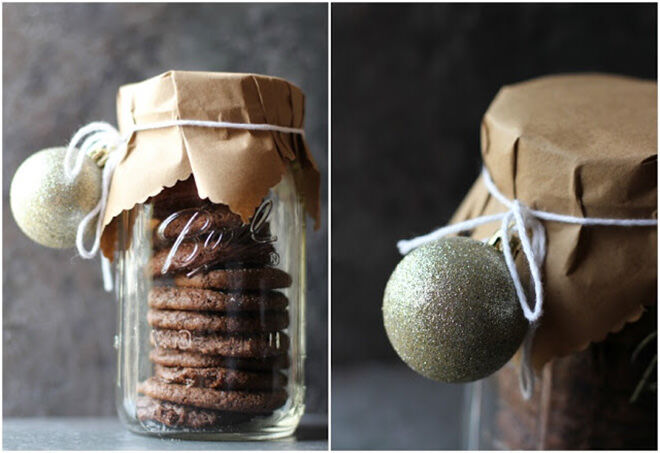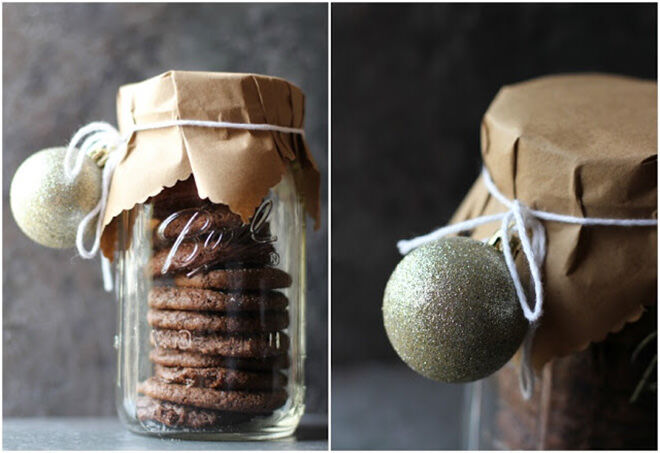 If you like to give something homemade why not try giving it in a jar? Wrap some brown paper and an ornament around the top and your cookies will look as good as they taste! (via The Southern Institute)
Etch away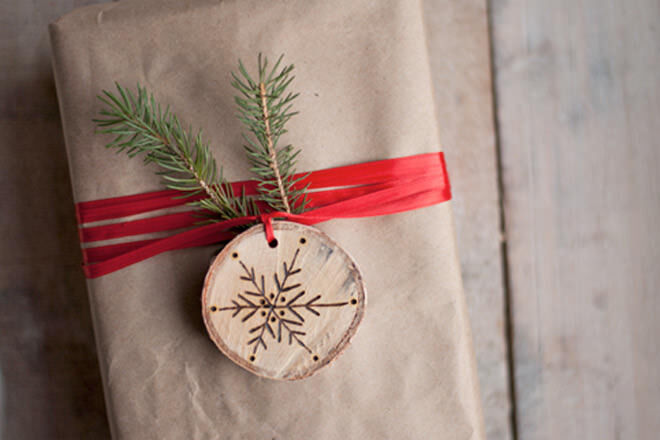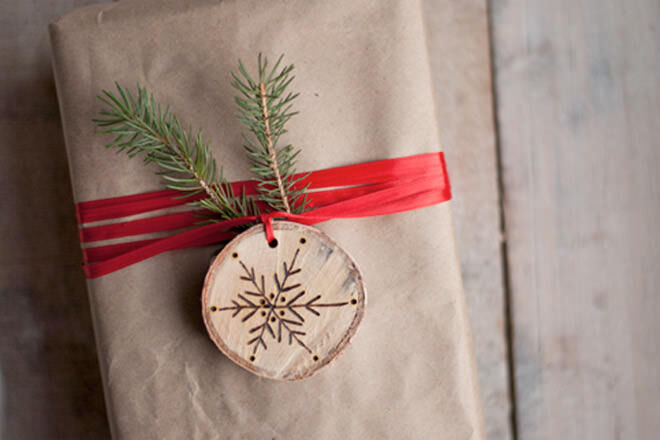 Grab a large branch and slice into lots of thin pieces. Using a black pen you can etch in a snowflake. Thread with red ribbon and you'll have Christmas is all wrapped up in no time! (via Design Mom)
Cute as a button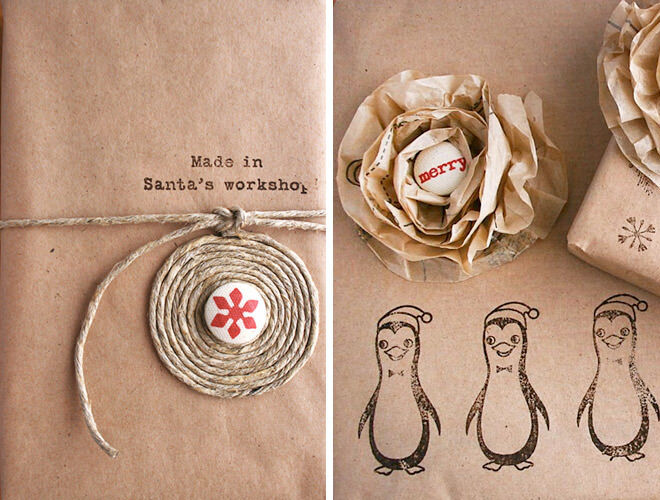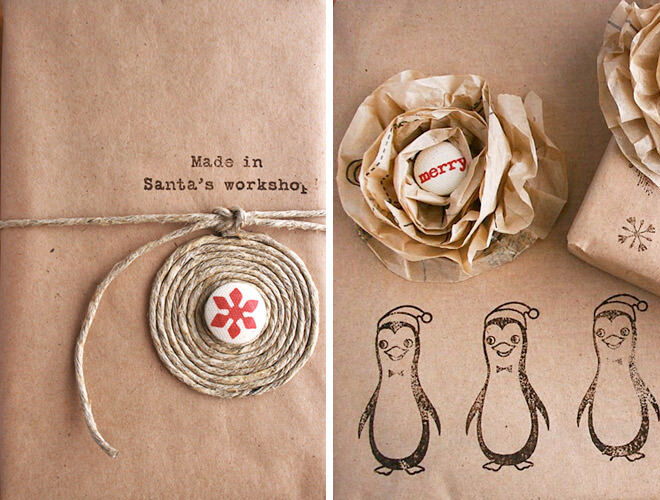 Have fun with brown paper, string, stamps and a few pretty buttons. Even the kids could use their favourite stamps to prep up your presents. (via Cosmo Cricket)
Rudolph and the colours of Christmas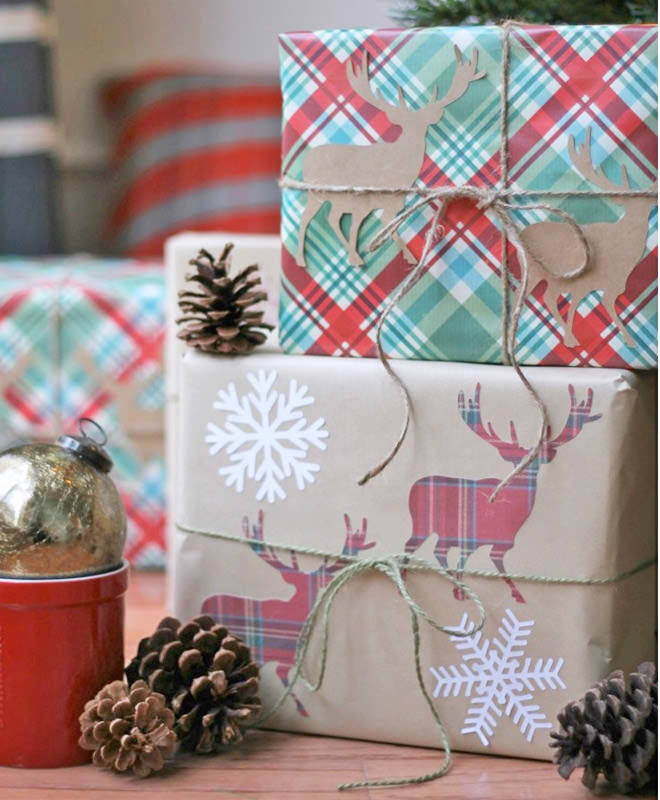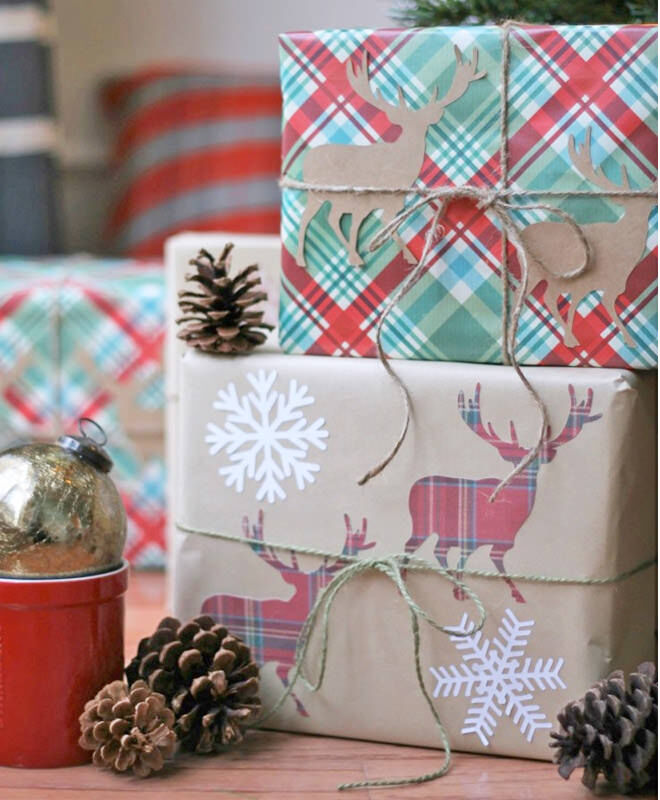 Why not mix and match this year? Grab a few rolls of coloured paper and cut out shapes then do the same with the brown paper. Use one to decorate the other. Fab! (via The Turquoise Home)
Simple, sweet, stunning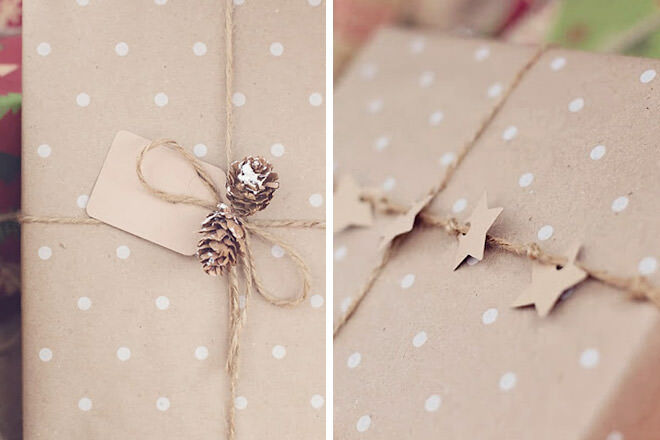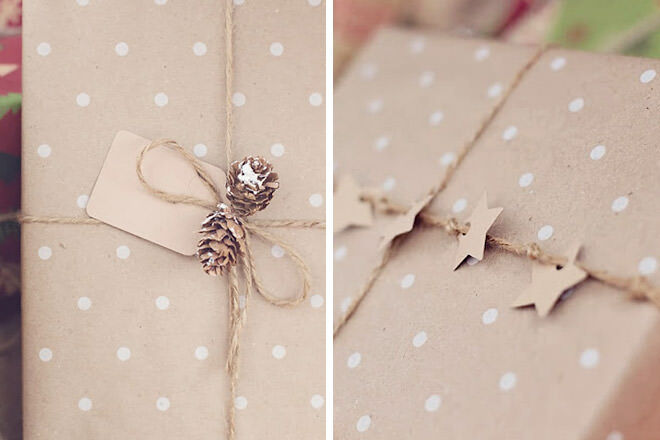 These ideas prove that stunning Christmas gift wrapping can be achieved on any kind of budget. Put your scissors and hole punch to good use and snip away at mini stars, or head out with the kids and see what treasures you can find outside.  (via Cozy Cottage Cute)
That takes the cake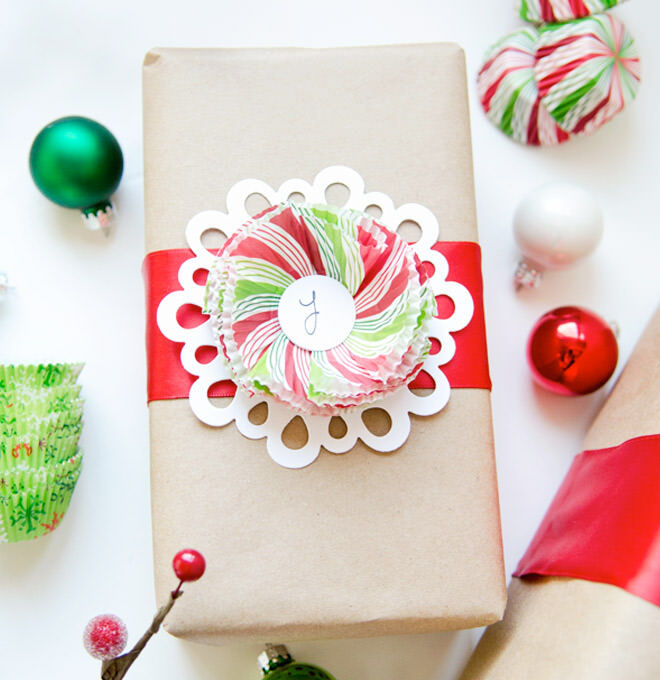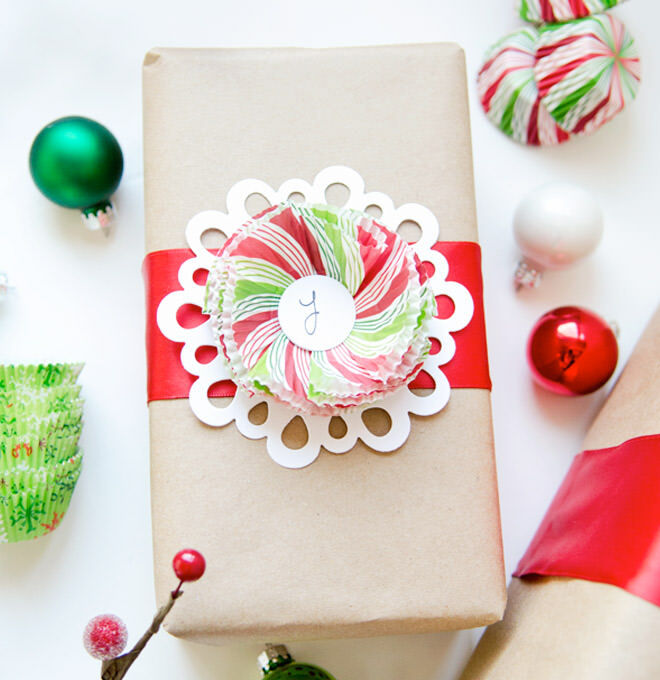 Rather than buying over priced ribbons which end up in the bin by Christmas night, why not use cupcake liners. They're as pretty as ribbon and can even be recycled! (via Craftaholics Anonymous)
Bring the outdoors in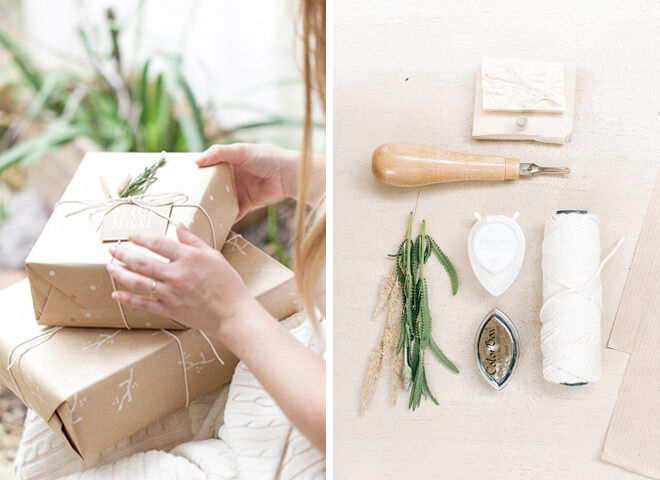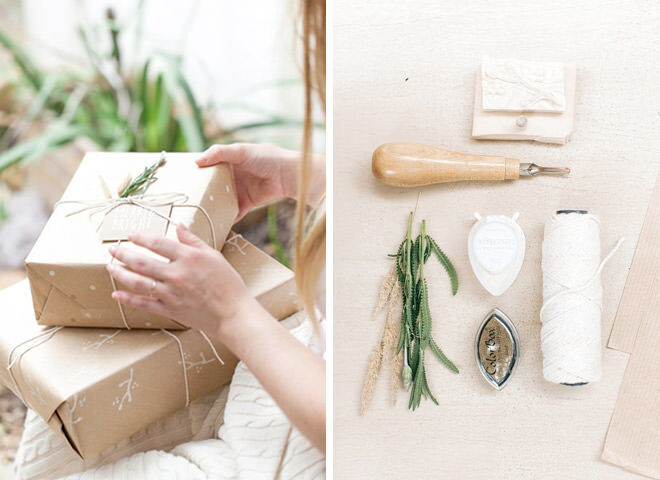 Can't fin the exact stamp you want to use for your wrapping? You can make one yourself! All the instructions are here and it is pretty simple. (via The Pretty Blog)
Read Next …
• 12 creative gift wrapping ideas
• Get crafty! 9 Christmas tree decorations for mini makers
• 14 DIY Advent calendars you can make at home