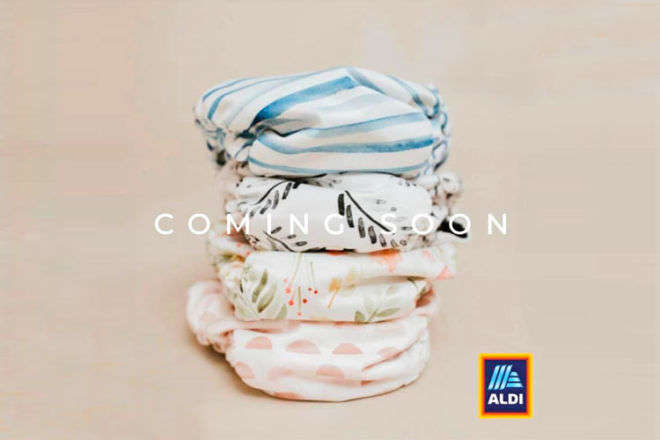 Aldi's highly-anticipated cloth nappy collection sold out in 'minutes', according to mums who lined up before the doors of their local store even opened.
It was revealed last week that Australian owned and designed nappy brand Bare and Boho had been secretly working on the special collaborative project with Aldi for 'a long time'.
"Reusable nappies are growing in interest and going mainstream makes our hearts happy!" Bare and Boho wrote on its social media channels.
Mums around Australia this morning queued at their local Aldi in the hope of getting their hands on the coveted nappies, which sold for $14.99 each set. Mum's Grapevine Facebook Pregnancy Group member Melanie says she arrived at her store at 8.07am and was the fourth in line.
"The Bare + Boho nappies sold out within five minutes. I got my 10! There was only 11 or 12 of this print! I've been so anxious all week that I'd miss out and still recovering from the shock of only just getting enough."
Fellow member Carlie said, "I was first in line and lined up for 30 minutes to have a lady with a pram run up the back of me just as I was heading down the aisle and grabbed every single nappy they had. Furious!"
Hundreds of mums also took to the Bare and Boho Facebook page to share their frustration at missing out.
However, mum April said that shoppers at her local store shared around the nappies.
"At our Aldi, stock was gone within an hour, yes. But about a group of about 10ish – shared the three boxes of 12 around with everyone who had patiently got up early and were waiting. Everyone walked away with at least two each, more for those that wanted extras. Most people who came later missed out unfortunately which is always expected with limited stock, but we were lucky that everyone was nice and polite at our store."
It seems Bare and Boho had anticipated the huge rush for its nappies, with a Facebook post calling on buyers to wrangle family and friends into an Aldi shopping expedition.
"Divide and conquer! Organise your friends/family/random mums from the internet to stand outside the doors of different local stores, no better way to increase those chances of grabbing a pretty hey! But in all seriousness, we truly hope those nappies bring you joy! We are excited to support you throughout your cloth journey!"
The company took to Facebook to reveal it will be collaborating with Aldi again this year.
"We well and truly learnt a lesson today; Australians want cloth nappies, and y'all want them now!" Bare and Boho wrote.
"We were quick smart on the phone. It didn't take us long into our collaborative chats, to acknowledge that we all massively underestimated the demand! Our minds were blown by the interest today! And we are not talking small numbers here. We are talking about bulk nappy stock and numerous shipments, that took our entire manufacturing facility team three months to get the volume we needed for this initial launch- and still not even touching the surface of the demand!
"But we are absolutely delighted to say, we have some magic in the making! There IS going to be another drop! It won't be for a few months as our team need to get cracking, production staff expansion, I'm sure you can imagine. But it's happening! We are listening! Making cloth mainstream is the goal, and we are here for the long haul to get reusables in your hand!"
Read next …
On the hunt for the more info on nappies? Read these articles next: