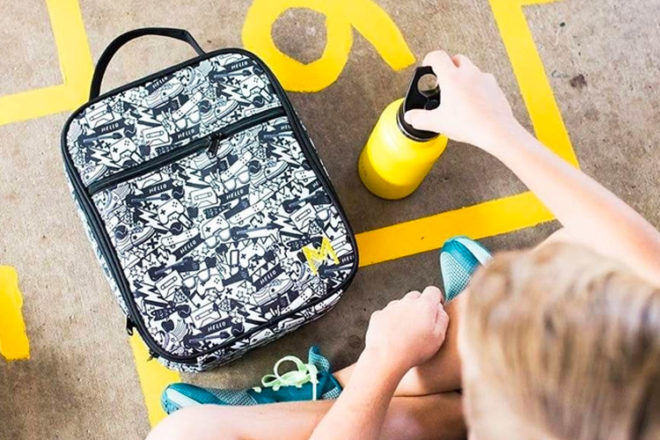 There's nothing worse than a soggy sandwich. Insulated lunch bags and boxes help keep kid's food fresh for hours, ready for when hunger strikes. Perfect for school, picnics and eating on the run, an insulated lunch box makes all the difference to youngster's grub.
Convenient handles and cross-body straps mean tots can tote their lunch bag with ease. Simply pack with a bento box or a smorgasbord of sweet and savoury delights, and the cool lunch box will take care of the rest.
Things to look for when buying an insulated lunch bag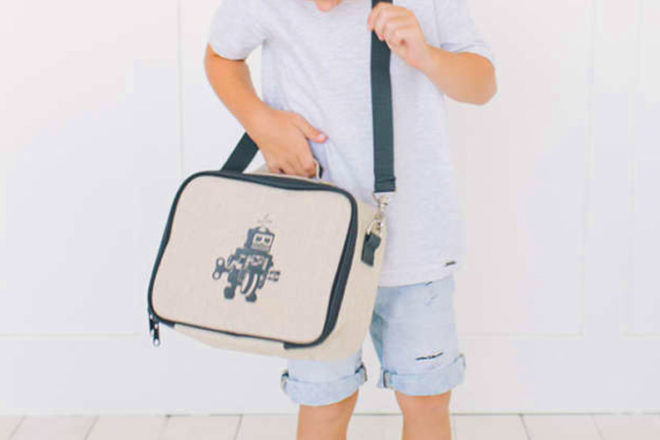 Here are some of the key things to look for when buying an insulated lunch box:
Easy to clean: Look for an insulated lunch box or bag that's easy to wipe clean – less mess and less fuss for everyone at the end of the day.
Insulation: How long will the insulated bag keep food cool for? Is there a stand-alone pocket for an ice pack? This is a handy feature, keeping food separate and condensation to a minimum.
Ease of use: Whether it be zips, velcro or clips that lock into place, choose an insulated lunch box that tykes can open and close with ease.
---
15 Insulated Lunch Boxes for School
To help you find an insulated lunch box we've compiled this handy list of fab brands to get you started in your search for the perfect insulated lunch bag.
1. Skip Hop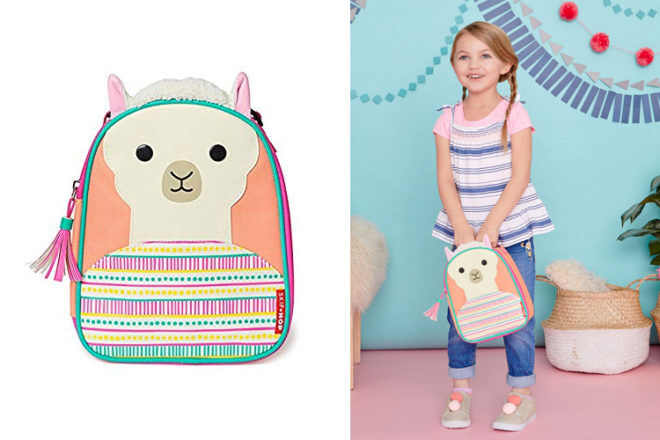 It's no secret that we love a llama. With a roomy insulated main compartment, this beautifully bold lunch bag is super easy to wipe clean.

---
2. Beatrix NY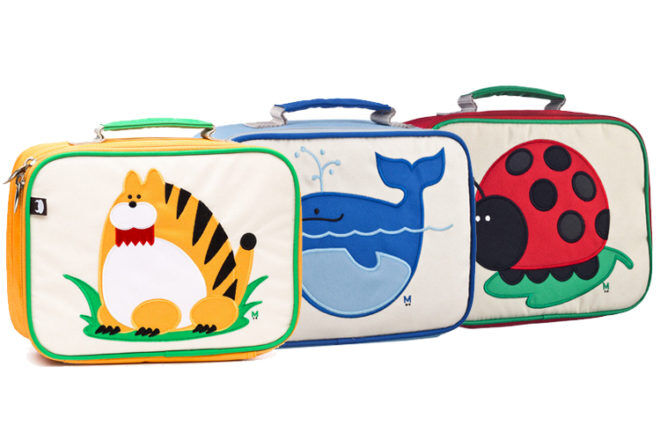 Invite these quirky characters to lunch with a Beatrix New York insulated lunch bag. Colourful graphics and simple, earth-friendly design make these bags a big win with celebrity parents!

---
3. MontiiCo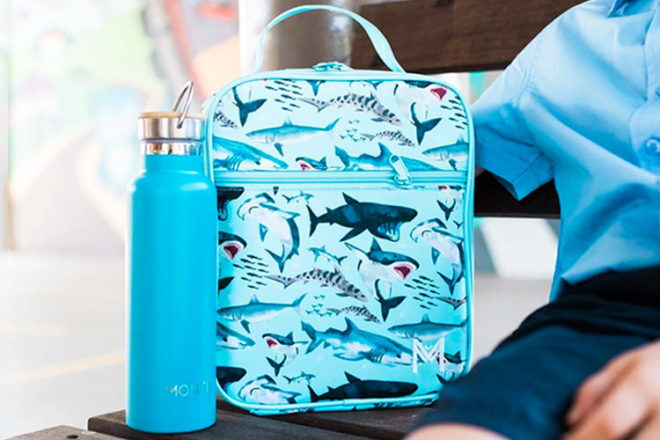 With its own self-contained gel pack keeping lunches cool is a cinch for up to 10 hours, and because it's stowed away in its own zippered pocket you can say goodbye to soggy lunches.

---
4. Penny Scallon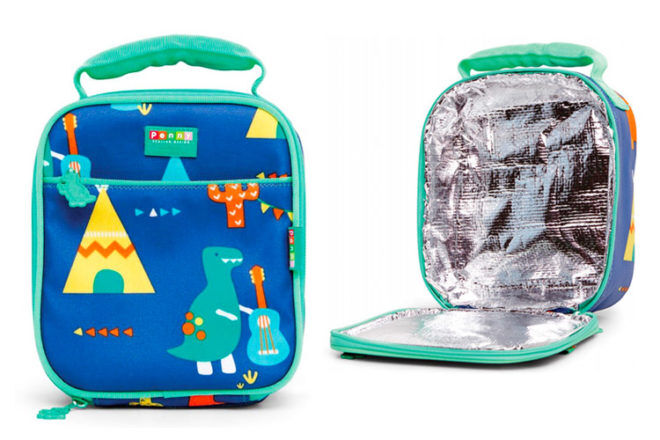 Complete with a water-resistant coating, the 100% cotton canvas is scratch proof and easy to wipe clean. Practical and pretty all in one!

---
5. PackIt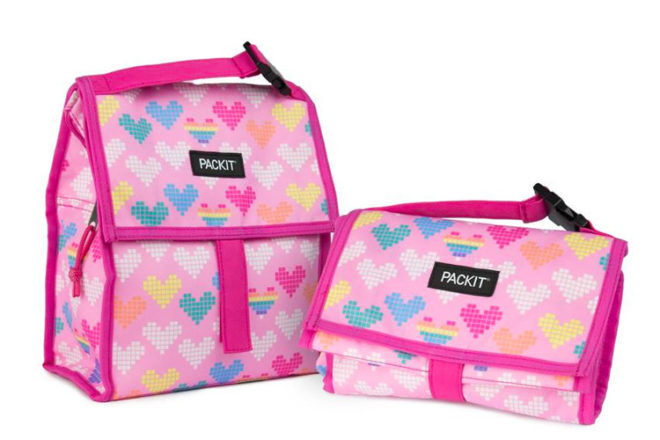 These freezable insulated lunch bags fold down to nothing for easy storage in your freezer. They have a built-in eco-gel liner that lets you take safe, healthy meals everywhere without the need for ice packs. And that paradise print…cool is an understatement.

---
6. Go Green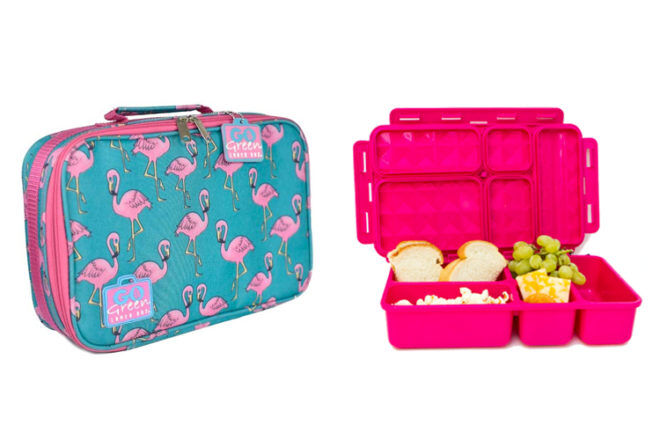 Packed with an insulated carrying bag, compartmentalised food box and water bottle. The striking bag features a pocket to hold eating utensils and a whiteboard marker to write lunch love letters to your babe. Bless.

---
7. SoYoung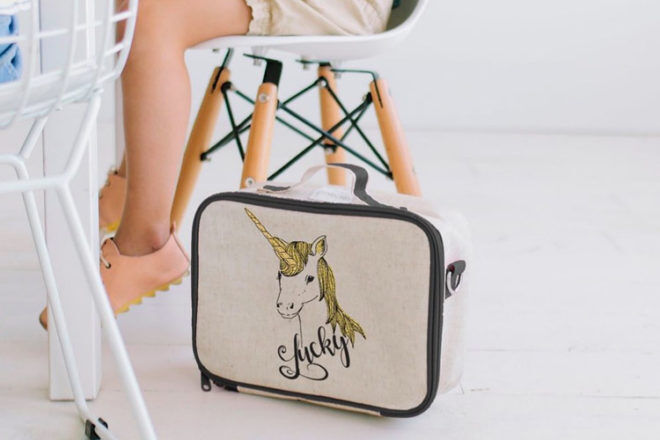 Made of durable, raw uncoated linen, we love the rad lunch bags from SoYoung. Starring a funky stencil graphic, the bags are machine washable with a leak-proof insert for easier cleaning.

---
8. LunchBots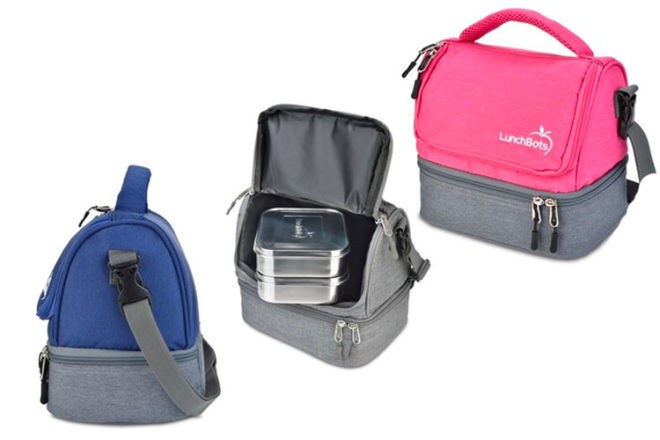 When one compartment just isn't enough, we give you LunchBots. Pop a bento box in the bottom and your drink bottle and fruit in the top for an all-rounded lunch. Available in pink, grey and two shades of blue.

---
9. Fridge-to-Go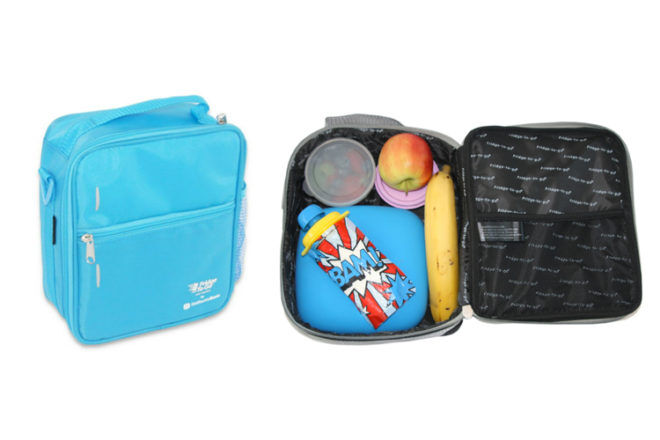 For the ultimate chilled lunch, the Fridge to Go includes a removable chilling panel to keep contents cold for up to 8 hours. Too cool.

---
10. Keep Leaf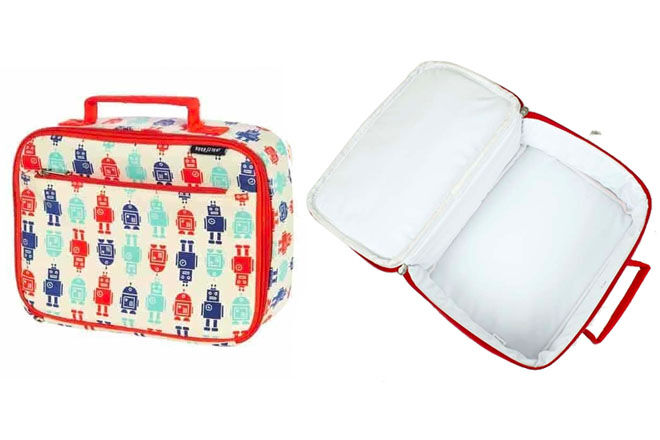 The bright and colourful insulated lunch boxes by KeepLeaf feature an exterior zippered pocket and carry handle. The cutesy exterior is made from 100% organic cotton, with a non-toxic coating for easy cleaning.

---
11. Brown Paper Bag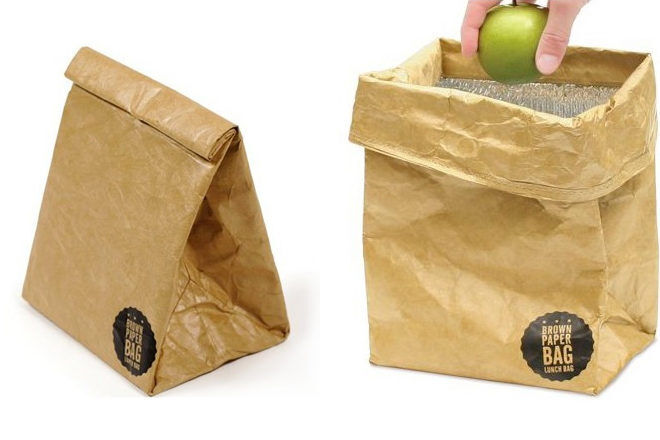 A modern reinvention of the classic brown paper lunch bag, this kitsch lunch bag is tear-proof, waterproof, leak-resistant and insulated with a fold-down double magnet closure.

---
12. Sachi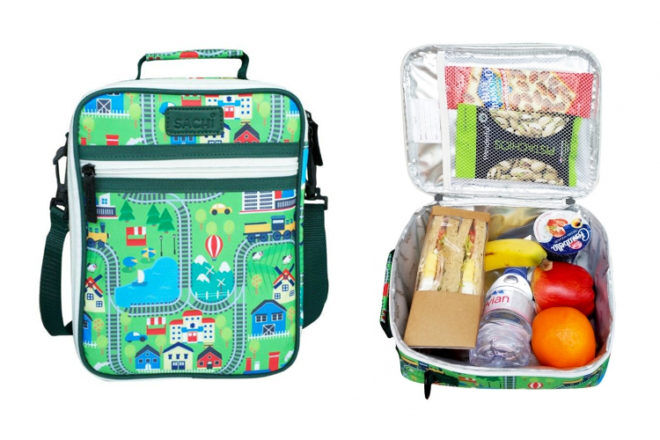 On the road to keeping your little one's lunch fresh, this insulated lunch bag has outside and inside zip compartments to keep their lunch essentials within reach.

---
13. Petit Collage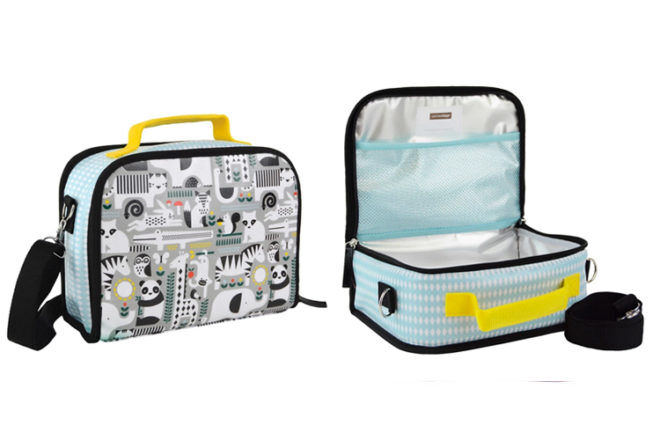 These cute and contemporary lunch boxes are designed with the health of our children and the planet in mind. Made from 100% natural cotton canvas, they're also coated with a protective biodegradable polymer. Fun, functional and eco-friendly!

---
14. Love Mae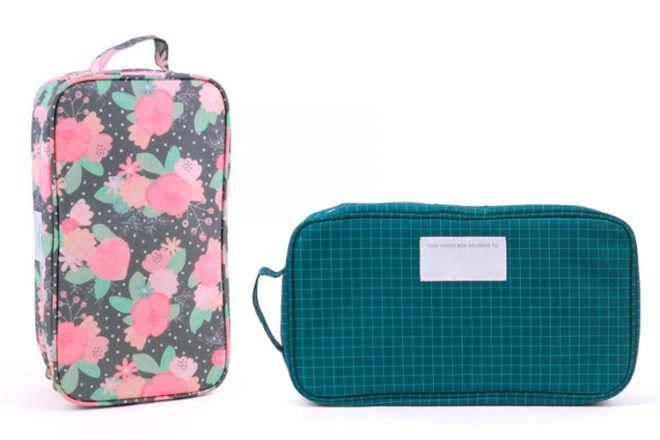 Lunches stay cool and fresh in this roomy cooler bag, which comes with its own ice brick. It fits a Love Mae lunch box perfectly or use it as is.

---
15. Stephen Joseph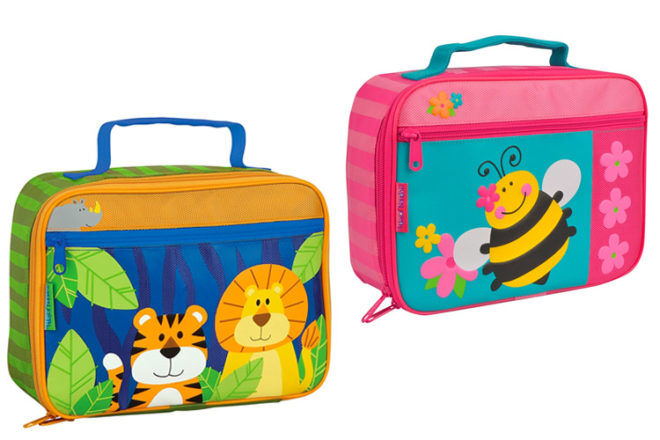 The durable polyester exterior of this classic lunch box is built to be just as tough as kids! The fully insulated interior helps lunch keep its cool, and the nifty interior mesh pocket secures smaller nibbles.

---
This post includes affiliates and/or paid inclusions. See our Disclosure Policy.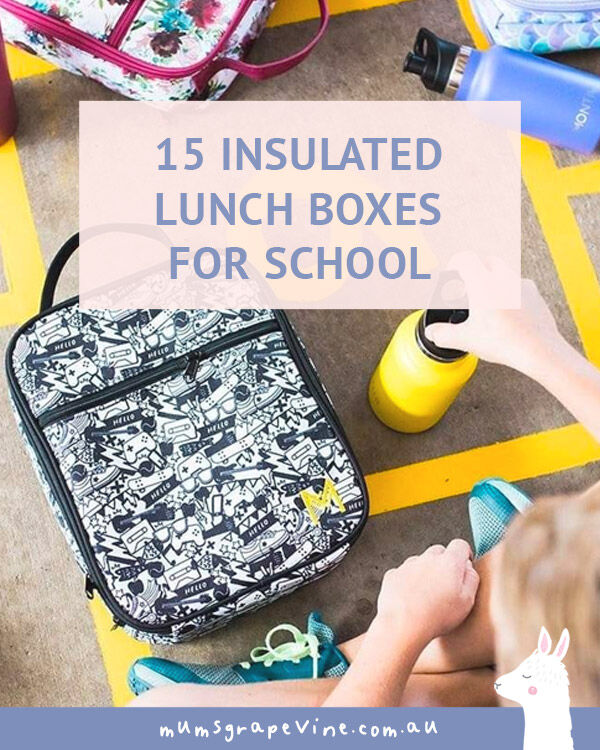 Read next …
Looking to get the little ones school-ready? From backpacks to water bottles, we've got back to school covered right here:
Continue your search for the best insulated lunch box
Looking for an insulated lunch box and still not sure if any of these are right for you? Continue your search online by jumping into one of our closed Baby groups and ask thousands of other Australian mums what they recommend – 'What to buy' is the most talked-about topic.
Click and join your group today!