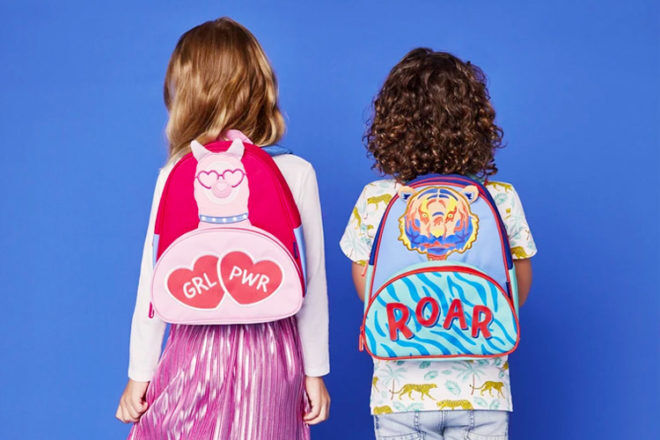 Water bottle? Check. Change of clothes? Check. Random treasures collected on the way? Check. When a tot starts daycare or preschool, they also start needing their own 'school' bag. And while a backpack as big as Everest looks cute on a little person, it's not exactly ergonomic.
Enter the toddler backpack. It's compact, yet roomy. Fun, yet practical, with a special place for that pebble they found next to the bus stop.
Things to look for when buying a toddler backpack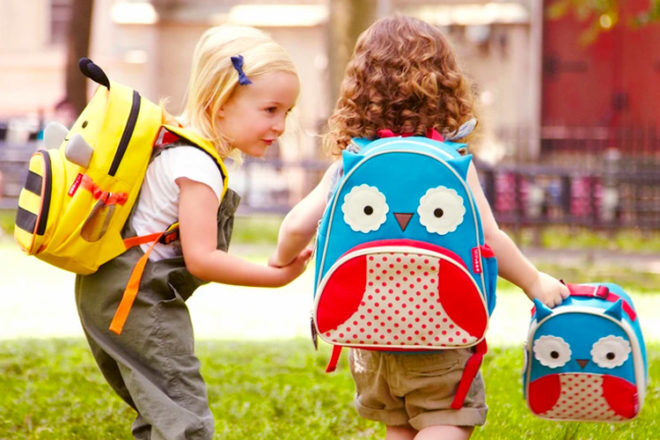 Here are some of the key things to look for when buying a backpack for preschool:
Size: Kindy bags need to be big enough to carry everything wee ones need on a day-to-day basis yet small enough for them to tote from room to room. Keep your kiddo's height in mind before buying something too big.
Pockets: We all know how handy pockets can be. Look for a backpack that has designated spaces for certain items like pens, drink bottles and snacks. It will save them (and you!) rummaging for stuff at the end of the day.
Ease of use: Kid's bags get zipped and unzipped numerous times a day. Look for a toddler backpack with easy-grip tags for little ones to open and close with ease.
---
17 Toddler Backpacks for Preschool
To help you find a bag for preschool, we've compiled this handy list of brilliant brands to get you started in your search for the perfect toddler backpack.
Penny Scallan Design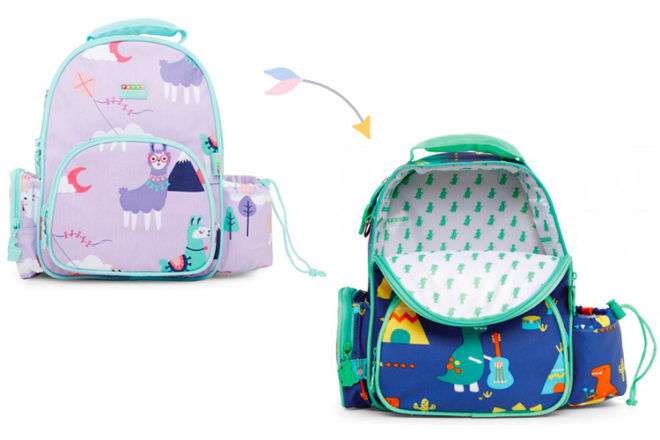 Made from 100% cotton canvas with a water-resistant coating, these beautiful backpacks take anything kindy throws at them and still look fab.

---
Stuck On You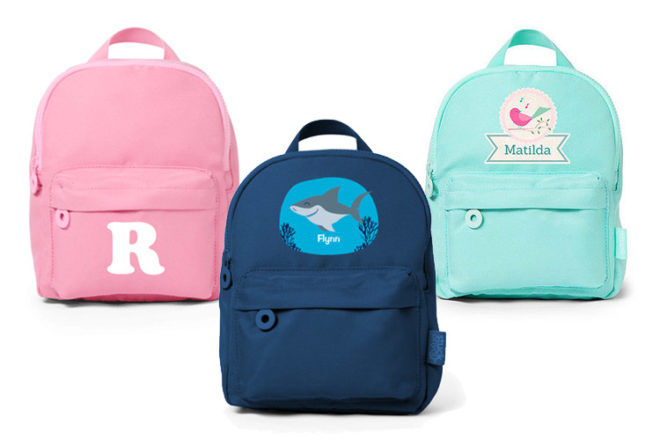 Choose from perfectly plain with kiddo's name or have a fun design attached. Either way, the soft colours and superb fit are a winning combination for littlies.

---
Skip Hop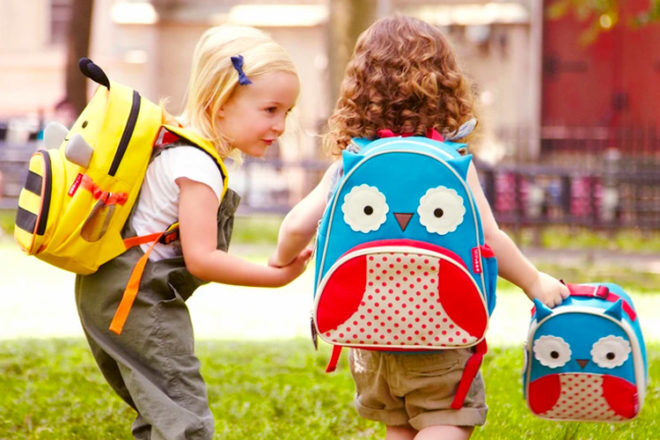 The super-cute range of Zoo Kids' Backpacks put smiles on dials! Select from a whole menagerie of cheerful critters – rabbit, unicorn, frog, dog, owl and more.

---
Rex London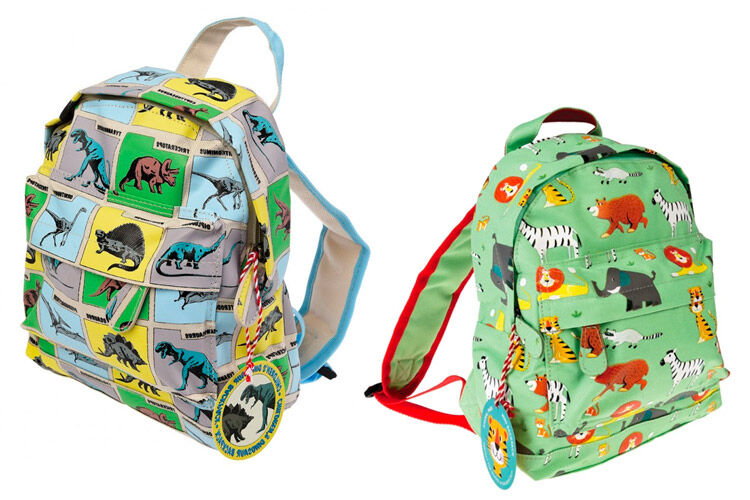 Perfectly sized for preschoolers, this quirky collection of school backpacks feature padded shoulder straps and easy-grip tags that make opening and closing a breeze.

---
Milky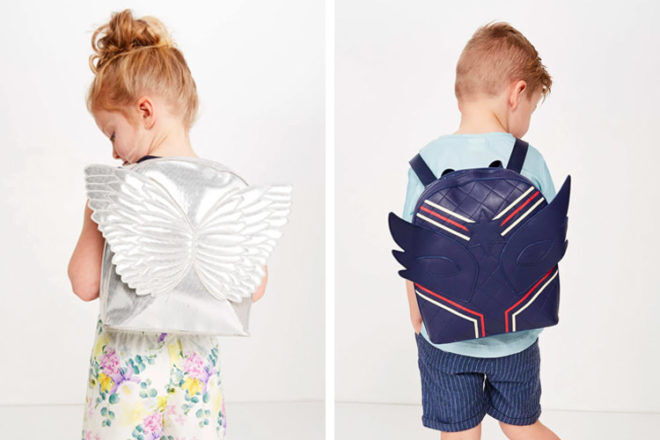 Get the year off to a flying start with these seriously cool 'winged' backpacks from Milky. We love!

---
MadPax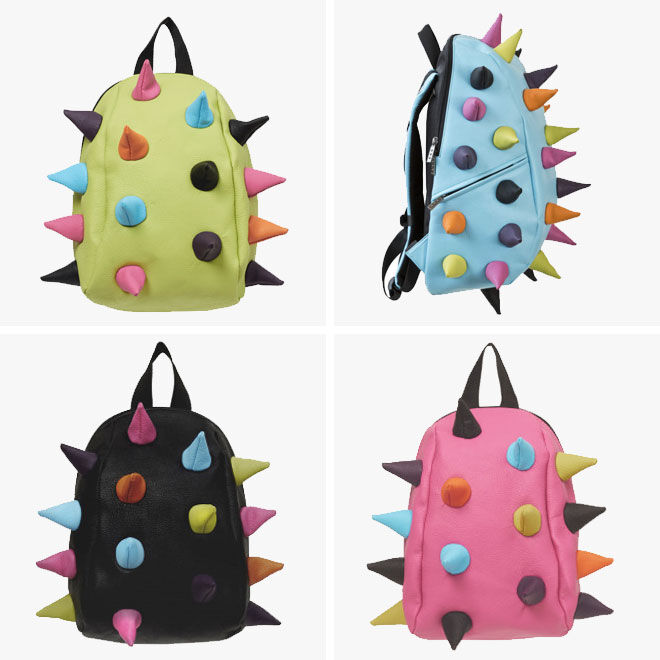 Get punk'd with an eye-catching MadPax Backpack. Packed with personality, these funky bags are perfectly sized for mini monsters.

---
Little Nation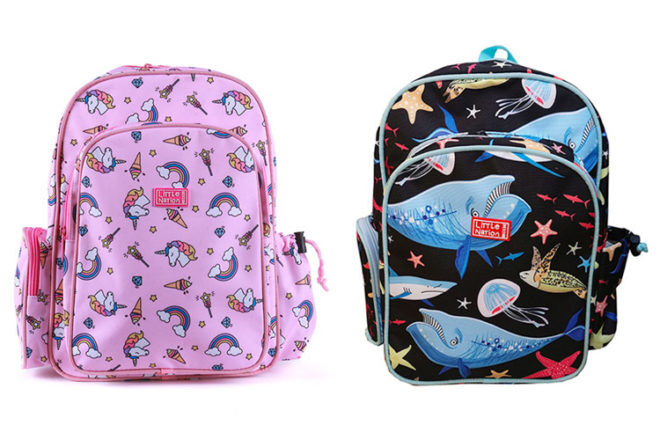 Designed for school, travel and day-to-day adventures, the Little Nation backpacks are 100% canvas with a water-resistant inside lining. The backpacks feature two large pockets for every day essentials plus a small zip pocket for the treasures they collect along the way.

---
Hippo Blue
The colour, text and style on these personalised backpacks are totally up to you and your mini-me. So will it be a navy blue dinosaur or coral pink koala backpack?

---
Cath Kidston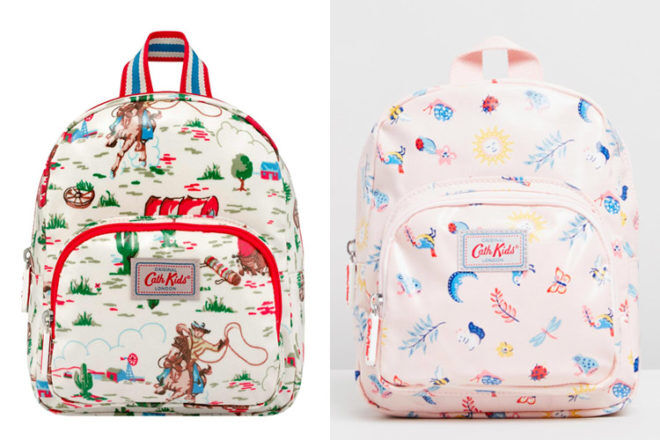 Cute as a button, the backpack collection from Cath Kidston oozes vintage charm. A handy name tag inside and a chest strap that can be clipped into place are just some of the features that make these bags sing.

---
Suck UK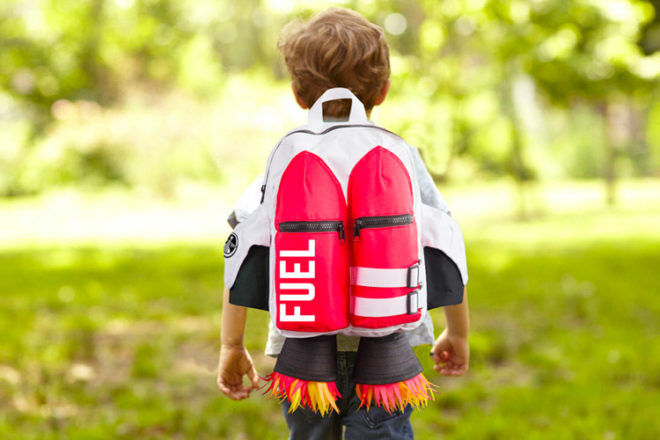 A backpack like no other. This cool creation will have them flying from the classroom to the playground at the speed of light. Brilliant!

---
Petit Collage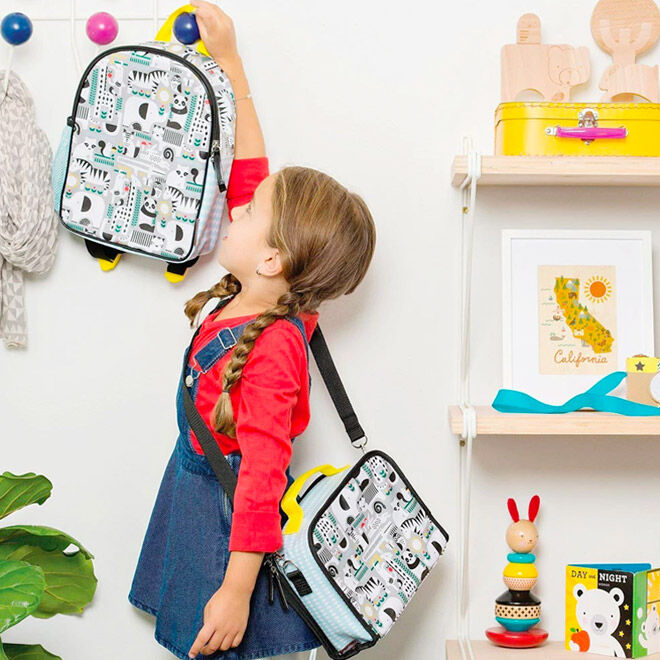 These eco-friendly backpacks are all about nature, with animals, woodland, dinos, sharks and butterflies printed on 100% cotton canvas.

---
Upixel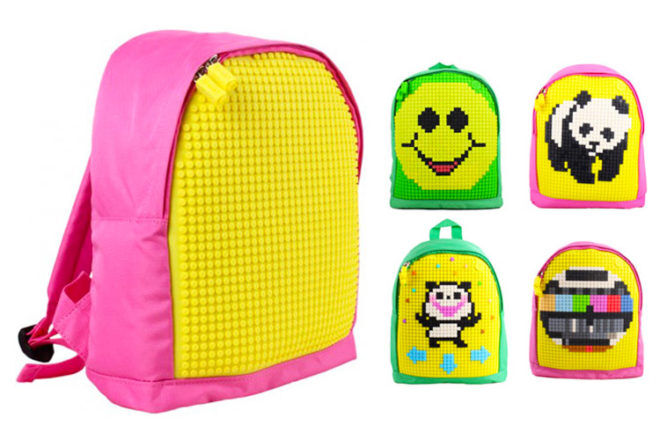 Kiddos turn to backpack designer with the Upixel patented silicone Junior Backpack. Create a pixellated masterpiece by placing the 155 colour pixels in whatever design they desire. Clever!

---
Sunnylife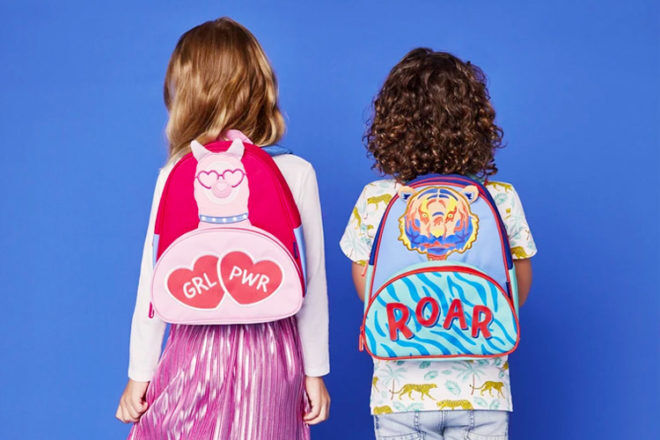 The guys at Sunnylife know how to make things fun. Their kid's backpacks pop in all the right places and are highly durable for all the activities that come their way.

---
Stephen Joseph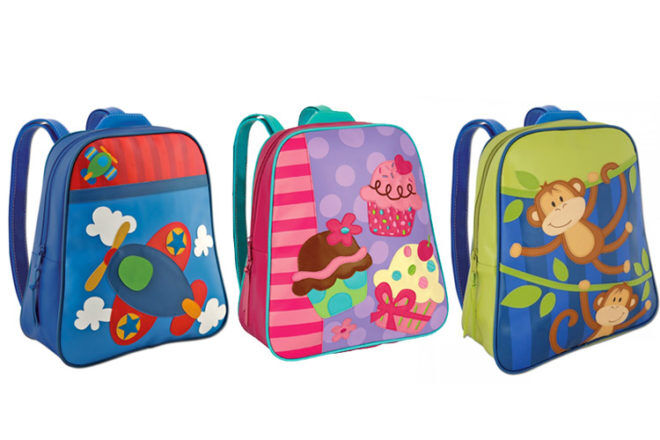 These vibrant backpacks are made from high-quality PVC vinyl for durability and easy-to-clean practicality.

---
Beatrix NY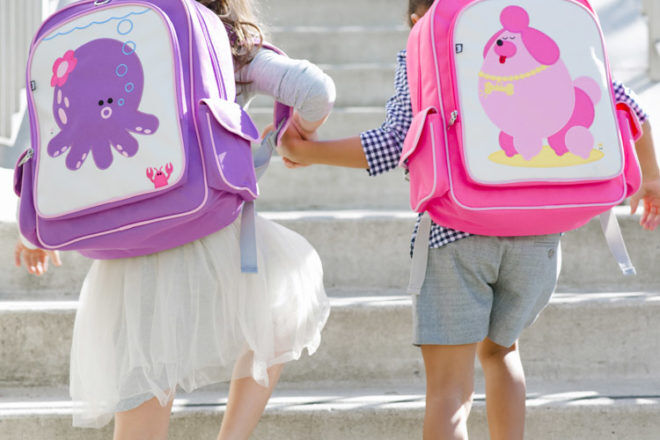 A quirky spin on classic animal favourites. Chubby gorillas, grumpy owls, bemused ladybugs and terrifying dinosaurs all make up a collection kiddies will want by their side.

---
Tinyme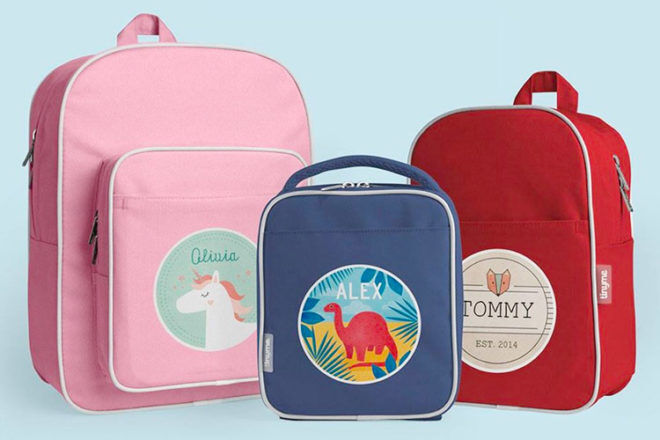 Taking personalising to a whole new level, the Tinyme backpacks let kids pair their name with their favourite colour and characters. Or recreate your little learner in cartoon form and use that too!

---
Katmandu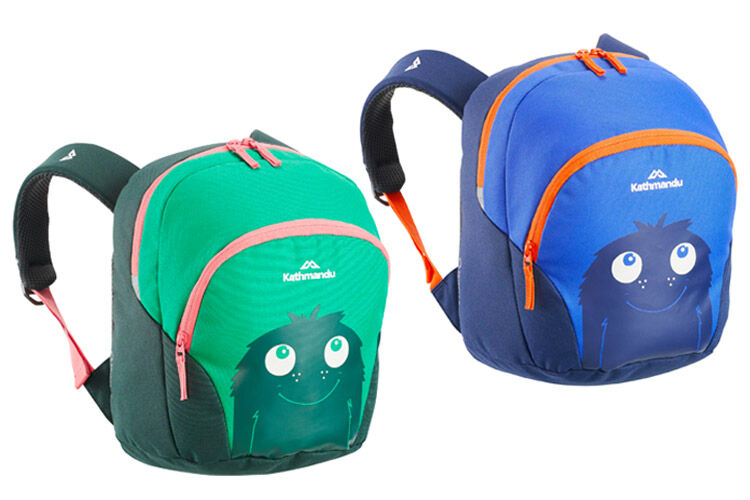 Built to withstand the wear and tear of the playground, the kids' backpacks from Katmandu have large zipper openings for younguns to grab what they need in a flash.

---
This post includes affiliates and/or paid inclusions. See our Disclosure Policy.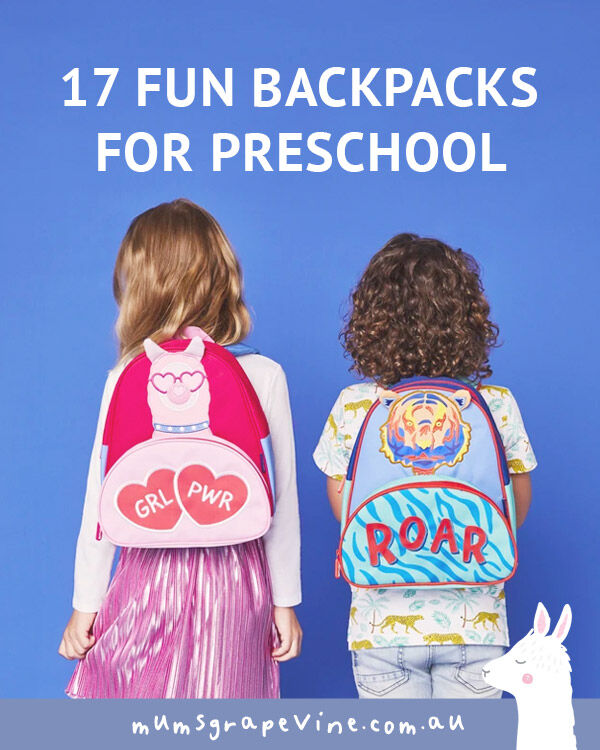 Read next …
Whether your little one is off to kindy or starting school, we've got you covered. Here are a few articles that you might like to read next:
---
Continue your search for the best toddler backpack
Looking for a toddler backpack and still not sure if any of these are right for you? Continue your search online by jumping into one of our closed Baby groups and ask thousands of other Australian mums what they recommend – 'What to buy' is the most talked-about topic.
Click and join your group today!