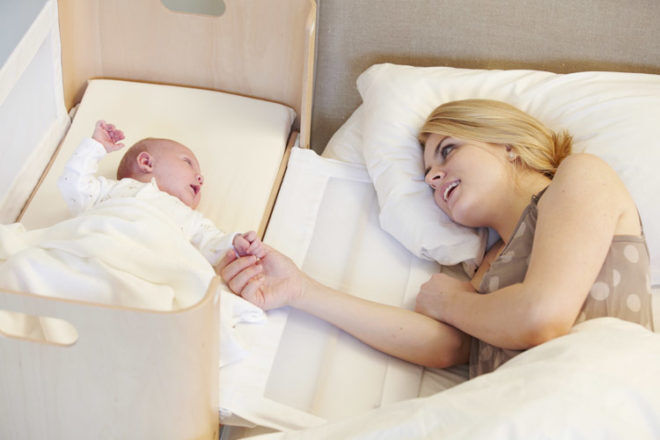 For babes who struggle with sleep in those first few months, a co-sleeper is an ideal solution and allows parents to soothe bubba back to sleep without having to leave the bed.
Drop or roll-down sides give quick and easy access, for settling and feeding throughout the night. Attaching to the side of the bed, co-sleepers ensure a safe sleep space for baby, with the comfort of knowing nighttime snuggles and cuddles are never too far away.
What is a co-sleeper?
A co-sleeper bassinet, also known as a side-car crib, is a separate sleeping surface for babies that attaches securely to the side of the parents' bed, without any gaps. Co-sleeping on the other hand, is when parents sleep in the same bed with their baby.
This article is about co-sleepers not co-sleeping which is not recommended as a safe sleep practice.
What to look for when buying a co-sleeper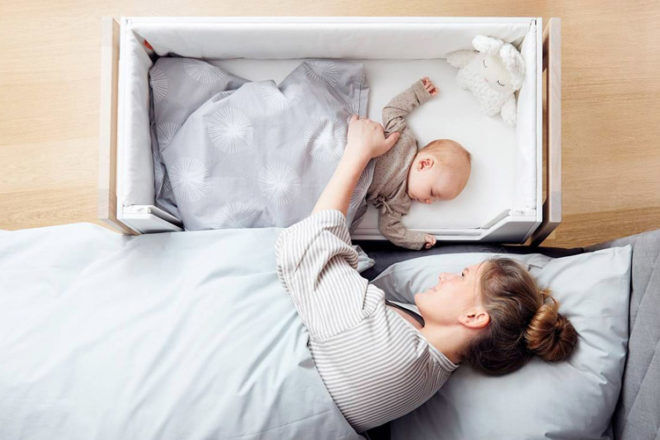 Here are some of the key features to look for when buying a co-sleeper:
Height Adjustable: Have a custom-made bed at home? Perhaps it's a little higher or lower than standard? Even if the family travel away from home often, look for a co-sleeper with adjustable height and positioning so that it's always just right, no matter where you are.
Moveability: If both parents take 'shifts' during the night to comfort baby, consider buying a co-sleeper with wheels. It saves sleeping on different sides of the bed night after night.
Safety: Different countries will have different manufacturer standards. There are currently no Australian safety standards for co-sleepers, however, some manufacturers mention they comply with the older standards for Rocking Cradles.
---
8 Co-Sleepers to consider
To help you find a co-sleeper we've compiled this handy list of our favourite brands to get you started in your search for the perfect bedside bassinet. In no particular order, here they are:
1. Troll Co-sleeper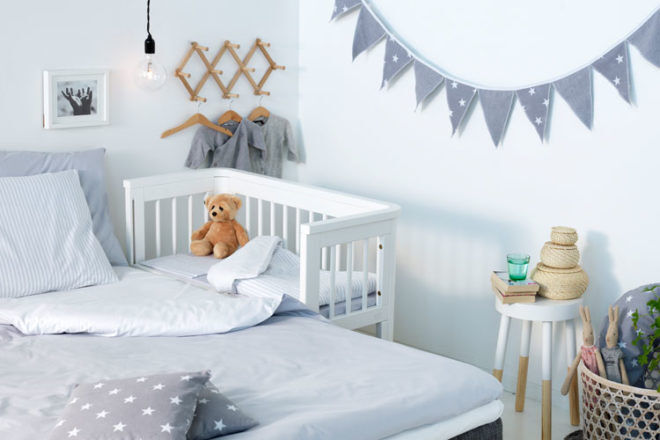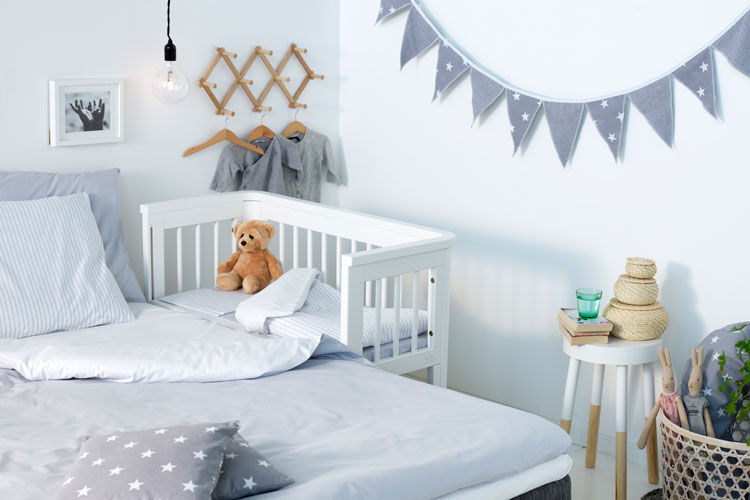 Featuring an airy and open design, this Scandinavian-inspired co-sleeper is packed with handy features. The drop-down side makes nursing a breeze and lets parents reach over and lull little ones to sleep. The addition of castors ensures a smooth ride for repositioning or moving around the nursery as a stand-alone bassinet.

---
2. Bednest Co-sleeper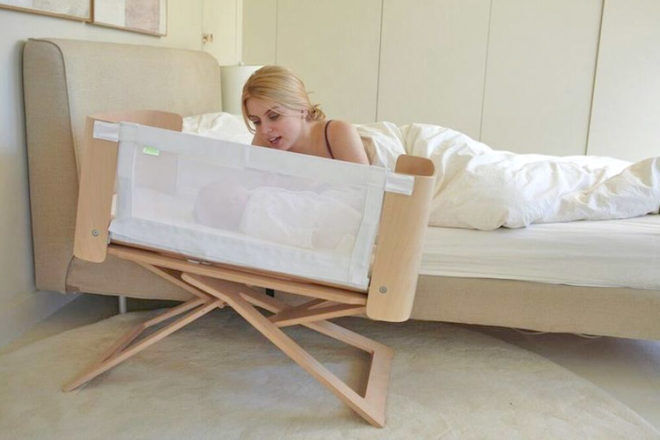 A clever co-sleeper with mesh side panels, the Bednest secures safety to the side of the bed and features a height-adjustable stand with over 60 different configurations. And if bub suffers from reflux, simply tilt the stand to ease those nighttime niggles. Once baby transitions, use the Bednest as a stand-alone bassinet or fold completely flat and store away when it's time for the cot.

---
3. SnuzPod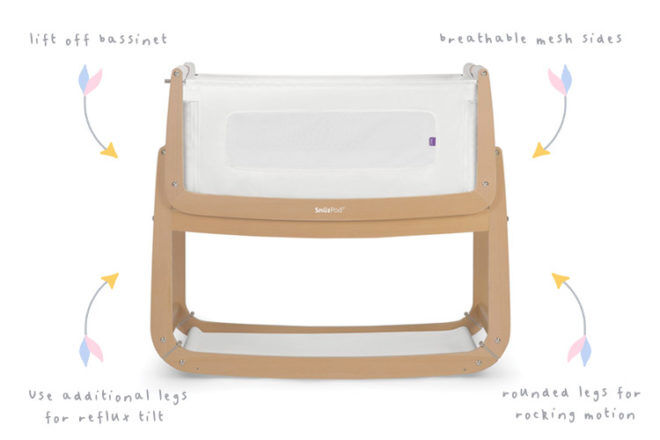 A sleek co-sleeper with all the bells and whistles you'd expect from an award-winning product. With new and improved design features, the SnuzPod works as a stand-alone crib (with a rockable stand to help soothe baby to sleep) or as co-sleeper with breathable mesh sides so babe's always in sight. Getting things done around the house? Simply lift the bassinet from the stand and move bub around the home with you.

---
4. Tutti Bambini Co-sleeper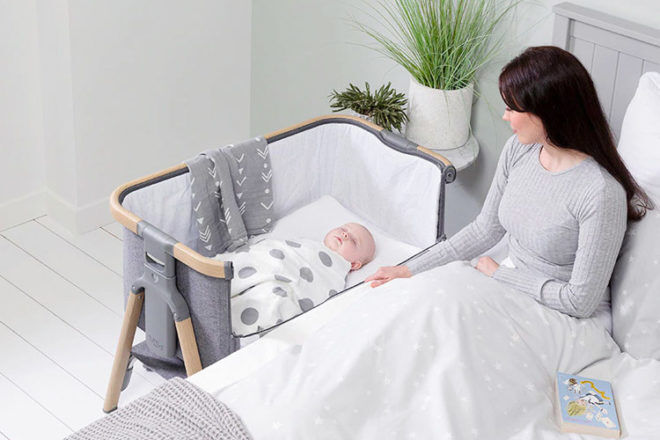 Designed to help develop that special bond with baby, the Cozee features a breathable mesh window to give nervous new parents reassurance that baby is sleeping safely. A handy storage shelf below is the perfect place to keep poppet's essentials and there's even an incline option to assist with congestion or reflux as bubba drifts off to sleep.

---
5. LINEA by Leander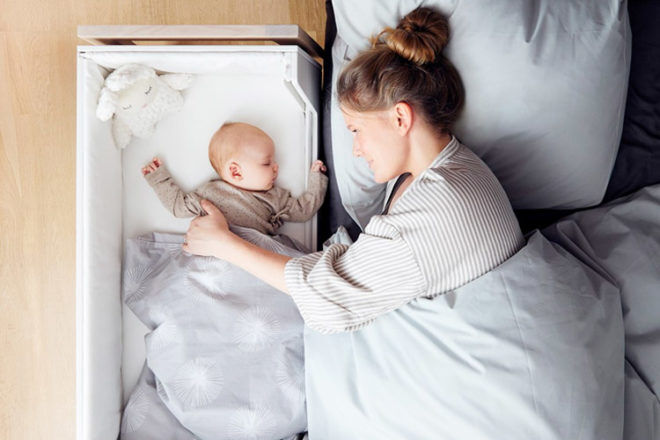 With retro-style wheels and angular lines, the Side by Side Bassinet is a sleek co-sleeper for the modern home. Adjusting the frame to match the height of your bed for nighttime sleep is easy. And when it's time for babe's daytime nap, simply lift one end and use the smooth wheels to easily maneuver the bassinet around the home.

---
6. Love N Care Co-sleeper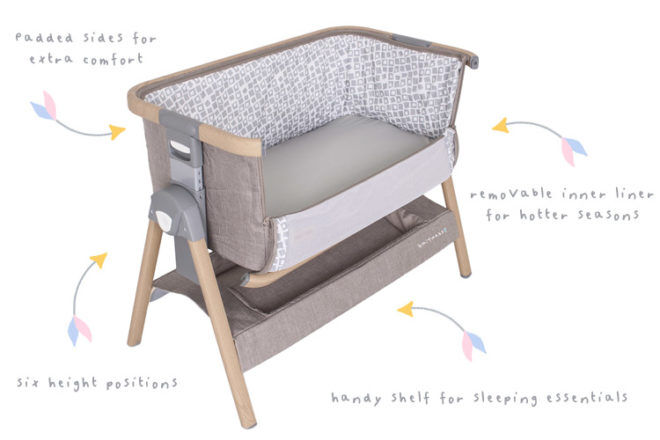 With the ability to rock or stand stationary, the Dreamtime Sleeper is a fantastic choice for budget-conscious parents. Easy to assemble, the sleeper features six different height positions to fit alongside most beds. Soft padded sides give sleepy bears additional comfort and when the summer months hit, simply remove the inner liner to help keep bubba cool.

---
7. Babyhood Co-sleeper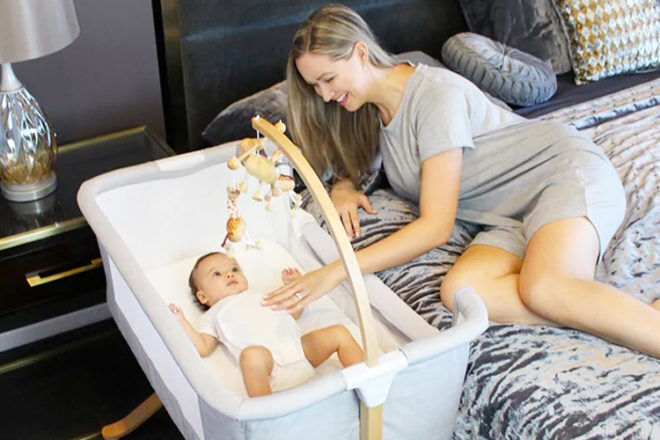 Finished with luxury textiles, a quilted mattress and a stunning hanging mobile, the Kaylula is a beautiful addition to the bedroom. The unique mesh panels ensure full visibility and provide maximum airflow while wee ones drift off to the Land of Nod. Use as a co-sleeper or as a stand-alone bassinet – the fixed castors keep bubba within arms reach wherever you are.

---
8. Chicco Co-sleeper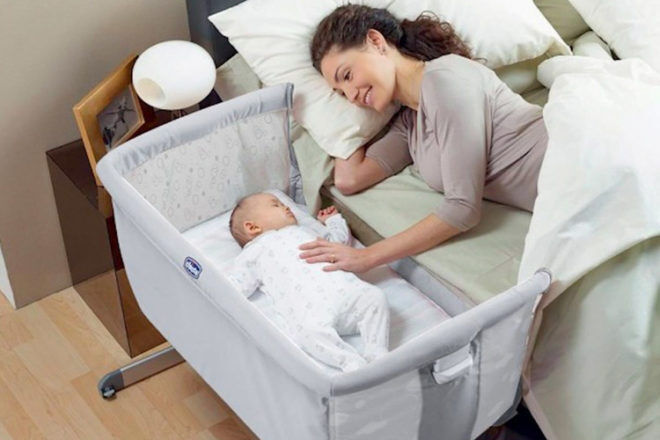 Perfect for travelling or sleeping at home, the Chicco Next2me is super lightweight and easily folds for portability. Clip to the bottom of your bed frame to use as a co-sleeper or zip the ventilated mesh windows up completely to use as a stand-alone bassinet. With height adjustable legs and the option to raise one end to ease infant colic, it's an affordable choice for families wanting that all-important shut-eye.

---
This post includes affiliates and/or paid inclusions. See our Disclosure Policy.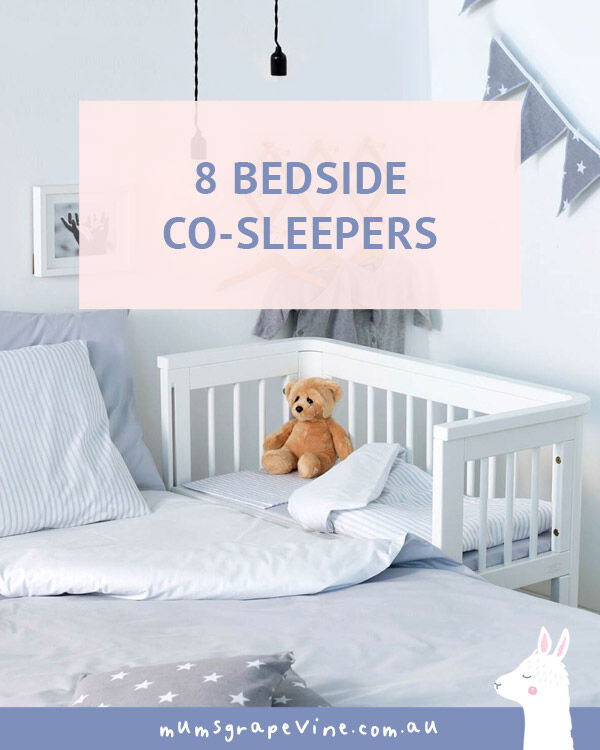 Read next …
Looking for other ways to help with baby's sleep? From expert tips to tried and tested techniques, here are a few articles that you might like to read next:
Continue your search for the best co-sleeper
Looking for a co-sleeper and still not sure if any of these are right for you? Continue your search online by jumping into one of our closed Baby groups and ask thousands of other Australian mums what they recommend – 'What to buy' is the most talked-about topic.
Click and join your group today!