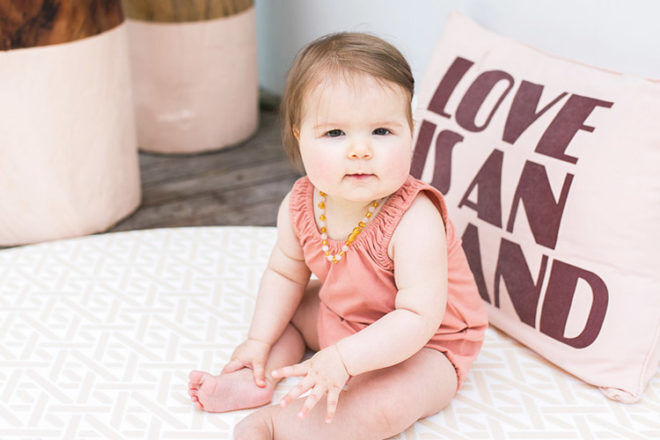 The perfect place for tummy time, nappy-free time and practising the sweet little shuffle, play mats are a must-have item for babies on the move. No longer restricted to bright foam alphabet squares mums keep tucked away from the rest of the house, modern play mats are a thing of beauty, with chic prints and subtle style reigning supreme.
Whether it's a playful addition to the nursery or a luxe new look for the living room floor, there's a play mat style to suit every aesthetic and space.
What to look for when buying a play mat
Here are some of the key features to consider when buying a play mat:
Cushioning: Play mats are just that – a mat for baby to play the day away. To ensure little ones are comfortable investigating their new terrain, look for a play mat with ample cushioning for tiny limbs and delicate skin.
Durability: Play mats are the perfect companion for outdoor play with bubs in tow. Think mornings at the park and day trips to the beach. With that in mind, pick a play mat that is sturdy enough to withstand the crawling and exploring in different environments.
Washability: Despite being made for play, anything made for baby is sure to encounter vegemite smears and cracker crumbs. Having a mat that washes well means it can be back on the floor (protecting the real floor underneath) in a jiffy.
Waterproof: A waterproof play mat is a great choice for any parent wanting to use their play mat for nappy-free time with a wriggling water fountain.
Size: Think about where the play mat will 'live' when choosing the size. Will it permanently stay in the same spot or is it more likely to be moved from room to room? Some play mats are available in different sizes to suit every family's needs, with rectangular and round options too.
---
6 Play Mats for Babies on the Move
To help you find the perfect space for baby to roam we've compiled this handy list of play mats to get you started in your search.
Freddy & Co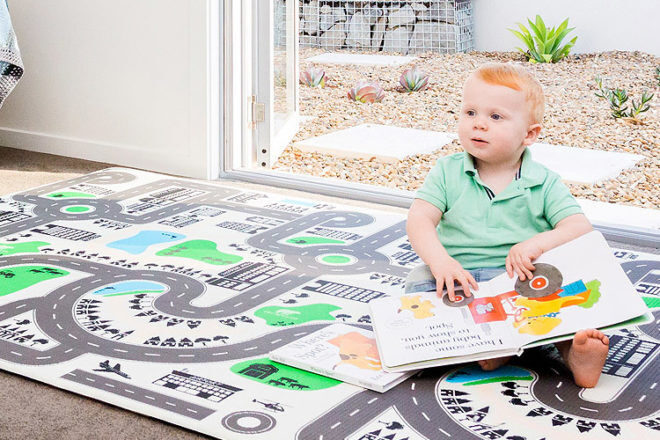 Designed with baby and the home in mind, the designer play mats by Freddy & Co offer two sides – one educational for the kids and the other decor-friendly. The large non-toxic play mats give kids of all ages the freedom to explore and investigate their surrounds.
Play Mat Sizes: Rectangle 2.0m x 1.4m / Round 1.4m diameter
Composition: Non-toxic polyurethane foam
Water-Resistant: Yes

---
Munchkin & Bear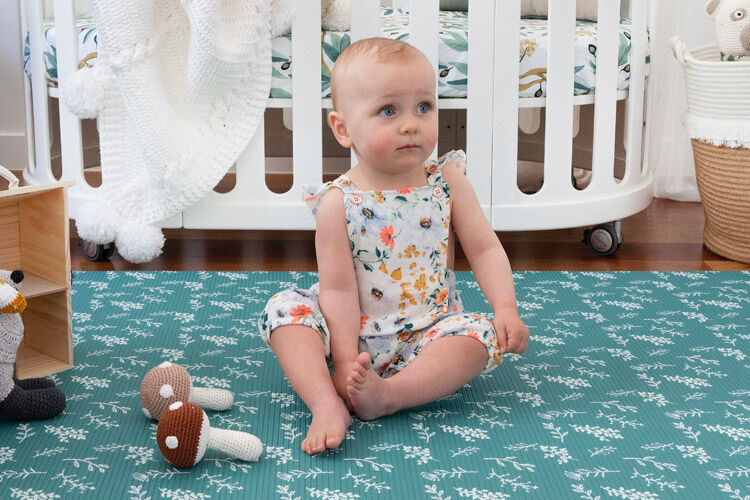 The luxe play mats from Munchkin & Bear are perfect for kids of all ages – even big kids (yep, that's us!) practising their downward dog. Super soft, durable and a cinch to wipe clean, there's no wonder these beauties come up trumps in our best play mats list.
Play Mat Sizes: Rectangle 1.4m x 1.0m / 2.0m x 1.4m / Round 1.4m diameter
Composition: Non-toxic polyurethane foam
Water-Resistant: Yes

---
Luxe at Play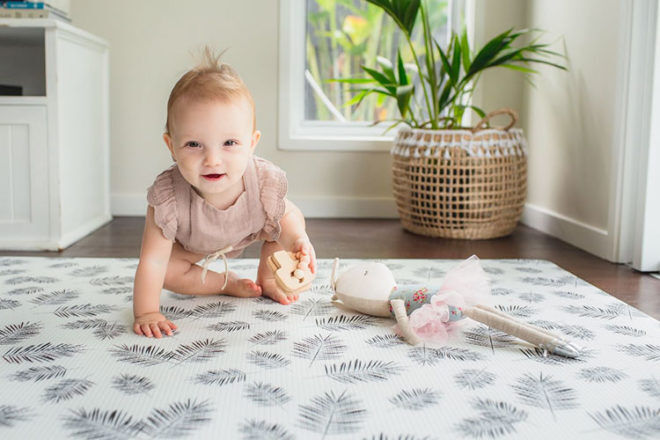 These guys have the look of luxury down pat. Their hand-illustrated patterns and soft colour tones of sage green and dusty pink are perfect for the modern-day home. Water-resistant, reversible, and super-soft, these play mats tick every box.
Play Mat Sizes: Rectangle 1.0m x 1.4m / 2.0m x 1.4m / Round 1.4m diameter
Composition: Non-toxic polyurethane foam
Water-Resistant: Yes

---
The Young Folk Collective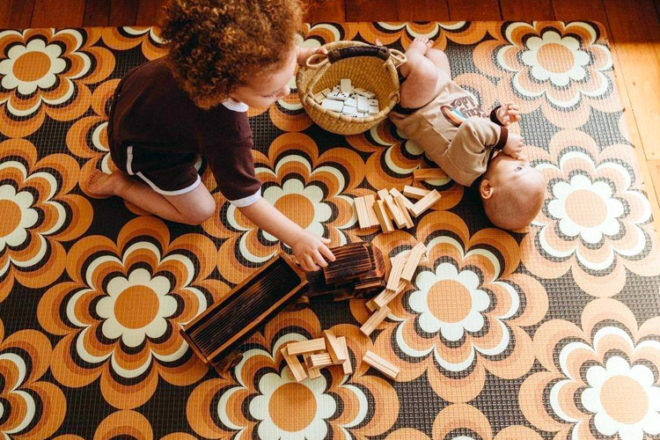 Designed by Byron Bay artist Harley and J, the play mats from The Young Folk Collective are bursting with retro vibes and feel-good times. Padded for babies comfort, the functional play mats also stimulate babe's visual senses with contrasting bold colours and repetitive patterns.
Play Mat Size: 1.8m x 1.3m x 15mm / 2.0m x 1.4m x 15mm
Composition: Non-toxic polyurethane foam
Water-Resistant: Yes

---
Softly Summer
Inspired by a love of palm trees and coastal living the range of play mats from Softly Summer brings the beauty of the beach into the home. Made from a hypoallergenic and biodegradable material, the cushioned mats are perfect for every kind of play.
Play Mat Sizes: Rectangle 1m x 1.4m / 2.0m x 1.4m / Round 1.4m diameter
Composition: Non-toxic polyurethane foam
Water-Resistant: Yes

---
Softmats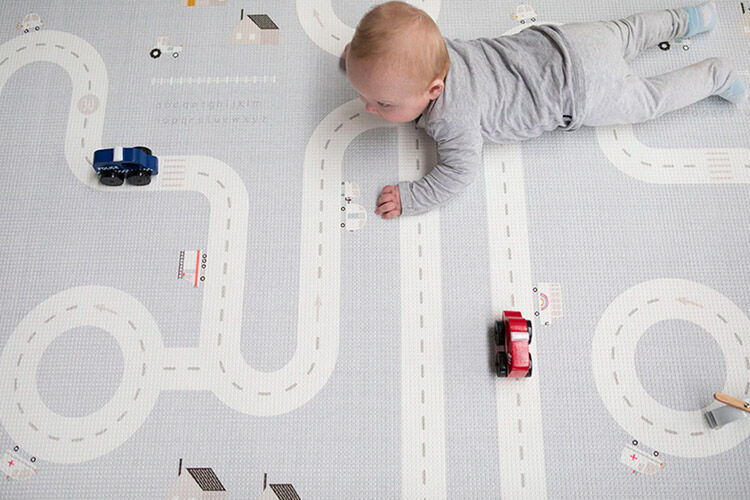 Specialising in safe, non-toxic play mats for tiny adventurers, Softmats have an enormous range with something to offer every home. Choose from luxe designs or playful pieces. Made in Korea they're soft, durable and cushioned just right.
Play Mat Sizes: 1.9m x 1.3m x 12mm
Composition: PVC resin with a shock-absorbent plasticizer inner core
Water-Resistant: Yes

---
This post includes affiliates and/or paid inclusions. See our Disclosure Policy.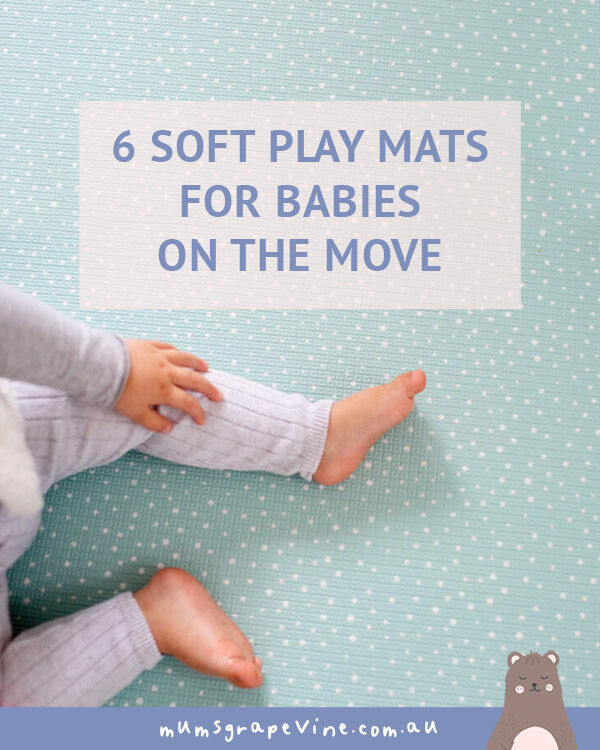 Read next …
Looking for tips for baby tummy time? Head right this way:
Continue your search for the best play mat
Searching for a padded play mat and still not sure if any of these are right for you? Continue your search online by jumping into one of our closed Pregnancy or Baby groups and ask thousands of other Australian mums what they recommend – 'What to buy' is the most talked-about topic, followed by MIL vents!
Click and join your group today!