Kids drink bottles encourage little ones to slip and slurp throughout the day. And having a bottle of water within arm's reach is a great habit to teach them, especially in the Australian sun. As summer comes around its hydration station a-go.
As most parents know, not all drink bottles are created equal and when we find a good one it's like discovering gold.
Things to look for when buying a kids drink bottle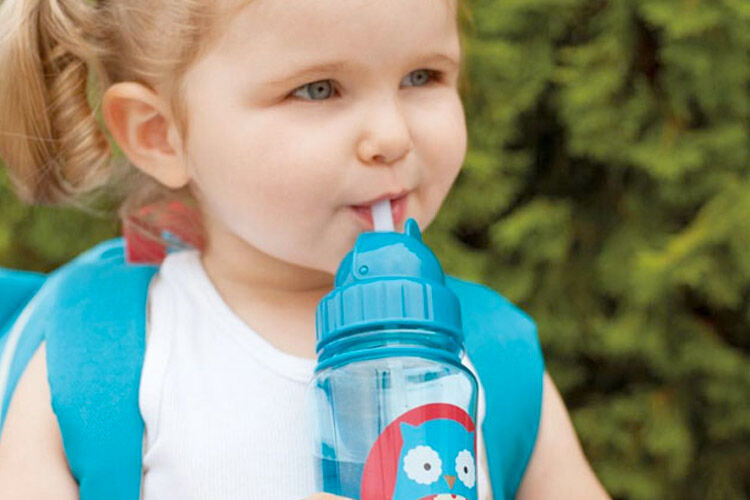 Here are some of the key things to look for when buying a kids drink bottle:
BPA Free: Keep nasty chemicals at bay. Look for a drink bottle made from materials that are free from harmful plastics.
Durability: Just like the little ones, drink bottles are bound to have a few falls and tumbles in the playground. Look for bottles that are durable and can withstand the wear and tear youngsters bring.
Size and Shape: As much as we want kiddos to stay hydrated, steer clear of bottles that are too big. Keep an eye out for bottles that are ergonomically designed with kids in mind. The easier they are to hold the more likely they are to use them.
Leak-proof: There's nothing worse than a soaked-through school bag. Look for bottles with a leak-proof lock or a nozzle that closes firmly.
---

19 Kids Drink Bottles for Keeping Cool
To help you find the perfect kids drink bottle we've compiled this handy list of fab brands to get you started in your search.
MontiiCo
With fun retro colours, these super stylish, double-walled stainless steel drink bottles are built tough. The sports pop-top lid is easy to sip and they are the perfect size for little hands.

---
Cheeki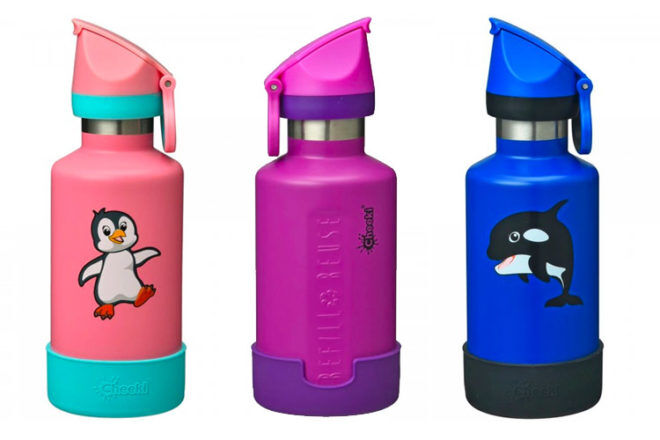 Lightweight and eco-friendly, these double-wall vacuum-insulated stainless steel bottles will keep iced drinks cold for 36 hours and hot drinks at hot for 24 hours. Wowee!

---
Love Mae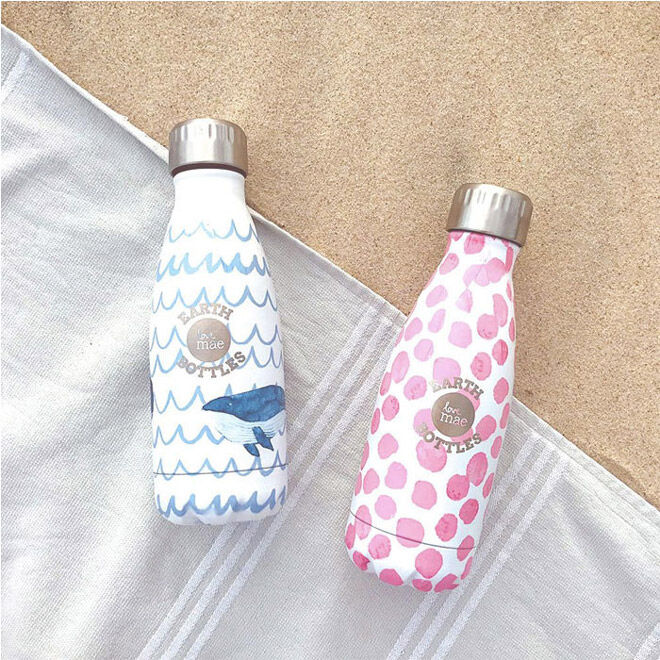 Reusable, durable and leak-proof, this double insulated stainless steel drink bottle is perfect for school or for going out and about. Plus we love these gorgeous graphics.


---
Thermos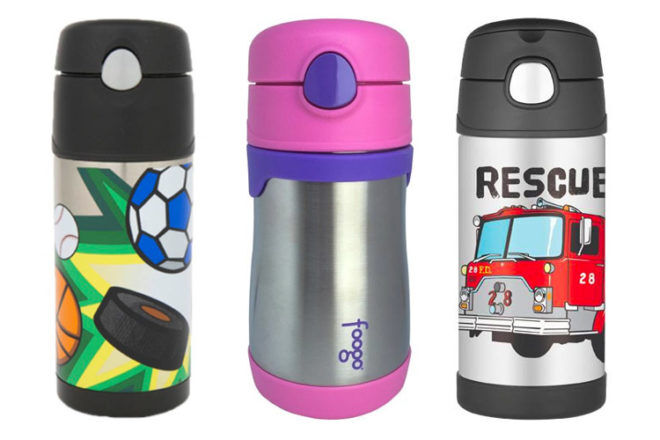 Available in clean stainless steel or covered in cool patterns, these babies have been a family favourite for years.

---
Klean Kanteen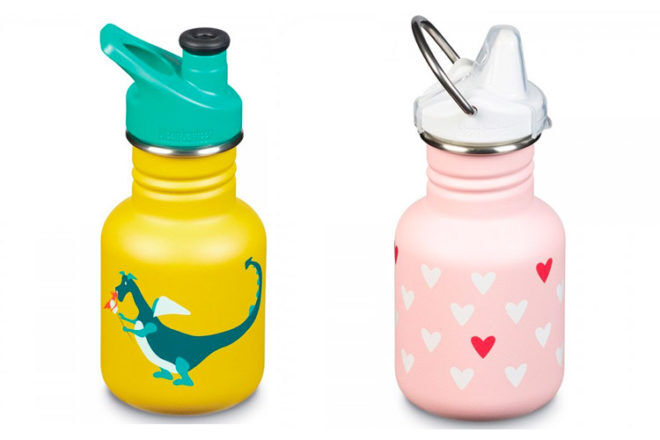 The classic Kleen Kanteen kids drink bottles come with either a sippy cap or sports cap. Available in lots of different colours, the Kleen Kanteen is one of the original stainless steel drink bottle designs.

---
b.box
These brightly coloured stainless steel drinking bottles are double-walled to keep drinks cold for up to 7 hours and warm up to 5 hours.

---
Contigo
These drink bottles have a cool retro-futurist look about them and a unique, leak-proof "push to sip" design.

---
Kathmandu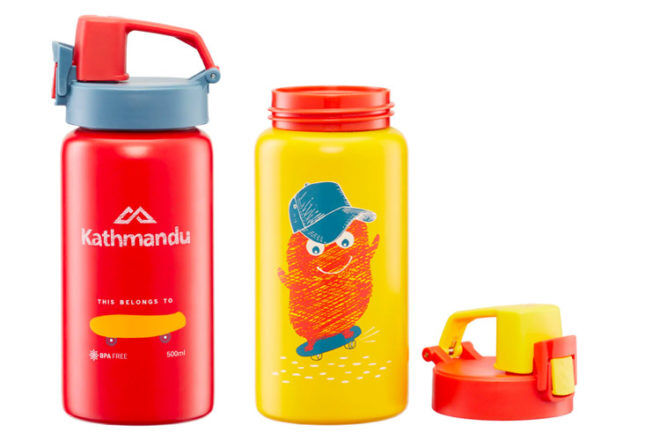 Adventuring is thirsty work! For the child who likes to climb on top of the monkey bars, these stainless steel drink bottles are for you.

---
Frank Green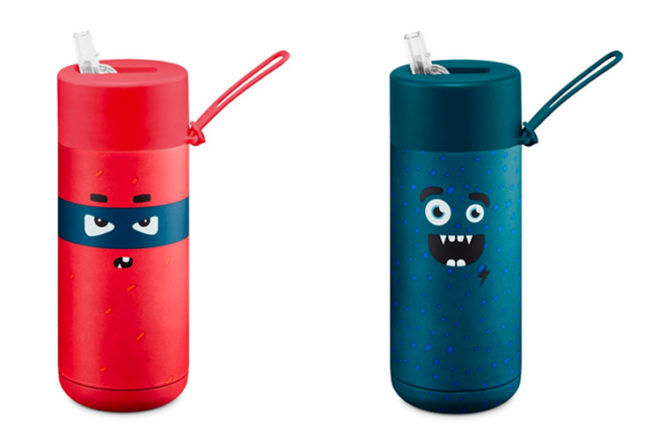 Like mum and dad's coffee cups, but even cooler. These colourful reusable cups feature a flip-up straw lid, drinking spout and handy carry strap so kiddos can sip and slurp throughout the day with minimum fuss.

---
H2Onya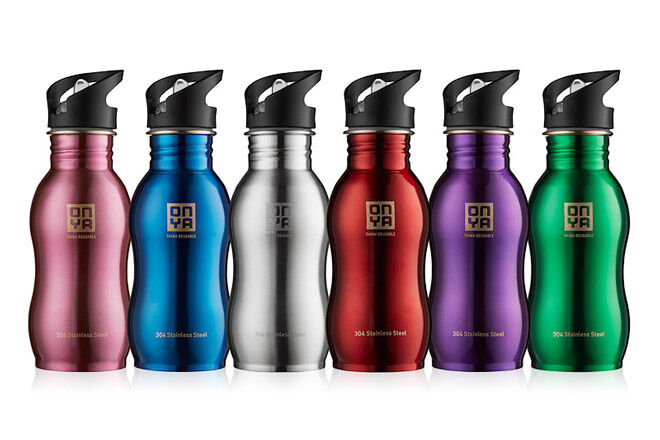 Cute curves are easy for little hands to grasp and a flat base ensures they won't knock over easily – these bottles are designed for kids on the go.

---
Ecococoon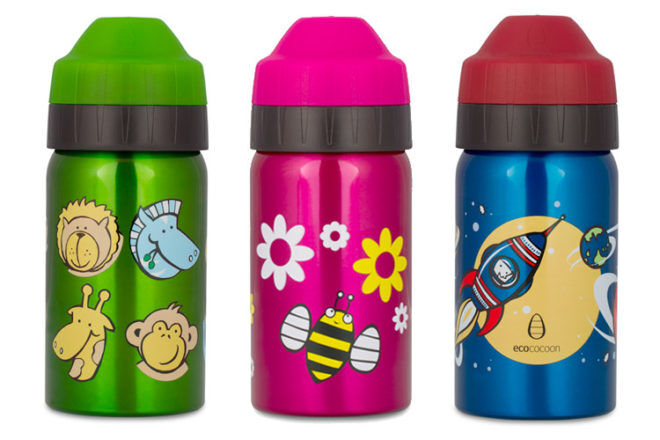 These double-walled, stainless steel drink bottles will keep liquids insulated and cool. Available in 350ml, 500ml and 600ml.

---
LifeFactory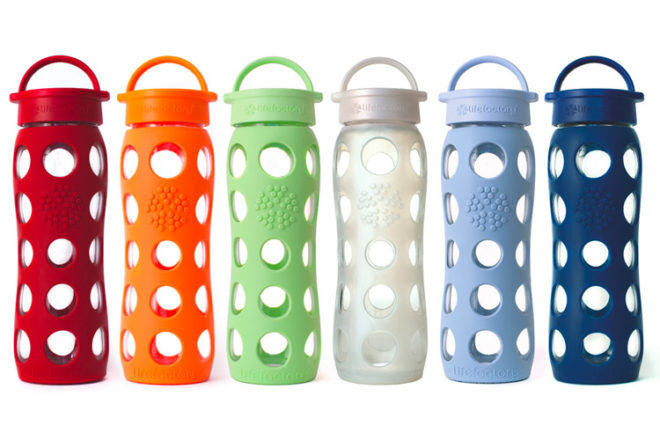 These snazzy bottles are made from glass, but a protective silicone sleeve gives a good gripping surface and helps prevent breakages. They come in every possible size and colour, with different caps and tops too!

---
S'well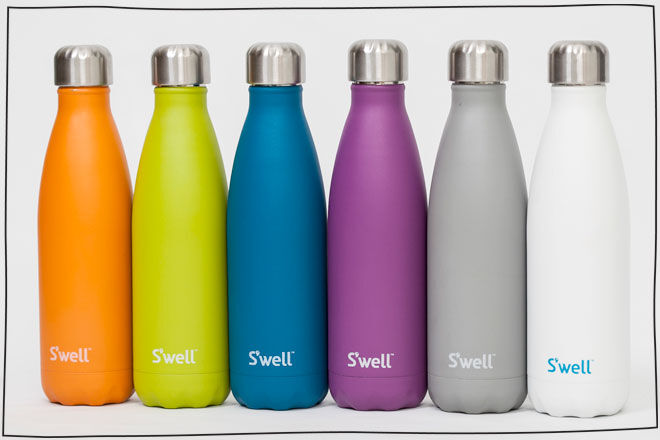 For older kids who want something cool and sleek, the S'well drink bottles are the perfect way to stand out from the crowd. Designed in New York, the insulated bottles have a unique shape and screw-top cap. Plus, they'll keep drinks cool for 24 hours.

---
Skip Hop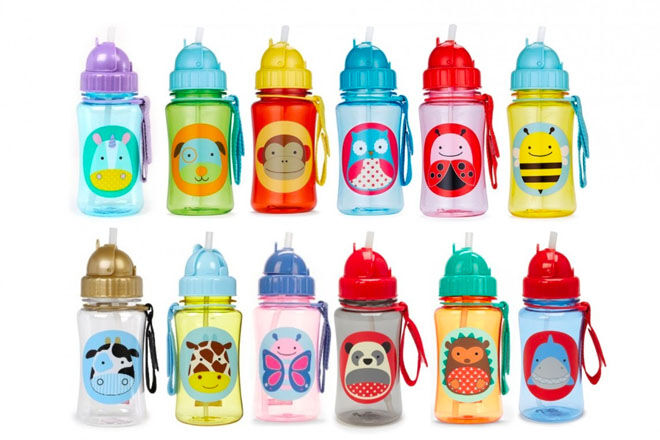 Complete your collection of Skip Hop Zoo range goodies with these plastic drink bottles with a straw and a flip-top lid.

---
Spatz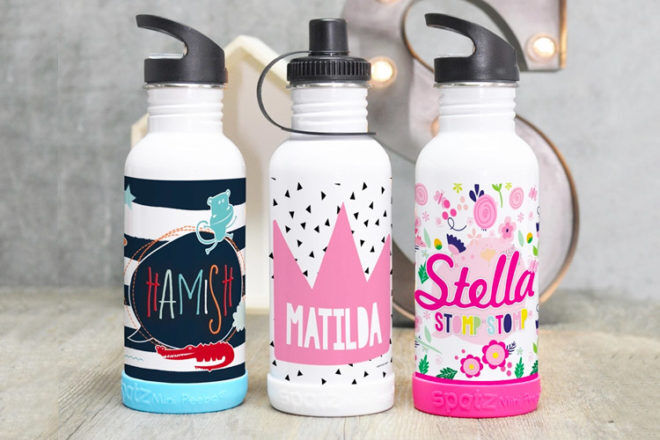 Full of personality and come with a nifty non-slip base protector. Make their drink bottle unique by selecting a wrap-around design and add their name.

---
Penny Scallan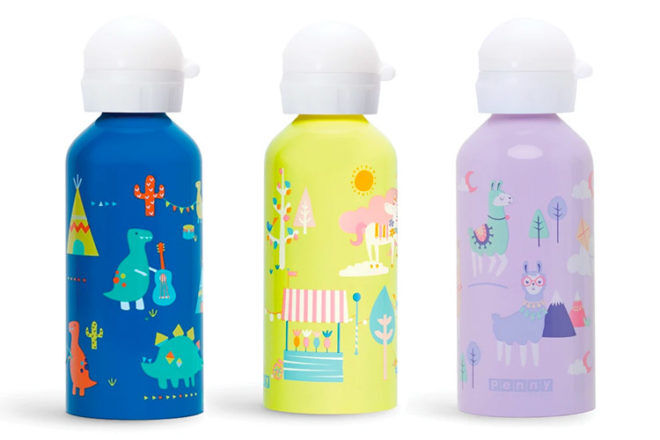 Featuring a spill-proof lid that's BPA free, these stainless steel drink bottles are a must with their super-cutesy vibe.

---
Stephen Joseph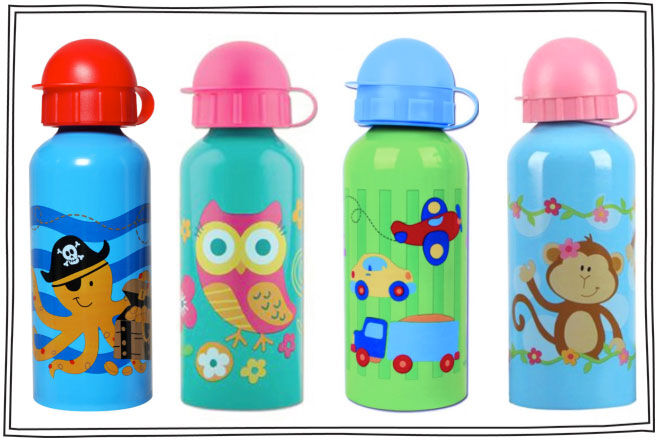 We love the mix-n-matchiness of these stainless steel drink bottles. Grab a blue bottle with a red lid or a green bottle with a pink lid. It's great to see pink and blue mixing it with other colours!

---
Stuck on You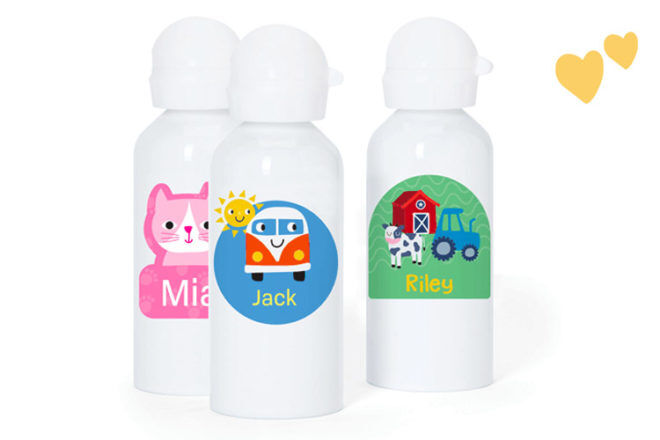 A chic stainless steel water bottle that can be personalised with your youngster's name, bright colours and original designs.

---
Pura Kiki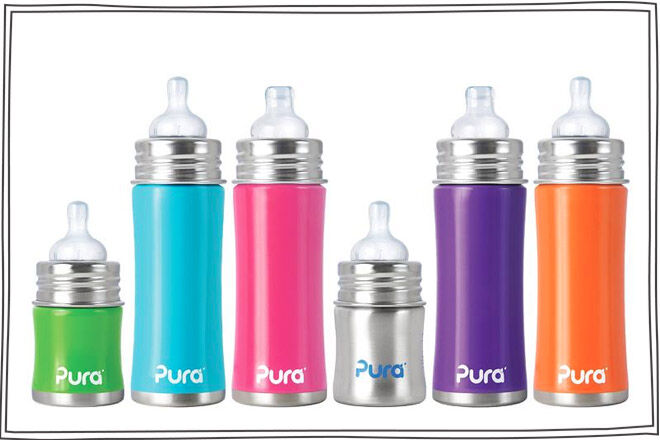 We love the sleek, modern design of these drink bottles. The Kiki infant bottles can be transformed into sippy cups by simply removing the nipple and adding a spout. So, you can keep these gorgeous bottles as your child grows!

---
This post includes affiliates and/or paid inclusions. See our Disclosure Policy.
Read next …
Whether your little one is off to kindy or starting school, we've got you covered. Here are a few articles that you might like to read next:
---
Continue your search for the best kids drink bottle
Looking for a kids drink bottle and still not sure if any of these are right for you? Continue your search online by jumping into one of our closed Baby groups and ask thousands of other Australian mums what they recommend – 'What to buy' is the most talked-about topic.
Click and join your group today!