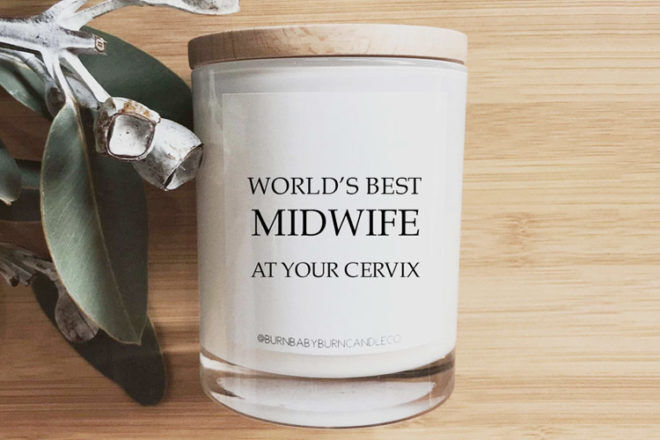 They're the guardian angels of the delivery room and yet once the birth is over and mother and baby are snuggling sweetly at home the midwives, doulas and obstetricians of the world move on to the next magical moment.
We think saying thank you to the people who were with you every step of the way calls for something a little special.
Here are 13 gift ideas for midwives, doulas and obstetricians.
Herbal tea
A hot cuppa is like a hug in a mug, especially after a long day with patients. Skip anything caffeinated and opt for something herbal instead. Chamomile tea is a thoughtful gift idea and something shift workers will no doubt appreciate. Sipping on this stuff helps the body to relax and ensures a good night's sleep.
Healthy snacks
Homemade or store-bought, it's the thought that counts. Having healthy snacks on hand keeps energy levels up and the 3pm slump at bay. Think homemade bliss balls, simple slices or a batch of good-for-you brownies. Simply wrap or pack them to ensure they stay fresh and add a thank you note for that extra special touch.
Spa voucher
Give the gift of relaxation with a spa voucher they can use whenever they like. For new mums struggling to get to the shops, a voucher is an easy way to show your appreciation and ensure your little helper gets the pampering they so truly deserve.
A candle
Hospitals and patient rooms tend to have a clinical smell about them. A fragrant soy candle fills the room with nothing but sweet scents and happy vibes – just what the Dr ordered. And for a cheeky little midwife gift, we love this World's Best Midwife Soy Candle.
Restaurant voucher
Shift work and home visits at all hours mean midwives don't often get the luxury of being wined and dined. A restaurant voucher gives them an opportunity to hit the town and try 'the new place' that's been on their list for a while.
A picture of them holding your baby
While midwives and doulas are with you throughout every stage of labour, it's not long before they're rushing off to be by the side of another mumma. If the two of you became super close, a framed photo of them with your new babe will keep those precious memories around a little while longer.
Personalised notebook/diary
Keeping track of appointments, meetings and the small task of helping babies come into the world is a hefty load to manage. A notebook or diary personalised with their name or initials is a pretty and practical gift that they'll be truly grateful for.
Homemade hamper
A hamper full of goodies is like a ray of sunshine and something the whole team can share. Pack with tea, biscuits, chocolates and perhaps a few darling photos of baby for them to pin on the delivery suite notice board.
Charity donation
We already know that these ladies (and men, of course) are incredibly generous people. If they've insisted on a 'no gift policy' a donation to their favourite charity is a lovely gesture.
Movie tickets
What could be better than getting to sit back and do nothing for a few hours? Treat them to tickets to the movies, where they can pop off their shoes and enjoy the latest release. Oh and popcorn, of course. There's always room for popcorn.
Lunch box container
A good lunchbox isn't just for kids. Working long hours (sometimes well into the night) means that packed lunch and nibbles or leftovers from the night before really go a long way.
A book
For the train ride home or a well-earned break during the middle of the night, diving into a good book is a lovely way to escape the hustle and bustle of the maternity ward.
Hand cream
The constant washing of hands in between patients plays havoc with healthy skin. Gift a heavenly hand cream they can use day and night to bring a little softness back to those palms.
Read next …
With baby finally home and you both settling in nicely, here are a few helpful articles to keep up your sleeve: