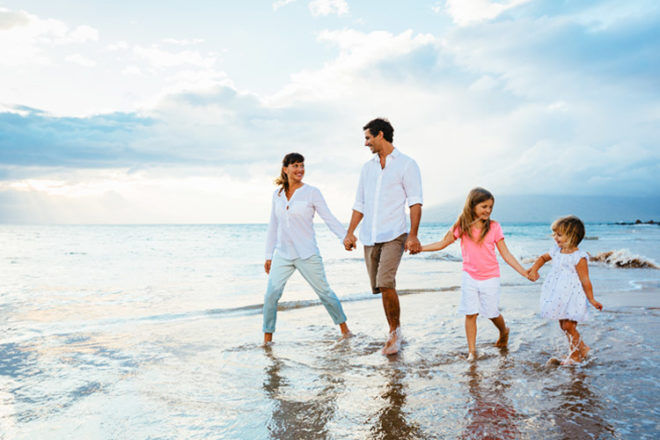 To some parents, the thought of travelling with their kids conjures up memories of car rides with screaming babies, carsick kids, continuously hearing 'are we there yet?', followed by 'I'm boooored' and then having to clean sticky mystery-foodstuff from between car seats upon arrival.
It doesn't have to be that way though – family holidays with the kids can be one of the most rewarding experiences you'll ever have. Finding the time to disconnect from life's stressors and reconnect with your family is the hard part. The rest can be easy if you have the know-how, and these tips are designed to help you have the best time ever.
Choosing where to go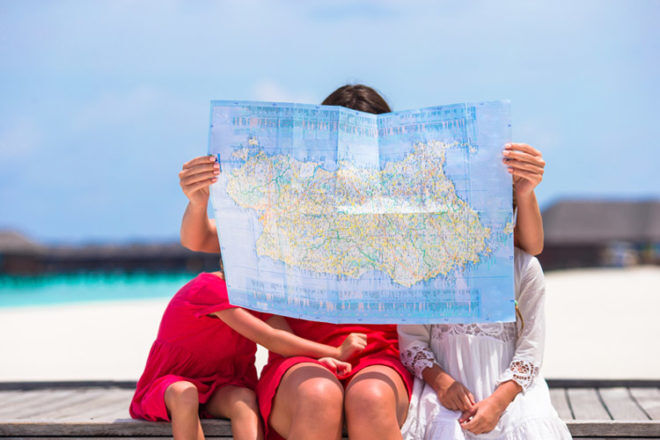 If you've ever bundled the kids off to a holiday location you thought they'd love, only to be met with little ingrates who complain the whole time, you might be wondering why you got lumped with the most spoilt kids ever. On the other hand, have you considered that they may have acted like that because the location you chose was actually chosen for them, but not by them?
Parents usually make decisions with their kids' best interests at heart, but sometimes we assume our kids will enjoy something because we see it as entertaining or popular, when really, they might prefer the opposite. It's like the old adage about kids liking the bubble wrap more than the Christmas presents – sometimes they just don't share our tastes, as much as we want them to.
The solution is to sit down with the whole family and get everyone's input into what their ideal holiday would involve. You may not be able to satisfy everyone on every holiday, but you'll at least be able to try. It'll also give you more of an understanding if one of your children isn't enjoying an aspect of it. As a bonus, kids absolutely love helping to plan things, so that alone counts as family time!
Pre-trip prep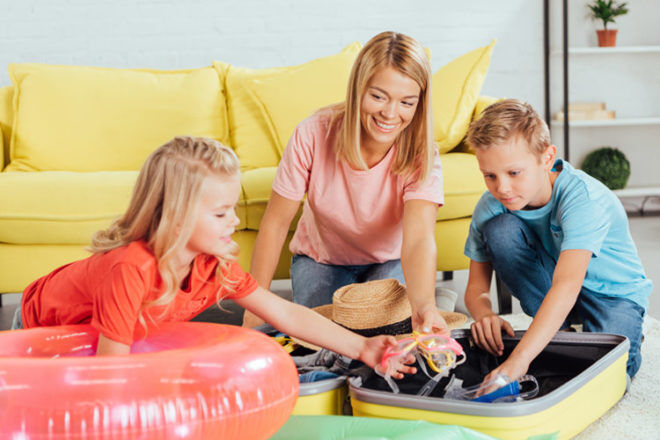 Whether you're travelling near or far, by plane or by car (or anything in between), there are a few things you should remember about travelling with kids before leaving
Travel sickness: It's a horrible thing for all involved and it can strike any child at any time so be prepared with some natural remedies like ginger or peppermint snacks, as well as plenty of freshwater, a change of clothes, large waterproof bags and a towel.
Boredom: If kids are bored or hungry, you're going to have an unpleasant trip – to prevent this, bring some activity packs, as well as plenty of healthy, low-GI snacks and drinks. Don't assume you'll be able to stop for snacks along the way.
Rest: Slightly tired kids can be great, but overtired kids will drive you crazy – ensure everyone gets a good night's sleep the night before travelling and encourage your kids to sleep during the trip. Bring travel pillows and their favourite toy, dummy or whatever helps them sleep.
Wipes: Bring wet wipes everywhere – yep, make sure you have unscented wet wipes/baby wipes at all times for spills, sticky hands, freshening up and hand wiping after those impromptu roadside toilet breaks. You can never have too many packets!
Feeds: Feed babies and toddlers by breast/bottle during takeoff and landing if flying – the sucking motion prevents ear pressure pain caused by cabin pressure. Older children can suck on an ice cube or a lolly for the same reason.
Clothing: Bring a change of clothes – always have a change of clothes because you'll almost definitely need it
Make the trip itself enjoyable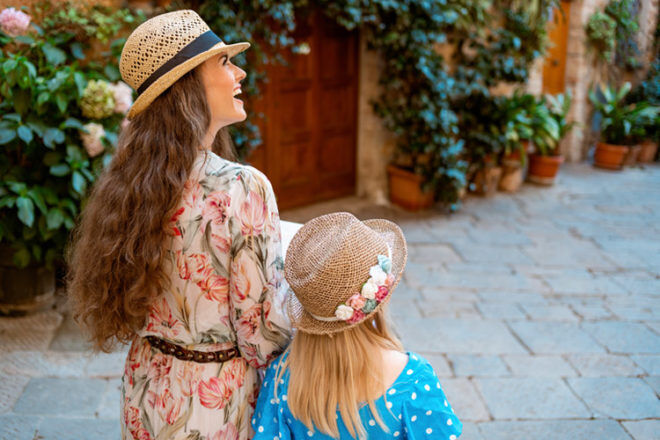 Don't attempt a huge, long trip in one stretch. Instead, plan frequent stops longer than usual, even overnight if possible, and enjoy each location as though it was part of your overall holiday. It's amazing how much more relaxed travel can be when you're in no hurry to reach your destination. Even better, choose holiday destinations closer to home, so the travel time is reduced.
Accommodation Tips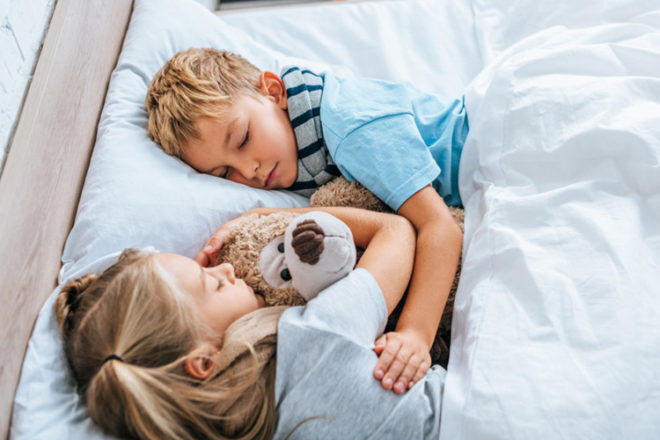 No matter where you're going, your comfort will depend primarily on the accommodation you choose, so choose carefully. It can be difficult finding child-friendly accommodation options, but if you use a hotel aggregator like Hotels.com, you can search for the accommodation in the region you want, then narrow the results down by clicking the 'family-friendly' option within the 'Themes/types' preferences list on the left-hand side. Alternatively, you can go directly to Hotel.com's Family Hotels page.
This excellent site lets you add the dates of your intended stay, the number of adults and children who will be staying and whether you want one or more rooms, then allows you to sort the results based on things like price, popularity, deals, rating and more. You can also narrow your results down by other handy parenting-related facilities, such as whether the accommodation has childcare or whether they have cribs available. You can book and pay online, or you can book and pay upon arrival. These features make booking your accommodation so much easier than ringing around or visiting separate sites, trying to see if they are family-friendly or not.
When selecting your accommodation location, it's a good idea to select somewhere that's located centrally to all the attractions you're planning to see, as well as close to shops and parks, beaches, etc. If your accommodation has a kids club or games room, even better!
Another great tip is to ensure there are lifts available if you'll be staying on an upper floor. There's nothing more annoying than having to lug prams, sleeping toddlers and nappy bags up flights of stairs after a long day out.
Consider self-contained accommodation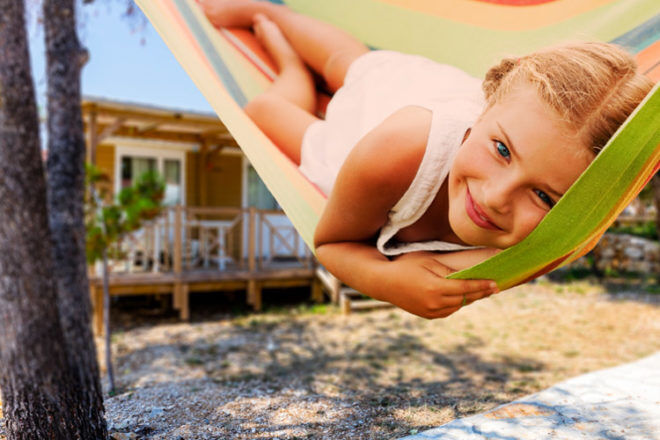 Hotels are lovely, but if you have multiple kids, accommodation like apartments, caravan parks, vacation homes/condos and villas are generally much more suitable. They're great because you often don't have close neighbours to hear the kids' noise, you have your own kitchen (to make meal costs cheaper) and laundry (a godsend for parents) and separate rooms (bonus!). Even better, this type of accommodation often works out cheaper than hotels for larger families. Again, Hotels.com can help you hone in on the perfect accommodation based on exactly what you want. While you're at it, sign up for the free Hotels.com rewards club and start taking advantage of its many benefits straight away!
Finally, the most important thing is to have fun yourself! Your kids can tell when you're not, so by having fun, going with the flow, laughing and understanding your kids (even when they're at their worst) you'll make your next holiday the best one yet!
This article was written in collaboration with Hotels.com.