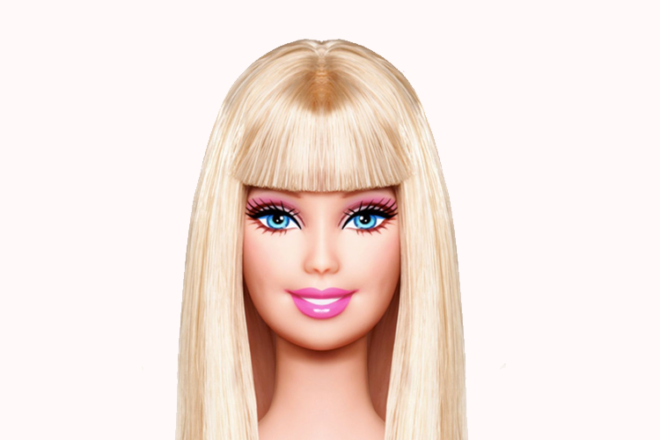 Barbie has come a long way since her 1959 release, transforming from a bombshell blonde with an unrealistic and unattainable figure to a diverse range of dolls, embracing differences.
The Barbie Fashionistas range started in 2015 and now includes 176 dolls, with nine different body types, 35 skin tones and 94 hairstyles. Mattel also regularly releases dolls honouring female role models and inspiring women from around the world and throughout history.
We take a look at how Barbie has progressed over the last five years, including the most recent releases.
2020 Barbie Collection release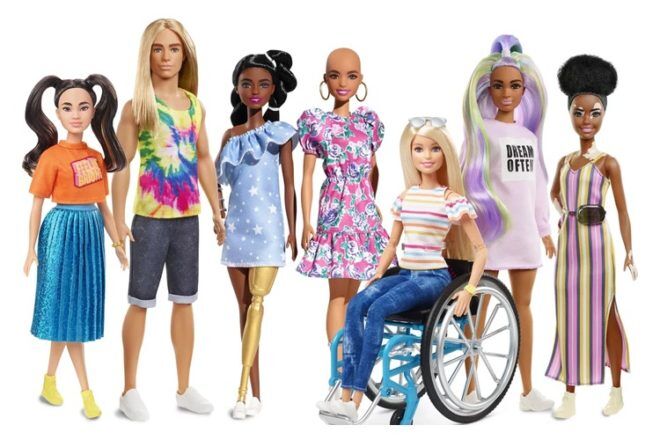 More inclusive and diverse Barbies have been added to to the popular Barbie Fashionistas' line, including a doll with the skin condition vitiligo and one without hair.
Mattel says it's keen to showcase a broad view of beauty and fashion, and that a post with a prototype of the doll with vitiligo on the Barbie Instagram page last year became its most-liked post ever, according to CNN.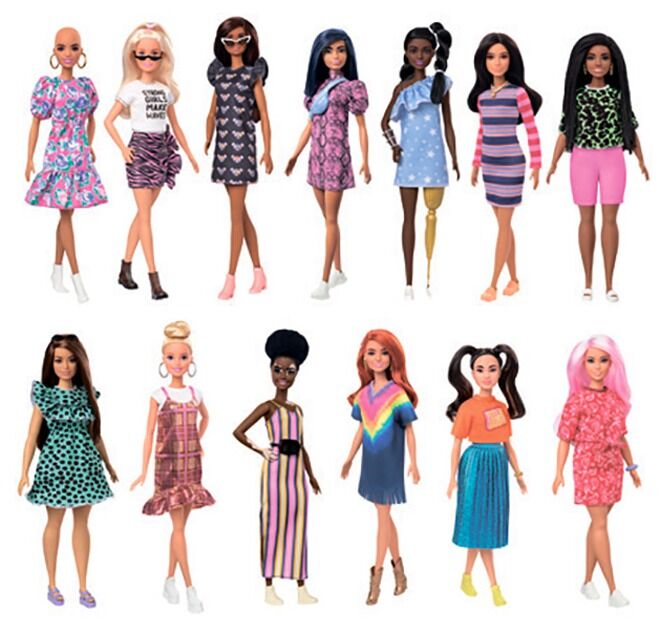 The new dolls join existing inclusive Barbies in the Fashionista range, including a doll with a prosthetic leg, one in a wheelchair and others with more realistic body types. In 2017, Mattel created the first Barbie to wear a hijab.
---
2019 Barbie Collection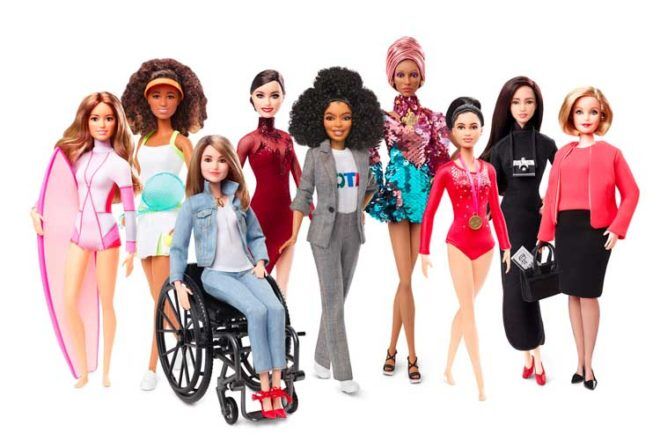 Australian journalist and new chairwoman of the ABC Ita Buttrose has been immortalised as a Barbie doll, with the iconic brand honouring female role models around the world.
As it celebrates its 60th year, Barbie has revealed its largest and most diverse lineup of female role models, which includes sportswomen and actors. The dolls have been created to inspire, as the brand raises money to donate to causes aimed at levelling the playing field for young girls.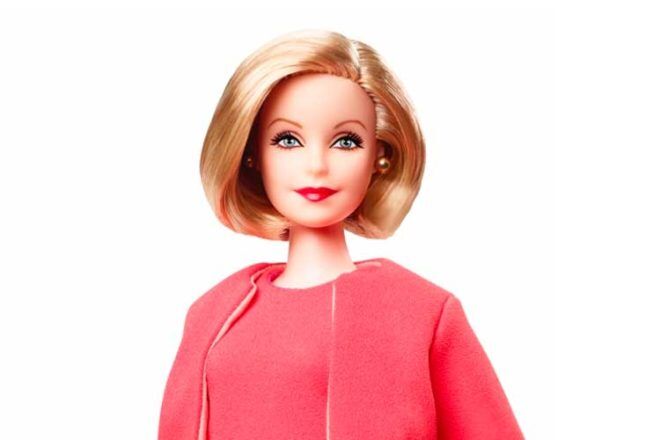 This year's inspirational women Barbie dolls include:
Maya Gabiera, Surfer, Brazil
Naomi Osaka, Tennis Player, Japan
Kristina Vogel, Cycling Champion, Germany
Tessa Virtue, Ice Skater, Canada
Yara Shahidi, Actress, United States
Adwoa Aboah, Activist and Model, United Kingdom
Dipa Karmakar, Artistic Gymnast, India
Chen Man, Photographer, China;
Ita Buttrose, Journalist, Australia
"For 60 years, Barbie has championed girls, inspired generations to believe through make-believe and showed them that they have choices," explained Lisa McKnight, General Manager and Senior Vice President, Barbie. "With more than 200 careers, six runs for president and a trip to the moon before Neil Armstrong, Barbie continues to evolve to be a modern, relevant role model for all ages."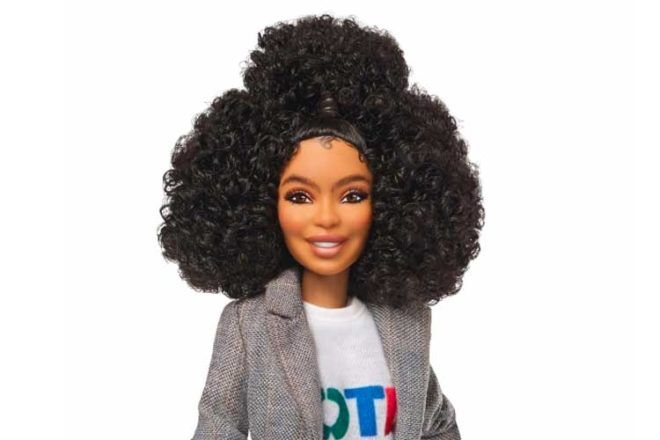 Each of the women honoured is gifted their one-of-a-kind Barbie doll in their likeness. In previous years Barbie has honoured other Australian women, including Bindi Irwin.
---
2018 Barbie Collection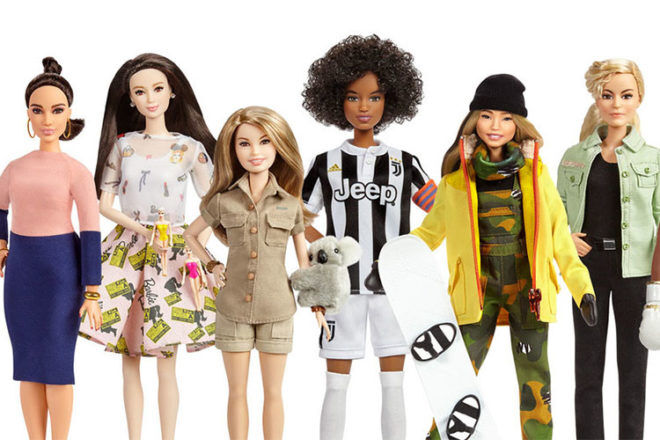 It's Barbie like you've never seen her before. In honour of International Women's Day, Mattel has revealed the latest global role models to be transformed into their very own Barbie.
The group of 14 women include Australian conservationist Bindi Irwin, as well as filmmakers, sporting champions and journalists.


As part of the Barbie Shero program, the women have been honoured with a one-of-a-kind doll made in their likeness.
"Girls have always been able to play out different roles and careers with Barbie and we are thrilled to shine a light on real-life role models to remind them that they can be anything," said Lisa McKnight, Barbie Senior Vice President and General Manager. Barbie Highlights Historical and Modern-Day Women Including Chloe Kim, Patty Jenkins and Frida Kahlo to Continue to Show Girls They Can Be Anything
The dolls (which won't be available for sale) include:
Patty Jenkins, Filmmaker, USA – The first woman in history to helm a film with a budget in excess of 100 million dollars for WONDER WOMAN, which broke the record for Biggest Grossing Live-Action Film Directed by a Woman – domestic and worldwide.
Chloe Kim, Snowboarding Champion, USA – A first-generation Asian-American snowboarding champion and the youngest woman to win a gold medal in snowboarding at the 2018 winter games at age 17.
Bindi Irwin, Conservationist, Australia – International award-winning wildlife conservationist and celebrity who inherited her father's passion for wildlife and is dedicated to inspiring the next generation to make a difference in the world.
Nicola Adams, Boxing Champion, UK – Two-time gold medalist who is Great Britain's most successful female boxer of all time and is the only female boxer in the history of the sport to have held all four amateur titles.
Leyla Piedayesh, Designer and Entrepreneur, Germany – Iranian immigrant and founder of fashion label lala Berlin that incorporates urban-cool and elegant-chic elements in its high-quality knitwear
Martyna Wojciechowska, Journalist, Poland – TV presenter, magazine editor, author, director and the second Polish woman to conquer the Seven Summits.
Inspiring Women Barbie series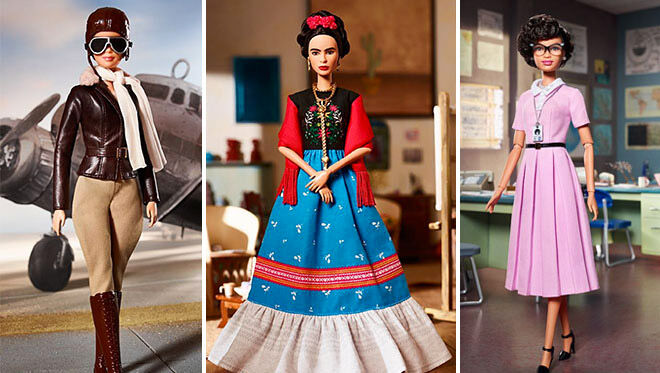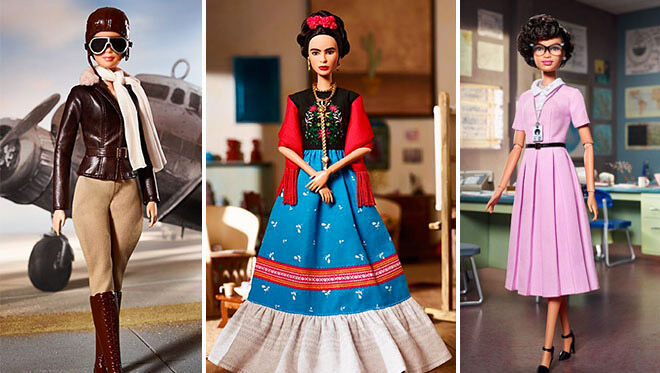 Barbie has also released the Inspiring Women Series (US$29.99 each). They are three strong women who each made important historical contributions:
Amelia Earhart – The first female aviator to fly across the Atlantic Ocean.
Frida Kahlo – An artist who gained recognition for her unique style and perspective.
Katherine Johnson – A pioneer in mathematics who broke through barriers of race and gender, and joined a pool of women hired by NASA to work as 'human computers' to calculate the trajectory of the first American-manned flight into space.
Make sure you check out the first Inspiring Women Barbie, Hijab-wearing Olympian Ibtihaj Muhammad.
---
2017 Barbie Collections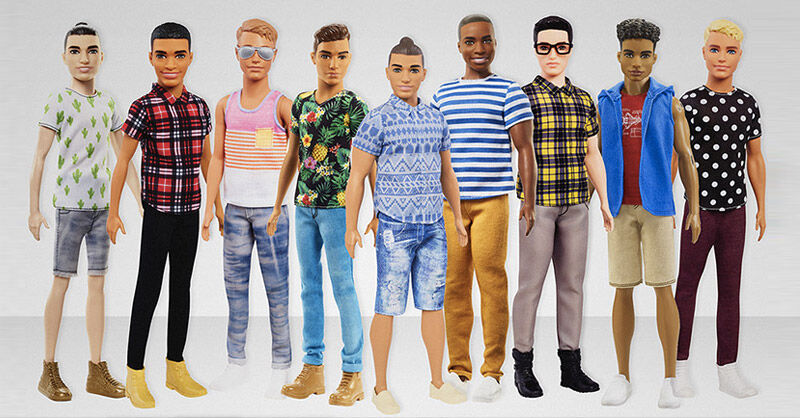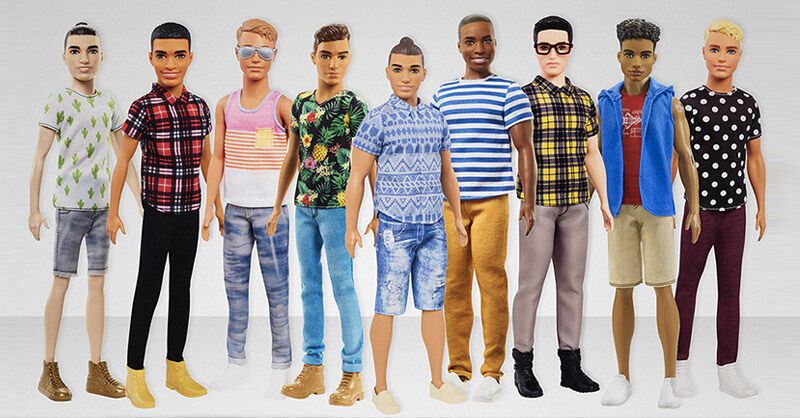 Man buns, pompadours and skinny jeans, oh my! You have got to see the new crop of Ken dolls from toy makers Mattel. The company behind Barbie, made an epic move this week, announcing the release of 15 dashing new boy toys for Barbie to mingle with.
This new fleet of Ken dolls is a little like the toy box equivalent of The Bachelorette (but without Osher). And yes, one of the spunky plastic studs even sports a man bun, for your Barbie-collecting pleasure.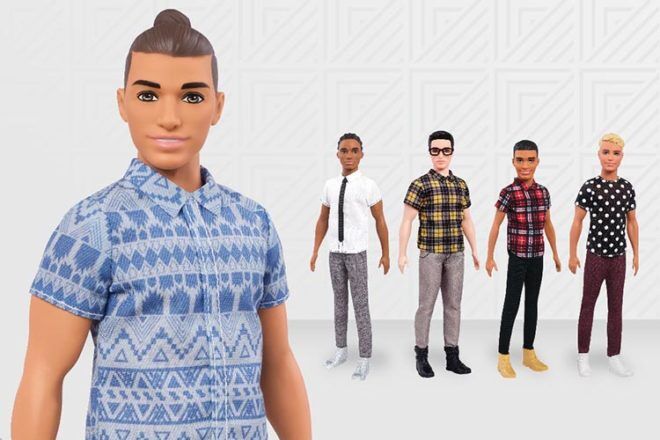 Just when you thought we'd hit peak man bun, Man Bun Ken arrives on the scene. And he is only one of the 15 new Ken doll bachelors to parade into Plasticville.
Known as New Gen Ken, the group of gentlemen come in three different body types, seven skin tones and with nine different hairstyles. Even their smiles and facial expressions are different. The bold move is a clear nod in the right direction as Mattel continues to diversify their Barbie Doll range.
"Evolving Ken was a natural evolution for the brand and allows girls to further personalise the role they want him to play in Barbie's world," says Lisa McKnight, Barbie's senior vice president and general manager. "We are redefining what a Barbie or Ken doll looks like to this generation."
A lot has changed since Barbie and Ken first made their toy store debut over 50 years ago. And Man Bun Ken and his fresh-faced crew are certainly making a splash in the toy industry. But we have just one question for Mattel. Where's Tradie Ken?
---
2016 Barbie releases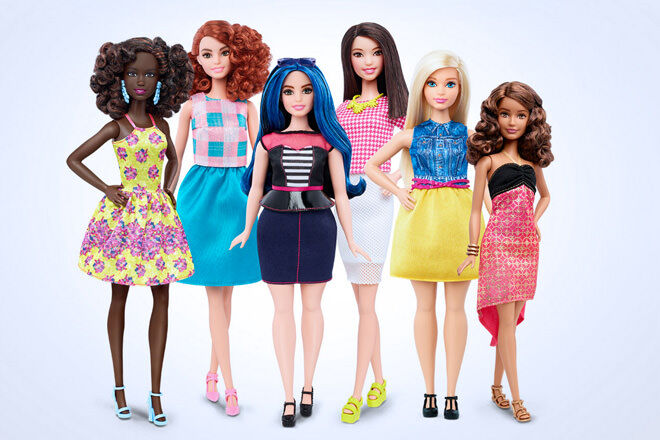 After 57 years Barbie is finally starting to look like the rest of us! Hip hip hooray!
In a top-secret project, Mattel spent two years re-imagining Barbie's shape. Her anatomically-suspect "classic" shape is still available, but there are now three new body types to choose from. Barbie is now more ethnically diverse as well, coming in seven different skin tones, all with different eye colours and hairstyles.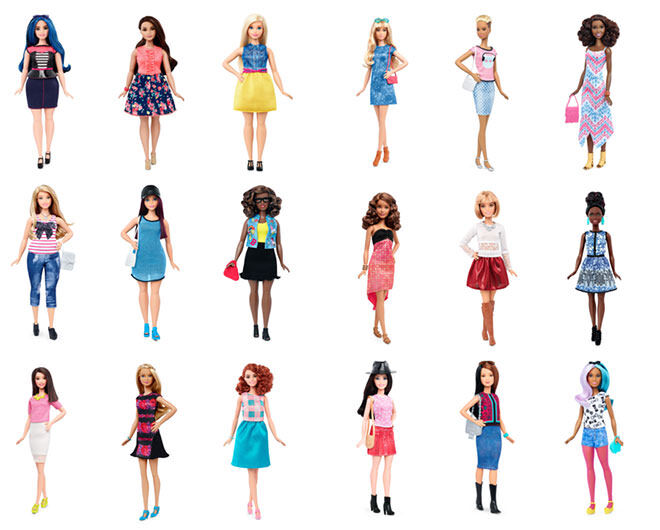 Mattel wants the new Barbies to show children that there isn't a (literally!) narrow standard of beauty through creating dolls that everyone can relate to.
The new range includes tall Barbies, petite (= short) Barbies and curvy Barbies (yes, she does have a tummy!) Available in the US from March 2016, we look forward to seeing them spring up on Australian shelves soon after.
All we need now is the re-release of our personal fave, the Peaches 'n Cream Barbie from the 80's and the world would be a perfect place. We want to see all the new body types rocking that peach chiffon!
---
2015 Barbie releases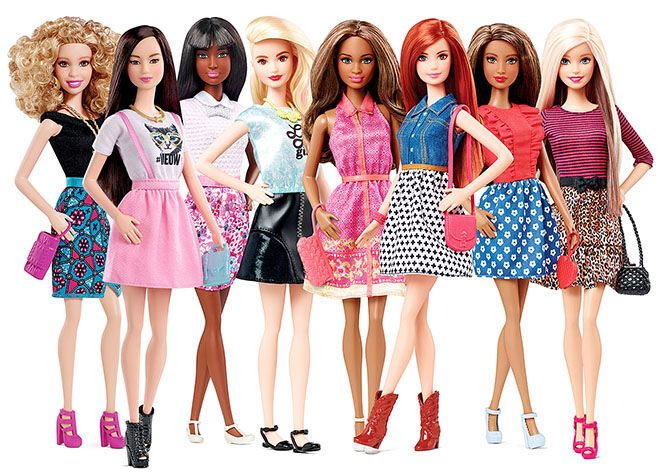 A true lady has a range of different shoe options. Flats, heels, sandals, you always need a variety of choice. Am I right? Barbie, on the other hand, has been on her toes for years wearing only heels. Not anymore.
It's time for a new accessory for Barbie, the flat shoe. For those hot summer weekends when she is just hanging out at the farmers' market or going on a picnic with Ken, she can throw on a strappy sandal and be ready to go!
For the first time since 1959 Barbie, has been given the chance of comfort from a flat shoe. It's part of a new range of 22 different Barbies who are all about personal style and individuality. The new looks are super cute without losing any of her Barbie-ness.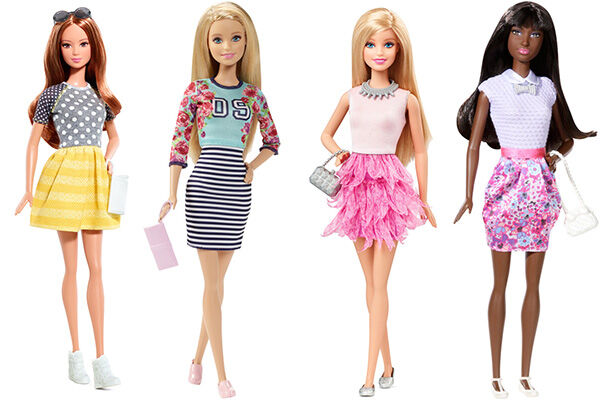 Read next …
Got a doll-obsessed tot in your house? We've handpicked these articles just for you: