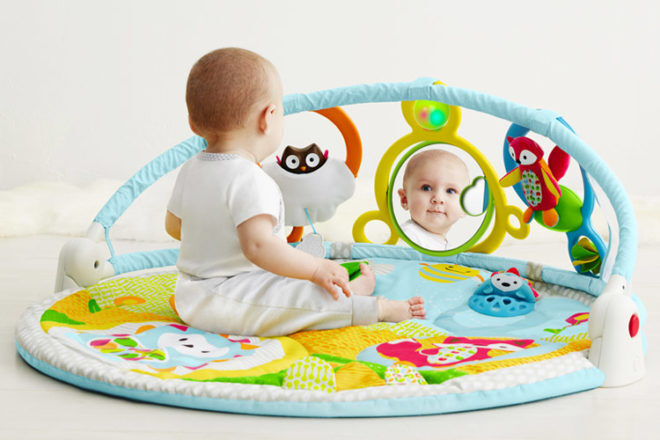 As baby grows, so does their desire to touch, feel and tinker. This is where baby activity play gyms come into their own as the perfect place for babies to explore a whole new world of sensory delights.
Whether it be interacting with moving parts, reaching up to hanging toys or kicking their legs to play a tune, using a play gym encourages their development and stimulates baby's senses all while having a good slice of fun.
What to look for when buying a baby play gym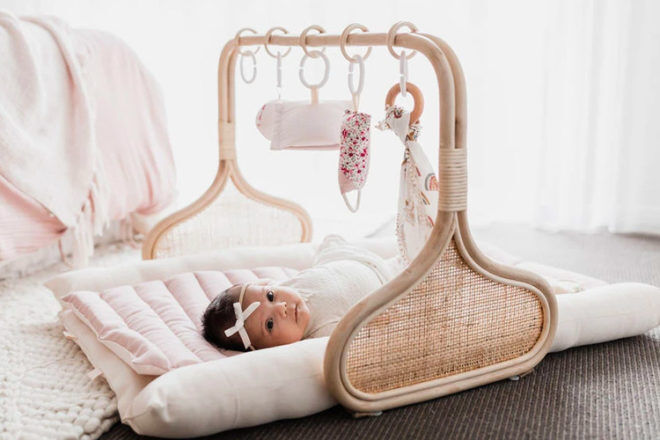 Here are some of the key things to look for when buying an activity gym for your baby:
Size: Think about where the play gym will 'live' before buying something that's far too big for the space. Will it stay in baby's nursery? Or is there a designated corner in the playroom and living room for bubba to play?

Features: Some activity gyms come with all the bells and whistles. From moving parts and musical pieces to a cushioned mat for baby to lie on – think about the longevity of the product before buying something too simple.
Tummy time friendly: Once baby has mastered the art of rolling, there's no stopping them! Keep an eye out for activity gyms that can be just as useful and fun when babe is on their tummy or sitting up like a big kid.
Movability: Can the activity gym be packed away easily or is it out in the open for the long-haul? Think about what space you have at home before buying something that can't be stashed in the cupboard when guests come round for dinner.
Easy to clean: It's no secret that babies are little grubby beings. From Vegemite smears and Weetbix goop to teeny-tiny biscuit crumbs – the activity gym will see it all. If the mess is too much to handle, consider buying a wooden frame that can be wiped clean or look for something that has removable covers.
---
13 Activity Gyms for Exploration
To help you find the perfect baby play gym we've compiled this handy list of our faves to get you started in your search. In no particular order, here they are:
1. Bella Buttercup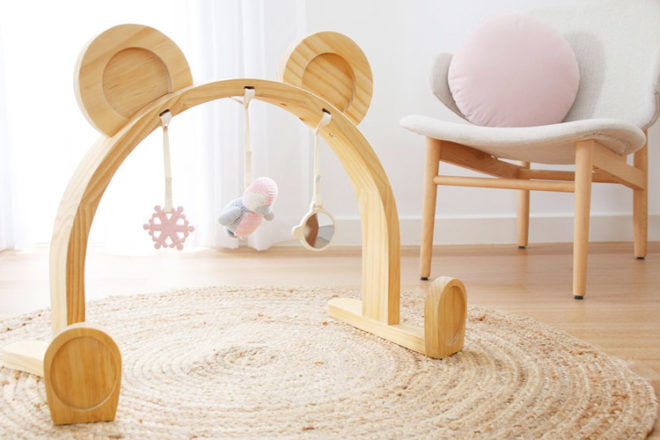 Oozing Scandinavian style, this super sleek play bar is a statement piece perfect for every room. Cute and compact, it's smaller than most activity gyms, making it a real winner for families limited on space. Each bar comes with three toys (one wooden, two silicone) for baby to pull and chew.
---
2. Skip Hop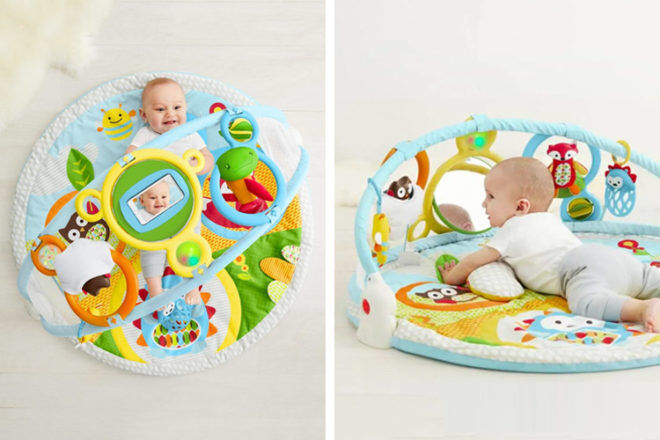 A clever creation from the guys at Skip Hop. Position the arch overhead when baby is teeny tiny then bring it down as they grow to test their tummy time skills. There's a nifty slip for a phone behind the mirror for parents to capture cutie-pie's smiles as well as lots of interactive toys for bub to play with. This one's a real hoot!
"I have this one – it's cool because the top arch flips down so that baby can sit or do tummy time looking at the toys." – Jessica L
---
3. Done by Deer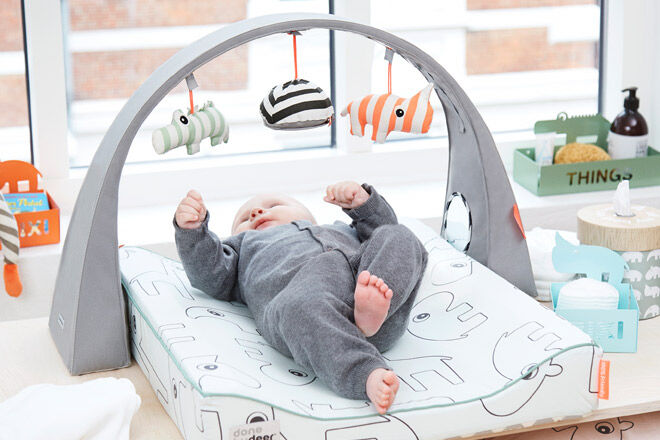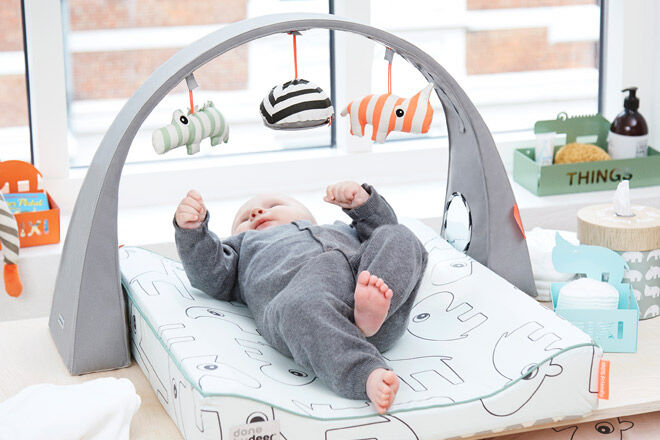 An activity gym that can literally go anywhere and everywhere. Move the weighted feet further apart to lower the arch so it's closer to baby. Or bring the feet closer together to make the toys hang higher. It's a simple design done really well, with lots of bits and bobs (like a mirror and discovery textile patch) for baby to play with too.
---
4. Mocka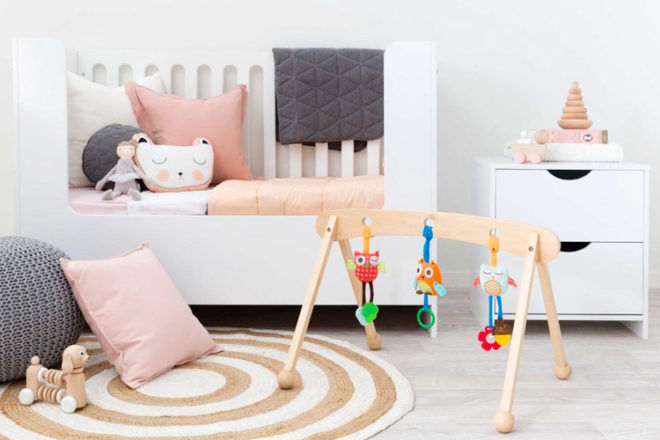 A neat little addition to the nursery, this wooden activity gym is an ideal toy to stimulate bub's senses. The colourful soft owls attract baby's attention before they grab onto the plastic shapes to test their hand-eye coordination.
---
5. Stina's Style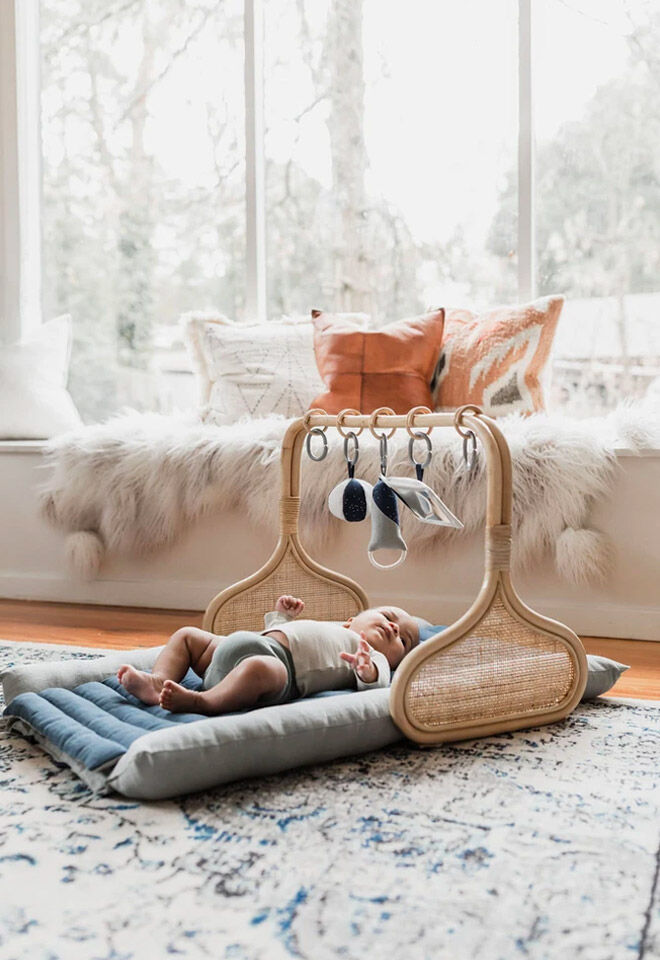 It's the rattan play gym that nearly broke the internet. Now available in five different colourways, play time never looked so good! The base and liner are triple padded for baby's comfort and reversible for two completely different looks. Did we mention that it's machine washable too? We want!
---
6. O.B. Designs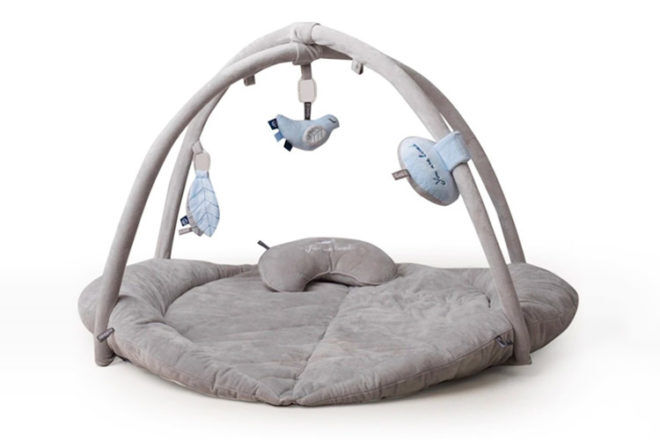 A super-snuggly activity gym with adorable toys to boot. Featuring a raised playmat with a non-slip base, this gorgeous gym has eight toy hooks ready for baby's new friends from the forest. Use the baby pillow to rest bub's head as they play, then pop under their tummy for extra support when the tummy time fun begins.
---
7. IKEA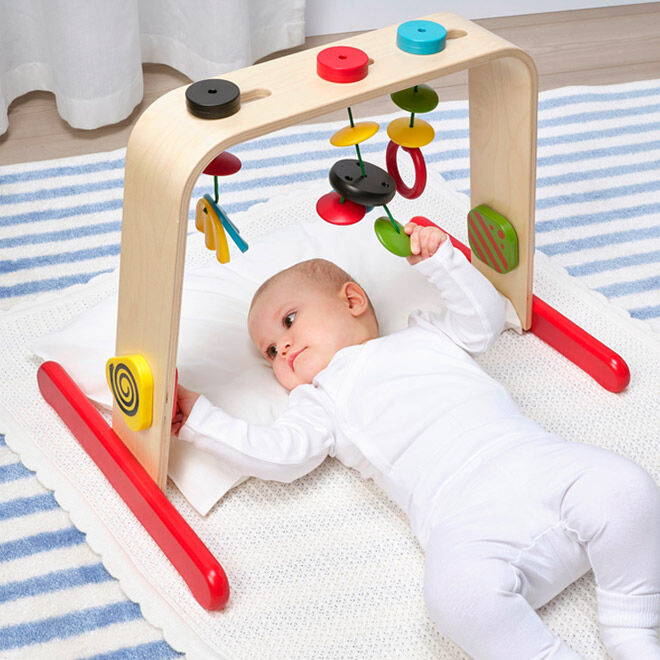 A simply baby gym that keeps baby interested and occupied with its contrasting colours. The wooden base and plastic toys are easy to keep clean and the streamlined design allows parents to take this baby gym with them when travelling with baby in tow.
---
8. Raja Homewares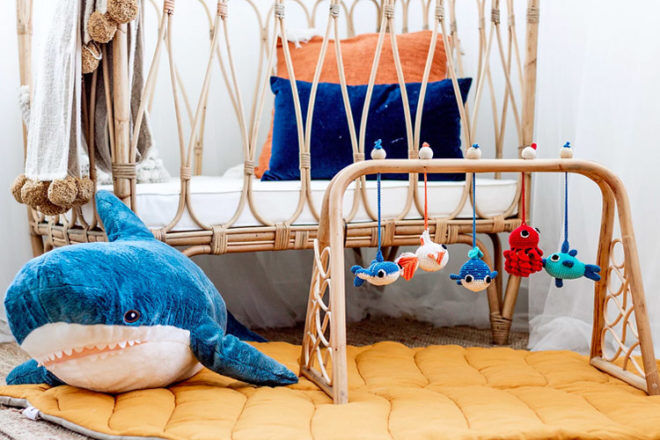 Activity gyms come in all shapes and sizes but the Marine Dreams may just be the sweetest of all. The contemporary take on rattan and crochet (just look at those cute sea creatures!) make our hearts skip a beat. And when playtime is over, simply remove the crochet toys and the play bar transforms into a mini clothes rail for tiny threads.
---
9. MIOPLAY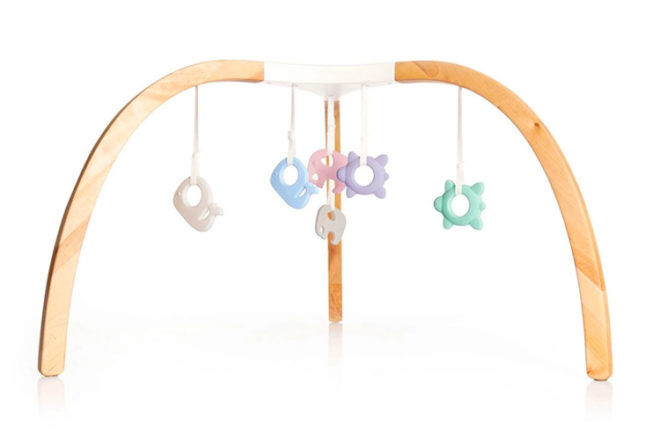 A stunning baby gym that blends seamlessly into the rest of the home. Designed by an award-winning team of Australian designers, this beautiful activity gym supports the key milestones of babies development from birth up to their first birthday. The timber frame and silicone toys are also a cinch to clean. Win-win.
---
10. My Little Giggles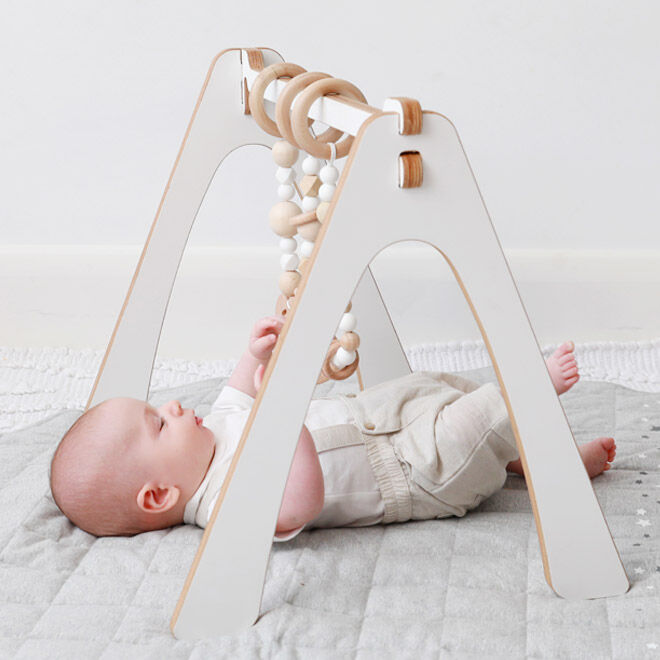 This paired-back play bar has a unique interlocking frame that makes assembly and packing away a breeze. Perfect for travel, the Scandinavian-inspired play bar comes with three toys of your choice to match the decor of bubs nursery. We love!
---
11. Clover & Lola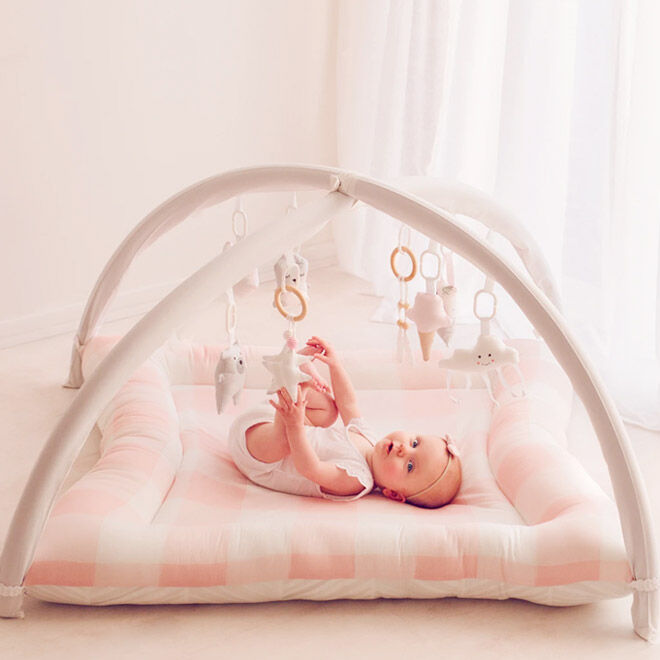 The Clover and Lola activity mats are cushioned with quality wadding for baby's comfort. Place hanging toys in the fabric loops above and once bub can sit unassisted, simply remove the poles to create an open space for them to play.
---
12. &me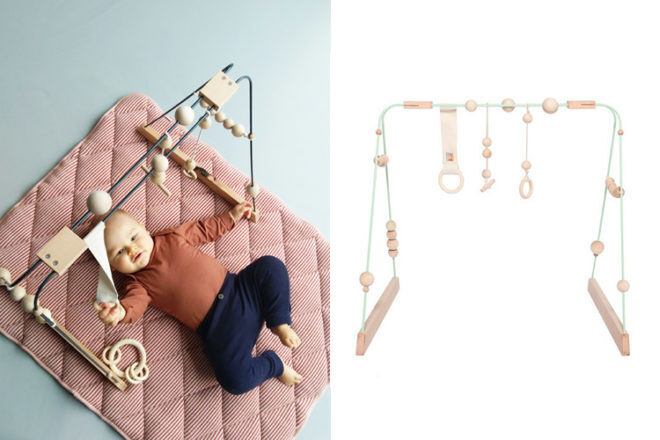 Boasting clean lines and an impeccable finish, this is a fabulous choice for any contemporary home. The baby gym frame is made from coated steel and FSC wood, and partners beautifully with the wooden balls and cotton rope accessories.
---
13. Wild Indiana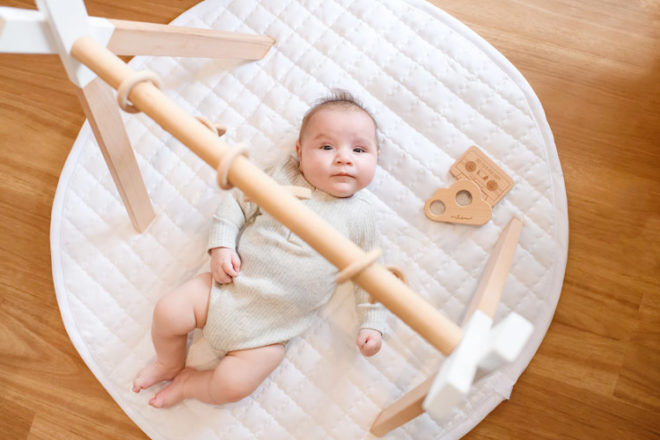 Crafted, sanded and painted by hand, this A-frame style play gym gives baby somewhere safe to play while encouraging their development. The space-saving design means the activity gym can fold away flat when not in use or stored out of reach until it's time to play again.
---
This post includes affiliates and/or paid inclusions. See our Disclosure Policy.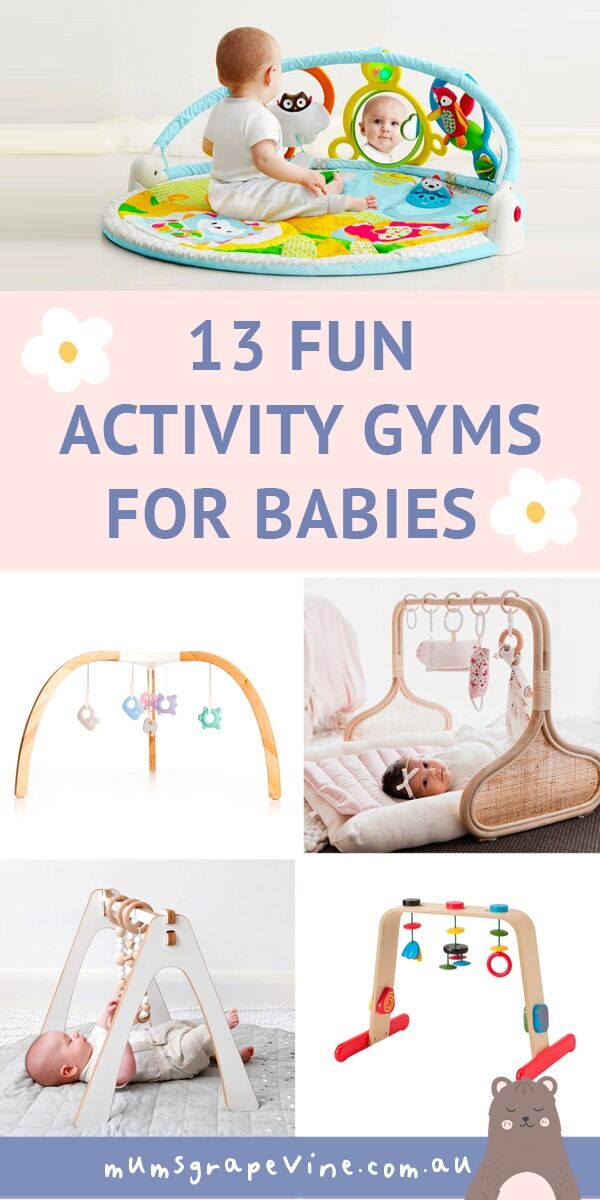 Read next …
Looking for more ways to stimulate baby's senses and aid their development? Here are a few articles that you might like to read next:
Continue your search for the best baby activity gyms
Searching for the best baby activity gym and still not sure if any of these are right for you? Continue your search online by jumping into one of our closed Baby groups and ask thousands of other Australian mums what they recommend – 'What to buy' is the most talked-about topic, followed by MIL vents!
Click below and join your group today!