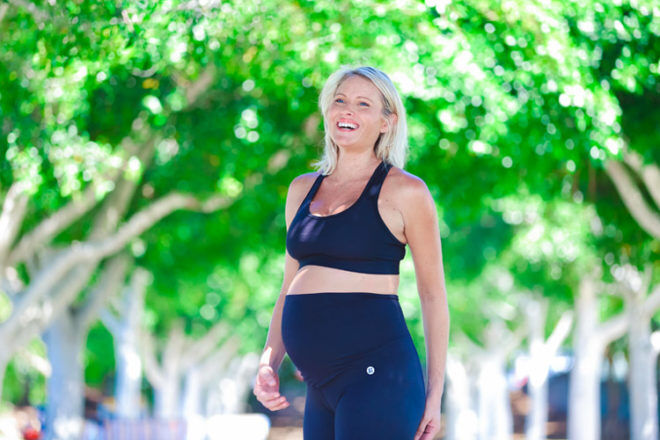 It's a running joke that leggings and the perfect 'mum bun' is a mum's signature style. As much as we love this casual look for grabbing our weekend coffee, maternity leggings offer expecting mums the comfort and support they need while staying active throughout their pregnancy.
Whether it's a gentle walk in the park or a session of pilates with friends, a good pair of maternity leggings makes all the difference.
What to look for when buying maternity leggings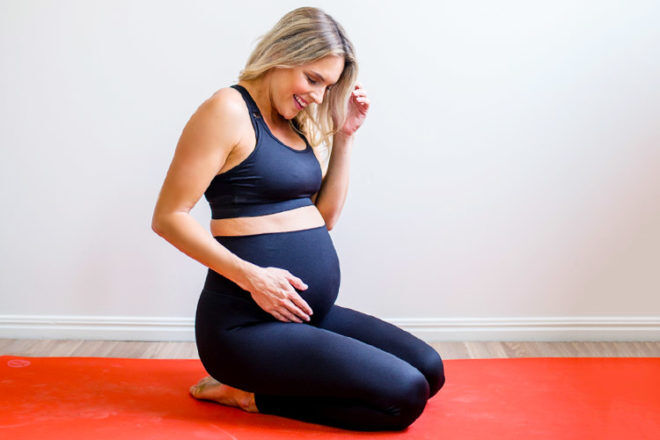 Here are some of the key features to look for when buying maternity leggings:
Stretch: With a teeny tiny human growing inside that belly, it's important to find maternity leggings with a decent amount of stretch. That being said, the last thing any mumma wants is for her leggings to fall down mid-squat. Try to find the perfect balance for the activities you'll be taking part in while pregnant.
Fabric: Leave the VPL's behind and look for a pair of leggings that won't turn see-through when stretched. Being comfortable is key, so search for fabrics with decent breathability to keep that glowing bod cool during a workout.
Fit: Under-the-belly, roll-down, high-waisted – when choosing the fit, think about what makes you feel most comfortable and the intensity of your workouts.
---
11 Maternity Leggings for Pregnancy
We asked our Pregnancy and Baby group members to recommend the best maternity leggings available and these are the brands they recommend.
1. Blanqi Maternity Leggings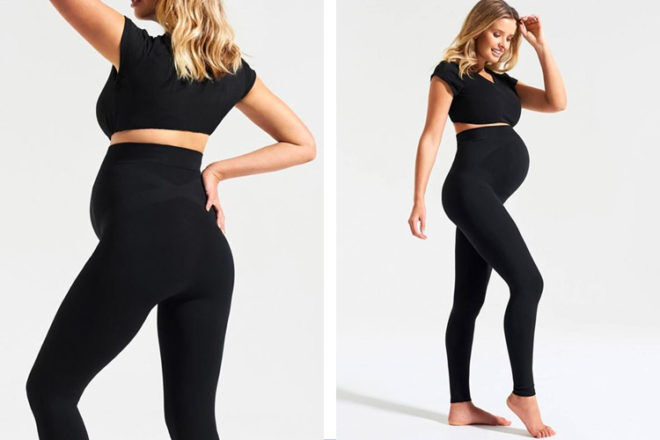 An absolute game-changer when it comes to maternity leggings. An X-shaped back support reduces pressure on the lower back while the knit-in belly support lifts and alleviates weight from that gorgeous growing bump. Clever!

---
2. Active Truth sports leggings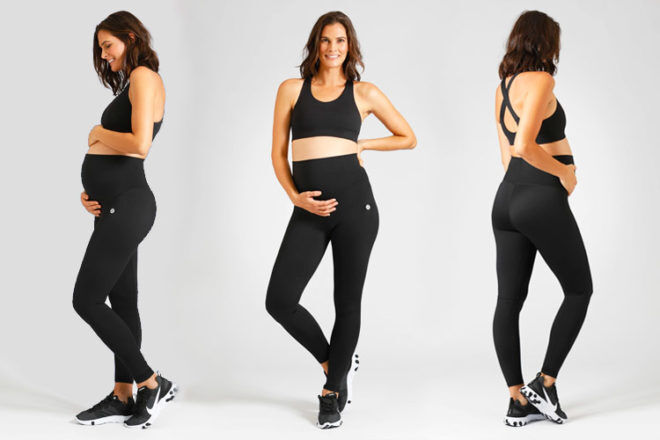 Full-length, squat-proof and with zero transparency, these pregnancy tights tick all the right boxes. The high-rise belly band gives full coverage and support during pregnancy, and when baby arrives, simply roll the waistband down over the hips for a comfortable fit without added pressure.
"Definitely Active Truth if you want them for exercise. Super comfy over the bump…and definitely squat-proof. I'll keep wearing them afterwards and am keen to try their non-maternity ones as well." – Jessica M
"Active Truth! I have lived in mine… best purchase I've made." – Victoria P
"I have literally been living in these… have bought a second pair and a pair for after baby. They are by far the best tights I've ever owned and they have a version with pockets!" – Nikita K

---
3. Cadenshae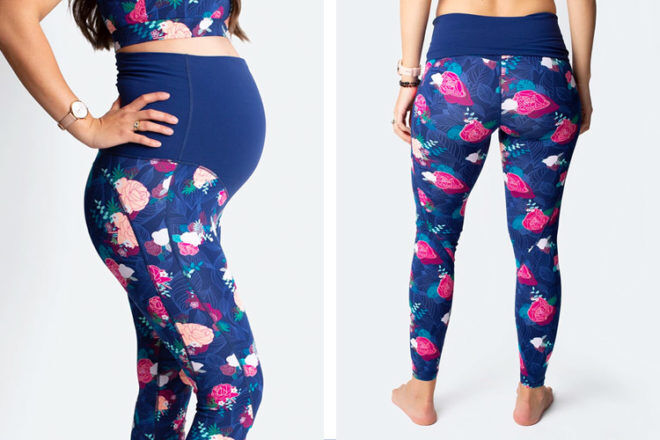 Constructed with a recycled fabric that provides a smooth, flattering finish, these tights support expecting mums in all the right places. Perfect for exercise during and after pregnancy, the clever waistline scoops low to save irritation on c-section scar tissue.
"Would highly recommend Cadenshae leggings. They're such good quality and the stomach band is super supportive. They're only online but sizing was spot on for my normal size." – Dominique O
"Check out Caedenshae. 100% squat-proof and super comfy." – Lisa D
"I agree with this! I can dance for hours and not have to yank them up once!" – Emma K
"I've been wearing them from 18-26 weeks & they're fitting perfectly with room for my growing bump." – Madeleine B

---
4. Rockwear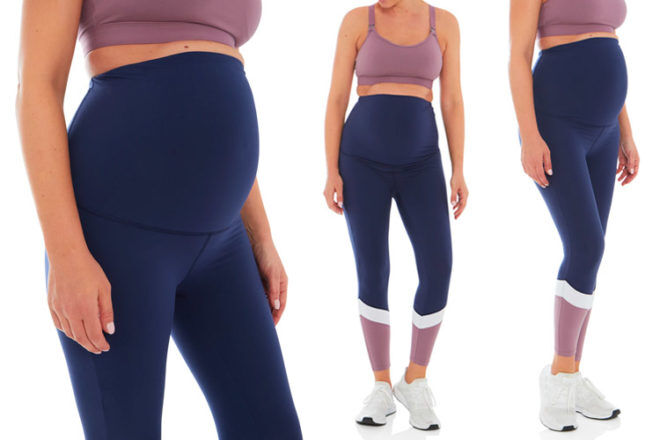 We're totally crushing on these colour block pregnancy tights! Perfect for yoga, pilates, running or weights, the full-length leggings have an ultra-high waistband and supreme stretch fabric to ensure mumma bear always has the support she needs.
"I got some fabulous maternity gym tights from Rockwear, they are such amazing quality. I teach dance for a living so live in my gym tights… they are so comfy too." – Krystle S
"Rockwear has amazing maternity leggings… Nice and thick and don't fall down."  – Shayna H
"Highly recommend Rockwear, it's the ones I wear for F45 which includes plenty of squats!" – Vanessa R
"I just got some from Rockware, they are really good quality and they aren't maternity so will help with compression once Bub is born. They are really comfy now and come right up over my bump. I'm currently 30 weeks and quite big!" – Jacqui L

---
5. Bae The Label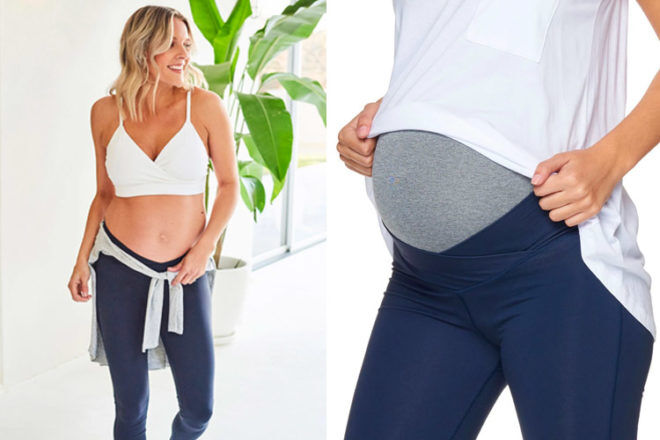 Thoughtfully designed to adapt to mumma's changing shape, theses bump-friendly leggings feature a cross-front waistband to help them sit comfortably all day long. A quick-drying nylon and lycra blend makes them super breathable with just the right amount of stretch. Perfection.

---
6. Lorna Jane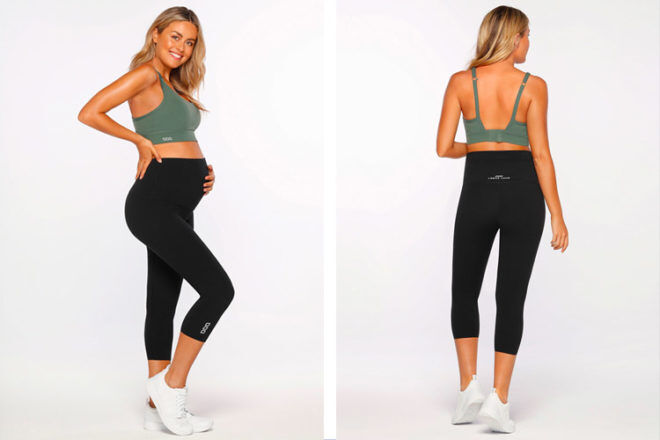 Designed to grow with mum (and bump!) throughout pregnancy, these pregnancy tights have a 4-way stretch to help mums feel supported without restriction. Fold the waistband up over the bump or roll down to sit on the hips for a more relaxed fit.
"I got the maternity ones from Lorna Jane and live in them! Super comfy and I stayed in my normal size even now at 36+ weeks. The band is very comfortable on the belly and even after birth I will be able to still wear them."  – Kaitley D

---
7. Pea in a Pod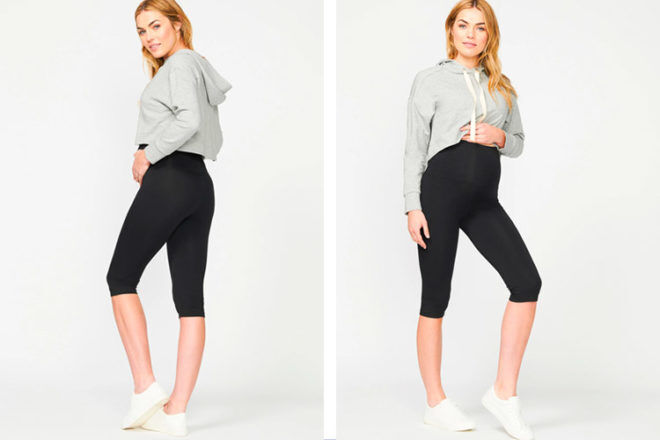 Stretchy, comfortable and breathable, yay! Boasting a 2-way stretch and anti-pilling technology, these leggings are suitable to wear during all three trimesters and well into postpartum too.
"I got some great leggings from Pea in a Pod…very thick material and super comfortable." – Catherine D
"Pea in a Pod maternity leggings have been my favourite so far." – Emma W

---
8. Lululemon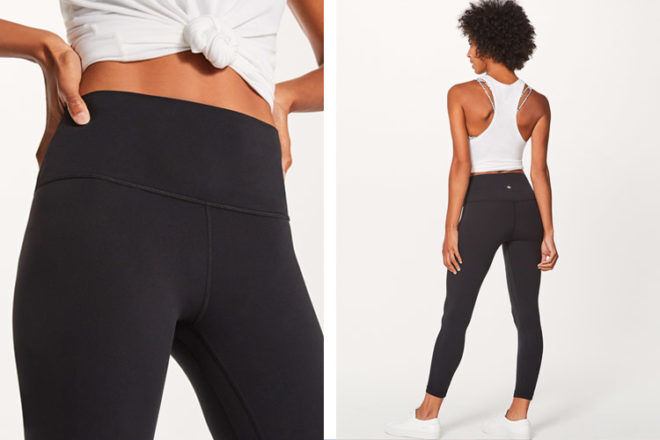 They may not be intended as maternity leggings but they're the high-rise pants many mums-to-be swear by. The buttery-soft fabric has sweat-wicking properties to keep mama comfy as she moves and the super-thick waistband stays put no matter how low the squat. We love!
"I bought so many pairs before committing to a Lululemon pair about 3 weeks ago. The poor things have been washed and worn on repeat ever since."  – Tara C
"I'm 36wks and have been living in my Lululemon Align tights. They're amazing. Super soft, flattering, comfy, high rise and squat-proof. A lot of pregnant people buy these! You'll be able to still wear them after baby too." – Natalie A
"100% the Lululemon Align tights! So stretchy! You'll be able to wear them after pregnancy too." – Katherine H

---
9. Cotton On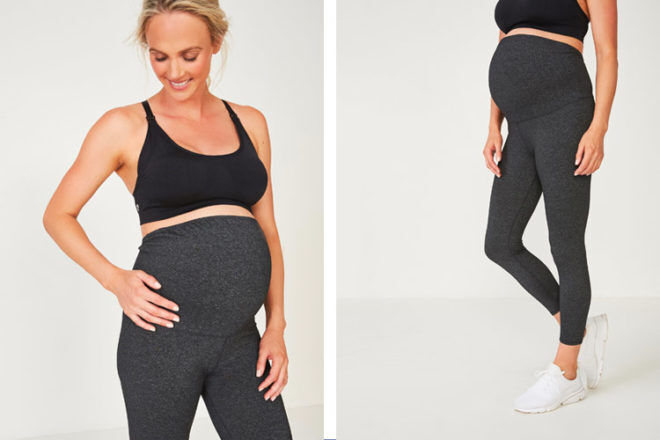 Comfortable and affordable these pregnancy tights are ideal for mums looking for good value maternitywear. Thanks to the super stretch fabric, the curved waistband fits comfortably over your bump whether your lounging in the living room or doing lunges at the park.
"I bought 4 of them in different colours and pretty much live in them." – Ekta C
"Cotton On maternity leggings are amazing… squat proof and I have the navy, black and grey. They are so comfortable!" – Kerryn Smith

---
10. Ripe Maternity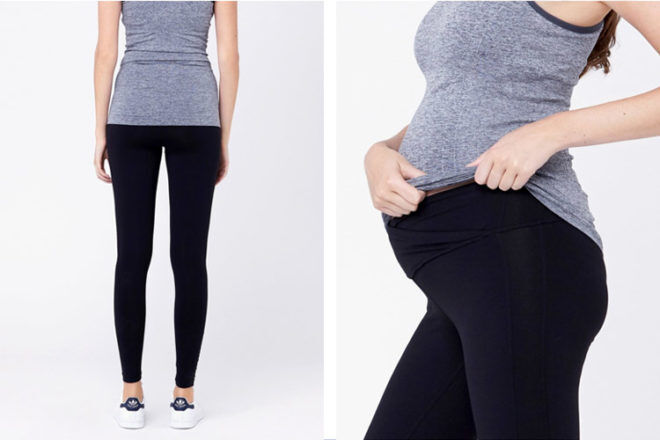 Designed to make expecting mums feel confident and comfortable these slim-fit leggings feature a mesh ankle detail and a functional back pocket to stash those keys or cards. Brilliant.
"I wore Ripe Maternity tights, so comfy! I did Pilates until 38 weeks". – Jenelle C

---
11. Soon Maternity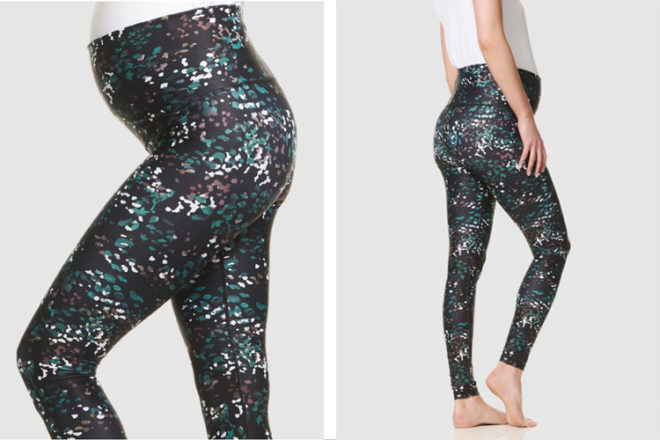 A functional and fashionable offering from Soon. Designed for optimum durability and breathability, the high waistband sits over the bump to give new mums comfortable compression as they move. The fun fabric has a two-way stretch for freedom of movement and wins big in the style stakes too. We love!

---
12. 2xu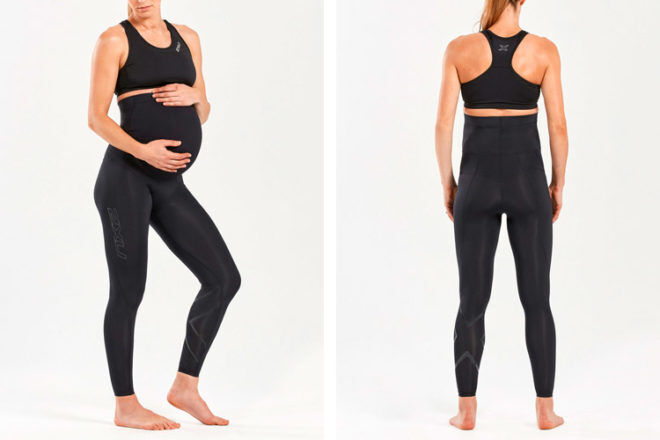 Supporting all the physical changes your body goes through while pregnant, these premium pregnancy tights use compression technology with targeted panels to provide optimum support common areas of strain – think pelvic floor muscles and the lower back.

---
This post includes affiliates and/or paid inclusions. See our Disclosure Policy.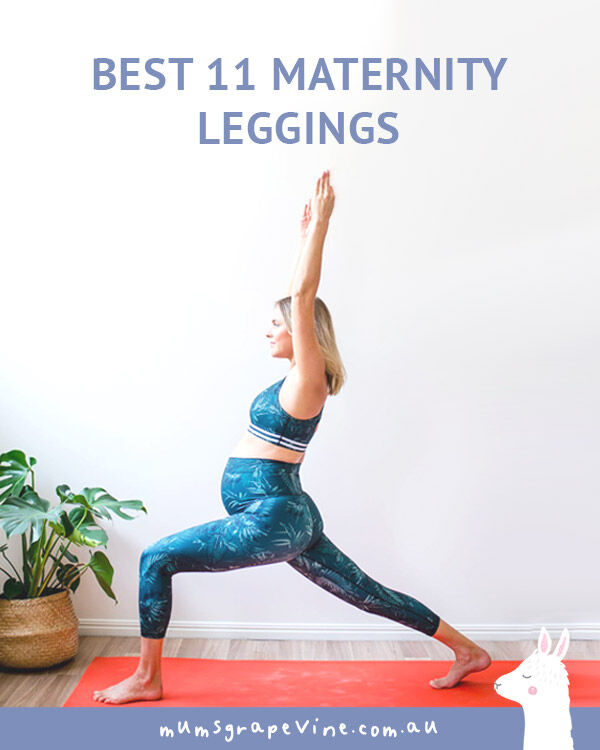 Read next …
Looking for more maternity wardrobe must-haves? We've done all the hard work for you:
Continue your search for the best maternity leggings
Looking for maternity leggings and still not sure if any of these are right for you? Continue your search online by jumping into one of our closed Baby groups and ask thousands of other Australian mums what they recommend – 'What to buy' is the most talked-about topic.
Click and join your group today!