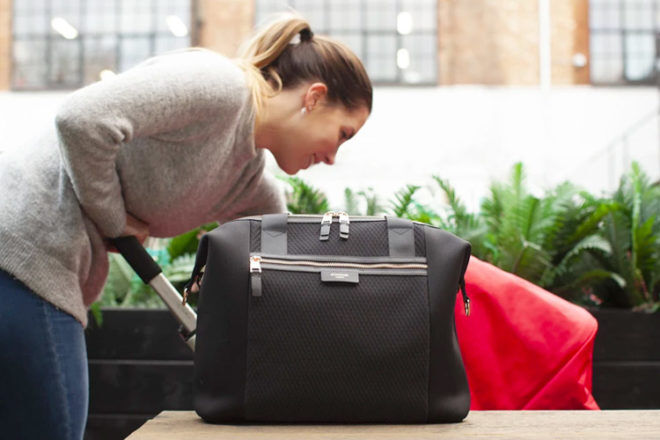 When you say hello to baby, you can say goodbye to the days of going out with just your phone, keys and purse. Babies need a lot of stuff. And most new mums learn pretty quickly it's better to be prepared than to be caught short.
That means lots of packing. Suddenly, your faithful old handbag doesn't cut it any more and it's time to upgrade. But while a good nappy bag is invaluable, there are so many choices out there. So, where do you start?
Things to look for when buying a nappy bag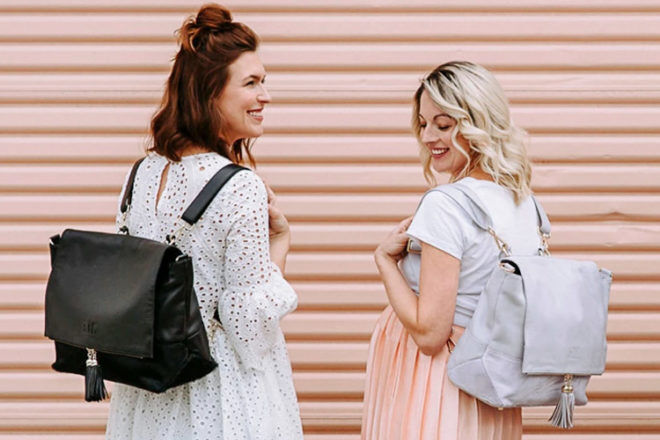 Here are the key features to look for when buying a nappy bag:
Style: Your nappy bag will be your best friend for a good couple of years, so choose a style that suits your life. If you like your space, consider a tote. If you like your hands free, consider a backpack. Or if you're a minimalist, a clutch should do the job.
Storage: Parents need a bag big enough to carry all the bits and bobs bub needs. Beyond just nappies, think change mat, change of clothes, wipes, bottles, snacks, toys – this list goes on and on. But also think about how to arrange that space. Lots of bags come with built-in pockets, dividers and even waterproof sections.
Accessories: Does the bag come with necessities such as a change mat and bottle holder? Some even come with wipes dispensers and wet pouches. We think the more accessories, the better!
Straps and handles: Wrestling with a nappy bag while poppet's on your hip can get a bit messy. Many nappy bags come with multiple straps for flexibility so keep an eye out for a bag that's easy to grab and go. Short handles are easy to grab, a long strap is easy to sling over your shoulder and stroller straps help take the load off and clip the bag to bub's rig.
Durability: As a faithful travel companion, the nappy bag is going to get a beating. From the car to the stroller, to the park, to the shops and more. Look for quality stitching and material that's strong enough to go the distance. Some nappy bags even come with little feet to protect the base and give it stability.
Washability: There's no avoiding little messes and spills with a tiny tot around. Bags that easily wipe clean or come with removable washable inserts can save a lot of elbow grease come clean up time.
---
13 nappy bag brands for mums on the run
To help you find the best nappy bags for you and your babe, we've rounded up our favourite brands to help get you started in your search. In no particular order, here they are:
1. OiOi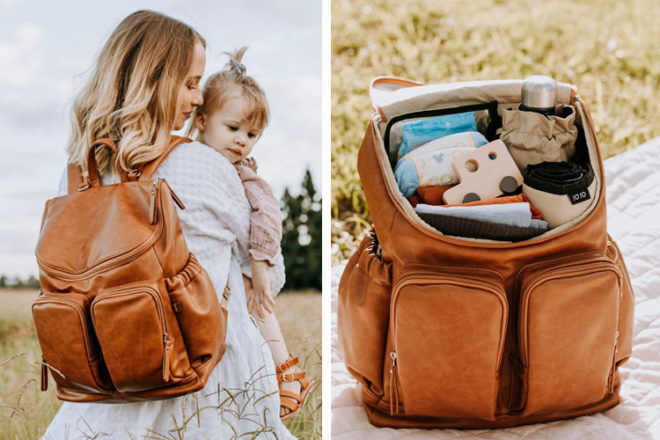 Receiving praise from mums Australia-wide, we can see why this faux leather nappy backpack is a hit. Crafted from easy-wipe-clean materials, its roomy design fits everything you need for a day trip with tots in tow. It comes with two insulated bottle pockets, change mat and a very handy wet purse.
In the range: Totes, backpacks, bags
Materials: Leather, faux leather, linen, canvas
Accessories: Sunglasses case, wet bag, stroller straps, change mat, bottle holder

---
2. Babymel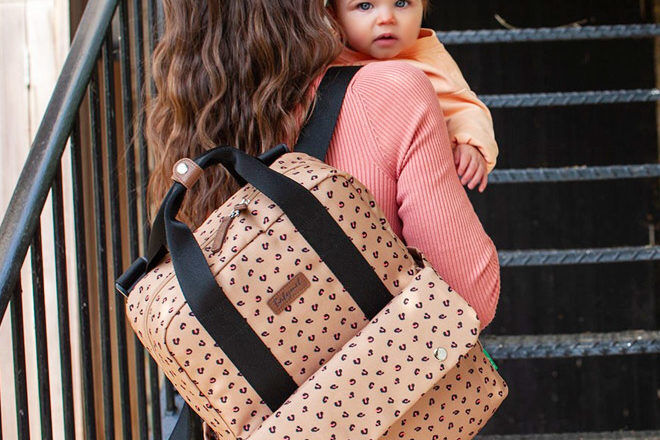 If you're after versatility, look no further than Babymel. One bag can be worn in four ways, like the Georgi Convertible Backpack. Use the convertible strap to wear it as a backpack, shoulder bag, cross-body or handheld. Easy peasy!
In the range: Totes, backpacks
Materials: Polyester, faux leather, scuba
Accessories: Stroller straps, change mat, shoulder strap

---
3. Isoki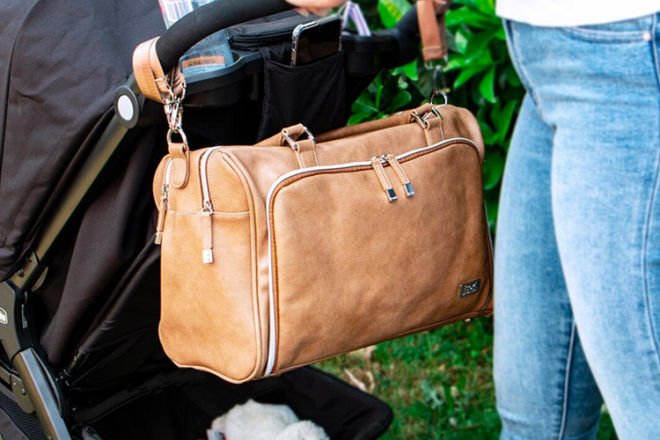 Boasting 13 pockets, this baby holds everything you could need with bub in tow. Fully lined with waterproof fabric, the double zip satchels are available in six colourways to suit every mumma's style.
In the range: Clutch, purse, satchels, crossover bags, totes, backpacks
Materials: Canvas, wipe clean exteriors
Accessories: Change mat, bottle bag (available separately)

---
4. Il Tutto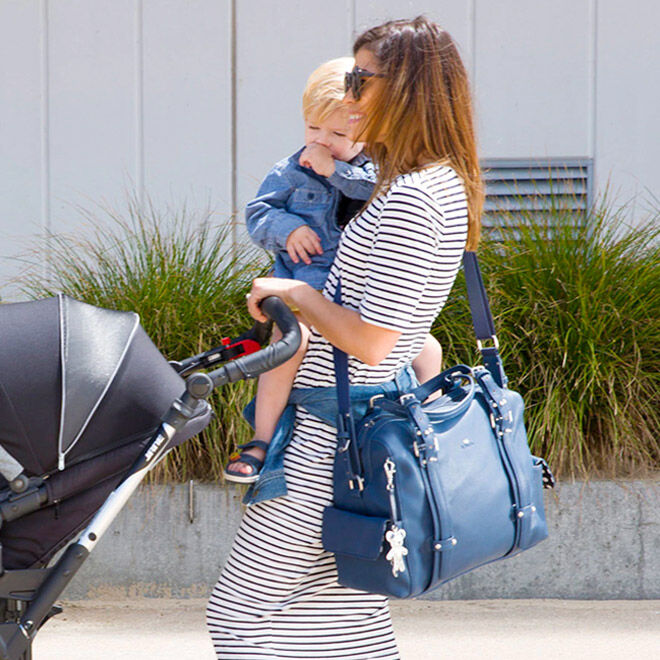 Inject a little euro-chic into your day with an Il Tutto nappy bag or backpack. Packed with all the essentials, it even comes with a matching collectable Il Tutto monster teddy so your poppet will always have something to play with.
In the range: Tote, backpack
Materials: Faux leather, nylon, patent leather
Accessories: Bottle bag, wet bag, change mat

---
5. Alf the Label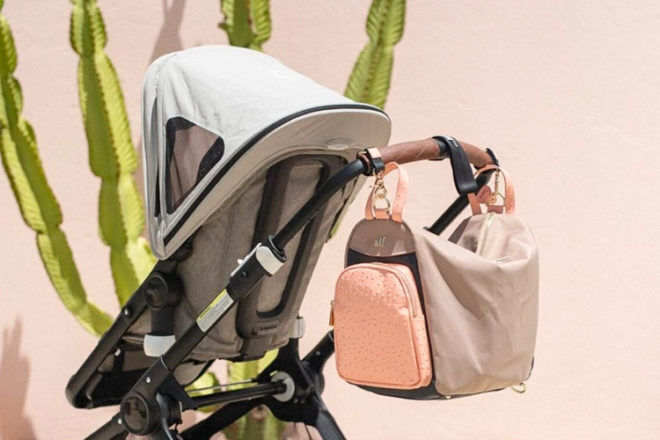 Just because it's a nappy bag doesn't mean it can't be a little bit luxe. And Alf has it in spades. Check out The Maud – a 4-way duffle backpack that can be worn five different ways. With chic styling and accessories aplenty, it's full-on fancy pants meets all things functional. We love!
In the range: Totes
Materials: Leather and cowhide
Accessories: Change mat, pram clips, bottle holder, crossbody strap

---
6. Storksak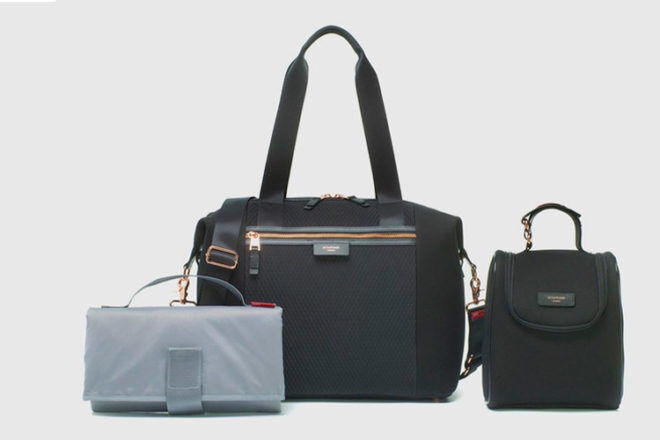 From backpacks to totes, Storksak has it all for the modern mumma. If you're looking for something a bit different, check out the Stevie Scuba – it's packed with pockets and oozing with style.
In the range: Totes, backpack
Materials: Nylon, leather
Accessories: Change mat, bottle holder

---
7. Gr8x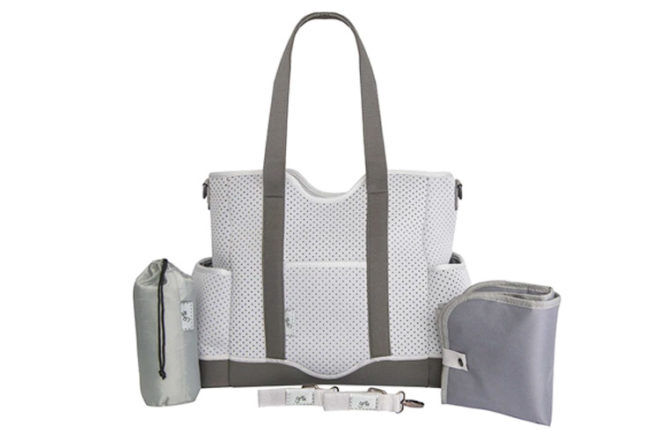 There's a huge range of totes, satchels and shoulder bags to suit every kind of mum at Gr8x. Lighten up with the lightweight Lulu Neoprene Tote. Super durable with a removable base, it's even machine washable.
In the range: Totes, satchels, shoulder bag
Materials: Neoprene, canvas, microfiber, PU leather, PU canvas laminate
Accessories: Pram straps, change mat, bottle holder

---
8. Tiba + Marl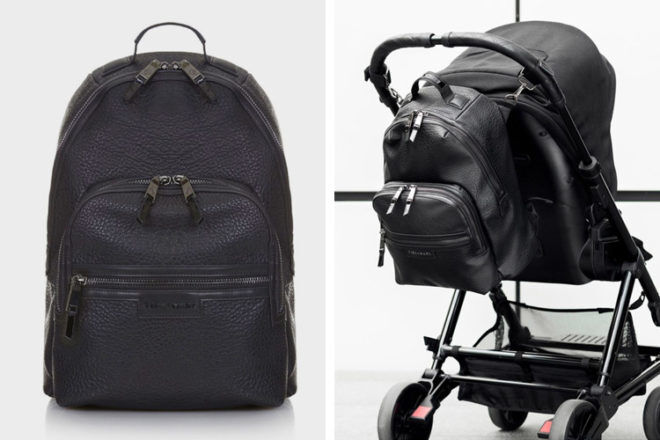 Raising a bub can be hard work. So why not use the ultimate bag for the job. Tiba + Marl make a stunning range of multipurpose bags for the modern-day parent. Take the laptop out and slip the nappies in. Stunners like their Elwood Backpack handbag have become the ultimate nappy bag.
In the range: Backpacks, holdalls, change clutches
Materials: Faux Leather, polyamide
Accessories: Wet bag, change mat, insulated bottle holder

---
9. Toots & Co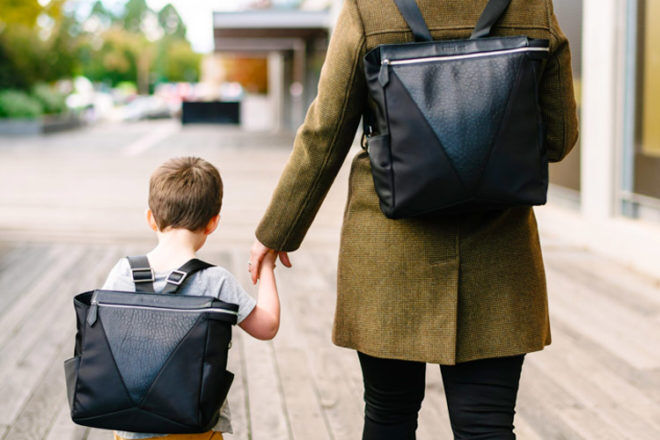 Toots & Co bags are meticulously designed to not only look amazing but to magically transform to suit every situation. Need a nappy bag but not ready to say goodbye to your handbag? Pair the Pinnacle Tote or Everything Backpack with the removable Orbit Cross Body bag and you'll have both.
Also, check out their Mini backpack that converts to a smart shoulder bag. Genius.
In the range: Totes. backpacks
Materials: Leather and nylon
Accessories: Adjustable straps, change mat

---
10. PacaPod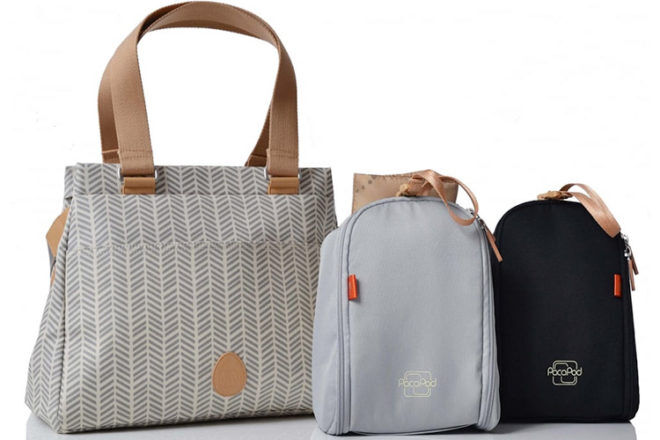 This isn't just a nappy bag – it's a 3-in-1 organising system. Outside is for you and inside is all about baby. Featuring two clever pods to help keep everything in place, the feed pod (aka the cool bag) keeps bottles or snacks at the right temperature while the changing pod is for wipes, nappies, creams and more.
In the range: Totes, bags, backpacks, satchel
Materials: Leather, coated canvas, cordura type material
Accessories: Packing pods, change mat

---
11. Vanchi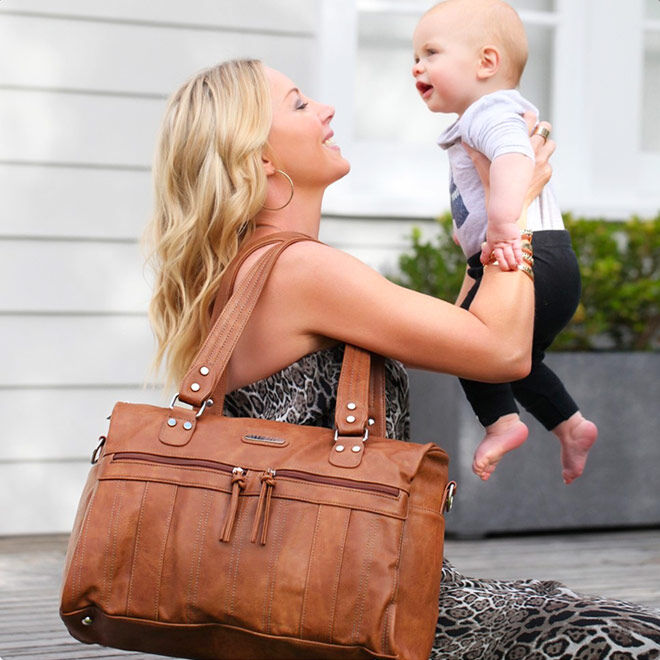 These guys are all about class and their totes are totes amazing. The Indie is equal parts ease and elegance – perfect for parents on the go.
In the range: Tote, bags, backpack
Materials: Leatherette
Accessories: Wipes case, change mat

---
12. Budu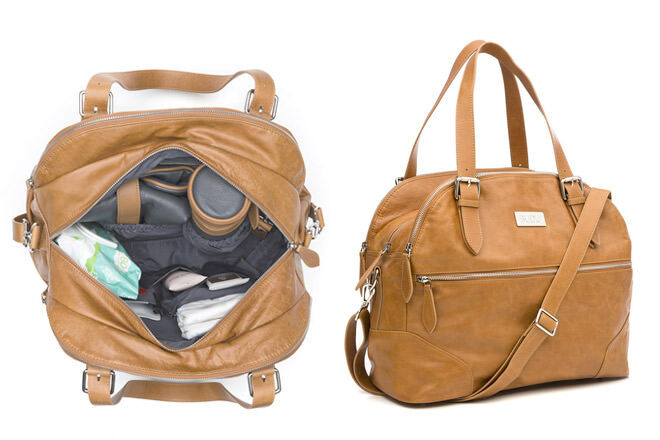 They may only do two nappy bags (to match their stylish baby carrier) but they do it so very well. Generously sized and packed with pockets, it even comes with a zip-out removable lining for easy washing.
In the range: Tote
Materials: Leather
Accessories: Bottle holder and change mat sold separately

---
13. Obi Kinomi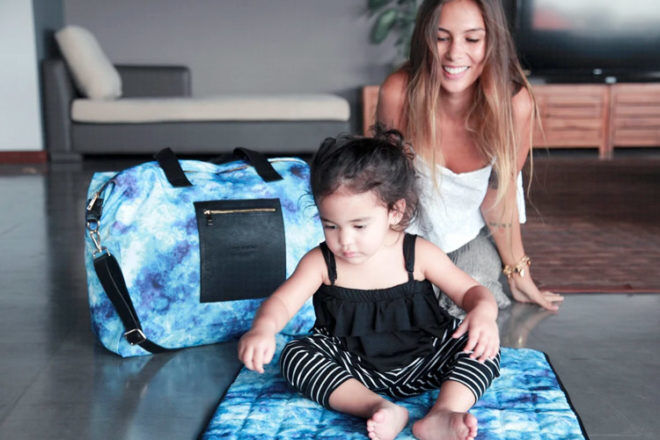 Say goodbye to boring with Obi Kinomi. Look like a star with the Baby Weekender nappy bag – a digitally printed canvas stunner. Complete with matching change mat, you're sure to stand out wherever you go. Classic black styles are also available if this one's a little bit bold for you.
In the range: Totes
Materials: Canvas, nylon
Accessories: Insulated side pockets, change mat, shoulder strap

---
This post includes affiliates and/or paid inclusions. See our Disclosure Policy.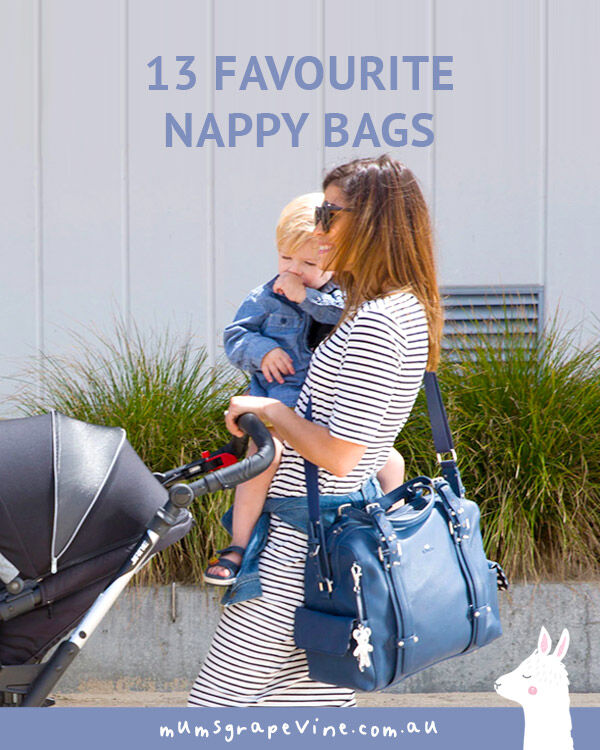 ---

---
Read next …
Looking to tick more off that 'buying for baby' list? These next articles have a few of the daily essentials covered:
Continue your search for the best nappy bag
Looking for a nappy bag and still not sure if any of these are right for you? Continue your search online by jumping into one of our closed Baby groups and ask thousands of other Australian mums what they recommend – 'What to buy' is the most talked-about topic.
Click and join your group today!