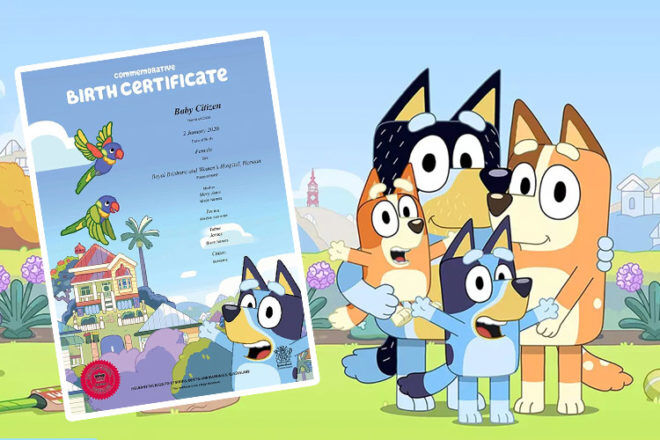 Thanks to a deal between BBC Studios and the Registry of Births, Deaths and Marriages, Bluey fans in Queensland can get their very own Bluey commemorative birth certificate.
The designs, Bluey Queensland, Bluey Brisbane and Bluey Beach, showcase Queensland through the eyes of Australia's favourite Blue Heeler.
There are three certificates to choose from, all of which have been designed by Bluey creators, Queensland-based production studio Ludo Studio. Bluey Queensland encapsulates the quintessential Queensland neighbourhood with frangipani and jacaranda lined streets and Queensland houses. Bluey Brisbane showcases the view of the city's skyline from the Heeler family's verandah and Bluey Beach features the Heeler family on one of Queensland's many pristine beaches.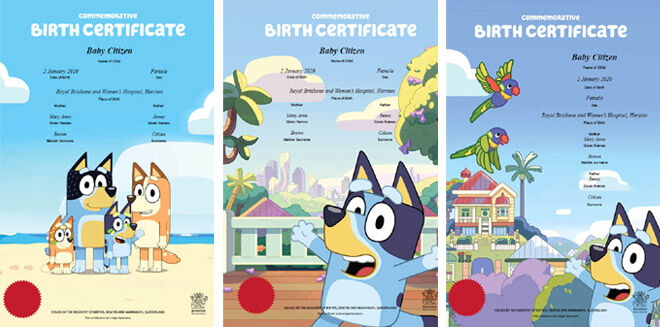 Bluey is the most-watched series ever on ABC iview with over 200 million program plays and is the number one children's series on metro broadcast television in Australia. The series also picked up a Logie Award for 'Most Outstanding Children's Program' and an AACTA Award for 'Best Children's Program' in 2019 and is currently nominated for an International Emmy Kids Award.
Place an online order for a Bluey commemorative birth certificate at www.qld.gov.au/bluey. Applicants must have been born or adopted in Queensland and their birth registered with the Registry of Births, Deaths and Marriages.
The Bluey commemorative birth certificates retail for $25.75 and are available now.