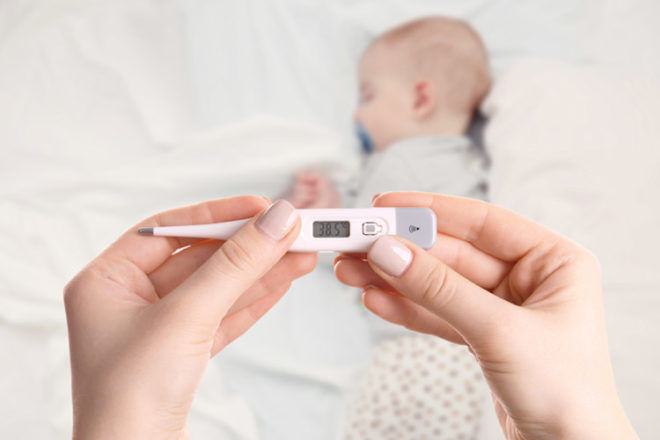 It's a well-known fact that babies get sick. A lot. And the only accurate way to know if little ones have a temperature is by using a baby thermometer. So a reliable, accurate and easy-to-read thermometer is a must for every family's medical kit.
From digital probes and temperature strips to clever Bluetooth patches, there's now a huge a variety of baby thermometers to choose from.
What to look for when buying a baby thermometer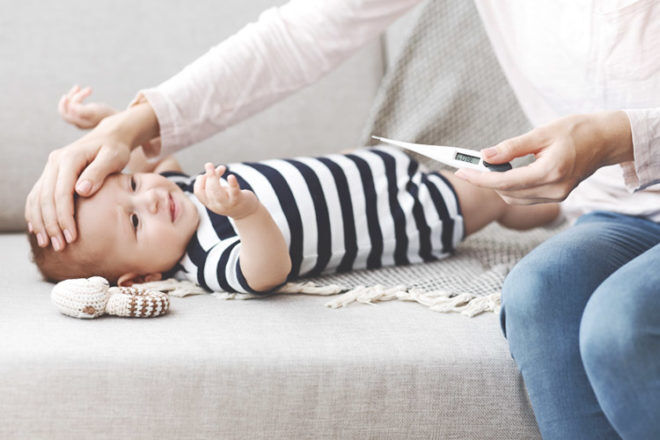 Gone are the days of a one-size-fits-all mercury thermometer. Now there are plenty of different options for taking a baby's temperature.
Here are some key things to look for in a baby thermometer:
Type: There are a few main types of thermometers that can be used to take a child's temperature at home:
Digital probe – for armpit, oral or rectal readings.
Tympanic or ear thermometer – uses infrared rays to read the core body temperature.
Forehead thermometer – uses an infrared scanner to take the temperature of the temporal artery in the forehead.
Combination – A thermometer that is able to do ear and forehead readings.
Temperature strips – Like grandma used to use! They contain heat-sensitive crystals that react by changing colour.
Bluetooth – An adhesive patch that sticks under bub's armpit and connects to an app which reads and then tracks the baby's temperature for a period of time.
Accuracy: There's debate about the most accurate type of baby thermometer. A great tip from the mums we asked is to take the thermometer you purchase to your next doctor's appointment and test it against your doctor's thermometer.
Display: Some baby thermometers simply display the temperature, others light up red or sound an alarm to indicate a fever, which is handy in the middle of the night.
---
10 best baby thermometers in Australia
With so many baby thermometers available in Australia, it's hard to know where to start, so we asked the HUGE Mum's Grapevine Facebook group members which brands they use and love. In no particular order, here are the thermometers they recommend.
Oricom
Non-contact for easy, no-wake temperature checks in less than two seconds. Colour-coded readings make it super simple to know if bub has a temp, and it stores up to 32 recorded temperatures.

---
Braun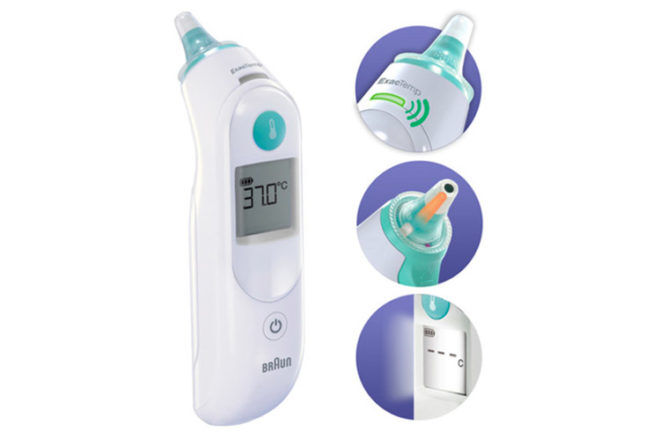 A unique pre-warmed tip and confirmation that it's in the correct position are just two of the reasons mums recommend this ear baby thermometer. The Braun ThermoScan 5 also remembers baby's last temperature.
"We have this one, was given to us as a gift four years ago before my son was born and it hasn't missed a beat!" – Fran Spring 2018 group member
"We have the Braun Thermoscan 7. It's quick to give a readout, differentiates fever by age, gives a colour readout indicating if there's a fever before you even look at the number, and non-invasive (we can get bubs temp without even waking him!)" – Melissa Autumn 2018 group member
---
Vicks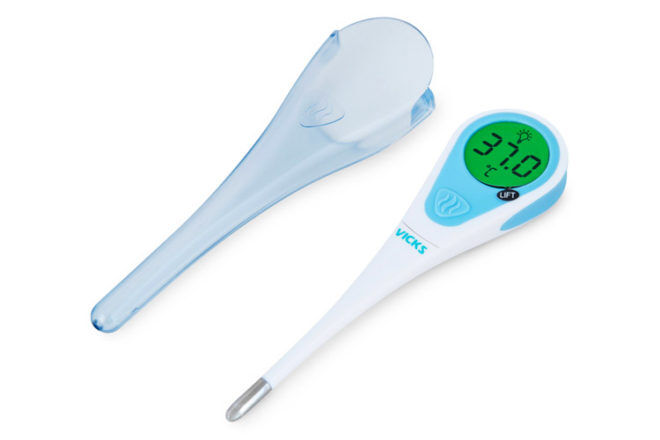 This three-in-one oral, underarm and rectal thermometer has a colour indicator display so in the middle of the night, it's easy to tell if the baby has no fever (green), a slightly elevated temperature (yellow) or a fever (red).
"Vicks underarm thermometer. Used it 11 years ago when my daughter was born and still using Vicks thermometer with my eight-month-old son." – Tracie
"Vicks Insight Thermometer. They're brilliant! It reads a temperature within seconds, and the dial shows the temperature plus colour to indicate if the temp is normal, abnormal or high. They're not hideously expensive and are used by all the midwives and child health nurses I've encountered." – Vix
"We've trialled a few including forehead ones and I like Vicks the best hands down. It's so quick to read which is helpful with a squirmy baby." – Liana
---
Nurofen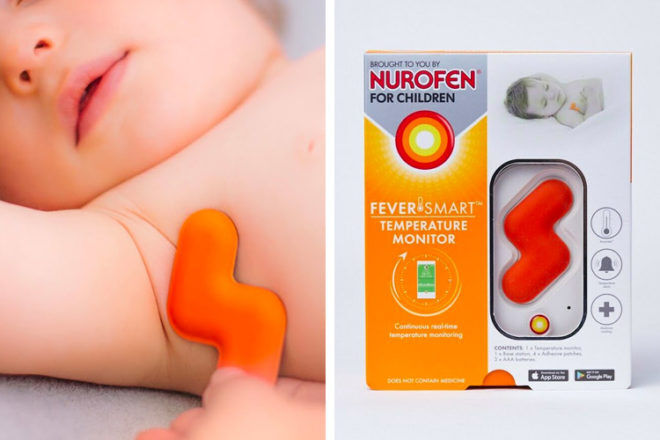 A truly modern baby thermometer, the FeverSmart is an ultra-sensitive adhesive patch that is attached under a child's arm. Once connected to the app, it continuously monitors their temperature, updating once every minute.
"I have the Nurofen FeverSmart which and it is FANTASTIC for monitoring ongoing temperature." – Marnie
---
MedeScan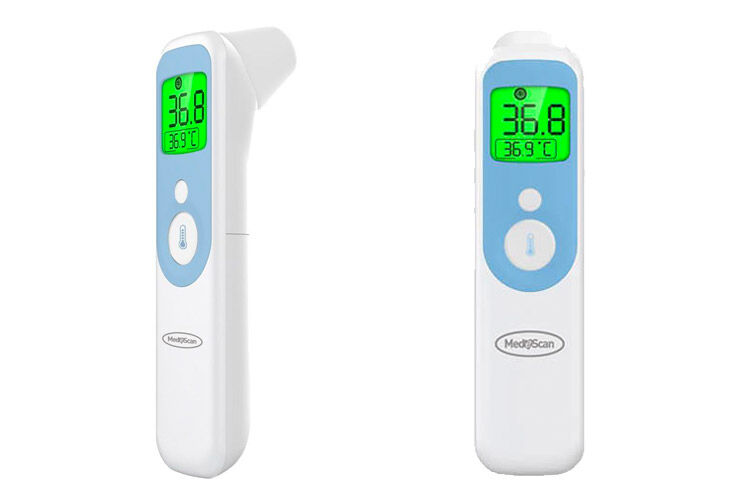 A forehead thermometer, the MedeScan uses an infrared sensor to instantly measure baby's temperature. It's also able to be used to measure the temperature of other things including the nursery or bathwater.
"Works really well. My doctor recommended it to us." – Melissa
"I love my MedeScan as it's no contact. Pretty sure its accurate. We use it for everything. His formula, bathwater and room temp." – Bryelle
"Highly recommend the Medescan Touchless Thermometer. Easy to use, minimal disruption to child, no need to disinfect after each use, provides a quick reading and hospital quality. Worth the money for peace of mind." – Maria
---
FeverMates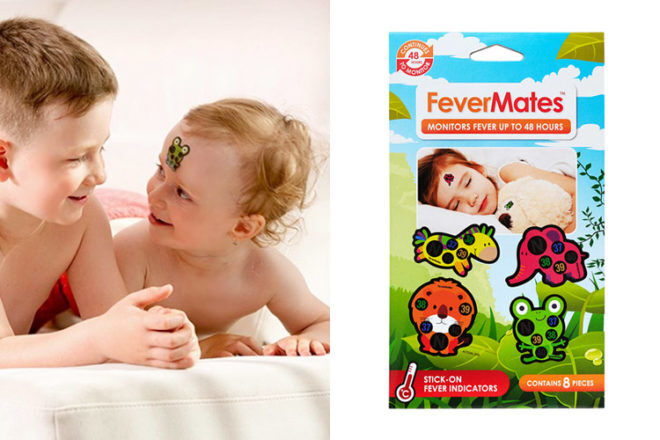 Stick-on fever indicators that can be used to visually monitor a child's temperature for up to 48 hours.
---
Oricom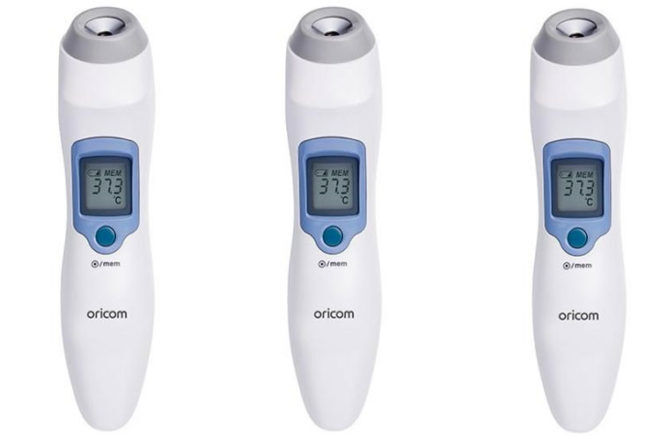 A fast and accurate no-touch baby thermometer that stores up to eight recorded temperatures and works with just the push of a button.
"We bought this one after it was recommended by a friend of mine. She swears by hers." – Sam
---
Withings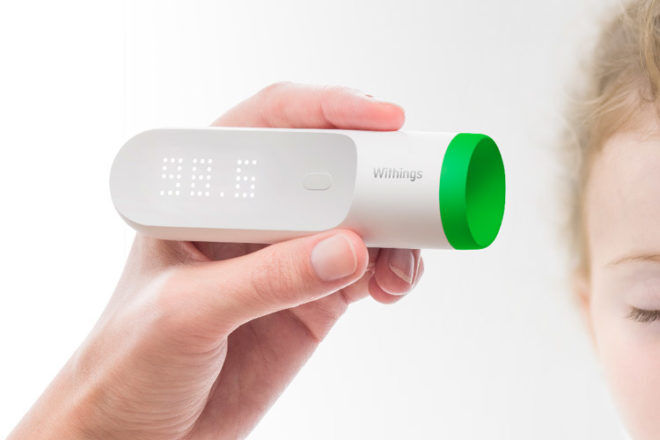 Super smart, this no-touch thermometer is wi-fi connected so it sends all data back to an app for easy tracking. The 16-sensors read bub's temperature via the temporal artery by sweeping across the forehead with no skin contact.
---
This post includes affiliates and/or paid inclusions. See our Disclosure Policy.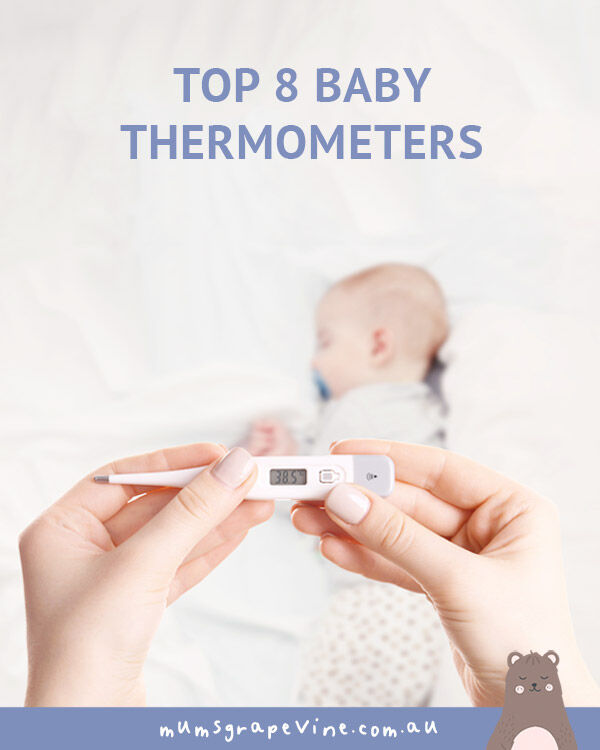 Read next …
Looking for more family first aid essentials? From handy tips to first aid checklists, here are a few articles that you might like to read next:
Continue your search for the best baby thermometer
Searching for the best baby thermometer and still not sure if any of these are right for you? Continue your search online by jumping into one of our closed Baby groups and ask thousands of other Australian mums what they recommend – 'What to buy' is the most talked-about topic, followed by MIL vents!
Click below and join your group today!