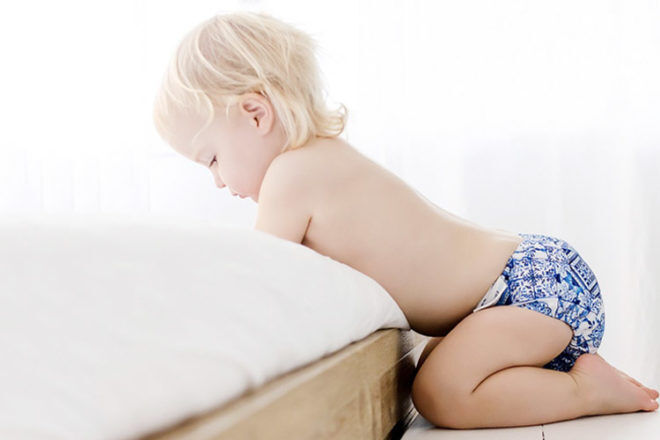 Cloth nappies have come such a long way since the terry towels and safety pins our grandmothers used. Modern cloth nappies are wonders of technology, carefully crafted to be comfortable, absorbent, easy-to-use and money-saving.
Choosing the right cloth nappy for your little one's bot takes a bit of research and it often helps to ask a mum who's been there and done that – and that's exactly what we did!
What to look for when buying cloth nappies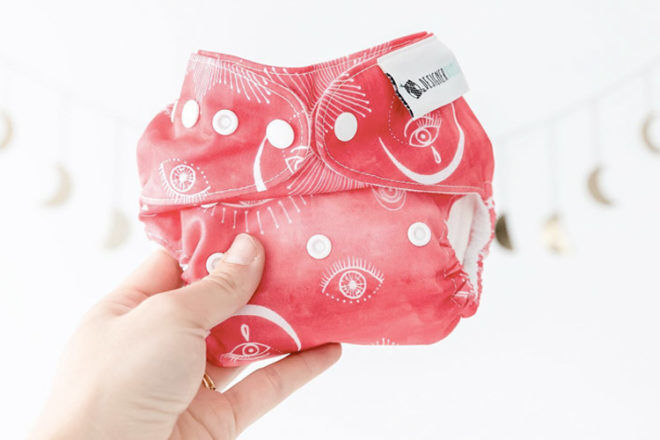 Here are a few things to consider when buying cloth nappies:
Fit: Elastic around the legs, and sometimes even adjustable elastic, makes for a snug fit as baby grows, with many cloth nappies designed to last from newborn to toilet training.
Absorbency: Whether using inserts, boosters or liners it's worth noting the material they're made from. Most use highly absorbent materials like bamboo, hemp or cotton.
All-in-ones: An all-in-one (AIO) nappy is pretty similar in design to a disposable nappy, in that that cover and absorbent material are attached. While it means no need to add inserts, it also means the whole nappy needs to be washed.
All-in-twos: An all-in-two (AI2) nappy has an absorbent layer that snaps into the cover. That means that when the layer gets wet or soiled, you can simply change that be reuse the cover. This usually means less washing.
Fitted nappies: Shaped like disposables they are snapped on and the whole nappy is absorbent. You do need a waterproof cover.
Pocket nappies: Absorbent inserts are tucked into a waterproof nappy cover (sometimes called a shell) that has a pocket built-in. The inserts are sometimes needed overnight or as bub gets older.
Size: Modern cloth nappies can come in three or four different sizes – newborn, small, medium and large. They are specifically made for a particular sized baby.
OSFM: One size fits most nappies will usually fit a baby from newborn, or four to six weeks depending on birth weight, right through to toilet training.
Velcro/snaps: The nappy fastenings can vary – Velcro helps get a snug, tailoured fit to bub, while snaps are long lasting.
---
25 cloth nappies for little tot's bots
To help you find the right cloth nappies for your tot, we've compiled a handy list of the best cloth nappy brands to get you started in your search, as recommended by the mums in our baby groups. In no particular order, they are:
Designer Bums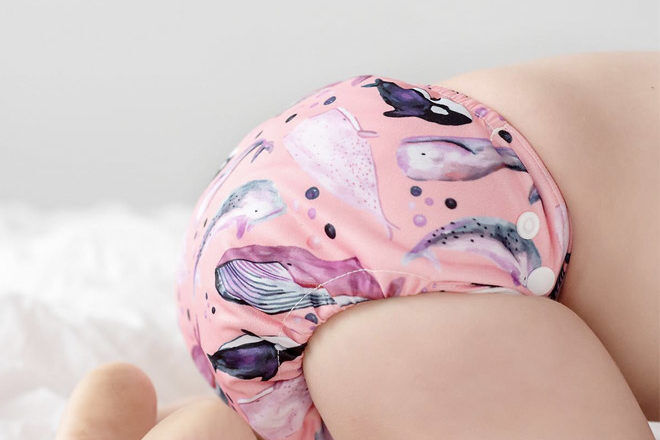 Australian-designed nappies with a super-absorbent, anchor-shaped booster, as well as a snap-on booster liner and waterproof cover. These all-in-one nappies have adjustable sizing snaps so they grow with bub.
"I love Designer Bums for my little girl (awesome prints, fit well, very absorbent)." – Keira
"We love designer bums! Fits our mega skinny little lady so well." – Lucy

---
My Little Gumnut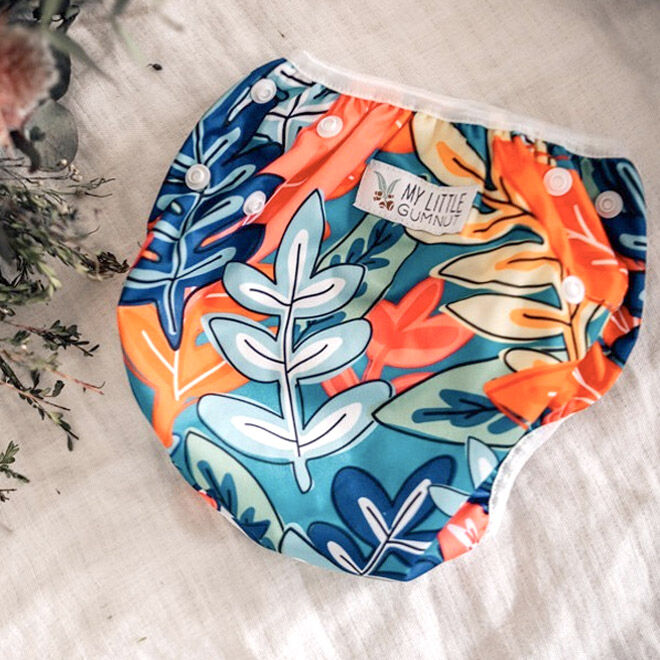 With its adjustable, waterproof cover and super soft, five-layer bamboo rayon fleece insert this My Little Gumnut nappy works for all ages and stages. Adjustable to fit from newborn to toddler up to 15kgs.
"My Little Gumnut are fantastic! They are so soft, easy to adjust with no red marks or leak issues."  – Kate

---
Bubble Bubs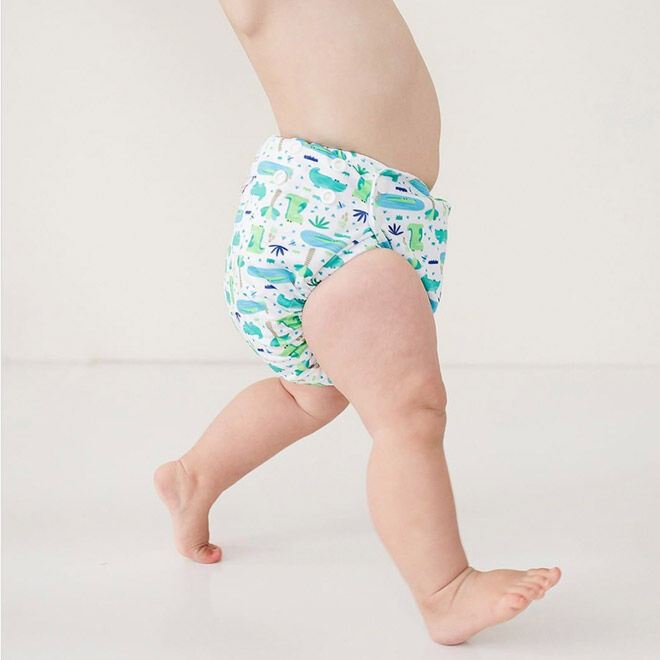 Available in one size fits most or newborn, these all-in-2 complete nappies come with an outer shell and snap-in trifold and lay-in booster. The outer layer is a luxe, soft minky fabric.
"Love Bubblebubs Candies. They're a side snap, which makes it super easy to fit when bubs is doing the crocodile roll. Vicki and the team are so genuine, down to earth and approachable, plus they offer so much useful advice!" – Rachael

---
Snazzipants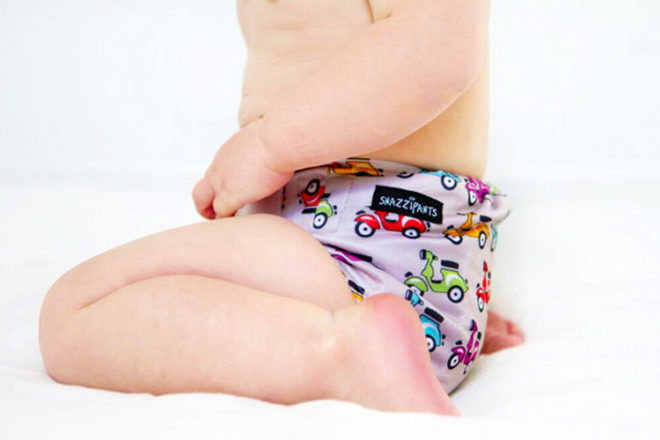 Super adorable all-in-ones that are easy to use with no pinning, folding, stuffing or tucking. The snap and velcro system means they're fully adjustable for growing cloth bum bubs!

---
EcoNaps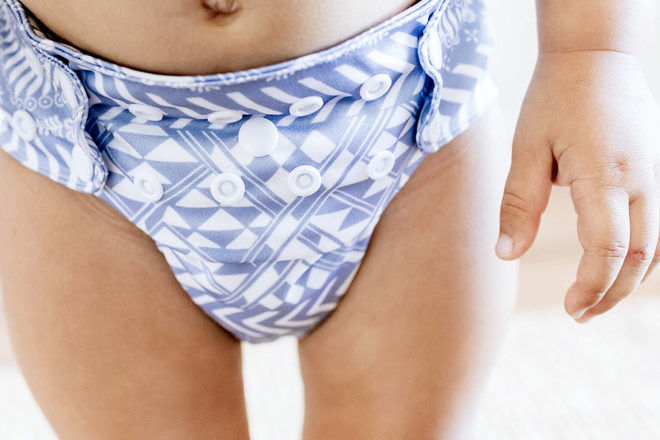 Every nappy in the beautiful EcoNaps range is designed in Byron Bay, and resize easily with the snap of a few buttons. The all-in-2 nappies have the option to be used with a bamboo insert as well as a pocket nappy. It also makes it easy to boost absorbency at night.
"I love Econaps, they are really absorbent, have two snaps at the middle to keep them secure and I like that the inserts can also be snapped securely in place. They come in gorgeous modern prints with matching wet bags for when you're out and about." – Jane

---
Hippybottomus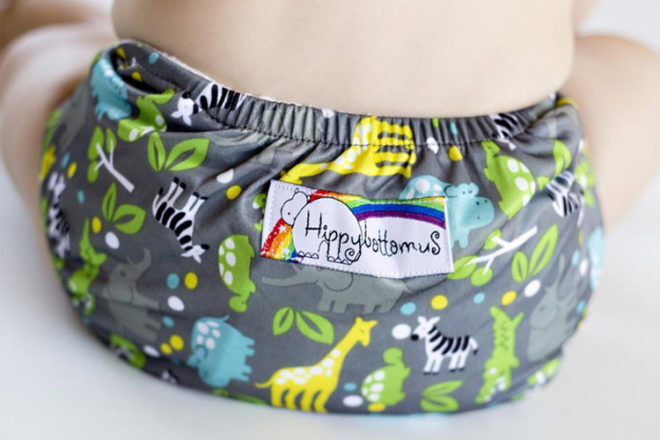 Easy peasy to use this pocket design has an insert that sits inside the pocket for quick drying and less irritation. Each nappy comes with one insert made of three layers of microfibre and two layers of bamboo fleece.
"Hippybottomus – 90% day time home stash. Cheap, durable, cute patterns!" – Hannah

---
Peapods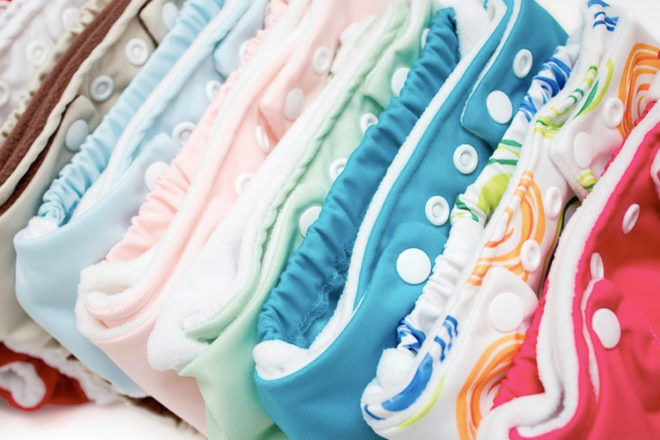 Each nappy is a complete unit with an absorbent bamboo insert included. The one-size nappies have adjustable leg elastic (which adjusts just like a bra strap!) with a graduated sizing system that can be adjusted as bub grows.
"We have been using Peapods since day dot on our little bug. I like that the fit is adjustable to do them from birth to toilet training, the options with how you clip the liners to best suit your preferences, they are very absorbent, we have never had a leak or an explosion and not once have we had nappy rash while using our pods." – Holly

---
Bambooty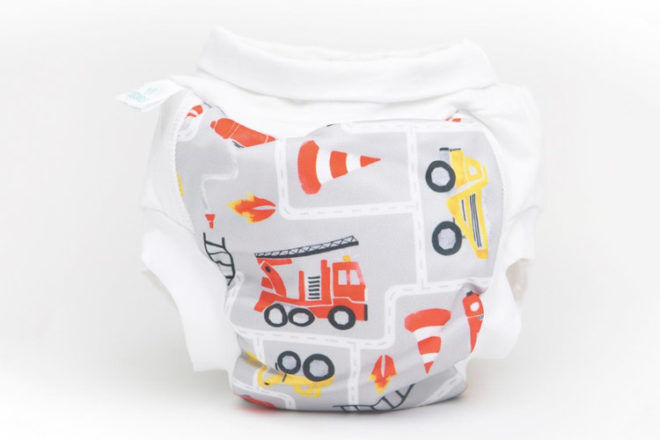 An all-in-2 nappy with a minky shell with snap-in inserts. A one size fits most nappy that fits from birth to toilet training, the Basics nappy comes standard with bamboo inserts.
"Absolute love the basics range from Bambooty." Kiara

---
Bottoms Up Junior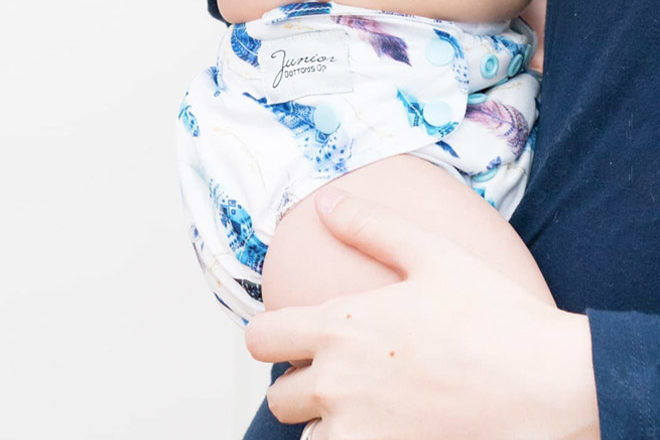 Leaky messes be gone thanks to the inner leg gussets in these beauties. Height adjustability snaps help get the perfect fit, wile the hook and loop Velcro gets the waist fit just right. Bottoms Up Junior also have a waterproof internal leak guard to help prevent tummy and back leaks.
"Bottoms Up Junior for me at the moment. Great fit, great inserts, great stay dry layer." – Melody

---
Minnie & Mae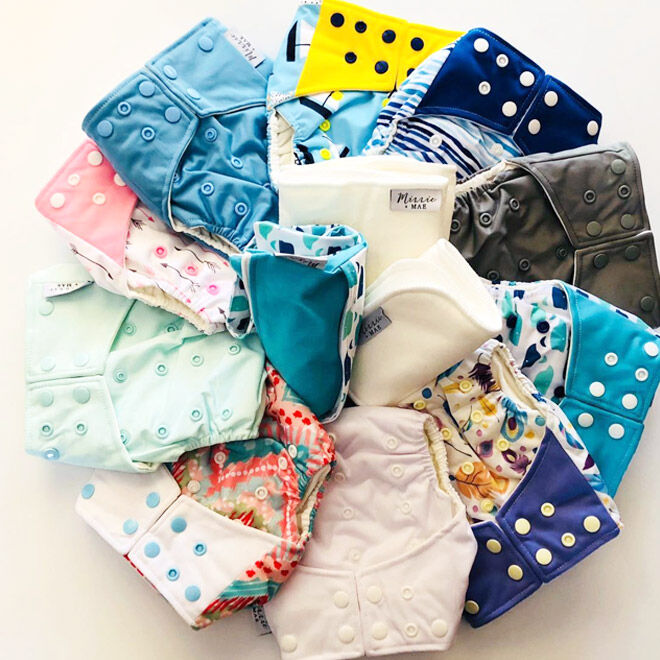 The one-size design is crafted to fit newborns up to toddlers. Minnie & MAE modern cloth nappies have a stay-dry suede cloth lining to draw moisture away from little ones, and two pockets for easy insert access.
"Mini & Mae I've found are the best for overnight and have really cute designs. It's a small mum-run business which I like too. They are also cost-effective!" – Rosie
"I recommend Minnie & Mae because the inserts are so absorbent that I don't need to worry about leaks, the prints are artist-designed and the brand is owned by another Aussie mum. At well under $25 per nappy, they're one of the best value quality nappies available, they could easily retail for $10 more." – Kirralee
"I use a brand called Minnie & Mae, she's a South Australian mum and works as a nurse. The inserts are thick and lush, the designs are designed by an in house artist, she has beautiful customer service. Never once had a nappy rash. They wash up beautifully and I was so scared to start cloth fulltime but these nappies have been amazing and everyone always comments on them." – Cindy

---
Totbots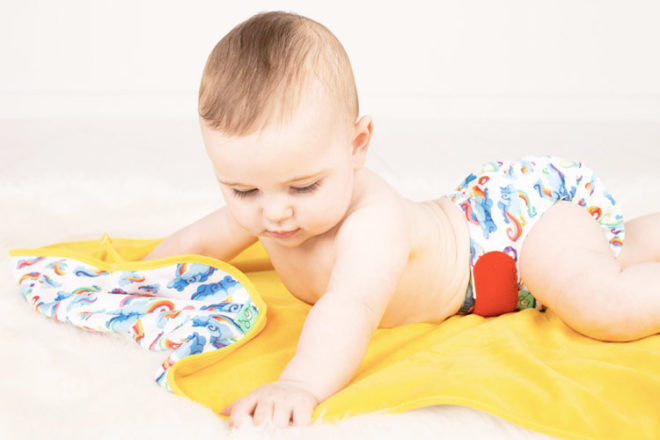 This genius brand, made in Scotland, was the first reusable nappy in the world to make 100 per cent of its waterproof fabric from recycled polyester yarn. They have a super absorbent bamboo core, stay-dry buffer zones and stitch-free seams to prevent leaks.
"Totsbots Easyfit Star are as snug and easy to use as a disposable – yet still space for a booster if you need it. I am in love with their all in one style and their cute designs as well!" – Tarryn

---
Bohobabes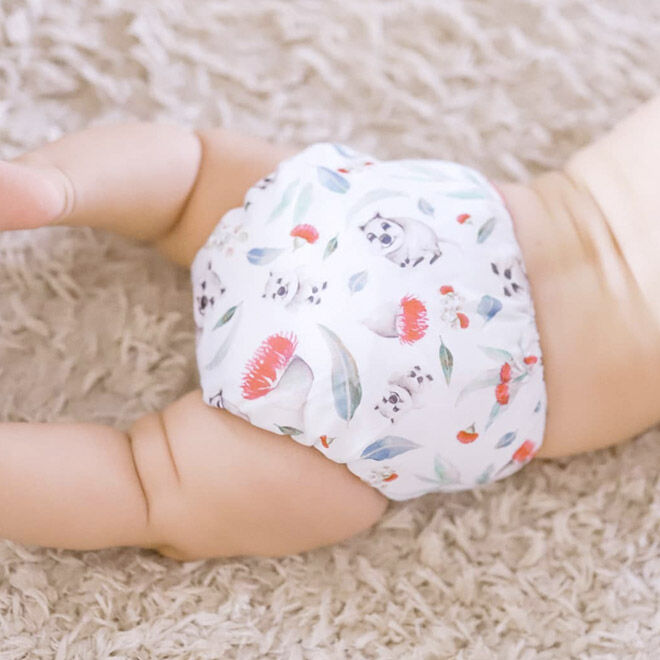 Designed in Australia and ethically made overseas the one size fits all nappies comes with an insert and have suede cloth lining to wick away moisture. And those chubby bubby thighs are no match for the clever hip snaps.
"Boho Babes are amazing, a slightly lower price point with plenty of room for boosting/adding absorbency." – Jorja

---
Real Nappies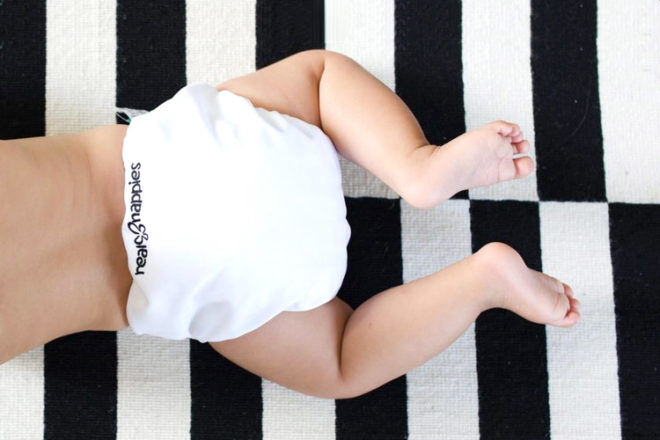 These nappies are all about snuggly softness with a Snug Wrap Nappy Cover and soft Prefold Inserts. These bundles are customisable so you're able to choose sizes and colours. And the prefolds are guaranteed to last through two babies!
"Am onto my second fulltime cloth bum. I have lots of different nappies and covers but I always just end up using my Real Nappies Prefolds with any cover as they are foolproof (and daddy proof)." – Jennifer

---
Alcmena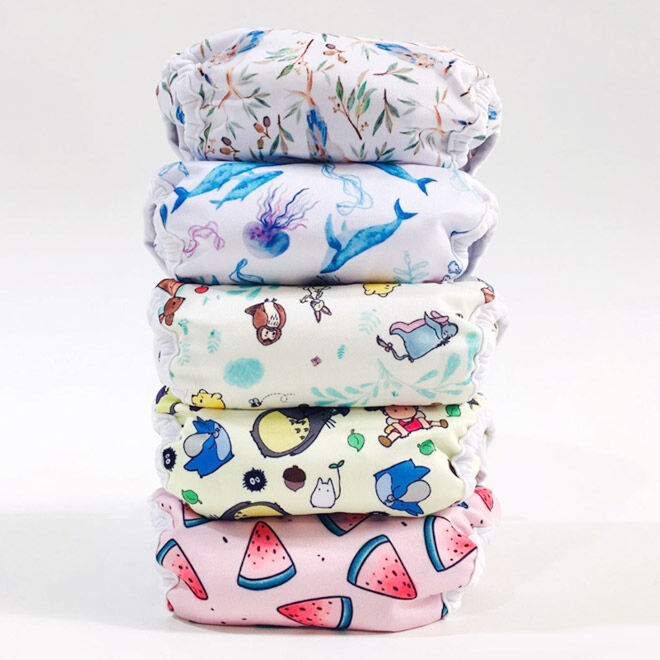 An all-in-2 nappy design with a waterproof nappy shell on the inside and outside. This means just snapping out the soiled inserts, wiping down the nappy shell and re-using with a fresh insert. And the waterproof shell also doubles as a swim nappy.
"Alcmena are amazing for night nappies, and customer service is outstanding." – Ali
"I love Alcmena! I use them for day and night. Such cute prints, customer service is beyond phenomenal, and a beautiful little community and a fantastic resource for all things fitting and cloth nappy help available via email and their Facebook group." – Jessica

---
Seedling Baby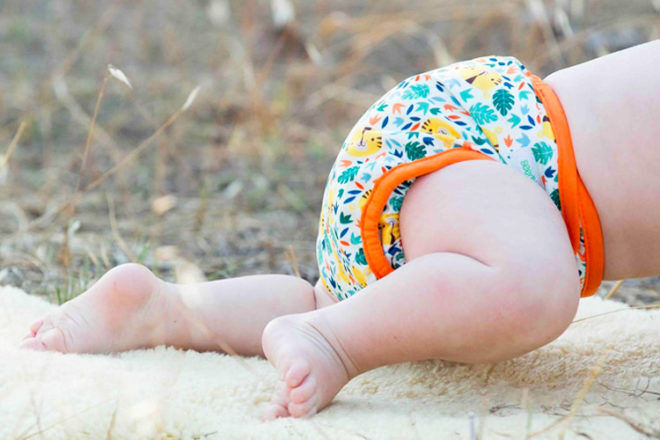 A pocket nappy with a soft, breathable, waterproof outer cover, a bamboo prefold and a microfibre booster. The Seedling Baby nappy also has a wide crotch so the inserts and boosters are easy to get in place.
"We are recent converts to Seedling. The prints are lovely and the nappies have good coverage to prevent leaks. I find them very easy to boost for naps and overnight on a heavy wetter." – Rachel

---
Bare and Boho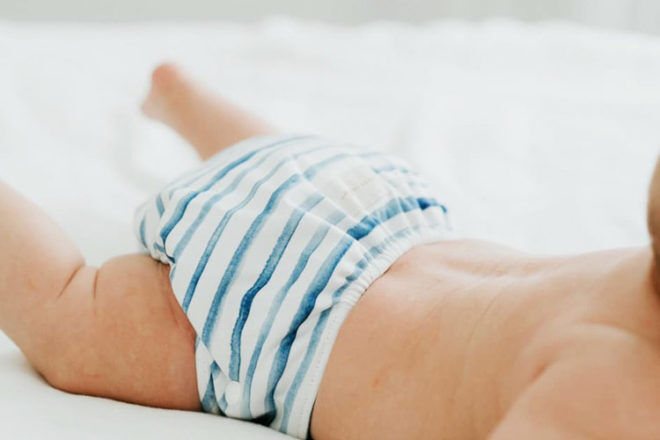 These nappies shot to fame when Aldi featured them as a special buy. Designed to make nappy changing simple, the boosters sit on top of inserts, rather than snap underneath. This means the booster can be folded to create extra padding in either the front or back.
"I was really lucky to get six of the Bare and Boho cloth nappies at the Aldi sale. I use three a day in place of disposable nappies. It's not full time yet, but I think it's a good step on the way to it. They're great nappies! No leaks so far, adjustable fit and really easy to clean! I love them and so glad I chose them to start our MCN journey!" – Pippa
"Bare and Boho. Their shells have a lining that allows you to use the same one for the day just being able to snap in new inserts! Less washing and less overall cost compared to other brands that require the shell to be changed as well each time. There's a knack to putting them on to avoid leakages but we have it down pat! Also found the bamboo liners a lot better/ wash better/ absorbency etc." – Maxi

---
Baby Bare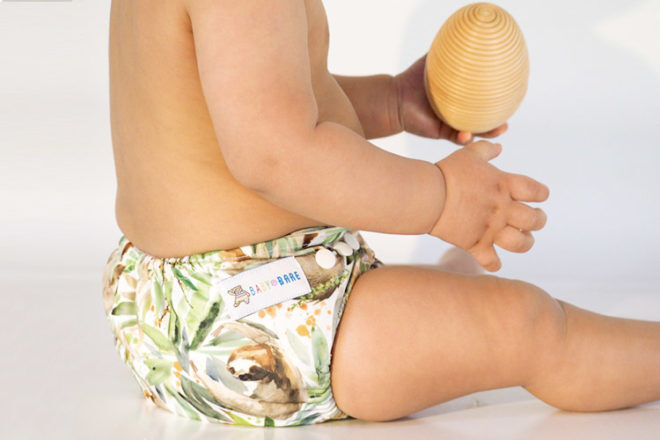 Trim fitting the all-in-2 Cub comes in three easy-to-use pieces – a cover, snap-in insert and booster. The suede cloth lining is all about keeping bub dry and comfy and a pocket opening at the back means easy boosting at night time.
"We love baby Bear Bear Cubs. Super cute patterns and with only a single row of waist snaps so easy to fit!" – Dominique
"We love Alvas and Baby Bare Cubs. Alvas are a great workhorse nappy as long as you upgrade the inserts. Baby Bares are great too and quite trim on my bub!" – Christine
"We use Baby Bare full time including overnight and have found the brand awesome, they have different styles which suit different babies, they are great quality, awesome designs and are very absorbent." – Lisa

---
Berry Bottoms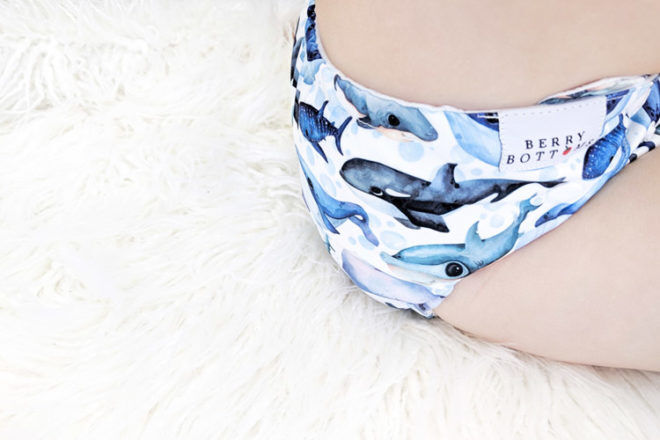 Each Berry Bottoms nappy comes with a microfibre insert, with bamboo boosters also available. Designed to fit from newborn to toddler a double row of waist snaps makes for easy leg and waist adjustment. Oh, and they're adorable!
"I love Berry Bottoms. The prints are absolutely adorable and the soft elastics fit my chunky babe really well. They are also quite affordable." – Tianna

---
Little Aussie Monster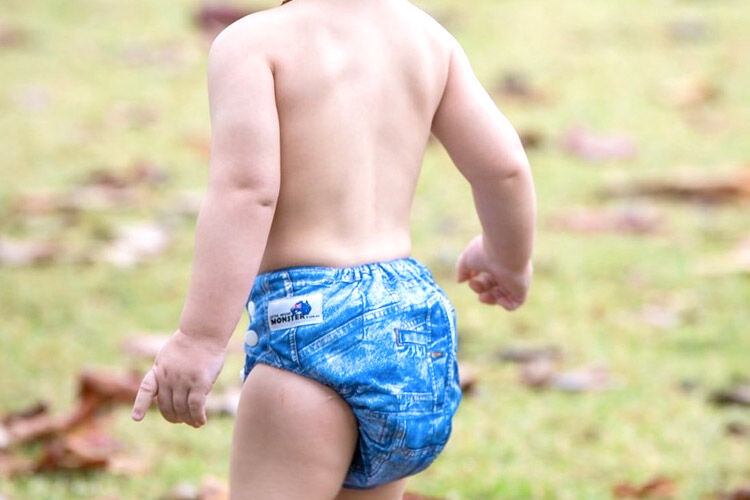 Cairns-based Little Aussie Monster nappies have a soft, stay dry microfleece inner layer to help bub stay comfy and dry. Extra inserts can be added for more absorbency and the waterproof outer nappy shell is soft and breathable and keeps moisture in.
"I love using Little Aussie Monsters! They are the best, I had a micro prem and struggled with nappies fitting her, I loved how little these would go and that at 9 months we are still comfortably using them and their designs are so beautiful! And the care for them is so easy! We are lucky that it's a local store to us." – Bek
"We have been using a local NQ brand – Little Aussie Monster. They are super cute and the quality is great." – Susan

---
Itti Bitti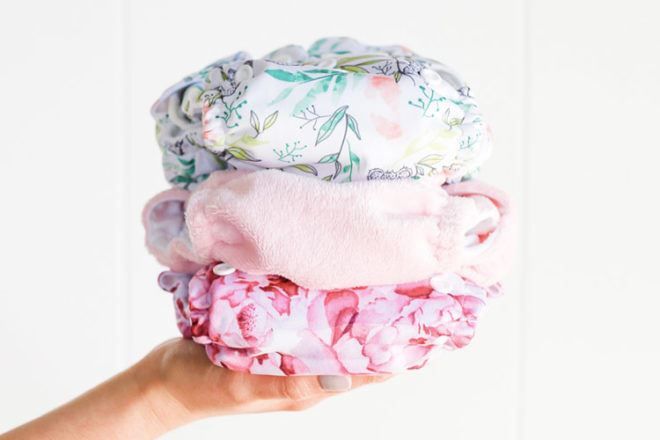 Easy to use with absorbent bamboo and microfibre soaker pads sewn in. Soft and waterproof minky outer fabric and stay dry, stain resistant suedecloth lining on the inside.
"Itti Bitti – loved the bitti d'lish when bubs was smaller for absorbency, ease of fit and getting used to MCN. Also super trim so easy to fit those super cute newborn outfits." – Katie


---
GroVia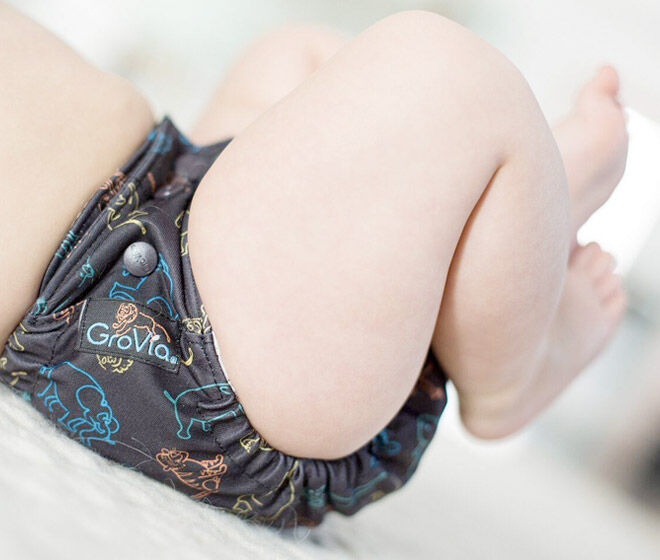 Super east all-in-one nappies that don't need a cover or folding, just one piece and one size that grows with bub. An absorbent inside and a laminated polyester velour outer for a luxe touch. Adjustable to fit brand new babes to toddlers and trim enough for those cute baby outfits.
"Grovia! I find them so easy and when starting cloth with a baby we don't want hard we want something easy we can manage! I started cloth on day 3 when we got home from hospital, with NB AIO, for about 5 weeks before I moved onto shells and inserts and they will last till bubs is toilet trained! They are super absorbent and have the options of adding boosters for those heavy wetters! They feel good so they must be good on bubs bum! I haven't had one nappy rash, and what are poo explosions? Double gussets have contained everything! Even those sneaky back poos are held in with the elastics yay! They have snap and Velcro options and have super cute designs. I haven't tried any other brands because I'm 100% satisfied and love Grovia." – Rebecca

---
Baby Beehinds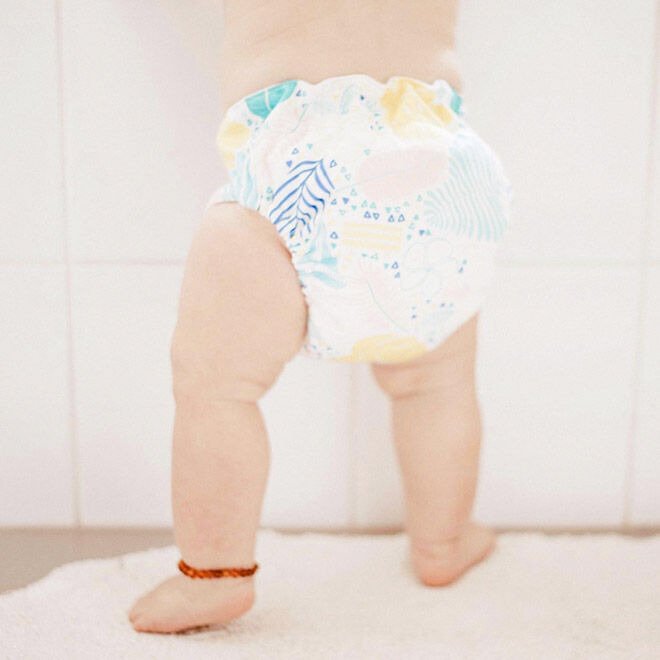 Really easy to use, with a velcro waist and up to seven layers of soft bamboo/organic fleece. Wide waist elastic makes these pretty much poo- escape proof!

---
This post includes affiliates and/or paid inclusions. See our Disclosure Policy.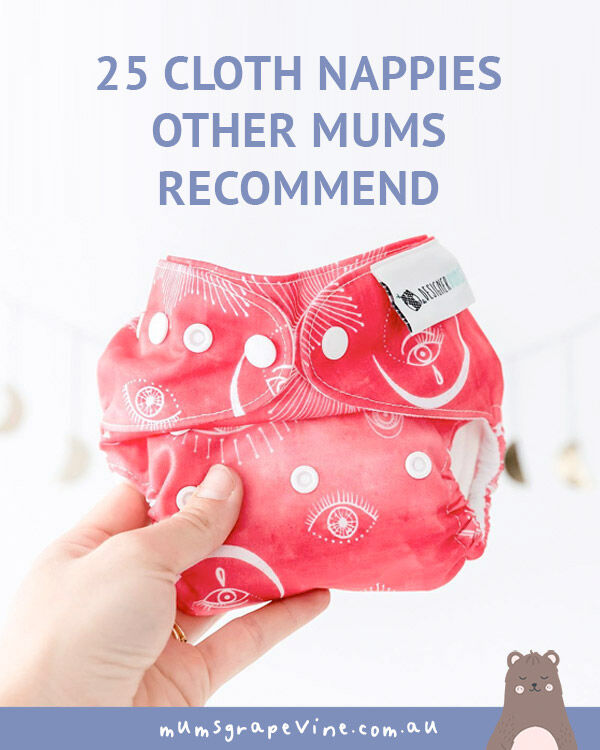 Read next …
Whichever style of nappy you choose to use, here are a few of our favourite essentials that make nappy changes a little easier:
Continue your search for the best cloth nappies
Searching for the best cloth nappies and still not sure if any of these are right for you? Continue your search online by jumping into one of our closed Baby groups and ask thousands of other Australian mums what they recommend – 'What to buy' is the most talked-about topic, followed by MIL vents!
Click below and join your group today!
Got a brand you think we should add to our list? Reach out to us via email.