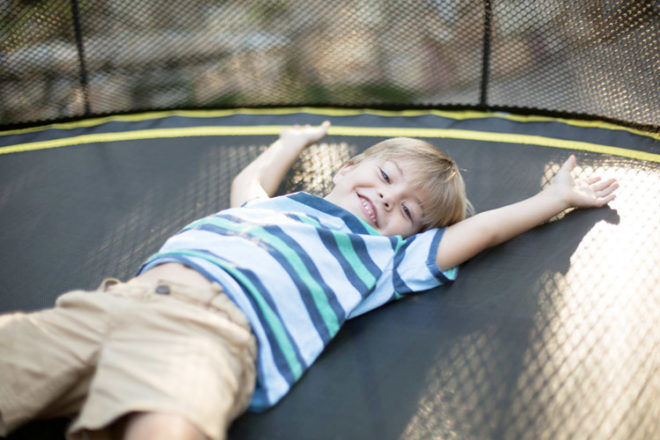 In Australia, a kids' trampoline is one the best ways for little jumping beans to have non-stop fun. Rather than having littlies bouncing off the walls indoors, a trampoline offers a safe and dedicated environment for pocket-rockets to get outside and burn all that extra energy.
Designed for spaces big and small, trampolines come in all shapes and sizes in Australia. Whether it's in-ground or fully enclosed, it's the ideal 'toy' to get youngsters away from screens and enjoying the great outdoors.
Not only is a trampoline a big purchase for families, but they've changed a fair bit since we were kids. To help you figure out what style will work best for your kids, we've put together some key features to consider.
What to look for when buying a kids' trampoline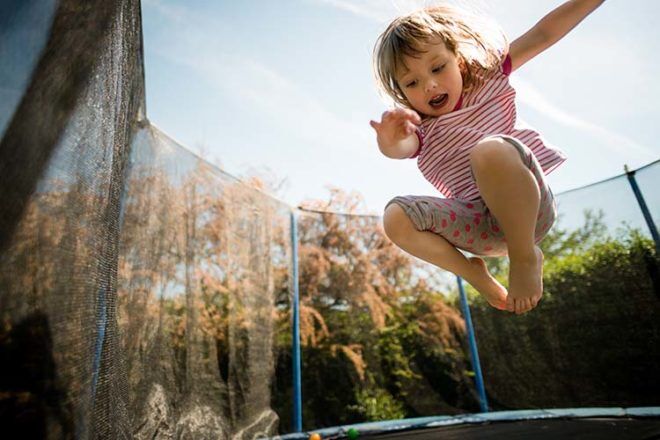 Remember: safety first – Look for a trampoline with safety padding to cover frames and springs, and as an added measure, safety nets as well. This means that even when the classic 'double-bounce' occurs, kids are protected within the walls of the net and won't land on anything hard.
Choose from spring-free or classic spring styles – The traditional spring trampoline has come a long way in safety features and design over the years, but there's now the more modern option of springless trampolines. The bounce usually differs with each, so it may be worth getting the children to test each out to see which they prefer.
Take into account the overall weight limit – If you have multiple older kids, or plan on having a jump, you need to take this into account in your decision making because brands can vary on their maximum weight limits.
Think about the best size for your space – This all depends on how many kids you have (or are planning to have) and how much space you have available in the backyard. In Australia, kids' trampolines can range in size from 4ft to 16ft.
Pick a shape that fits well in your backyard – Before committing to a kids trampoline shape, it's worth deciding where it will go in the backyard. Some trampolines are narrow and rectangular (great for tucking alongside the house), while an oval or round trampoline can work well in corners and in the middle of large grassy lawns.
---
9 best kids' trampolines in Australia
To help you find a really bouncy trampoline for your family, we've compiled this list of fab brands available in Australia to get you started in your search. Happy jumping!
Springfree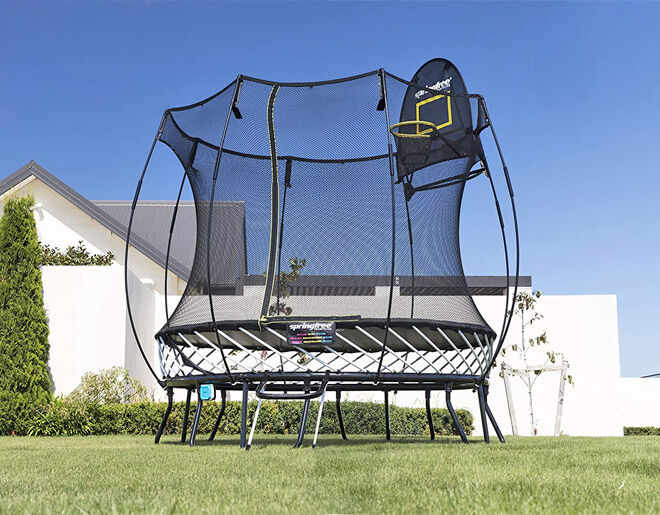 Designed with urban lifestyles in mind, this nifty trampoline is built to fit into small or tight spaces without compromising the entire backyard. The round-shaped mat provides plenty of jumping space for tykes to test their moves while the flexinet keeps them inside and cushions kids as they fall.
---
Plum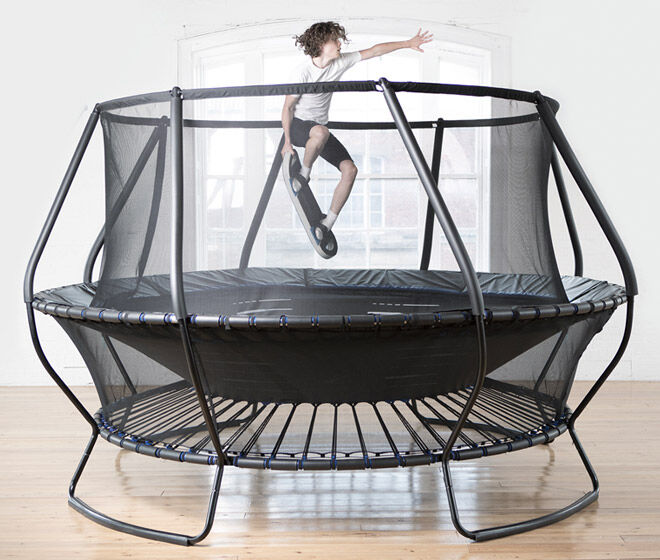 A game-changer in the trampoline world. The Bowl is a revolutionary take on the traditional flat trampoline and the perfect place to combine springing in the air with the sports they love. Designed to change the way kids bounce, they can incorporate jumping on the trampoline with anything from skateboarding and judo to ballet.
---
Jumpflex
Poles that curve away from the safety net don't just look the business, they mean more room for jumping and a reduced risk of injury. This 10ft beauty is perfect for medium-sized yards and the safety net is designed to withstand harsh Aussie conditions.
---
VULY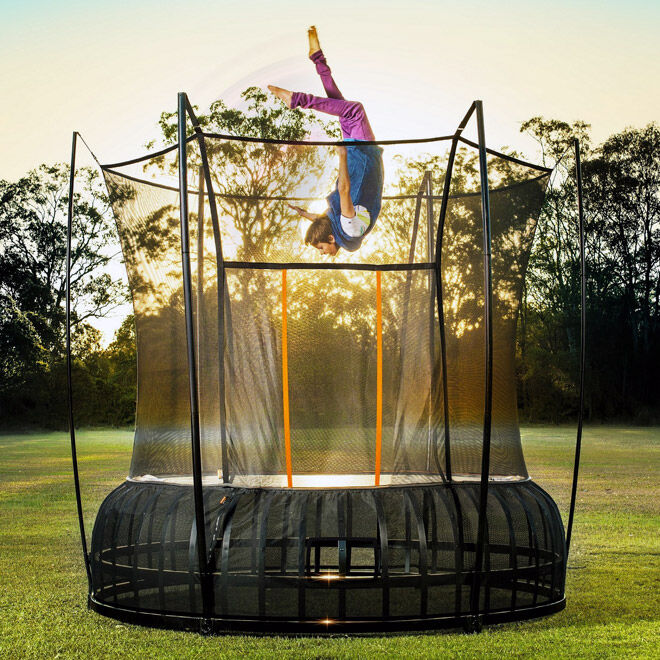 A seriously cool tramp for serious jumpers, The Thunder comes with curved net poles for no-contact zones, built-in trampoline games printed on the game mat and a heavy-duty springless trampoline for premium safety bouncing.
---
Lifespan Kids
It's a traditional-style trampoline with lots of fab modern twists. The HyperJump3 has reinforced netting for wayward jumping, zipless doors and UV-protected foam safety pads. There's a comfy step ladder for easy on and off and enhanced 'smart feet' for non-slip jumping.
---
Oz Trampolines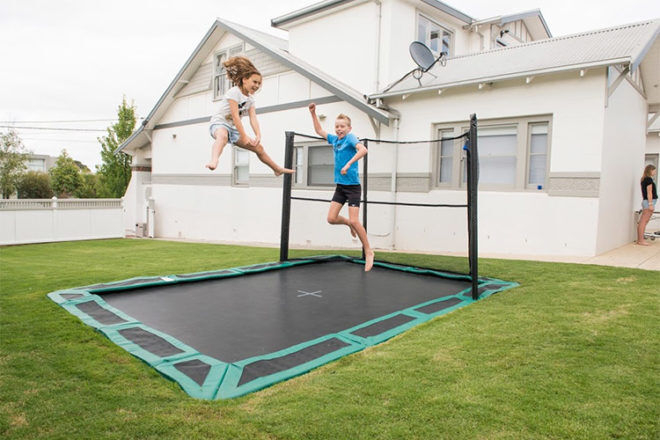 Wow-factor and fun-factor in one! In-ground trampolines are quick to install (usually taking less than a day) and these come with their own heavy-duty retaining wall making DIY installation pretty simple. Oh, they have brilliant bounceability (that's totally a word!)
---
Kahuna Kid Trampolines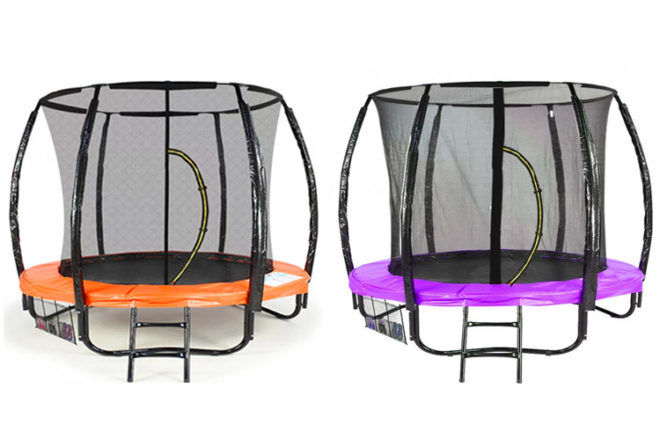 The inner safety net on the Kahuna Classic means little ones won't land on springs, and the compact size is perfect for new jumpers. It features a UV-stabilised padding cover and tough powder coated legs to stand up to the harsh Aussie sun.
---
JumpStar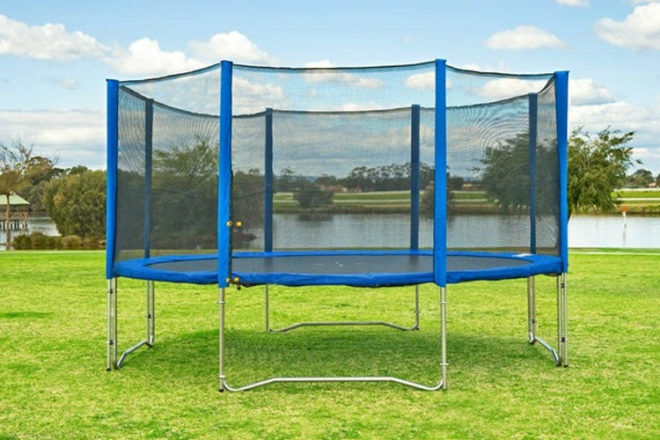 A rectangle trampoline is perfect for slotting into a corner of the backyard. And they also happen to be awesome for jumping with a friend. Thick padding and long-lasting safety nets mean there'll be plenty of jumping for years to come.
---
Kmart Trampoline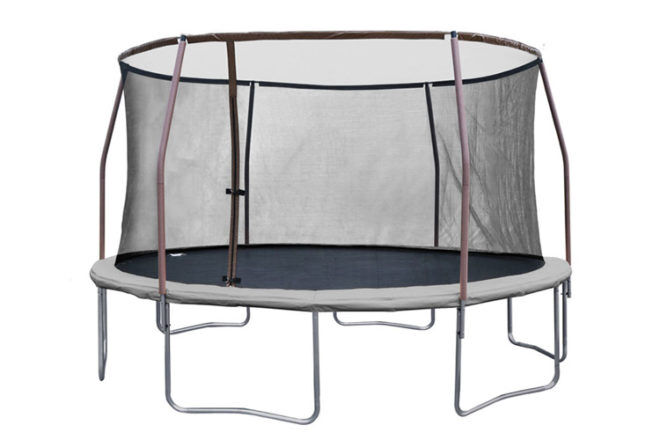 Extra strong springs and a UV-resistant jump mat gives this Kmart ripper all the armour it needs for years of Aussie backyard bouncing. It's suitable for kids aged six years and above.
---
How much space is needed around a trampoline?
Most manufacturers recommend that you allow at least 1.5m extra clearance space around the trampoline. Also, ensure there are no trees or obstructions hanging overhead and that the ground is perfectly flat.
Is there a minimum age to jump on a trampoline?
According to Raising Children, kids should be six years old before jumping on large trampolines due to the risk of falling and injuries from repetitive jumping on their growing bodies. Toddler-style trampolines with less bounce and a handlebar are a safer choice for younger kids.
Is jumping on a trampoline good exercise for kids?
Yes! Jumping on a trampoline is a great way to get kids moving, burning energy and strengthening their muscles – and the best bit is that they'll be so busy having fun, they won't even realise they're exercising!
---
This article is curated by our Editors and includes affiliates and/or paid inclusions. See our Disclosure Policy.
Seen a brilliant trampoline that we should add to our list? Contact us and let us know.
Thousands of Aussie mums in our Mum's Grapevine Facebook Groups are asking each other for recommendations on what to buy right now. And you can too! Join today.