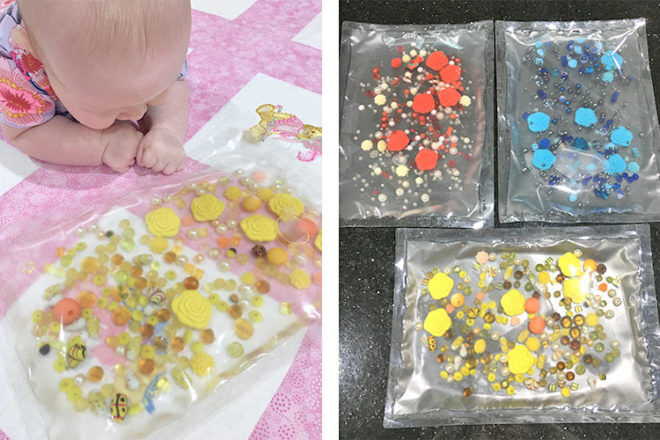 It's the tummy time activity mums and bubs are going gaga over and crafting it at home takes just a few minutes. Sensory bags, or squish bags, are designed to tap into a tot's sense of exploration and discovery and they're a whole heap of fun.
Mum's Grapevine Baby Group member Jacinta Grobbelaar shared her DIY sensory bag instructions, and the ingenuity is pretty impressive. Get your hair straighteners out ladies, you're going to need them!
How to make baby sensory bags
Jacinta says her daughter Matilda has been fascinated by the bags, which she filled with objects of coordinating colours.
What you need (per bag)
A4 laminating sheet
Pretty things of your choice (I used coloured beads)
500ml water
Jug with a pouring spout
Hair straighter (or iron)
Steps
Determine if you want your bag to have a theme and set aside the pretty things you want to go in it. I sorted my beads by colour.
Using the hair straighter (or iron), completely iron the bottom and two longest sides of the laminating sheet, about 2-3cm thick. Iron HALF of the top side, leaving enough room to add the things and water. I found the straighter gave a more even edge and was a bit easier to use than the iron.
Add your pretty things to the bag.
Add the water to the bag. Using a jug with a pouring spout is the easiest. You can use food colouring to add colour to the water but I chose not to.
Get as much of the air out as possible to avoid a large air bubble. You will still have little ones but try to avoid a big one if you can (it looks nicer I think).
Use the straighter or iron to seal off the last half of the bag.
Press on all sides to make sure no water comes out. Re-apply heat if needed.
Benefits of sensory bags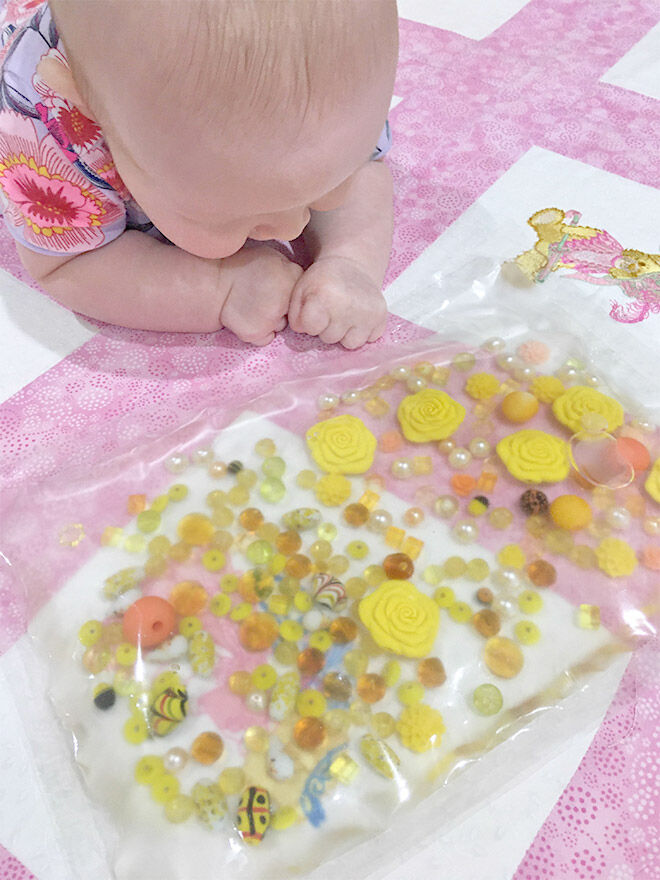 Depending on your little cub's age, sensory bags help hone skills babies are learning, including fine motor skills and cognitive skills. It engages their senses, as they look at different colours and shapes and feel different textures.
For teeny bubs who need tummy time this is the perfect way to distract them if they're not fans of spending time on their belly.
What to put in a baby sensory bag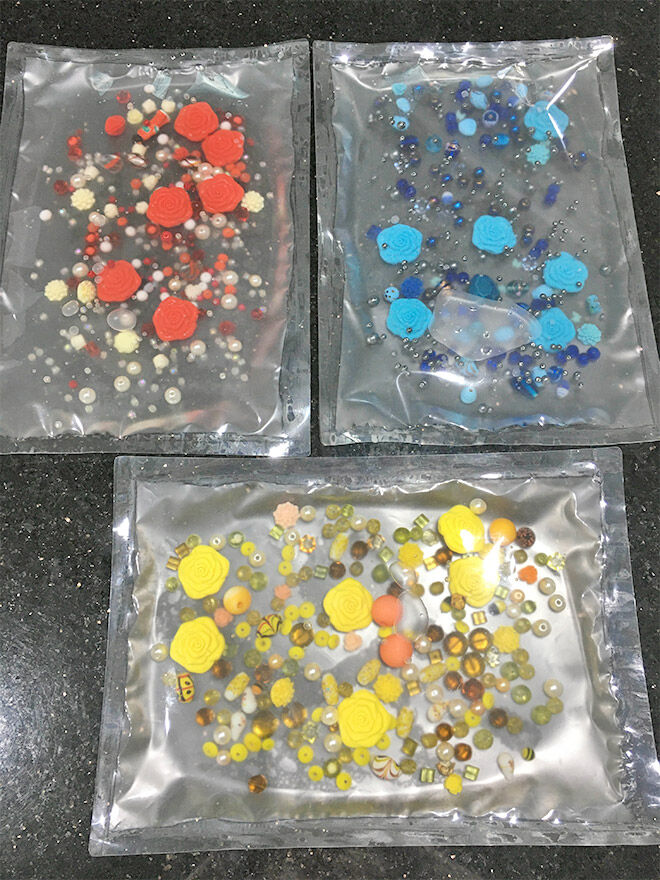 Your imagination is really the limit when deciding what to include in the bags, just remember that anything sharp or rough will pierce the bag and isn't that great for a baby to play with!
Here are some ideas:
Buttons
Glitter
Flowers
Googly eyes
Uncooked rice
Coffee beans
Marbles
Beads
Also, think about things other than water for the objects to 'float' in – gel, slime and playdough work well with objects inside the bags.
Read next …
Looking for more easy sensory play ideas? Head over to these articles next for a little inspiration: