Sometimes parenting is about working smarter, not harder.
When it comes to keeping watch over your precious angel when they're out of sight sleeping in another room, you need to get clever. Because nothing makes a settling baby stir quicker than opening their door for a quick peek to check they're asleep.
The Kodak CHERISH C525 Smart Video Monitor comes packed with features that make keeping an eye on your cherub 24/7 easier than ever.
Straight out of the box, the cute and compact camera sits nicely on any surface, or you can wall-mount it to keep it away from little hands and make the most of the view.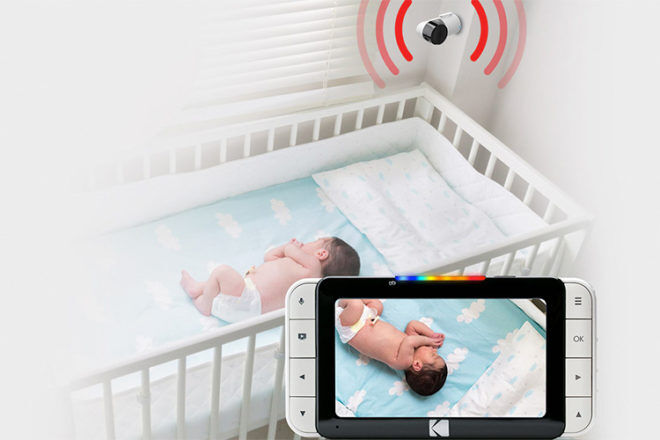 The HD camera with remote pan, tilt and zoom then beams a crystal clear image and audio of your tiny tot to the generous 5-inch widescreen display parent unit.
With the simple one-touch on/off-screen, you can easily watch every wriggle and roll at a press of a button – no need to keep the screen on all night. And the softly glowing keypad on the monitor makes it a dream to operate in the dark.
Stay connected wherever you are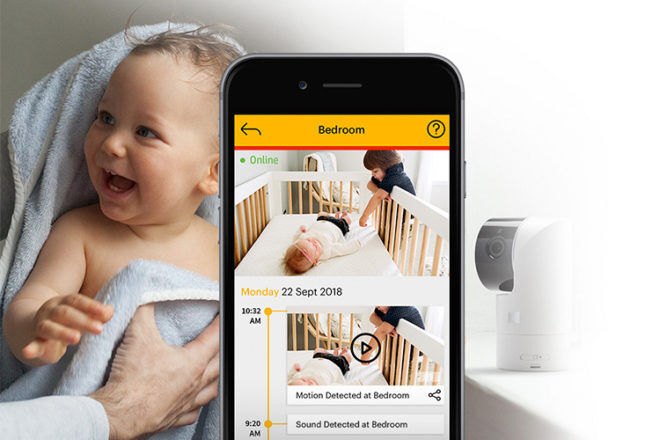 What makes this system really clever is its Wi-Fi connectivity. So while you'll love the easy-to-use parent monitor, you can also enjoy the flexibility of accessing the camera on your smartphone or tablet, whether you're in the next room or out of the house.
And with the Kodak Smart Home App, you'll always know how your sweetpea is sleeping with smart motion and sound notifications instantly delivered to your smart device. It will also let you know if the temperature changes.
When your snuggly bear is being extra cute, you can even record special moments and revisit them for years to come using the Kodak Smart Home App and SD-Card Recording functions via your smartphone or tablet.
Take it on the road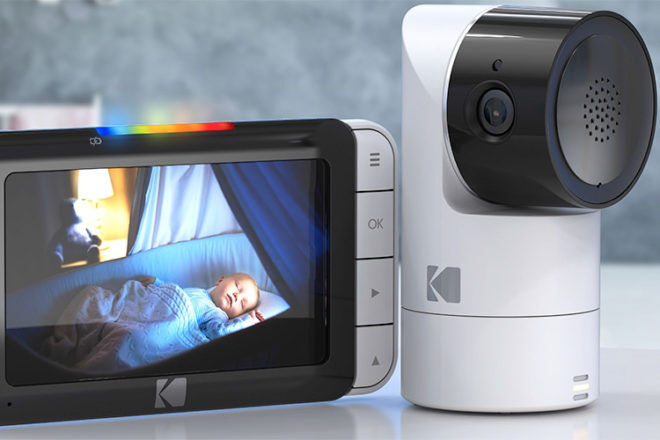 With built-in rechargeable batteries in both the baby monitor and camera, you can take your Kodak Cherish C525 on the road, whether it's a day trip to grandma's house or a family holiday. Just pop the monitor in any room and stay connected over WiFi wherever you are.
Simply smarter video baby monitor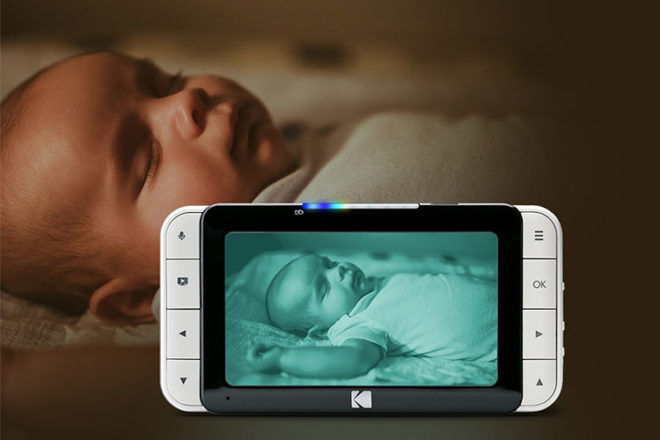 And of course, it comes with all the features you would expect from a quality baby video monitor, like infrared for easy night time viewing, two-way talkback and soothing lullabies and white noise to help you settle your bub.
Kodak Cherish C525 Smart Video Baby Monitor fast facts:
Large 5″ HD colour display monitor
4,000 square feet parent unit range
Remote Pan/Tilt/Zoom camera
WiFi connectivity with Kodak Smart Home App
Smart motion, sound and temperature alerts
Infrared night vision
Two-way audio
White noise and soothing lullabies
Rechargeable batteries included in both parent unit and camera
12 month warranty
The Kodak Cherish C525 Smart Video Baby Monitor is available online ($349).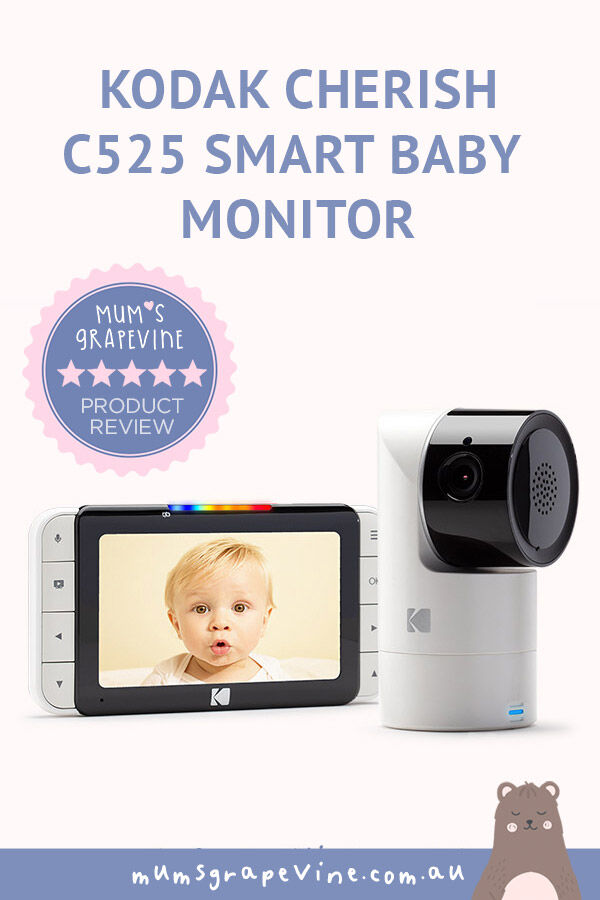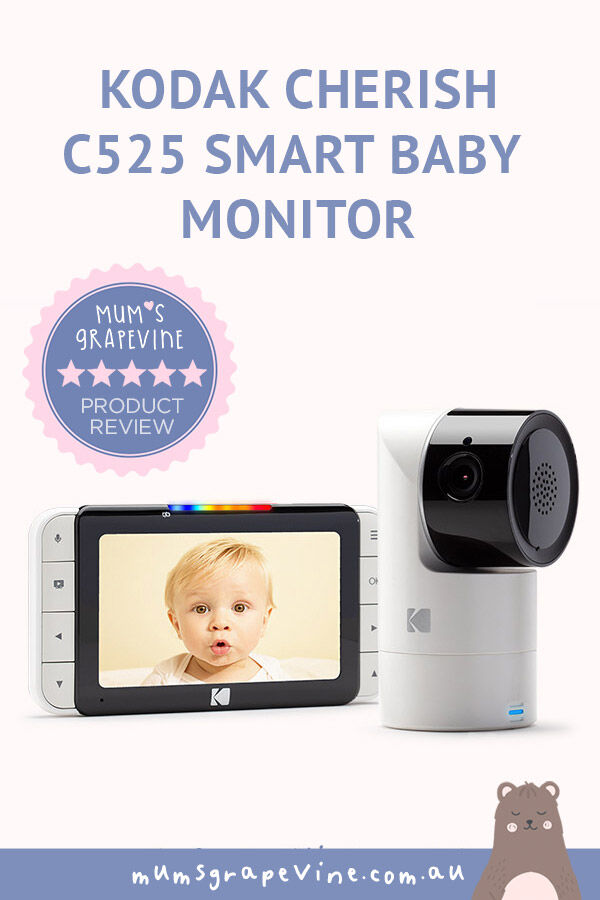 Kodak Cherish C525 Smart Baby Monitor review:

We had three mums put the Kodack Cherish Smart Baby Monitor to the test. Each is at a different stage of transitioning their sleepy bears.
Dimity Maree, mum of four-month-old Selena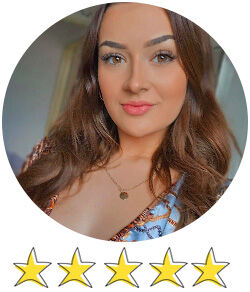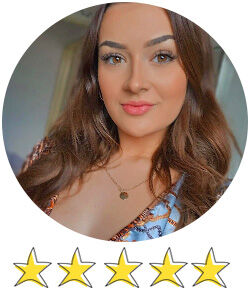 "Made it so much easier to transition bub into her own room."
I was really blown away by the camera quality! So clear and colourful during the day, the night mode was also very high quality and clear which is amazing!
Overall thoughts – honestly so much easier to transition bubs into her own room which I have been dreading for weeks, it's really given me peace of mind during the night because I can actually see her breathing through the monitor which is amazing. Also, I didn't have to go into her room as much anymore as I used to wake her up a lot!
The sound is amazing, super clear and catches everything. I also love the menu options and the fact that you can position the camera perfectly with the main monitor arrows – makes it so much easier for me when she turns and wriggles in her sleep I just reposition the camera from my end.
I also love that it is hands-free, I am finally able to shower and watch her through the monitor without thinking she's screaming every two minutes!
---
Sammi Hall, mum of two-year-old Finn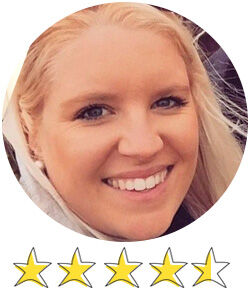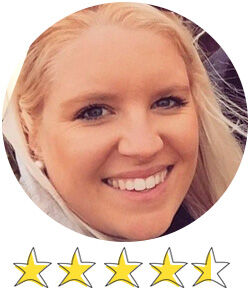 "The picture quality is out of this world."
I was so excited to test out this monitor and the picture quality didn't disappoint. We had a little trouble setting up the VOX feature but aside from that, it was very straight forward.
The picture quality is out of this world. The clarity in both day and night mode is exceptional with the 5-inch display making keeping an eye on Finn a cinch. The monitor range is amazing working in every room in our house and even out in the backyard.
We found that the monitor to be very sensitive to sound. A little too sensitive for a noisy toddler but perfect for a newborn baby when you want to hear every squeak.
---
Louise Weeks, mum of 20-month-old Flynn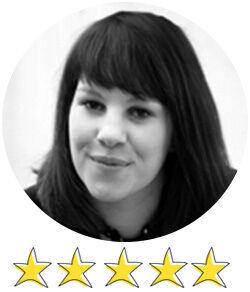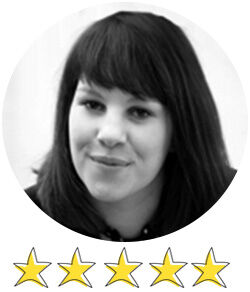 "I love the illuminated keypad – this is a standout feature."
The video quality was incredible, far better than any monitor we have used before.
The picture quality was as to be expected from a Kodak product – crystal clear. The large display screen meant we were able to see the entire cot while bub sleeps, something we couldn't do with our previous monitor.
I absolutely love the backlit parent unit – this is a standout feature. No more fumbling around in the dark whenever we hear baby stir.