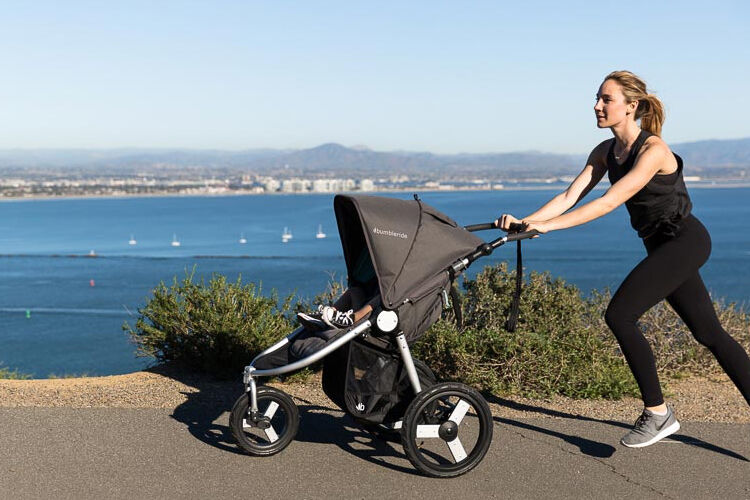 Exercise does wondrous things for the mind, body and soul. A running pram can give a new mum the freedom to get outside and enjoy jogging, all with a little one in tow.
A running pram, also called a jogging pram, is designed to travel at faster speeds than regular prams without compromising baby's safety. With excellent manoeuvrability, they have improved suspension to handle bumpy terrain and often feature three air-filled tyres for a smoother ride.
Whether it's a stroll around the park, light jog or marathon running, a jogging pram provides all the features to make it a smooth ride for both you and your mini trainer.
What to look for when choosing a jogging pram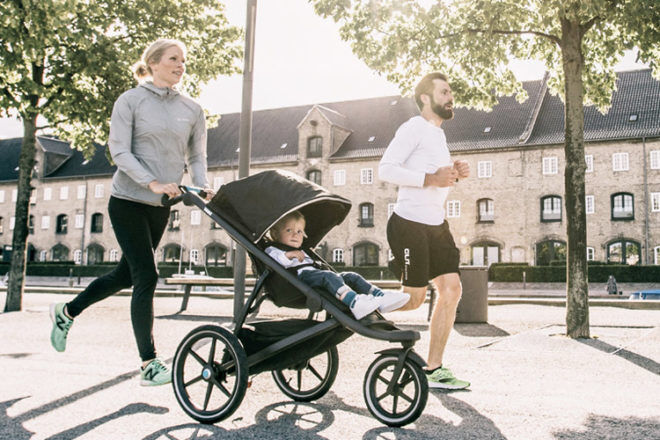 Here are some of the key things to look for when buying a running pram:
Lockable front wheel: Locking the front wheel is essential for stability in a running pram and to ensure the pram continues in the direction you want. It can also help navigate tricky terrain.
Handbrake: Having a handbrake allows the mumma-runner more control over the pram. You can use the squeezable handbrake to help ease your speed, especially downhill. You also want locking brake – which can be on the handlebar or a foot brake.
Suspension: Quality suspension ensures bub isn't bouncing around as you hit the track. It also reduces any strain or shock you may feel in your arms.
Air-filled tires: Jogging prams traditionally have 3-wheels and have air tires. While there is the possibility of air getting a puncture, air tires are generally a smoother and less bumpy ride and are better for going fast.
Safety: While we may not be talking Usane Bolt speed, you want to make sure your precious cargo is safe and sound so make sure there is a 5-point harness.
Suitability: It is recommended that you do not jog with a baby under 6 months of age. There are also weight and size limits for each pram that need to be taken into consideration.
---
5 running prams for active parents
To help you find a jogging pram we've compiled this handy list of fab brands to get you started in your search.
Here are 5 jogging prams for exercising with a baby in tow:
1. Bumbleride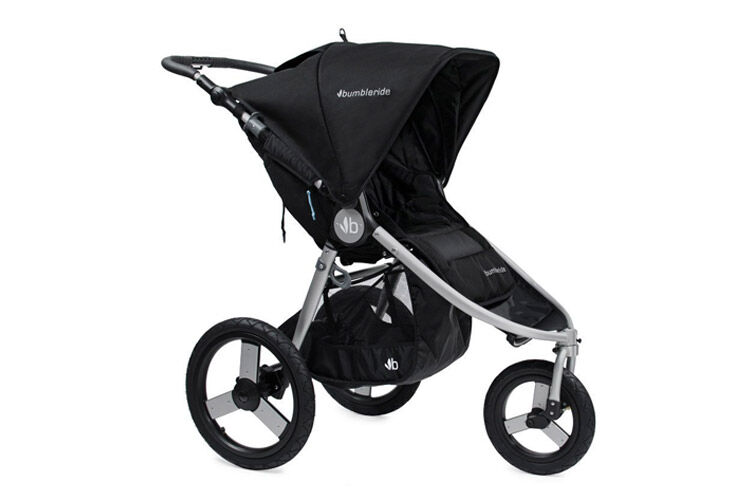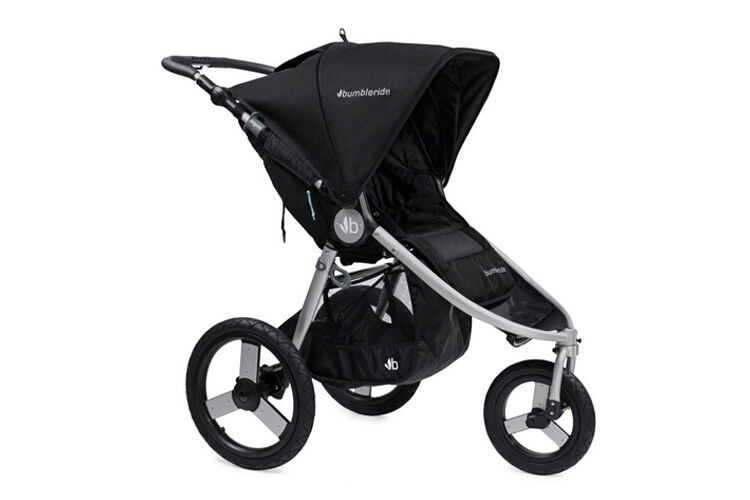 The Bumbleride Speed is a purpose-built running stroller specifically engineered for you to go at your pace. The ultimate training partner for serious runners, the Speed thrives on pounding out the k's – it's built for fitness lovers who grind out more than 15kms a week.
---
2. Edwards & Co
Designed for parents by parents, the Oscar MX is the 3-wheel pram with the handling of a classic family 4×4. The front-wheel suspension takes all the lumps and bumps of the road in its stride while the puncture-proof tyres let you tackle challenging terrains with confidence and style.
---
3. Baby Jogger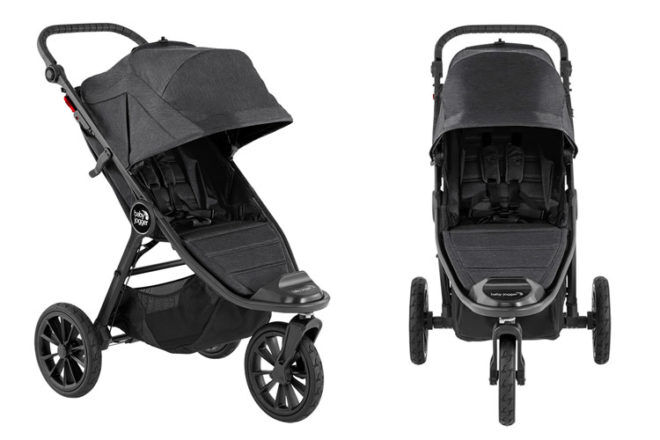 With large forever-air tyres and all-wheel suspension, the City Elite 2 provides high-performance on any terrain. The City Elite's front wheel releases to swivel mode for precise manoeuvrability on daily adventures or locks in place for a run or power walk.
---
4. Thule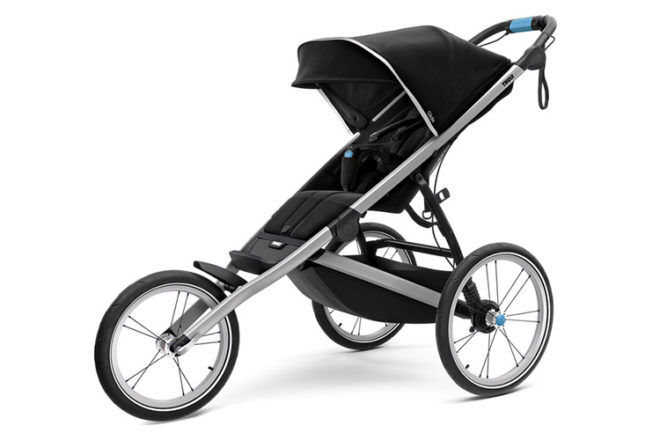 The uber slick Thule Glide 2 running pram is an all-round sports stroller with a lightweight, aerodynamic design. The swivel front wheel allows easy manoeuvrability through city streets and locks into place when you hit your favourite running track.
---
5. BOB Revolution

Whether for fitness, easy strolling or fast and far hard-core running, the BOB Revolution is versatile on and off-road. Sporting the latest innovative features including hand-activated rear drum brakes and wheel tracking adjustment, BOB will be your best training buddy.
---
This post includes affiliates and/or paid inclusions. See our Disclosure Policy.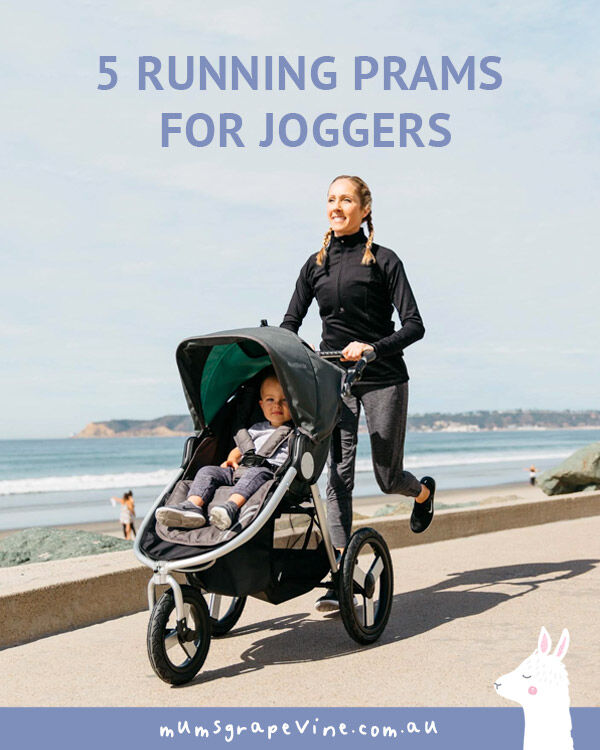 Know a running pram we should add to our lists? Contact us and let us know.
Find more baby prams and accessories in these roundups …
Read this: How to clean your pram in five easy steps
Thousands of Aussie mums in our Mum's Grapevine Facebook Groups are asking each other for recommendations on what to buy right now. And you can too! Join today.