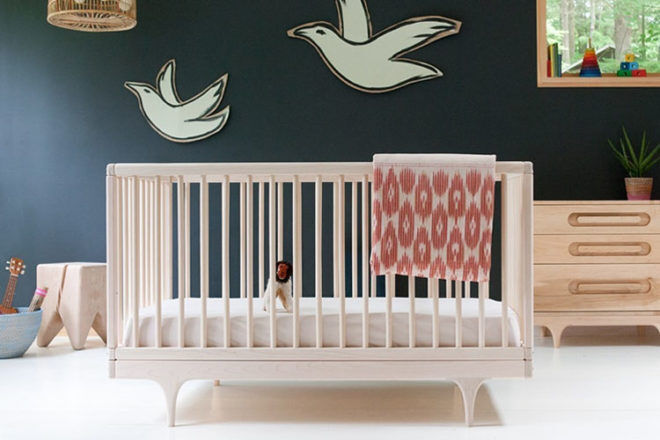 If there is anything more gorgeous than the sight of your little one sleeping peacefully, it's when they're sleeping in a beautiful baby cot – safe and sound. When it comes to the fab range of baby cots Australia has to offer, there are colours and styles to suit every space.
Just as the change table is a nursery essential, the cot is also a key piece of furniture in the early years. From its design and style to the practicality of where and how it will be used, it has to be the right fit. It's also important to consider safety and quality so that baby, Mum and Dad can rest easy.
What to consider when buying baby cots in Australia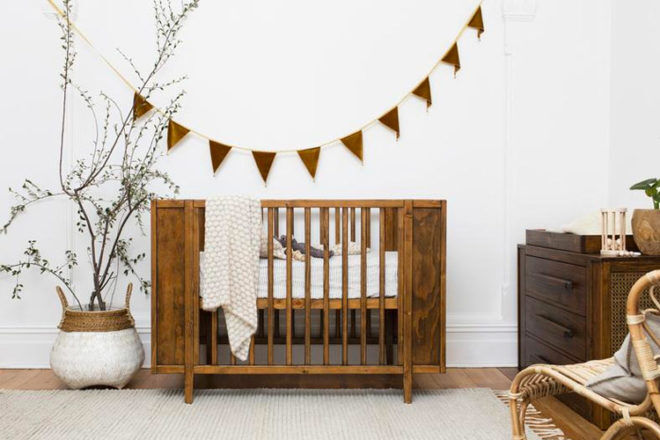 It's important to take into account a number of factors when choosing the perfect baby cot for your poppet, including aesthetics and functionality. Here are some points worth considering:
Space: How big/small is the room? Cots vary in size so measure your room and make sure the cot dimensions will fit your space. Use our handy nursery planning guide to help you on your way.
Safety: Safety is paramount, so be sure to choose a cot that meets Australian Safety Standard AS/NZS 2172-2003.
Quality: Many of the baby cots Australia boasts are made with quality and safety in mind. Nevertheless, always double-check that safety standards are met and that your cot is made tough enough to last the journey.
Fixed side or drop rail: Considering a cot with drop rails? Try to select a design that allows for one-handed operation so you can hold baby in the other arm.
Adjustable mattress height: Cots should have a minimum of two mattress height options. Constantly reaching down for a tiny newborn isn't fun, plus the added height means baby won't be able to climb out of the cot.
Nursery design: Is there a nursery theme or other furniture that the cot needs to compliment? Many of the baby cots Australia has to offer can be purchased in sets, so the change table and dresser match.
Popular features of baby cots in Australia
Teething strips: Teething babies will chomp on anything they can find, including the cot! Teething strips are plastic strips that attach to the rails of the cot to protect baby's precious teeth and gums as well as the cot itself.
Castors: Wheels make a cot easier to move around. Ensure the wheels are lockable so the cot won't move when in position.
Sustainability: Look for claims of sustainable manufactures, such as the use of plantation or FSC-certified timber.
Convertible cots: Make the transition from cot to bed as smooth as possible. A cot that doubles as a toddler bed will provide a safe and familiar environment when easing into the change.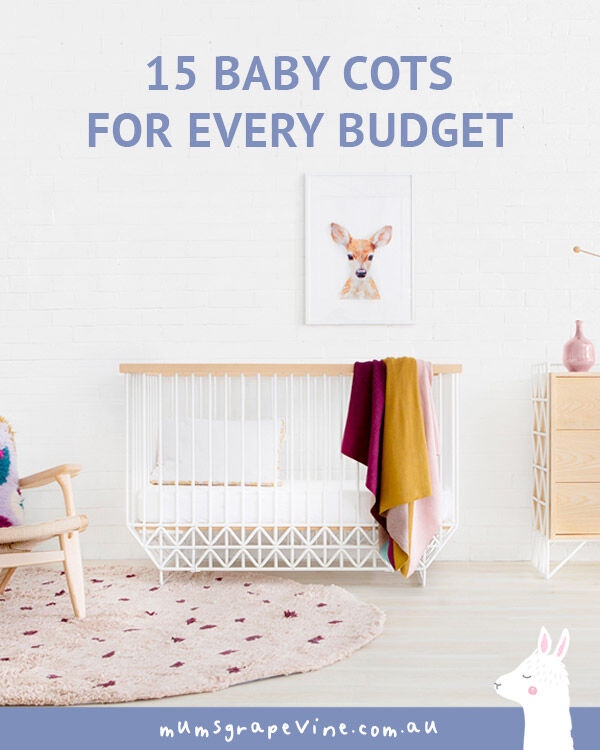 ---
15 beautiful baby cots for every budget
The aim of the game is to help you find a cot that is the hero of baby's sleeping space, a beautiful statement piece that is safe and comfortable for your little one. Think we're dreaming? Think again.
Without further ado, here are 15 of the best baby cots Australia dishes up:
Mocka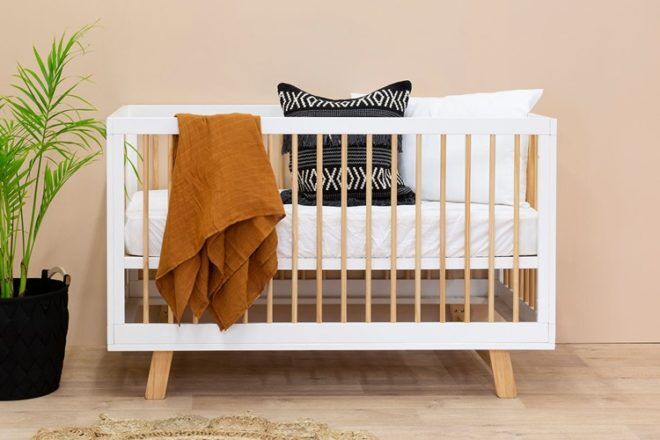 The Aspen cot offers modern style at an affordable price. Complying with all Australian standards, the adjustable base and fixed sides allows baby to sleep safely. Available in three colour combinations – timber and either white, grey or black.

---
Troll
A shining light in any nursery, the Scandy Cot is manufactured from European plantation birch wood for strength, sturdiness and eco-friendly benefits. The effortless, Scandinavian-style cot easily converts into a toddler bed when little ones outgrow the cosiness of their cot.

---
Linea by Leander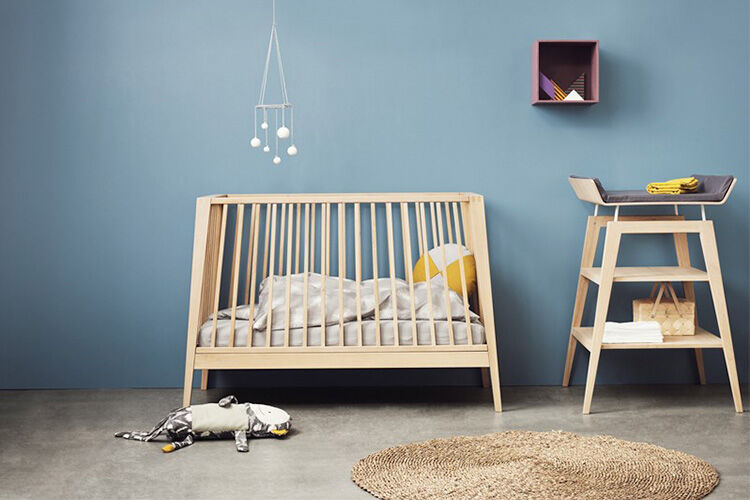 Part of the range from Danish design maven, Stig Leander Nielsen, the Linea cot is an urban twist on the classic contemporary style Leander is known for.

---
Ubabub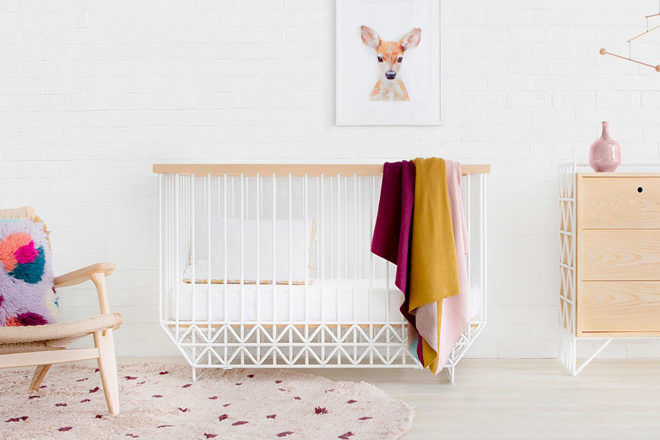 Sleek, modern and durable, the team at Ubabub continues to push the boundaries of nursery furniture design. Crafted from bent and welded metal rod construction, the geometric design detail of the Mod Cot adds to its unique appeal. A clean Ash wooden top rail and a soft matte powder coat finish ensuring it's the focal point of the nursery.

---
Leander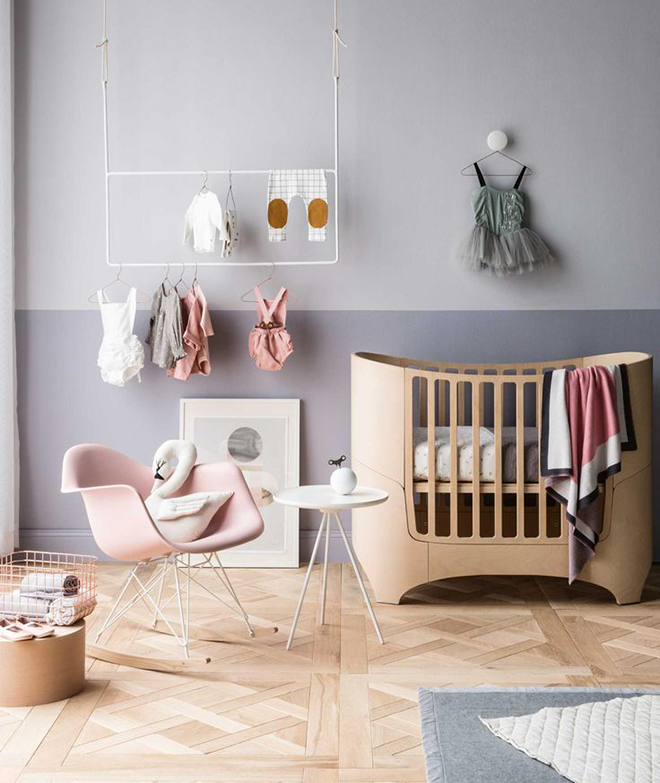 Stand-out Danish design makes the Leander cot instantly recognisable. Its soothing curved shape creates a sturdy cocoon for your little caterpillar.
As beautiful as it is practical, this clever cot transforms to suit every stage of your tyke's growth, with five conversions for newborn, infant, toddler, child and preschooler. Hoorah!

---
Babyletto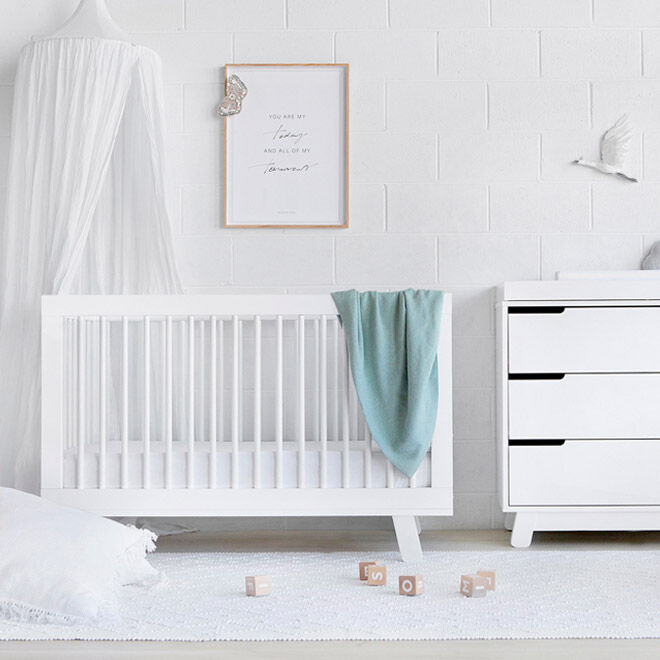 Fit for royalty and ever so charming, the Hudson cot is rumoured to be the choice of Prince Harry and Duchess Megan. Constructed from New Zealand sustainably sourced pine wood for organic strength and style, the adaptable composition converts from a cot to a toddler bed with the kit for conversion included.
It's also available in three different colourways – White, Grey, Washed Natural, White & Washed Natural.

---
Boori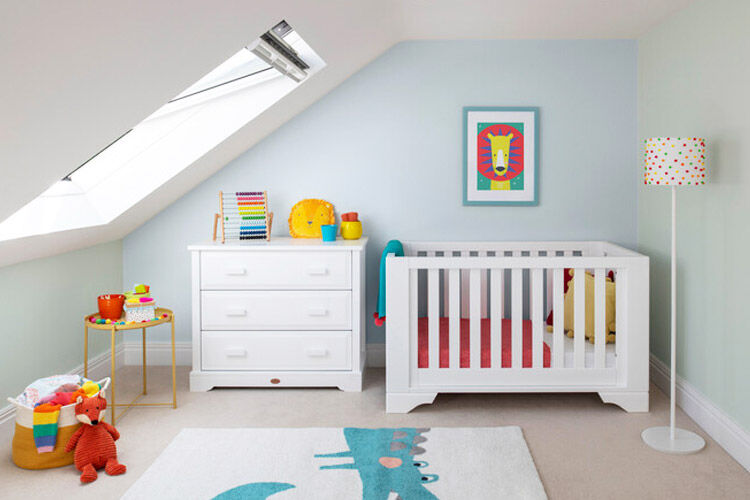 Graceful in style, this baby cot bridges the gap between traditional and contemporary trends. Crafted in sustainable solid wood and finished in environmentally friendly water-based paint, big (little) dreamers are kept safe and secure. When the time is right, this clever cot transforms into a toddler bed and then a full adult-sized single bed for future use.

---
Poppies Little Treasures
It's the beautiful baby cot boho dreams are made of. Designed and handcrafted with love, this rattan cot is a timeless piece destined to be the focal point of any nursery. The stunning use of natural materials makes it truly unique and highlights the hours of craftsmanship needed to create each individual cot.
As baby grows, simply remove the side and this delightful cot transforms into a dreamy daybed.

---
Babyhood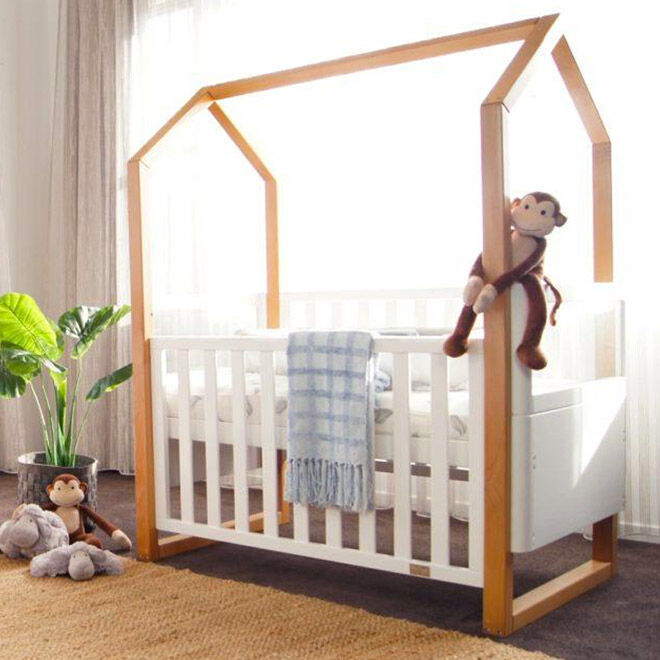 Bring the fun of outdoor play into the nursery with one of the sweetest baby cots Australia has on offer. The Scandi-inspired cubby house design grows with your baby, transforming into a bigger bed for bigger tots when needed. Quality built, with an adjustable base level and smooth single-hand drop side, your sleeping babe will be safe as houses.

---
Pottery Barn Kids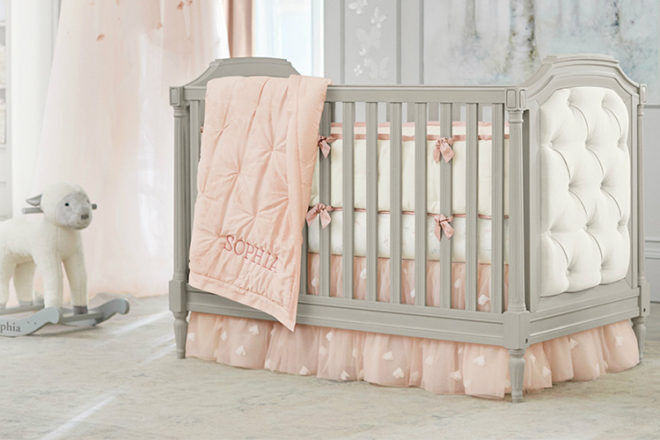 Timeless elegance at its best. The vintage-inspired Blythe cot brings a touch of whimsy and storybook charm. From pin-tucked upholstery to the turned wooden legs and detailed moulding, the ethereal features have been matched with superb safety – rigorously tested to meet or exceed all Australian standards.

---
West Elm + Pottery Barn Kids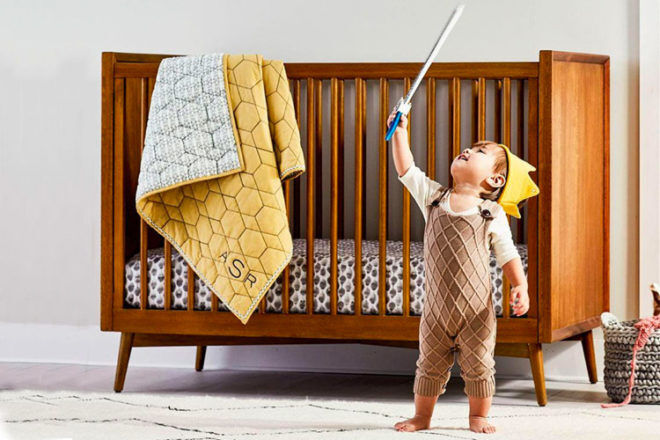 A dreamy collaboration between two of our faves, this baby cot combines timeless design with durable craftsmanship. Featuring two platform heights, this cot grows with your baby, converting into a cosy bed for toddlers with the matching conversion kit (sold separately). Expertly made with sustainably sourced wood, complete with child-safe, water-based finishes.

---
IKEA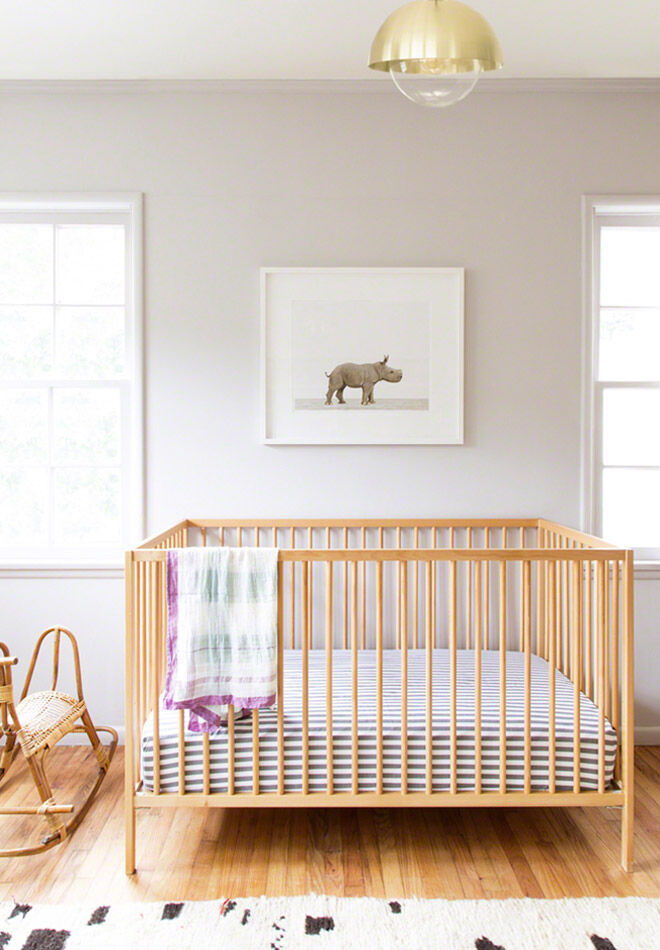 When it comes to popular baby cots in Australia, IKEA is right up there. The simplicity of the Sniglar design is easily dressed up or paired back to work with any nursery style. Made from solid beech, the cot base is well ventilated to give bub a pleasant sleeping environment. (image via She Knows)

---
Kalon Studios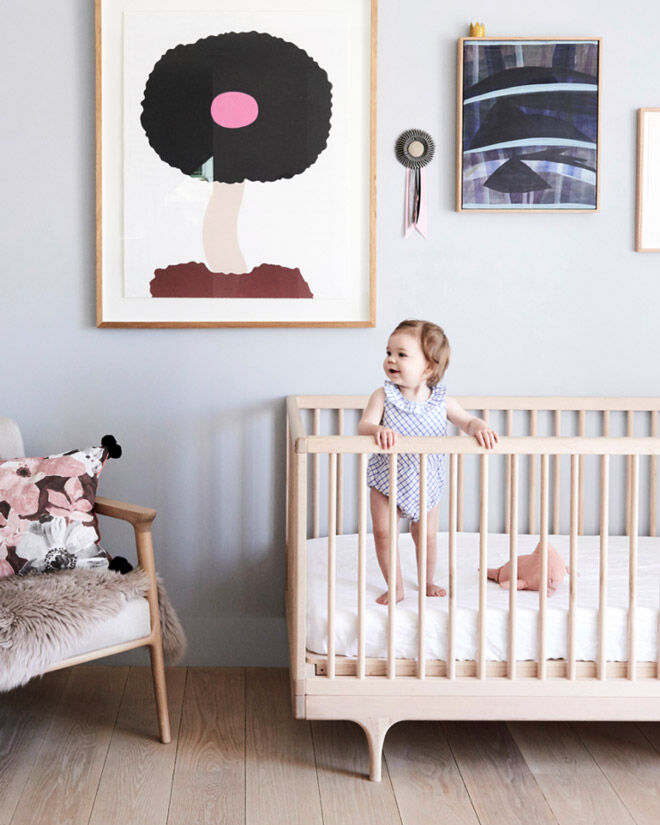 A beautiful balance of classic form and contemporary style, the Caravan baby cot is handmade in the USA from solid, sustainably harvested maple. Designed with longevity and flexibility in mind, the cot also converts into a platform style bed for older bubs. (image via The Design Files)

---
Stokke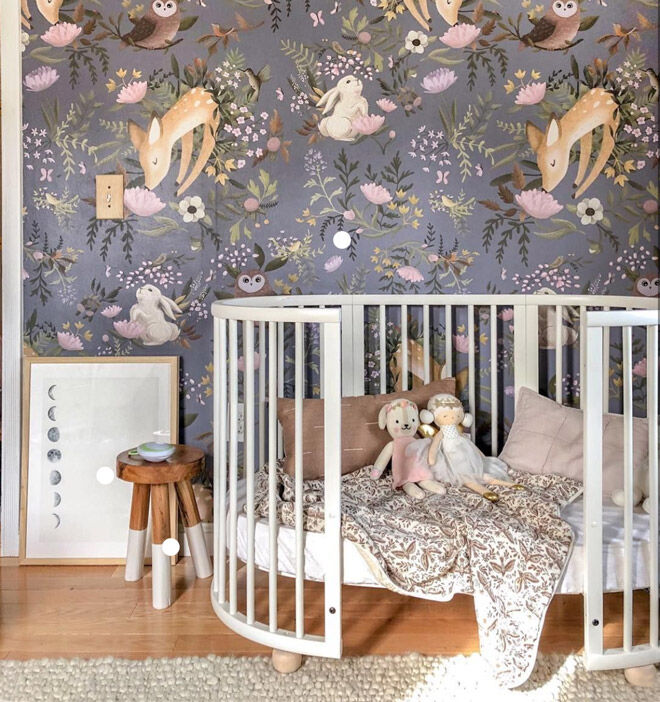 A beautiful addition to any nursery, this Stokke cot is a great all-rounder. The distinctive oval design increases airflow through the crib, creating a safe cocoon for baby. Made from durable, solid beech wood, it grows with your child from newborn to toddler, and up to 10-years-old (double digits!) with the additional Junior Extension Kit.

---
Love N Care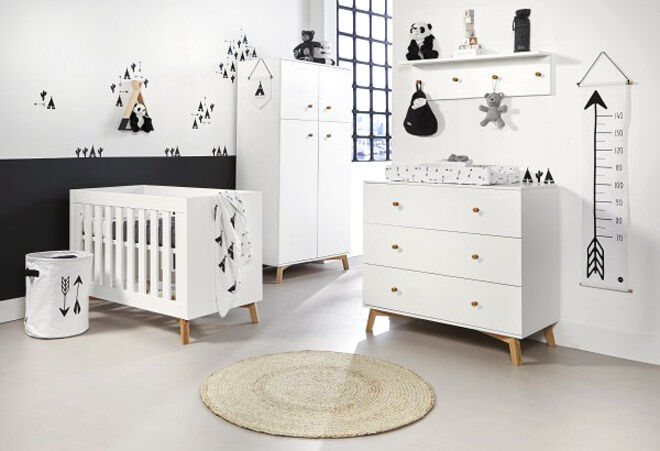 One of the most beautiful baby cots Australia offers when it comes to contemporary minimalism. The white timber with natural-coloured feet will pair well with just about any other furniture. It comes complete with a two-position base and easily converts to your child's first bed.

---
This post includes affiliates and/or paid inclusions. See our Disclosure Policy.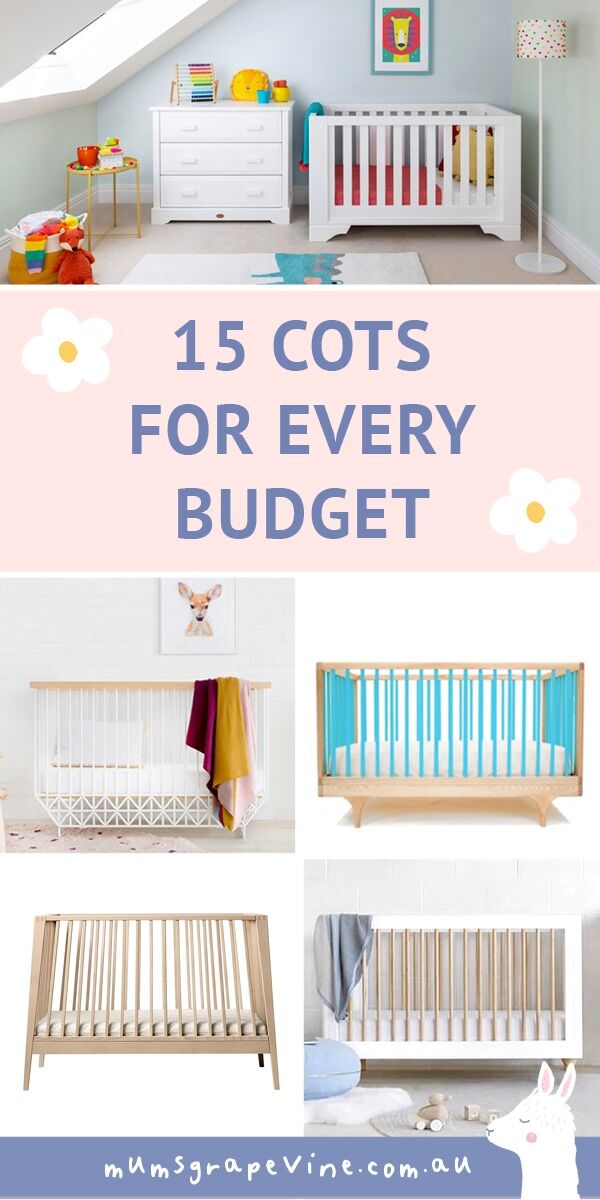 Know some baby cots we should add to our list? Contact us and let us know.
Read these roundups next ….
Continue your search for baby cots Australia-wide
Searching for the best baby cots in Australia and still not sure if any of these are right for you? Join one of our Facebook Baby Groups and ask thousands of other mums what they recommend. They are grouped together based on your baby's birth date so everyone is going through the same stages at the same time.
Click here >> Mum's Grapevine Facebook Groups  << to find your group today!