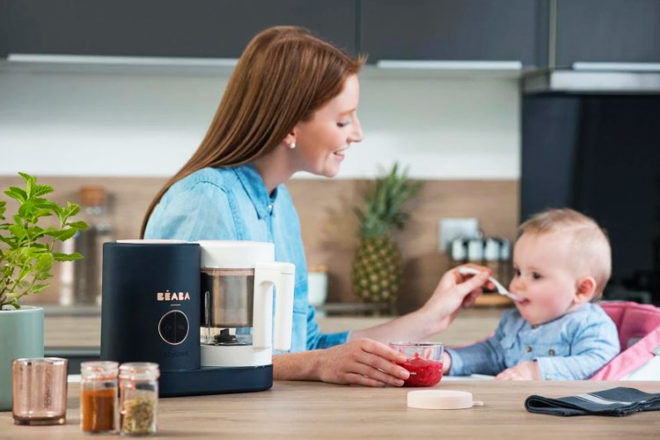 Most mumma bears are pretty excited when their baby bear takes the big step of starting on solids. Then comes the realisation that food is a lot trickier and time-consuming than popping your bub on the boob or bottle. This is where a baby food maker comes in super handy.
While we all want our bubbas to eat healthy and nutritious meals, we also want mealtime to be as quick and easy as possible. A good baby food maker eliminates the need to spend hours in the kitchen and eases the mess and fuss of food making. Plus, you'll always know exactly what your munchkin is munching on.
To help you get ahead in the kitchen, we've done the prep work for you. Keep reading for some fab buying tips and a handy list of the top brands in Australia.
Things to look for when buying a baby food maker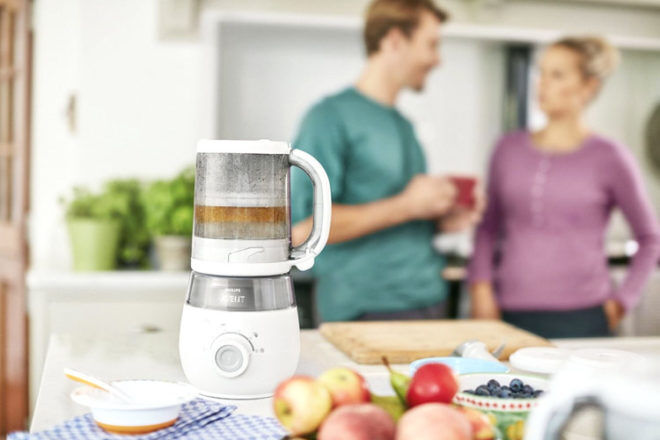 Here are the key features to look for when buying a baby food maker:
Function: It's a simple question, but what do you want your baby food maker to do? Will you still be cooking food for the whole family and just want something that quickly and easily turns that into mush for your bub. Or do you want a stand-alone machine that can do everything – steam, mash, reheat, defrost, everything but wash up.
Ease of use: You want something that makes your life easier. If the instructions are gobbledegook, it comes with a box of unrecognisable parts and you need to be a NASA scientist to get it to work, perhaps it's not the one for you.
Durability: Little hungry bellies can eat a surprising amount of food. Your baby food maker is going to be your new best friend, so you want it to go the distance. Look for a quality build and a warranty always helps, just in case something goes wrong. Also consider whether you want to invest in a product just for the short term or whether you'd like it to have a life after baby moves on from mash.
Cleaning: When it comes to preparing your bub's food, cooking is only half the job. Then there's the cleanup. Lots of fiddly parts take extra washing time. And be sure to check if it's dishwasher friendly.
Safety: You don't want to sacrifice your baby's health for the sake of convenience. So it's important that your baby food maker is good quality. Look for shatterproof material so you don't run the risk of bits of the device ending up in your little one's dinner. And look for plastics that are BPA, lead and phthalate-free.
---
9 baby food makers for busy mums
We've rounded up our favourite baby food processors to make life a little easier when it comes to feeding hungry munchkins.
1. Beaba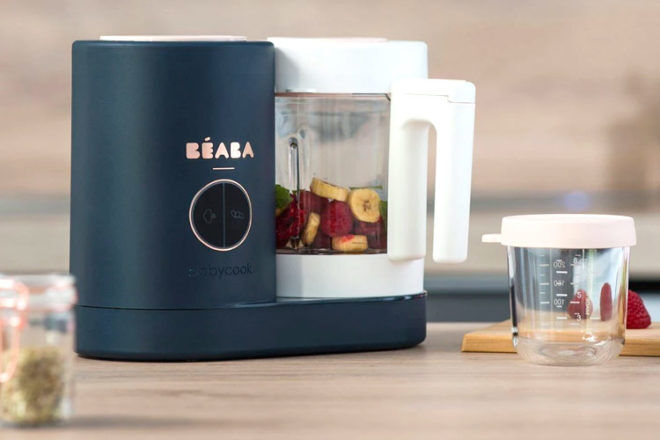 The ultimate all in one, the Beaba Babycook Neo steam cooks, blends, reheats and defrosts, all in 15 minutes or less. With a unique pulse-blend feature that adjusts from a fine to a chunky puree, you can be sure what you cook up for your goldilocks will be just right.
Functions: Steams, blends, defrosts and reheats
What's included: 1.25L glass bowl, stainless steel steam basket
Optional extras: Grab a Babycook book for recipe ideas

---
2. Tommee Tippee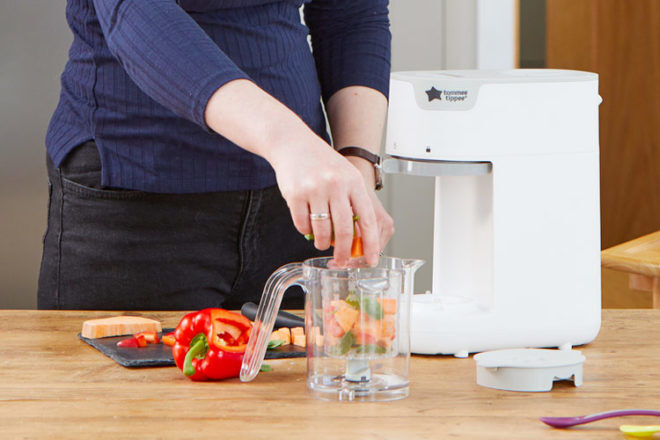 Steam fruit, vegetable, meat and fish then blend for a nutritious meal at the push of a button. Use the automatic timer to set steam and blend times for 'Michelin starred' mush meets five-star convenience.
Functions: Steams, blends
What's included: Jug, steamer basket, spatula stored in the handle
Optional extras: Pair it with a Tommee Tippee magic mat for mess-free meals

---
3. Philips Avent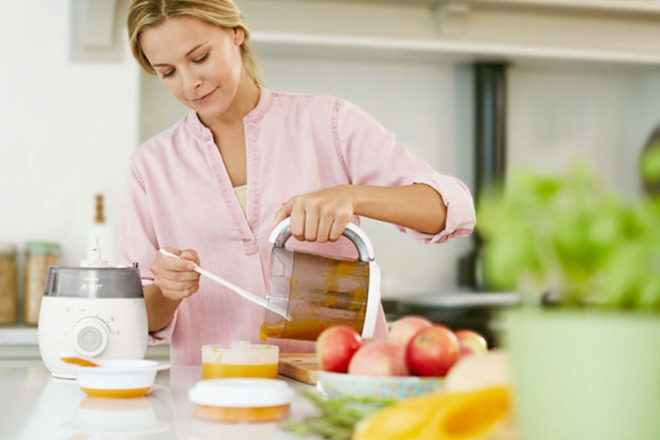 You can't get much easier than this one jar wonder. Steam circulates upwards from the bottom, making sure all the ingredients are evenly cooked without boiling. When it's done, simply flip the jar over and blend.
Functions: Steams, blends, defrosts and reheats
What's included: Jug, spatula, storage pot and recipe booklet
Optional extras: Store leftovers in the Avent Fresh food storage pots

---
4. Nuk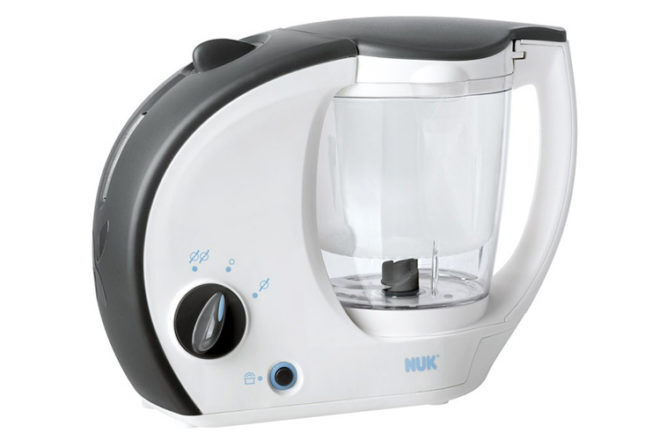 Good things come in pairs. The Nuk Baby Food Processor comes with two baskets so you can steam different foods at the same time without them losing their flavour. And when it's time to blend it up, choose from two puree settings – extra fine or chunky.
Functions: Steams, purees, heats and defrosts
What's included: Jug, 2 steamer baskets
Optional extras: N/A

---
5. Chicco
Cut your prep time in half with the Chicco 4-1 Easy Meal Steamer blender. Use the built-in mini mandolin to slice veg straight into the cooking basket, then simply steam, blend and the job's done.
Functions: Slices, steams and blends
What's included: Steamer, cooking basket, cut express file, recipe book
Optional extras: N/A

---
6. Cherub Baby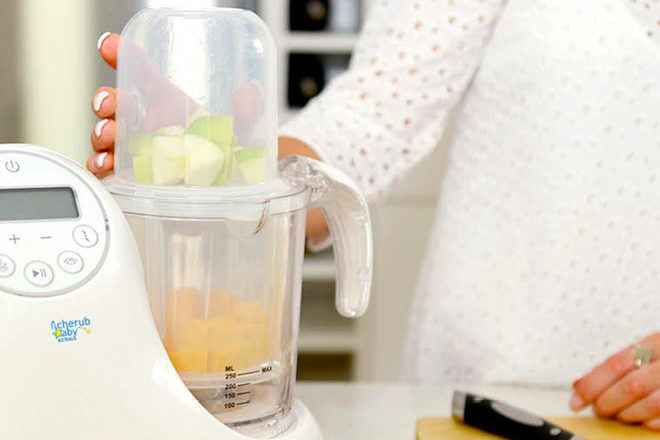 Packed with features, the Cherub Baby Natriblend is a baby feeding machine. Not only does it heat, steam and blend all your bub's solids, it can also warm up milk pouches and even sterilise your bottles and accessories. Clever.
Functions: Steams, cooks, blends, warms and sterilises
What's included: 2 steaming chambers, jug, LCD screen, Cherub Baby Baby Food Cook Book
Optional extras: Pair it with Cherub Baby On the Go Food Pouches and Food Pouch Spoons

---
7. Green Sprouts
For those times when you don't need to start from scratch, this handy gadget is a great way to make mash from pre-cooked fruit and veg. With no batteries or electricity needed, it's a simple, low-cost solution that you can take anywhere. It even separates seeds and skins from purée.
Functions: Purees
What's included: Hand mill, built-in serving bowl
Optional extras: N/A

---
8. Oxo Tot
It's a baby food maker built for minimum fuss. With a contoured body, non-slip grip and non-skid base, feel confident knowing the food won't fly everywhere (at least until after you've served it to bub). You can also easily add liquid to control puree thickness, and the trough in the base catches any mess.
What it does: Purees
What's included: Hand mill, feeding spoon
Optional extras: N/A

---
9. Kitchenaid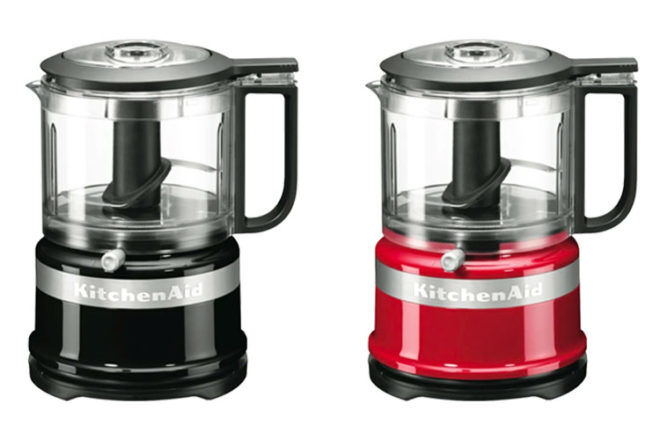 If you're happy to pre-cook your poppet's food, most food processor's can take care of the mashing part for you, but they can be big and bulky. The Kitchenaid Mini Food Processor is just the ticket – it doesn't take up much space and you can easily chop, mix, and puree coarse or fine food at the press of a button. And you can use it long after your baby's moved on from mush.
Functions: Chops, mixes and purees
What's included: Bowl, lid with drizzle basin
Optional extras: N/A

---
What is a baby food maker?
Baby food makers are benchtop appliances that make preparing baby's first meals easy, quick and enjoyable. Some units puree food to the perfect consistency, others take care of everything from defrosting to steaming and chopping.
Is a baby food maker necessary?
If you'd prefer to use your existing steamer or food processor to make baby's meals, go for it. Many parents who choose to use a baby food maker do so for the convenience it brings to food preparation.
Is it cheaper to buy baby food or make it yourself?
Without any doubt, it is more cost-effective to make your own baby food using fresh ingredients than to purchase ready-made products at the supermarket. Plus, by making baby's first foods yourself, you have the peace of mind of knowing exactly what goes into every spoonful.
---
This post includes affiliates and/or paid inclusions. See our Disclosure Policy.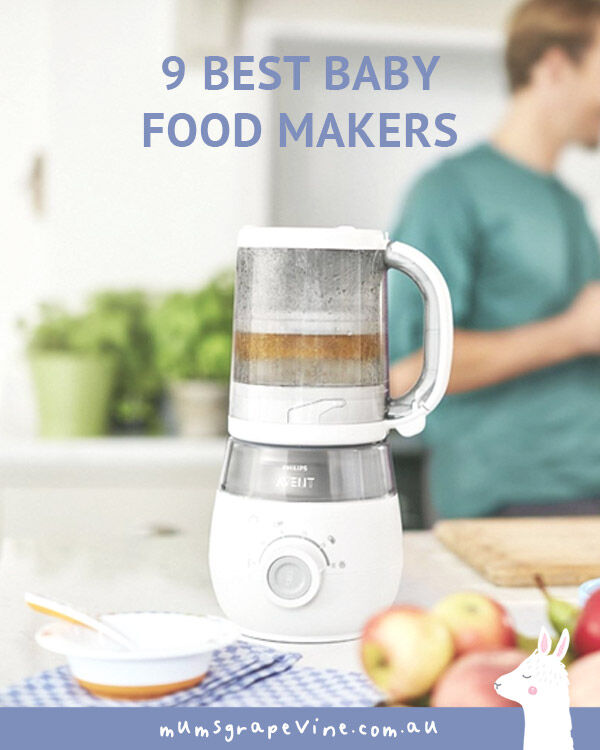 Read these roundups next …
When little ones reach a new milestone in their feeding journey, it's an exciting time for everyone. Whether they're just starting solids or packing school lunches, here are a few handy articles to help along the way:
Read this: First foods – A helpful guide to introducing solids