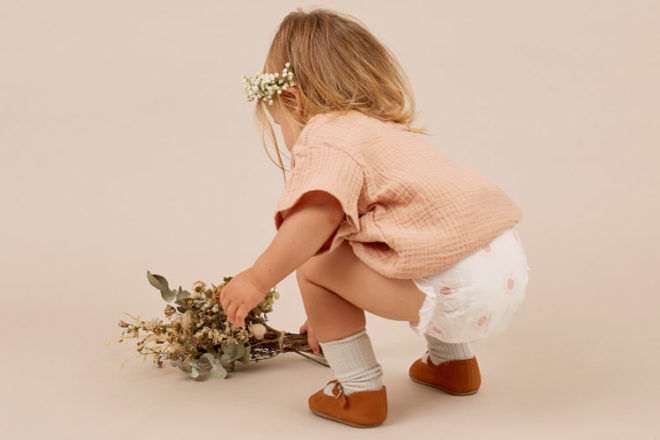 Disposable baby nappies are a modern parent's helping hand, making toileting a tot so much easier from the newborn stage right through to toddlerhood. Just change and toss – the convenience factor is a big drawcard for new mums and dads.
Knowing which one to buy for your bub comes down to personal preference, and often the recommendations of other parents who've been there and done that. So we asked the mums in our baby groups which disposable nappy brands they adore.
What to look for when buying disposable baby nappies
Here are a few things to consider when buying disposable nappies:
Fit: Most newborn sizes vary from three to four kilos as the starting point, so if you have quite a small baby it may be worth looking into the premmie sizes. Most nappy leaks tend to happen from the leg or back of the nappy, so check for elasticised areas that hold in, but don't restrict.
Absorbency: Most disposable nappies now work well for both day and night, with absorbency lasting up to 12 hours.
Cost: The cost of disposable nappies varies greatly, depending on the materials they're made from. Many in the eco or environmental range are more expensive but are kinder to the environment.
---
15 nappies other mums recommend
To help you find the best nappies for your newborn or toddler, we've compiled a handy list of brands, as recommended by our community of mums.
Here are 15 of the best baby nappies for newborns and older.
Thankyou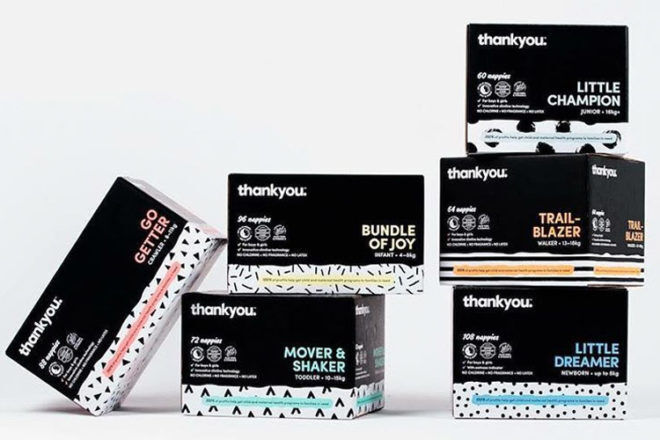 A combination of quality and a social conscience gives Thankyou nappies a thumbs up from our mums. Triple-layer technology makes them super absorbent and helps draw moisture away from baby's skin.
"Best nappies for us would be Thankyou. I've found they are super soft and absorbent and keeps the poo-namies in. Also, when we buy Thankyou, they give back to charities and programs for families." – Stacey
"Thankyou nappies are amazing!" – Laura
"Thankyou nappies! They are soft, pull up high, look great and have been the only nappies that can last my bub all night and contain the blowouts. The company is also amazing in that they don't use any nasties and commit 100% of their profits towards ending global poverty." – Emily

---
Tooshies by TOM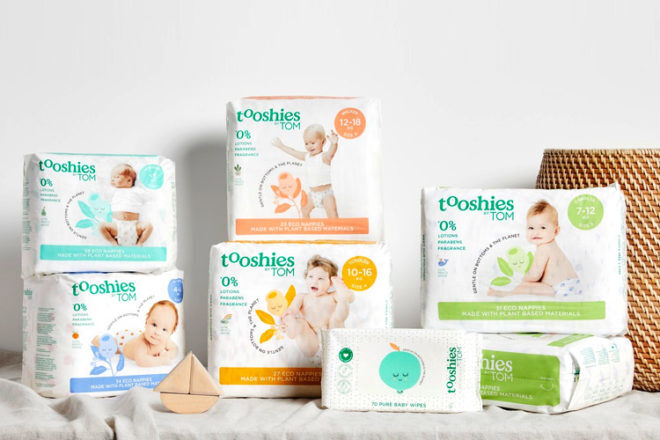 A snug, slim fit with stretchy, elastic waist these nappies are gentle on baby and on the planet. Made from sustainable, plant-based materials they are also fragrance, latex and paraben-free.
"I've tried such a huge range and have found Tooshie to be the best nappies. Always fit so well, gentle on the skin and best of all… no leaks!" – Rachel
"I love Tooshies by TOM as eco-friendly, no nasties, good fit, great absorbency."- Karlee
"Tooshies – while more expensive they are absorbent, no leaks, fit well, and they are plant-based and compostable so much better for the environment than other nappy brands." – Kate
"Tooshie are well worth the price for my daughter. They hold a lot of pee without getting her clothes damp which I have found with a lot of the other nappies. They are also biodegradable and have cute patterns in each size. No problems with the tabs, plus their customer service is excellent." – Karem

---
Wonder Eco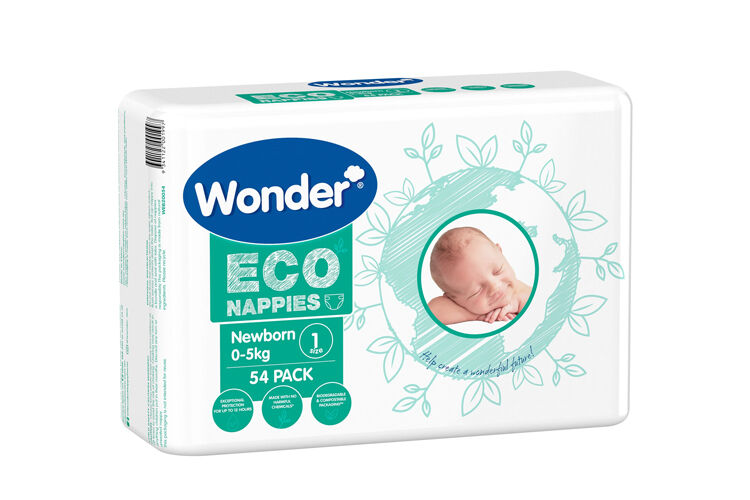 Made from sustainably sourced plant fibres, Wonder Eco Nappies provide superior, lasting leak protection for up to 12 hours. This is a nappy that helps reduce your carbon footprint while keeping tiny bots comfy around the clock.
"I've switched to Wonder Eco Nappies because I was looking for a sustainable, eco-friendly nappy that would be as good as leading brands and I've found it. The Wonder Eco Nappies have been a game-changer for us. No more leaks and blowouts have taken the hassle out of nappy changes and given us more time to bond." – Julie
"These nappies exceeded my expectations. I was a little skeptical because it has taken a while to find nappies that are a good fit for my son with good absorbency but these were even better! They feel soft and are not bulky like other nappies while still being very absorbent (my son is a heavy wetter and they even worked overnight)." – Riannon

---
Palmbaby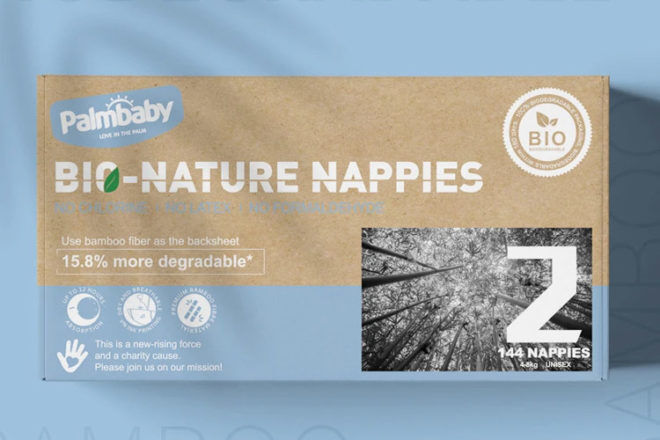 With no ink printing and bamboo fibre backsheets, these nappies are almost 16 per cent more biodegradable. They also have a skin-friendly soft surface, super elastic, stretchy waistbands and a colour change wetness indicator.
"Palmbaby are super soft with 100% biodegradable bamboo fibre backsheet and has a wetness indicator, never had a leak even after 12 hours, keeps the poonamis in." – Bonnie
"Palmbaby! No nasties, No inking and biodegradable in 180 days. Alby has had a poo explosion in every nappy we've tried except these! Bought online with super fast delivery." – Erin

---
Little One's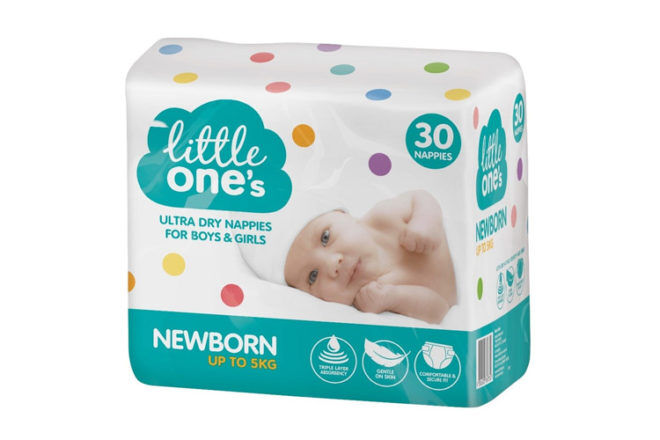 Designed with flexible leg cuffs for a perfect fit, leak protection and day and night protection with triple layer technology.
"Little Ones seem so much thicker and comfortable than the others I've tried and never leaked even during poo explosions." – Kirsty
"Little Ones! We use them with my 5-month-old and 20 -month-old and have never leaked, so affordable too." – Tanisha
"Little One's from Woolworths. Great price, super absorbent (they last all night) perfect fit." – Bek

---
Rascal & Friends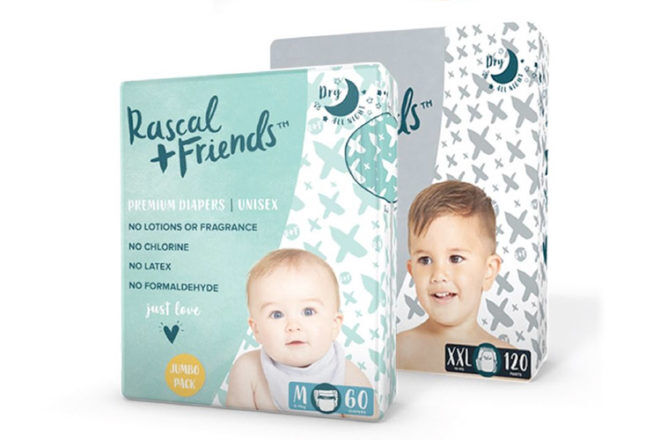 A comfy fit with a unique, deep pocket to reduce the chance of leakage. These uber-popular nappies also have a breathable backsheet with air circulation to keep bub dry.
"A great affordable nappy. No leaks or explosions, no smells or rashes. Best of all easy on the wallet." – Charmaine
"Rascal & Friends have been AMAZING for us. No leaks even with his explosive poos! They've been so so good, they're soft, hold LOTS of wee. I noticed with other brands you can feel the wetness on the outside even when they haven't leaked." – Jessinta
"Definitely Rascal & Friends. I got them for my son from birth and have never leaked… we are now in size 3. Best nappies." – Louise
"Rascal & Friends! They are soft and fit so comfortable around the legs and waist. Have had no leaks from them and absorb all the smells!" – Tamara

---
CUB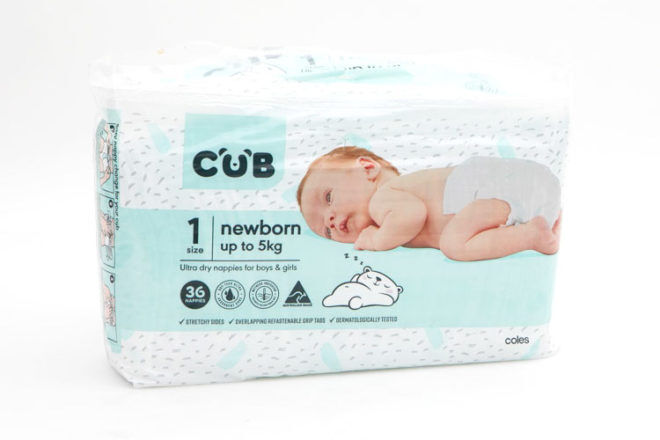 Ulta-dry tech absorbent core, slim-fitting design with stretchy sides and grip tabs that refasten for quick checks. They also have a handy wetness indicator.
"Coles CUB have worked great for us." – Helen
"No better poo catcher than Coles CUB brand … stretchy, absorbent and very affordable!" – Simmone
"I use CUB on my son. Because he is chunky I had trouble finding a nappy that fit around his bottom and belly comfortably! CUB are a wider fit and are a fantastic price!" – Kirsty

---
Green Kids Co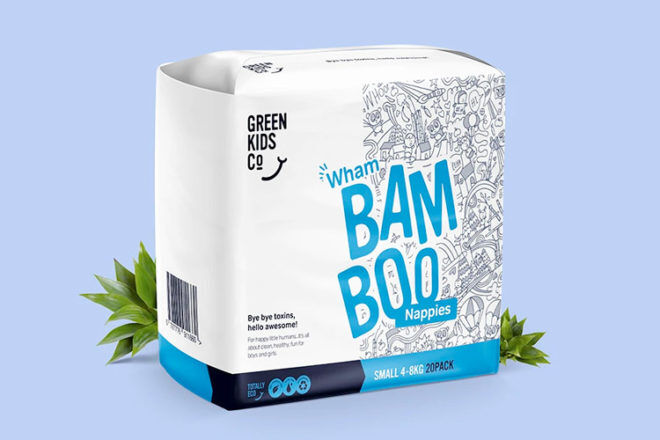 Soft, clean and green bamboo nappies which are 100 per cent toxin-free and made from organic, planet-friendly materials.
"The best eco-friendly nappy that performs like any other mainstream brand that I have come across." – Alex
"Super soft, excellent fit again no nasties and a more environmentally friendly option ( I recommend these to everyone ). I have not had any leaks or explosions." – Taylor

---
Pandas by Luvme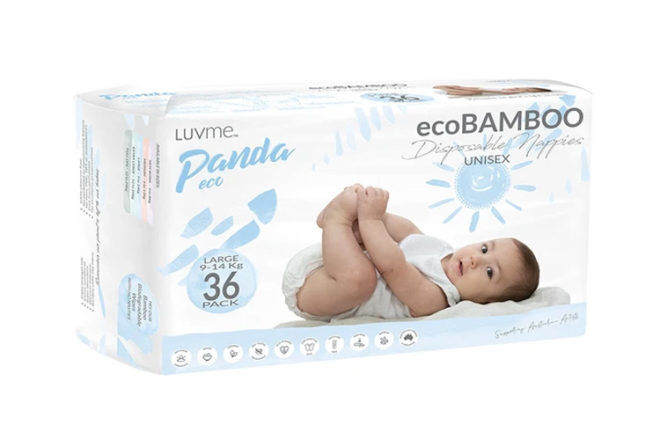 Owned and designed by an Australian family, Pandas are made from cloth-like bamboo fabric, are super absorbent and have no harsh chemicals.
"Pandas by Luvme. They are biodegradable, soft (made from bamboo) and super absorbing (no leaks). Love them." – Masa

---
Ecoriginals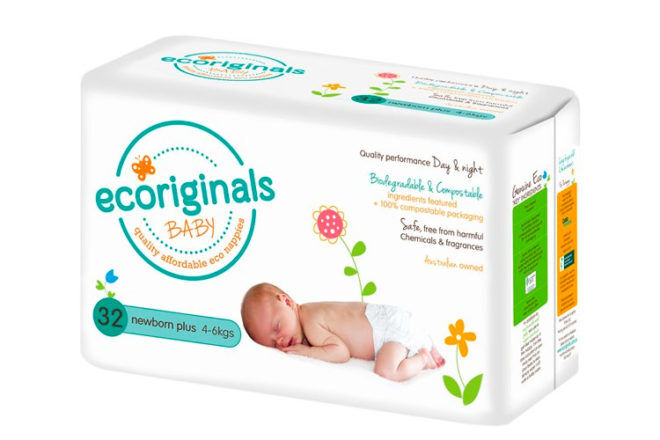 Made using a combination of plant-based materials, Ecoriginals use a cardia compostable film instead of a plastic leak guard, and are Australian owned and designed.
"Ecoriginals! So much better for the environment and our babies' bums. No leaks, no chemicals, and delivered to my door!" – Michelle
"Ecoriginals. They're better for the environment as they're 80% plant-based and have no nasties. Even the packaging they come in is 100% biodegradable. Another plus is that they have great 100% biodegradable wipes that are delivered to my door." – Amanda

---
Joonya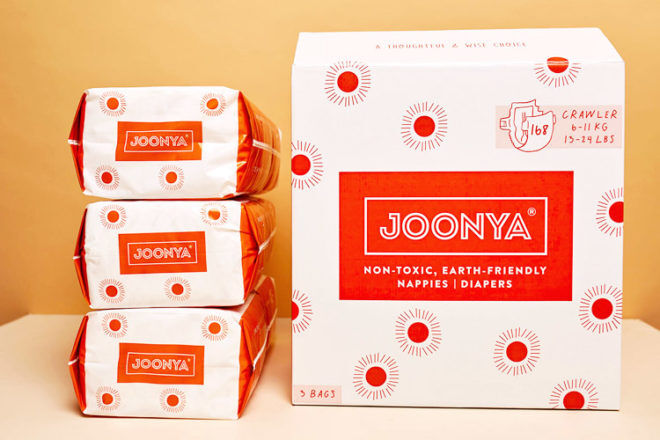 Working as a subscription service, there's no need to think about shopping for nappies. Joonya has a channel technology that keeps bubs drier for longer, they're also non-toxic and made from responsible materials.
"Joonya are fabulous! Absorbent, perfect fit, eco-friendly and available on a subscription so you never run out!" – Sarah

---
Bamboo Nature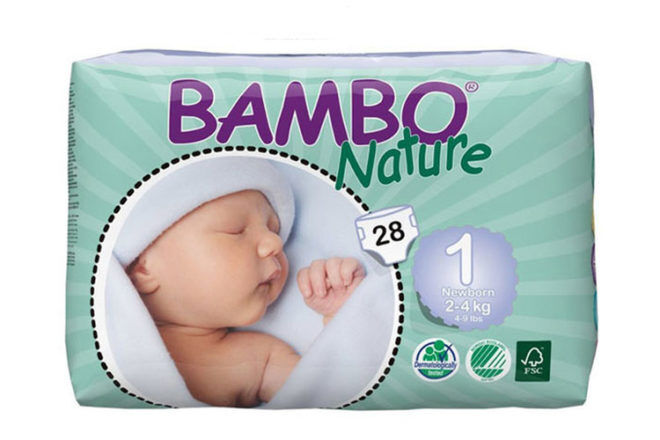 Designed to have great air circulation, Bamboo Nature nappies have extra elastic for a snug fit and leg leakage barriers.
"There are no harmful chemicals and they are eco-friendly. Bamboo Nature nappies are my favourite! They are the thinnest and softest nappies I've used but fit perfectly and are very absorbent. We do not have any leaks with them and my son (who has sensitive skin) never has nappy rash." – Emalie

---
Naty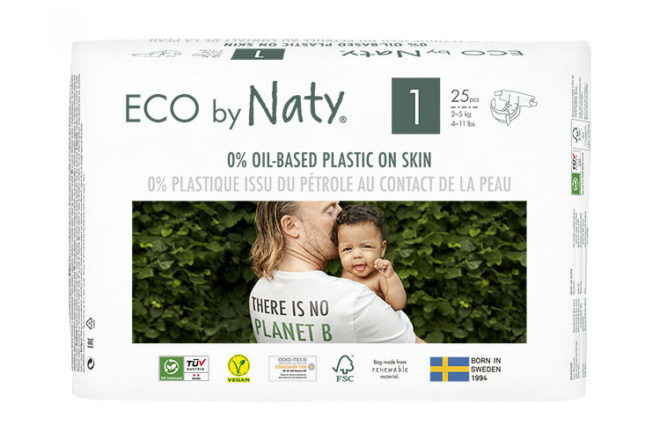 With only plant-based materials touching baby's skin, Naty nappies are made from wood pulp and other natural plant-based materials. You're also able to set up a subscription service so there's no worry about running out.
"Eco by NATY are amazing and are the only brand disposable I will use." – Jacinta

---
Aldi Mamia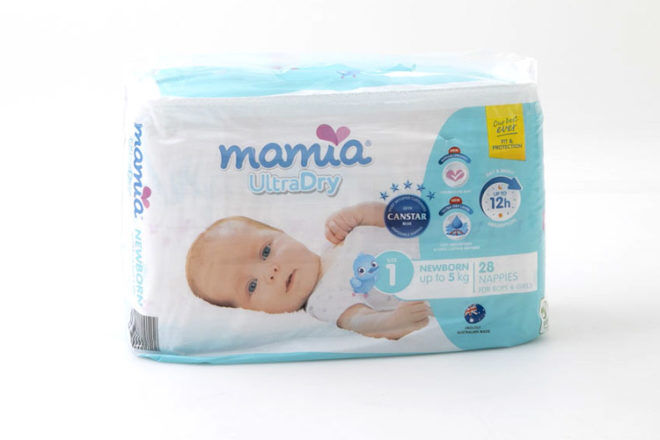 With up to 12 hours day and night absorption, a wetness indicator and Ultra Dry Layer Aldi nappies are one of the most popular recommendations from our mums. The UltraDry Newborn nappies also have an inner core specially shaped for newborn belly buttons.
"Aldi brand Mamia has been great for my bub. No nappy rash, no leaks and a great price!" – Lynette
"Aldi! Used with my first and again this time with Lily. We were given a couple of other brands as gifts and I was not impressed. Aldi for the win here!" – Rissa
"100% Aldi! We have tried so many and working in childcare I see almost every brand, and Aldi is the overall winner! They are cheap, reliable, I have personally never had any leaks, they don't smell when my daughter wets them and they look cute." – Steph

---
Huggies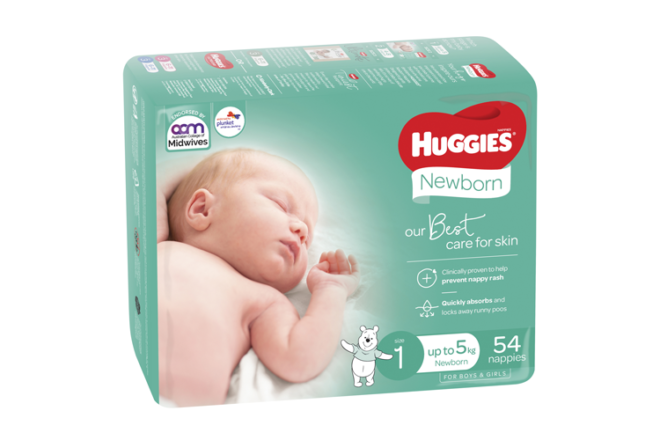 Up to 12 hours protection with a wetness indicator, Huggies Ultimate newborn also have a layer that draws runny bowel movements away from bub's skin.
"Huggies Ultimate. As it is the softest of all and won't leak." – Phebe
"Huggies Ultimate seem to be the only ones with the extra gusset across the back which catches everything from a newborn with an upset gut to prevent it going up the back!" – Laura
"Huggies every single time. Every bub I've only used Huggies. I've tried others, but they are generally papery, thin, smelly, and just not soft enough. Even when my son was in pull-ups; I still used Huggies." – Amanda

---
BabyLove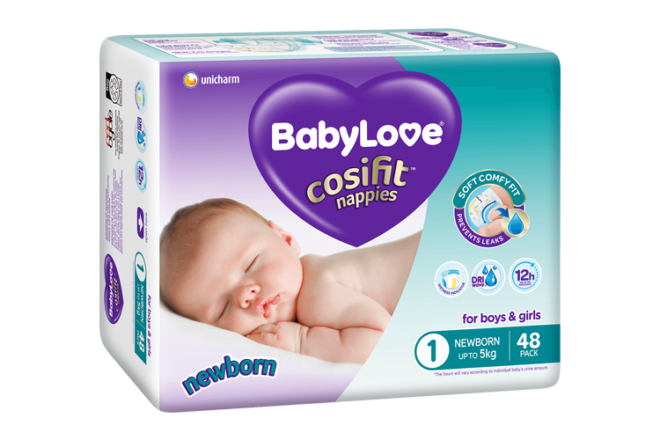 The DriWave layer in BabyLove Cosifit is designed to continually draw moisture away from bub, while the gathers around the legs are designed to keep everything in without causing red marks on baby's legs.
"BabyLove. Especially with the gap for their umbilical cord." – Chandini
"Babylove! Never any leaks, fit amazing on both my kids, sizes are perfect!" – Emma
"Can hold up to my little boy's pee-namis and don't cause nappy rash. The material is much kinder to his skin, it's easy to chuck one on with one eye open in the middle of the night 'cause it's not gathered at the back part." – Amy

---
We travel the country sourcing new products to add to our lists. While they may include affiliates and/or paid inclusions we only ever include products we think are cool, noteworthy, useful and of interest to our readers. See our Disclosure Policy.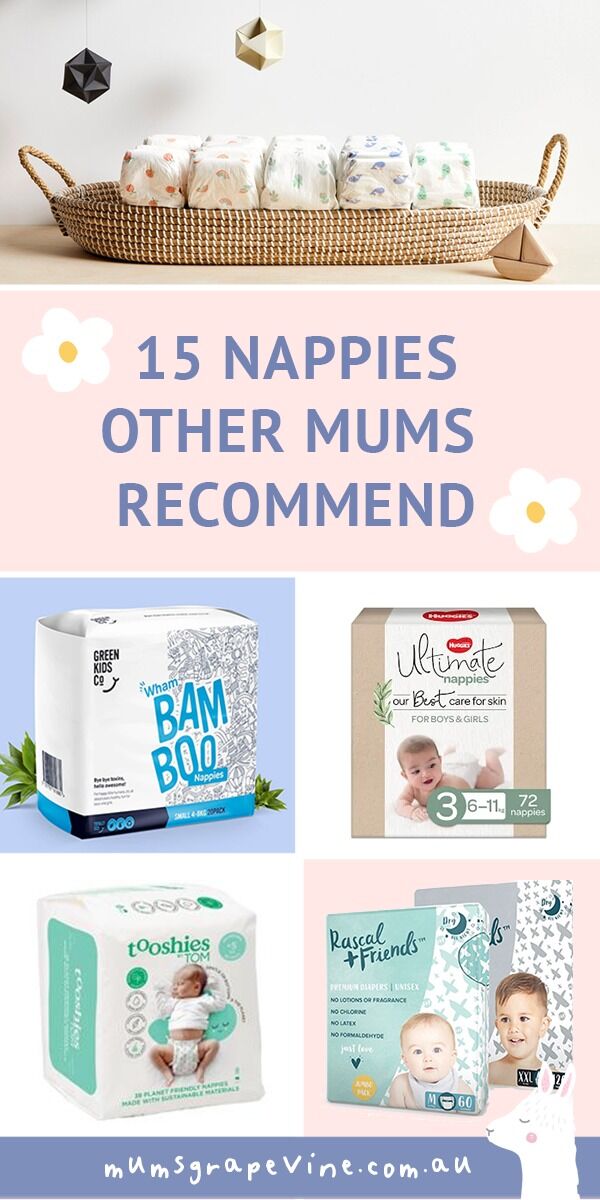 Know a brand of infant nappies we should add to our list? Contact us and let us know.
Read next …
Now that you're leaping into life with nappies, here are a few articles that you might like to read next:
---
Continue your search for the best nappies
Looking for the best infant nappies for your babe and still not sure if any of these are right for you? Continue your search online by jumping into one of our closed Baby groups and ask thousands of other Australian mums what they recommend – 'What to buy' is the most talked-about topic.
Click and join your group today!