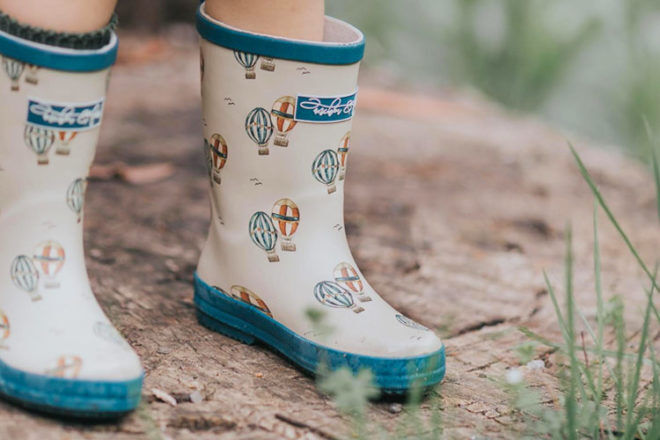 When the rainy season hits, parents and pint-sized people love the versatility, variety and pure fun of gumboots. An essential fashion accessory in stormy weather, having a pair of gumboots that's easy to pull on when they're in a hurry to get splashing makes life so much easier for parents.
Perfect for jumping in puddles, frolicking on the farm or playing at preschool, there are so many brilliant gumboots for kids out there, and we've rounded up our favourites.
16 wellies and gumboots for kids
To help you find a pair of kids rain boots, we've compiled this list of fab brands to get you started in your search for the perfect pair of gumboots for kids.
1. Merry People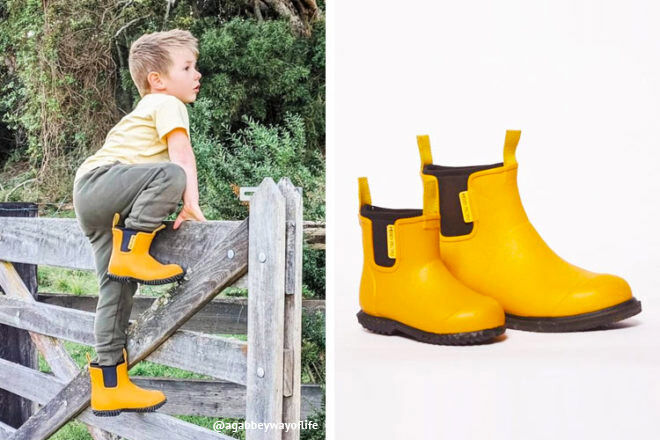 Super cute, these bright Bobbi Kids Gumboots from Melbourne based Merry People are much more than a pretty face. The flexible neoprene lining makes them easy to slip on and off, and they're 100% waterproof. Made using clever technology with extra grip and tread on the sole for super-speedy tots.

---
2. Boho&Mooi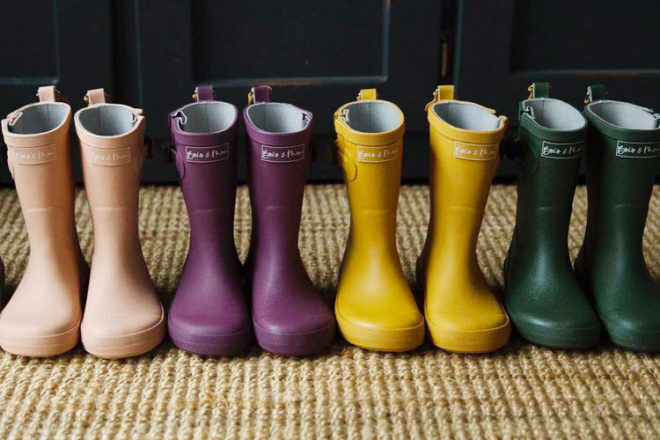 With a hauntingly beautiful colour palette including Wood Rose, Army Green, Tangy Mustard, Plum and Nudie Coral, Boho&Mooi wellies are the stuff of mid-winter dreams. Made from natural rubber with a soft insole, they're also lined for supreme comfort.

---
3. Demar Boots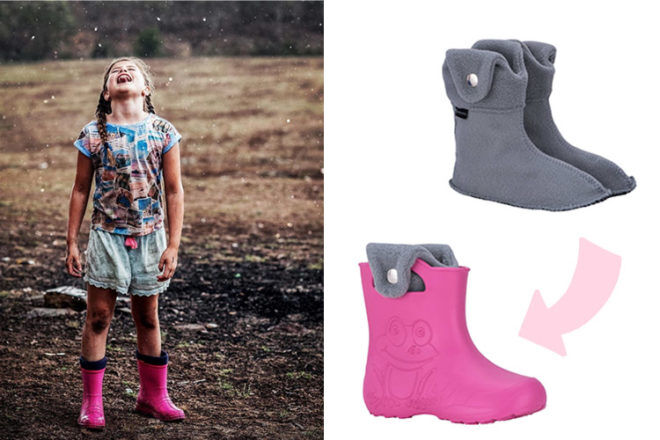 Demar Boots make Australia's most lightweight gumboots. Teeny toes stay dry and warm thanks to the ingenious removable, washable inner sock. European made the fun, bright colours are perfect for shaking off those winter blues.

---
4. Crywolf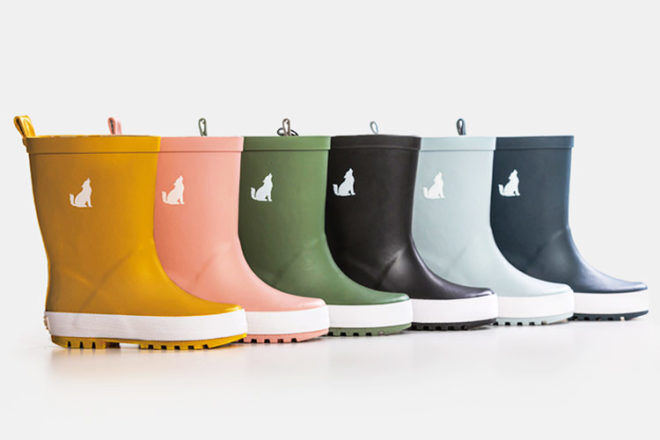 In a subtle, muted palette Crywolf Rain Boots are unbearably beautiful. Designed and tested in New Zealand, tiny tot feet are warm and protected thanks to the cozy cotton lining. Hard-wearing natural rubber outer and high grip outsole are crafted for maximum wear and play.

---
5. French Soda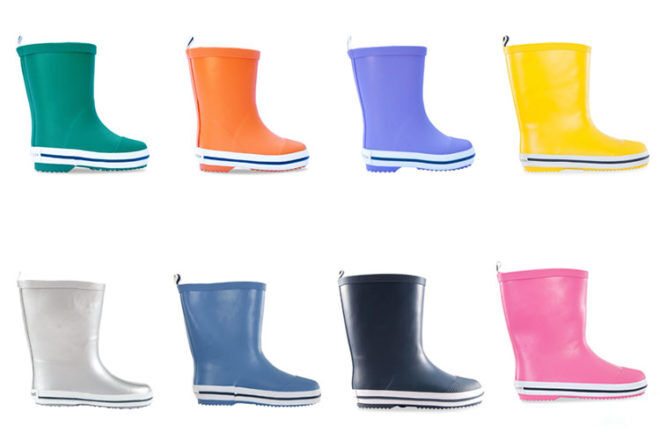 Ooh, la la, beautifully bright French Soda Gumboots have pint-sized puddle-jumping feet well supported, and toasty warm with the full fleece lining. Designed in Australia and available in a candy rainbow of colours.

---
6. MIL & Co Boutique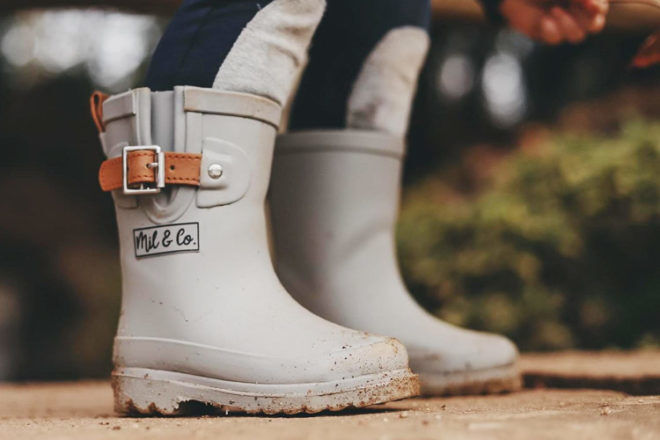 Vintage-inspired and designed in Melbourne, these natural rubber kids gumboots are a thing of beauty and function. Fully lined with Berber fleece for comfy rainy walks, the sweet leather buckle doesn't just look oh-so-chic, it helps get a perfect fit too.

---
7. Anchor & Fox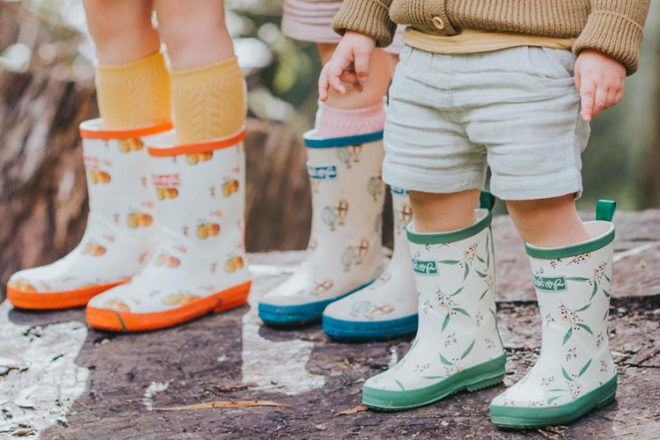 Easily slip little feet into these natural rubber gumboots using the handy pull tab and step out in style. Featuring comfy padded insoles and handpainted designs including Natives, Hot Air Balloon, Dandelion and Springfield Pear, these Anchor & Fox Gumboots are too beautiful to save for a rainy day!

---
8. Penny Scallan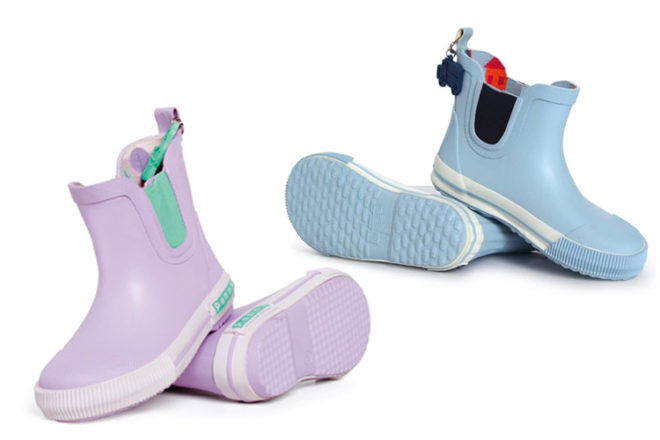 With their sweet styling, signature interior print and toe guard to keep tootsies safe, these rubber boots are made for walking … and jumping and running! They're 100% waterproof and have a silicone charm on the back for supreme cuteness.

---
9. Crocs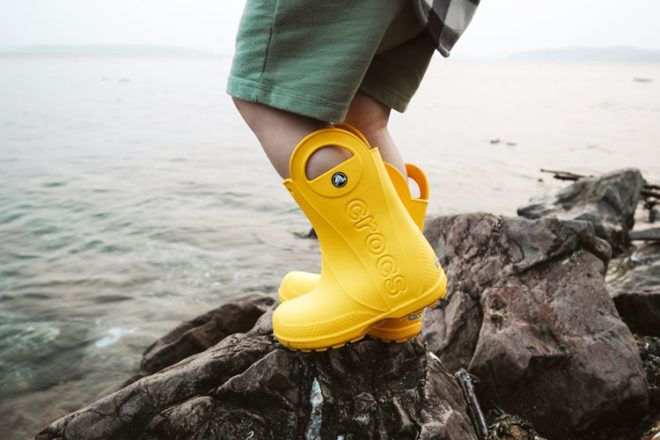 Sliding into Crocs Rain Boots is a cinch thanks to the oversized handles made just for little hands. These waterproof boots come with all the comfort you'd expect from Crocs, including a lightweight, flexible design.

---
10. Seed Heritage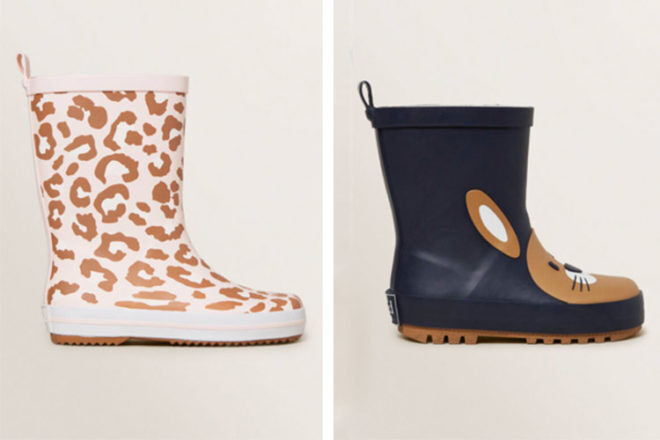 Turn the cute factor up to max in a pair of Seed's Ocelot or Bunny Gumboots. Designed to keep feet warm, they also ooze Seed's design flair, with rounded toe detail and cleated soles for staying steady on winter adventures.

---
11. Ciao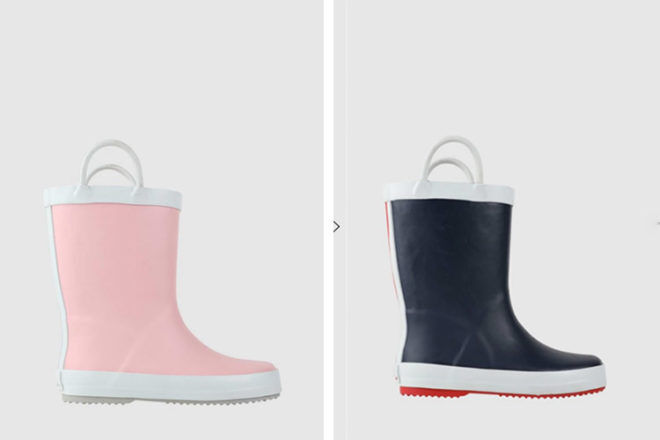 Say hello to Ciao Kids Gumboots – made for bambinis with a sense of adventure and a love for splashing in puddles. The waterproof rubber upper keeps damp at bay, while the rubber soles add just the right amount of grip in slippery situations.

---
12. Boden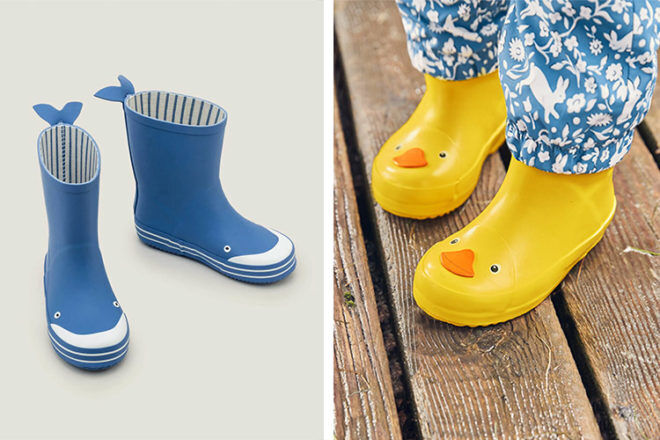 With wellies this adorable, the forecast is cloudy with a chance of fun! Lined with cosy jersey, little duckies stay toasty, while the grippy soles mean they'll have a whale of a time without slip-sliding away.

---
13. Cotton On Kids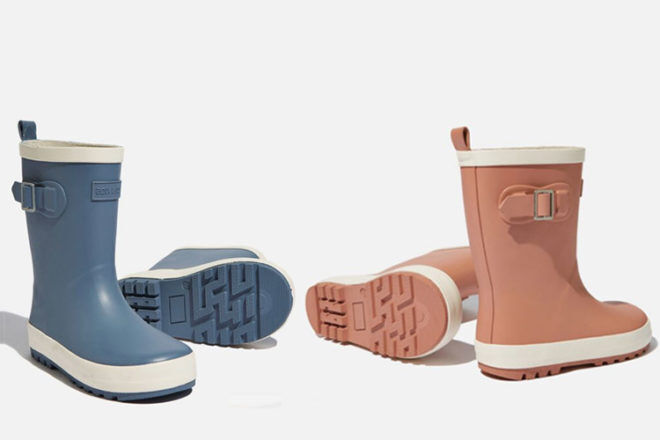 Good golly these gummies are the bomb! Balancing minimalist fashion and practicality, Golly Gumboots work just as well dressed up as they do in play clothes. The soft, flexible rubber sole means they're perfectly suited to all-day play.

---
14. Clarks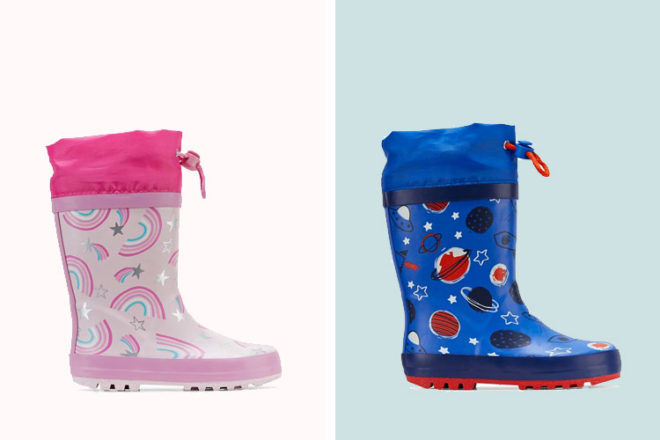 A mid-height gumboot with a drawstring gusset that's all about keeping the rain out and the warmth in. The breathable mesh lining adds to the comfort factor, while the weather-resistant rubber upper is the perfect puddle jumping moisture-fighter.

---
15. Hunter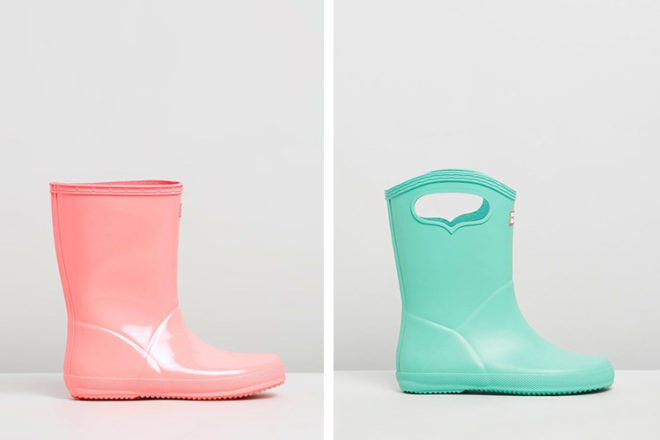 The OG of gumboots, Hunter are designed with beauty and practicality in mind. They're made from natural, waterproof rubber and lined with cotton. The slip-reducing tread means taking a running leap into the nearest puddle is perfectly acceptable.

---
16. Kidorable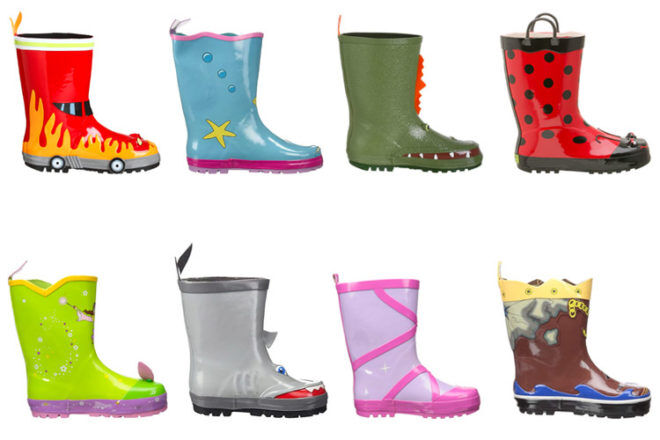 Just try and get them to take these fancy boots off at the end of the day! With sweet detailing including fire truck wheels, froggy eyes and ladybird feelers, Kidorable Rain Boots aren't just style without substance. They're made from natural rubber, are rainproof and have a cosy cotton lining.

---
This post includes affiliates and/or paid inclusions. See our Disclosure Policy.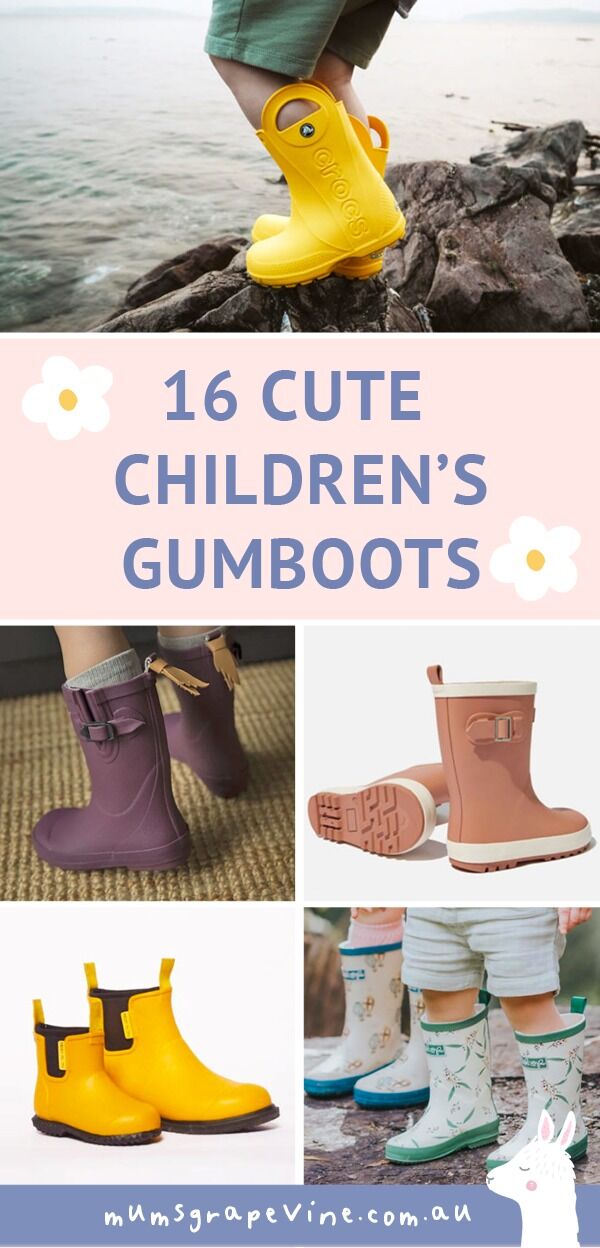 Know a brand of kids gumboots that should be added to our list? Contact us and let us know.
Read next …
Now that you've got the gumboots sorted, it's time to take a look at the rest of their winter wardrobe:
---
Continue your search for the best gumboots for kids
Looking for a pair of gumboots for kids and still not sure if any of these are right for you? Continue your search online by jumping into one of our closed Facebook groups and ask thousands of other Australian mums what they recommend – 'What to buy' is the most talked-about topic.
Click and join your group today!