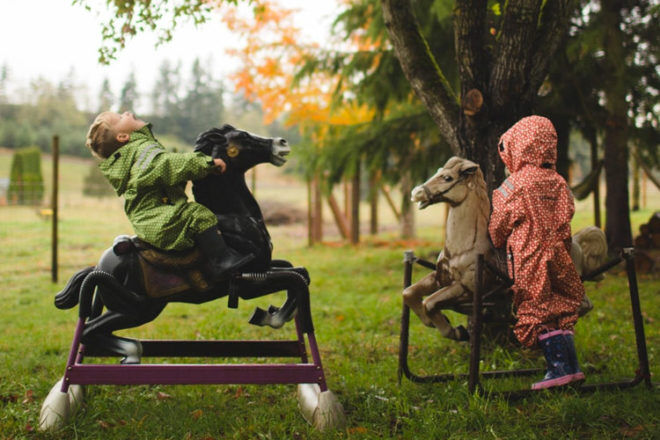 When it rains, it pours. But that doesn't mean you have to stay indoors. There are puddles to jump in, rain showers to dance about in and all kind of splishy-splashy adventures to be had.
The best raincoats for kids are bright, waterproof, breathable and bring sunshine to any rainy day.
15 kids raincoats to brighten up dreary days
To help you find the best kids raincoat, we've compiled this handy list of fab brands to get you started in your search. In no particular order, here they are:
1. Rainkoat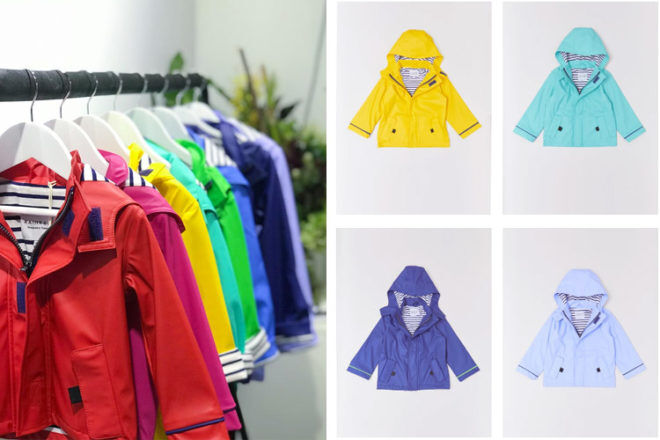 When the cold days are coming, this colourful collection of raincoats help keep the chills at bay. Designed in Tasmania, Rainkoat jackets feature a full front zipper, velcro closure and roomy hood to protect little people from those dreary winter downpours.

---
2. Minti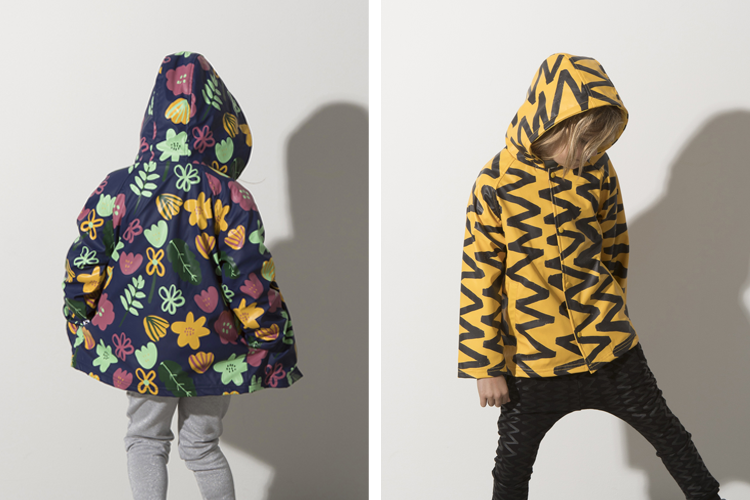 Fully waterproof for when the weather turns, the uber-cool raincoats from minti make getting drenched look seriously good. Furry-lined, with front pockets to keep kiddos hands dry and toasty, the rain jackets are available in three unisex designs.

---
3. Didriksons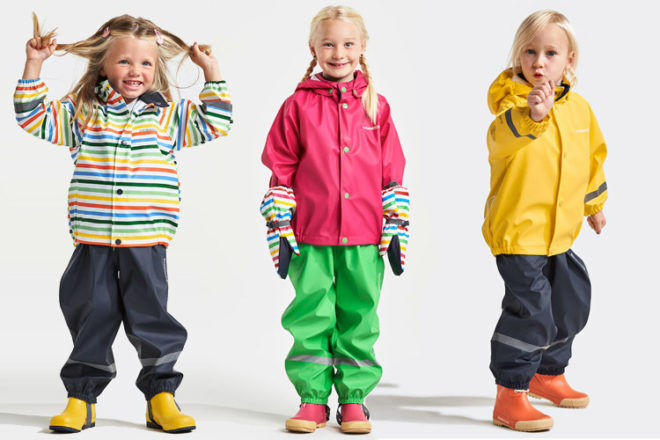 This multi-coloured wonder was made for jumping in muddy puddles. A dipped rear hem keeps tot's lower back and bottoms covered from the crisp winter air while a high collar and detachable hood ensure their noggin stays nice and warm. The Didriksons range is completely water and windproof for endless winter play.

---
4. Crywolf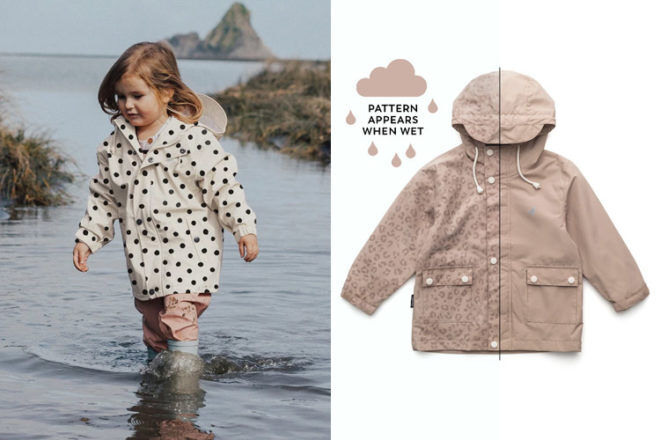 Bleak and bleary mornings be gone with the beautiful Play Jackets from Crywolf. Waterproof, wind-protective and a little too cute to boot, the range of rain jackets combine performance with fashion for exploring the Great Outdoors. Just what kiddos need for jumping around in winter.

---
5. Ducksday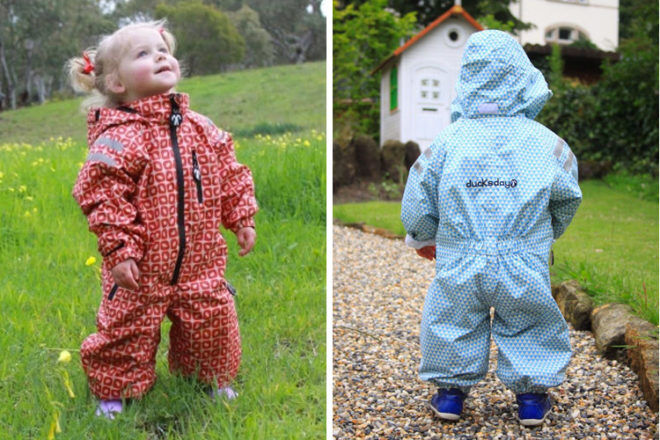 The award-winning one-piece from Ducksday lets little ones leave the house, whatever the weather. Waterproof and windproof, with elastic foot stirrups to help it stay put, the clever rainsuits keep kids covered from top to toe. Plus, the hood and cuffs are Velcro adjustable for splishing and splashing all day long.

---
6. Monsterthreads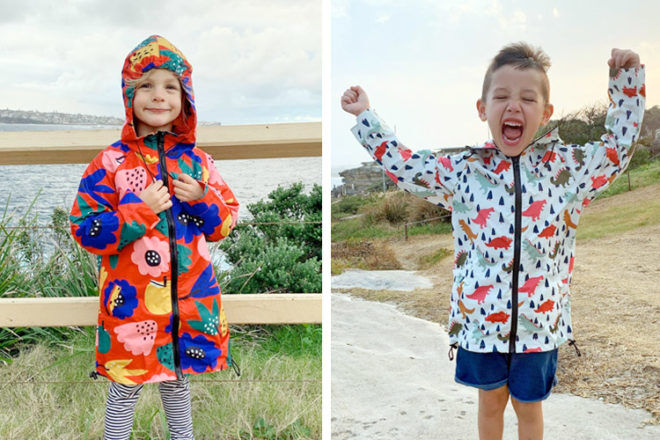 Dress to impress and dance in the rain with the fab and funky raincoats from Monsterthreads. Water-resistant with adjustable pull toggles through the back to keep kids dry, the rain jackets are nice and spacious for rainy day play.

---
7. French Soda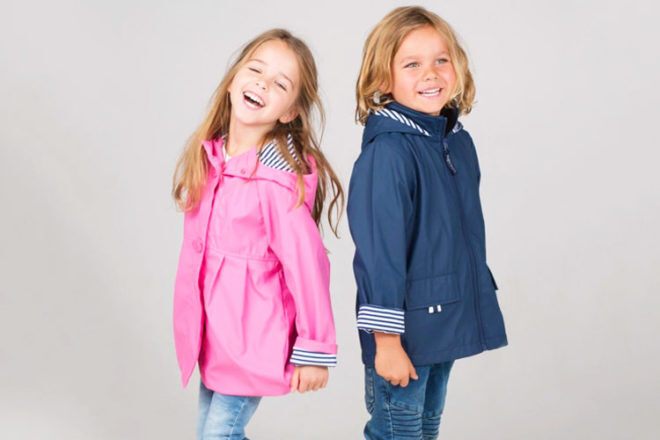 Super-soft raincoats that shield the kids come rain, hail or shine. The collection from French Soda is quick to dry and ultra-lightweight, allowing little ones to move easily while making those magnificent mud pies. Plus the pin-stripe cotton lining ensures they stay comfy all-day.

---
8. Rainbird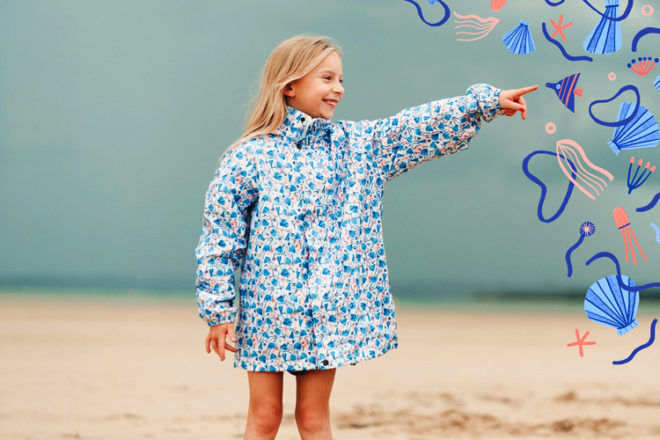 Bringing busy and bright aquatic creatures to life, the Rainbird STOWaway Jacket gives winter blues a whole new meaning, The jacket is fully lined, waterproof and breathable – perfect for days when those toasty temps drop. And when the rain finally stops, the jacket neatly stows away in the front pocket. Handy!

---
9. Elka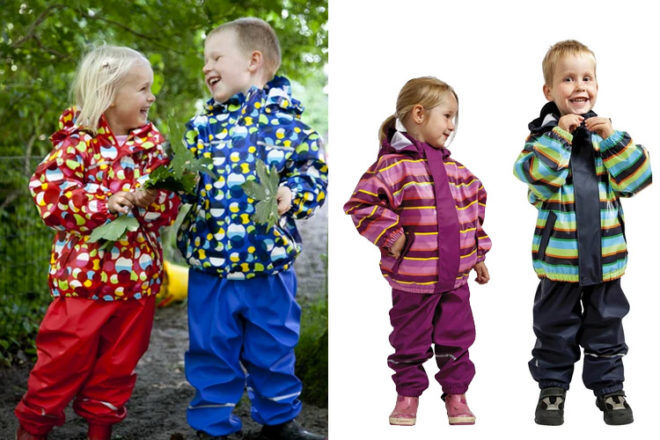 Suprise showers are no match for mighty Elka Rainsuit. Elasticated wrists and ankles ensure a snug fit while keeping little bodies dry from the rain. Featuring bright pops of colour, the waterproof and windproof two-piece is light and comfortable to wear, even when the weather changes.

---
10. PAQME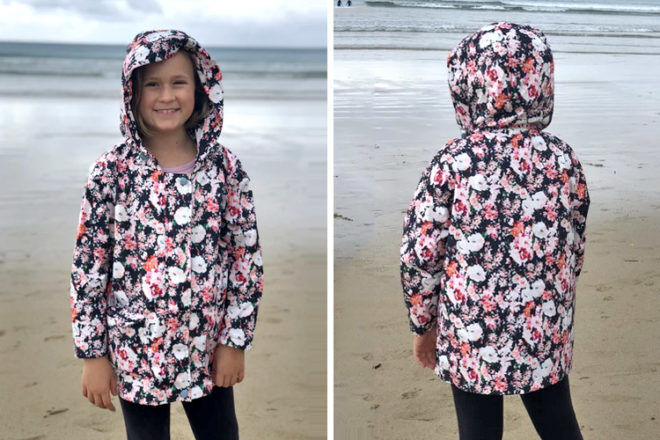 Made of recycled plastic bottles, the pretty kid's raincoat from PAQME packs down small into the conveniently attached pod, ready for the next adventure. Waterproof and washable, the raincoat is light as a feather with a luxe fabric that's soft to the touch. The hood even has a drawstring to keep cutie-pies heads dry from any drizzle. Clever.

---
11. Hatley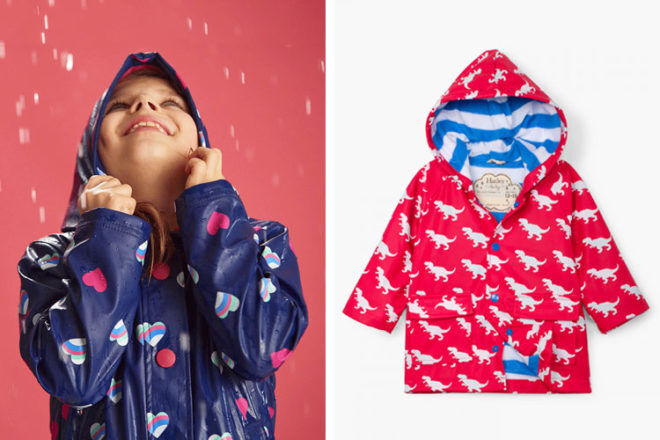 Bringing colour and magic to the greyest of days, the vibrant rainwear from Hately makes stepping out in the rain oh so fun. Not only are the colour-changing raincoats seriously cool, but they're also waterproof, PVC-free, fully lined and machine washable too. Winner winner!

---
12. Boden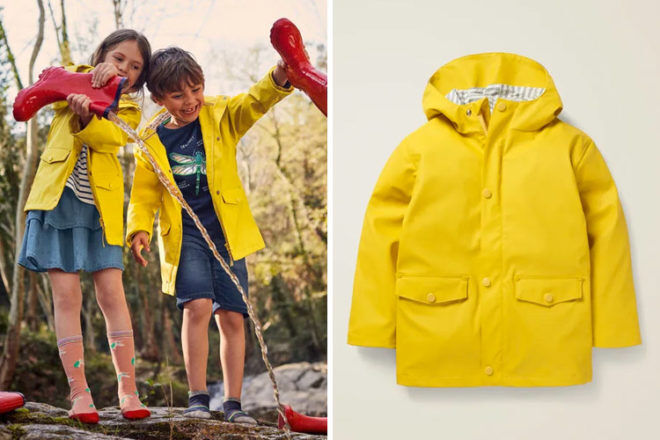 Say bye-bye to gloomy days and with a gorgeous sunny yellow rain jacket. Fully lined, with ribbed cuffs for a better fit, this waterproof jacket was made for mucking about in wet weather. Designed for both boys and girls, the jacket also features reflective trims so tykes can stay seen and safe after dark.

---
13. Kidorable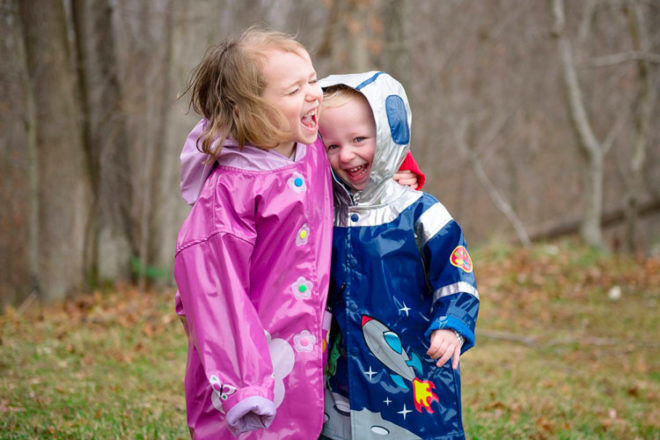 Bring the role-play fun from indoors outside with the collection of all-weather raincoats from Kidorable. Whether they're a ballerina, a fireman, a ladybug or a dinosaur, these jackets are durable, waterproof, light enough for spring showers and warm enough for winter chills. We love!

---
14. Cotton On Kids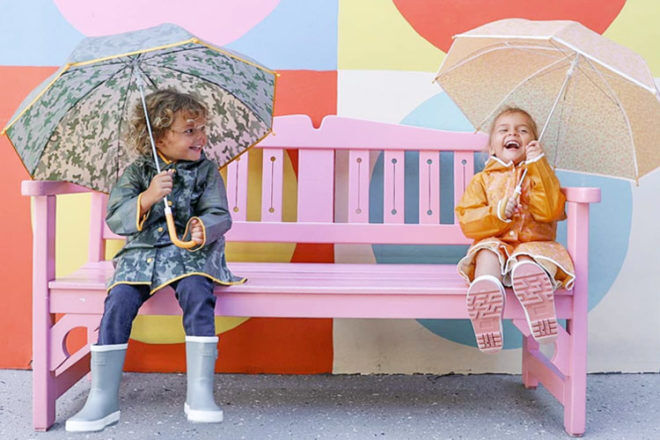 Go from drab to fab with the Cloudburst Raincoats from Cotton On. Available in six super-cool colourways (sizes 1-8 years), the jackets are an affordable way to protect little ones while playing in the rain.

---
15. Penny Scallan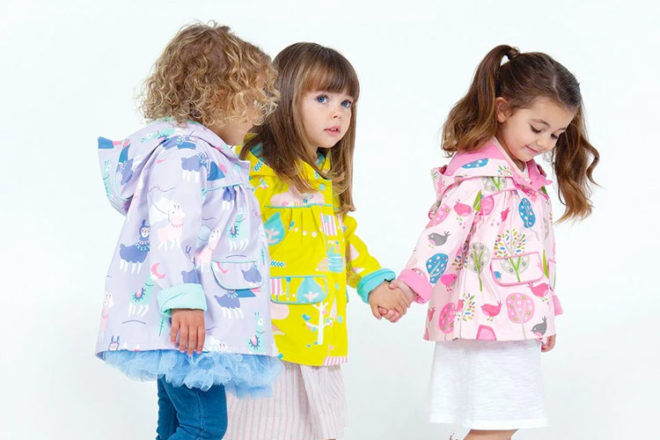 Go matchy-matchy in the miserable weather with the playful raincoats from Penny Scallan. Featuring a waterproof outer with a warm and soft cotton jersey lining, they're a bright cover-up for dark and gloomy days.

---
This post includes affiliates and/or paid inclusions. See our Disclosure Policy.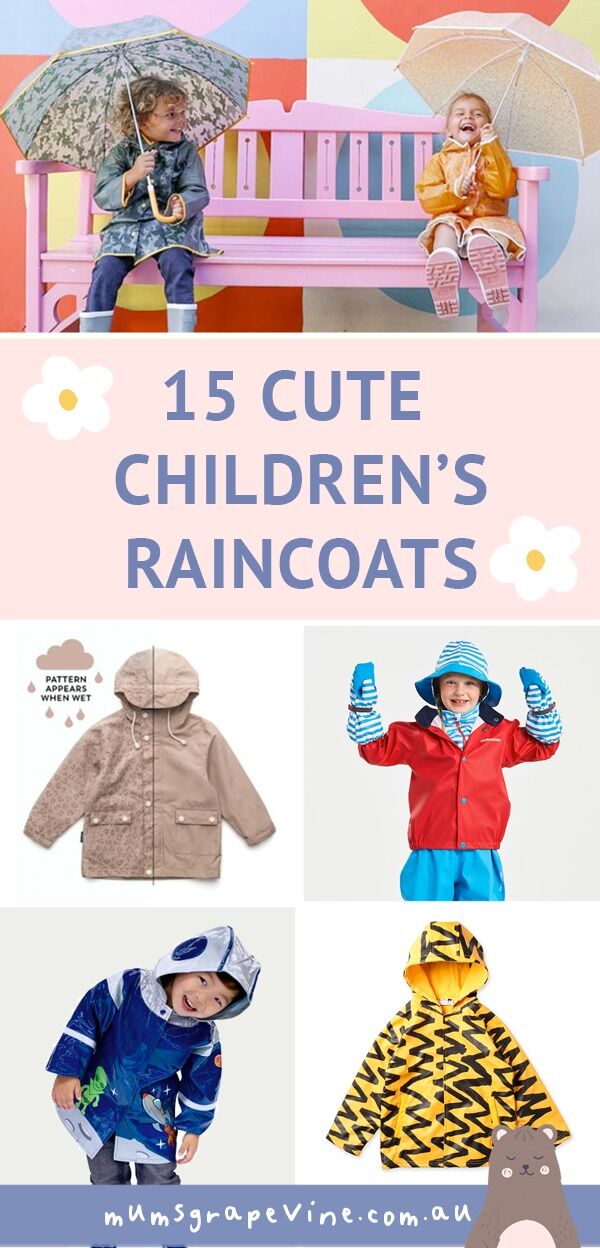 Know a fab kids raincoat brand that we should add to our list? Contact us and let us know.
Read next …
Now that you've got the raincoat sorted, it's time to take a look at the rest of their winter wardrobe:
---
Continue your search for the best kids raincoat
Looking for a kids raincoat and still not sure if any of these are right for you? Continue your search online by jumping into one of our closed Facebook groups and ask thousands of other Australian mums what they recommend – 'What to buy' is the most talked-about topic.
Click and join your group today!