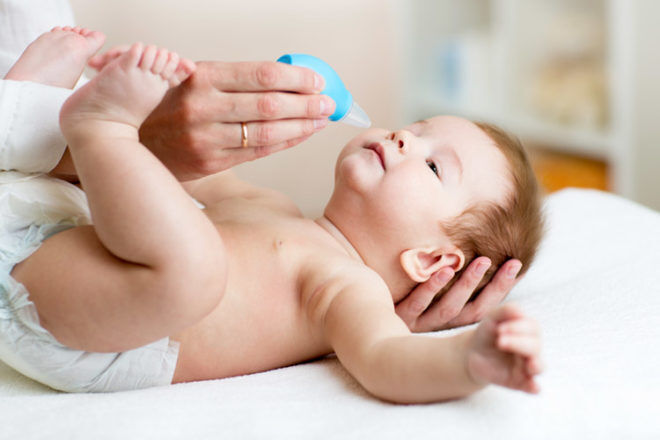 Babies get blocked, snuffly noses a lot. And knowing how to help them breathe easier means better sleep, better feeding and a happier babe.
Sometimes babies need a little helping hand to clear the congestion. Their lungs are immature and their airways are super small, so clearing the mucus makes them much more comfortable. A nasal aspirator is a gentle, easy way to help clear bub's airways with no mess and no fuss, and there are a few to choose from.
What to look for when buying a nasal aspirator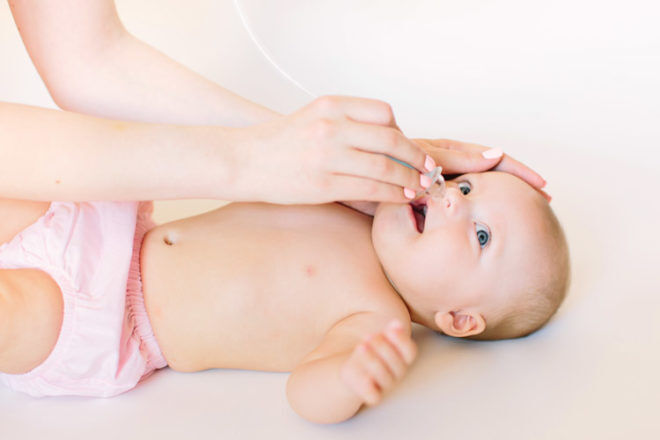 There's isn't just one type of nasal aspirator – there are battery operated aspirators that do all the work, ones that require a squirt of saline and others that rely on human snot-sucking power!
Here are some of the things to look for when buying a nasal aspirator:
Battery operated or manual: Battery-operated aspirators are simple to use – just pop in bub's nose and press the button. Manual aspirators usually need a squirt of saline to help lubricate and loosen mucus before either using a bulb aspirator or a one-way tube which is sucked on by a parent. Yep.
Age limits/restrictions: Not every aspirator is suitable to use from newborn so just check it's suitable for your bub's age.
---
The best nasal aspirators for clearing baby's nose
We asked our Pregnancy and Baby group members to recommend the best nasal aspirators available in Australia and these are the brands they recommend.
1. Oricom Nasal Aspirator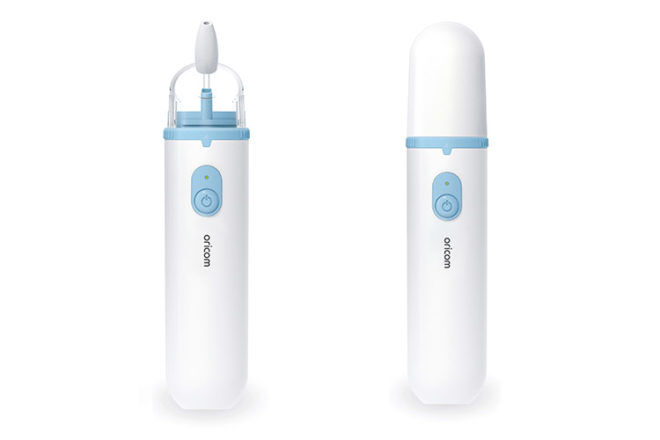 Created specifically for the needs of newborns, infants and small kids, this rechargeable aspirator has a flexible silicone tip helps clear mucus from baby's nasal passages with its simple one-touch operation.
Age: From newborn
"Oricom Nasal Aspirator has worked great on our little one, fast and easy when he is flicking his head around." – Jess

---
2. Nosefrida Nasal Aspirator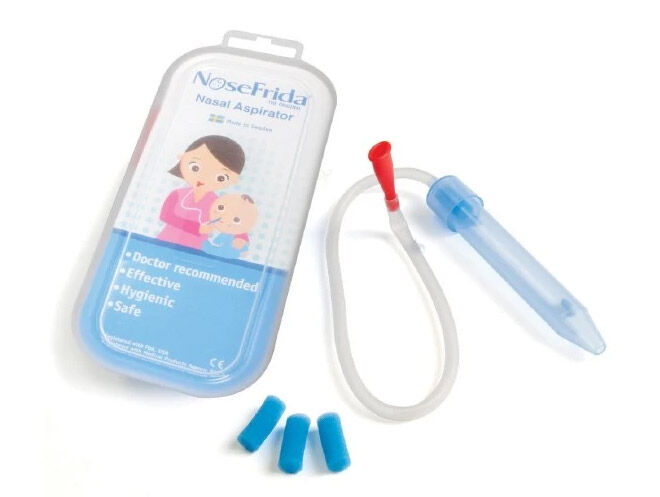 As the name suggests, this device is all about sucking the snot out of bub's nose! TheNosefrida forms a seal on the outside of baby's nostril creating a vacuum, and then you literally suck the mucus out.
Age: From newborn
"Ladies if you do not have a NoseFrida get one! The NoseFrida has saved my life – my babe is so snotty at the moment as he's recovering from a cold. The idea of the NoseFrida made me sick but now I've used it I love it! It got so much out of his poor little head. Life-changing I tell you!" – Kylie
"NoseFrida is amazing! I find it is best with saline spray used first and then you can suck those boogers right out." – Penny

---
3. Fess Little Noses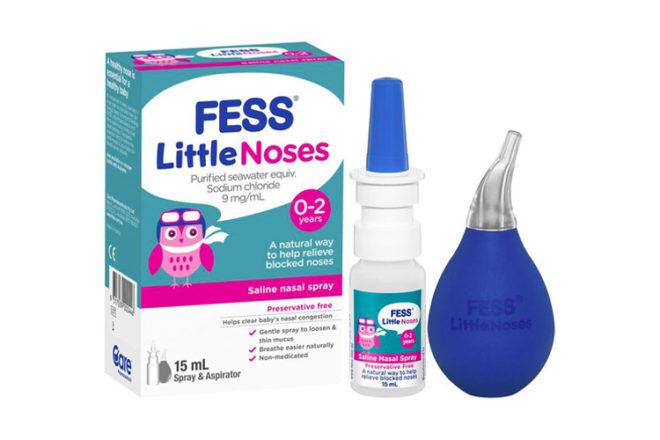 A non-medicated saline solution that is sprayed into the nostril and then removed along with loosened mucus using the aspirator.
Age: From newborn
"I used it for bubs at 3 weeks. Was a godsend. I needed to do a double pump to make anything come out. Also works better if you point to the opposite ear of the nostril your in, rather than pointing straight back." – Beth
"I have found Fess Little Noses drops work really well for us! Clears his nose and throat and then I gently use a bulb sucker if needed." – Emily

---
4. Snotty Three Nasal Aspirator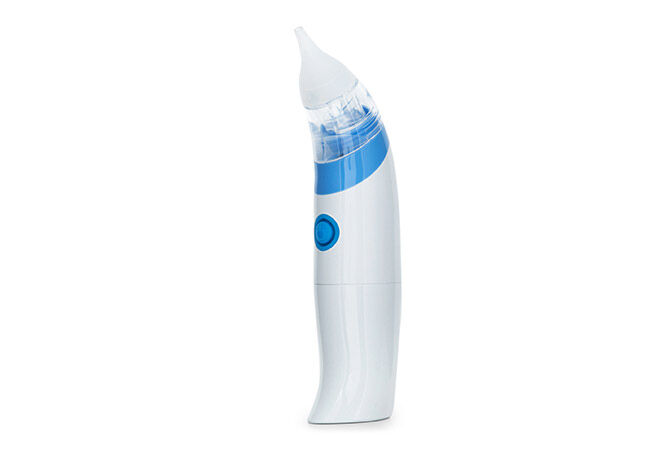 A battery-operated vacuum that sucks snot and mucus out of baby's nose. It's also waterproof so if bub is nice and distracted in the bath, it's a great time to get the Snotty doing its thing!
Age: From newborn
"Snotty electric nasal aspirator! It sucks those boogies out like no one's business! I love it!" – Lydia
"Snotty electric nasal aspirator! Hands down the best device, so handy to use on my toddler and newborn with the different attachments." – Erin
"Snotty Three for sure! I tried a few others but this is way more efficient and my bub actually giggles while I use it now. We use it a lot! Worth every penny." – Nicky
"Snotty electric nasal aspirator has made such a difference to both my children when they have needed to overcome the dreaded runny nose! So quick and easy to use and clean and very effective. I couldn't believe how much gunk was actually in there once I gave it a good suck out!" – Tamara

---
5. Tommee Tippee Nasal Aspirator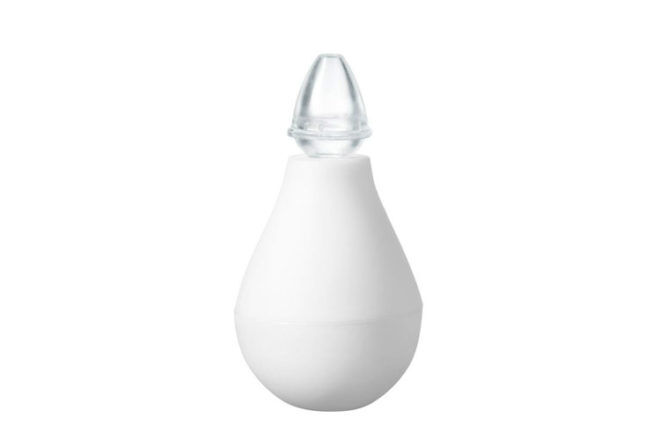 A small but handy nasal aspirator that's simple to use and sized just right to keep in the baby bag when bubba gets bunged up.
Age: From newborn

---
6. Snotty Boss Nasal Aspirator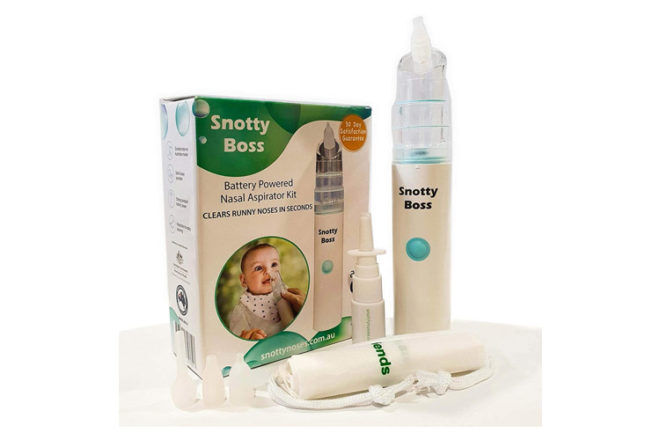 A quieter, stronger nasal aspirator that has been two years in the making. Featuring stronger suction and a flexible nozzle, this essentials kit has everything parents need to help baby breathe, feed and sleep better.
Age: From newborn

---
This post includes affiliates and/or paid inclusions. See our Disclosure Policy.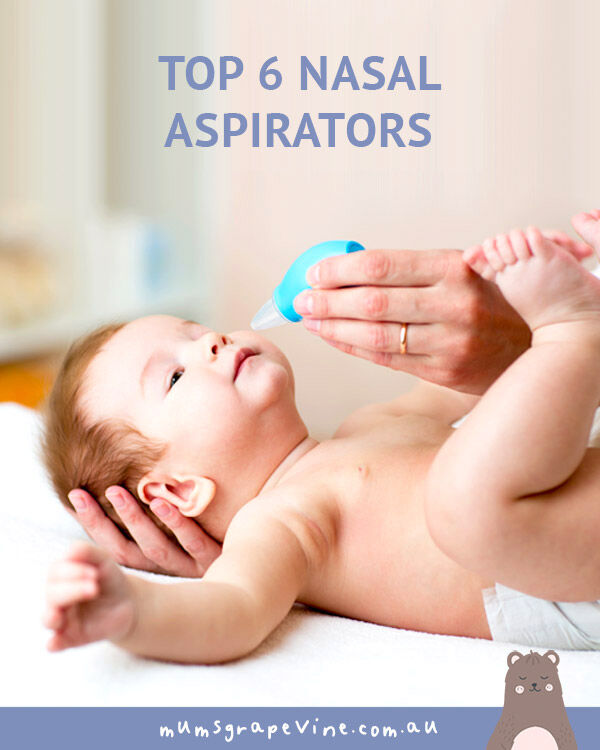 Read next …
Looking for more tried and tested products to help your poorly poppet? Here are a few articles that you might like to read next:
---
Continue your search for the best nasal aspirator
Looking for a nasal aspirator and still not sure if any of these are right for you? Continue your search online by jumping into one of our closed Baby groups and ask thousands of other Australian mums what they recommend – 'What to buy' is the most talked-about topic.
Click and join your group today!