Britain's biggest family just got even bigger, with the arrival of their latest little one – a baby girl.
The family showed off their precious new addition on their Facebook page and YouTube channel, saying they're already in love with her. Mum Sue writing, "Our baby girl is finally here, we are all absolutely over the moon she is just so beautiful."
Take a look at Sue and Noel's journey to parenthood for the 22nd time:
The couple says their newest daughter is doing 'really well' but they still haven't decided on a name.
The Radfords have 21 other children: Chris, 30, Sophie, 26, Chloe, 24, Jack, 22, Daniel, 20, Luke, 19, Millie, 18, Katie, 17, James, 16, Ellie, 14, Aimee, 13, Josh, 12, Max, 11, Tillie, nine, Oscar, eight, Casper, seven, Hallie, four, Phoebe, three, Archie, two, and Bonnie, one. The couple's 17th child, Alfie, was stillborn.
---
Britain's biggest family expecting baby number 22
December 2019: Britain's biggest family is growing yet again, and the big brood also has more exciting news – they're heading to Australia.
The Radford family has shared the exciting news that baby number 22 is on the way, despite Sue, 44, and Noel, 48, saying there'd be no more bubs after their last little bundle arrived in 2018.
The couple have 21 children; Chris, 30; Sophie, 25; Chloe, 23; Jack, 22; Daniel, 20; Luke, 18; Millie, 17; Katie, 16; James, 15; Ellie, 14; Aimee, 13; Josh, 12; Max, 11; Tillie, nine; Oscar, seven; Casper, six; Hallie, four; Phoebe, three; Archie, 18 months and Bonnie, 11 months. The couple's 17th child, Alfie, was stillborn.
In a YouTube clip Sue said she had a feeling she's having a boy. "I wonder if it will be 11 of each – I am feeling a bit boy."
They also revealed on their YouTube channel that they'll be heading to Australia for a month-long holiday, as soon as daughter Tillie has healed from leg surgery.
"We've been wanting to book Tillie's surprise destination holiday but we thought we'd better leave it because we didn't want to book it and then there be some major problem with Tillie's leg and we couldn't cancel the holiday or change the dates," Noel explained.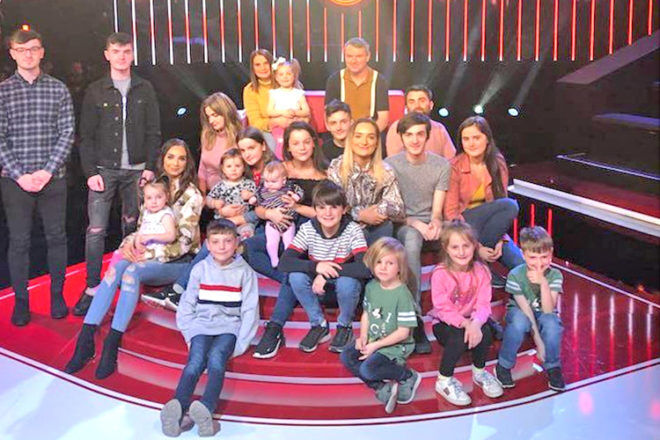 "Today we've been to hospital and it's been brilliant news so we've booked our holiday of a lifetime, and Tillie is going to reveal where we're going. None of these lot know!"
Tillie then told their subscribers the family is headed Down Under. They'll be catching up with one of Australia's largest families, the Bonells, who have 16 children.
---
It's baby number 21 for Britain's largest family
May, 2018: They may have vowed that their baby days were done, but Britain's largest family has just revealed they're expecting baby number 21.
Mum of the Radford tribe, Sue, shared in a family vlog that she's just been for an ultrasound to find out the gender of her 21st baby.
Watch the gender reveal below:
The little addition joins dad Noel and siblings Chris, Sophie, Chloe, Jack, Daniel, Luke, Millie, Katie, James, Ellie, Aimee, Josh, Max, Tillie, Oscar, Casper, Hallie, Phoebe and Archie. The couple also had another little boy, Alfie, who was stillborn at 23 weeks.
View this post on Instagram
The couple revealed their 21st child is a little girl, who will be almost three decades younger than their eldest child, and is due in November. Sue, 42 and Noel, 46 say they can't wait to welcome their baby into the family. The couple had their first child when Sue was just 14, and are now also grandparents – their eldest daughter Sophie has children of her own.
After having their son Archie in September last year, Mrs Radford had said she was happy to stop at a 'nice even number'. Her husband adding, "It was going to end at some point. We both think this is it. I feel sad in a way but now we can get on and enjoy the kids."
But it seems babies always find a way!
Read next  …
Want to know how many is the most stressful number of kids to have? Or read about other larger than life families? Read on: