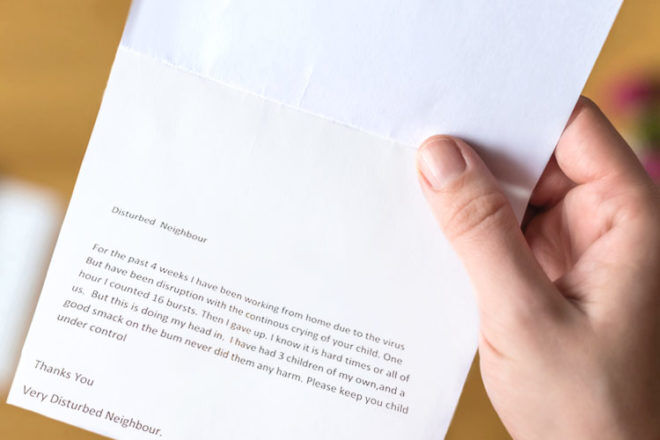 A Queensland mum has lashed out at an 'offensive' letter sent by a neighbour, complaining that her children are being too noisy while people are trying to work from home.
Danielle, a member of the Mum's Grapevine Pregnancy & Baby Facebook Groups says she was 'so angry' when she discovered the note in her mailbox, demanding she keep her children 'under control' with a 'good smack on the bum'.
"I was angry but mostly hurt," Danielle told Mum's Grapevine. "If I had been in that situation I would have knocked on their door and checked they were okay. The note is poorly written, over-exaggerated and plain offensive. My child is 18-months-old, he is learning what emotions are and I feel to smack him would be teaching him that it's not okay to display his emotions and I refuse to do that."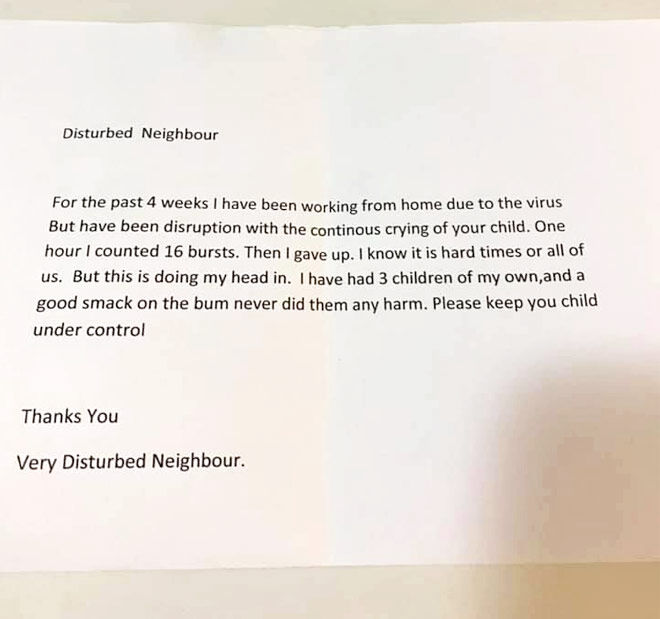 Both Danielle and her husband have been stood down from their jobs due to the coronavirus crisis, meaning their two boys, aged 18-months and four-years-old are home from daycare.
"At the end of March both my husband and I were stood down from our jobs, we both work in hotels and with restrictions in place, there was no way for our individual hotels to be able to operate. My husband had just returned to work from sick leave after an infection from an abdominal procedure that resulted in another surgery. My mother in law had stayed with us to help me with our two boys but with me being without a job we decided it would be best for her to go and us to temporarily withdraw our boys from their three days a week at childcare to save money."
Danielle says it's been an 'extremely challenging' time, with the boys going from two days at home with their dad and three days at childcare, to being isolated in the house.
"They don't understand why we can no longer go and do everything we need prior to Covid-19. At this stage we still don't know if we are eligible for any form of government assistant so our income at the moment is up in the air. All our family lives away so we are doing this all on our own and doing the best we can!
"My four-year-old is fairly well entertained he loves to learn and craft and his kindy teacher has been amazing with offering ideas and activities to keep him on track for starting school next year. He has had a lot of health issues in the past 18 months that we don't want to hold him back. He is extremely resilient and adapts quite easy to new situations.
"My 18-month-old is super active. He likes to be out and about. He loves the beach, park and pool. He has not adjusted to being at home what so ever and he simply just doesn't understand nor should he be expected to. We are doing the best we can with mixing up his toys and activities to fight boredom. He also still takes two naps a day so there is a period of three to four hours that he is sleeping."
Danielle says she can't understand what triggered the savage note from her neighbour.
"Nothing out of the ordinary occurred with our neighbours once we were all at home full time. We live in a gated community, in our area there are approximately 20 houses, we know maybe five to six of them reasonably well but our direct neighbours either side we know very well. If they had an issue they would speak to us directly.
She says she hopes that sharing her story will prompt people to be more understanding and tolerant of everyone's different circumstances.
"Check-in on your neighbours, don't jump to conclusion or presumptions. We are all in this together, all our lives have changed and I feel the normal we once lived will never be the same again. I not only hope they would be more understanding but willing to offer a bit of support."
---
Want to be a part of our supportive groups?
Our Pregnancy & Baby groups are the perfect place to come and vent, find the best products and chat any time day or night with thousands of other mums all due, or who had babies, around the same time as you.
Click below and join your group today – don't miss out!