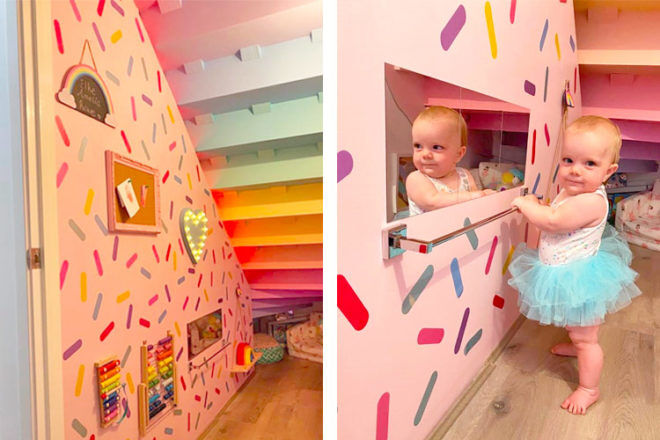 Wondering what to do with that wasted space under your stairs? One crafty mum has transformed it into a playroom for her toddler, complete with a baby ballet barre and DIY sensory activities.
Unlike Harry Potter's under stairs cupboard bedroom, this delightful space has become a haven for eight-month-old Elke, after mum Monique made good use of the awkward area.
How to make a DIY under stairs toddler playroom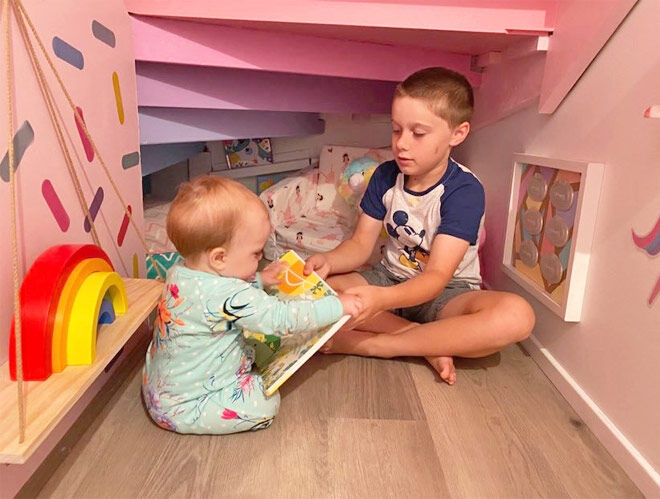 Monique says when she and her husband were building their house, she knew she wanted to make the area under the stairs a play space for their children.
"I Googled a bit and looked on Pinterest but there wasn't much inspiration there, so just had a few months when I was doing other little projects to decide what I wanted to do," Monique told Mum's Grapevine. "Rainbow was definitely going to be the theme as the rest of the house is modern and neutral, so I wanted something bright and fun that I could shut away.
"I started taking screenshots of the Kmart website of items I wanted to add to a busy wall, but as we all know the shelves are pretty empty at the moment, and everything is sold out online, so I made do with what I had here.
"It was so fun picking all the paint colours, and it was while I was in Bunnings that I saw a towel rail and decided I would create a ballet barre. The ballet barre is perfect, because my daughter is eight-months-old and just starting to stand, so she loves it, and adding the mirror allows her to talk to herself.
"I think standing at the barre is her favourite part of the space because she can talk/squeal at herself and she loves the echo. The toys are on with hooks so she can take them off and play if she wants."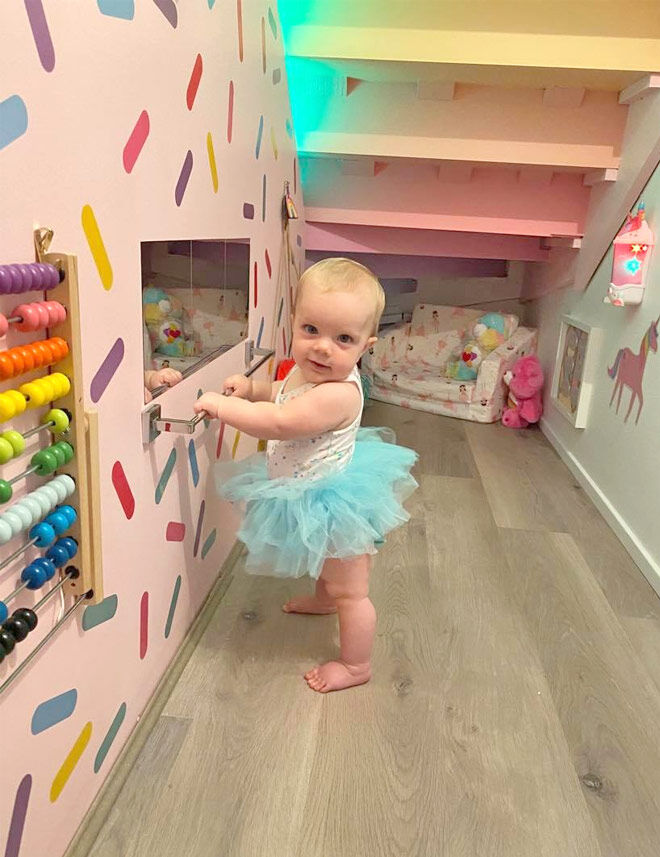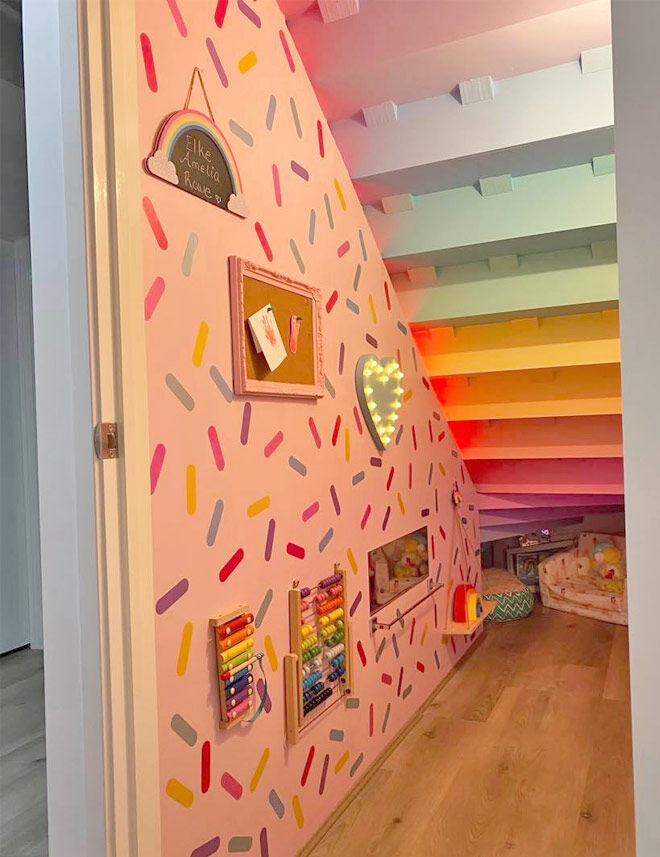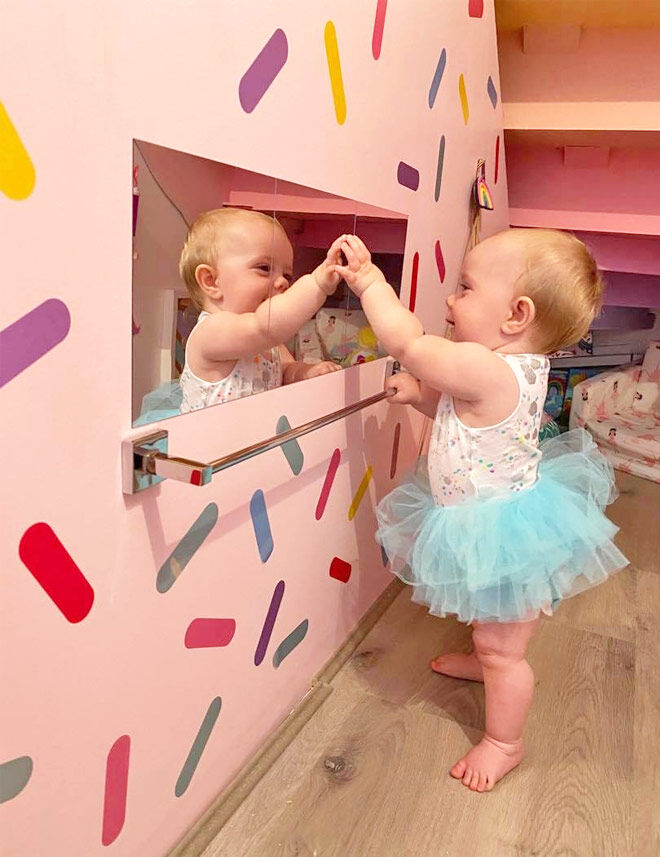 Monique says she's collecting plastic balls so she can transform the space into a ball bit by placing a piece of Perspex over the doorway, when Elke needs a change. "A piece of ply running along the white wall, with some cute little chairs, is also a future idea for a desk she can do drawing and crafts on. It's not 100% done yet, and I will still add bits and pieces when I find them, and want to put a cover on the light, but the kids love it!"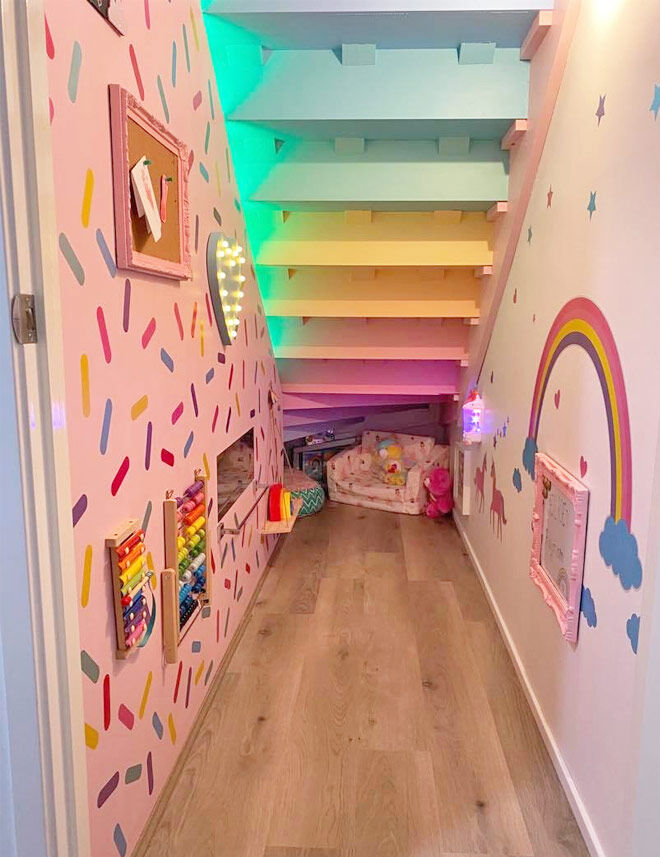 Monique has shared where she sourced many of the playroom items from, for those wanting to recreate the space in their own home: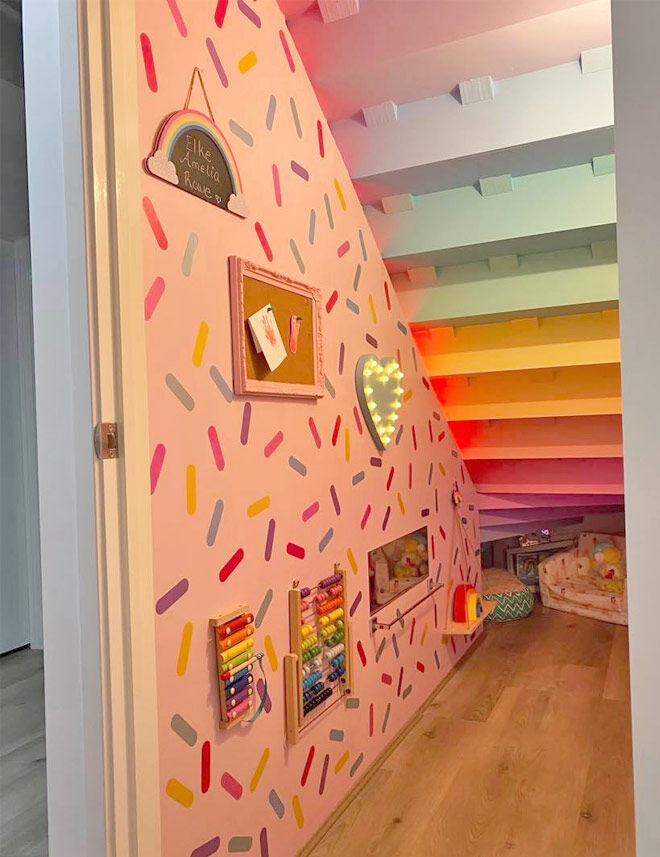 The clever mum says her daughter is obsessed with her new play space. "Bub keeps crawling over for me to open the door and then sits inside clapping."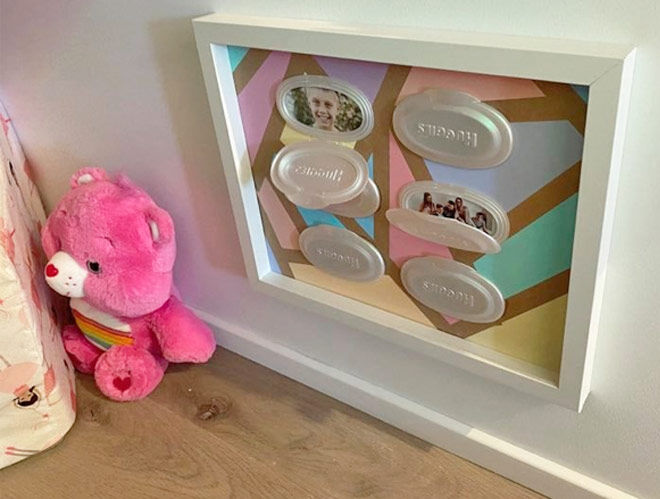 And as for those Harry Potter vibes? "I have never read or watched Harry Potter, but from the comments I have received, I believe he would have loved this space!"
Read next …
Want more creative ideas to keep toddlers occupied? Check out these articles next: