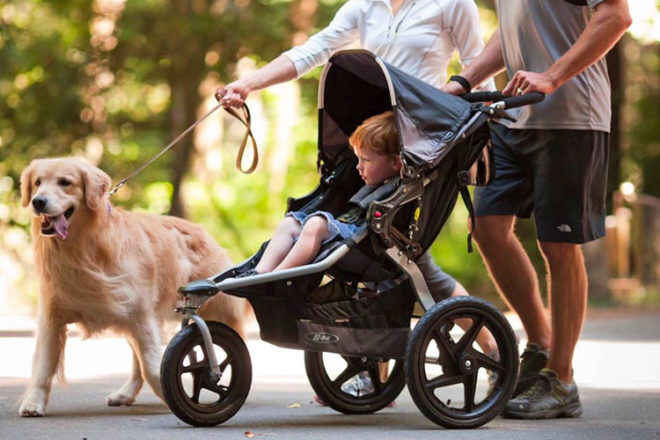 Life with little ones has a habit of getting a bit hectic. From daycare drop-offs and playdates to doing the weekly shop, we're always on the move. Having a 3-wheel pram that can keep pace and carry the load can be a big help.
As great for parks as the urban footpath, 3-wheel prams are designed for busy lives and any terrain. A front swivel wheel makes them manoeuvrable and easier to push when packed with groceries and a growing tot. Add to that a slender frame for squeezing into tight spaces and you've got one seriously nifty ride.
We cruised around town to scout out the stand-out 3-wheel prams other mums love in Australia.
OUR PICK OF THE CROP
All-terrain 3 wheel prams available in Australia
With so many prams in Australia, it's hard to know where to start, so we asked the HUGE Mum's Grapevine Facebook community which brands they love. In no particular order, here are the 3-wheel prams they recommend.
Edwards & Co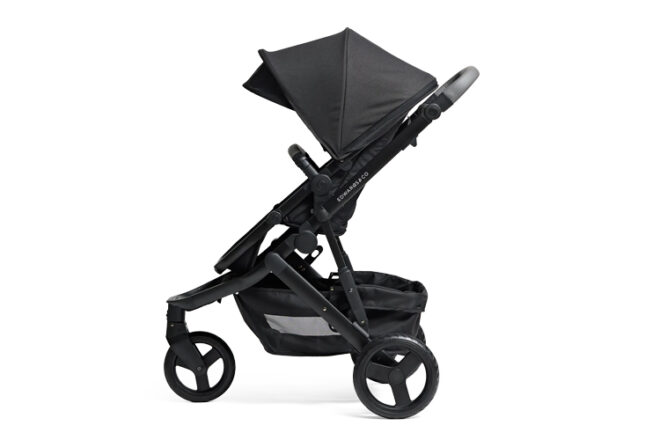 Sleek, sophisticated and seriously good at multi-tasking, the Oscar M2 has it all. Designed by parents, for parents, this 3-wheel pram ticks every box from precision performance right down to price. The compact frame is ideal for days spent cruising the city and the stand-out list of features – UPF50+ canopy, generous storage basket, swift one-hand fold and handy newborn insert – ensure families have everything they need, wherever they go.
"I have two friends who have them and love them! They have huge storage baskets underneath!" – Rebecca K
Weight: 10.9kg
Wheel type: Rubber with foam inner
Suitable for: Newborn – 20kg
---
Bumbleride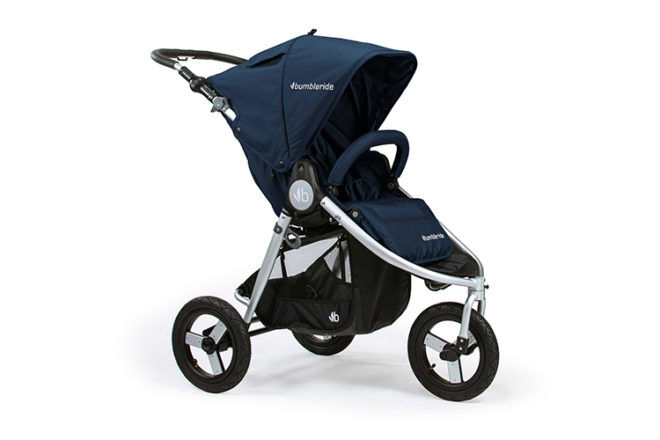 Strolling the streets is a breeze with the Bumbleride Indie pram. The air-filled tyres take on rough terrains with ease, allowing bub to sit back and enjoy the smooth ride in style. Made for toting little ones around from day one right through to toddlerhood, the durable fabrics and strong, sturdy frame are built to last. And with features like the one-step fold, roomy canopy for sun protection and easy-stow pockets, this 3-wheel pram meets all the needs of modern parents.
"I have the Indie Bumbleride and love it. Really easy to manoeuvre, put up and down, well made." – Rachelle D
Weight: 10.8kg
Wheel type: Air-filled tyres
Suitable for: Birth – 24kg
---
Baby Jogger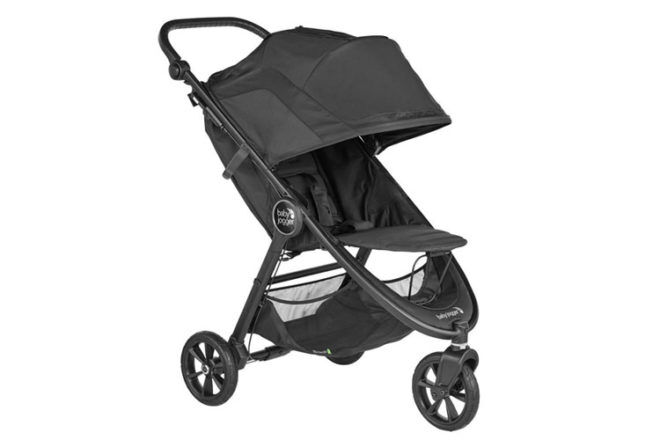 Manoeuvrability is no match for the City Mini GT. Whether it be navigating busy streets or casually strolling around the shops, this 3-wheel pram has superior steering for every situation. A clever quick-fold system allows parents to pack the pram away while holding baby in their other arm. Suitable from birth, simply recline the seat when bubs needs to snooze as you cruise.
"Baby Jogger City Mini GT! It ticks all those boxes and we've taken it hiking a zillion times." – Madeleine M
Weight: 9.5kg
Wheel type: Forever-air wheels
Suitable for: Newborn – 29.5kg
---
Mountain Buggy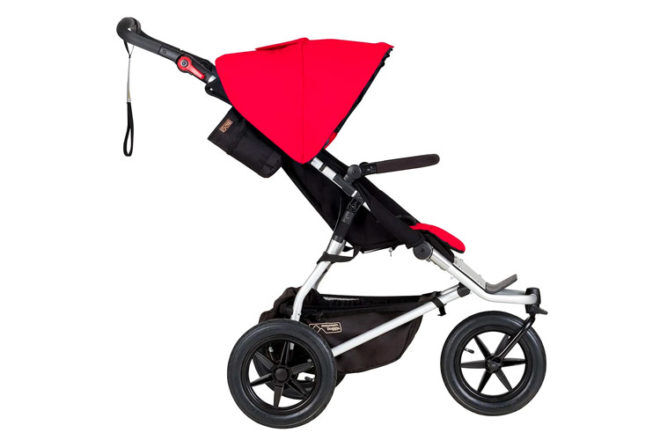 The original all-terrain stroller. This award-winning 3-wheel pram takes families from the city to the beach without skipping a beat. Ready for any adventure, the rear wheel suspension, lightweight frame and wipe-clean fabrics are just some of the features that make this beauty pop. Super comfy, with a lie-flat recline and cushioning in all the right places, it's a versatile pram for kids up to 5 years old.
"Mountain Buggy Urban Jungle… I love the Mountain Buggy… it's so convenient and the lightest pram I've had." – Rikki P
Weight: 11.2kg
Wheel type: Air-filled tyres
Suitable for: Birth – 25kg
---
Bob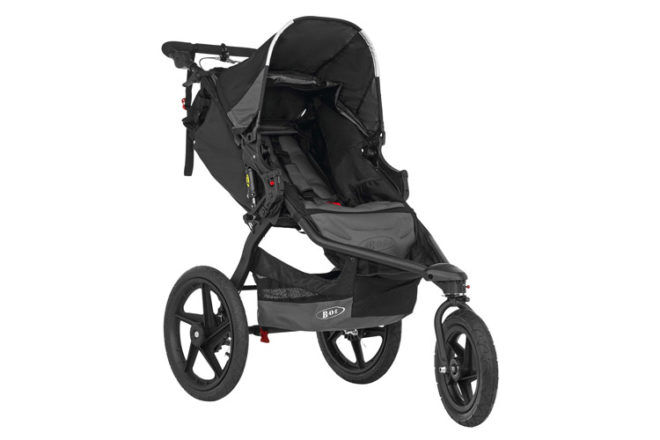 Built for adventure, the Bob Revolution Pro has two suspension settings – one for minis 18kg and under, the other for tykes 18kg and up. This ensures maximum comfort as kiddies grow. The lockable front wheel gives this pram increased stability for that morning run or jog around the park which can then swivel when needed, like turning tight corners at the shops. With fab features like that, plus internal seat pockets for sneaky snacks and toys, it makes being out and about on wheels a breeze.
"Had a Bob Revolution Pro for my first, it turns so well and light to push on runs!" – Natasja Z
Weight: 12.8kg
Wheel type: Air-filled tyres
Suitable for: Birth – 25kg
---
Valco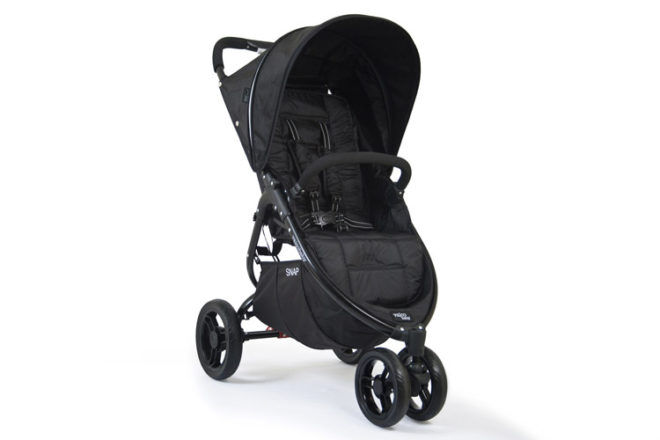 The lightest pram in the entire Valco Baby range, the Snap is a nimble ride for navigating bustling streets and coastal beach paths. The padded seat fully reclines for sleepy newborns or snoozing toddlers and the auto-fold lock secures the stroller in place once packed down flat.
"Valco Baby Snap…it's super lightweight and the only one that folds inwards in one movement without removing the seat." – Tiani R
Weight: 6.2kg
Wheel type: Puncture-proof tyres
Suitable for: Birth – 20kg
---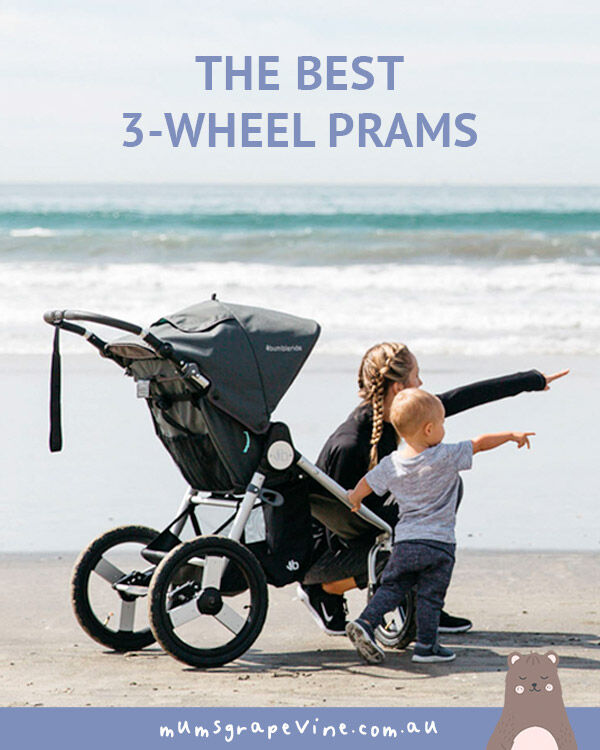 Know some 3-wheel prams we should add to our list? Contact us and let us know.
Find more baby prams and accessories in these lists …
Read this: How to clean your pram in five easy steps
Thousands of Aussie mums in our Mum's Grapevine Facebook Groups are asking each other for recommendations on what to buy right now. And you can too! Join today.