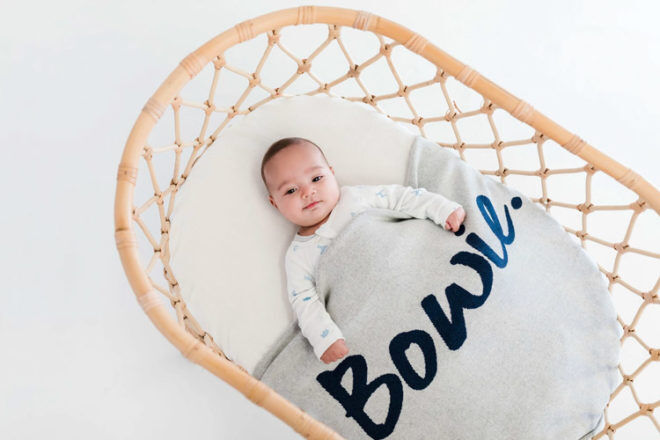 Keeping baby snug as a bug during the night goes a long way towards a better sleep (for them and for you). And as the winter months roll in, there's no better time to invest in a cozy baby blanket for cuties to cuddle into.
Soft enough to sleep with yet light enough to take on their travels, a baby blanket needs to provide snuggle bunnies with the ultimate comfort while being lightweight and breathable for when the nighttime wriggles begin.
What to look for when buying a blanket for baby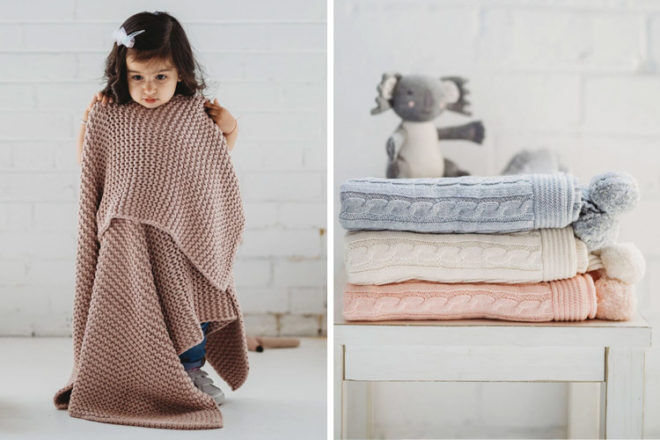 Breathability: A baby blanket needs to be breathable to ensure a night of safe sleep. To test, simply hold the blanket next to a fan and if you can feel the breeze through the blanket, the material is breathable.
Comfort: Comfort is key. Ensure the material is soft enough for baby's delicate and sensitive skin, and that no harsh chemicals have been used in the manufacturing process.
Size: As well as keeping baby warm they make fantastic play mats, sunshades and nursery decoration. Think about the size and uses you'd like the baby blanket to have before purchasing.
Design: As lovely as tassels and ribbons are, they are not considered safe for sleeping. Try to stick to a simple design until bub is a little older.
Washability: Like all things a baby needs and uses, the baby blanket may get a little messy. Look for a material that is machine washable and one that dries quickly – the sooner bub is reunited with their blankie the better.
---
20 baby blankets for super soft snuggles
To help you find the best blanket for your baby we've compiled this handy list of brands to get you started in your search. In no particular order, here they are:
1. Purebaby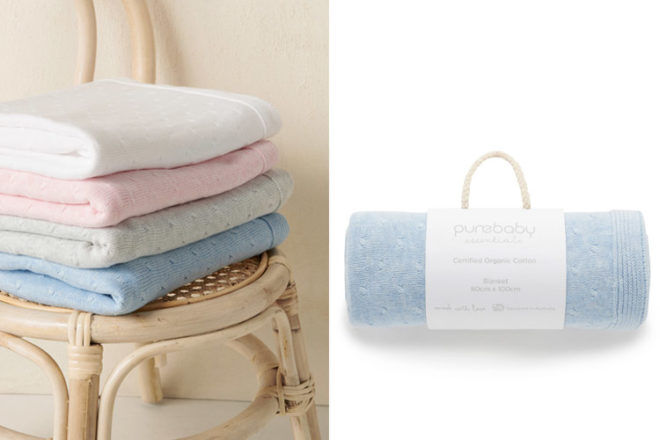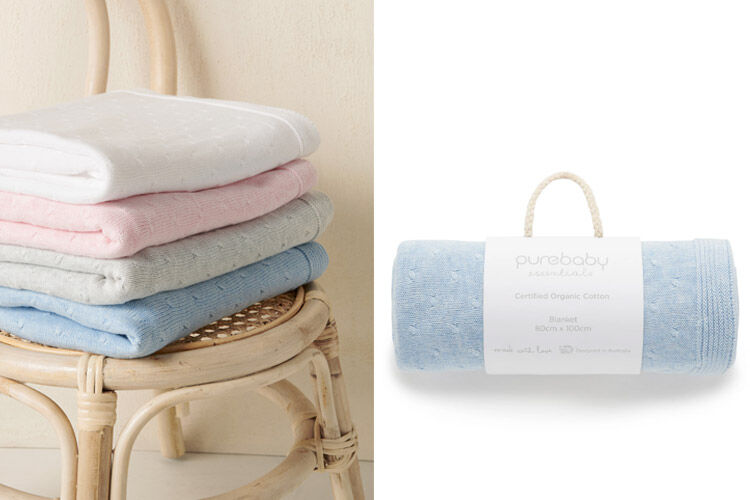 The organic cotton baby blankets from Purebaby are perfect for sleep, play and out and about in the pram. Buttery-soft, the gorgeous range features cable knits and cotton-wool blends, all incredibly gentle on newborn skin.

---
2. Halcyon Nights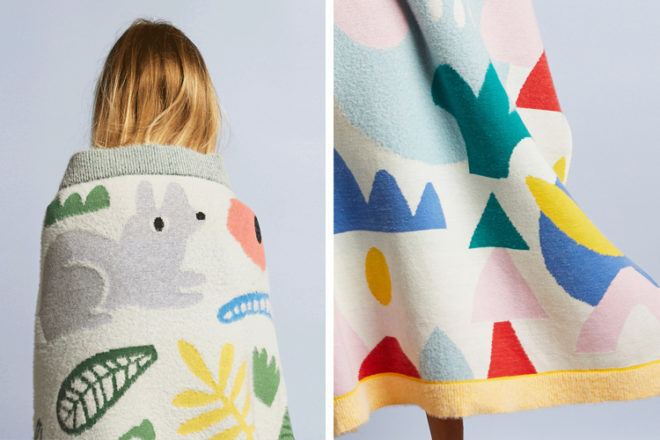 Bold, cute and quirky – we'd expect nothing less from the talented team at Halcyon Nights. Their blankets are available in six different designs, all with adorable babywear and accessories to match. More than something for bubba to snuggle into, they're a stunning statement piece for the nursery too.

---
3. Nana Huchy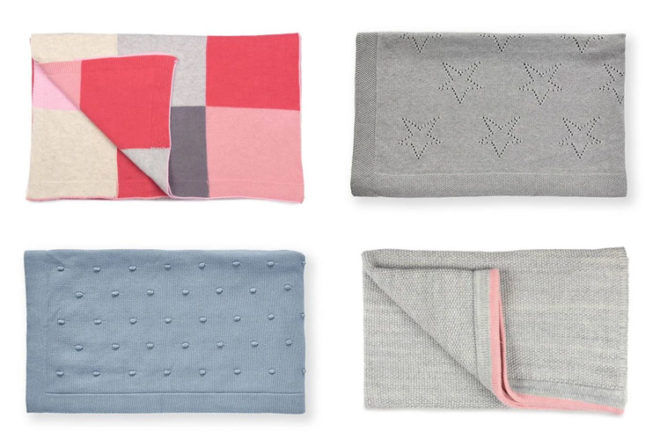 The ideal bedtime buddy for little lovebugs, these blankets are designed in Melbourne and feel fabulous on baby's delicate skin. Made from 100% Oetek-tex approved cotton (signifying quality cotton manufacturing), they're soft, durable and made to last. Take them from the cot to the couch and back again, then pop in the wash as needed.

---
4. David Fussenegger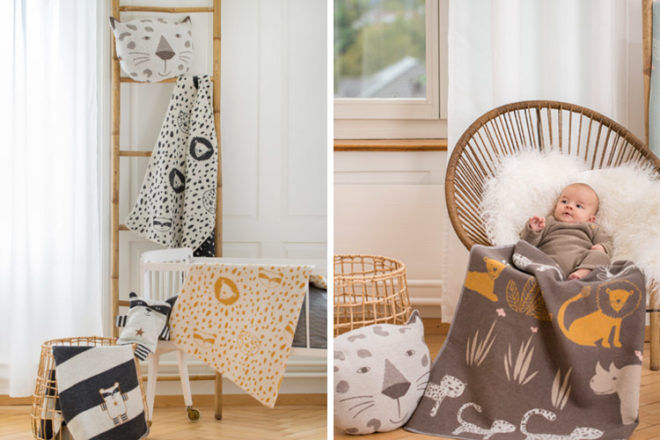 Designed and made in Austria, these generous blankets come in a bassinet, cot and single bed size. The organic cotton and cotton/bamboo blends provide lots of extra warmth for cutie pies, plus there's a wonderful array of colours and adorable motifs to choose from. A truly special gift for baby.

---
5. Uimi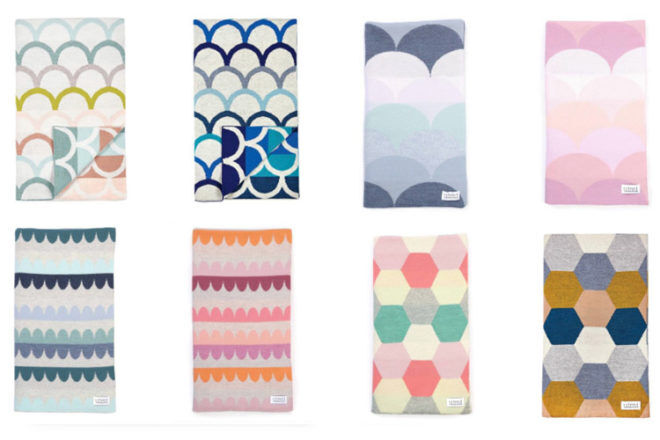 Proudly manufactured in-house, the beautiful blankets from Uimi are made from natural and sustainable fibres to keep little bodies snug. Lush to touch, the Egyptian cotton and Merino wool have ideal properties for keeping little lambs covered from the cold.

---
6. Hexi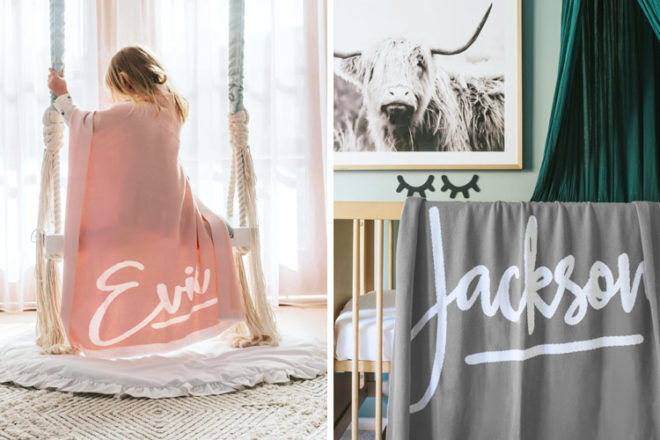 Soft, snuggly and oh-so-warm, the personalised baby blankets from Hexi make a wonderful gift for boys and girls of all ages. Made from 100% cotton, each blanket is knitted to order to ensure they're a treasured keepsake for years to come.

---
7. Goldie + Ace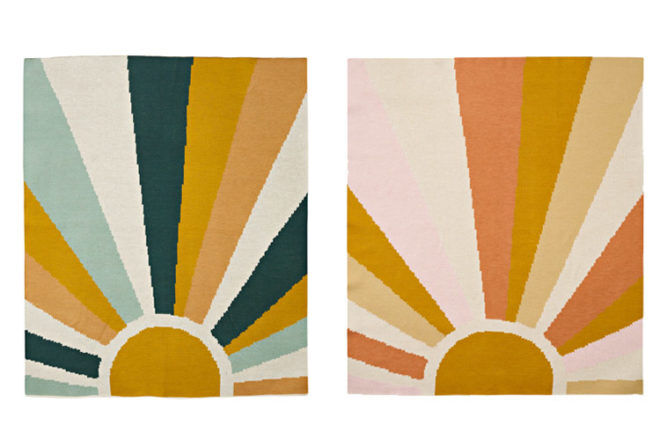 A divine throwback to times gone by, the Sunrise Knit blankets from Goldie & Ace are what retro dreams are made of. A comfy companion for siestas in the sun and a blissful night's sleep, these coloured comforts can go from the pram straight to their pillow. We love!

---
8. Branberry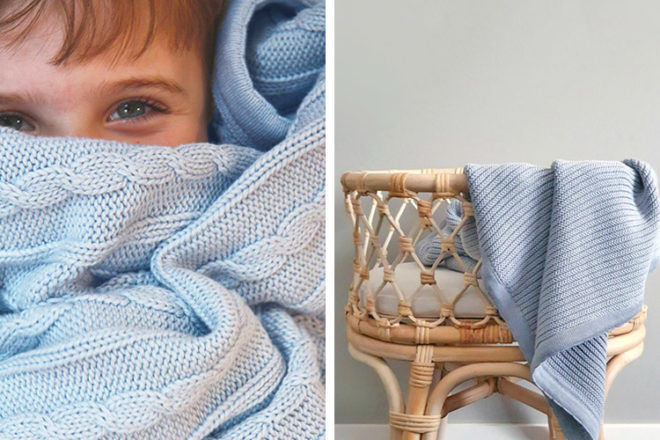 Ethically made in Ballarat from the finest natural fibres, Branberry has an exquisite range of blankets for babies and kids. From comfy cable knits and classic herringbone patterns to personalised name blankets that make the perfect gift – there's a dreamy blanket to suit every snuggle bunny.

---
9. Marmalade Lion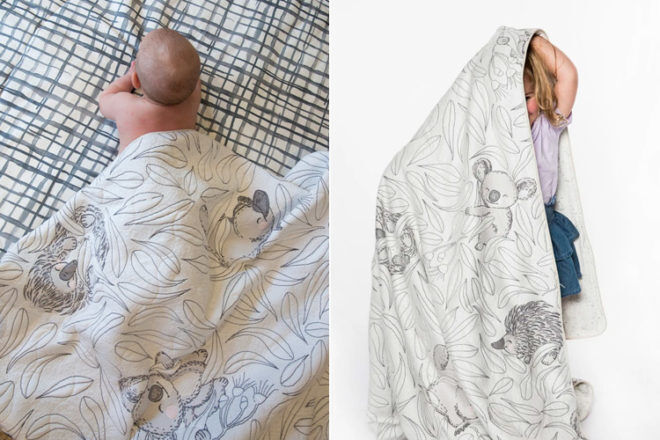 Known and loved for their beautiful hand-illustrated designs, the baby blankets from Marmalade Lion are a whimsy addition to sleepy time. Made from a luxurious textured Tencel® knitted fabric, the blankets are breathable with moisture management properties to aid restful sleep for tired tots.

---
10. di Lusso Living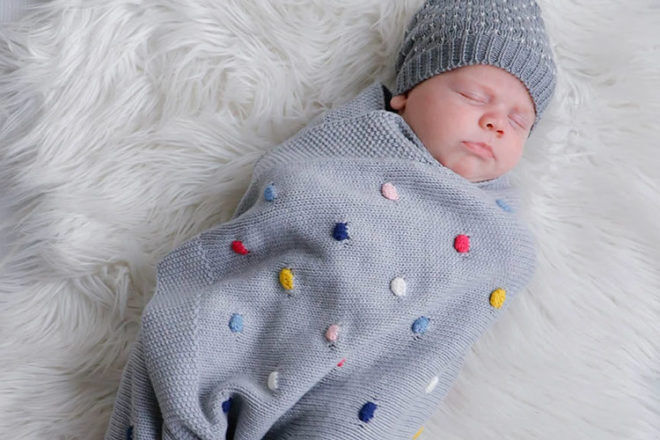 Featuring fun confetti bubbles, these quirky baby blankets are seriously cute and ever so cuddle-worthy. Australian designed and made from pure, premium cotton, the super-soft blankets from di Lusso Living are perfect for precious bubbas to bundle up in.

---
11. Namely Co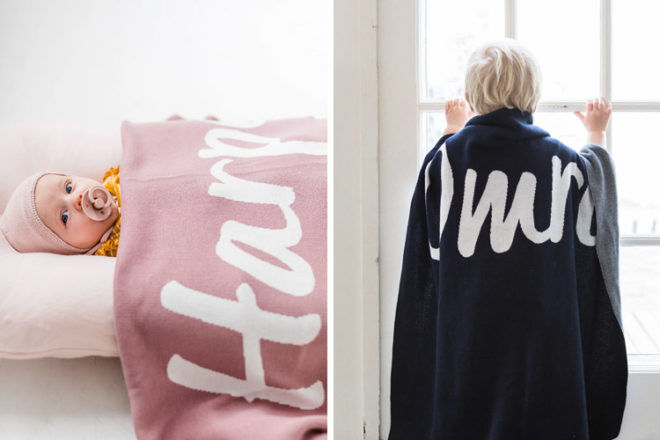 Made from 100% organic cotton, the dreamy collection from Namely Co is something for little ones to treasure. Whether it be sight-seeing in the pram or going bye-byes in their bassinet, the blankets cocoon little ones in comfort while keeping them cosy and warm.

---
12. Henry & Grace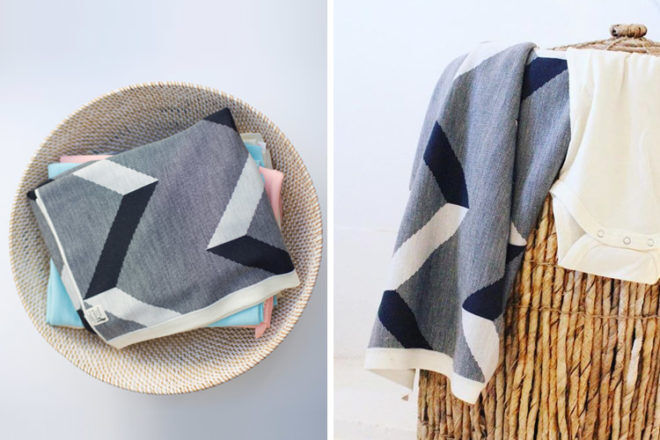 Luxuriously soft, the baby blankets from Henry & Grace are made from 100% Merino wool sourced from their own sustainable farm in Gostwyck NSW. Perfect for all seasons, the pure merino helps baby bears sleep better and longer without getting too hot or too cold. It's always just right for night-night.

---
13. Heirloom Cashmere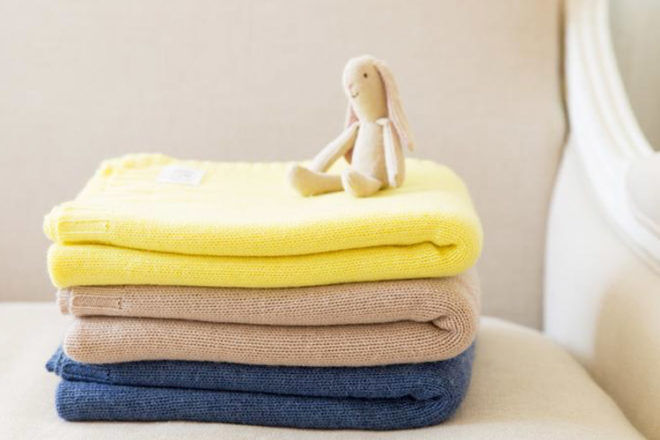 Ethically handmade in the Himalayas, the baby blankets from Heirloom Cashmere are lusciously soft against baby's delicate skin. Available in a classic cable knit and heritage plain knit, the cashmere blankets have temperature regulating properties that keep little lambs covered and warm from dusk till dawn.

---
14. Homely Creatures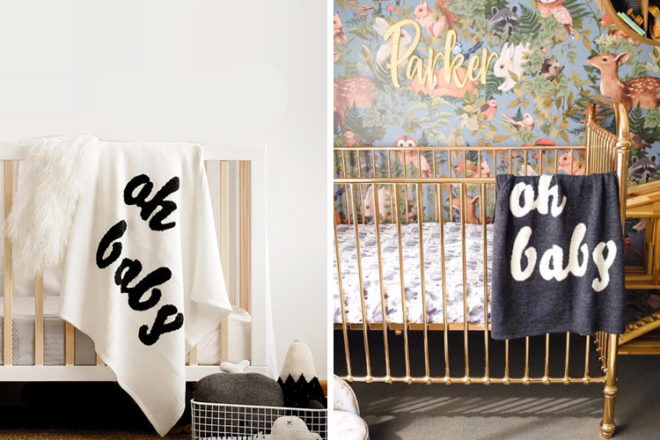 Made with a lot of love by artisans in Bolivia, the adorable 'oh baby' blankets from Homely Creatures keep kiddies looking cooler than cool while staying toasty and warm. Knitted from 100% alpaca wool, the blankets are velvety soft with hypoallergenic properties for bub's fresh, young skin.

---
15. Merino Mana Australia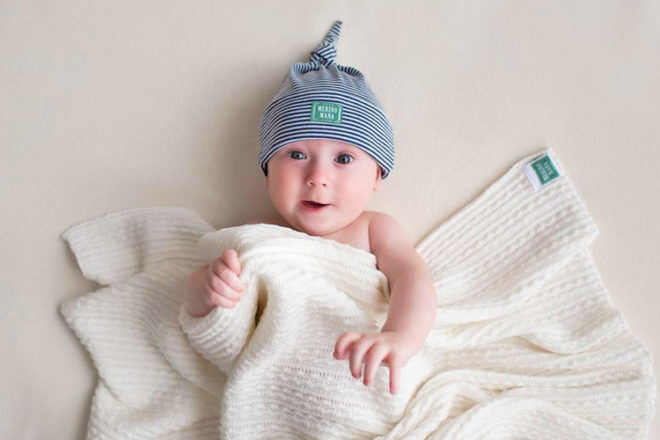 Crafted using the finest quality merino wool, the baby blankets from Merino Mana Australia keep wee ones warm from top to toe. As soft as they are snuggly, the blankets have temperature regulating properties that ensure baby stays cosy during the colder months and cool in the summer.

---
16. Jujo Baby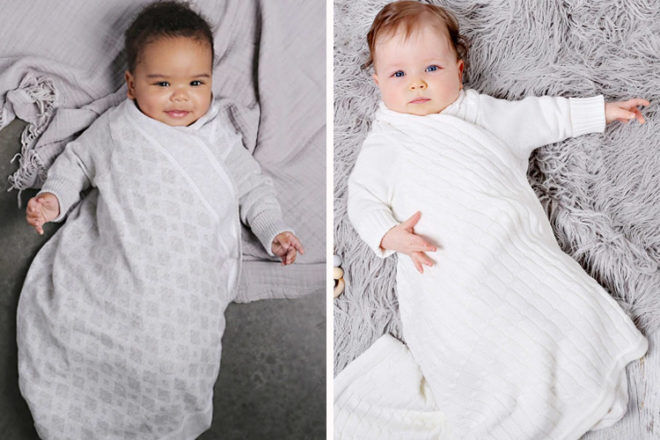 Combining the best of both worlds with their very clever Shwrap, Jujo Baby bring us a luxury-feel blanket with sleeves. For babies who like to squirm their way out of being swaddled, the Shwrap is an ideal way to cover little loves while keeping their arms completely free to move. Suitable for newborn up to 12 months.

---
17. Luna Niños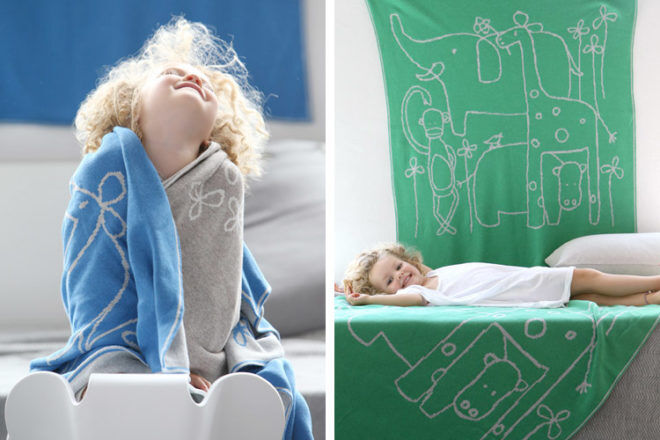 Made in Victoria, the range of baby blankets from Luna Ninos are soft, plush and incredibly durable. Featuring gorgeous graphics, the ethically grown fibres are a dream to nuzzle into when it's time to hit the hay. Designed to wash and wear, they can be passed down and enjoyed for many years to come.

---
18. Little Turtle Baby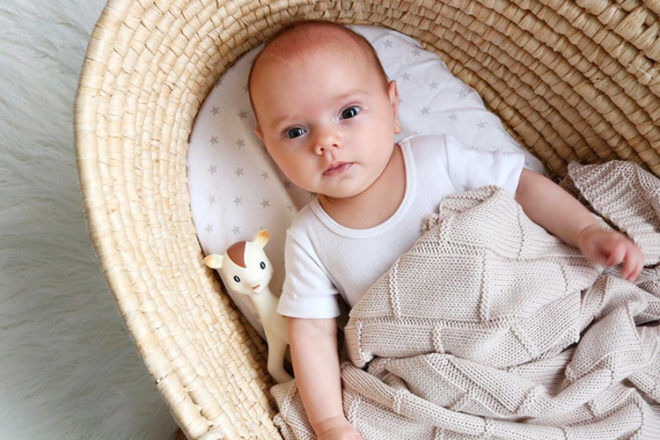 The organic cotton baby blankets from Little Turtle Baby are made from the finest cotton yarns to keep bubs snug wherever they go. Whether it be for dozing in the cot or adventures in the pram, they're an ideal cover-up for kids big and small. Available in five different colours.

---
19. Seed Heritage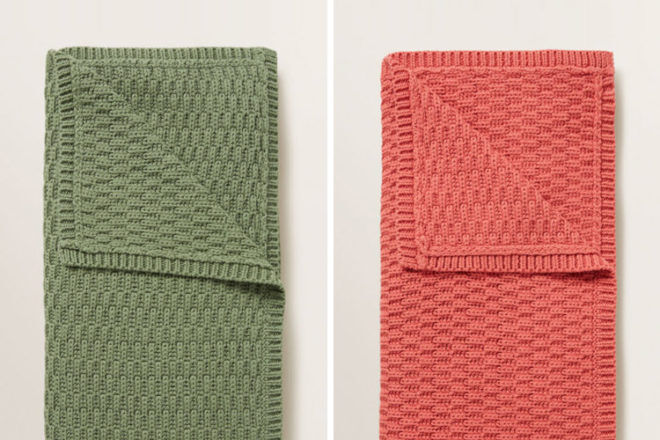 Crafted from a lightweight blend, the range from Seed Heritage are perfect for swaddling at home or wrapping baby up when out and about. The textured knit is soft and super-gentle, just how little love bugs like it.

---
20. Pappe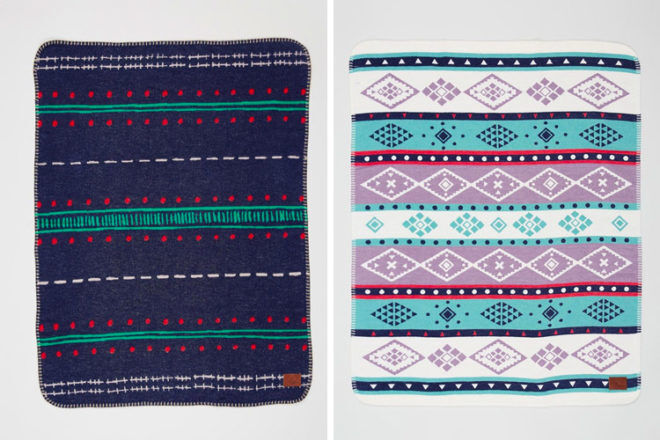 Fusing beautiful design with functionality, Pappe brightens up the dullest of days. Available in two contemporary styles, the twill-woven cotton feels incredibly soft and gives tiny bodies that little extra warmth in winter.

---
This post includes affiliates and/or paid inclusions. See our Disclosure Policy.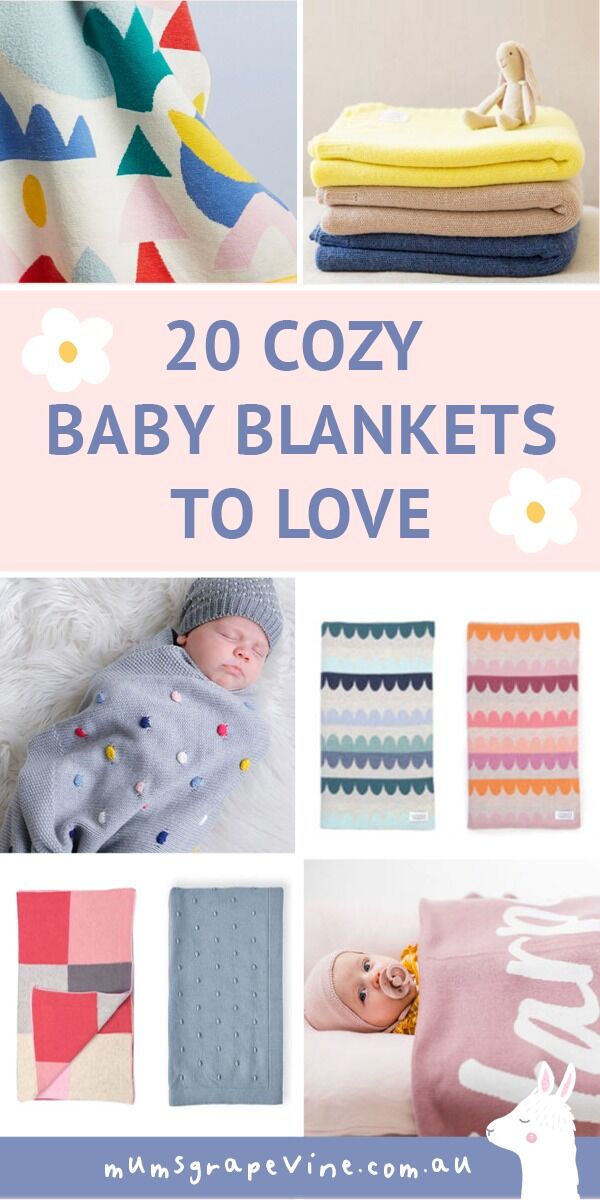 Know a brand of baby blankets we should add to our list? Contact us and let us know.
Read these roundups next …
Continue your search for the best baby blankets
Looking for a baby blanket and still not sure if any of these are right for you? Join one of the Mum's Grapevine Facebook Baby Groups and ask thousands of other mums what they recommend. They are grouped together based on your baby's birth date so everyone is going through the same stage at the same time.
Click here >> Mum's Grapevine Facebook Groups << to find your group today!
First image: Namely Co, Second image: di Lusso Living