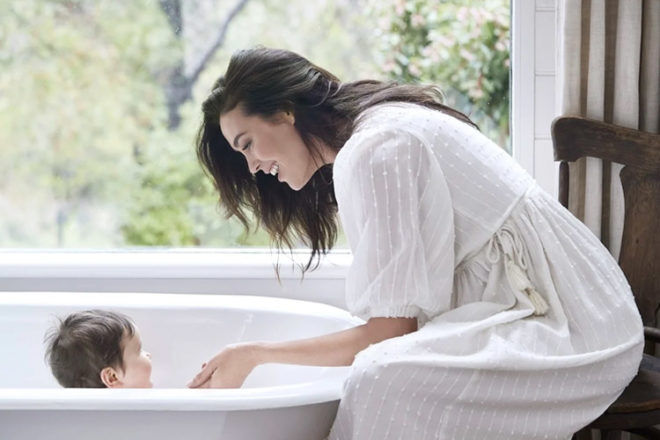 There's nothing more delicate than a newborn baby's skin. And like the food that we put into their bodies, taking care over what we put onto their skin is just as important. One of the best ways to protect delicate baby skin is to use organic or natural products, free from harmful chemicals, toxins and nasties.
14 Natural Baby Skincare Brands
To help you find the perfect skincare for your little lamb we've compiled this handy list of natural skincare brands to get you started in your search. In no particular order, they are:
1. Mindful Life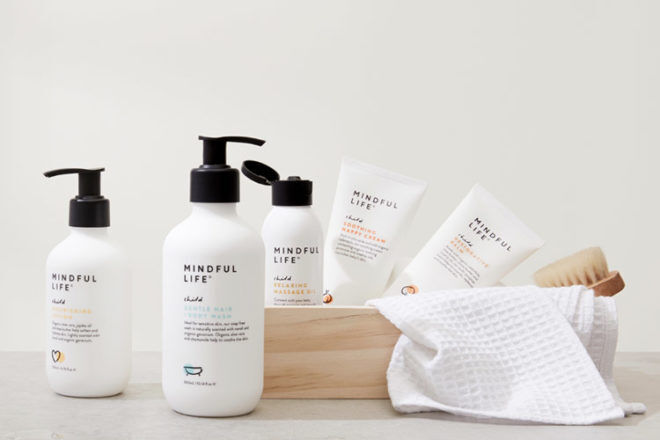 Mindful Life offers carefully considered skincare products that are safe for babes big and small. With hero ingredients such as Vitamin E, Calendula and Rosehip, this beautiful range of skincare essentials maintain the skin's moisture from top to toe.

---
2. Lovekins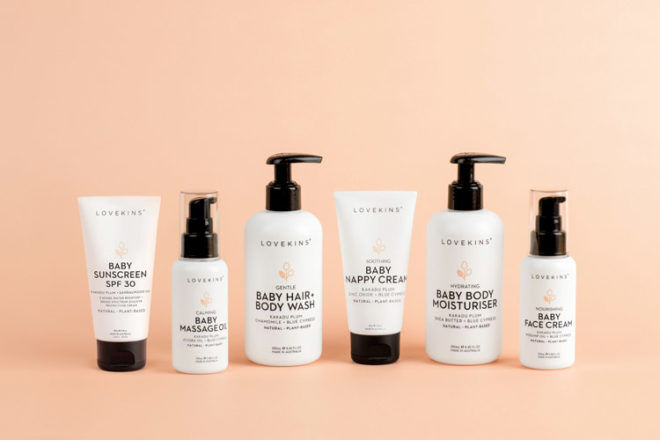 This award-winning skincare range uses an array of natural-organic Australian native ingredients to calm and nourish baby's skin from birth. With antioxidant-rich Kakadu Plum, Blue Cypress, and Tasmanian Pepper Berry in their products, pampering and protecting baby's sensitive skin has never felt better.

---
3. Grahams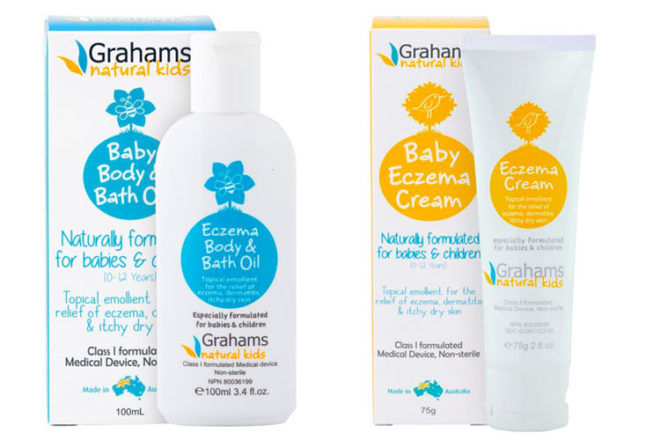 Gentle enough for newborns, the Natural Kids range from Grahams is full of good stuff – think Shea Butter, Almond Oil and Vitamin E. Specially formulated to help little ones who suffer from sensitive skin, dermatitis and eczema, the powerful blend of ingredients keep skin soft while reducing irritation.

---
4. Bondi Wash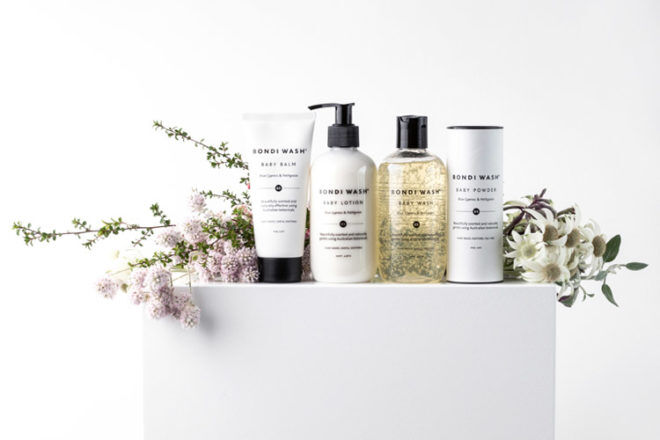 Packed with Australian products to treat and protect our precious babes, the range from Bondi Wash is fragranced with Blue Cypress to soothe inflamed or irritated skin. Featuring a baby balm, bar, lotion, powder, wash and a gentle washcloth, this simple yet effective skincare leaves skin feeling silky smooth.

---
5. Bunjie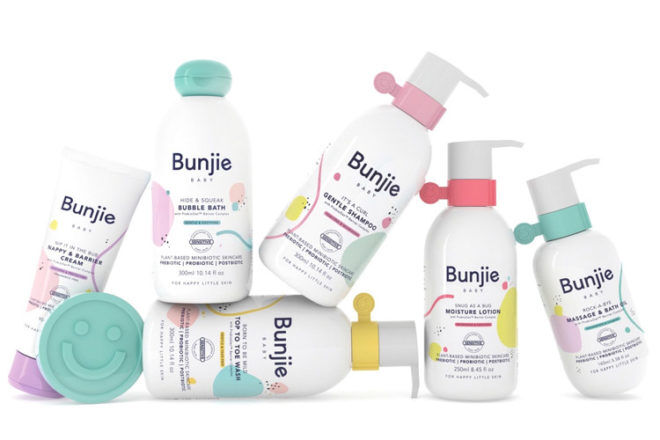 An exciting first in baby skincare, Bunjie is a range of prebiotic and probiotic immune boosters for the skin. Proudly Australian-made, Bunjie is powered by patented microbiome boosters to protect soft little bodies night and day. Whether it be a barrier cream or bubble bath, these guys have a bottle for the job.

---
6. Wotnot Naturals
The versatile range of products from Wotnot nourish bubba's skin with the help of flaxseed oil – one of nature's richest sources of omega-3 and omega-6. Developed to ensure skin is clean, hydrated and soothed using only the kindest ingredients, their range is approved for bubs prone to eczema, rosacea and psoriasis.

---
7. Nature's Child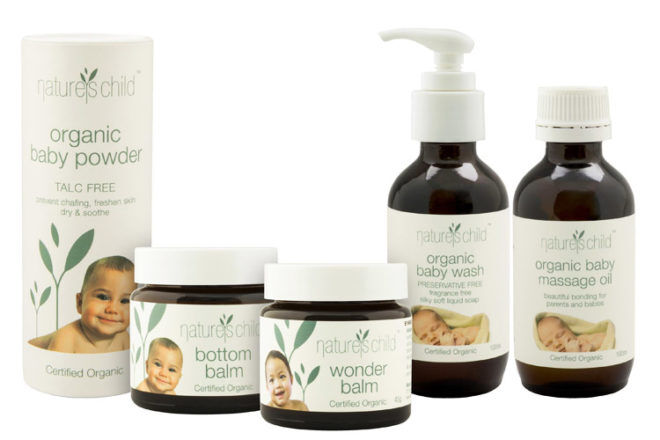 Built on values of being ethical, natural and responsible, Nature's Child is one of Australia's first Certified Organic baby skincare brands. Using recyclable packaging and biodegradable ingredients including Certified Organic Beeswax and Certified Organic Lavender Oil, it's the perfect choice for eco-friendly families.

---
8. Gilly Goat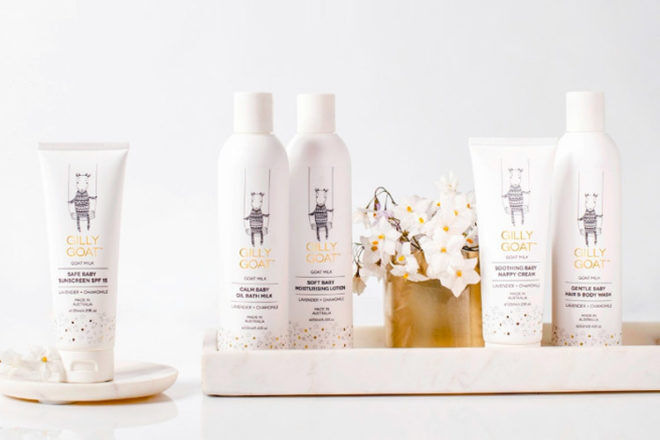 Created from a base of Aloe Vera, Shea Butter and Goat's Milk, the Gilly Goat skincare range targets dryness, irritation and redness with naturally rich moisturising ingredients. Free from toxins, it's packed with calming botanical extracts to clean and shield bubba's skin while keeping it oh-so-soft.

---
9. ChamonixRain Organics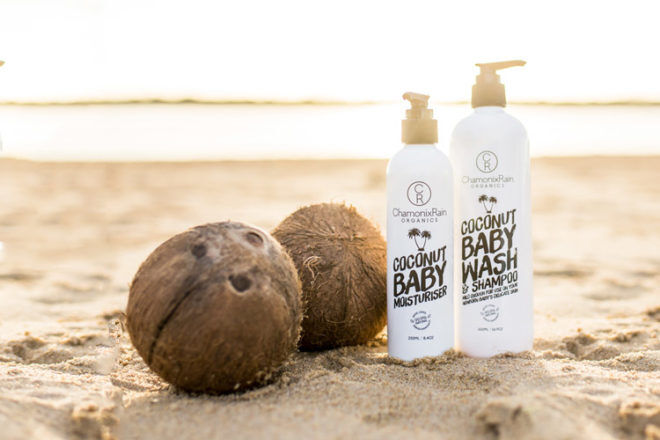 Gentle enough for newborns, ChamonixRain Organics leaves little one's skin smiling. With hydrating coconut oil at the heart of their products, this baby skincare nourishes the skin while replenishing its natural oils. The addition of Organic Lavender and Chamomile Extract helps calm baby for a good night's sleep.

---
10. Baby Mama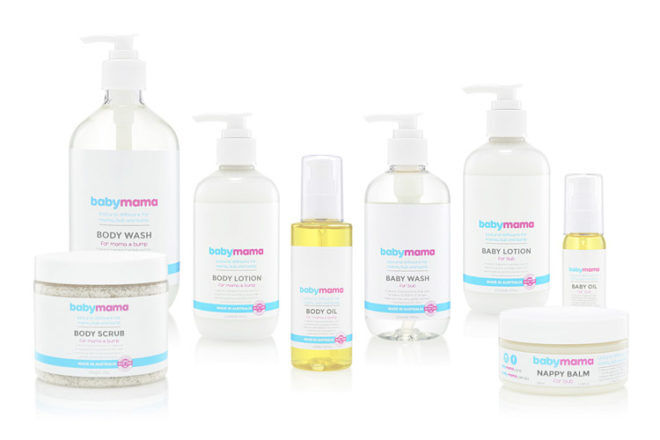 Formulated for mums and children of all ages, Australian made Baby Mama knows how to keep babies safe from toxins and harsh chemicals with their all-natural, cruelty free, vegan-friendly and fragrance free skincare range including body lotion, baby oil, body wash and nappy balm.

---
11. Alchemellia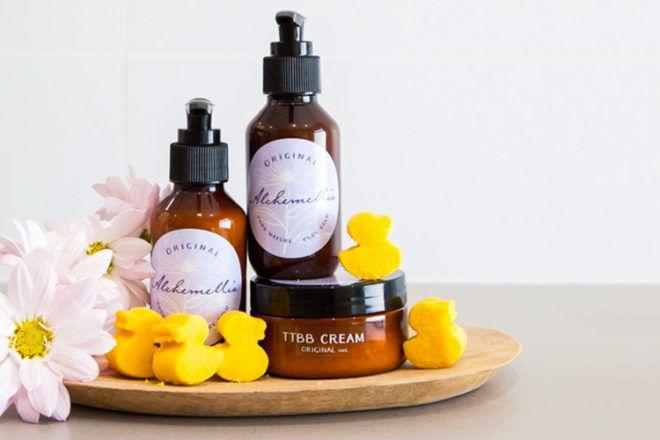 Keep baby fresh, clean and cuddly with the range of natural soaps, lotions and balms from Alchemellia. Boasting ingredients such as macadamia oil, calendula extract and super-hydrating hemp seed oil, they're perfect for washing baby head to toe while keeping those all-important natural oils intact.

---
12. Endota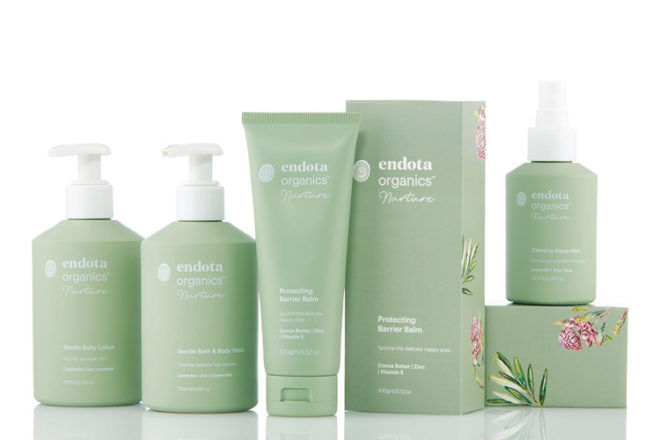 Made for both baby and mama bear, the Organics range from Endota Spa gently removes impurities while hydrating and cleansing the skin. Ingredients like oat and calendula naturally restore essential moisture while lavender and chamomile provide an aromatic calm for bath and bedtime.

---
13. Thankyou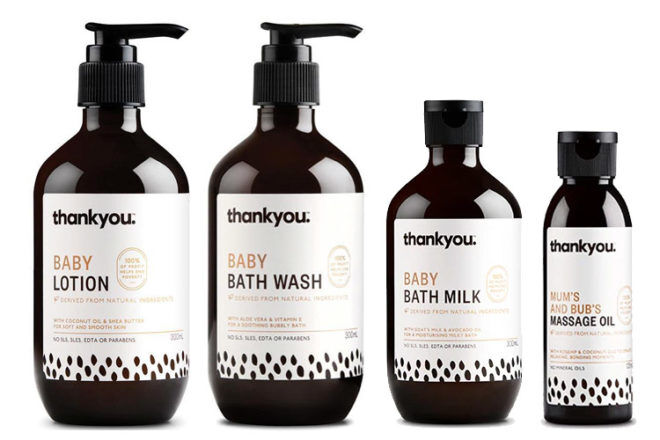 It's the social enterprise doing good things for people in need as well as the little people we love. Thankyou's range of baby care features everything from shampoo to help clear cap to balm that soothes bub's sore bum. Using plant-based ingredients, they're proudly toxin-free and aim to give baby the best possible care.

---
14. Dr Bronner's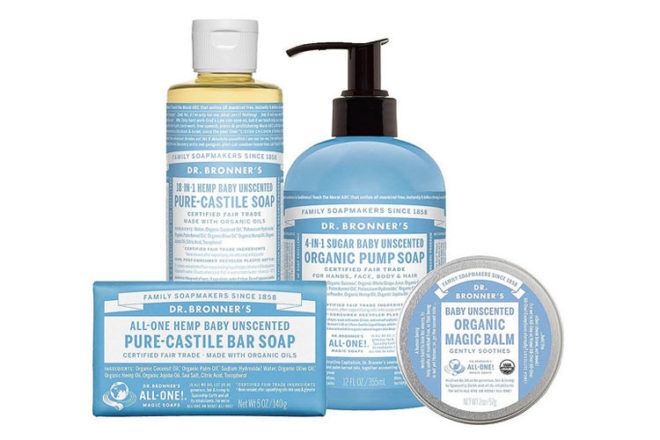 Known worldwide for their 18-in-1 Magic Soaps Dr Bronner's range has extended into baby skincare with Fair Trade baby products that are all fragrance-free – ideal for baby's sensitive skin. Key ingredients such as hemp, coconut and jojoba oil leave the skin feeling squeaky clean and luxuriously smooth.

---
This post includes affiliates and/or paid inclusions. See our Disclosure Policy.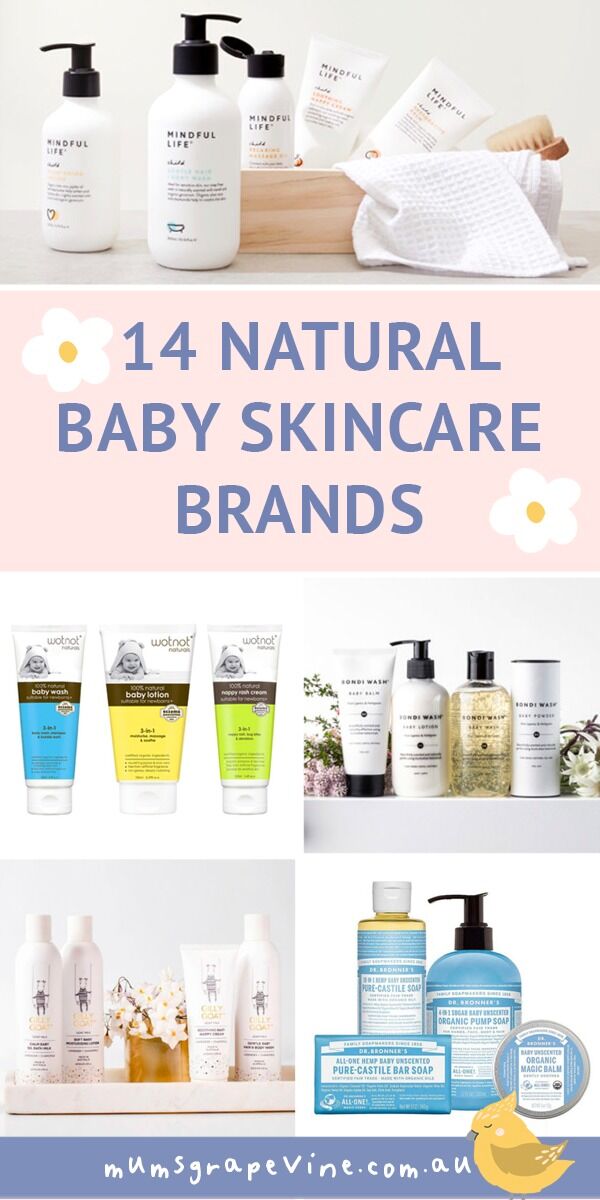 Know a brand of natural baby skincare we should add to our list? Contact us and let us know.
Read next …
Looking for more gentle products to use on baby's skin? We list some of the best in the articles below:
Continue your search for the best natural baby skincare
Searching for the best natural baby skincare and still not sure if any of these are right for you? Continue your search online by jumping into one of our closed Pregnancy or Baby groups and ask thousands of other Australian mums what they recommend – 'What to buy' is the most talked-about topic, followed by MIL vents!
Click below and join your group today!