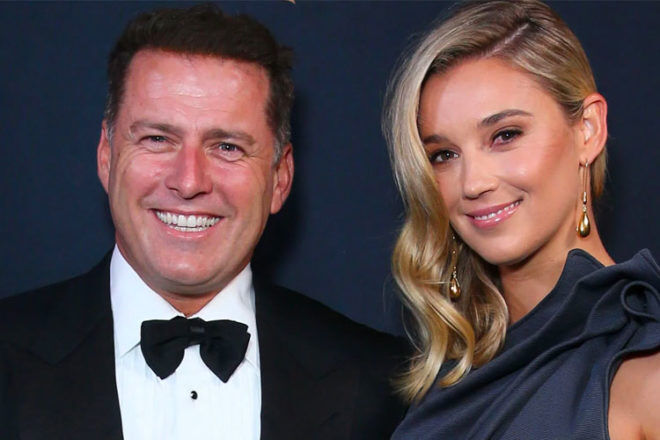 Stop the press – Today show host Karl Stefanovic and his wife, Jasmine Yarbrough have welcomed their first child together, a little girl.
Both Karl and Jasmine, 36, shared the adorable news with the Today show this morning, revealing their new daughter is named Harper May Stefanovic. She was born at North Shore Private Hospital yesterday, weighing 2.9kg.
"Harper and Jasmine are doing well and dad had a great night's sleep. I am in awe. Harper is absolutely perfect," Karl told Today.
The couple met in late 2016, five months after Karl, 45, and wife of 21 years Cassandra Thorburn divorced. The pair tied the knot in Mexico in December 2018, with Karl admitting the couple had been trying for a baby for "a bit of time".
Karl recently opened up about the the pressure his wife Jasmine has been under since they started a relationship after his much-publicised divorce.
"She's been through so much. She's been pilloried and accused of things that didn't happen," Karl told Stellar magazine. "It's not her fault she fell in love with bugalugs, and the accusations were wrong about her stealing me from Cassandra. It's rubbish and it's hurtful. She's just a beautiful, sweet woman from Queensland who runs a business and fell in love with me."
"There were times when I asked, 'Do you really want to do this?'" he explained. "I don't think I would be with me. On a good day, I can be charming, but that's about it. My best-looking days are behind me, I could be fitter. Why is someone that beautiful with me? Not that I'm complaining.
"I hope having a little baby girl in the household is going to be unifying," he added.
Karl has three children from his first marriage: Jackson, 20, Ava, 15, and River, 13, and this is Jasmine's first child.
Read next …
Got your own little super star on the way? Read these next articles to help research the best baby products to buy: