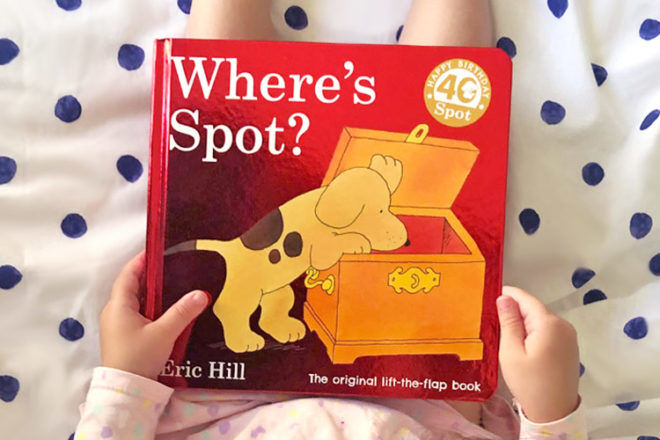 This competition is now closed. Check back soon to see if you're the lucky winner!
He's the lovable, mischievous pup adored by generations and now Spot's all grown up. And what better way to celebrate turning 40 years old by showering one lucky Australian family with gifts.
We're pulling out the party poppers and birthday cake and marking this very special anniversary by teaming up with Penguin Random House to give away a Where's Spot prize bundle worth almost $400. It's bursting with books and more – perfect for every young pup!
'Where's Spot' 40th-anniversary edition
Can you believe it's been 40 years of fun, friendship, first steps and lifting the flaps with Spot, our favourite fictional puppy? To celebrate this momentous occasion, a special edition of Spot's very first book 'Where's Spot' is being released. The classic hide-and-seek story is now available with a ruby foil cover (because it's Spot's ruby anniversary!) and in a new large format.
Eric Hill first dreamt up the story of a small puppy to read to his son in 1978. Just two years later, his best-selling first book 'Where's Spot' was published, and it's been loved by millions of children around the world ever since. Eric's books have now been translated into more than 60 languages and have sold over 65 million copies.
As part of the celebrations, little book worms can head to the Penguin Books Australia YouTube channel to hear Australian Author Kathy Lette read a Spot book.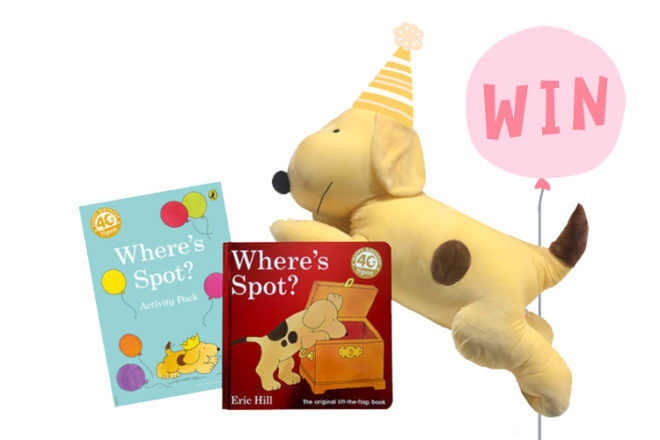 One lucky Mum's Grapevine member will win a Spot 40th Anniversary Prize Pack, worth $387.87.
The amazing prize pack includes:
Giant Spot plush
Huge Spot Activity Pack
Where's Spot special 40th edition
Spot Says Goodnight
Find Spot At The Library
Spot's Tractor
Find Spot! At The Museum
Spot Goes To The Swimming Pool
Where Are The Five Frogs, Spot?
Spot Goes To The Farm
Spot Goes On A Holiday
Spot's Birthday Party
Where Are The Yellow Chicks, Spot?
Spot's New Friend
Spot Goes Surfing












Entry is open to all Australian Mum's Grapevine newsletter subscribers. Competition terms and conditions.
HOW TO ENTER
Step One: Enter your details in the entry form below.
Step Two: Head to the Penguin Books Australia YouTube channel and tell us which Spot book Kathy Lette is reading.
BONUS: Click 'Share' below and get your friends to enter too for bonus entries.
Ends June 19, 2020