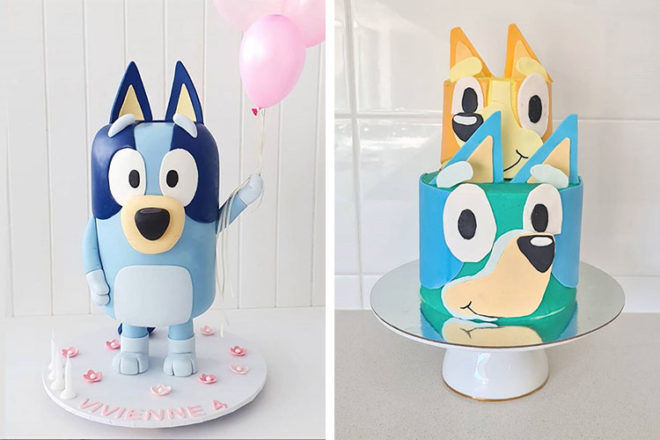 She's the lovable blue heeler pup that has everyone giggling, and Bluey-themed birthdays are super popular right now. And at the centre of every great birthday party is a sweet birthday cake – and high on every Aussie kid's birthday wishlist is a Bluey cake.
From professional bakers to home cooks, everyone is trying their hand at a Bluey cake, and it's easy to see why. A Bluey cake can be as detailed, or simple as you like – either go the whole hog and craft a spectacular standing Bluey cake or grab some Bluey toys and decorate a ready-made sweet treat.
Wackadoo, it's party time, come and take a look at 19 brilliant Bluey cakes.
19 best Bluey cakes for birthdays
From homemade delights to baker-crafted masterpieces, here are the Bluey cakes every one is talking about.
Standing tall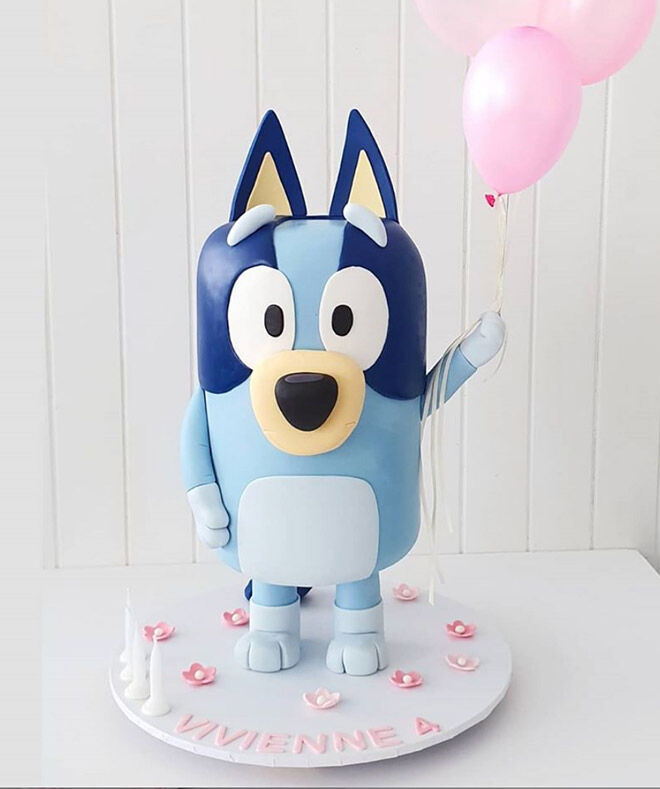 This fondant-covered delight stands at 50cm and with her pink balloons, Bluey looks ready to party.  (via Sweet Mama Cakes)
Cut it out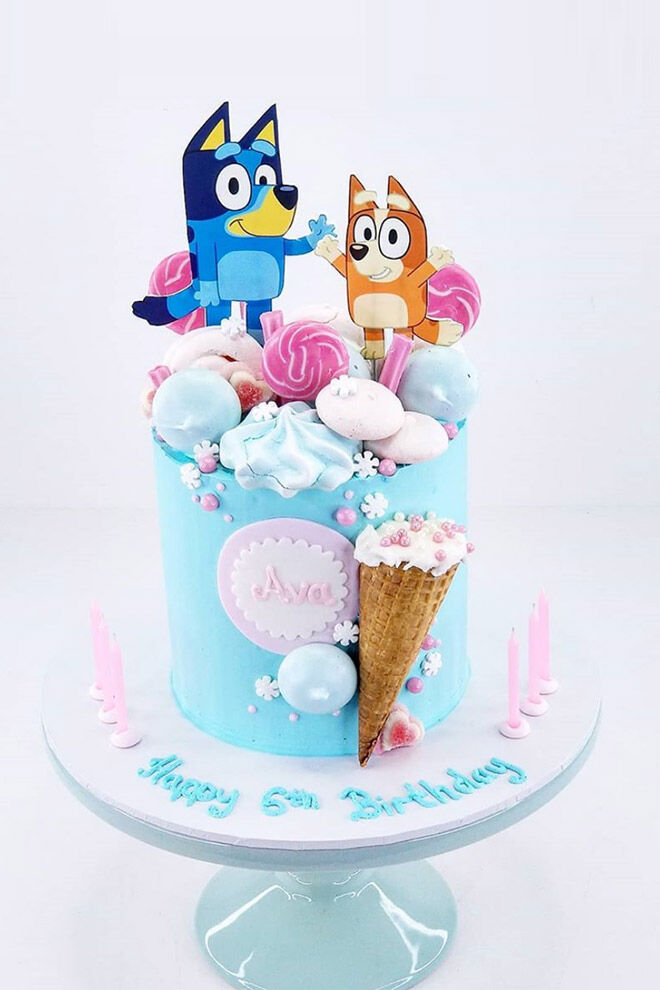 Print out your birthday kid's favourite Bluey character, pop them on sticks and hey presto – cake toppers! This sugar rush cake has all the trimmings – piled high with meringue, cookies and lollies. (via Cake of Your Dreams)
Wackadoo, it's Bluey!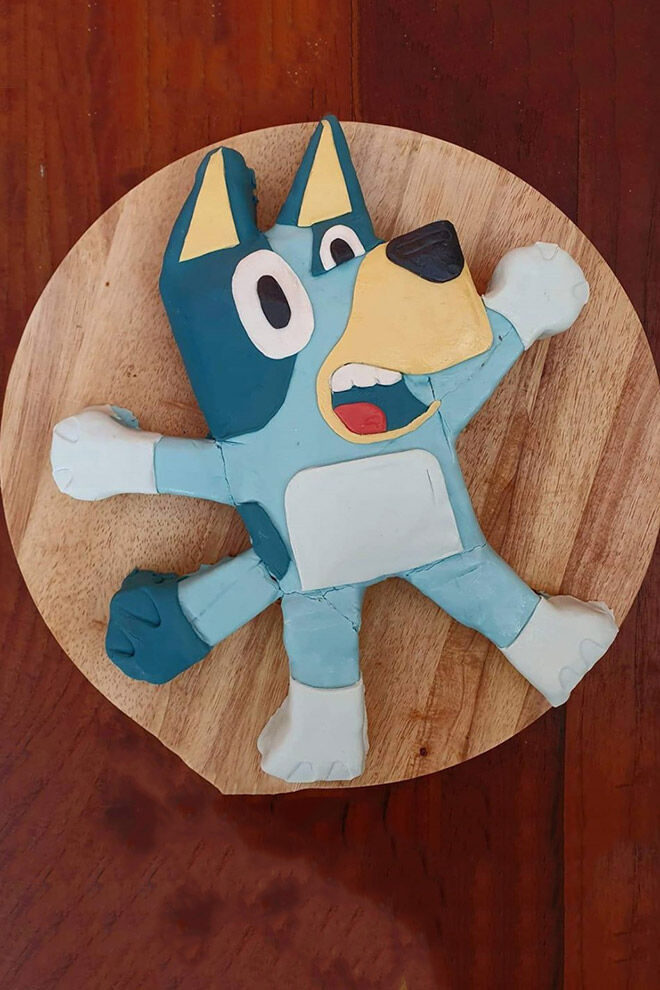 A clever mum and dad put together this Bluey cake by cutting the shape out of white chocolate mud cakes and using fondant to decorate. Bravo! (via harlow.phee.andme)
---

---
Step by step
The clever Cakes By Choppa walks us through crafting a standing Bluey, including handy templates to help cut out the shapes.
Cookie delight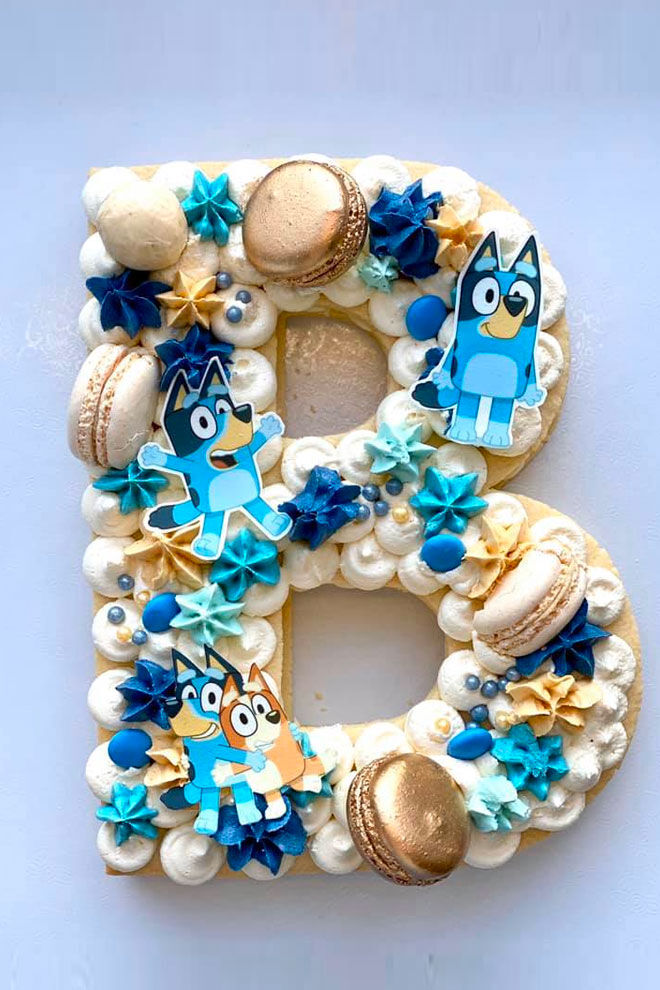 If this is the way the cookie crumbles, we're more than happy! Make either a number or initial cookie cake and decorate with all things Bluey. (via Hey Sweet Cakes)
Stack 'em up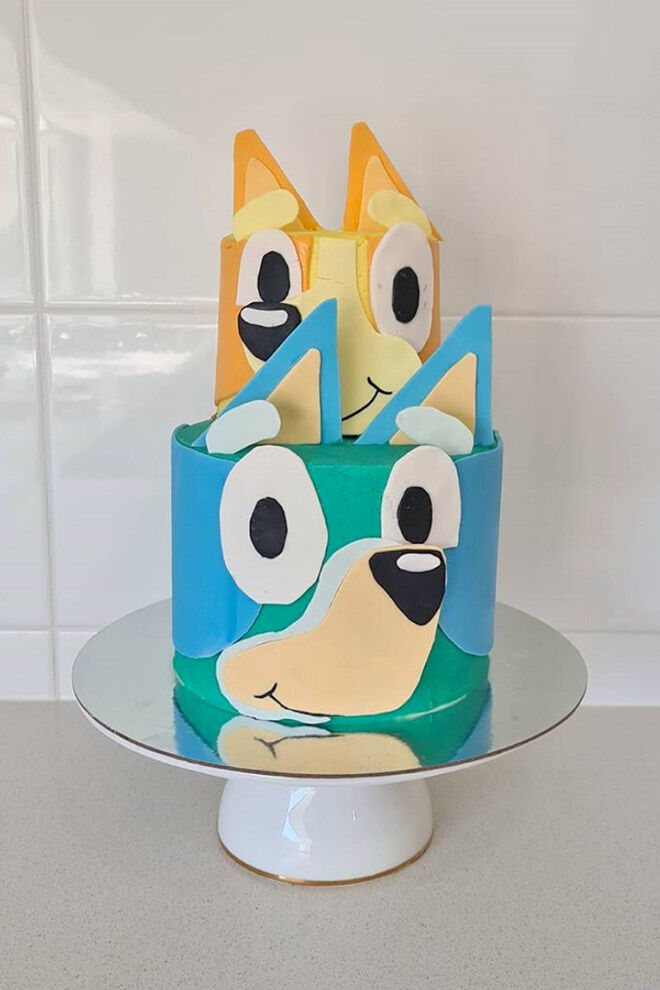 If your birthday boy or girl can't decide between a Bluey or Bingo cake – why not do both?! Make a smaller Bingo cake to stack on top of Bluey and now it's a real party. (via EmmasCakeCo.)
Family fun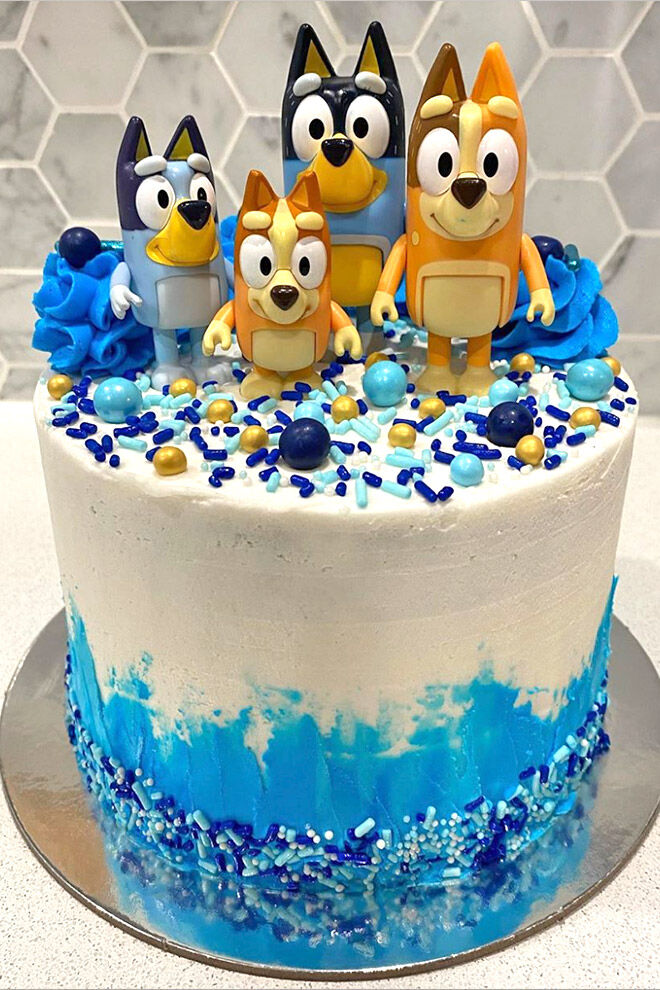 Grab some Bluey-themed sprinkles and Bluey family figurines, stack up some round cakes, cover in buttercream icing and you'll have a simple yet completely wow-worthy Bluey cake in no time. (via Hope Made Cakes)
For real life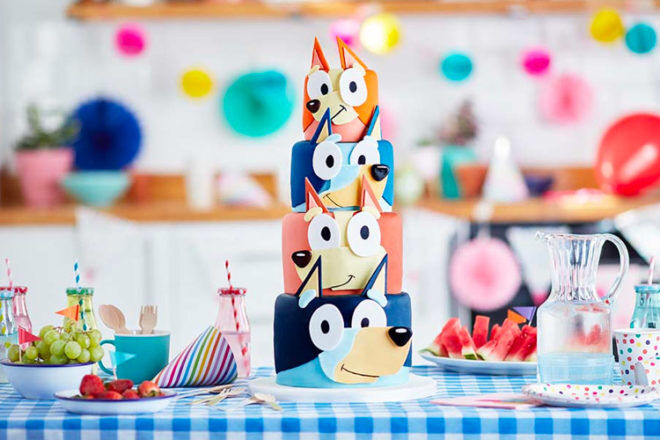 What's better than one Bluey cake? What about four Bluey cakes? This masterpiece isn't for the fainthearted by there are instructions so if you have time to burn and creative flair, this one's for you! (via Bluey)
Chocolate heaven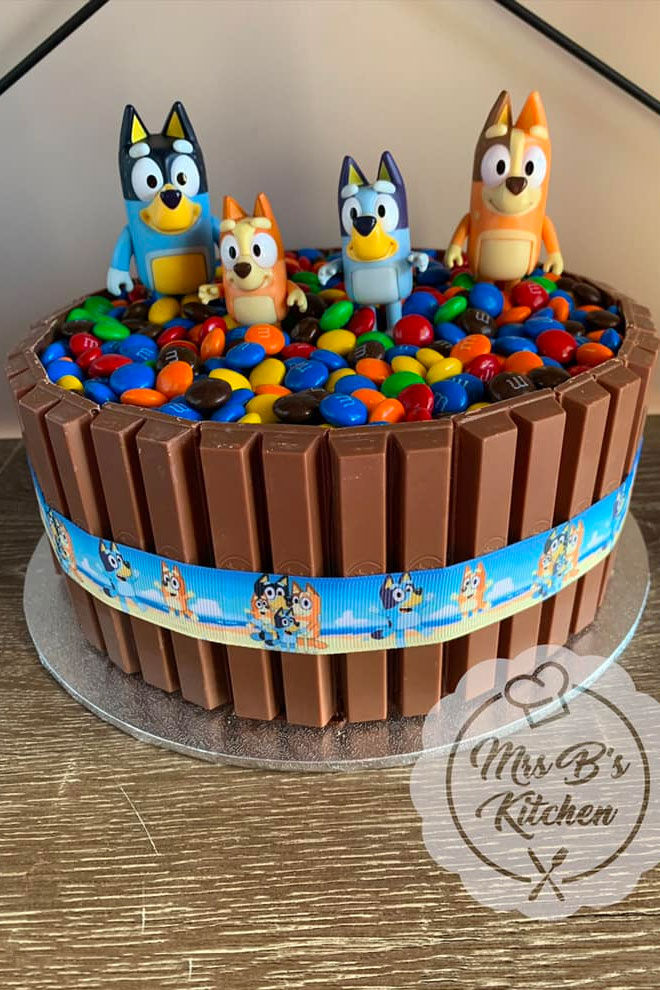 Chocoholics, this one's for you (and your mini-me!). A Bluey twist on an old favourite. (via Mrs B's Kitchen)
Pool party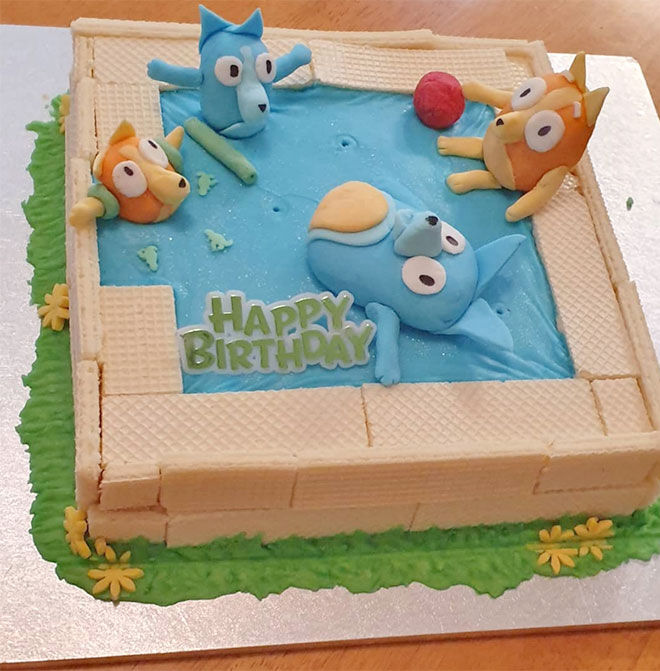 Fondant Bluey family and wafer pool make for a summery birthday vibe. (via The Outdoor Fairy)
High five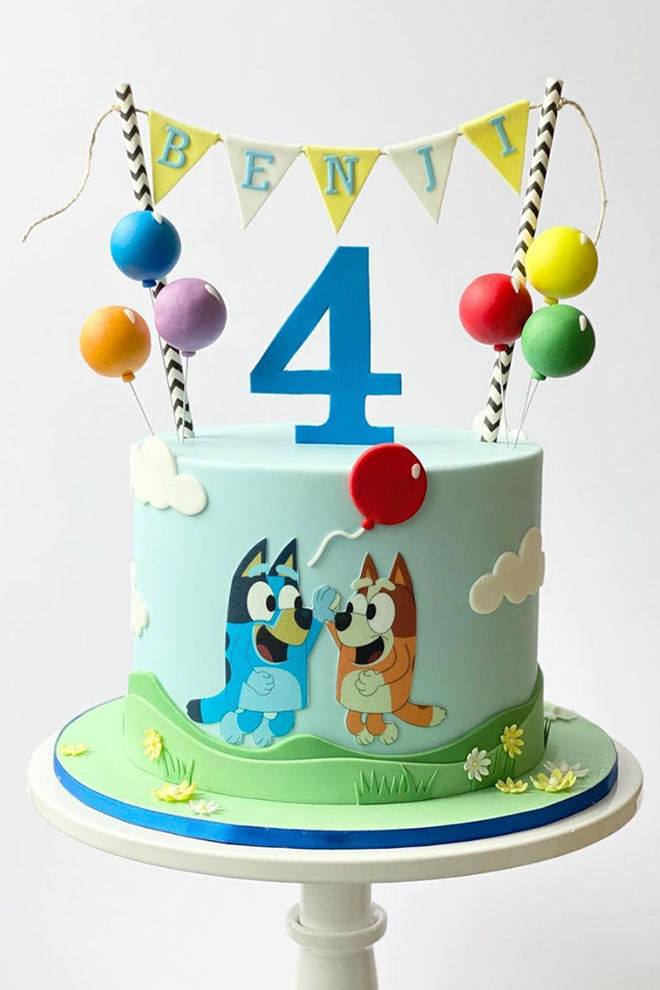 Fun, colourful and festive – everything you want in a birthday cake. (via Jasper Cakes)
Take a seat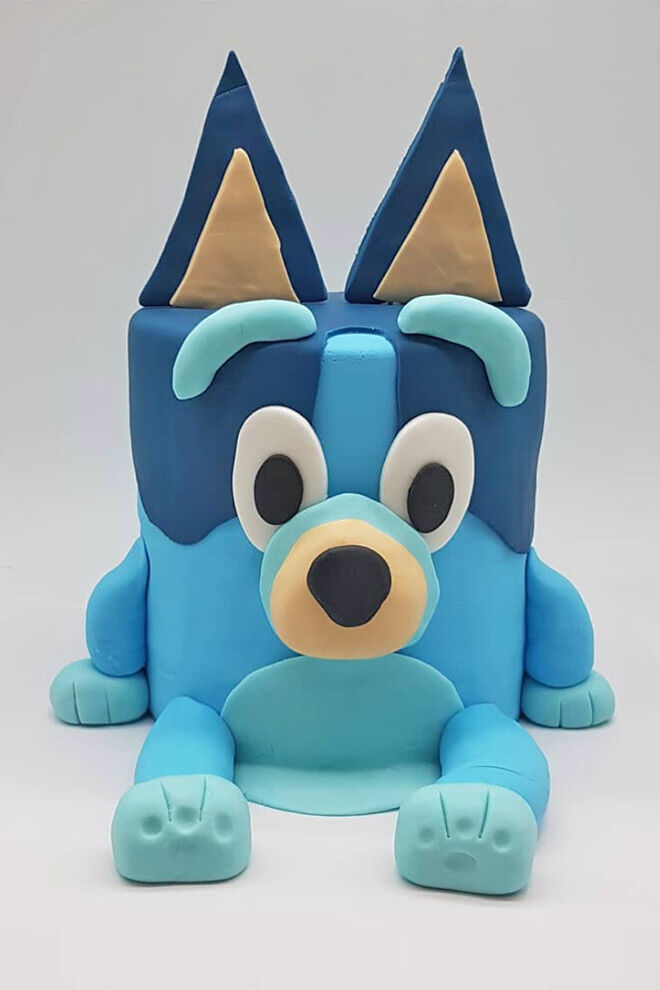 If making a standing Bluey is above your skill level, try this option. Start by stacking round cakes on top of each other, before making all of the details using fondant. (via Hooley Dooley Cakes & Cookies)
Let's face it
This simple cake is made using a Bluey face template on a rectangle slab cake and icing. There's no need to get it perfect, the kids will love it anyway!
Cake and cookies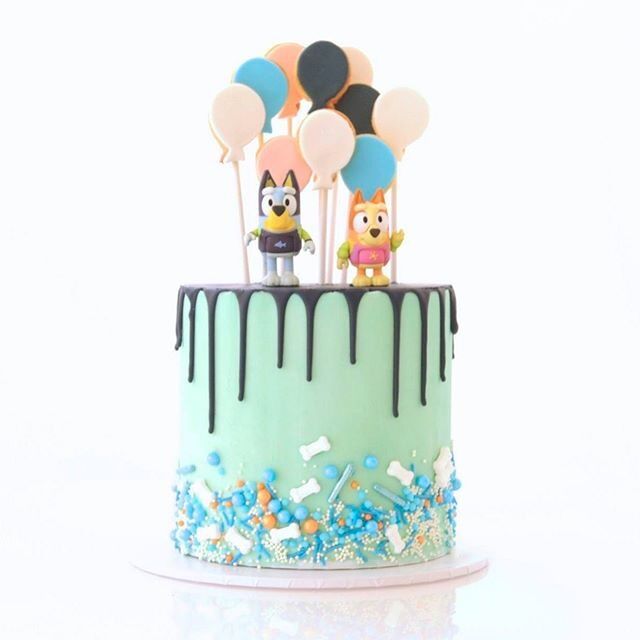 Balloon cookies add the perfect finishing touch to this festive Bluey cake. (via SweetP Cakes and Cookies)
Here come the Grannies!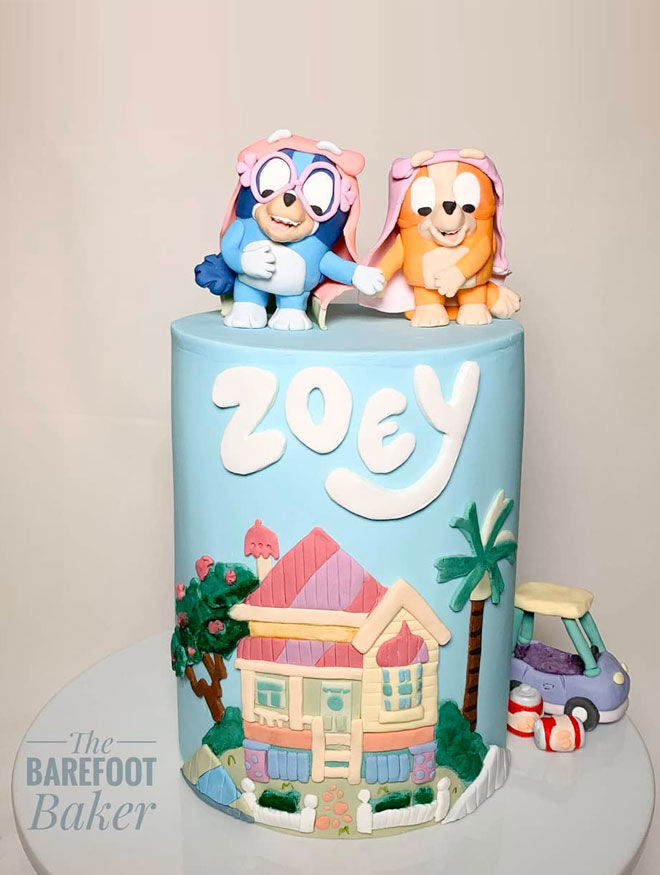 Ah, Rita and Janet – how good do they look on top of a cake?! (via The Barefoot Baker)
Pretty in pink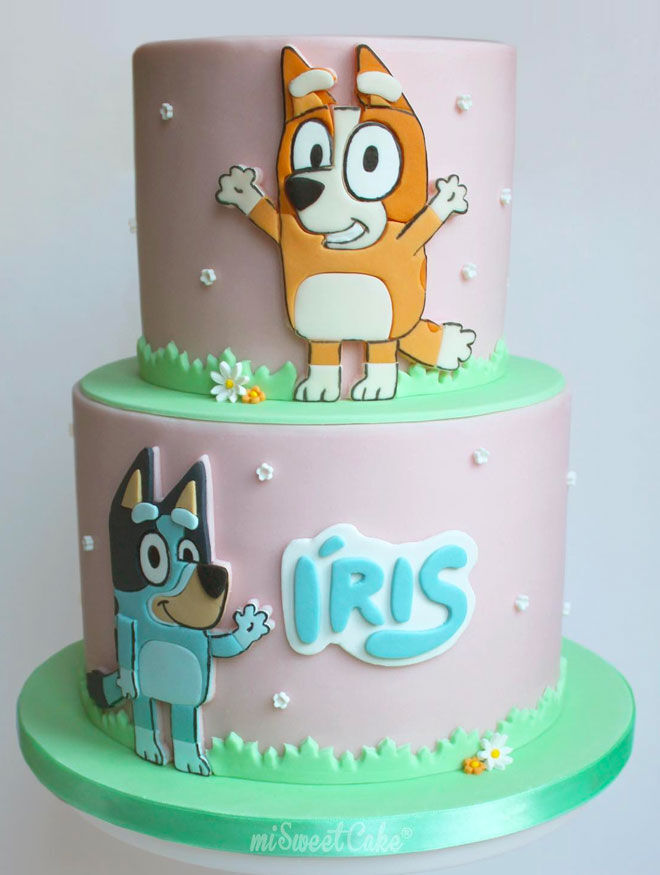 Bluey and Bingo ready for their shining moment on the party table. (via Mi.SweetCake – Bolos Decorados)
It's Snickers!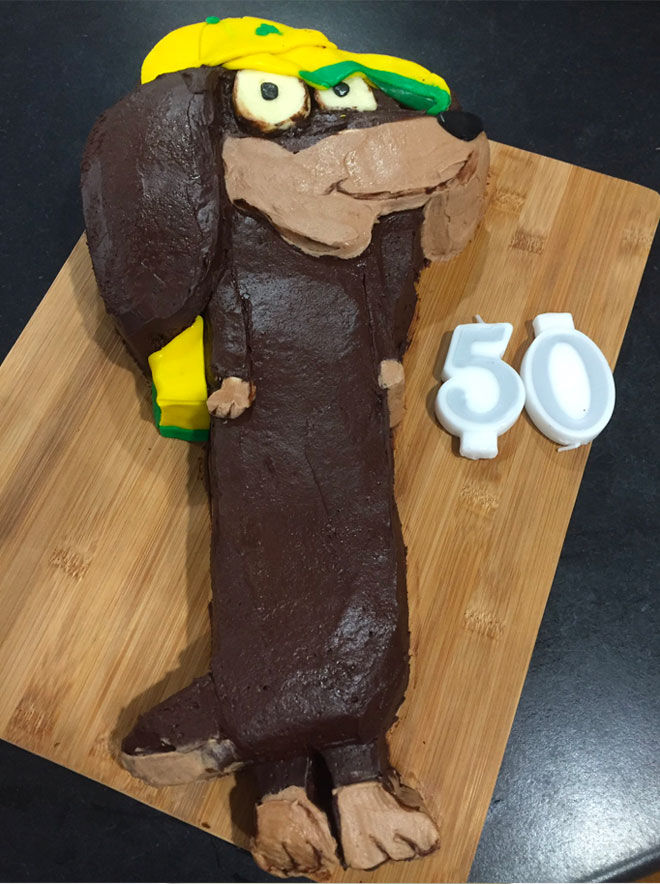 Because Bluey isn't the only dog on the block! (via Christopher McNamara)
Hey Bingo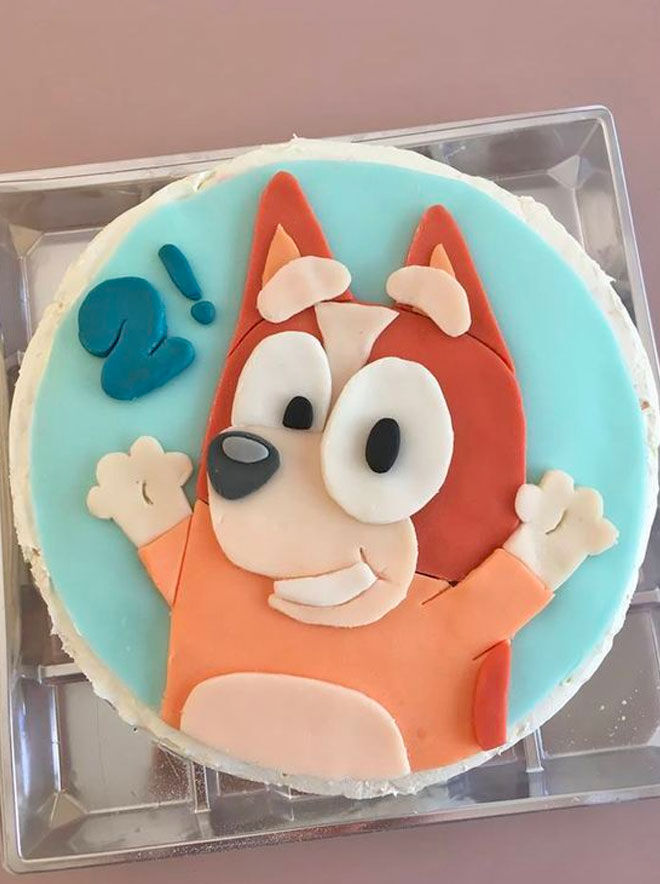 Or let Bingo take centre stage with a simple round cake decorated in fondant. (image source unknown).

Know a Bluey cake we should add to our list? Contact us and let us know, we've been curating Australia's best baby products into helpful lists for over 15 years and we're always happy to support new brands and businesses.
Looking for great toys and gift ideas for kids?
We've collected a treasure trove of amazing gift ideas, from the latest baby toys from leading brands to quirky boutique finds. There's something for every little Piper, Noah and Charlotte.
Gifts for kids are based on play and development, not gender.
Become a Grapeviner mum by joining one of our private Facebook Baby Groups and meet thousands of other Australian mums with kids the same age as yours all recommending their favourite baby products and unearthing hidden baby shops. And you can too!
We want you to know
At Mum's Grapevine, we're a team of passionate mums (with 19 kids!) and over 15 years of experience researching and writing about all things baby and parenting. Our reviews of recommended products, like the ones in this post, may include paid inclusions, but we promise to only feature products that we truly believe in and have used or seen ourselves. We want to ensure that you, our Grapeviner mums have access to the latest and greatest products in the parenting world, and we're committed to maintaining our high standards of quality and honesty. See our Disclosure Policy.
Thank you for trusting us to be your go-to source for all things baby-related.
xoxo