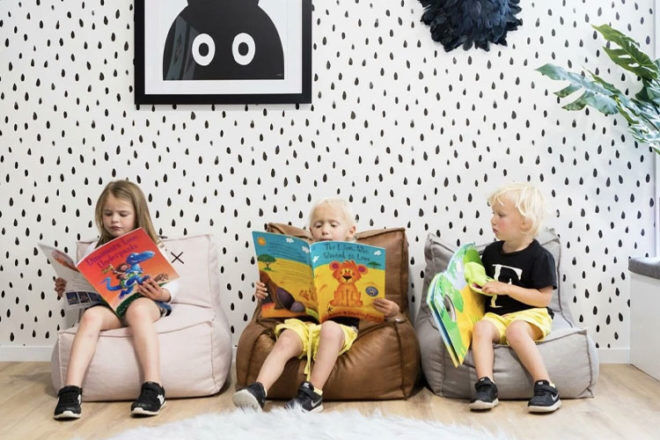 From teardrop styles to ultra-cool bean bag chairs, kids in Australia have been lounging on bean bags for decades, and whether it's for snacking, slinking, slouching or snoozing in, their love for them is still going strong.
In fact, the classic loungers now come in more shapes, sizes and colours than ever before, including giant options big enough for a few kids to curl up on and outdoor styles for summer days spent in the backyard.
You'll want to get your choice right when it comes to the perfect chill pad for your little one, so we've put together some of the key features you should consider when you're hunting out a fab bean bag.
What to consider when buying a kids' bean bag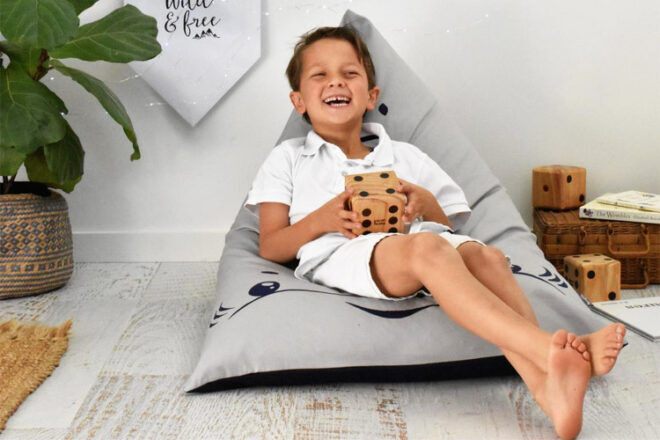 Safety zips – Polystyrene filling can be dangerous to kids so it is critical that bean bags can't be easily opened. Australia's safety standards require that bean bags are fitted with a child-resistant safety zip, which is a zip with its tag removed.
Inner bags – As a secondary safety precaution, many products now come with an inner bag with a safety zip as well as an outer cover.
Style – The classic teardrop continues to be a super popular shape for kids, but the options certainly don't end there. Bean bag chairs support the back and enable kids to sit up better, so they're a fab choice for watching TV and reading in. There are also outdoor options for summer chill sessions.
Cover materials – If you're after a decor piece to show off, a fab print or fluffy cover could be just the ticket. But if you're concerned about mess and spills, you might want to go for a style with an easy-clean surface.
Handle straps – Some products come with useful handles sewn onto them and this is brilliant for kids who want to drag their special seat from their bedroom to the lounge and back again.
---
13 kids bean bags and bean bag chairs in Australia
To help you find the best cosy spot for your mini-me, we've put together this handy list of brands to get you started in your search.
Here are 13 of the coolest bean bags for kids in Australia:
Noomi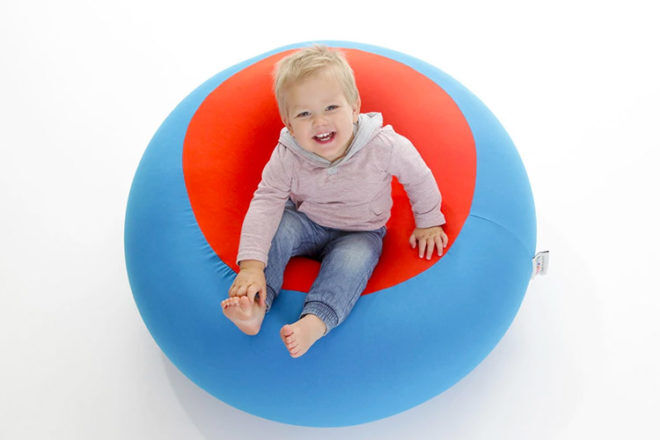 Stretchy and soft, these glorious round chill-chairs are unlike any others. For starters, they come with a sensory-friendly cover that wraps kids in complete comfort, and they also come ready-filled with special beans for max cosiness.
---
Homeday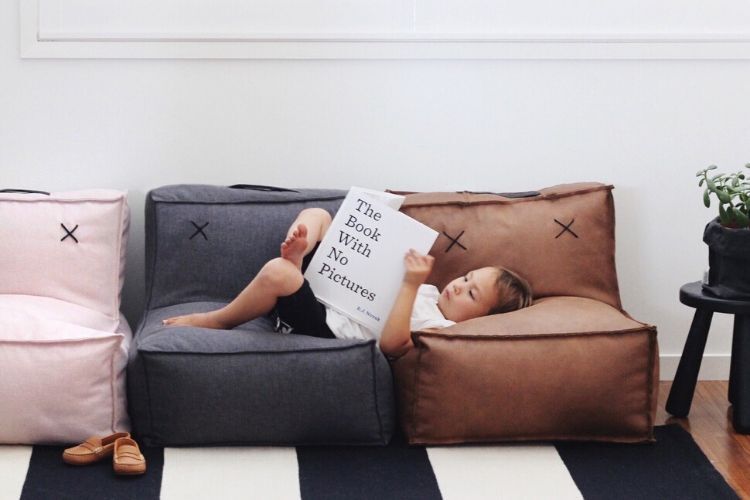 Crazy-cool and perfect for the modern home, this bean bag chair is designed and made right here in Australia. It features gorgeous piping details, a large range of colour choices, and it can even be customised with your child's name on the leather handle.
---
Mojo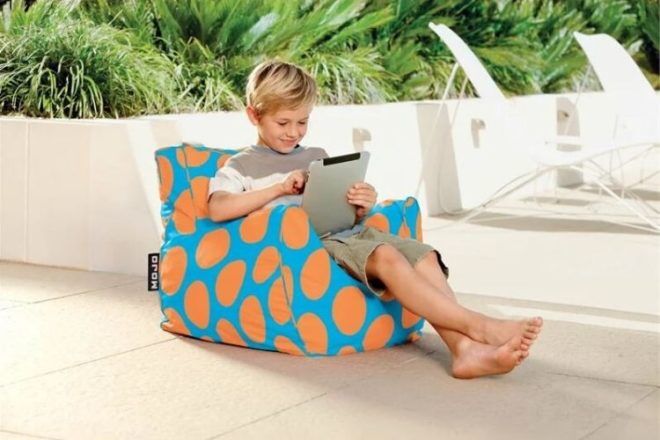 With the extra structure of a chair format and weather-proof materials, this lightweight bean bag is just the thing for whiling away a long summer's day. We're especially loving the splash of colour on this one, and the fact that it comes ready-filled with beans.
---
Sack Me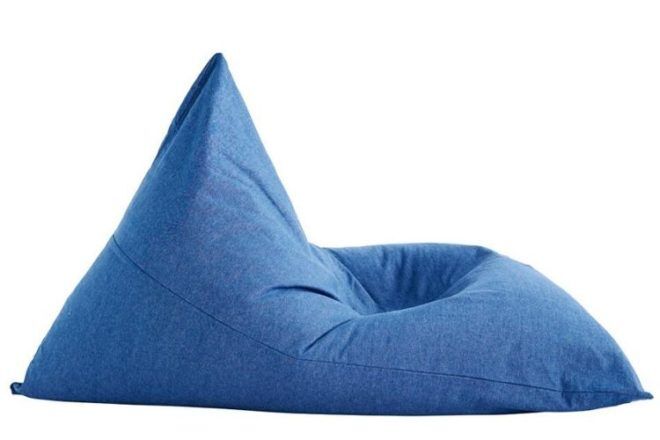 The best thing about denim? It goes with everything. But that's not the only reason we dig this ultra-modern bean bag – it's also cleverly shaped to facilitate both sitting and lounging. Don't be surprised if a few tuckered-out kids doze off in this one.
---
Ivory and Deene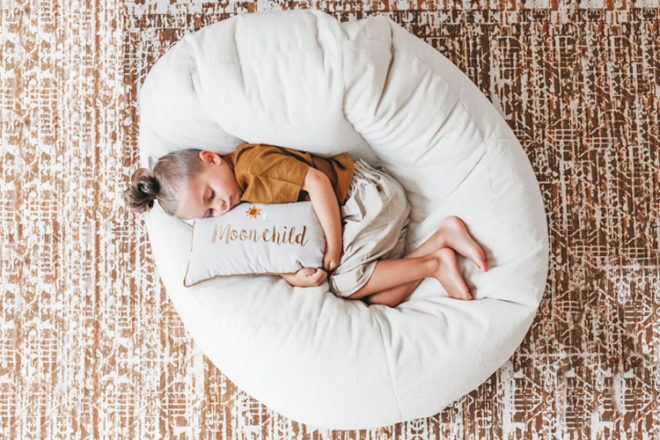 Roomy, fluffy and earthy – this bean bag chair is as close as they'll get to sitting on a cloud. It has an ultra-soft 'fur' cover, extra structure to support little bodies, and it's still large enough for kids to lie down on come nap time.
---
Mocka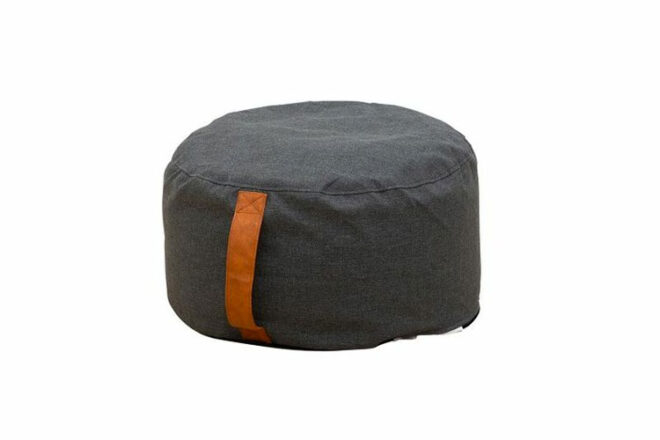 Your little one will be able to enjoy this one indoors and outdoors. This winner from Mocka is as comfy as it is durable. With a handle strap for kiddos to carry it from room to room, it's the perfect addition to their chillout space.
---
Hip Kids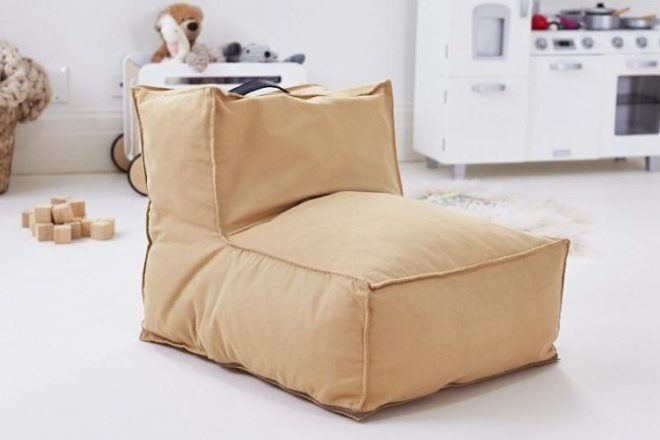 Compact and cosy, this gem comes in a choice of four timeless colours. The hard-wearing canvas cover is made to withstand years of use, and the leatherette handle makes it a cinch to drag from room to room.
---
LiFE!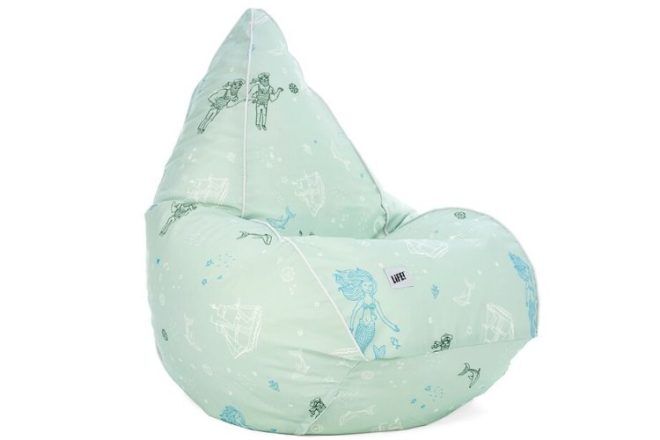 Sailors, mermaids and ships, oh my! This mint-green and classically shaped chair is just the spot for some serious chillaxing. It comes with a dual-locking zipper and an easy-clean surface for tidying up those snack-time spills.
---
Honeysuckle & Lime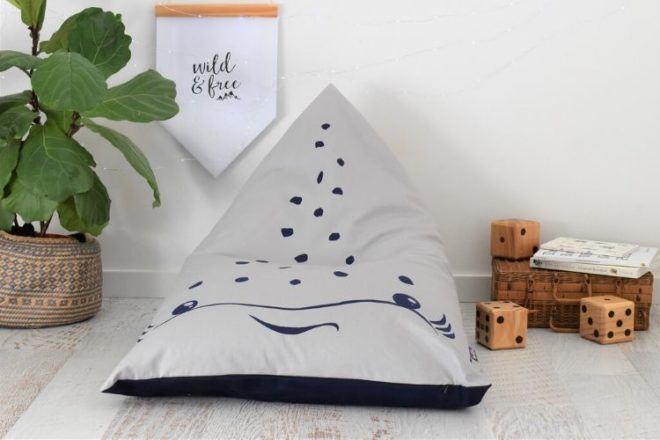 These unique chairs are some of the sweetest around, and they're each been crafted from ethically sourced heavy-weight cotton for longevity and softness. Want to stop the kids fighting over them? Each bag comes with a rear handle that can be personalised with your child's name.
---
Ashanti Design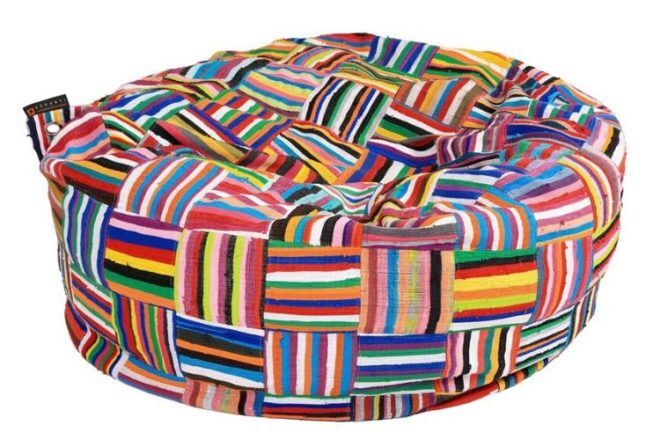 Ashanti fabrics are lovingly hand woven in Africa from clothing offcuts that would otherwise wind up in landfill, and no two items are the same. Vibrant, unique and big enough for two kids to curl up on, this is not just a bean bag – it's the star of the room.
---
Lelby's Bean Chairs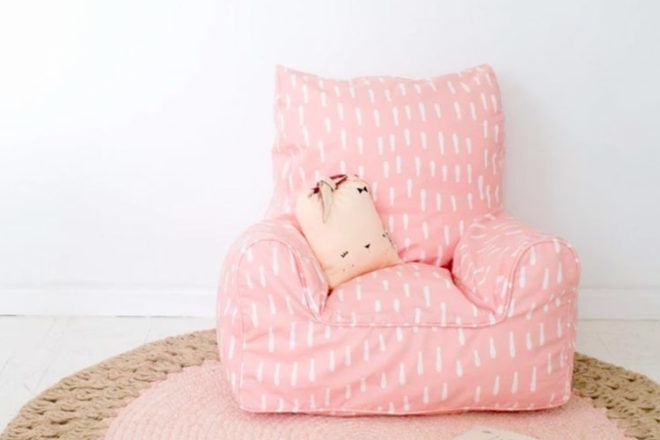 High on style and comfort, this gem gets our vote for being one of the prettiest bean bag chairs in town. There's a child-proof zip to keep those beans in place and covers come in a choice of contemporary patterns and colours. We love!
---
Epona Co.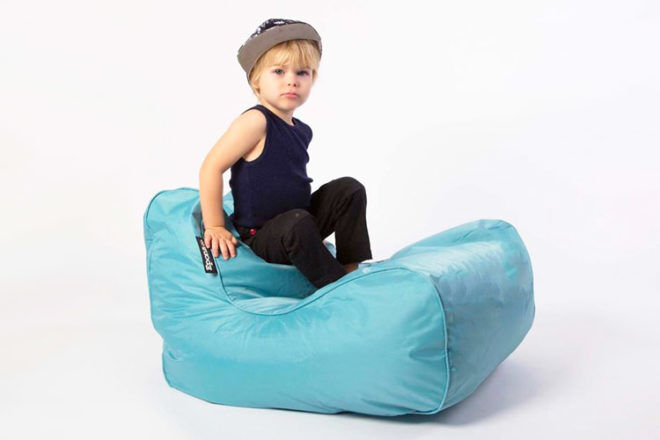 This classic kids' bean bag lounger is the perfect place for kids to unwind after a dip in the paddling pool, and it's particularly fab for littlies who love to stretch those legs out. The waterproof cover is made of heavy-duty materials and comes in blue, pink or taupe.
---
This article is curated by our Editors and includes affiliates and/or paid inclusions. See our Disclosure Policy.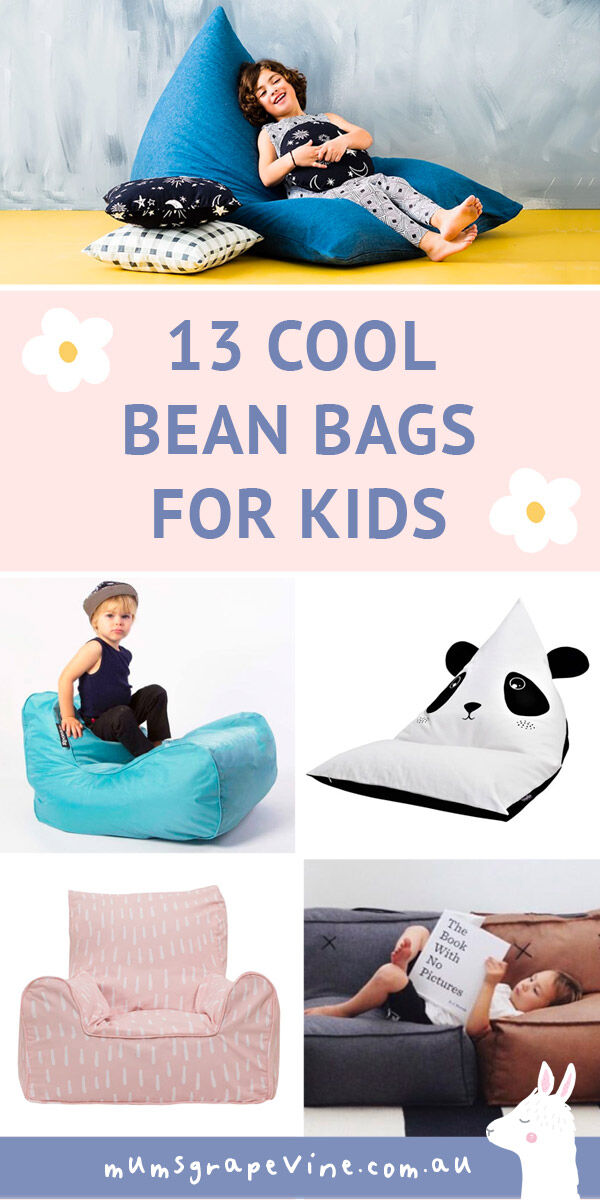 Know a product we should add to our list? Contact us and let us know.
Read these roundups next …
From the coolest sofas to soothing night lights, check out our roundups of brilliant kids' decor products to take bedrooms to new heights.