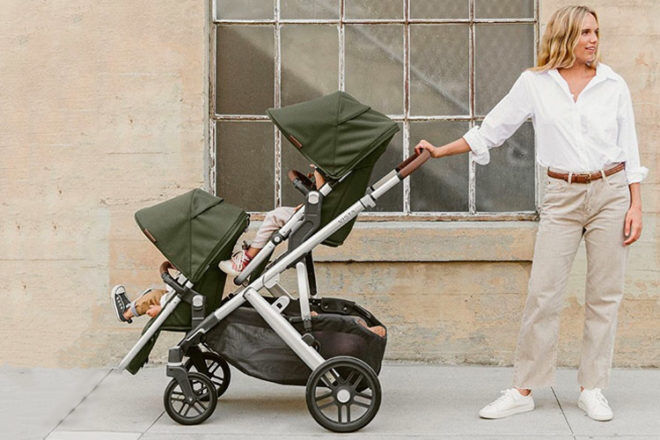 Getting out and about with two kids is no small feat. With twice as many little legs to control and twice the amount of stuff, a good double pram can make all the difference.
A double pram is specially built to accommodate two kids at once. Seats are positioned in either a tandem arrangement, where one child sits in front of the other; or side-by-side. The solution for busy parents with a toddler and a baby, double prams make it quicker and easier to get around.
To help make life a little easier, we've searched the shops and found 17 double prams that are perfect for carrying a couple of kiddies.
---
15 double prams for growing families
To help you find the right double pram for you, we've compiled this handy list of brands to get you started in your search. In no particular order, here they are:
1. Babybee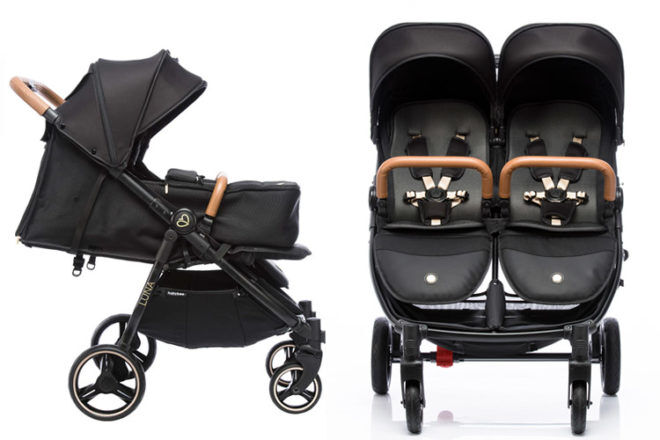 Don't let this beauty fool you. Despite the roomy side-by-side seats, the Babybee Luna effortlessly fits through standard doorways. The seats can be adjusted to suit each child, so baby can lie back and enjoy a daytime nap while the older tot sits up and watches the world go by.
---
2. Bumbleride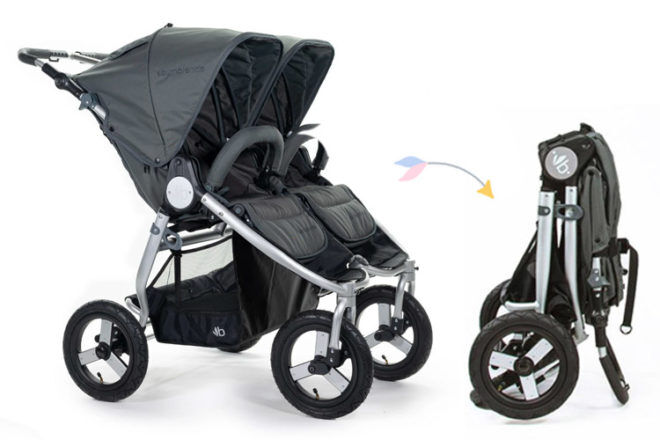 Built for adventure, this side-by-side pram maneuvers with ease, even when it's packed to the rafters. Suitable for newborns, this durable double pram features a deep footwell and tall backrest for toddlers, plus a finger-trigger fold to make packing up a piece of cake.
---
3. Baby Jogger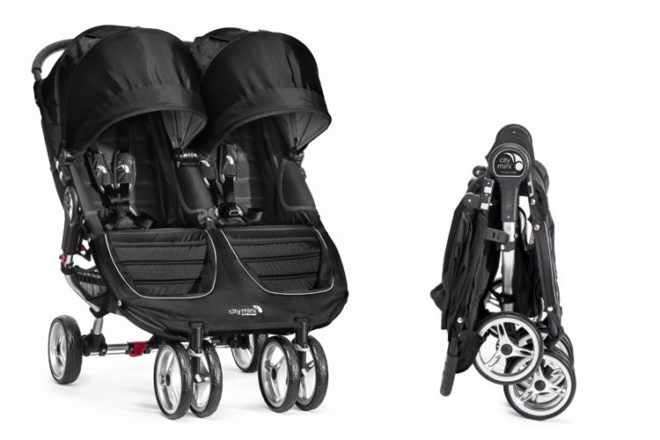 Baby Jogger City Mini Double ($799)
Loved for being one of the easiest strollers to use. Both seats lie to a near flat position so sleeping babes can use it from newborn right through to when they reach 45kg. A patented quick-fold system means packing up is a breeze, and the three-stage canopy and weather shield lets little ones hide from any unexpected showers.

---
4. Britax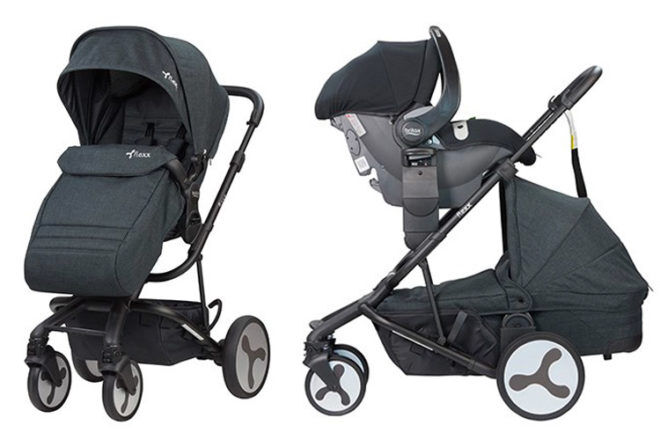 A tandem pram that takes the guesswork out of travelling around with two kids. This double pram is super lightweight, easy to fold and drives like a dream – even while sipping on your morning coffee. But it's the finer details we love, like the extendable storage basket and the fact that the bassinet that can be removed with just one hand. How… handy!
---
5. Redsbaby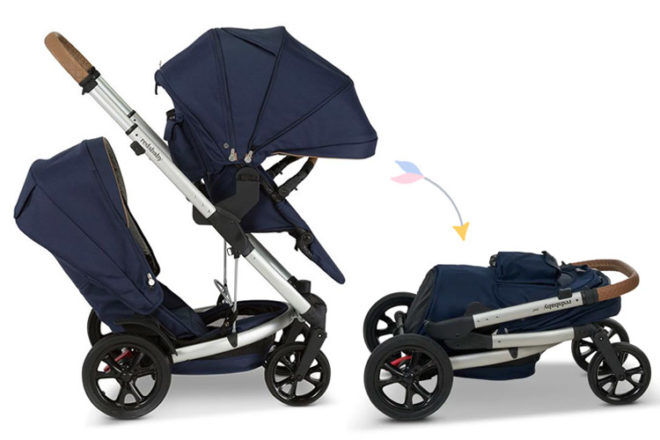 The Jive easily converts into a tandem pram so you can go from a family of three to a family of four without changing your ride. The front wheels have the option of swivelling or being locked in place depending on where you are, and with a newborn bassinet that's been approved for overnight sleeping, it really does have all bases covered.
---
6. Maclaren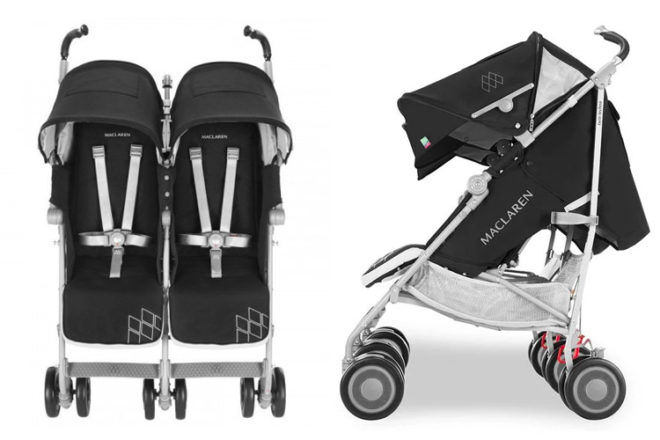 One of the greatest concerns when buying a side-by-side pram is the width. The Twin Techno fits through a standard doorway meaning your precious cargos won't ever get stuck. The seats can lie flat or sit upright for different children and if there's a mountain of mess, simply remove the seat covers and throw them in the wash.
---
7. Love N Care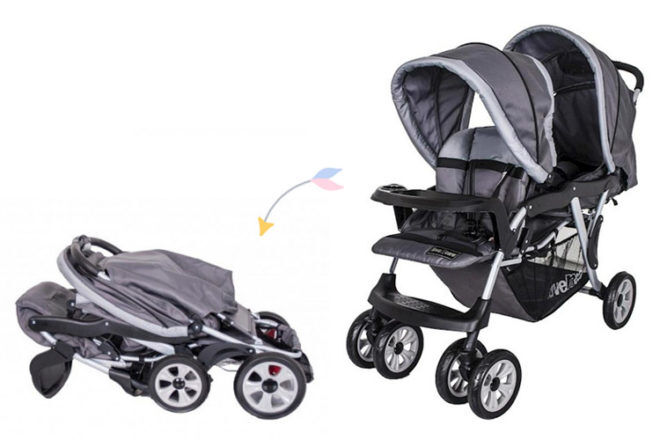 With a frame that's light as a feather, this tandem pram is easy to fold up and pop in the boot. There's a detachable tray for hungry toddlers to keep their snacks and drinks within arms reach, and detachable hood canopy for walks on those glorious days in the sun.
---
8. BOB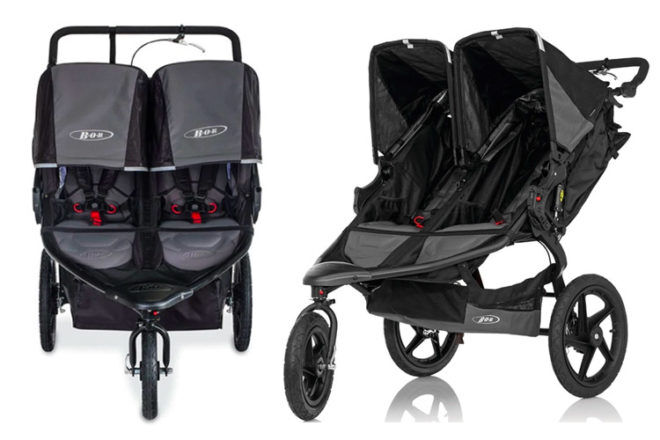 The perfect double pram for outdoor families. This side-by-side pram has a hand-activated rear drum brake for added safety when climbing uphill. A built-in suspension system means little ones feel a smooth ride no matter how bumpy it gets, and the large canopy protects them from the elements.
---
9. Valco Baby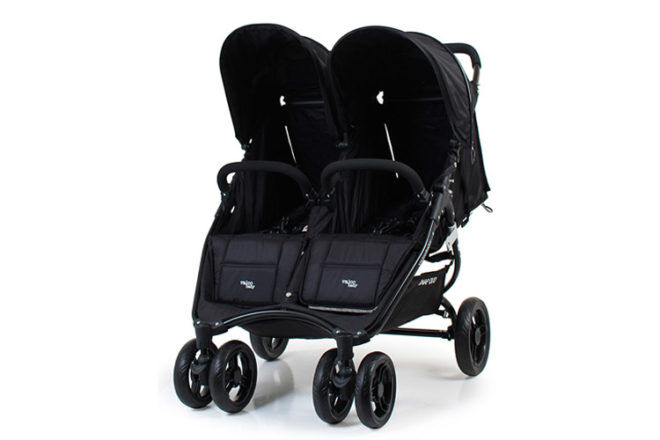 At just 9.8kg this pram is perfect for parents concerned about lifting a heavy pram in and out of the car. Suitable from birth, the seats can be adjusted individually to suit each child. Once folded down, the Ultra Duo is extremely compact, making it an ideal pram for those who love the great outdoors or have a small family car.
---
10. Steelecraft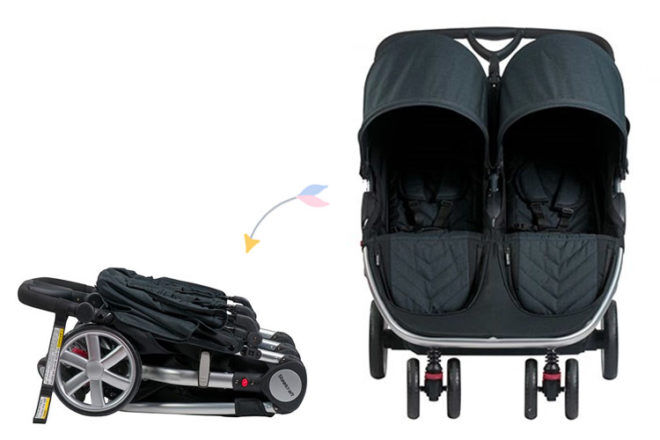 Love to shop? The Agile Twin Stoller can hold two kids (each weighing 20kg) as well as 6kg of shopping underneath. It's suitable for newborns and with a quick one-hand squeeze, the seats recline from sitting upright to fully flat for snoozing. Brilliant!
---
11. Joie Baby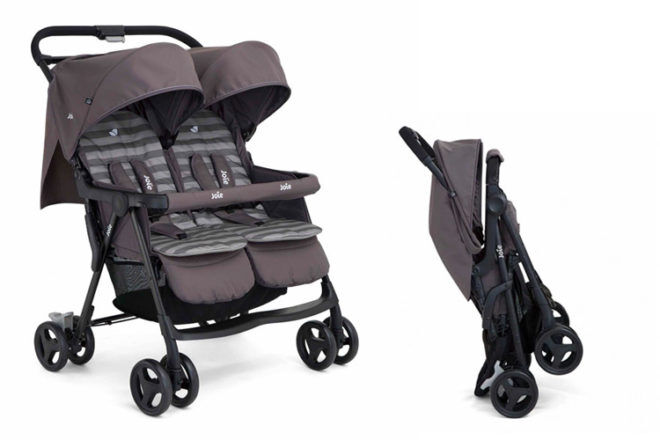 Suitable to use from birth, the aluminium chassis of the Joie Aire gives this stroller the ability to take on any terrain. The reversible pram liners not only look good, but they also keep bub cushioned and protected as they ride.
---
12. UPPAbaby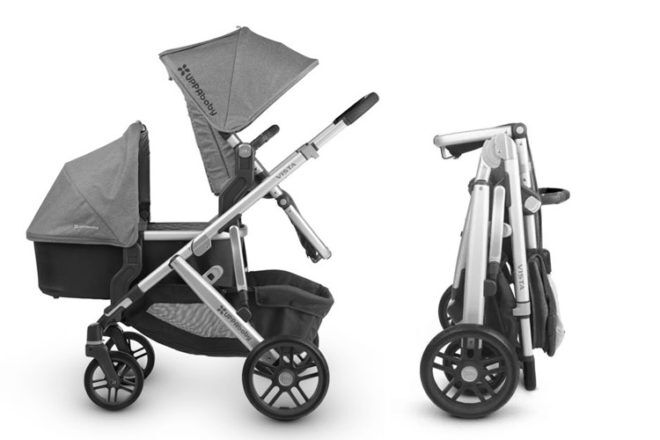 The UPPAbaby Vista is a multi-tasking machine – it holds up to three children all while strolling like a single pram. A clever one-step fold lets the stroller stand on its own when folded (with or without the toddler seat attached) and an extra-large basket provides lots of room for the essentials you and the kiddies need.
---
13. phil&teds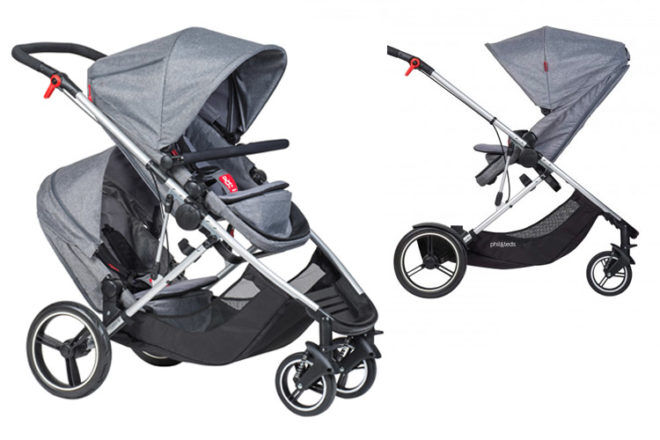 The seat on the phil&teds Voyager cleverly converts into a bassinet so there's no need to buy any separate attachments for baby. When bub number two comes along, the pram folds with both seats still intact. That's right – no more dismantling the pram in the supermarket car park. It really is a neat and nifty ride.
---
14. VeeBee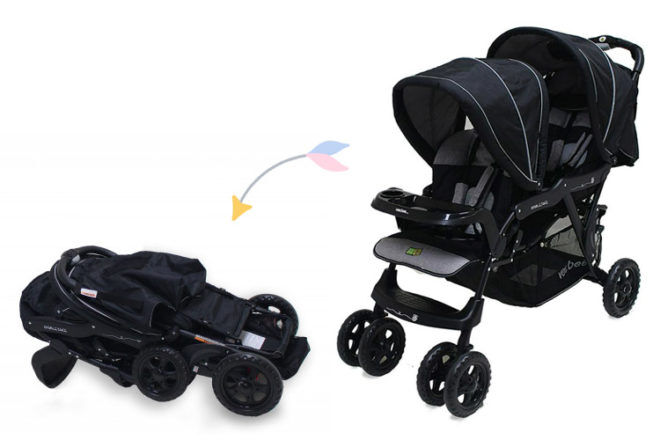 With a back seat higher than the front seat, this pram allows both children to see the world as you walk. The addition of a tray on the front seat means tots have got their drink bottle or snacks always on hand. Not designed to be used by twins but it can be used for one newborn.
---
15. Joolz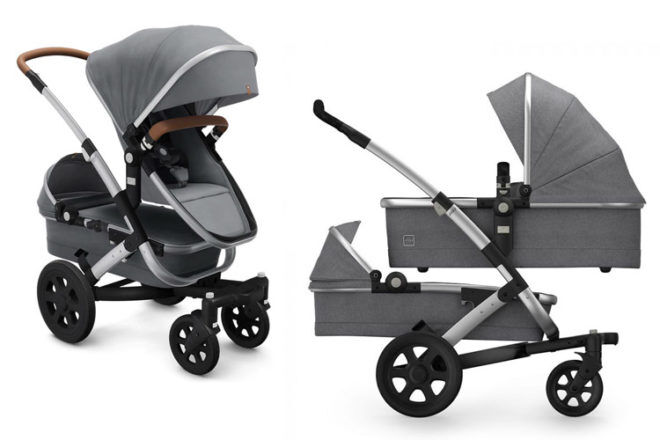 Boasting a luxury design and a super-smooth one-piece fold, the Joolz Geo2 packs function and fashion all into one. Made for growing families, it transforms from a single to a double pram that can handle every kind of terrain.
---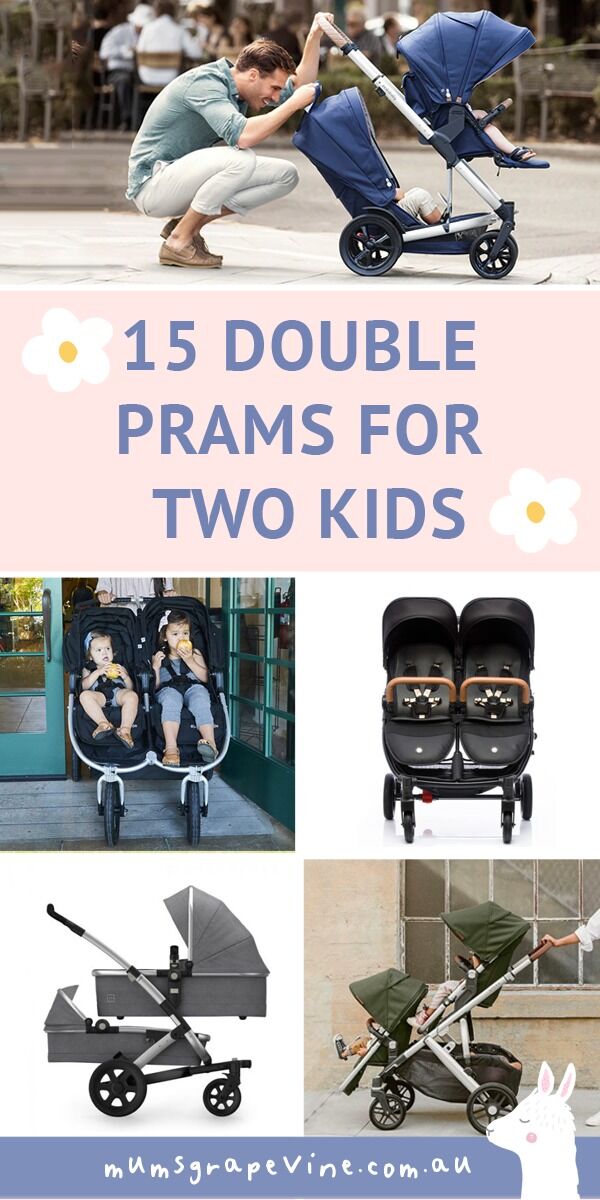 Know a double pram we should add to our list? Contact us and let us know.
Find more baby prams and accessories in these roundups …
Read this: How to clean your pram in five easy steps
Thousands of Aussie mums in our Mum's Grapevine Facebook Groups are asking each other for recommendations on what to buy right now. And you can too! Join today.